Silvercar by Audi Provides Stress-Free Travel For Dog Owners During The Holiday Season: Introducing the #FourFeetFleet!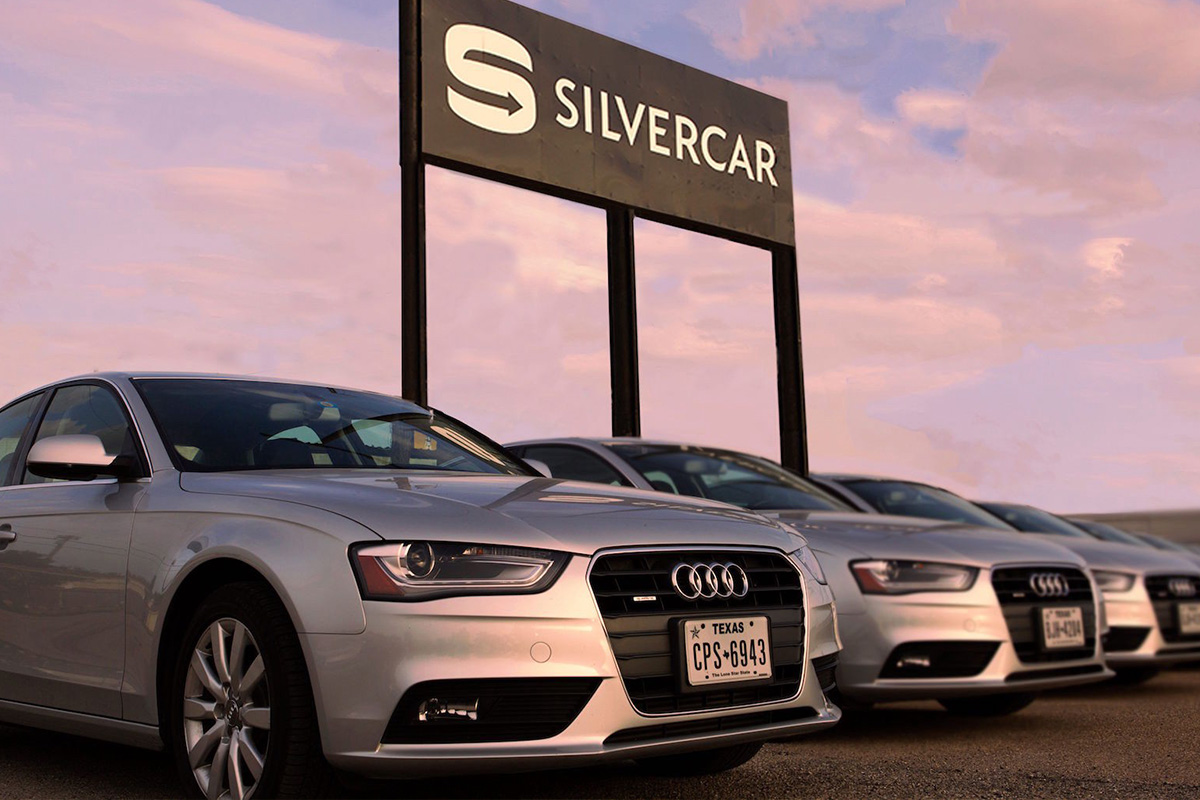 Reading Time:
2
minutes
– Silvercar customers have "paw-some" access to dog car seat covers now available at select locations, just in time for the holidays
– This pet-friendly initiative supports Silvercar by Audi's promise to deliver premium mobility solutions and hassle-free access to personal transportation
Leaving your best friend behind is not an option. Next-generation premium car rental company Silvercar by Audi is ready to reduce the stress of traveling with pets and cater to canines by offering new, premium dog car seat covers at select locations to include in their silver Audi A4 or Audi Q5, beginning November 15.
When traveling, pet owners are often left to choose between leaving their furry friends at home and paying for a pet sitter or looking for alternative modes of transportation or lodging to make sure their pets can travel with them. Just in time for the holidays, Silvercar by Audi wants to ensure that traveling pet owners, have a safe and convenient way of bringing their fur-ever friend along for the ride, all without compromising the condition of the vehicle.
"A recent Trip Advisor study found that 35% of pet owners take shorter vacations, and 25% take fewer vacations overall because of their pets," said Silvercar by Audi CMO, Amber Quist. "Silvercar by Audi wants to not only address the increased demand from consumers to travel with their pets, but also celebrate pet owners and provide them with the opportunity to travel in luxury, style and comfort."
Silvercar by Audi continues to deliver on its promise of premium mobility solutions and hassle-free access to personal transportation with a seamless mobile-first booking experience. The Four Feet Fleet promotion for the holidays comes on the heels of Silvercar by Audi's successful partnership with Peg Perego earlier this year. Offering complimentary luxury car seats, traveling parents were faced with one less hassle on the road. The best-selling Audi A4 sedan and award-winning Audi Q5 SUV are available for bookings with dog car seat covers at 7 Locations in Los Angeles, New York and San Francisco.
Customers can get started by downloading the Silvercar app for iPhone or Android or visit Silvercar.com and then requesting a Four Feet Fleet reservation. After you reserve a Silvercar, fill out this form to let us know that your pet will be traveling with you in your stylish Audi A4 or Q5 and we'll take care of the rest.
Acquired by Audi in 2017, Silvercar has doubled down on its plans to expand its footprint. The company has opened ten new locations in recent months, including downtown San Francisco, Charlotte, Washington D.C., Orange County and San Diego.
Silvercar offers Audi A4 sedans, Q5 SUVs and A5 Cabriolets with onboard Wi-Fi, navigation, and SiriusXM satellite radio—always included at no additional cost. Audi vehicles also offer excellent driving dynamics with elevated design and advanced technology, including quattro® all-wheel drive, Audi virtual cockpit with Google Earth™, and Audi smartphone interface. The Audi Q5 is an IIHS Top Safety Pick and received Best Auto Tech award from KBB.
All Silvercar customers will continue to benefit from no fuel upcharges, no mileage restrictions, no additional fees for toll charges, and no fees for luxury Peg Perego car seat rentals. Prices start at $59per day for the Audi A4 and $79 a day for the Audi Q5.
AniCura Presents Quality and Sustainability Report for 2018 – Commits to Reduce Antibiotic use by Half
Reading Time:
2
minutes
AniCura, one of Europe'sleading providers of high-quality veterinary care for companion animals, presents its quality and sustainability report for 2018 and commits to reduce the company's antibiotic use by half until 2030.
Since 2015, AniCura has issued an annual quality report covering the developments within quality and patient safety as well as antibiotic use among AniCura's clinics. During 2018, the majority of AniCura's clinics reduced unnecessary use of antibiotics, and at one third of the clinics antibiotic use was reduced with more than 30 percent. Now, the company accelerates its efforts to counteract the spread of resistant bacteria and commits to reduce antibiotic use by half until year 2030.
– Resistant bacteria are today one of the most serious threats against human and animal health, driven by overconsumption of antibiotics and poor hygiene standards in health care. A wiser use of antibiotics is a key undertaking for us and we aim to reduce our antibiotic use by half, says Ulrika Grönlund, Group Medical Quality Manager AniCura.
AniCura's quality and sustainability report is the first of its kind in the veterinary industry and covers the developments within the nine focus areas of QualiCura, AniCura's medical quality program. In 2018, AniCura engaged with its stakeholders to take a holistic perspective on sustainability and the report for 2018 covers besides quality and antibiotic use also the company's work to develop sustainable working conditions, support pet owners in preventive health measures as well as AniCura's environmental impact.
– I'm proud over the fact that we are recognized for our quality development agenda and the annual quality report issued every year. This year we have taken the report a step further by including key areas of sustainability as we know sustainable veterinary care is of high importance to both customers and employees. The purpose of our report is to provide transparency around our operations and share our learnings with the entire market to inspire further development, says Peter Dahlberg, CEO AniCura.
SOURCE: AniCura
Hydrite® Enters Pet Food Market with HydriPet™ Product Line
Reading Time:
1
minute
Hydrite Chemical Co., an integrated manufacturer and supplier of chemicals and related services, is pleased to announce the launch of its new HydriPet™ product line. Hydrite offers a full range of chemicals and solutions for food processing and food safety applications including an extensive line of human food grade ingredients, preservatives, sanitation, and water treatment products serving pet food manufacturers.
As an extension of Hydrite's successful food processing business, the development of the HydriPet™ product line is a fitting segue into the pet food market.  A significant product in the line is the HydriPet™ VG 105.  It is made in the USA, non-GMO, organic compliant, manufactured via hydrolysis, and composed of the preferred natural coconut glycerin.
Additionally, FoodSafe Technologies™ announced that its SafeNature™ brand of natural and botanical antioxidant products are now available to the pet food industry and pet food co-packers through Hydrite® and the HydriPet™ brand.
Brian Wood, Director – HydriPet™ Ingredient and Sanitation Solutions for Hydrite, commented, "We are excited to launch our HydriPet™ product line.  Offering human-grade ingredients coupled with leading edge sanitation programs are examples of our commitment to continuous improvement in pet food safety and quality."
Hydrite has developed a reputation within the industry for providing the distinct combination of excellence in manufacturing and distribution with the most comprehensive level of technical expertise available.  To learn more, visit: www.hydrite.com or call 262-792-1450.
SOURCE: Hydrite Chemical Co.
Introducing Lintbells: UK's #1 Vet Recommended Dog Joint Supplement Company Launches in the USA
Reading Time:
2
minutes
Lintbells launches into US market with YuMOVE Soft Chews, a once daily supplement that relieves dog joint stiffness and supports mobility with visible results within the first 60-days
The UK's market leader in dog joint supplements, Lintbells, has launched in the United States with the introduction of their most popular product, which currently helps over 1 Million dogs in Europe: YuMOVE Soft Chews.
YuMOVE Soft Chews are a joint supplement that promotes joint and cartilage health in dogs of all breeds and sizes. Made from all-natural, human-grade, non-GMO ingredients, the secret to YuMOVE Soft Chews' success comes from Lintbells own "ActivEase Green Lipped Mussel" (or GLM).
GLM, a superfood derived from the purest sources in New Zealand, is an essential ingredient with extraordinary properties that improves joint function, mobility, and reduces discomfort in our dogs. This unique ingredient, rich with more Omega 3s than any other GLM, is naturally anti-inflammatory, meaning our dog's stiff joints are eased naturally.
For dogs struggling with symptoms caused by joint issues, YuMOVE Soft Chews can be incorporated into any dog's diet or routine and given once per day for guaranteed, visible results. "An active dog is a happy dog. And, by offering just one chew per day, you'll see a visible difference in your dog within two months," said John Howie, CEO and Co-Founder of Lintbells. "YuMOVE won't just change your dog's life for the better- but, yours too."
Every dog from the age of 7 should be on a joint supplement.
Dog owners don't always know if their dog needs to be taking a joint supplement in the first place. While supplements play an important role for senior dogs, dogs that are really active, or in the recovery process after surgery, there are several lesser known signs and symptoms to watch out for and consider.
"Dogs don't show how they're feeling in the way humans do and can't tell us when they're hurt or uncomfortable," said Howie. "Their signs and symptoms of joint stiffness unfortunately often go unnoticed by pet parents who want the best for their dogs, but just don't know there's an issue to address in the first place."
Common signs of stiffness or joint difficulty in our dogs include: lagging behind on walks, difficulties rising after rest, sleeping more, irritability, anxiety, or being reluctant to walk, run, jump and play.
By adding just one YuMOVE Soft Chew to a dog's daily routine, they will enjoy a more active lifestyle, more playtime, and feel healthier and happier overall.
YuMOVE Soft Chews are available in 30-day packs, and three sizes: Small Dog (up to 35lb), Medium Dog (36-65lb) and Large Dog (over 65lb). YuMOVE Soft Chews start at $24.50 and can be purchased online at US.Lintbells.com.
SOURCE: Lintbells