Finalists announced for the 2018 UK & European Employee Engagement Awards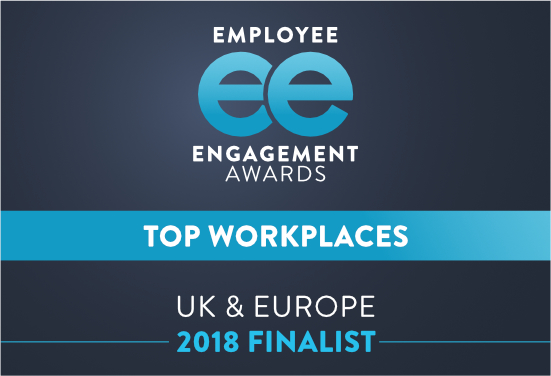 Reading Time:
2
minutes
Finalists include: Barclays, Clarins, E.ON, ODEON, Oracle, Nissan, Santander, Superdrug, Visa, Unicef
Winners will be announced at a ceremony at Twickenham Stadium on January 24, 2019
Tables are on sale now
Learn from finalists at the Employee Engagement Conference in London – April 16, 2019
The 2018 UK & Europe Employee Engagement Awards, today announces its shortlist of finalists. These are the companies that the judges believe put the employee experience at the heart of their business.
Founder Matt Manners said: "With a record number of entries this year, it shows that business leaders clearly value the difference that putting people at the heart of their organisations can make. Especially in areas such as Diversity and Inclusion, where diversity of thought can provide an instant competitive advantage if embraced."
The winners will be announced at the awards ceremony at Twickenham Stadium on January 24, 2019.
The EE Awards not only recognises great work but wants to inspire others to follow suit. It will host a one-day conference in London on April 16, 2019. This will profile the finalists and winners from a wide range of businesses and sectors. The conference will provide practical advice to help Engagement professionals achieve better employee engagement results. You can pre-register for Super Earlybird tickets here – https://uk.ee-awards.com/
The full 2018 UK & European shortlist is as follows:
1. The Employee Engagement Company of the Year
E.ON
Heathrow Airport
PKF Cooper Parry
Post Office
PPL
Shepherds Friendly Society
2. Culture & Purpose Award
Acceleration Partners
ADP
Away Resorts
Dragados UK
Natterbox
RB
Superdrug
Touchwood Shopping Centre
Viisi
Visa Europe
University of Lincoln
3. Innovation in Engagement Award
Aberdeen Standard Investments
Bayer AG
Caesars Entertainment
Clarins Group UK
Direct Line Group
Dreams
Nissan Europe
ODEON Cinemas Group
Paldis
RB
Santander UK
University of Lincoln
4. Diversity & Inclusion Award
AIB UK
Beyond
Capital One
NHS Business Services Authority
ODEON Cinemas Group
PPL
Tata Consultancy Services
5. Employee Benefits Award
Oracle
PKF Cooper Parry
Skyscanner
University of Lincoln
6. Internal Communications Award
Carnival UK
Dreams
HM Land Registry
Imagination Technologies
Merton Council
Ministry of Justice
Mitchells & Butlers
Mondi Group
Tata Consultancy Services
UST Global
Vanquis Bank
7. Employee Wellbeing Award
Aster Group
Gateshead College
Microgaming
NHS Business Services Authority
Oracle
PKF Cooper Parry
PPL
RBS
Smart DCC
Visa Europe
Vita Coco
8. Social Responsibility Award
Barclays
C&A + C&A Foundation
Caledonian Produce
Generali Country Italia
Microgaming
Touchwood
UST Global
9. Employee Engagement SMB Company of the Year (0 – 1000 employees)
ADP
Aker BP
First Utility
PKF Cooper Parry
10. Employee Engagement Non-Profit/Charity Project of the Year Award
Plan International
Unicef
11. Employee Engagement Public Sector Project of the Year Award
Bank of England
University of Lincoln
12. Unsung Hero Award
Anna Krzak – Ocado
Fionna Cannon – Audely Group
13. Best Use of Technology Award
Clarins Group UK
Heathrow
Nissan Europe
RBS
Tata Consultancy Services
Travelex
Unicef UK
University of Lincoln
William Hill
14. Employee Engagement Consultancy of the Year Award
Bright Innovation
H&H
Home
Inpulse
People Lab
Synergy Creative
15. Employee Engagement Vendor of the Year Award
Clear Review
From Babies with Love
Hive HR
StaffConnect
Xexec
Sponsorship
There are limited opportunities remaining for companies to sponsor the awards & conference. For more information please contact matt
One-fifth of world's entrepreneurs work with family members, study finds
Reading Time:
2
minutes
In 27 countries, an estimated 6 per cent of the world's adult population aged 18–64 is part of the gig economy/sharing economy
A new study titled the 2018/2019 Global Entrepreneurship Monitor Global Report and spanned over 27 countries, has found that almost 20 per cent of the world's entrepreneurs is working with family members. The study was commissioned by Babson College, Universidad Del Desarrollo and Korea Entrepreneurship Foundation.
The study also revealed that 6 per cent of individuals in the age group of 18–64 are part of the gig economy and the sharing economy.
"The Global Entrepreneurship Monitor Global Report shows that the global economy nourishes entrepreneurs of all kinds. There is a lot of media attention for innovative startups, however entrepreneurial employees, family business entrepreneurs, and small-scale established entrepreneurs also play a key role in national and local economies," said coauthor and Utrecht University Entrepreneurship Associate Professor Niels Bosma. "This year, GEM results also confirmed that entrepreneurial activity in the gig and sharing economy is substantial in all parts of the world."
"It might not be a surprise that many businesses are family owned, particularly when we see them every day in our communities and read about large family-owned corporations in the news. Nevertheless, to our knowledge, this is the first global study of family involvement in the startup phase. The results illustrate the extent entrepreneurs rely on family members to get their businesses off the ground," said coauthor and Babson College Entrepreneurship Professor Donna Kelley.
The following are the other findings of the study.
Nearly one in five entrepreneurs are starting businesses that will be owned and/or managed with family members, in the 47 economies assessing family business activity. Colombia, the United Arab Emirates, and Uruguay reports the highest level of family-based entrepreneurship, accounting for over one-third of entrepreneurs.
The highest rate of involvement in gig/sharing economy activities, measured in 27 economies, is in the Republic of Korea (over 20 per cent of the adult population). Israel, Chile, Ireland and the United States also report high rates of involvement in the gig and sharing economy, with over 10 per cent of the adult population engaging in these activities. This new international comparison shows that involvement in gig/sharing economy activity is significant across the globe.
GEM has introduced a composite index, the National Entrepreneurship Context Index, which assesses the environment for entrepreneurship in an economy. The NECI is derived from the 12 framework conditions and weights the ratings on these conditions by the importance experts place on them. Qatar, a high-income country in the Middle East, receives the highest NECI ranking, following by Indonesia and Netherlands. An examination of the top-ranked economies illustrates the importance of having healthy conditions across all aspects of the environment affecting entrepreneurship. The NECI results in this report represent an inaugural effort to inform policy, practitioner, and other key stakeholder audiences, about the strength of their overall environment for entrepreneurship.
Technology vs Wholesale/Retail: In every low-income economy, wholesale/retail businesses account for more than half of their entrepreneurs. In contrast, in half of the high-income economies, nearly 50 per cent or more of the startup activity is in service or technology industries.
Meet the US company that is not fazed by Brexit Uncertainty
Reading Time:
2
minutes
While the whole world is concerned about the Brexit Uncertainty in the UK, one US company has boldly stepped up and opened its London facility. Meet ViewLift, a US streaming platform. Business climate has caused jitters for some companies—but not US streaming platform ViewLift.
The company is making rapid strides. After announcing the London office from courtside at the Washington Wizards game against the New York Knicks at O2, the company has roped in Fabio Gallo and Mark Lawson (former executives from Deltatre and NeuLion, respectively) as its Vice Presidents of Sales, providing expertise and guidance as the platform increases its international client base.
"Streaming content to all devices, live and on-demand, is now a global expectation," noted Rick Allen, ViewLift's CEO and co-founder with Wizard's owner Ted Leonsis. "We have been streaming to every country for many years, but ViewLift's burgeoning B2B platform work for media companies, sports leagues and others throughout Europe can best be provided by experts from those markets, and a gateway office in London. The closer we are to our clients, the more we can help them deepen their worldwide viewership. Now is the perfect time to do business here."
Mark Lawson joins the team as VP of Sales, providing 20 years' experience building new sales teams, starting new business, and nurturing customer relationships, especially in media. Mark joins ViewLift from Linius Technologies, where he was Head of Business Development. Previously, he was at Brightcove in Media Sales and at NeuLion as SVP of Sales. Mark understands startup businesses and established organisations, and is experienced building teams worldwide, as well as negotiating IP licensing deals across a broad spectrum of markets, pan-European or UK-based.
Fabio Gallo joins ViewLift as VP of Sales, with more than a decade of experience in Business Development leadership positions, providing digital marketing, product and monetisation solutions. Fabio was formerly Director of Sales at Simplestream, with responsibilities for European, Middle Eastern, and African markets, and prior to that served as Business Development Director at Deltatre. Fabio's ability to increase his clients' digital business success, and his extensive network in the sports industry will provide insight and guidance to ViewLift as it expands globally.
Manik Bambha, President of ViewLift, praised Mark and Fabio as "two globally respected OTT executives. Their deep knowledge of how companies can delight their streaming customers will enhance our clients' success, and they will provide strong leadership for a rapidly-growing ViewLift presence throughout Europe."
EC imposes anti-dumping and anti-subsidy duties on imported e-bikes from China
Reading Time:
1
minute
In order to protect EU manufacturers from unfair competition, after more than a year of investigations and hearings, the European Commission (EC) imposed anti-dumping and anti-subsidy duties on e-bikes imported from China. Instead of adopting a single anti-dumping duty for all Chinese suppliers, the EC opted for per company dumping duties, ranging from 24 to 79%.
The EU is home to a number of the world's leading suppliers and countless smaller industry participants. According to industry analyst Gleb Mytko, "The European Commission's actions were designed to protect a nascent but important industry from what it deemed unfair dumping practices." With these measures, the EU hopes to maintain a competitive and diverse e-bike market. The move will also allow new e-bike start-ups to compete and expand their operations, ensuring the long term health of the EU e-bike industry. This is particularly important because the global e-bike market is still at an early stage of development and is poised for many years of growth.