International Truck Launches International® CV™ Series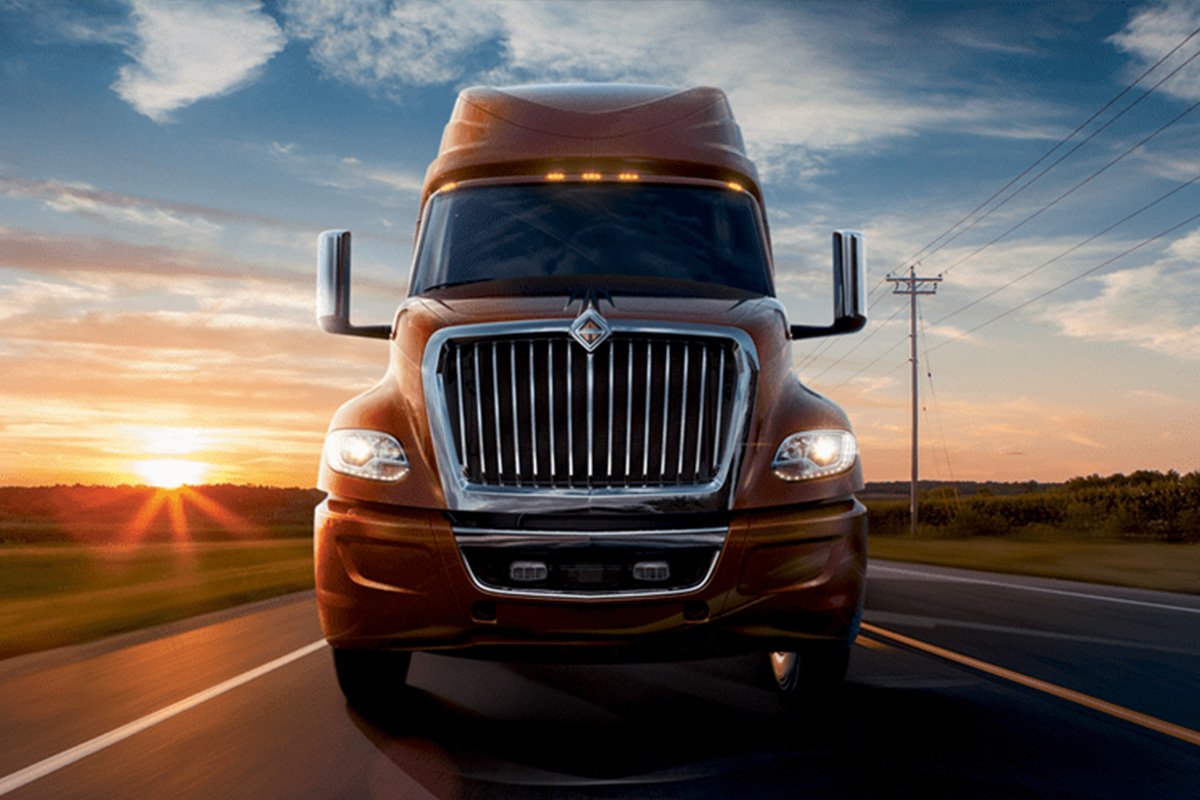 Reading Time:
4
minutes
New Class 4/5 Truck Offers True Commercial-Grade Option for Growing Businesses
International Truck today launched the International® CV™Series, the only Class 4/5 truck that is designed, distributed and supported by a manufacturer specializing in commercial vehicles.
"When a start-up business moves to the scale-up stage, the International CV Series provides a truck that will take their business to the next level," said Michael Cancelliere, Navistar's president, Truck and Parts. "We've designed, built and tested the CV Series to deliver the commercial-grade power, reliability and practicality that growing businesses require, along with the comfort, safety features and easy drivability that drivers appreciate. And we are backing it up with the expertise of the International dealer network, the only network in this category 100 percent dedicated to commercial vehicles."
Commercial-Grade Design, Heavy-Duty Details
The CV Series' commitment to support growing businesses is reflected in the vehicle's many commercial-grade features, starting with a gear-driven transfer case, a high-strength, low-alloy steel frame rail and the industry's only painted chassis for enhanced longevity and corrosion resistance.
For faster, more convenient service, the CV Series includes a commercial-style forward-tilting hood, which provides easy access to the engine and to routine maintenance points. Under that hood is the powerful International 6.6-liter, 350-horsepower engine with 700 lb.-ft. of torque. Equipped with that engine and two Allison transmission options, the CV is capable of handling up to a maximum GCWR of 37,500 lbs.
The CV Series is also proven rugged: like all International commercial trucks, it was tested in extreme environments, including 40 degrees below zero Fahrenheit in Fairbanks, Alaska and 115 degrees Fahrenheit in Apache, Arizona, as well as high-altitude testing at 12,000 feet in Loveland Pass, Colorado.
"The CV Series features a long list of heavy-duty details that would only be found on a truck designed by commercial truck engineers," said David Majors, Navistar vice president, Product Development. "Our engineers had one mission: to create the toughest, most capable, most upfit-friendly Class 4 and 5 truck to be found at any work site."
Fit to Be Upfitted
Consistent with the CV Series' commercial-grade toughness is its ability to accommodate the wide range of specialized body types that growing businesses need.
Straight frame rails with no rivets on the top flange provide a clean area from cab to axle, making it easy to mount bodies for virtually any commercial-grade application. Like other International trucks, the CV Series is outfitted with HuckBolt® chassis fasteners that provide consistently superior clamping force without re-torqueing and won't come loose even in extreme environments.
Accommodating the configuration options required by different bodies, the CV Series offers a dual battery box mounted under the cab. The CV Series also includes multiple fuel tank options, optional exhaust outlets to suit the vocation and body, and multiple wheelbase options that can suit almost any application.
CV Series customers also have access to the same Truck Specialty Center expertise as all International customers. At these centers, which are fully owned and operated by International Truck, experts provide quick, efficient and cost-effective custom engineering solutions.
"The CV Series is the only truck in the segment that can take advantage of this level of customization," Cancelliere said. "No one has more experience at body integration than International Truck."
Commercial Expertise Beyond the Norm
Building on the CV Series' commercial pedigree is the International dealer network's commercial expertise, which offers critical service and support for a growing business. The network's dealership salespersons specialize in commercial transportation sales and spec'ing, making it easy for a customer to pick the configuration and specs that are right for any vocational application. In addition, International's Application Engineering Team offers access to vocational engineering experts who can help customers design a custom configuration geared to their application.
Expert service is assured through the International dealer network, which is the industry's largest, with more dedicated commercial truck bays than are offered by any competitor in the segment. Service is also backed by a commercial-grade parts network where 98 percent of parts are available through either dealer inventory or International's highly efficient network of parts distribution centers.
The International dealer network's more than 700 service locations feature more than 7,600 ASE-certified commercial diesel-trained technicians in the U.S. and more than 1,900 in Canada – a critical advantage over automotive-based service networks.
"Our network is committed to providing the expertise needed to keep your business moving," said Cancelliere. "No matter the location, if a customer needs service, help is likely to be nearby."
DriverFirst™ Philosophy for Automotive-Like Comfort
On top of its commercial-grade ruggedness and configurability, the CV Series also delivers the comfort, safety features and easy drivability that customers have come to associate with the International DriverFirst™ philosophy.
The truck offers automotive-like comfort, featuring premium interior finishes and outstanding driver ergonomics. Multiple infotainment options are available, including an 8-inch color touch screen with navigation and, for the first time in an International truck, Apple CarPlay and Android Auto.
Added comfort is offered by the segment's only optional air ride suspension with an engine-mounted compressor, which can be used to adjust height and provide a smooth ride for cargo protection and crew comfort.
"The CV Series has been compared to a field office with perks," Cancelliere said. "Our philosophy is that driver comfort is critical to get the job done smoothly and efficiently, and the CV Series brings that philosophy to life."
For more information on the CV Series or to locate a dealer, visit www.internationaltrucks.com/CVSeriesMedia.
H&M and Lyft Offer Free Rides for New Yorkers to Recycle Clothing
Reading Time:
2
minutes
New Yorkers to also receive 15% off their H&M purchase in return for donating unwanted garments
H&M and Lyft are teaming up to provide free rides to New Yorkers interested in donating clothing to H&M's Garment Collecting program. Starting Jan. 22 through Jan. 27, the first 5,000 H&M customers interested in donating clothing can use the promo code HMRECYCLES to claim a free ride up to $10 to any H&M location in New York City. Customers will also receive 15% off their H&M purchase in return for a donation of unwanted garments, from any brand and in any condition.
The partnership is part of a broader mission by the two companies to take on the challenges of climate change and circularity in fashion more directly. H&M started its Garment Collecting program in 2013, becoming the first fashion company to launch a clothing collecting initiative worldwide. The program has collected 163 million pounds of textiles globally, providing customers an easy way to give clothes a second life to ensure fewer garments end up in landfills.
In 2018, Lyft committed to full carbon neutrality and 100% renewable energy by offsetting the carbon emissions from all Lyft rides, meaning every Lyft ride in NYC is carbon-neutral. Lyft also has partnered with cities and public transit agencies across the U.S. to launch bikes and scooters programs, including NYC's Citi Bike, as well as set the goal to achieve 50% shared rides by the end of 2020.
"Lyft is proud to partner with H&M to support the Garment Collecting initiative and provide the local community with accessible opportunities to donate and recycle clothing," said Ann Ferracane, General Manager of Lyft New York. "Helping New Yorkers make donations is an important, but exciting, step in creating a positive impact on our natural resources for years to come."
"H&M is thrilled to partner with Lyft in a joint effort to give garments a second life through H&M's Garment Collecting program. Sustainability is a part of everything we do, and we are excited this initiative will allow more New Yorkers to both learn about and get involved in the program," said Martino Pessina, President of H&M North America.
Sandvik Acquires Supplier of Battery Electric Vehicle Solutions
Reading Time:
1
minute
Sandvik acquires privately owned Artisan Vehicle Systems, manufacturer of battery powered underground mining equipment, based in Camarillo, California, USA. The core technology is battery packs, electric motors, power electronics, software and control systems. Artisan's underground mining loaders and trucks are designed with these high-powered, highly reliable and field proven battery electric powertrains. Artisan is the market leader with most battery electric vehicles currently operating in underground mining.
"I am pleased to see the strategic acquisition of Artisan so soon after the opening of Sandvik's state-of-the-art Battery Electrification Innovation and Development Center in Turku, Finland, in 2018. It is in line with our ambition to be leading in the market for Battery Electric Vehicle solutions", says Lars Engström, President, Sandvik Mining and Rock Technology.
Artisan will be a Business Unit in the Load and Haul Division within Sandvik Mining and Rock Technology.
"The area in which Artisan is located is a frontrunner in electric vehicle development. Our new R&D foothold there will complement the skillset we have in Finland. The combination of know-how and skills creates a very strong platform", says Mats Eriksson, President Load and Haul Division, Sandvik Mining and Rock Technology.
Artisan is a start-up company which in 2017 had revenues of 12.3 million USD and approximately 60 employees.
The parties have agreed not to disclose the purchase price. The transaction is expected to close during the first quarter 2019. The deal is initially neutral to earnings per share.
Hemmels 280 SL Featured at Mercedes-Benz World
Reading Time:
1
minute
Mercedes-Benz World has welcomed its first Hemmels motorcar for display at its facility in Weybridge, UK.
The motorcar, a 1968 280 SL "Pagoda" is prominently featured in the main reception area.
The restoration was commissioned by British racing car driver Paul Rees who chose to finish the car in its original Horizon Blue paint colour with a new Navy Blue leather interior. Estimated at a value of £285,000, the restoration was completed at Hemmels' bespoke facility in Cardiff, commencing in late 2016 and taking over 4,000 labour hours.
"Mercedes-Benz World has a fantastic display of classic and rare along with interactive exhibits and driving experiences. Establishing a centre of this calibre is complementary to the vision and commitment to excellence of this marque," said Joseph Sullivan, MD Hemmels. "We're proud to have the first of hopefully many motorcars displayed this prestigious facility."
Hi-res photos of the car both during restoration period and as on display are available from Hemmels by request.
https://www.hemmels.com/gallery-of-classic-mercedes-benz-images-including-w113-w198-and-w121-cars
Offering a new car buying experience, Hemmels' clients can order a Mercedes-Benz classic car in the colours of their choice along with bespoke options and preferences. Hemmels then restores the cars according to the exacting standards of its trademarked Neugeboren ("newborn") Process where every car is fully dismantled and rebuilt from its bare metal beginnings over a 52 week period. Like a new car purchase, a full 12 month parts and labour warranty is included along with servicing options.
Hemmels is pleased to welcome interested parties for a personal tour of the showroom and facilities through prior appointment. The company will be displaying a selection of its classic cars at the London Classic Car show, ExCel Exhibition Centre, London, UK from February 14th-17th, 2019.