eMotorWerks and EO Charging partner to deliver UK's and Europe's smartest home electric vehicle charger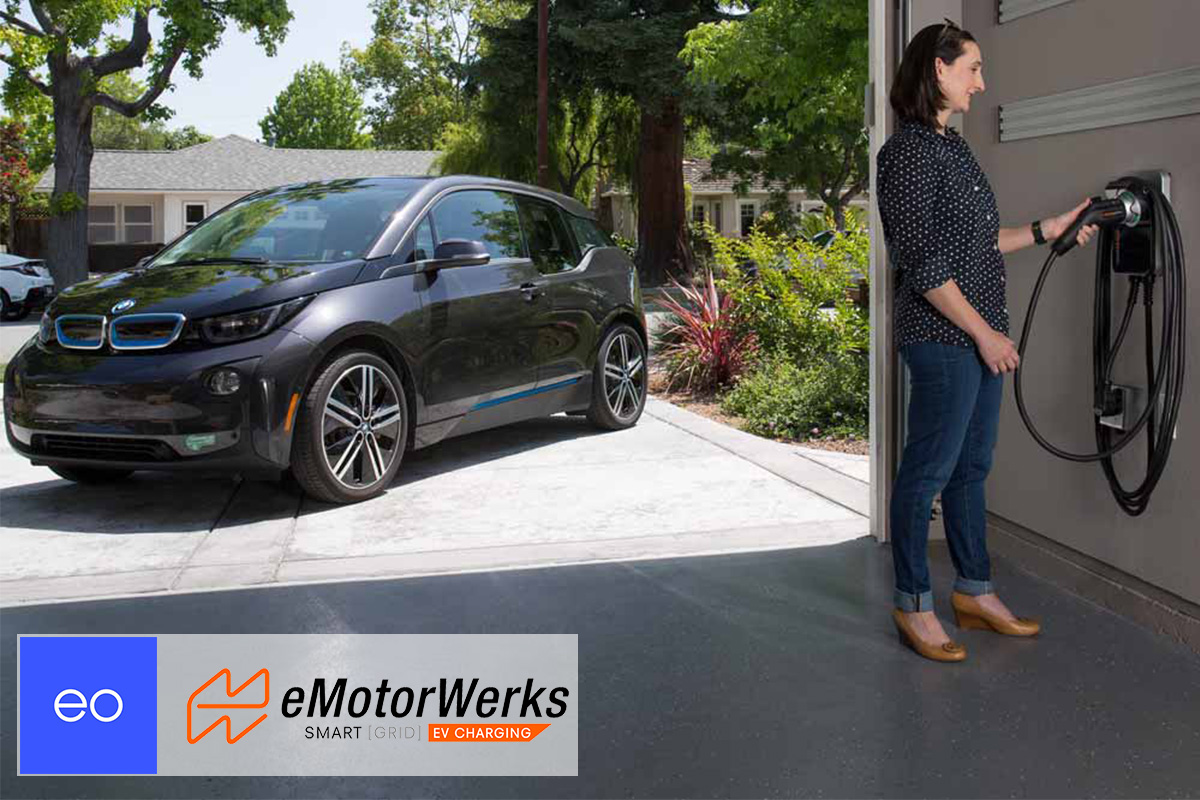 Reading Time:
3
minutes
– eMotorWerks' JuiceNet platform to be integrated into the new EO Mini Pro, delivering smart scheduling, charging with power from photovoltaic systems and grid services, aimed at lowering EV operating costs
– From early 2019 EO Charging residential customers are set to benefit from more intelligent control and cost savings through smart-grid electric vehicle chargers
– The charger is to be launched in UK and then rolled out in other European countries
eMotorWerks, a subsidiary of Enel's advanced energy services global business line Enel X and a leading provider of intelligent and cloud-connected smart-grid charging solutions, and EO Charging, one of the UK's leading domestic and fleet EV charging manufacturers, have partnered to launch the UK's and Europe's smartest home charger.
This new solution will integrate eMotorWerks' JuiceNet, a cloud-based platform aggregating and managing charging station demands, into the new EO Mini Pro electric vehicle (EV) charger, delivering smart grid-connected home charging stations.
"As more UK drivers opt for an electric car, and the UK increases its renewable energy supply, we're pleased to partner with EO Charging and together offer the UK's smartest chargers on the market,"said Valery Miftakhov, founder and CEO of eMotorWerks. "By participating in energy services, such as demand response, drivers can reduce EV operating costs and relieve pressure on the grid at times of stress. We look forward to promoting EO Charging JuiceNet-powered products alongside our own JuiceBox EV charging stations to support smart-grid charging across the UK and soon in other European countries. As we expand our European business, we believe JuiceNet will be a significant smart grid enabler for energy companies and authorities to ensure that EVs play a beneficial role in our energy systems at scale."
Charlie Jardine, Founder & CEO at EO Charging, said: "We see electric vehicle chargers as more than 'just a plug', they're the gateway to the future of mobility and the first piece of the puzzle in giving people energy autonomy. Electric vehicles represent the most disruptive technology the modern power network has ever witnessed, and we are working to ensure that EO is at the forefront of the e-mobility revolution where EV drivers and consumers are playing a more active role in their energy generation and usage.
"Whilst we have seen success in the home charging market with the standard EO Mini, we've not had a true 'smart-home offering'. Our partnership with eMotorWerks allows us to launch a cost-effective smart charger for the domestic EV driver that can integrate with solar, onsite storage and offer a plethora of energy management benefits. eMotorWerks is leading the industry in terms of smart grid charging and we're excited to integrate the company's JuiceNet platform into the EO Mini Pro for our customers in the UK and soon across Europe."
Through the partnership, EV drivers in the UK and other European countries are set to gain more control of their EV charging. The new smart chargers are indeed designed for all EV drivers and energy conscious homeowners, incorporating eMotorWerks' JuiceNet communication, control and intelligence software EV charging platform into the EO Mini Pro. Available from early 2019, the EO Mini Pro will be designed for all types of homes, including traditional homes reliant on the grid for their energy and homes with solar panels and/or battery storage.
Expanding on the success of the EO Mini Home charger (currently the smallest fast charger on the UK market), the EO Mini Pro powered by JuiceNet offers customers multiple benefits such as smartphone charging control and an online dashboard which can:
Schedule charging times – helping EV drivers benefit from cheaper electricity
Send alerts and reminders to optimise charging
Allow EV drivers to utilise more green energy from the grid
View historical charging data via the dashboard – ideal for fleet managers wanting to reimburse employees for charging at home
Lower driving costs by enabling EV drivers to earn or save money when their energy provider offers dynamic tariffs or demand response type programmes for charging (or not charging) at certain times
Given the UK Government's commitment to smart charging – following the passing of the Automated and Electric Vehicles Act 2018 – and the development of the UK energy system to be more renewables-based, distributed and flexible, JuiceNet powered EO Charging products respond to both the needs of consumers and energy companies alike.
JuiceNet enables the electric load from multiple charging stations to be aggregated and subsequently managed to respond to surges in demand on the grid and to bid that load into energy markets. Such a high level of control over EV charging load allows energy companies to modulate electricity demand. This control of charging loads relieves grid stress by shifting EV charging to times when renewable resources are more available and when energy prices are lower.
Both EO Charging and eMotorWerks seek to accelerate the transition to e-mobility, renewable energy and a sustainable energy system. The launch of UK's smartest EV charger presents the UK and Europewith a significant opportunity to meet the growing market for electric vehicles and deliver smart grid charging solutions.
Fast-Growing Home Solar Leader Freedom Forever Brings Renewable Energy To Colorado Residents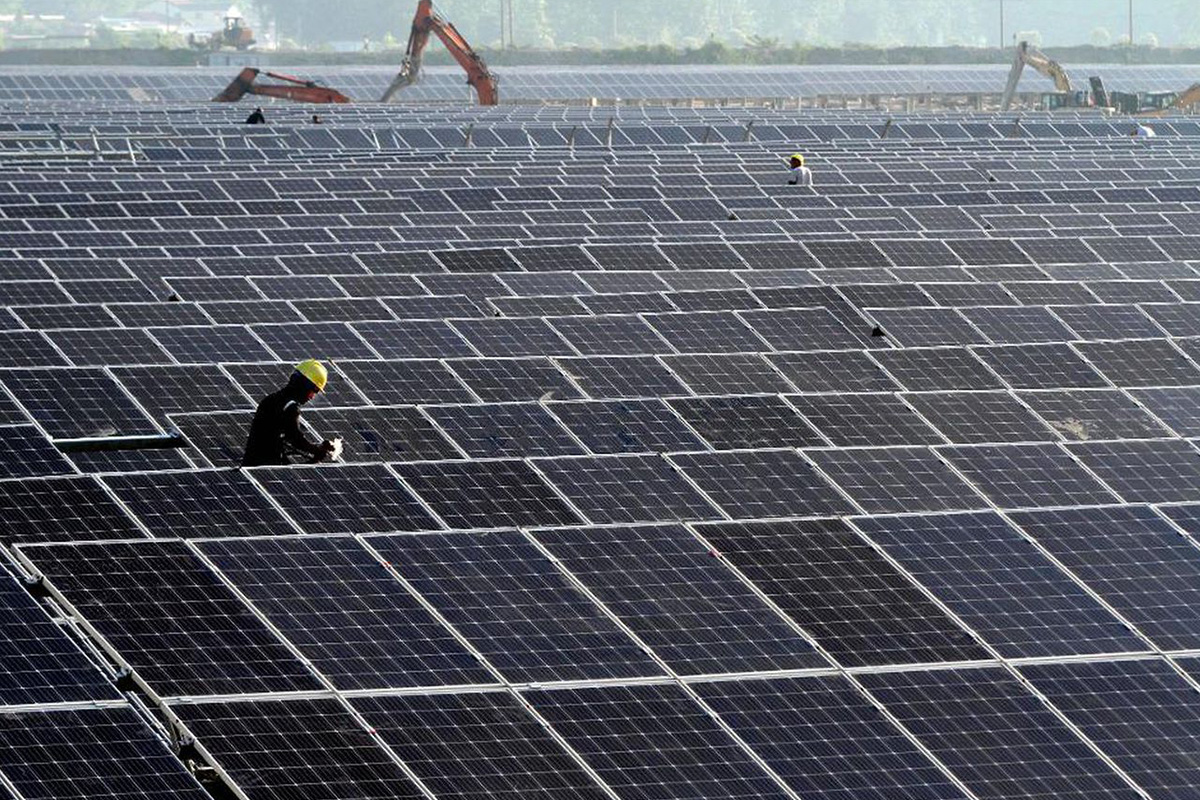 Reading Time:
2
minutes
Solar installer offers unique service-oriented approach and 25-year production guarantee to renewable energy to customers across the state
Freedom Forever, the innovative residential solar energy installer, recently named one of America's fastest growing companies by Inc. Magazine, today announced its expansion into Colorado. Founded in 2011, Freedom Forever currently serves customers in California, Arizona and Nevada. The solar leader has selected Colorado as its next market because of the large growth potential for solar energy in that state, due to its climate and solar-friendly regulatory environment. With solar energy production expected to reach over 1800 MW in the next five years according to SEIA, Freedom Forever is confident that Colorado is on track to be a leading solar state.
"We are thrilled to begin serving residential solar customers in Colorado, a state that is primed to be an ideal location for solar projects and a market ripe with opportunity for residential solar energy," said Brett Bouchy, CEO of Freedom Forever. "At Freedom Forever, we are committed to a service-first model for delivering solar energy that puts the customer at its center and maximizes their return on investment in a home solar system. As a fast-growing company, Colorado was a natural fit as we seek to expand our footprint in markets where solar is in demand and homeowners are looking for a long-term partner for their renewable energy needs."
Freedom Forever will serve as a solar contractor and installer for homes across Colorado. Home solar systems are increasingly in demand, due to a decrease in installation fees and the potential energy cost-saving opportunities for consumers. On top of this, Freedom Forever brings a unique approach to home solar that prioritizes ownership, return on investment and reliable long-term support designed to increase home value. Freedom Forever offers a unique 25-year production guarantee that ensures all installed systems meet or exceed kilowatt hour production for 25 years. As part of this guarantee, Freedom Forever not only services solar systems as needed, but they will also compensate homeowners for non-production.
Recently, Freedom Forever took its customer-centric philosophy one step further with a public commitment to absorb all cost increases that come as a result of recent tariffs on solar panels and power inverters that have raised the overall cost of solar energy systems over the past year. This bold move was taken due to a commitment to ensuring solar affordability, growing the adoption of renewable energy across the United States and continuing to cultivate consumer demand for home solar.
"As Freedom Forever seeks to expand its footprint, Colorado represents one of the most attractive markets for us – a state with the right policies in place to encourage the adoption of solar power, a population looking for green energy solutions and an environment currently underserved by innovative solar installers," said Jessica Sumikawa, Executive Vice President & Chief Legal Officer, Freedom Forever. "We look forward to becoming a key part of the next chapter of energy generation in Colorado and helping to foster a market for clean power across the state."
Freedom Forever will officially begin installations in Colorado this month. For more information please visit FreedomForever.com.
EU calls for renewed international action to protect nature on land and at sea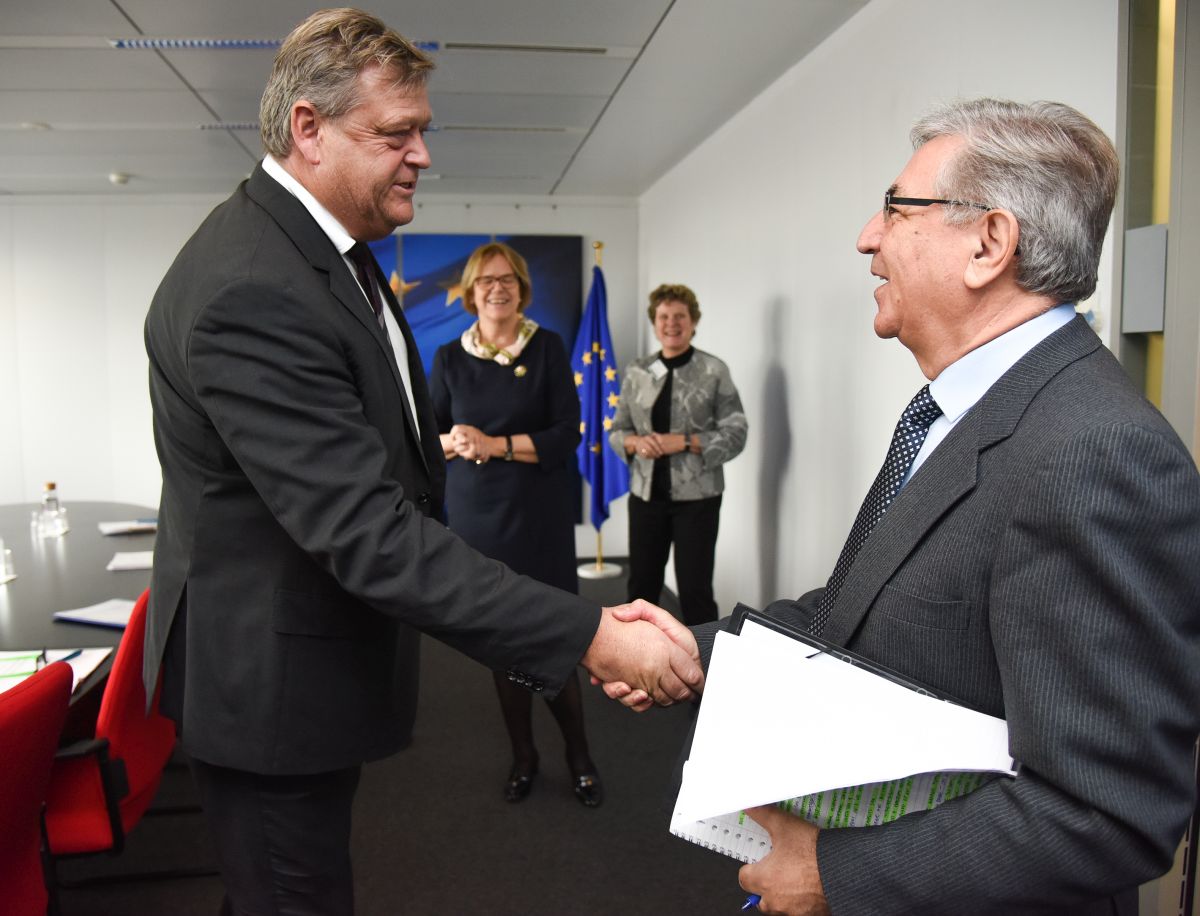 Reading Time:
2
minutes
Amid recent alarming reports of the dramatic loss of wildlife and ecosystems worldwide, the European Union is calling for stronger global response to biodiversity concerns at the 14th Conference of the Parties of the United Nations Convention on Biodiversity (CBD COP 14) in Sharm-el-Sheikh, Egypt.
Representing the European Union at the High-Level Segment, EU Commissioner for the Environment, Maritime Affairs and Fisheries Karmenu Vella said: "The current rate at which we are losing our wildlife and ecosystems is an existential threat as worrying as climate change. I am encouraged by the growing awareness of the links between the two, also at high-level international events such as this one and the upcoming United Nations climate change conference in Poland. Protecting biodiversity on land as in the ocean is important for future generations, but also for our current wellbeing."
The high-level biodiversity conference where the EU will be leading the international efforts for a post-2020 global biodiversity framework, is expected to create consensus on the urgency of achieving global biodiversity targets by 2020. Wider integration of biodiversity concerns in agriculture, energy, mining, industry and infrastructure projects is instrumental to keep global temperature increases well below 2°C, in line with the commitments of the Paris Agreement.
Engaging more than EUR 350 million per year on biodiversity in developing countries, the EU is the biggest donor for the protection of biodiversity in the world. Growing awareness across Europe of the positive role of biodiversity and ecosystems for health and for food security means the European Union is well placed to provide global leadership. The business community is also realising how dependent they are on biodiversity with some businesses taking bold measures to consider their dependencies on natural capital.
Capitalising on these positive examples, the European delegation, headed by Commissioner Vella, will aim to bring biodiversity policy to the political forefront in order to prepare for an ambitious and united outcome at the Conference of the Parties (COP15) in China in 2020.
A press release is available online. (For more information: Enrico Brivio – Tel.: + 32 229 56172; Daniela Stoycheva – Tel.: +32 229 53664)
Mergers: Commission clears joint venture by E.ON and Clever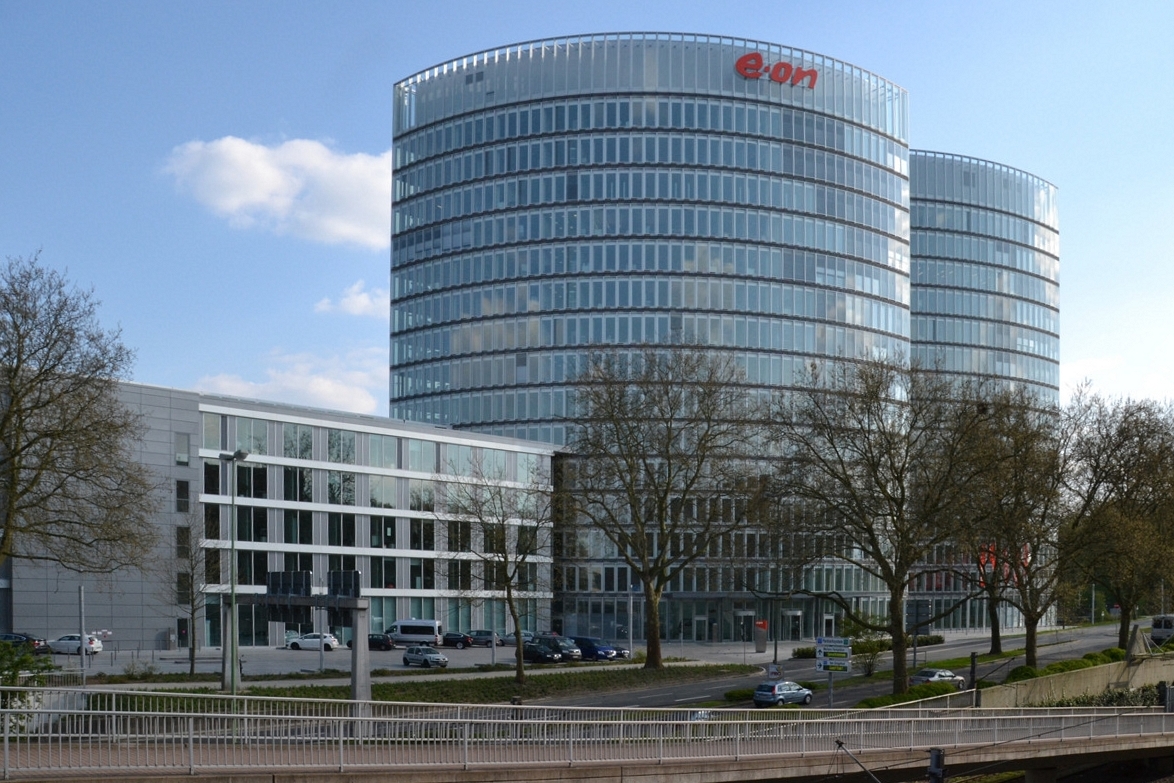 Reading Time:
1
minute
The European Commission has approved, under the EU Merger Regulation, the proposed creation of a joint venture between E.ON SE of Germany and Clever A/S of Denmark.
The joint venture will develop and operate ultra-fast charging (UFC) stations for electric vehicles in Norway, Sweden and Denmark. E.ON is an energy company with activities in energy networks, renewable energies and customer solutions, including electricity and gas retail supply.
Clever is an electric mobility service provider, active in charging solutions for companies, public institutions and end customers. The Commission concluded that the proposed merger would raise no competition concerns due to the negligible actual and foreseen activities of the joint venture in the European Economic Area.
The transaction was examined under the simplified merger review procedure.
More information is available on the Commission's competition website, in the public case register under the case number M.9049. (For more information: Ricardo Cardoso – Tel.: +32 229 80100; Maria Tsoni – Tel.: +32 229 90526)