With exports to 77 countries, world-leading e-scooter manufacturer Yadea draws crowds at EICMA 2018 with the new G5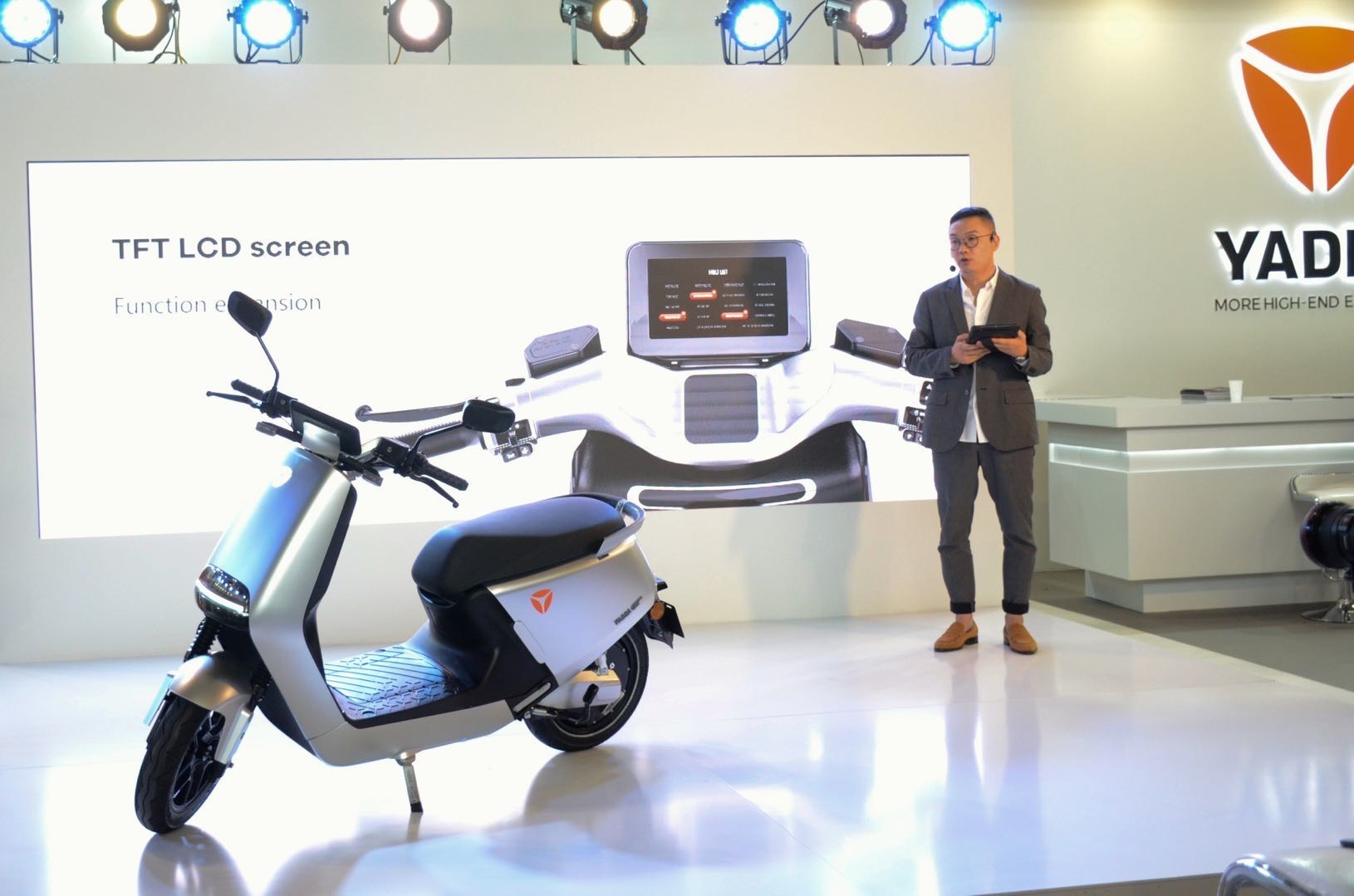 Reading Time:
3
minutes
On November 6th, global e-scooter leader Yadea showcased its new G5 e-scooter in Milan, at EICMA, the world's largest international motorcycle trade fair. The G5, a new-generation intelligent lithium battery lightweight e-scooter and quality-focused vehicle equipped with the latest in cutting edge technology, shared the spotlight at the exhibition with new models from Harley and Ducati.
A global leader in e-scooters and a sponsor of the 2018 FIFA Russia World Cup, Yadea has launched several high-end intelligent lithium-ion e-scooters that have become standard bearers in the market, backed by proprietary technologies and designs that are in full compliance with internationally-recognized standards. Yadea has become integrated into the world's top-quality supply chains and made sure that only the best that today's technology can offer is applied to every part and detail to create a world-leading product mix of e-scooters.
With the G5, Yadea went for an entirely new design concept that allowed for the leveraging of the latest in terms of smart technologies and performance optimization. The vehicle is equipped with the firm's proprietary GTR3.0 high-performance electric motor, a new-generation Panasonic high-energy power lithium battery and battery management system backed by Panasonic-certified battery PACKtechnology that prevents deterioration of the battery module, extends service life, and assures stable delivery of output power. The battery can be recharged 800 times before needing to be replaced, and each full charge provides the G5 with a range of up to 120km.
Other features include the same motorcycle hydraulic damping system found in top-of-the-line international brand motorcycles, a high-quality cold-rolled structural steel frame, ultra-quiet double-pump opposed piston type disc brakes, and, for the first time in any Yadea vehicle, the same run-flat tires installed on cars.
Disruptive innovation defines the vehicle's intelligent hardware and software: a 7″ ultra-thin (14mm) thin-film-transistor (TFT) full color liquid crystal display (LCD) instrument panel. An intelligent app that can be downloaded onto any smartphone allows the rider to remotely check the condition of the vehicle, look up the vehicle's specifications, undertake troubleshooting in case of malfunction or to locate the vehicle if lost. The e-scooter has keyless access with touch button start along with an array of other intelligent controls.
As the largest e-scooter maker in China, Yadea was invited to participate in EICMA, an international, market-oriented, professional trade fair where the latest advances in vehicles technologies, materials and processes will be on display to the world, opening a new channel where fans of every kind of two-wheeled vehicle can learn about and appreciate what China has to offer. The event is also an opportunity to showcase China's leadership in high-end manufacturing.
In China's e-scooter industry, Yadea has always played the role of innovation leader. Each of the maker's product and technology releases established new quality standards. The G5 was no different, most notably in the uniqueness of the design. All indications point to this new-generation intelligent Li-Ion battery lightweight e-scooter to be a model of epoch-making significance, setting a new standard for the e-scooter segment of the EV sector.
Yadea is recognized in China as the leading brand when it comes to e-scooters. In 2018, the firm's extensive lineup of e-scooters are sold in 77 countries, including the US and Germany, with annual global sales exceeding 4 million units, accounting for 11.7 per cent of the world total. There is good likelihood that Yadea will collaborate with global leading industrial design teams to take the level of creativity in product design and quality to a new level. At the same time, in a move to stake a strong market position in global markets, flagship showrooms are planned in New York and other cities around the world. Yadea, already the established leading brand within the industry in its domestic market, not only gives the sector a new opportunity to further grow and enlarge its footprint, but also an opportunity for the e-scooter maker to leverage the event as a showcase for where China's high-end manufacturing is today, and what can be expected of it in the future.
H&M and Lyft Offer Free Rides for New Yorkers to Recycle Clothing
Reading Time:
2
minutes
New Yorkers to also receive 15% off their H&M purchase in return for donating unwanted garments
H&M and Lyft are teaming up to provide free rides to New Yorkers interested in donating clothing to H&M's Garment Collecting program. Starting Jan. 22 through Jan. 27, the first 5,000 H&M customers interested in donating clothing can use the promo code HMRECYCLES to claim a free ride up to $10 to any H&M location in New York City. Customers will also receive 15% off their H&M purchase in return for a donation of unwanted garments, from any brand and in any condition.
The partnership is part of a broader mission by the two companies to take on the challenges of climate change and circularity in fashion more directly. H&M started its Garment Collecting program in 2013, becoming the first fashion company to launch a clothing collecting initiative worldwide. The program has collected 163 million pounds of textiles globally, providing customers an easy way to give clothes a second life to ensure fewer garments end up in landfills.
In 2018, Lyft committed to full carbon neutrality and 100% renewable energy by offsetting the carbon emissions from all Lyft rides, meaning every Lyft ride in NYC is carbon-neutral. Lyft also has partnered with cities and public transit agencies across the U.S. to launch bikes and scooters programs, including NYC's Citi Bike, as well as set the goal to achieve 50% shared rides by the end of 2020.
"Lyft is proud to partner with H&M to support the Garment Collecting initiative and provide the local community with accessible opportunities to donate and recycle clothing," said Ann Ferracane, General Manager of Lyft New York. "Helping New Yorkers make donations is an important, but exciting, step in creating a positive impact on our natural resources for years to come."
"H&M is thrilled to partner with Lyft in a joint effort to give garments a second life through H&M's Garment Collecting program. Sustainability is a part of everything we do, and we are excited this initiative will allow more New Yorkers to both learn about and get involved in the program," said Martino Pessina, President of H&M North America.
Sandvik Acquires Supplier of Battery Electric Vehicle Solutions
Reading Time:
1
minute
Sandvik acquires privately owned Artisan Vehicle Systems, manufacturer of battery powered underground mining equipment, based in Camarillo, California, USA. The core technology is battery packs, electric motors, power electronics, software and control systems. Artisan's underground mining loaders and trucks are designed with these high-powered, highly reliable and field proven battery electric powertrains. Artisan is the market leader with most battery electric vehicles currently operating in underground mining.
"I am pleased to see the strategic acquisition of Artisan so soon after the opening of Sandvik's state-of-the-art Battery Electrification Innovation and Development Center in Turku, Finland, in 2018. It is in line with our ambition to be leading in the market for Battery Electric Vehicle solutions", says Lars Engström, President, Sandvik Mining and Rock Technology.
Artisan will be a Business Unit in the Load and Haul Division within Sandvik Mining and Rock Technology.
"The area in which Artisan is located is a frontrunner in electric vehicle development. Our new R&D foothold there will complement the skillset we have in Finland. The combination of know-how and skills creates a very strong platform", says Mats Eriksson, President Load and Haul Division, Sandvik Mining and Rock Technology.
Artisan is a start-up company which in 2017 had revenues of 12.3 million USD and approximately 60 employees.
The parties have agreed not to disclose the purchase price. The transaction is expected to close during the first quarter 2019. The deal is initially neutral to earnings per share.
Hemmels 280 SL Featured at Mercedes-Benz World
Reading Time:
1
minute
Mercedes-Benz World has welcomed its first Hemmels motorcar for display at its facility in Weybridge, UK.
The motorcar, a 1968 280 SL "Pagoda" is prominently featured in the main reception area.
The restoration was commissioned by British racing car driver Paul Rees who chose to finish the car in its original Horizon Blue paint colour with a new Navy Blue leather interior. Estimated at a value of £285,000, the restoration was completed at Hemmels' bespoke facility in Cardiff, commencing in late 2016 and taking over 4,000 labour hours.
"Mercedes-Benz World has a fantastic display of classic and rare along with interactive exhibits and driving experiences. Establishing a centre of this calibre is complementary to the vision and commitment to excellence of this marque," said Joseph Sullivan, MD Hemmels. "We're proud to have the first of hopefully many motorcars displayed this prestigious facility."
Hi-res photos of the car both during restoration period and as on display are available from Hemmels by request.
https://www.hemmels.com/gallery-of-classic-mercedes-benz-images-including-w113-w198-and-w121-cars
Offering a new car buying experience, Hemmels' clients can order a Mercedes-Benz classic car in the colours of their choice along with bespoke options and preferences. Hemmels then restores the cars according to the exacting standards of its trademarked Neugeboren ("newborn") Process where every car is fully dismantled and rebuilt from its bare metal beginnings over a 52 week period. Like a new car purchase, a full 12 month parts and labour warranty is included along with servicing options.
Hemmels is pleased to welcome interested parties for a personal tour of the showroom and facilities through prior appointment. The company will be displaying a selection of its classic cars at the London Classic Car show, ExCel Exhibition Centre, London, UK from February 14th-17th, 2019.