Huawei Chips Unlock New Era of Artificial Intelligence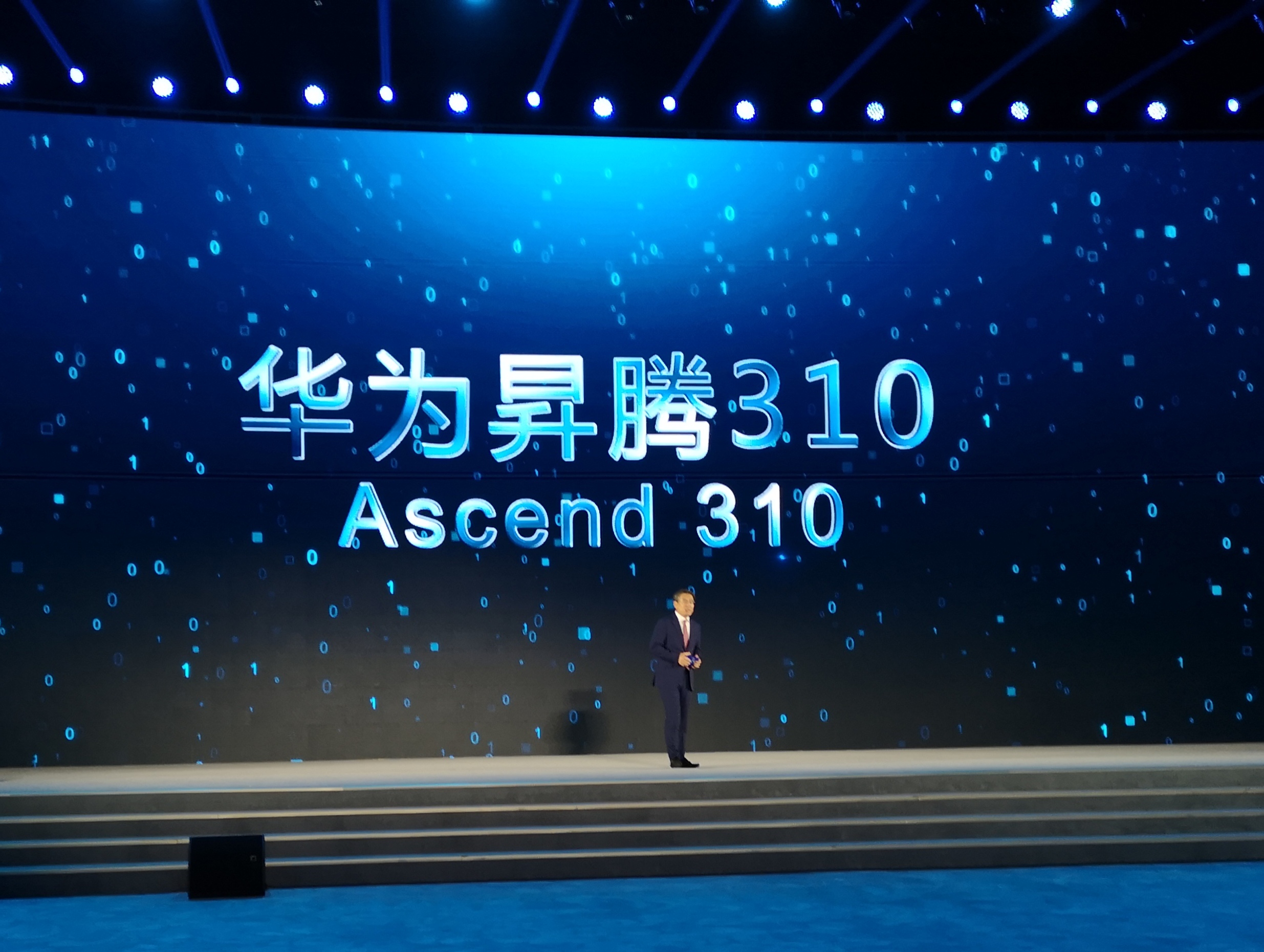 Reading Time:
3
minutes
New Ascend 310 AI Chip Earns Huawei the Prestigious "World Leading Scientific and Technological Achievement Award" at the Fifth World Internet Conference
Today at the Fifth World Internet Conference (WIC), held today in Wuzhen, Zhejiang, under the theme of "Creating a Digital World for Mutual Trust and Collective Governance – Towards a Community with a Shared Future in Cyberspace," Huawei's Ascend 310 chip stood out among more than 400 technology achievements to win the conference's World Leading Scientific and Technological Achievement award. This honor recognizes artificial intelligence (AI) system-on-chips (SoC) as having the industry's strongest compute capabilities for edge computing scenarios, with support from the unified and scalable Da Vinci architecture. This marks the third consecutive year Huawei has received this award and the opportunity to showcase its innovation during the conference. Yan Lida, Director of the Board at Huawei and President of Huawei Enterprise Business Group, presented the achievement to the guests at the conference.
Yan Lida said: "Huawei's new Ascend series of AI chips is the core component of Huawei's AI solution and provides the key support. Huawei's AI strategy is to invest in basic research and talent development; build a full-stack, all-scenario AI portfolio; and foster an open global ecosystem. Every year, Huawei invests 10 to 15 percent of our sales revenue in R&D, and this year our R&D investment will exceed CNY100 billion. Ascend 310 is the first chip in the Ascend series, which opens a new era of AI. Our advantage is not only to be able to do AI, but also to achieve synergy between AI and cloud, IoT, video, edge computing, big data and other technologies, to form an open "platform" that supports digital transformation for all industries. AI will be the latest technology Huawei makes available to customers and partners on the platform. We will work hard to make sure AI is no longer a technology only open to ones who have high qualification skills. Over the next three years, our aim is to work with one million AI developers to drive innovations in line with Huawei's commitment to provide affordable, effective, and reliable AI, bringing intelligence across every enterprise and industry to build a fully connected, intelligent world."
On October 10, 2018, Huawei officially released a full-stack all-scenario AI solution. 'Full-stack' means the solution provides powerful and cost-effective computing power, as well as low-barrier application development platforms that make AI data modeling, model training, and application development simpler, more agile, and more efficient. As an 'all-scenario' solution, it is able to drive pervasive intelligence across various device, edge, and cloud scenarios.
Ascend 310 is the industry's most powerful AI SoC chip for edge computing scenarios. Currently, the most typical edge computing scenarios are security and protection, autonomous driving, and smart manufacturing. However, every edge computing scenario imposes severe constraints on space, energy consumption and computing power. Whether it's on a fast-moving car or on a high-speed production line, a complex scientific study or a daily educational activity, Ascend 310 supports every industry with an cost-efficient and powerful computing energy. One Ascend 310 chip can achieve up to 16TOPS on-site calculations, supporting the simultaneous identification of 200 different objects including people, cars, obstacles and traffic signs; it can process thousands of pictures in one second. In October this year, Huawei and Audi demonstrated the chipset in L4 automatic driving. The vehicle was equipped with Huawei's Mobile Data Center (MDC) vehicle-mounted computing unit and it was estimated that Huawei's Ascend 310 chipset consumed only 200 watts of power in L4 automatic driving.
The other unique advantage of Ascend series is that it adopts Huawei's innovative unified and extensible Da Vinci architecture, which achieves full coverage – from the ultimate low energy consumption scenario to high computing power scenario – something not yet seen in any other architecture on the market. The Da Vinci architecture is able to facilitate AI application deployment, migration, and collaboration in different scenarios at the same time, which vastly improves software development efficiency, and accelerates AI application in various industries.
Huawei advocates 'AI for the benefit of all,' and aims to work with customers, industry partners, and academic institutions to achieve win-win outcomes and enable omnipresent AI. Our vision and mission is to bring digital to every person, home and organization for a fully connected, intelligent world. More information about Huawei's AI strategies and full-stack all-scenario AI solutions is available at https://www.huawei.com/en/press-events/news/2018/10/huawei-hc-2018-eric-xu-ai.
The WIC is a global annual event held by Cyberspace Administration of China and Zhejiang Provincial People's government. It aims to create an international forum for connecting China and the rest of the world and a Chinese forum for the global sharing and governance of the Internet. The conference fosters exchanges to enable consensus, cooperation, and win-win outcomes. The fifth WIC is being held in Wuzhen, Zhejiang province on November 7, 2018, and will run for three days.
Hozpitality India Joins Hands With Indian Horeca EXPO as Media Partners
Reading Time:
2
minutes
Indian Horeca EXPO will be held in two prime cities, Coimbatore and Hyderabad in India in 2019
Hozpitality Group had announced the media partnership with one of the most awaited hospitality EXPO in India, India HoReCa Expo 2019, a successful B2B Exhibition focusing on the supply chain for the Hotel, Restaurant, Catering & Café Industry. Health Care, Office management systems and solutions will also be highlighted in the expo. The 3-day business networking event will be a good platform for the buyers, purchase initiators, end users and the decision makers to meet suppliers and plan their sourcing to fulfill their current & future requirements.
The 3rd edition of Indian Horeca Expo will be hosted at Codissia Trade Fair Complex from 5-7th July in Coimbatore, TamilNadu and 4th edition will be hosted at the HIEX exhibition center in Hyderabad. This will be a one stop shop for hotel suppliers and hospitality companies. "We are extremely happy and excited to be a part of the largest and renowned Trade shows in India. This will be our first Media partnership with an exhibition in Indiathough we are media partners of most of the reputed trade shows and expos in Middle East, Africa and India. We would be excited to work with more industry partners in India in upcoming future," added Raj Bhatt, CEO and Founder of Hozpitality Group.
The BUSINESS CONNECT is planned to facilitate the meetings with project planners along with their department heads to identify innovative products & to understand the functional aspects. IHE 2019 will be the perfect PROCUREMENT HUB for the Hospitality & Food service industry as it is carefully designed & scheduled for procurement professionals to source products within a limited time frame at the expo.
STARTUPS and Investors get an opportunity to discuss with senior industry professionals from the HoReCa sector. Experienced Culinary & Hospitality Consultants will be available to share their knowledge at the Consultants lounge. One may register on the official website to fix a prior appointment with the professionals on specific business topics.
BUSINESS MATCHMAKING: On understanding the actual requirement of the buyer the organizer will schedule meetings with relevant exhibitors to facilitate B2B meetings at the Business lounge.
NETWORKING SCHEDULE definitely helps the attendees to spend quality time with their vendors and in return business conversions are a proven factor.
HOSPITALITY TREND TALK is a mix of seminars, workshops, panel discussions and other activities which is of key interest to the industry. The FACILITY MANAGEMENT CONCLAVE will steer the admin and space management professionals to come out with the innovative sustainable solutions and share BEST PRACTICES of the FM world.
HOSPITALITY DESIGN CONCLAVE will involve senior designers, architects and young professionals to give the decor business a fresh & trendy twist. It will be a golden opportunity to learn about material, fabrics, concepts and cost-effective solutions.
The attendees who were part of the previous editions of India HoReCa Expo were highly satisfied with the mix of products, the quality & service of the suppliers. This year at IHE 2019 HoReCa Professionals will be able to identify innovative and effective product range from F&F, Interiors, Laundry, Housekeeping, Food Service, Engineering, IT, Commercial Kitchen Solutions, Consumables & Gourmet Food.
Besides India business delegation from over 10 Asian countries have planned to make this event an effective sourcing platform. Specific Pavilions for the exhibitors have been planned to facilitate delegates to identify their required segment.
Attendees are requested to preregister on www.indiahorecaexpo.com
SOURCE: Hozpitality Group
China based innovation, CDMOs and Parallel Approvals driving huge growth in manufacturing at CPhI China
Reading Time:
3
minutes
Significant increase in exhibitors driven by bio growth at bioLIVE and separate nutraceuticals event.
CPhI & P-MEC China (#CPhIChina and #PMECChina) – co-organized by UBM EMEA, CCCMHPIE, and UBM Sinoexpo – takes place at the Shanghai New International Expo Center (SNIEC) on 18-20 June 2019. The event will be co-located with ICSE, InnoPack, bioLIVE, NEX, Labworld, FDF, and EP & Clean Tech. Seen as the bellwether of pharmaceutical trends across the country, CPhI & P-MEC China's agenda is packed with content from over 100 onsite conferences and activities as well as more than 50 seminars, with speakers from China and abroad.
One of the key trends to emerge this year is the rise in the number of innovative China-based biotechs – coupled with the easing of regulatory pathways and an emerging CDMO sector – is fueling a significant growth in manufacturing across China. In view of this, experts at the event will assess the Marketing Authorization Holder (MAH) Pilot Program, as well as recent reforms of China's regulatory landscape and the opportunities for international pharma.
With the Chinese pharma growing at a ferocious pace, CPhI & P-MEC China is expected to welcome 50,000 attendees in its 19th edition – a year-on-year increase of 30% – which is further indicative of the buoyancy of the Chinese market. The event is also expected to see a 6% increase in exhibitors, with more than 3,200 from over 120 countries in attendance.
"China is issuing new guidelines at a feverish pace and will be harmonized with ICH very quickly. The result is that over the next two to three years' poorer quality manufacturers will drop out of the market and China's manufacturers will look to compete in international markets as well as domestic" CPhI Annual Report Expert, Bikash Chatterjee on outlook of 2019.
Wider market data also supports this ongoing boom, with China's pharmaceutical market projected to grow strongly from 115.2bn USD in 2016 to 159.4bn USD by 2021 and 234.2bn USD by 2026. This represents a 10-year compound annual growth rate of 8.8% in local currency terms and 7.3% in US dollar terms. Similarly, bioprocessing in China has been on a trajectory of rapid growth, with a 39% growth in facilities, and total capacity is growing >8% annually, with biosimilars offering the largest growth potential.
At the 2019 edition, for the first time, CPhI & P-MEC China 2019 will launch bioLIVE – their new bioprocessing and manufacturing exhibition – which has evolved from the previous BioPh China and will run adjacent. This exposition is in response to the large molecule trend within the industry, and arrives at a particularly prominent moment. Within the last year, there has been a proliferation of biosimilars and double-digit approvals of biologics – as well as a host of investments taking place in contract services.
Marie Lagrenee, Brand Manager at CPhI & P-MEC China, commented: "The growth of the Chinese pharma economy has been exponential in recent years, with regulatory reforms spearheading the increased interest in the region from both domestic and international companies. With a bourgeoning CDMO sector and recent harmonization by ICH, it's pivotal that events such as CPhI & P-MEC China provide a platform to drive growth, exchange new ideas and expedite new deals to help nurture this budding market."
The third edition of China Pharma Week will take place alongside CPhI & P-MEC China on June 17-21 2019, focusing on Leadership, Business, Networking, Innovation, Recognition and Knowledge. Activities will include plant visits, a networking dinner, women in leadership forum, summits and the Innovation Gallery Tours, giving a deeper work floor insight and dedicated industry conferences on different sectors.
For more information, please visit the official website: www.cphi.com/china
Notes to editors
Notable features at CPhI China 2019 include:
Over 100 onsite conferences and activities with speakers from China and abroad, 50+ seminars
The renowned Matchmaking Service, an online matchmaking tool, which enables attendees to search for and arrange meetings with exhibitors prior to the show according to their business goals
The Innovation Gallery Tours will provide 2019 attendees with the latest insight into Functional and Insulin packaging solutions in the Chinese market as well as the opportunity to meet exhibitors
The Supplier Finder System, an interactive floor plan via dedicated screen, onsite visitors will be able to discover the location of existing or future business numbers, based on the search by a company name, product name or company's stand number
CPhI TV will bring live interviews from the top companies on the show floor and live content onsite to get the best out of the show.
SOURCE: UBM Sinoexpo
2019 Chain Plus Asia Pacific Blockchain New Finance Summit: Singapore station Completed Successfully
Reading Time:
2
minutes
On April 11–12th, "2019 Chain Plus Asia Pacific Blockchain New Finance Summit: Singapore station" has ended with a bang.
Although it is currently a bear market, the enthusiasm of the participants did not decrease. At this industry-leading forum, Chain Plus, William Zhu, founding partner of The Blockchainer, also the host of this summit, reviewed and speculated the past, present and future of blockchain finance area.
With the welcome speech from Chia Hock Lai, President of Singapore Fintech Association, Nizam Ismail, a former regulator of MAS, delivered a keynote speech about "How Regulators Have Responded to Facilitate Innovation, and How They Should Respond in Future".
Hongfei Da, founder of NEO&Onchain, Alexandre Kech, CEO of Onchain Custodian and Jun Li, Founder of Ontology & Co-Founder of Onchain, gave amazing speech and held the product launch ceremony with Raymond Zhang, CSO of Onchain Custodian.
Andrew Pudovikov of Sberbank blockchain laboratoryshared"Enterprise Blockchain use cases in Sberbank", Ouyang Yun, CEO of Goldlinks, shared"Anchoring the crypto world", Jack Li, CEO of Ontrade, talked about "How to solve the existing problems with regards to the lack of altcoin liquidity and inefficient cryptocurrenty markets?", Piotr Jan Pietrzakfrom INGdelivered a speech about "Is blockchain the major next step in the evolution of payments?" and Yihao Zhang, head of marketing from Huobi Global, shared about "The future of premium tokens".
There were also some speakers shared their opinions for "Building the New Financial Ecology", including NGC, Hashkey capital, Cardano Foundation, EMURGO, TontineTrust, IBM, R3, etc.
Followed by a heated discussion named "The Future of Blockchain and Financial Infrastructure", Mr. Tissa Jayaweeratofrom Japan Asia Investment Company Ltd., Sunny Han, co-founder of Elastos, Leo Wang, CEO of Litex, Haidar Omais, chief marketing officer of Distributed Earth and Rita Xia Havsholm, project advisor of Orient Walt, shared their opinions.
What's more, the topic"The Management, Issuance and Trading of Digital Asset"was also a big show with the following companies joined: Bit-Z, Polymath, Satang Corporation, Remitano, Indodax, Bibox, Bitcoin Co. Ltd, Node Capital, Sri Lanka, P2P foundation, Maecenas, Securitize, HEG Fribourg, True Global Ventures, Onchain custodian, DBS bank, Standards Chartered bank, BitKan, Stellar, etc.
Thanks to these excellent speakers, companies, all media partners and the news release distribution partner — PR Newswire, the 2019 Chain Plus Asia Pacific Blockchain New Finance Summit – Singapore station ended smoothly. According to statistics, this summit attracted more than 400 industry practitioners, including more than 40 traditional financial institutions,100 high-quality projects and more than 50 other investment institutions, such as  OnTrade, OK group, InvestaCrowd, Taipan Investment, JLAB, JRR Crypto, Central Bank of Sri Lanka, DBS bank, Stellar, NEO, Ontology, Japan Asia Investment Company Ltd., NGC, True Global Ventures, as well as crypto exchanges such as Bitfinex, Indodax, Bit-Z and Unidax.
SOURCE The Blockchainer