Huawei Chips Unlock New Era of Artificial Intelligence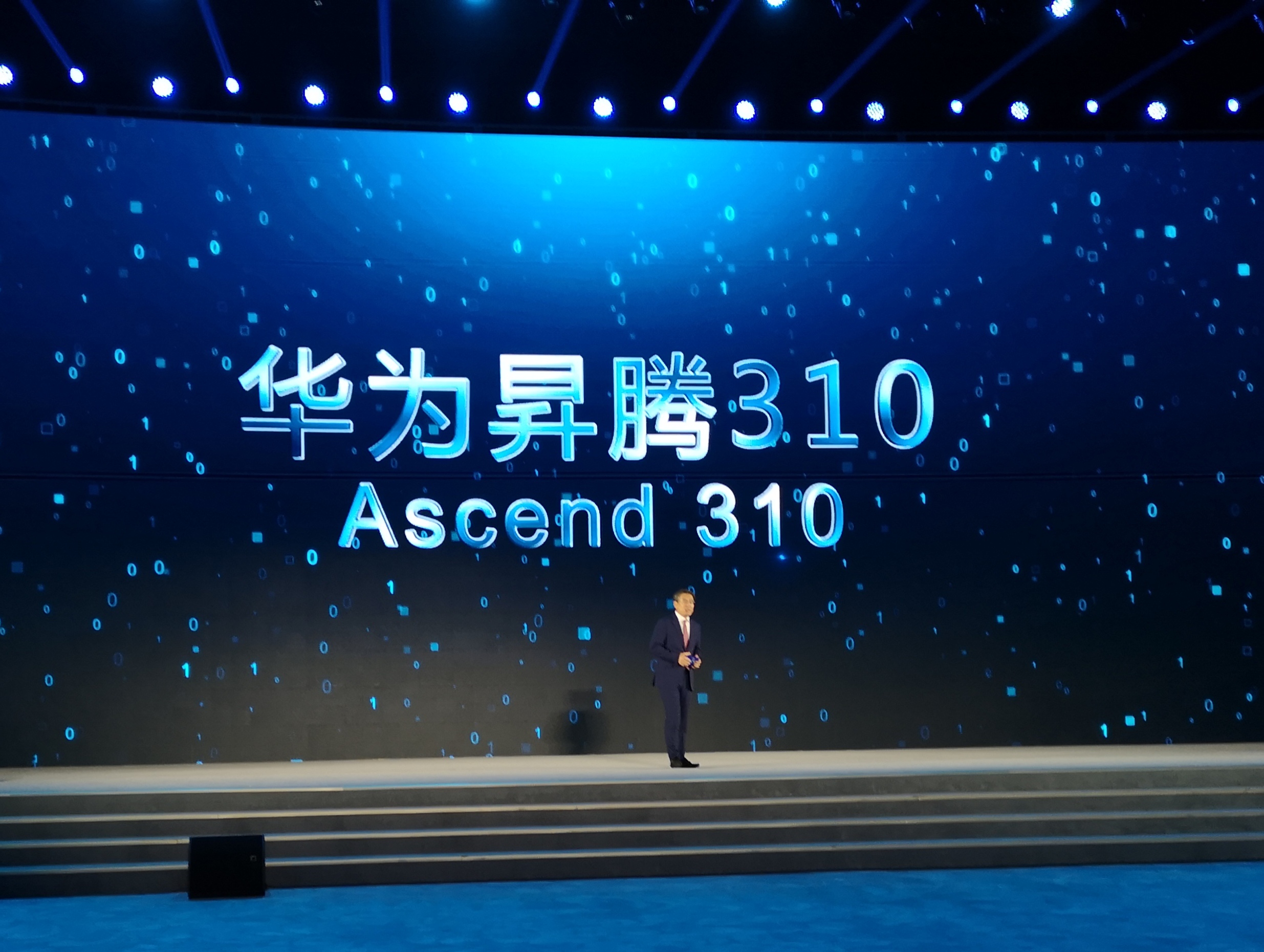 Reading Time:
3
minutes
New Ascend 310 AI Chip Earns Huawei the Prestigious "World Leading Scientific and Technological Achievement Award" at the Fifth World Internet Conference
Today at the Fifth World Internet Conference (WIC), held today in Wuzhen, Zhejiang, under the theme of "Creating a Digital World for Mutual Trust and Collective Governance – Towards a Community with a Shared Future in Cyberspace," Huawei's Ascend 310 chip stood out among more than 400 technology achievements to win the conference's World Leading Scientific and Technological Achievement award. This honor recognizes artificial intelligence (AI) system-on-chips (SoC) as having the industry's strongest compute capabilities for edge computing scenarios, with support from the unified and scalable Da Vinci architecture. This marks the third consecutive year Huawei has received this award and the opportunity to showcase its innovation during the conference. Yan Lida, Director of the Board at Huawei and President of Huawei Enterprise Business Group, presented the achievement to the guests at the conference.
Yan Lida said: "Huawei's new Ascend series of AI chips is the core component of Huawei's AI solution and provides the key support. Huawei's AI strategy is to invest in basic research and talent development; build a full-stack, all-scenario AI portfolio; and foster an open global ecosystem. Every year, Huawei invests 10 to 15 percent of our sales revenue in R&D, and this year our R&D investment will exceed CNY100 billion. Ascend 310 is the first chip in the Ascend series, which opens a new era of AI. Our advantage is not only to be able to do AI, but also to achieve synergy between AI and cloud, IoT, video, edge computing, big data and other technologies, to form an open "platform" that supports digital transformation for all industries. AI will be the latest technology Huawei makes available to customers and partners on the platform. We will work hard to make sure AI is no longer a technology only open to ones who have high qualification skills. Over the next three years, our aim is to work with one million AI developers to drive innovations in line with Huawei's commitment to provide affordable, effective, and reliable AI, bringing intelligence across every enterprise and industry to build a fully connected, intelligent world."
On October 10, 2018, Huawei officially released a full-stack all-scenario AI solution. 'Full-stack' means the solution provides powerful and cost-effective computing power, as well as low-barrier application development platforms that make AI data modeling, model training, and application development simpler, more agile, and more efficient. As an 'all-scenario' solution, it is able to drive pervasive intelligence across various device, edge, and cloud scenarios.
Ascend 310 is the industry's most powerful AI SoC chip for edge computing scenarios. Currently, the most typical edge computing scenarios are security and protection, autonomous driving, and smart manufacturing. However, every edge computing scenario imposes severe constraints on space, energy consumption and computing power. Whether it's on a fast-moving car or on a high-speed production line, a complex scientific study or a daily educational activity, Ascend 310 supports every industry with an cost-efficient and powerful computing energy. One Ascend 310 chip can achieve up to 16TOPS on-site calculations, supporting the simultaneous identification of 200 different objects including people, cars, obstacles and traffic signs; it can process thousands of pictures in one second. In October this year, Huawei and Audi demonstrated the chipset in L4 automatic driving. The vehicle was equipped with Huawei's Mobile Data Center (MDC) vehicle-mounted computing unit and it was estimated that Huawei's Ascend 310 chipset consumed only 200 watts of power in L4 automatic driving.
The other unique advantage of Ascend series is that it adopts Huawei's innovative unified and extensible Da Vinci architecture, which achieves full coverage – from the ultimate low energy consumption scenario to high computing power scenario – something not yet seen in any other architecture on the market. The Da Vinci architecture is able to facilitate AI application deployment, migration, and collaboration in different scenarios at the same time, which vastly improves software development efficiency, and accelerates AI application in various industries.
Huawei advocates 'AI for the benefit of all,' and aims to work with customers, industry partners, and academic institutions to achieve win-win outcomes and enable omnipresent AI. Our vision and mission is to bring digital to every person, home and organization for a fully connected, intelligent world. More information about Huawei's AI strategies and full-stack all-scenario AI solutions is available at https://www.huawei.com/en/press-events/news/2018/10/huawei-hc-2018-eric-xu-ai.
The WIC is a global annual event held by Cyberspace Administration of China and Zhejiang Provincial People's government. It aims to create an international forum for connecting China and the rest of the world and a Chinese forum for the global sharing and governance of the Internet. The conference fosters exchanges to enable consensus, cooperation, and win-win outcomes. The fifth WIC is being held in Wuzhen, Zhejiang province on November 7, 2018, and will run for three days.
Brand Factory Launches Their #BuraNaManoDiscountHai Campaign, Challenges the Norm With Their Holi Special Offers
Reading Time:
3
minutes
The new campaign, created by Publicis, aims at changing stereotypes and encouraging one to wear new clothes and look their best for Holi by offering heavy discounts on top-notch retail brands 
For years people saved their old clothes to wear them on Holi before finally discarding them. Future Group's retail fashion discount chain Brand Factory, has launched a new campaign for Holi that aims at breaking this stereotypical habit. The Brand has announced huge discounts to up to 70% this Holi with their #BuraNaManoDiscountHai campaign. The campaign messaging encourages people to buy and wear new clothes on Holi by making use of the massive discounts on offer. It also borrows from movies wherein the actors are shown celebrating Holi wearing new clothes without caring about their clothes being drenched with water and colours.
It is definitely an unusual campaign as it challenges the norm yet remains in touch with the essence of Holi. At the same time the campaign is a nod to the current social media trend where one wants to look their best, yet enjoy the festival at its fullest. Brand Factory will provide a spectacular chance for everyone to do so, by providing them unbelievable offers on all brands associated with them, such as, Vero Moda, Pepe Jeans, Wills Lifestyle, Wrangler, Gini & Jony, Arrow, and many more. This impressive campaign that is 'hatke' stays true to Brand Factory's roots by pursuing a route that any other brand would've stayed away from.
Roch D'Souza, Chief Marketing Officer, Brand Factory, said, "Holi traditionally has been the only festival where we wear old clothes, we took that as an insight and wanted to encourage everyone to wear new clothes. Brandfactory plays the perfect enabler since we are the only fashion destination that's on discount 365 days. The film stays true to our space of being quirky and delivering the message in an interesting narrative."
The digital campaign is launched via a film which showcases a prisoner who is all set to come out of the jail after years. He is gifted new clothes which he wears and turns to set out free. He then insists to stay at the prison, afraid he will spoil his new clothes because of Holi. The jailer informs him that he can avail huge discounts on clothes for 365 days by shopping from Brand Factory. The prisoner then happily leaves from the jail in a heroic manner and enjoys getting sprayed with colours. The ad is created by Publicis.
Ramakrishnan Hariharan, Head of Creative, Publicis Ambience, commented, "At the onset we knew there would be a barrage of colourful ads during Holi, so we decided to make something that stands out. Much needed in this age of mega-clutter. Also, Holi is revealed only much later in the film, in a thoughtfully crafted suspense narrative, so the audience remains intrigued throughout. It was pure fun working on this one. Grateful to all who made this happen."
The campaign is truly different as they have taken a route that all other brands have stayed away from and at the same time stayed true to the Brand's personality and messaging.
Brand Factory , a Future Group concept, is India's leading chain of fashion discount stores with 72 outlets across 30 cities in India. It offers 200+ Indian and International fashion brands at 20-70% discount, 365 days a year. It also offers a diverse range of merchandise at absolutely great prices in a refreshingly enjoyable ambiance. Brand Factory stores include men's formals, casuals, youth wear, women's wear, sportswear, kids wear, footwear, accessories and more.
Publicis Worldwide India is part of Publicis Communications in India. The agency also includes the recently launched Marcel India, Publicis Group's international creative hot shop. Publicis Worldwide India is one of the top-ranked agencies in India, with offices in Mumbai, Delhi (NCR) and Bangalore. The agency is no stranger to awards, having proved its chops across Indian and international award shows – Cannes Lions, Clio, One Show, D&AD, Spikes Asia, Effies, Abbys, being some of the coveted awards under its belt. In India the agency works with an impressive array of clients that include Nestle, Citibank, Zee, Garnier, Heineken, Nerolac, Skoda, Malaysia Tourism, HDFC Mutual Funds, etc.
SOURCE: Brand Factory
FastGo prepares to launch its ride-hailing application in Singapore with its ambition of winning Southeast Asian market
Reading Time:
2
minutes
FastGo – Vietnamese car hailing application will launch in Singaporemarket in April 2019. This is the third country, in which FastGo is going to officially operate its service after Vietnam and Myanmar. According to FastGo's announced plan, FastGo application is going to be available in 6 Southeast Asian countries in 2019 including Vietnam, Myanmar, Singapore, Indonesia, Thailand, and Philippines.
In June 2018, FastGo launched ride-hailing service in Vietnam after Uber withdrew from Southeast Asian market. FastGo is currently one of the top-2 ride-hailing applications in Vietnam with nearly 60,000 driver partners in 10 provinces and cities. In December 2018, with the cooperation with Asia Sun Group, FastGo launched its application in Yangon, Myanmar.
FastGo is a member of NextTech Group (nexttech.asia), which is the leader in the Internet field in Vietnamese of E-commerce, payment and logistic. The main services of FastGo are three types of ride-hailing service, which are FastCar, FastTaxi and FastBike. The company is preparing to launch FastExpress, FastCare and FastLend services as well. In August 2018, FastGo received a Series A investment from VinaCapital Ventures. The company is mobilizing Series B investments to expand its market.
Being different from the other competitors in the market, FastGo does not collect a commission fee from the driver-partners. The company only charges a fixed amount of daily fee (daily subscription fee). In Singapore market, FastGo expects to charge an amount lower than 5 USD if the driver's income is over 30 USD per day. If the driver's income is lower than 30 USD per day, FastGo will not charge any service fee. Besides, there is no surcharge during peak hours. However, the application allows the customers to use the TIP (bonus) function when booking a ride, or choose the Priority services. This strategy helps FastGo swiftly attract the driver-partners and customers at a low cost.
Mr.Nguyen Huu Tuat, Founder & Chairman FastGo shared, "Despite of being a follower, FastGo's model brings the best economic benefit to the drivers and customers. Any FastGo ride will always be cheaper than the others. The customers' safety is ensured with FastGo insurance package and they are served wholeheartedly by the drivers. Every city, where FastGo presents, the driver-partners support and promote FastGo enthusiastically to the passengers. Hence, we are able to save the marketing cost to reach new customers. Our resources will be saved to invest in improving products and the service quality, in order to increase the benefits for the users and driver-partners."
Since Apr 1 2019, FastGo will officially open the registration for the driver-partners in Singapore. The application will be available for customers to book a ride from April 30, 2019. After Singapore, the next city that FastGo will start its adventure is Jakarta, Indonesia.
SOURCE FastGo
Kakao's Blockchain Project 'Klaytn' to Lead Mainstream Adoption of Blockchain: Announcing the 3rd Batch of Initial Service Partners
Reading Time:
3
minutes
Klaytn mainnet to be released at the end of June
Service providers with massive user base join Klaytn for scaling the reach of blockchain
Klaytn partners with global blockchain projects around the 

Netherlands

, 

Argentina

, and 

Japan
Kakao's blockchain subsidiary 'Ground X' held 'Klaytn Partners Day' on March 19 at Kakao office in Pangyo. At the event, Ground X shared the vision and roadmap of its global public blockchain platform 'Klaytn,' and also announced the 3rd batch of 9 more initial service partners.
Klaytn public testnet 'Baobab' to be released on March 29 while the mainnet will launch at the end of June
"Technology is meaningful only when it is used by people," said Jason Han, the CEO of Ground X, during the presentation. He pointed out a few obstacles that stand as the challenge in blockchain industry such as the lack of user acquisition channel and poor user interface. He further added, "We are developing the Klaytn platform in a way that any user, developer, or service provider finds intuitive to use, and together with our partners, we will provide user-friendly blockchain services on Klaytn." Jason, heading the development and operation of Ground X, emphasized driving the mass adoption of blockchain-empowered services as to substantiate the value and utility of blockchain technology.
Klaytn is dedicated to the popularization of blockchain. In doing so, Klaytn provides user-friendly UI (User Interface) and intuitive DX (Developer Experience) for developers to create blockchain applications and services. Prioritizing its efforts towards validating blockchain's value and utility, Klaytn has been partnering with large user pool-based service providers with a focus on creating meaningful real use cases.
Klaytn, which has launched the testnet 'Aspen' exclusively to its partners last month, is planning to release the public testnet 'Baobab' that any developer or service provider can use. The mainnet will launch at the end of June.
The upcoming 'Baobab' version reflects the feedback from the exclusive partners that have been using the testnet for the past five months. While maintaining the enhanced speed and high security, Baobab eliminates the traditional inconveniences such as private keys and cryptograph addresses. Also included in Baobab are scalability solutions for blockchain services with large traffic.
Klaytn to continue expanding partnerships for successful blockchain real use cases
Continuing its efforts to scale the reach of blockchain in the market, Klaytn announced the 3rd batch of initial service partners from various industries including social dating, bicycle sharing, ticketing, and healthcare. Klaytn has earlier partnered with 17 service providers, and with 9 more partners joining Klaytn this time, a total of 26 initial service partners are participating in the Klaytn ecosystem.
The 3rd batch includes quite a number of global service providers around the Netherlands, Japan, and Argentina. First, Carry Protocol, operated by the co-founders of South Korea's largest brick-and-mortar rewards platform, 'Spoqa,' the operator of 'Dodo Point' is joining Klaytn. 'Dodo Point' loyal service, which allows users to register by simply entering their mobile phone numbers, has accumulated over 18 million users at over 10,000 offline stores. Carry Protocol seeks to build a blockchain platform to connect offline merchants with customers.
A social dating application service called 'Palette' operated by a Japan-based game company 'Cocone' with over 1 million DAU is also joining Klaytn. Netherlands-based GET Protocol is also participating. GET Protocol offers a blockchain-based smart ticketing solution that eliminates ticket fraud and exorbitant prices.
The Sandbox, from Argentina, is a decentralized community driven platform where creators can make voxel assets to enjoy the gaming experience and monetize their assets on blockchain. Also joining Klaytn is HAWK, a blockchain-based e-scooter sharing technology supported by 'UChain' whose service includes 'U-bicycle,' an urban-bike sharing platform popular around Canada, China, and U.S. with over 30 million users.
Other notable industry partners include 'QueryPie Protocol,' a blockchain-based database management toolkit operated by 'CHEQUER,' which developed an IDE database tool called 'SQLGate'; 'SIXR,' a blockchain project developed by 'Future Stream Networks' of 'Yellow Digital Marketing Global'; 'Festy,' a blockchain-based payments and data intelligence service from Ireland; and, 'HEX,' a platform specialized in the development and operation of personal health record management applications.
Using the deployed Klaytn testnet, the partners work towards further reinforcing the Klaytn's ecosystem by releasing their BApp (Blockchain Application) services at the time of mainnet launch. Until then, Klaytn will continue to expand its partnerships.
"Klaytn is the very first blockchain project with a prospective user base of tens of millions," said Han. He further added, "Together with our partners, Klaytn will take the blockchain industry to the next level by focusing on creating meaningful real use cases."
Any service providers and developers interested in using Klaytn testnet can register on the official Klaytn homepage at www.klaytn.com and apply for a partnership screening.
SOURCE Klaytn