Official Hong Kong Blockchain Week launches March 4 – 8, 2019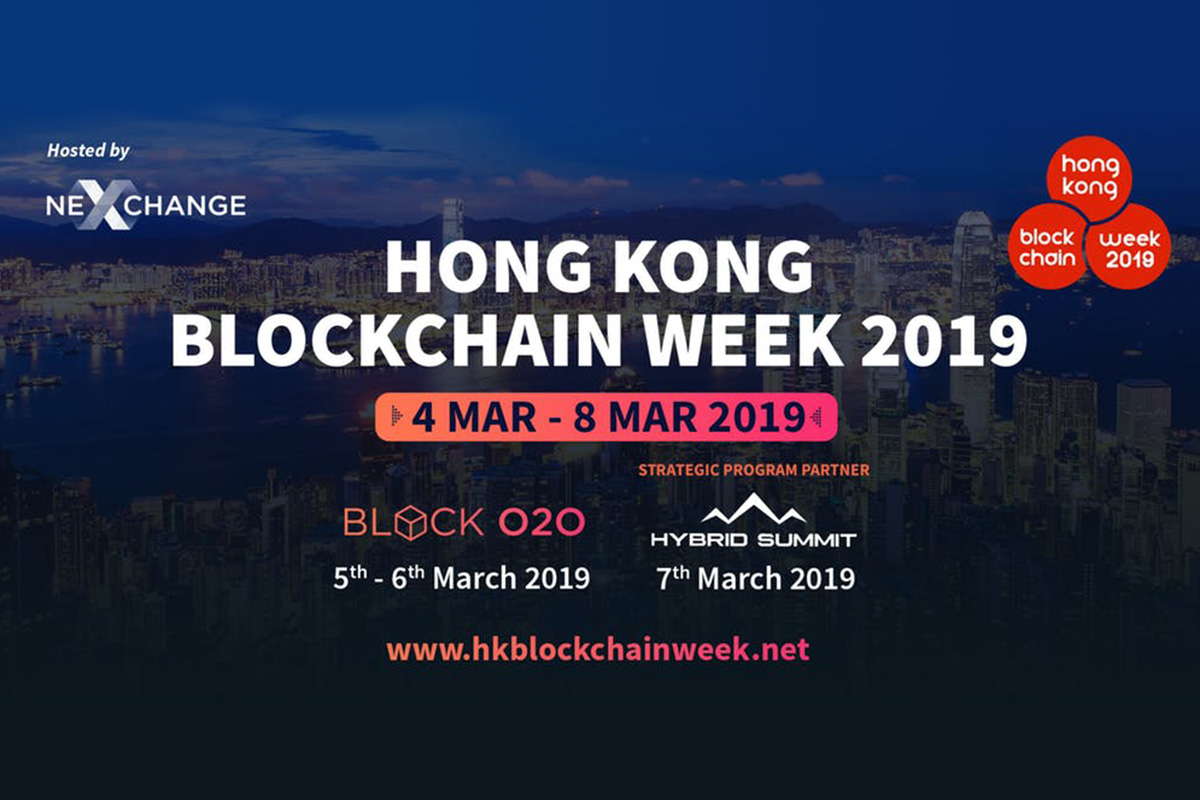 Reading Time:
2
minutes
The Official Hong Kong Blockchain Week will be launched from March 4 – 8, 2019 and be hosted by NexChange. Blockchain business and technology leaders from around the world will converge in Hong Kong.
The week will be anchored by NexChange's Block O2O Global Blockchain Summit 2019 (March 5-6). The Hybrid Summit will be hosted by Strategic Programme Partner Hybrid Block on March 7. The Week will be supplemented by over 20 accredited events, details of which can be found at hkblockchainweek.net.
Over 120 speakers from 50+ countries will meet with more than 150 investors and in excess of 100 journalists at HKBCW.
Hong Kong is Asia's premiere blockchain conference center for new blockchain enterprises to come and raise money, for major exchanges to establish themselves and for investors to decide where to place their bets in the blockchain future. Major corporate players will come to network, learn, and present their solutions alongside influential global NGOs.
The Hong Kong government has made a major push to support research and development of new technologies, including funding for blockchain. Major government departments and research centers are lining up to stand behind Blockchain Week.
From Bitcoin loyalists to those building Blockchain 2.0, 3.0, and beyond, Hong Kong will gather over 3,000+ delegates at the main event and at smaller blockchain events across Hong Kong. Deep dive education, practical workshops, networking opportunities, exhibitions and site tours will make it an action-packed week.
Hong Kong is host to crypto's biggest exchanges, the highest concentration of investors and the most crypto-active community in Asia. Major consortia like Hyperledger have made Hong Kong home for their Asia Pacific leaders. Bitmain chose Hong Kong's stock exchange for its upcoming listing. Major multinationals have blockchain research labs and architects situated in the heart of Asia.
Powered by NexChange, there will be a blockchain expo and a blockchain conference. Hear from blockchain experts on:
| | | |
| --- | --- | --- |
| Cryptonomics | Investment Climate | Blockchain for finance |
| ICOs vs VC and IPOs | Regulatory Issues | AI and blockchain |
| Security Tokens | | |
NexChange CEO and Founder, Juwan Lee, says, "It is time for the first official Hong Kong Blockchain Week with the full support of the vibrant global blockchain community coming together. "
OKEx Launches Thai Baht (THB) and British Pound (GBP) OTC Trading
Reading Time:
2
minutes
OKEx, the Malta-based world-leading digital asset exchange, announced to launch two new currencies – Thai Baht (THB) and British Pound (GBP) on its over-the-counter (OTC) trading platform (also referred to as fiat-to-cryptocurrency platform). Users in Thailand and the United Kingdom can now complete KYC verification to be eligible to trade on the OTC trading platform.
OKEx OTC trading allows users to place orders with self-selected exchange rate and payment methods to buy or sell Virtual Financial Assets with fiat currencies, which benefits them by offering a low-volatility market and zero transaction fee. Instead of the listing of the new currencies, Thai Baht (THB) and British Pound (GBP), OKEx OTC trading platform has already been facilitating global digital assets trading with the Vietnamese Dong (VND) and Chinese Renminbi (CNY) fiat-to-cryptocurrency markets, and more currencies are expected to come in at a later time this year. The Thai Baht (THB) and British Pound (GBP) OTC trading markets currently support BTC, USDT, ETH, and LTC.
"Our mission is simple at OKEx. We aim to offer flexibility and convenience to our traders. Thailand and the UK own the fastest growing crypto communities in the world. We see great potential in these two markets and want to support the needs there. Because of the increasing trading volume and number of traders in these two countries, we decided to launch the new THB and GBP trading services on our OTC trading platform. Wherever the market potential locates, we will expand to there. In 2019, you can expect more currencies will be supported on OKEx," said Andy Cheung, OKEx's Head of Operations.
OKEx OTC Network Launch Events and Promotions
To celebrate the launch, OKEx has come up with new incentives to encourage new sign-up for merchants and customers in Thailand and the UK. From January 23 to 27, newly registered customers can earn up to 50 USDT for making a minimum deposit of 100 USDT (or equivalent) and complete their first OTC transaction on OKEx, while the top 70 merchants with the most transaction volume will be rewarded 30 USDT (1 time per day).
In addition, the OKEx OTC Network Launch events will be hosted in Bangkok, Thailand on February 13, 2019 and London, UK in March respectively.
For more details, please refer to OKEx Twitter.
Risk Warning: Trading digital assets involves significant risk and can result in the loss of invested capital. Users should ensure that they fully understand the risk involved and take into consideration their level of experience, investment objectives and seek independent financial advice if necessary.
Licensed Crypto Exchange Covesting Introduces Fiat Gateway
Reading Time:
1
minute
Covesting, a licensed European-based digital currency exchange and professional trading platform offering secure and technologically advanced infrastructure for investors and traders worldwide, has introduced the first stage of their fiat gateway and cryptocurrency converter. EUR deposits via wire transfer are now available.
Additional options for fiat deposits/withdrawals as well as the buying and selling of cryptocurrencies will be released in stages over the coming weeks.
Covesting's Founder and CEO, Dmitrij Pruglo, spoke about the company's latest update, saying:
"The launch of a fiat gatewayis yet another step towards our ultimate goal of being the most complete, secure and transparent cryptocurrency platform in the industry. Allowing retail and institutional clients to legally exchange fiat into crypto automatically gives Covesting an edge and puts us among very few exchanges who offer such a solution. There are hundreds or maybe even thousands of crypto-crypto exchanges out there, but few who offer a legally compliant bridge between crypto and the traditional world of finance. We will continue to monitor the market and adapt to the new reality while offering the most demanded tools for our users."
EQT Credit is the Largest Lender in a Second Lien Financing to Support Jacobs Holding's Acquisition of Cognita
Reading Time:
1
minute
EQT Credit, through its Mid-Market Credit investment strategy, is pleased to announce that it is the largest lender in a EUR 255 million second lien term loan financing solution to support Jacobs Holding AG's ("Jacobs") investment in Cognita (the "Company").
Launched in 2004, Cognita is a leading global provider of private premium K-12 education services, currently comprising 72 schools in eight countries across Asia, Europe and Latin America. The Company employs 7,000 teaching and support staff, educating over 40,000 students across a diverse range of international, national and bilingual curricula.
Paul Johnson, Partner at EQT Partners' Credit team, Investment Advisor to EQT Credit, commented:
"Cognita is strongly positioned as one of the largest K-12 platforms globally, with a diversified portfolio of high-quality schools that is well invested to support continued growth and has an outstanding management team with a strong performance track record. EQT Credit looks forward to supporting the Company in its future development."
Nakul Sarin, Director at EQT Partners' Credit team, Investment Advisor to EQT Mid-Market Credit, added: "EQT is proud to partner with Jacobs and Cognita for the third Mid-Market Credit investment in the education sector. We would like to thank EQT's Industrial Advisors who, as senior executives in the European and Asian private school sectors, provided key support and insight to the EQT Credit deal team throughout the due diligence process."