Bill Gates Launches Reinvented Toilet Expo Showcasing New Pathogen-Killing Sanitation Products That Don't Require Sewers or Water Lines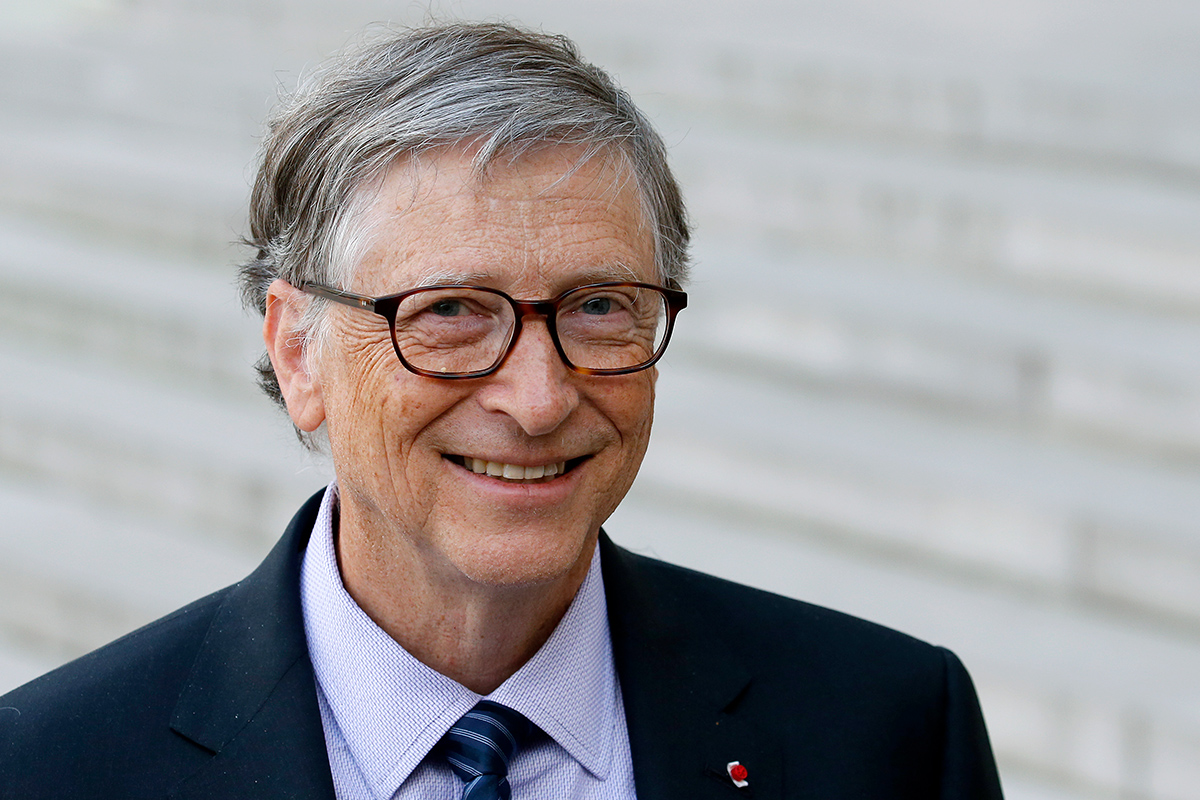 Reading Time:
4
minutes
The Bill & Melinda Gates Foundation, with the China Council for the Promotion of International Trade (CCPIT) and the China Chamber of International Commerce (CCOIC), today joined global innovators, development banks, private-sector players, and governments at the Reinvented Toilet Expo in Beijing. Together, they committed to accelerate the commercialization and adoption of disruptive sanitation technologies world-wide over the next decade. Rapid expansion of new, off-grid sanitation products and systems could dramatically reduce the global human and economic toll of unsafe sanitation, including the deaths of half a million children under the age of 5 each year and the more than $200 billion that is lost due to health care costs and decreased income and productivity.
A range of companies from around the world came together at the Expo to display a new class of sanitation solutions that eliminate harmful pathogens and convert waste into by-products like clean water and fertilizer—all without connections to sewers or water lines. Companies from China (Clear, CRRC, EcoSan), the United States (Sedron Technologies), India (Eram Scientific, Ankur Scientific, Tide Technocrats), and Thailand (SCG Chemicals) announced the availability of the world's first pathogen-killing reinvented toilets and small-scale waste treatment plants (called omni-processors), which are now ready for sale to municipal and private entities. LIXIL, headquartered in Japan, announced plans to bring to pilot a household-level reinvented toilet based on a leading prototype.
"This Expo showcases, for the first time, radically new, decentralized sanitation technologies and products that are business-ready," said Bill Gates during the opening plenary of the Reinvented Toilet Expo. "It's no longer a question of if we can reinvent the toilet and other sanitation systems. It's a question of how quickly this new category of off-grid solutions will scale."
Development finance institutions at the Expo—including the World Bank, the Asian Development Bank, and the African Development Bank—announced commitments with the potential to unlock $2.5 billion in financing for City-Wide Inclusive Sanitation projects that provide people in all parts of a city—including the poorest neighborhoods—with safely managed sanitation services. The banks' pledges represent the biggest-ever coordinated set of commitments exclusively for urban sanitation. Significantly, these efforts will accelerate the adoption of novel non-sewered sanitation solutions in low- and middle-income countries. UNICEF announced an ambitious, new sanitation market-shaping strategy to help scale and deploy product and service innovations and increase private-sector engagement. The French Development Agency committed to double its funding for sanitation work globally by 2022, up to 600 million euros (US $683 million) per year.
"Rapidly scalable systems that can deliver safe, sustainable sanitation to communities is fundamental to quality of life and the development of human capital," said World Bank Group President Jim Yong Kim, who participated in the Expo plenary. "Sanitation is a growing priority for the World Bank Group and many global leaders. I'm pleased to announce our new partnership with the Bill & Melinda Gates Foundation, which will help catalyze a new generation of solutions that can bring safe sanitation to everyone, everywhere on earth."
According to a recent Boston Consulting Group analysis, there are considerable untapped opportunities for companies that come early to the new non-sewered sanitation category. The reinvented toilet market alone is conservatively estimated to become a $6 billion global annual revenue opportunity by 2030. It could help open the door to a new, potentially larger sanitation sector and value chain supported by private and public investments in products, jobs, and services. A World Health Organization study showed an even bigger return on investment for broadly advancing safe sanitation globally: Every dollar invested in sanitation provides, on average, an economic return of $5.50.1
LIXIL's announcement of its entry into the reinvented toilet market at the Expo signalled an important milestone for sanitation industry leaders. "Now is the time," said Kinya Seto, president of LIXIL. "Innovative companies have a golden opportunity to do well by doing good. We can help jumpstart a new era of safe sanitation for the 21st century by developing solutions that can leapfrog today's existing infrastructure, functioning anywhere and everywhere."
More than half of the world's population, 4.5 billion people, continue to live without access to safely managed sanitation. In many cities in the global south, more than 50 percent of human waste escapes into the environment untreated.
Emerging trends, from climate change to demographic shifts, signal an intensification of the sanitation crisis and a need for faster progress. The United Nations estimates that by 2050, close to 70 percent of the world's population will live in dense urban areas, putting a strain on already-inadequate city-level sanitation systems and infrastructure. Much of the growth will occur in low-income countries in Asia and sub-Saharan Africa, where water scarcity is likely to hit hardest.
Off-grid innovations such as mobile phones have dramatically improved economic opportunity, safety, and quality of life for billions of the world's poorest in recent decades. But while global leaders hasten investments in smart sustainable cities, the global sanitation sector—from utilities to products and services—risks lagging far behind unless concerted action is taken.
Senegal's minister for water and sanitation, Mansour Faye, who has supported early piloting and development of the Gates Foundation-funded omni-processor, commented on the progress demonstrated at the Expo: "Visionary governments that welcome these new, non-sewered sanitation solutions into communities and cities will help people live healthier and more prosperous lives. There has never been this much opportunity for countries to use innovation to improve sanitation, and to partner with the private sector to deliver it effectively to people who need it most."
"Thanks to the joint effort of the China Council for the Promotion of International Trade, the China Chamber of International Commerce and the Gates Foundation, the Expo aims to showcase and promote a new generation of toilet technologies, concepts, materials, equipment and management systems that are both revolutionary and innovative. Together, we aim to accelerate the application of these new concepts, materials and technologies, and promote the wide adoption and commercialization of new toilet technologies," said Chen Zhou, vice chairman of the CCPIT.
The Gates Foundation has invested more than $200 million since 2011 in early-stage reinvented toilet and omni-processor R&D aimed at lowering barriers and risk for the private sector and governments to adopt new sanitation solutions. At the Expo, the foundation shared its plans to invest an additional $200 million to support continued R&D that can help bring down the costs of new sanitation products for the poor and bolster market development in regions where new, non-sewered sanitation products can have the greatest impact.
Twenty reinvented toilet and omni-processor technologies and products rooted in the foundation's portfolio of investments are now available for commercial licencing and production. Many are expected to meet newly published international standards, known as International Organization for Standardization 30500, created to define the operational requirements for the reinvented toilet, as well as other existing and future stand-alone, non-sewered sanitation technologies. The standards set targets for safety, processing capability, operational performance, and waste by-products to ensure product safety for users.
Information about available reinvented toilet and omni-processor technologies and products can be found at: www.stepsforsanitation.org/rte.
For more information about the Reinvented Toilet Expo, please contact: media.
Stan Group Launched Buy-a-Brick to Reward Staff Members Through Revenue Sharing
Reading Time:
2
minutes
An innovative staff incentive programme leveraging blockchain and real estate tokenization technology
Stan Group (Holdings) Limited ("Stan Group") announced the launch of Buy-a-Brick, an innovative employee incentive and recognition programme that applies blockchain technology and real estate tokenization to enable Stan Group employees to generate wealth alongside Stan Group.
Committed to driving corporate innovation, Stan Group has pioneered the application of real estate tokenization to employee incentive and recognition. Buy-a-Brick is designed to motivate staff engagement in innovation, cultivate intrapreneurship and recognize staff for the efforts. Unlike other conventional revenue-sharing models, Buy-a-Brick provides employees with the opportunity to share the future capital gain of a building, without making any monetary contribution. A "Brick" is a digital token stored on the blockchain, which represents a smart contract for a selected building. By participating in Buy-a-Brick, if the property selected is sold and profit is made on the sale of that property, the brick holders will be entitled to share the profit made.
"We are thrilled to launch Buy-a-Brick for internal staff as it redefines staff appreciation. I believe every one of our staff members plays an integral role in the Group's success and should be able to reap the reward and share the value created," said Stan Tang, Chairman of Stan Group. "The launch of Buy-a-Brick has cemented the leading position of Stan Group in corporate innovation and entrepreneurship. Buy-a-Brick started with a dream, through matching the idea with resources within our business ecosystem, it is now a reality. I hope to ignite innovation and initiate change within and outside the Group, and shape a better future for entrepreneurs and all."
Buy-a-Brick is the newest addition to the existing Stan Group credit system, where employees earn points with innovative business pitches, business referral, attending design thinking and other talent development workshops, etc. There are two types of points, namely Credit Point and Shared Value Point. With Credit Point, employees can redeem vouchers, hotel stay, and even an extra day off. On the other hand, the new Shared Value Points can be used to redeem a "Brick" at Buy-a-Brick.
About Stan Group
Stan Group (Holdings) Limited ("Stan Group" or "the Group") is a leading conglomerate rooted in property with a wide array of diverse businesses. Committed to sustainable business development and social investment, the Group manages a HK$60 billion real estate portfolio in strategic partnership with the Tang Shing-bor family and operates more than 40 respected brands across five business pillars: property, hospitality, communication services, financial services and The STILE, innovative businesses with social purposes. Dedicated to innovation, collaboration, human focus and entrepreneurship, the Group's core values empower it to achieve the vision of driving the vibrancy of society, and the mission of creating shared value (CSV) for shareholders, business partners, customers, employees and the community at large.
Ahlstrom-Munksjö One of the First Companies Within its Industry to be ISO 45001 Certified
Reading Time:
2
minutes
Ahlstrom-Munksjö believes that zero accidents is possible. The long-term goal is an accident-free workplace and in order to achieve this target, the company is certifying its plants with the ISO 45001-standard.
To achieve the long-term target and to ensure a safe working environment, Ahlstrom-Munksjö focuses on preventative activities, behavior-based safety interactions, safety inspections, auditing and tailored safety training. The performance is managed through systematic and efficient health and safety management processes.
Out of Ahlstrom-Munksjö's 45 plants globally, 8 have so far been ISO45001:2018 certified. The new standard, published in March 2018, confirms excellence and good practices in occupational health and safety management systems. It promotes a safe and healthy working environment by providing a framework that allows organizations to identify and reduce their risks related to occupational health and safety, reduce potential for workplace accidents and illnesses and improve legislative compliance.
The target is that all Ahlstrom-Munksjö's plants will be certified with the standard at the latest in 2021.
"A strong global safety culture increases the health and safety accountability for all coworkers, contractors and visitors. We are committed to apply the best practices within occupational health and safety and I am very happy to see this latest achievement. The ability to offer a safe place to work also supports us in attracting, developing and retaining talent for our global operations," says Dan Adrianzon, Executive Vice President, People & Safety at Ahlstrom-Munksjö.
"This new international, dynamic and process based safety management standard considers risks and opportunities rather than risks only and at the same time it requires that the views of our stakeholders are considered. This is fully in line with our preventative health and safety strategy. This standard takes our plants to a new level, and also increases efficiency, as it's based on the other ISO management system standards," says Rune Årnes, Vice President Health & Safety at Ahlstrom-Munksjö.
The new standard replaces the previous OHSAS 18001:2007 standard, which still continues to be the most widespread framework for occupational health and safety management. Currently 25 of Ahlstrom-Munksjö`s plants are OHSAS18001:2007 certified.
The majority of Ahlstrom-Munksjö's 8,000 employees work in circumstances where health, safety and environmental risks are present and the company's operations hence require excellent performance in safeguarding health, safety, and environmental related issues.
SOURCE: Ahlstrom-Munksjö
Hard Rock International Joins in Worldwide Commitment To Protect Our Planet During Earth Hour
Reading Time:
2
minutes
As part as of its on-going commitment to help 'save the planet', Hard Rock International participated in the worldwide Earth Hour movement — turning off the lights at 18 properties across the globe. As the world clock struck 8:30 p.m. local time on March 30, Hard Rock Hotel guests from China to the West Coast of the U.S. participated in this symbolic lights-out event. From the participating properties, Hard Rock saved a combined total of 11,400 kilowatts, which would be enough to power more than 50 outdoor concerts.
"We are proud to participate in this year's Earth Hour initiative and will continue to make strides to help the environment," said Dale Hipsh, senior vice president of hotels for Hard Rock International. "It is part of Hard Rock's continuous commitment to its founding motto to save the planet."
Earth Hour is a global environmental movement by World Wildlife Fund (WWF), a non-governmental organization working toward wilderness preservation. Each year, WWF inspires millions of people, businesses and landmarks worldwide to turn off their lights for 60 minutes and showcase their commitment to combatting climate change and protecting nature. In 2018, 188 countries and territories participated in Earth Hour, along with 18,000 landmarks.
"Corporate social responsibility (CSR) is a critical part of what we do," said Zubair Rashidi, regional director of marketing for Hard Rock International. "It's an honor to partner with WWF and support this initiative. We will continue to give back to our planet and hit the high note on sustainability."
During the event, all light sources in public areas such as the lobby, restaurants and bars, the terraces and the hotels' outdoor lighting were switched off. Even with the lights off, the Hard Rock vibe was still shining. Properties not only hosted candle-lit dinners but took a step further and planned enticing events for guests to enjoy. Various 'glow in the dark' activities were offered including: glowing manicure & pedicures, live painting sessions, flash mobs, nomadic dance performances, face-painting & tattoos, fire bowls & marshmallow sessions and much more.
"I think it's great how Hard Rock is using this global event to create fun events and bring environmental awareness to guests," said May Ch'ng Koe Chien, a guest at Hard Rock Hotel Desaru Coast. "My husband and I were really impressed with the glow-in-the-dark cocktails, and our kids were entertained with the glow-in-the-dark crafts and tattoos."
Participating properties were: Hard Rock Hotel Shenzhen, Hard Rock Hotel Bali, Hard Rock Hotel Penang, Hard Rock Hotel Pattaya, Hard Rock Hotel Desaru Coast, Hard Rock Hotel Goa, Hard Rock Hotel Davos, Hard Rock Hotel Tenerife, Hard Rock Hotel Sioux City, Hard Rock Hotel & Casino Lake Tahoe, Hard Rock Hotel San Diego, Hard Rock Hotel at Universal Orlando, Hard Rock Hotel Daytona Beach, Hard Rock Hotel Riviera Maya, Hard Rock Hotel & Casino Punta Cana, Hard Rock Hotel Cancun, Hard Rock Hotel Vallarta and Hard Rock Hotel Guadalajara.
SOURCE: Hard Rock International