Icelandair Adopts Next Generation of Flight Tracking Technology Through FlightAware's Firehose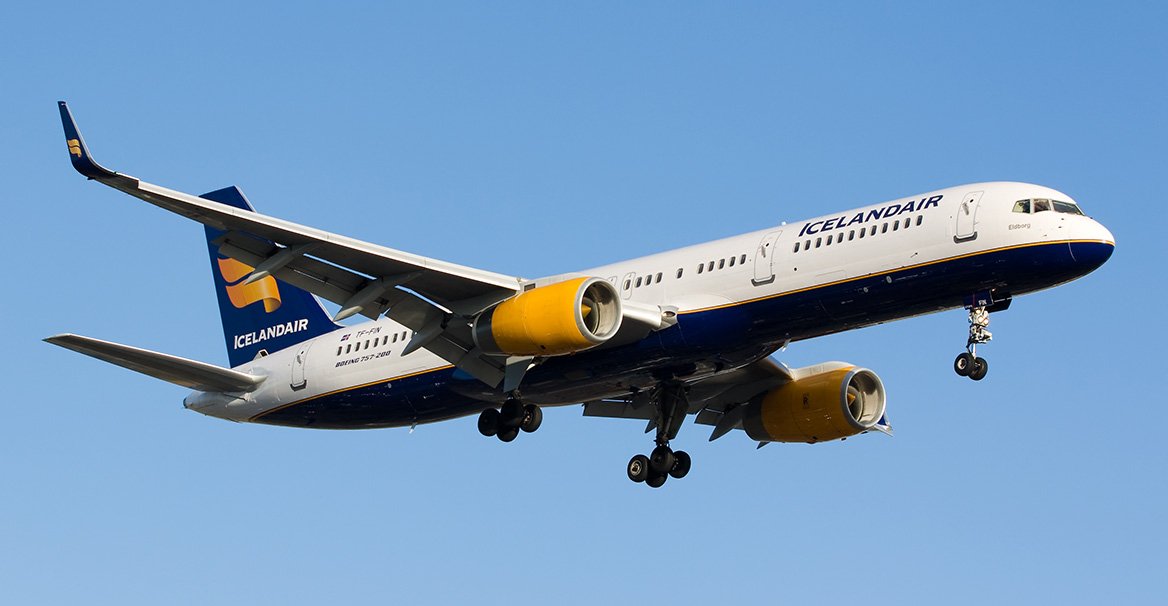 Reading Time:
2
minutes
Icelandair Deploys Global Flight Tracking Ahead of GADSS
Icelandair will integrate FlightAware's Firehose data feed to enhance their existing operational tools with global flight tracking. The feed will deliver live aircraft position data from FlightAware's terrestrial network of ADS-B receivers, as well as from Aireon's space-based ADS-B network.
Icelandair joins airlines around the world in taking steps to modernize their flight tracking capabilities. Largely in response to the loss of flights AF447 and MH370, the International Civil Aviation Organization (ICAO), which is a United Nations specialized agency, created the Global Aeronautical Distress Safety System or "GADSS". GADSS establishes standards and recommended practices for flight tracking by aircraft operators and has been adopted by the European Aviation Safety Agency (EASA).
GADSS begins taking effect on November 8th of this year, when aircraft operators will be expected to track their aircraft at a frequency of one position every 15 minutes during normal operations. By 1stJanuary 2021, airlines should receive position updates once per minute if an aircraft is in distress.
"Icelandair is unique in the sense that 100% of their routes fly over remote bodies of water where precise flight tracking hasn't been feasible until now," said Max Tribolet, Director of Business Development for FlightAware. "Augmenting FlightAware's terrestrial ADS-B coverage with Aireon's space-based ADS-B network will ensure position updates of at least once-per-minute anywhere in the world. This means that Icelandair will far outperform the GADSS standard for normal conditions and will proactively meet the 2021 recommendation for tracking aircraft in distress."
FlightAware's terrestrial network, which consists of over 20,000 ground stations around the world, provides position updates multiple times per minute for aircraft flying over land. This network also captures aircraft movement on the ground with position updates every second. Through partnership with Aireon, FlightAware's feed includes space-based ADS-B coverage as well. Aireon's space-based ADS-B network, which is hosted on the Iridium® NEXT constellation, will eliminate coverage gaps over oceans, polar regions and other remote areas with position updates at least every minute. Because ADS-B OUT is mandated throughout the world, the vast majority of airlines – including Icelandair – do not need to install any additional equipment to be tracked on these networks.
"While Iceland's geographical location between North America and Europe has proved to be strategic for building international routes, it has also presented challenges for tracking our aircraft until now," says Captain Haukur Reynisson, Director of Flight Operations at Icelandair. "By integrating live flight tracking data from FlightAware, Icelandair gains incredible situational awareness that will drive operational optimization and reinforce passenger safety."
Flight Centre Becomes Largest Individual Shareholder in The Upside Travel Company
Reading Time:
2
minutes
Flight Centre Group (ASX:FLT), continues to strengthen its rapidly growing global corporate travel business, today announcing a strategic investment in The Upside Travel Company ("Upside"), the corporate travel company launched in 2017 by Priceline founder Jay Walker.
FLT's investment is for a 25% interest in Upside which will see it become the business's largest individual shareholder providing access to Upside's travel technology platform and software development resources. As part of the agreement, the parties also entered into a commercial deal that covers cooperation on various distribution initiatives that combine FLT's deep understanding of the corporate travel space with Upside's powerful technical assets.
With this deal, FLT improves its technology capabilities, specifically in the small-and-midsize corporate market. FLT plans to leverage Upside's technology platform to continue the digital enablement of its Corporate Traveler business, pairing the proficiency of its people with cutting edge artificial intelligence and machine learning models. The investment also adds Washington, DC to the expanding global list of FLT "Lab" locations following the recent investment in Bangkok-based 30SecondsToFly, and the acquisition of the award-winning mobile app Sam :] in Barcelona last month.
"We have been impressed by the capability and flexibility of Upside's technology and team to improve the business traveler experience. Its use of machine learning models to dynamically price business travel packages in real-time to save clients money while increasing traveler options is just one example of Upside's best in class technology," according to Dean Smith, President of FLT's Americas operations.
For Upside, the deal substantially bolsters the company's product offering to the small corporate market, where it will continue to operate under the Upside brand. Access to FLT's supplier relationships and global reach expands Upside's inventory and enhances its ongoing software development with a broader set of travel data inputs.
"FLT is the perfect partner for Upside as we get aggressive in serving small corporate clients. Not only does FLT's global scale, content, and experience immediately make our product more complete, but FLT's people and expertise also make us smarter, which is key as we accelerate into the future." said Jay Walker, CEO of Upside.
The Upside product will soon take advantage of the emerging standards called Next-Generation Storefront, which are being developed by ATPCO in collaboration with airline and industry leaders. Incorporating the new standards for product display is a top post-investment priority for both parties and is expected to take place in Q2 of 2019. "It's promising to see FLT and Upside work together on providing the best traveler experience possible by making NGS a priority so flight shoppers can compare like-type products on third party channels. We're inspired to see so many channels taking a step forward to transform flight shopping" said Gianni Cataldo, Head of Research & Development, at ATPCO.
Jefferies LLC served as the sole financial advisor to Upside.
SOURCE Flight Centre Travel Group (Canada) Inc.
Global Survey Shows Travellers Still Struggle With Lack of Information About Delayed and Cancelled Flights, Says Cirium
Reading Time:
3
minutes
New survey reveals well over a third of travellers have had to pay more to make alternative travel plans following a delayed flight
Nearly two thirds would be likely to use an app which alerted family, friends and work colleagues if their flight was disrupted
Cirium, the aviation data and analytics experts, say flight delays and cancellations cost airlines over 

US$30bn

 a year
Over a third of global travellers (36%) say they don't get enough information about delayed and cancelled flights, according to aviation and data analytics experts at Cirium.
A new survey for Cirium reveals the impact of flight delays and cancellations and the need for better management of flight disruption, with more communication via proactive flight updates for affected passengers.
Almost two thirds (61%) of those surveyed said that they would be likely to use an app which alerted their friends, family or company about their delay.
In 2018, approximately 3.9 million flights – or 10,700 a day – were delayed by over 30 minutes or cancelled globally, affecting more than 470 million passenger journeys around the world.
Flight delays and cancellation cost airlines globally US$30bn a year in lost revenue, in addition to costs borne by their passengers.
Airline flight delays and cancellations are caused by a wide range of factors, such as technical issues with aircraft, bad weather, air traffic control problems, strikes, medical diversions and congested airports, among many others.
The global YouGov study conducted for Cirium in the UK, US, UAE and China, showed more than a third of travellers worldwide (35%) who had experienced a delayed or cancelled flight, did not find it easy to change their travel plans, with well over a third (40%) left out of pocket after being forced to pay more to make alternative travel plans.
Airlines also had to bear the massive cost of disruption with flight delays and cancellations costing the equivalent of US$7 for every departing passenger – slightly less than the airline's net profit per person per departing flight.
Jeremy Bowen, Cirium Chief Executive Officer, said: "Flight delays and cancellations are an unfortunate aspect of modern air travel and can have a big impact on travellers, whether flying for business or leisure. We recognize that the cost of disruption for airlines is also a significant problem. While our survey reveals well over a third of passengers still have to pay more for alternative travel plans, airlines can proactively issue flight alerts ahead of travel and re-allocate tickets without fees to take the sting out of flight disruption. We all want to travel stress free and get people to where they want to go, which is why at Cirium we work closely with airlines around the world on initiatives which reduce the impact of disrupted flights."
The survey revealed nearly two thirds (57%) of those polled only found out about their flight delay or cancellation once they had reached the airport. When asked 29% said that they would prefer to be informed about a delay through a text alert with another two thirds (61%) saying they would use an app which alerted their friends, family or company about their delay.
More than double (48%) said that they would be most frustrated if their leisure flight was delayed or cancelled compared to the 21% who would be most frustrated if a business flight was cancelled.
Over a third of global travellers would be most sympathetic if a flight was disrupted due to bad weather (35%) followed by technical issues with their aircraft (30%). However, only a tiny 5% would be most sympathetic with delays or cancellations due to problems caused by air traffic control.
Cirium enables the wider travel industry to manage the impact of disruption with intelligent data and analytics solutions. For example, Cirium analyzes more than 70 million passenger journeys annually to provide meaningful insights and keep the travel industry in motion.
This data is used by a wide range of customers, such as airlines and airports, to improve the travel experience by smart devices and metasearch engines, like Google, Amazon and Expedia, to provide information directly to passengers, enabling them to make more informed choices when on the move.
Cirium's data and analytics divisions have been the first to bring innovative solutions to market, such as the first to automate the ticket waiver process during times of flight delays and cancellations.
It employs over 400 technologists, analysts, data scientists and market experts in the UK, US, Europe, Middle East, Indiaand Asia-Pacific.
The group has significantly grown in recent years with the acquisition of leading data intelligence companies, including Ascend, Innovata, Diio and FlightStats.
SOURCE Cirium
Panasonic Avionics Enters Inflight Map Market With Launch Of Arc
Reading Time:
4
minutes
Panasonic Avionics Corporation (Panasonic) today unveils its new Arc Inflight Map Platform – a revolutionary 3D inflight map application and service for its NEXT and X Series inflight entertainment and connectivity (IFEC) systems.
Arc brings a wide range of innovative new features to the traditional inflight map application, while expanding that concept into a fully integrated experience within the IFEC system, in particular by integrating it with new services from Panasonic including Loyalty (Panasonic's personalization services), Marketplace (for onboard e-commerce), Insights (for analytics), all backed by its NEXT Cloud infrastructure.
The technology is inspired by the latest design thinking of contemporary UX and high-definition gaming experiences, and enables airlines to leverage the high viewership of moving maps inflight.  Arc will be available across all inflight displays including seatback, overhead, handset, and within mobile apps and web portals.
Gaston Sandoval, Vice President of Product Management and Marketing, says: "Moving maps have long been one of the most popular features of any inflight entertainment system but we believe the opportunities to expand the basic map concept, and revolutionize its role in the overall inflight experience, are greatly underleveraged.
"By re-imagining the map experience based on its full potential, and integrating it as a core service of our NEXT and X Series IFEC systems, we can greatly elevate the passenger experience and the value of maps for our airline customers.
"Arc will offer everything that our airline customers have come to expect in a contemporary map application with the addition of many innovative features and tools, made possible only through our 'Map as a Service' approach.  We believe this is one of the most exciting advances ever for inflight maps."
Highlights of the Arc Inflight Map Platform include:
The industry's first personalized maps capability – by integrating the map with Panasonic's award-winning Loyalty personalization services, passengers can set up personalized map profiles and preferences that will appear whenever they log into the IFEC system.
New Map as a Service (MaaS) technology – including APIs that enable airlines and third parties to develop applications utilizing the Arc map engine and feature set, or to add their own content and data layers to the Arc map displays.
Wide range of map styles – from stunning satellite-based images to street views, to new and unique data visualizations.
Premium Destination and Point-of-Interest Content – through Panasonic's exclusive relationship with the influencer-driven discovery platform provider 

Raleigh

 & Drake, and additional partners (soon to be announced).
New monetization opportunities for airlines – through integration with Panasonic's own Marketplace e-commerce platform. Inflight sales can be directly tied to real-time flight events and status.
Integration with airline advertising and promotions – including Panasonic's own OneMedia advertising platform. The high viewership of maps can be fully leveraged for its targeted advertising and promotional potential.
Omni-channel capability – Arc is available for all inflight displays: seatback, overhead, handset, and within mobile apps and web portals. All map instances can dynamically utilize single data or multiple data sets, depending on their mission and audience.
Native 

4K

 design – optimized for NEXT's stunning 

4K

 displays, and for ultra-definition mobile devices.
Arc Studio – an online tool and gallery service where airlines can design their own map experience, and be regularly provided with exciting new features and updated map data. Updates will range from regular maintenance data (time zone offsets, place names, borders, etc) to new features and design templates, which can all be dispatched to airline fleets utilizing NEXT Cloud.
Extensive configuration capabilities – made available to airlines through web-based Arc tools, and easily updatable utilizing NEXT Cloud.
Arc Analytics – using Panasonic's Insights analytics services, provides the ability to track map usage, allowing for analysis and optimization of map data based on actual passenger interaction. These analytics can be used to enhance each airline's map database set, and to enable and verify advertising and promotional impressions.
A number of new and unique features on the Arc have been developed in collaboration with FlightAware. Their market-leading services for global flight tracking will be integrated in the Arc platform to provide passengers with new ways to see air travel and the globe, including an extensive airline fleet view during their entire journey. The partnership will further explore new features based on FlightAware's state-of-the-art predictive technology, giving passengers precise runway and gate arrival times as well as proactive information about connecting flight delays.
Matt Davis, Vice President of Sales at FlightAware, says: "We've been extremely impressed by the level of innovation that Panasonic Avionics is bringing to inflight moving maps, and are thrilled to contribute our expertise in flight tracking and provide cutting edge predictive technology to the feature set of Arc.
"We found Panasonic to be incredibly collaborative and open to new ideas, and we're honoured to work with them to enhance the experience of airline passengers worldwide. We are also grateful for their leadership as we work to understand the unique requirements of airborne map services."
Arc has been designed and developed by Panasonic's digital studio, Tactel AB, based in Malmö, Sweden.  Acquired by Panasonic in 2015, Tactel is an award-winning UX and development firm, responsible for creating industry-leading apps and services in Scandinavia.
Panasonic is now taking orders for Arc, with deliveries available from the first quarter of 2020.
About Panasonic Avionics Corporation 
Panasonic Avionics Corporation is the world's leading supplier of inflight entertainment and communication systems. The company's best-in-class solutions, supported by professional maintenance services, fully integrate with the cabin enabling its customers to deliver the ultimate travel experiences with a rich variety of entertainment choices, resulting in improved quality communication systems and solutions, reduced time-to-market and lower overall costs.
Established in 1979, Panasonic Avionics Corporation, a U.S. corporation, is a subsidiary of Panasonic Corporation of North America, the principal North American subsidiary of Panasonic Corporation. Headquartered in Lake Forest, Californiawith over 5,000 employees and operations in 80 global locations, it has delivered over 14,300 IFE systems and 2,200 inflight connectivity solutions to the world's leading airlines.
SOURCE Panasonic Avionics Corporation