Drishti IAS Launches Newly Designed Web Portal for Civil Services Aspirants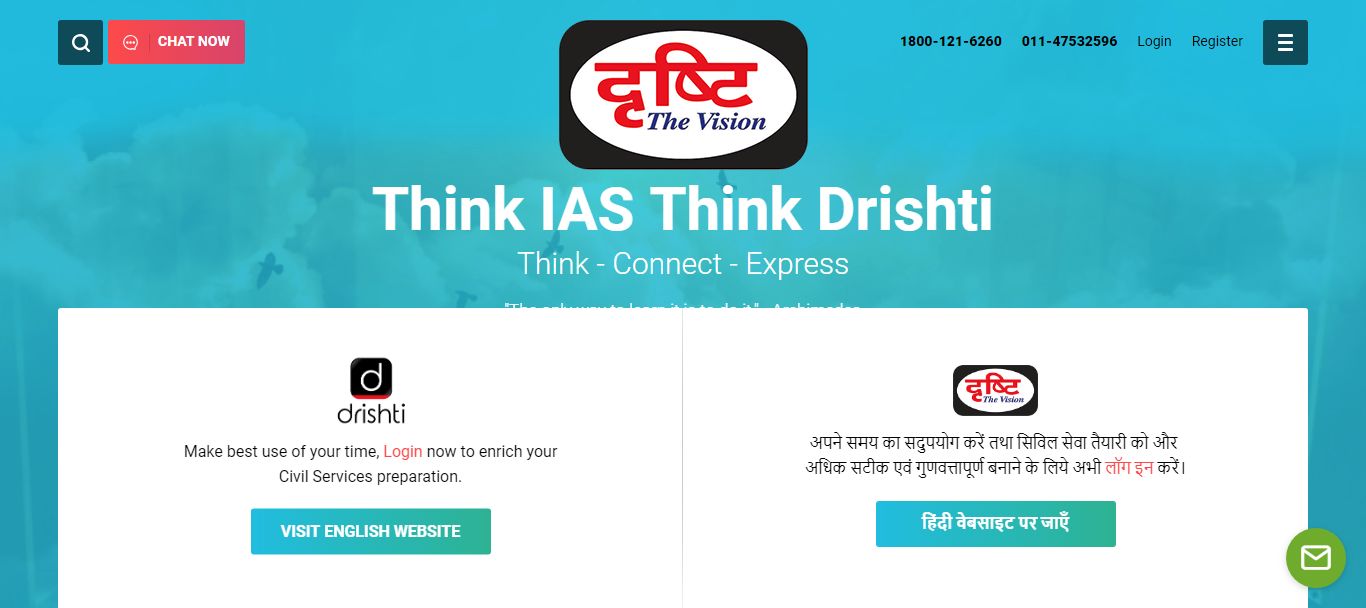 Reading Time:
2
minutes
Drishti The Vision (Drishti IAS) is celebrating its 19th foundation day on 1st November, 2018. To mark this day, Drishti is launching a brand new web portal for UPSC aspirants. This portal is available on http://www.drishtiias.com and it has two websites within its fold – one each for Hindi and English medium aspirants.
Both these websites come with multiple functionalities. These functionalities help fill the gap where reading and taking notes, bookmarking and collecting reading materials, and interacting with fellow aspirants, overlap one another. For example, it is now possible to jot down valuable notes by the side of an article, on the website itself. One does not have to go to a different app or notebook for that. This saves a lot of precious time for aspirants. Similarly, in case of a hurry, simply bookmark articles to read later, or send every article read (and subsequently worked upon) to the progress tab. That way, all of one's reading materials are streamlined at one place.
What further makes the new websites most invaluable for any aspirant is that both are updated with quality articles every day. Take current affairs for example. Both the websites feature not only daily updated current affairs that is curated by experienced editors but they also feature daily Multiple Choice Questions (MCQs) based on the same material. Thus, one can not only read up the day's current affairs but also attempt the related daily MCQs to test oneself.
These websites also come at a crucial juncture of time. These days, UPSC is setting question papers which are considerably more challenging than before. Both the Preliminary and the Mains examinations have become difficult nuts to crack for the average aspirant. And it seems the only way to overcome this difficulty is by being smart and dynamic with the preparation. To be smart is not to bulldoze through tens of different books while trying to understand the basics, and to be dynamic is to be able to add to existing knowledge some new information, without a Herculean effort. This is where web-based solutions to UPSC preparation come in handy. Such solutions are just a click away, are always available and most importantly are made and primed by those who are experts in this field. Not checking out this mode of preparation is definitely a fatal mistake and cannot, therefore be advised.
The solution to clearing and securing a good rank in the Civil Services Examination has evolved too. The need for burning the midnight oil though, hasn't changed. What has changed instead is the method for preparation where, what is being learned has to be proportional to the time spent learning it. Managing time vis-a-vis learning something is the new mantra. As such, except for maybe a few books, reading a book cover to cover can no longer be advised for clearing this examination. Instead, a topic-wise effort, regularly revised and updated, along with a development of one's own views on a topic (through engaging in debate and discussions with fellow aspirants) is needed. The forums on the new Drishti websites propose to do exactly this. They provide an opportunity to connect with other aspirants and fill gaps in knowledge and understanding. This is important because 'learning' has always been a matter for the socialendeavour, as opposed to 'studying' which is always a solo effort. Drishti IAS is giving an opportunity to both learn as well as study on its new websites. Feel free to check it out, give the new method a try.
For Baby Boomers to Plan Joyful Retirements
Reading Time:
2
minutes
Every day, 10,000 baby boomers join the ranks of retired people. But unlike previous generations, they are more likely to bring to their Next Chapters more passion, more talent, and more energy than generations that came before them. It is for this group of people and their younger cohorts, that Gail McDonald and Marilyn Bushey have written Retirement Your Way: The No-Stress Roadmap for Designing Your Next Chapter. McDonald and Bushey have dubbed them Retirement Rebels—people who are searching for a more fulfilling path to their future in which they reinvent retirement.
"In a nutshell, our book is about questioning the assumptions that many of us hold about retirement and expanding the possibilities that we envision," McDonald says.
McDonald and Bushey, who are executive coaches, have been thinking about their own future lives. They interviewed friends, colleagues and acquaintances to develop their unique, seven-step CHOICES Roadmap containing the conversations people should have to plot their course. "What we have found," Bushey says, "is that we have many more lifestyle choices than we may have expected and that the retirement journey is also likely to be a more emotional journey than people would imagine. Our choices often boil down to what we let go, what we add and what we keep in our lives."
In an interview, McDonald and Bushey can talk about:
What are the six lifestyle categories people tend to epitomize and why is knowing about them useful in retirement planning?
What are some of the seven essential steps for achieving a satisfying Next Chapter?
What aspect of their research surprised them most?
Are there any retirement rules left to break?
Praise for Retirement Your Way
"One of a kind. Retirement Your Wayoffers a simple, innovative path to living a life of contribution and self-fulfillment. If you are approaching retirement, this is a must read."— Marshall Goldsmith, New York Times #1 Bestselling Author of Triggers, Mojo, and What Got You Here Won't Get You There
"Imaginative and inspiring! The definitive roadmap for navigating the uncertain and often emotional journey of retirement."— Noah Blumenthal, Bestselling Author of Be the Hero: Three Powerful Ways to Overcome Challenges in Work and Life
"It is so refreshing to find a book with sage and thoughtful advice on who I want to be and can be in retirement! Marilyn and Gail's focus on the human side has me more excited and grounded about this topic than I've ever been! And while I'm not rushing to get there, I feel that there's a world of new possibilities awaiting me once my journey arrives!"— Mike Jaffe, The Human WakeUp Call®, Founder, the Mike Jaffe Company and Author of Wake Up! Your Life Is Calling
SOURCE: Gail McDonald
How to Fall in Love with Yourself and the Life You Already Have
Reading Time:
3
minutes
Susan Cross, author of The Power of Disruption, says don't wait for a life-changing event to discover what you value most.
When we think of love, our thoughts usually turn to love as it relates to the people we care about. But as the song goes, the greatest love of all is really the love we have for ourselves. Paradoxically, it is difficult to achieve
Susan Cross, the author of the new book The Power of Disruption: A Memoir of Discovery, says that people who possess a high degree of self-love are more appreciative of their lives, more service-minded, happier and less stressed out than folks who don't. "We're taught to present ourselves the way we think others want to see us … to fit in," Cross observes. "And we can lose ourselves in the process until something happens to bring that point home."
For Cross that moment occurred two years ago while on a hiking and snorkeling vacation with her husband to the remote Caribbean island of Dominica. Days before they were scheduled to fly home, her appendix ruptured, and she almost died. After emergency surgery on the island and extended healing at home, Cross decided to use her traumatic experience to create a life that matters—and help others do the same.
"I'm on a mission now to help people who struggle with self-doubt, negative personal energy, and questions about the direction of their lives to realize their own self-worth," she says.
In an interview she can explain:
That we already possess what we need to live the life we were meant to
We matter just the way we are
How to trust that life has your back even in the scary and bad moments
The importance of being in the present and not solely focused on the future
Five habits to tap into your best self and get through life's chaotic moments
Praise for The Power of Disruption
"The Power of Disruption is a vulnerable journey about letting go of the familiar. Immerse yourself into a world of hope. It's yours to discover." – Richard Campbell, co-author of Writing Your Legacy: The Step-by-Step Guide to Crafting Your Life Story
"Sometimes the universe smacks us in the face to get our attention. This is one of those stories; raw, real, terrifying, immensely inspiring and ultimately life-changing. In these amazing pages of truth, adventure, tragedy and evolution we're encouraged to believe in ourselves enough to go for our own joy." — Laura Di Franco, MPT, author of Brave Healing: A Guide for Your Journey
The personal lessons coming out of every chapter will equip you with the awareness, the courage and the wisdom required to survive disruption and keep thriving in life. — Tony J. Selimi, Five-Time #1 Amazon Bestselling Author of A Path to Wisdom and the Co-creator of Multi-award Winning Living My Illusion documentary series
Susan Cross has more than 25 years' experience as a corporate spokesperson, author, writer, and public relations professional working in trade and consumer print, television, radio, and digital media. Her extensive media experience includes NPR, the New York Times, HGTV, the Wall Street Journal and more. As an expert in crisis communications, she lived the job instead of living for joy. The Power of Disruption is her first book. She is currently working on an anthology of disruption stories profiling people and organizations moving from status quo to new thinking.
SOURCE: Susan Cross
Will Bagley to Receive Western Writers of America's Owen Wister Award
Reading Time:
2
minutes
Will Bagley, a journalist known for monumental nonfiction books about the Mormon West and overland trails, will receive the 2019 Owen Wister Award for Lifetime Contributions to Western Literature from Western Writers of America (WesternWriters.org).
Bagley will also be inducted into the Western Writers Hall of Fame, housed outside the McCracken Research Library at the Buffalo Bill Center of the West in Cody, Wyo.
"People either love or hate me," said Bagley, who lives in Salt Lake City. "The Wister Award is an expression of affection from my WWA friends that is appreciated and humbling, for it calls to mind the words 'I am not worthy!'"
The nonprofit guild's highest honor will be presented during Western Writers of America's convention June 19-22 in Tucson, Ariz.
Bagley is a three-time winner of WWA's Spur Award for "Blood of the Prophets: Brigham Youngand the Massacre at Mountain Meadows"; "The Mormon Rebellion: America's First Civil War, 1857-1858"; and "With Golden Visions Bright Before Them Trails to the Mining West, 1849–1852," all published by the University of Oklahoma Press.
Bagley has also received the Western Heritage Wrangler Award from the National Cowboy and Western Heritage Museum and the Caroline Bancroft History Prize. His books have also been honored by Westerners International, Utah Division of State History, Wyoming State Historical Society and the John Whitmer Historical Association.
"Will is not just a tenacious researcher, he is a brilliant writer," WWA executive director Candy Moulton said. "His 'Blood of the Prophets' is a classic – impeccably researched and written with precision."
Bagley's other books include "South Pass: Gateway to a Continent" and "So Rugged and Mountainous: Blazing the Trails to Oregon and California, 1812–1848," both Spur Award finalists.
Since the early 1950s, Western Writers of America has honored and promoted all forms of literature about the American West. Previous Owen Wister honorees include Pulitzer Prize winner N. Scott Momaday; historians David Dary and Robert M. Utley; and best-selling novelists Rudolfo Anaya, Elmore Leonard, Tony Hillerman and Lucia St. Clair Robson.
The Wister Award is a bronze statue of a buffalo created especially for Western Writers of America by artist Robert Duffie.
SOURCE: Western Writers of America