Drishti IAS Launches Newly Designed Web Portal for Civil Services Aspirants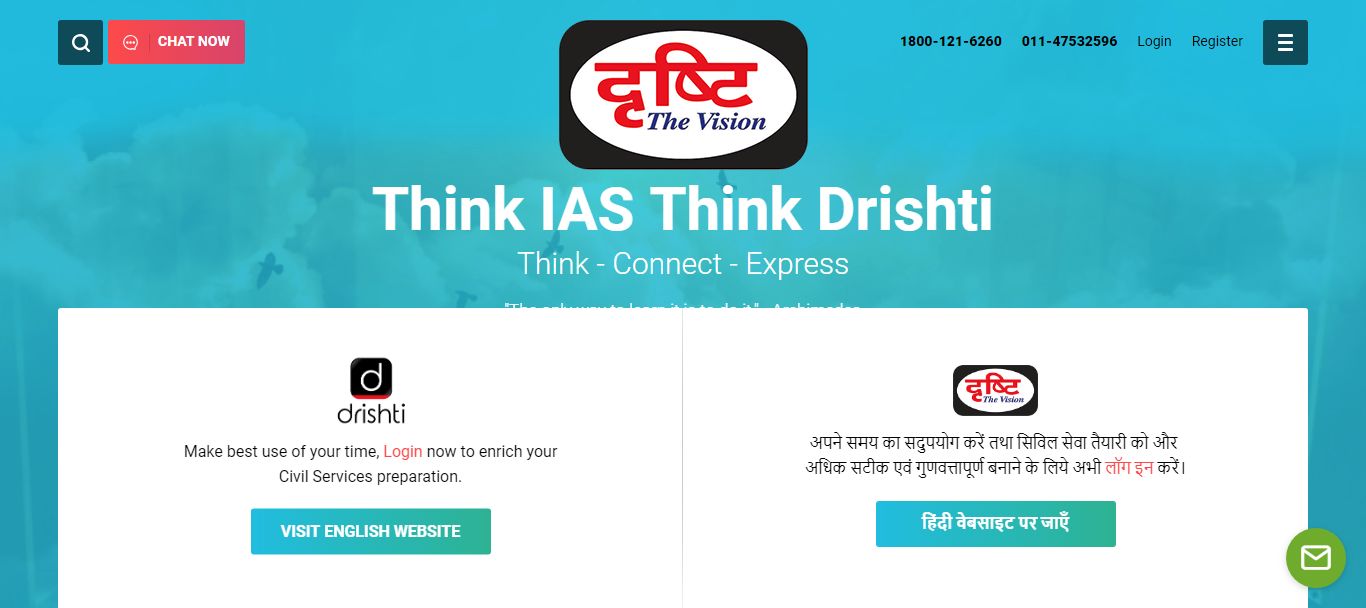 Reading Time:
2
minutes
Drishti The Vision (Drishti IAS) is celebrating its 19th foundation day on 1st November, 2018. To mark this day, Drishti is launching a brand new web portal for UPSC aspirants. This portal is available on http://www.drishtiias.com and it has two websites within its fold – one each for Hindi and English medium aspirants.
Both these websites come with multiple functionalities. These functionalities help fill the gap where reading and taking notes, bookmarking and collecting reading materials, and interacting with fellow aspirants, overlap one another. For example, it is now possible to jot down valuable notes by the side of an article, on the website itself. One does not have to go to a different app or notebook for that. This saves a lot of precious time for aspirants. Similarly, in case of a hurry, simply bookmark articles to read later, or send every article read (and subsequently worked upon) to the progress tab. That way, all of one's reading materials are streamlined at one place.
What further makes the new websites most invaluable for any aspirant is that both are updated with quality articles every day. Take current affairs for example. Both the websites feature not only daily updated current affairs that is curated by experienced editors but they also feature daily Multiple Choice Questions (MCQs) based on the same material. Thus, one can not only read up the day's current affairs but also attempt the related daily MCQs to test oneself.
These websites also come at a crucial juncture of time. These days, UPSC is setting question papers which are considerably more challenging than before. Both the Preliminary and the Mains examinations have become difficult nuts to crack for the average aspirant. And it seems the only way to overcome this difficulty is by being smart and dynamic with the preparation. To be smart is not to bulldoze through tens of different books while trying to understand the basics, and to be dynamic is to be able to add to existing knowledge some new information, without a Herculean effort. This is where web-based solutions to UPSC preparation come in handy. Such solutions are just a click away, are always available and most importantly are made and primed by those who are experts in this field. Not checking out this mode of preparation is definitely a fatal mistake and cannot, therefore be advised.
The solution to clearing and securing a good rank in the Civil Services Examination has evolved too. The need for burning the midnight oil though, hasn't changed. What has changed instead is the method for preparation where, what is being learned has to be proportional to the time spent learning it. Managing time vis-a-vis learning something is the new mantra. As such, except for maybe a few books, reading a book cover to cover can no longer be advised for clearing this examination. Instead, a topic-wise effort, regularly revised and updated, along with a development of one's own views on a topic (through engaging in debate and discussions with fellow aspirants) is needed. The forums on the new Drishti websites propose to do exactly this. They provide an opportunity to connect with other aspirants and fill gaps in knowledge and understanding. This is important because 'learning' has always been a matter for the socialendeavour, as opposed to 'studying' which is always a solo effort. Drishti IAS is giving an opportunity to both learn as well as study on its new websites. Feel free to check it out, give the new method a try.
Australian Cricket Legend Greg Chappell Appointed as Chairman, Expatland Global Network
Reading Time:
2
minutes
The Expatland Global Network has appointed Greg Chappell as its Chairman. He will work closely with founder John Marcarian to build E-Teams around the world and foster teamwork and cooperation across the emerging global network.
Greg is a former Australian cricket captain who represented Australia at international level.
Widely regarded as the pre-eminent Australian batsman of his time, Greg allied elegant stroke making to fierce concentration.
Greg is an Australian sporting icon.
Since his retirement as a player in 1984, Chappell has pursued various business and media interests as well as maintaining connections to professional cricket. He has been a selector for national and Queensland teams, a member of the Australian Cricket Board, and a coach.
The Expatland Global Network is made up of Expatland Teams ('E -Teams). Operating at a city level, they have essential local knowledge and insight. They cut through complexity and drill down to the issues that are relevant to specific locations.
John Marcarian, founder of the Expatland Global Network, says, "Greg's exceptional experience in elite sport, as a cricket test captain, national selector and coach will be hugely beneficial to our global organisation. The Expatland Global Network relies on strong teamwork, and we couldn't have hoped for a better leader of people, with an unrivalled track record of success."
Greg Chappell as Chairman, Expatland Global Network comments: "I have travelled extensively, and lived overseas for a number of years, so i appreciate the needs and challenges facing expats on the move. I believe that the Expatland Global Network addresses these issues better than any organisation that I have encountered. Therefore, the chance to join the team as Chairman is one I relish and I look forward to helping the global network to grow."
'Expatland' origins
Expatland began as a book, written in 2015 by John Marcarian, as a result of John's personal expat journey. Its focus was to help expats plan their move overseas.
E-Teams around the globe
To solve the problem of a lack of support for would-be expats, John launched the Expatland Global Network in 2018.
The Network is expanding rapidly. There are now E-Teams in Sydney, Melbourne, Auckland, Prague, Budapest, Hong Kong, London and Singapore, with many more to follow.
!!!Photo caption: Australian Cricket legend Greg Chappell appointed Chairman, Expatland Global Network (Expatland)
'Marketing Success Formula' a New Book by Rajesh Srinivasan (an IIM-L Alumnus) Reveals Four Proven Steps for Business Growth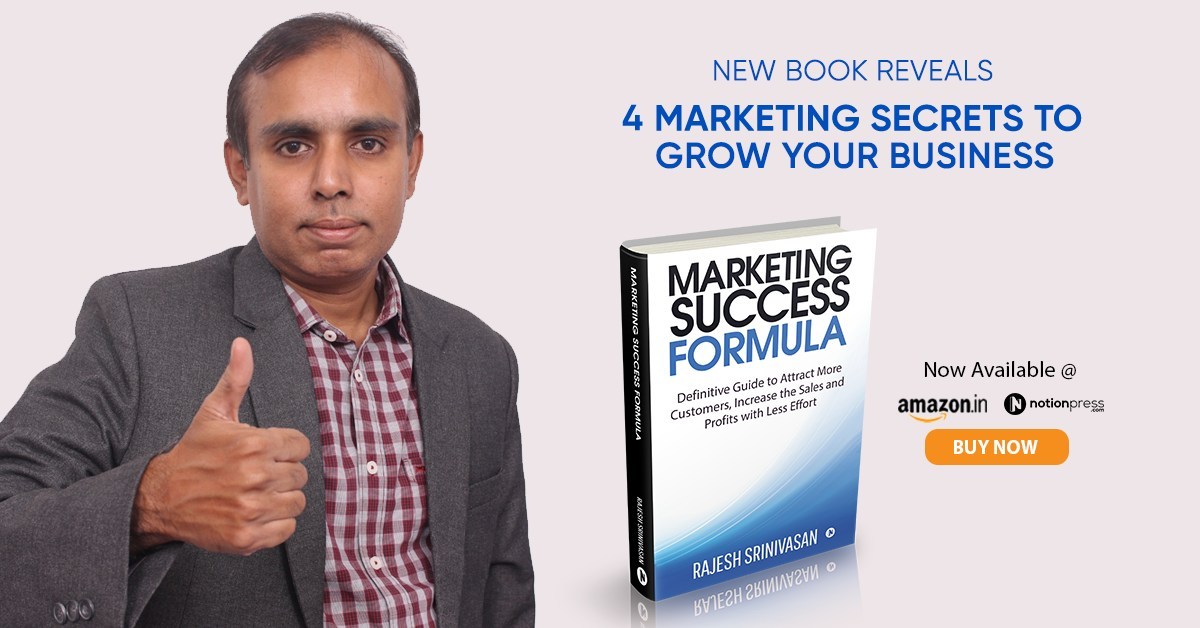 Reading Time:
2
minutes
The four step Marketing Success Formula introduced by the author will help businesses to attract ideal customers for their business, increase the sales and profits without wasting huge time and money on unproductive marketing tactics. Apply these proven techniques and watch the revenues grow at lightning speed.
Launched on Amazon worldwide, Flipkart, Infibeam and soon to be available in bookstores and other formats, Rajesh Srinivasan's new book 'Marketing Success Formula' offers four proven steps to market a small and medium business successfully.
Four step marketing success formula
Step 1: Choose a specific target market
Step 2: Create a unique selling proposition (A Compelling Marketing Message) to the specific target market
Step 3: Choose the right media strategy and show the marketing message to one's ideal target market
Step 4: Sell more to existing customers by leveraging on customer lifetime value
This book is the result of the pain the author underwent as the marketer in the early stages of his career. Some of the marketing campaigns he worked on were utter failures because he jumped into advertising without understanding the fundamentals of marketing.
These failures forced him to do thorough research on various marketing methods like direct response advertising, brand marketing, sales funnel and conversion tactics. Eventually, he simplified the entire marketing into four effective steps so that any entrepreneur or marketer can use it to grow their business.
According to Rajesh Srinivasan, "The main reason why most of the businesses fail to grow quickly is because they do not have a clear understanding of their target market (or audience) and pain points. Marketing Success Formula will help marketers and entrepreneurs to craft an effective marketing strategy to grow their businesses."
The book has been garnering some good reviews from the readers in Amazon mostly because of its simplicity and the practical applicability. The author, Rajesh Srinivasan, also encourages the readers to write an email to him if they find any difficulty in executing the marketing ideas presented in the book.
Britannica launches "Curiosity Day" to Empower your mind, Embolden your heart, and Discover your Curiosity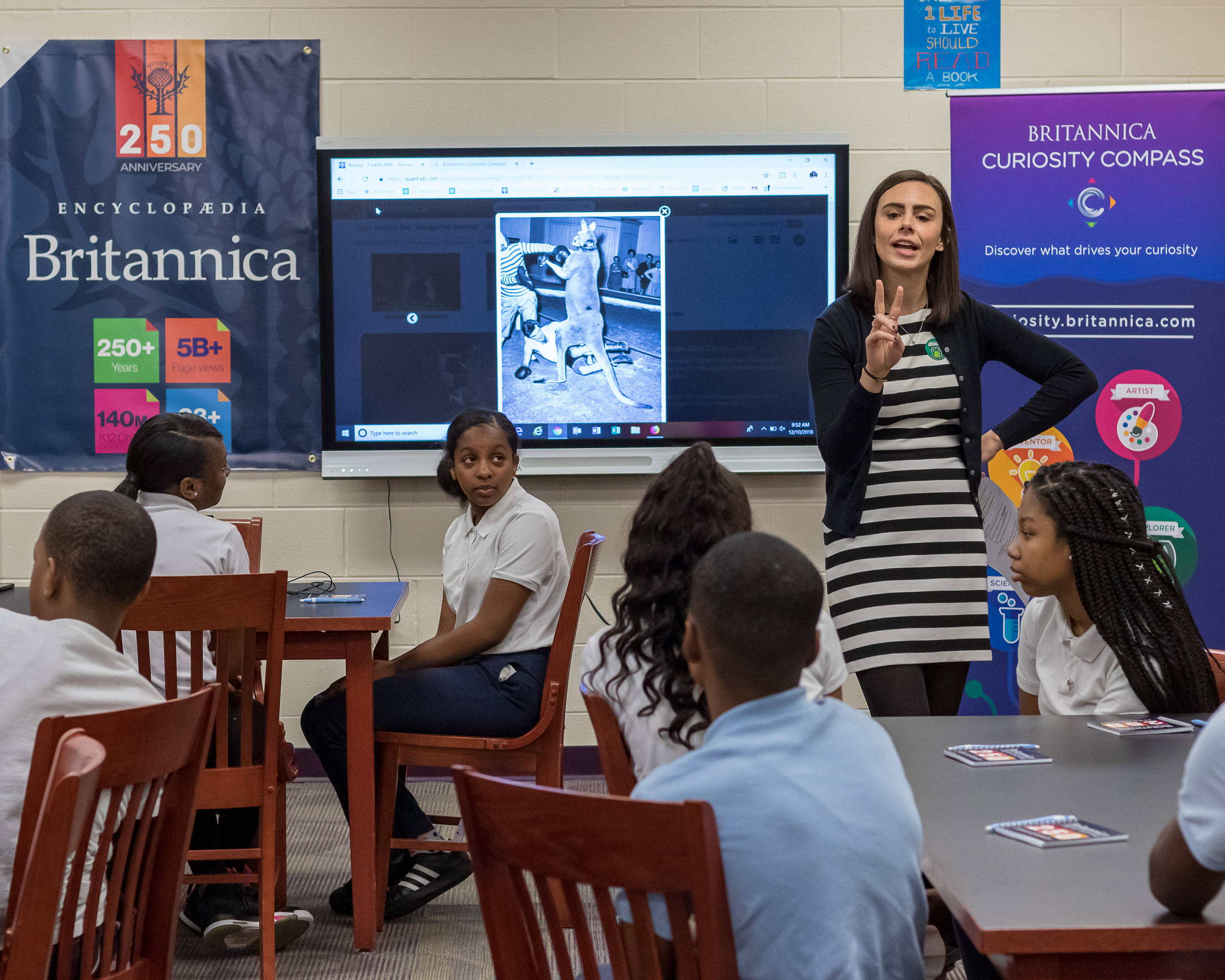 Reading Time:
3
minutes
Particularly in today's world, where technology is hijacking our minds, Curiosity Day is a movement focused on reinvigorating an innate human trait that has helped humankind push boundaries and progress
Encyclopaedia Britannica, which yesterday marked its 250th anniversary and 25 years on the Internet, kicked off its second quarter of a millennium with "Curiosity Day," a new initiative aimed at strengthening the human mind and inspiring the joy of learning every day.
In launching the new initiative, the company stated:
"We aspire to help people explore their own minds as well as the great minds of history. That's why we created the Curiosity Compass. As part of this experience, our Curiosity Challenge compels you to dive into the past, present, the self, and the community through a multi-week email challenge with social components.
"Have you ever wondered if you share traits with famous people throughout history or what your unique inquisitive abilities might be? Discover your Curiosity Type through a series of thought provoking and engaging questions which will ultimately reveal which of four profile types (the Artist, Inventor, Explorer, Scientist) you align with. For those looking to explore their profile strengths further – visitors can sign up for the Curiosity Challenge email experience. We encourage those who are participating to share their experience with their friends & family and reach out to new connections on social media through unique hashtags."
Visitors to the Curiosity Day website can also read about The Science of Curiosity and discover how to improve their own abilities with 10 Ways to Be More Curious. For those inspired by stories from real life Britannica has compiled and categorized Curious People, profiles of some of the most interesting, creative people throughout history, from its extensive database.
The initiative was kicked off at two schools near the company's Chicago headquarters: the Barack Obama Learning Academy in Markham, Ill., and the Eisenhower Academy, in Joliet, Ill. There students and teachers took part in a series of engaging activities designed spark their curiosity.
"When you're curious about any topic or any subject you'll delve more into it," said Tonya Scruggs, a third-grade teacher at the Barack Obama Learning Academy. "It's like a hook to inspire learning, to inspire their curiosity, to inspire them to want to learn more about what it is I've presented to them."
"Curiosity is like the foundation of imagination," said kindergarten teacher Barbara Mathews.
The events were made possible by the support of Dr. Sheila Harrison-Williams, Superintendent, Hazel Crest School District 152½; and Dr. Theresa Rouse, Superintendent, Joliet Pubic School District 86.
"Dr. Harrison-Williams and Dr. Rouse are leaders who are pushing the boundaries of learning and working to inspire the next generation of superintendents nationally," said Karthik Krishnan, Britannica's global CEO. "Their districts are on the cutting edge of education today, exploring new learning models. We're very grateful for the opportunity to partner with them."
Though the kickoff events were local, the company's ambitions for the initiative are global. As Krishnan explained, EB plans to roll out the campaign in its operations around the world, engage many others, and grow it into a self-sustaining grassroots movement that will move people to ask questions continually, pursue the answers, and share what they know and learn with others.
"Curiosity Day is about tuning into our innate desire to know. The spark that drives us to explore, discover and later invent. Let us commit ourselves to proactively triggering our curiosity to learn something new and share," said Krishnan. "Curiosity drives learning, and with today's growing trend of misinformation and fake news, we need everyone engaged in probing and questioning for the truth to prevail. There is no better immunization against misinformation than reactivating our curiosity shield."
Krishnan also emphasized that "in an already fast-paced, highly disruptive world where humans have to compete more and more with sophisticated machines powered by artificial intelligence, curiosity helps us preserve learning agility and develop a growth mindset. This enables us to think, learn and evolve more rapidly and be prepared no matter what the new world throws at us."
Curiosity Day is every day, said Krishnan, and it's in everybody's best interest to nurture it in order to shape a brighter future. Information and activities are available at curiosity.britannica.com and on YouTube here and here.