Finger Lakes Winery Earns Top 100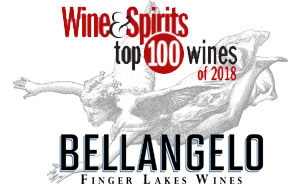 Reading Time:
2
minutes
It's a Trend! Bellangelo Continues to Earn High Marks Among America's Best Rieslings
In November 2018, the Missick family will mark its seventh anniversary of ownership of Villa Bellangelo, and there is much to celebrate.
In an impressive run, Bellangelo earned a spot as a producer of one of Wine & Spirits Magazine's Top 100 Wines in the World for 2018, and has had a series of wines in Wine & Spirits Magazine's "Best Of," category. Bellangelo's Top 100 honor was its 2015 Berry Select Riesling (with a score of 94). Noted wine writer Jamie Goode, author of Wine Science, recently commented on this wine's "amazing harmony and depth." Other "Best Of" notations in 2018 belong to its 2015 Gibson Vineyard Riesling (91), 2015 Reserve Chardonnay (91), and a listing as one of America's Best Sparkling Wines with a nod in the Best Buy category for its Sparkling Cuvée.
When the Missick family moved from California to the Finger Lakes, it focused immediately on crafting authentic, delicious expressions of wines grown on the west side of Seneca Lake. With a "sense of place," the varietal focus revolved around Riesling, Chardonnay, and Cabernet Franc. "The beauty of Riesling, is that it has an ability to express its terroir in a way few varietals can," according to winemaker, Christopher Missick; adding "and in the Finger Lakes, we can tease out those expressions in a way no other region in the United States can. This is a cool climate that has a growing season of extended beautiful warmth, and I feel we are exploring what is viable on the frontier of American viticulture."
Bellangelo currently offers a dozen different Rieslings in its tasting rooms. "Riesling is the winemaker's dream varietal: there are a hundred permutations on what is possible when we stand in the vineyard in late August," Chris Missick stated. Missick added that he is particularly proud to see the Finger Lakes continually represented as one of the world's great wine regions by wine periodicals such as Wine Enthusiast, Wine Spectator, Food & Wine, The International Wine Review, and online reviewers such as James Suckling, Vinous and others.
Having established a great reputation for Rieslings, Bellangelo is particularly proud of its recognition for work in sparkling wines and Chardonnay. Bellangelo began producing sparkling wine in 2014, including its Brut and Sparkling Merlot Rosé. This fall will see the release of its sparkling Gewurztraminer.
Bellangelo is a family owned winery with an historical past dating to 1866 and located on the West side of Seneca Lake in New York's Finger Lakes AVA. The Missick family operates an additional tasting room in Geneva, NY, and produces the brand Can Do, a line of ready to drink delicious canned wines that includes Moscato, Rosé, Riesling and Chardonnay. The brands are currently represented by Wright Beverage Distributing, MHW Distribution, and BevStrat. Bellangelo's winemaker, Chris Missick, is proud to be the only full-time winemaker in the world that is also admitted to practice law before the Supreme Court of the United States.
International Paper Again Selected to FORTUNE's List of World's Most Admired Companies
Reading Time:
1
minute
International Paper (NYSE: IP) announced that it has been named again by FORTUNE magazine as one of the "Worlds Most Admired Companies." International Paper has earned this recognition sixteen times in the last seventeen years based on scores achieved in the following categories:
Ability to attract and retain talented people
Quality of management
Social responsibility to the community and the environment
Innovativeness
Quality of products or services
Wise use of corporate assets
Financial soundness
Long-term investment value
Effectiveness in doing business globally
"This recognition reflects the exceptional talent and commitment of International Paper's 52,000 employees around the globe," said Mark Sutton, chairman and chief executive officer. "We work with the world's leading brands to make products that improve peoples' lives and we mobilize our people, products and resources to address critical needs in the communities where our employees live and work. I want to thank our global team members for this well-deserved achievement."
Motivational Speaker, School Trivia to Feature at Houghton Academy Pep Rally for School Choice
Reading Time:
1
minute
A school choice pep rally featuring motivational speeches, class cheers, school trivia, and the National School Choice Week dance will take place at Houghton Academy 9:45 a.m.- 2:15 p.m. Tuesday, Jan. 22.
The high-energy rally will feature a keynote address by Pastor James Giles, president of the Buffalo Peacemakers Violence and Gang Intervention Program, which advocates violence prevention for at-risk youth.
More than 150 students, staff, and community members are expected to attend.
This event is planned to coincide with the history-making celebration of National School Choice Week 2019, which will feature more than 40,000 school choice events across all 50 states.
"We celebrate school choice by recognizing all that Houghton Academy has to offer its students," said Elaine Vardi-Kirkland, principal of Houghton Academy. "We are thrilled to participate in National School Choice Week and to advocate parents having the information they need to make the best decisions for their children's education."
Houghton Academy is a Buffalo public school serving students in grades Pre-K-8.
As a nonpartisan, nonpolitical public awareness effort, National School Choice Week shines a positive spotlight on effective education options for students, families, and communities around the country. From January 20 through 26, 2019, more than 40,000 independently-planned events will be held in celebration of the Week. For more information, visit:
The 61st Annual GRAMMY Awards® Continue To Rock The World With New International Sales Secured By Alfred Haber, Inc .
Reading Time:
1
minute
With the recent news that 15-time GRAMMY® Award winner Alicia Keys will host the 61st Annual GRAMMY Awards®, and having previously announced key sales to Rogers (Canada), Tencent (China), WOWOW (Japan) and M-Net (Africa), among others, Alfred Haber, President of Alfred Haber, Inc., announced today that the company has secured additional international sales for the 61st Annual GRAMMY Awards. Slated to air February 10 on the CBS Television Network for the 47th consecutive year, broadcasters who have recently signed on for the 61st edition include: 4 Music (UK), Turner (Latin America), Foxtel (Australia), Danmark Radio (Denmark), FOX (Southeast Asia), Solar Entertainment Corporation (Philippines), Norwegian Broadcasting (Norway) and TVNZ (New Zealand).
The first group of artists confirmed to perform during the 61st Annual GRAMMY Awards are current nominees Camila Cabello, Cardi B, Dan + Shay, Post Malone, Shawn Mendes, Janelle Monáe, and Kacey Musgraves.
"The GRAMMY Awards continue to be the most anticipated musical event the world over," commented Haber. "Today's greatest music performed by today's greatest musicians, coupled with phenomenal production value, creates a viewing and listening opportunity for broadcast territories around the globe. We at AHI are honored to again be entrusted with bringing the GRAMMY Awards to the international marketplace."