Chartwells Higher Education Satisfies Taste Buds with Plant-Based Fare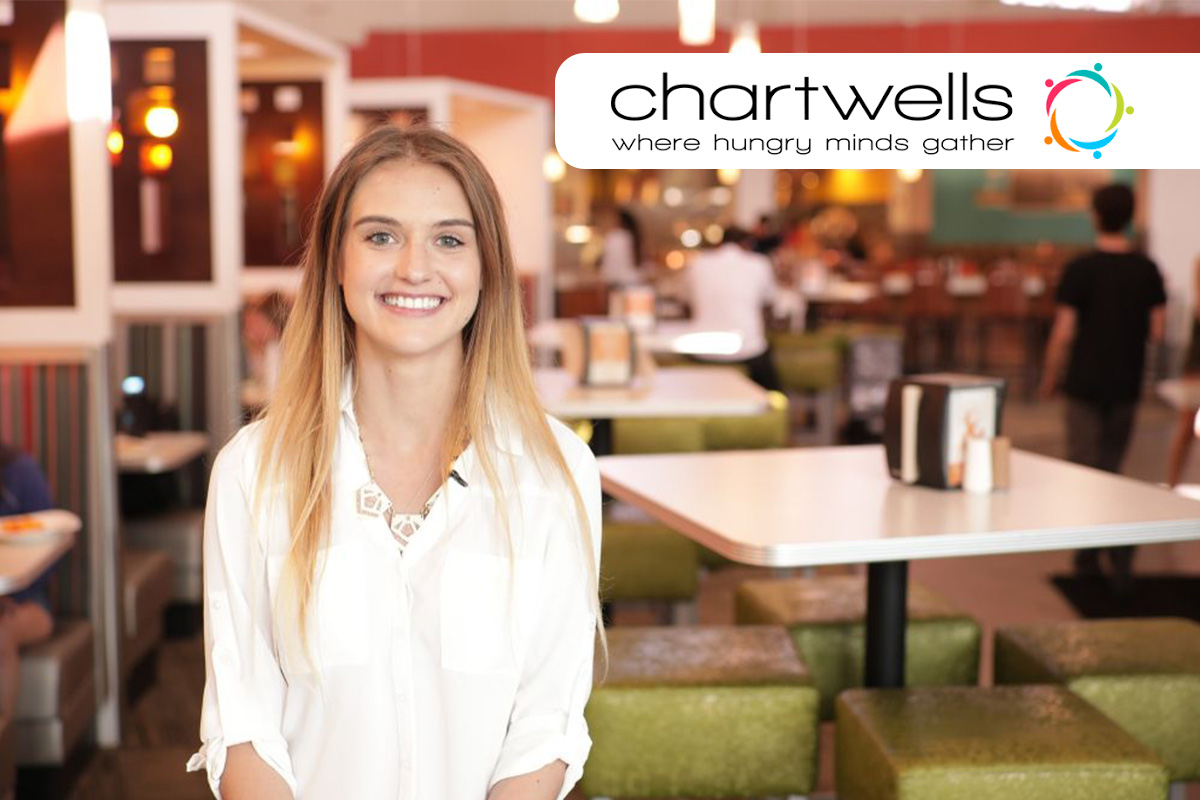 Reading Time:
2
minutes
Events and offerings support Vegetarian Awareness Month and promote healthy lifestyles
Chartwells Higher Education's innovative approach to delicious and nutritious cuisine has on-campus diners exploring plant-based options and their benefits at universities across the nation. Vegetarian Awareness Month provided the foundation for Chartwells Higher Education to team up with students and staff to improve their health, reduce food costs, support local communities, and improve the environment.
Chartwells Higher Education created interactive opportunities throughout the month to teach and engage students with plant-based cuisine. It's part of an effort to meet the demands of students and guests, many of whom are Gen Zers seeking more healthful and simple eating options.
"We understand that Generation Z is looking for alternatives, and relishes the opportunity to discover and experience what's new, different and authentic," said Chartwells Higher Education Corporate Executive Chef, Joe Labombarda. "By creating solutions that provide culinary newness and a chance to be spontaneous, we feel like we are able to play a small part in helping the students develop their palettes and lifestyle goals."
Here are a few examples of the plant-based cuisine initiatives developed at universities this month by Chartwells Higher Education in recognition of Vegetarian Awareness Month.
Eastern Michigan University Hosts a Vitalizing Veggies Teaching Kitchen — The Teaching Kitchen is designed to be a collaborative space for students and guests to explore foods they love and learn culinary skills from Chartwells' talented chefs that they can carry with them into the future. This month's theme helped educate guests on the nutritional importance of vegetables with a hands-on creation of stir-fried chicken and veggie lettuce wraps. More than 20 partner colleges throughout the country participated in this Teaching Kitchen event.
Montclair State University Celebrates World Vegetarian Day — Chartwells Higher Education and MSU partnered to kick off Project Clean Plate featuring daily vegetarian and vegan displays and offerings throughout the month. They also created a video to help inform students about the benefits of clean, vegetarian eating.
Sacred Heart University Combines Efforts to Provide Hurricane Florence Aid – Chartwells Higher Education brought the best of its dining service initiatives together for a fun, feel-good event that supported the community. By using leftover apple and carrot scraps that were locally sourced through the Local Market Thursdays program, the Teaching Kitchen provided the perfect opportunity for students to make vegetarian dog treats that were bagged and shared for donations. Starting in November the team will make 150 treats per week and send them to the Dog and Cat Rescue Samui Foundation in Thailand.
Chartwells Higher Education works alongside its partners and campuses to reinvent the dining experience helping students take charge of their nutrition and overall wellness. The programs are designed to bring people together for meaningful lifestyles and lasting relationships.
Dr. Batra's™ Foundation Hosts the 9th Year of 'Yaadon Ki Bahaar'
Reading Time:
2
minutes
The 9th year of 'Yaadon Ki Bahaar' was held on January 17th at Sofia Bhabha Auditorium at Cumballa Hill in Mumbai. The event is singing concert featuring a foot-tapping medley of yesteryear songs rendered by Dr. Mukesh Batra. The event was graced by Zeenat Aman as chief guest and saw the who's who of the society, including Juhi Chawla, Simi Garewal, Varsha Usgaonkar, Tara Deshpande and Sabira Merchant to name a few. They attended the event to lend their support to this noble cause. The renowned homeopath and the recipient of the prestigious Padma Shri award conceptualized this annual concert to provide residents of the Shepherd Widows Home with much needed aid.
The Shepherd Widows Home, managed by the Bishop of Mumbai – CNI, takes care of old widows and provides them with free housing, medical care and other necessities. Dr Batra's™ Foundation has been associated with Shepherd Widows Home for over 30 years and has been instrumental in providing a means for alternative and affordable healthcare to the beneficiaries. For over three decades, Dr Batra's™ has been committed to providing free lifetime healthcare treatment to the residents of Shepherd Widows Home. 'Yaadon Ki Bahaar' is a highly anticipated event for the ladies of the home.
Dr. Mukesh Batra instituted the musical concert with the view to move beyond cheque book philanthropy. The ladies of the Home are remarkable, having gone through so much in lives. This concert is not about the money that goes to them or the charity but pays homage to their spirit.
Speaking about the initiative, Dr. Mukesh Batra said, "Over the years, we have always been committed to providing holistic healthcare treatments to all our patients. Through Dr Batra's™ Foundation it has been our constant endeavor to extend this vision to the underprivileged and ensure that no one who is in need of medical intervention is left unattended. 'Yaadon Ki Bahaar' is one such initiative to involve the community to support a worthy cause. We believe it is our duty to see that they do not spend their twilight years in isolation, pain and misery. They do not need our pity but they need our love, care and support. It fills our hearts with pride and a sense of fulfillment to see the lovely ladies at Shepherd Widows Home participate whole-heartedly in 'Yaadon Ki Bahaar'. We remain steadfast in our efforts to ensure that the residents of Shepherd Widows Home not only receive a meaningful donation, but also continue to receive appropriate healthcare, and most importantly, have the time of their lives at this concert."
New research by Deloitte identifies four leadership personas succeeding in the Fourth Industrial Revolution: Social Supers; Talent Champions; Data-driven Decisives and Disruption Drivers
Reading Time:
5
minutes
With the Fourth Industrial Revolution (Industry 4.0) re-shaping how the world lives and works, global leaders are facing the pressures of preparing their businesses and their workforces for this new era. Arising from this shift to Industry 4.0 are defined leadership traits that have been uncovered in Deloitte's second annual Readiness Report, Success Personified in the Fourth Industrial Revolution, which offers insight into the characteristics that set apart the most effective leaders and successful organizations.
This year's survey of more than 2,000 C-suite executives across 19 countries, found that executives genuinely want to improve the world and they have a clearer grasp of the skills challenge ahead. However, organizational roadblocks appear to be limiting the development of effective Industry 4.0 strategies and they continue to shy away from bold technology investments that will drive innovation and disruption. In two critical areas – societal impact and talent development – CXO attitudes changed dramatically from 2017, indicating leaders are becoming more realistic about what it takes to succeed in Industry 4.0.
"Last year, even though leaders were just beginning to understand how Industry 4.0 would transform business and society, they expressed confidence in their preparedness," said Punit Renjen, Deloitte Global CEO. "Yet their actions demonstrated a significant mismatch between their confidence to address these changes and their actual readiness to address them. Today, leaders are more realistic about what it will take to succeed, and they appear particularly focused on societal impact and workforce development as two critical components of their future success."
Success personified in the Fourth Industrial Revolution: The four leadership personas for an era of change and uncertainty
While there is no one recipe for success in how to deal with rapid industrial transformation, it can be helpful to understand how certain leaders are approaching this ever-changing environment. Organizations with leaders who embody the characteristics of the Industry 4.0 personas—commitment to do good; defined, data-driven decision-making; bold, longer-term vision of technology; and aggressive about workforce development—are poised to survive and thrive.
Deloitte research explores the types of leaders that are taking effective action, where they are making the most progress, and what sets the most successful leaders apart. These leadership personas—the "Social Supers," the "Data-driven Decisives," the "Disruption Drivers," and the "Talent Champions"— can serve as models for leaders globally as they tackle the challenges associated with 4IR transformation.
Weighing the Value of Purpose? Societal Impact Pays Off
This year's survey revealed that societal impact (34 percent) is the most important factor business leaders use to gauge success—totaling that of financial performance (17 percent) and employee satisfaction (17 percent) combined. Additionally, more than half of global executives surveyed (53 percent) noted their societal impact efforts resulted in new revenue streams—proving purpose and profit can coexist in Industry 4.0.
The "Social Supers"
"Social Supers" are leaders who consider societal initiatives fundamental to their businesses. They have demonstrated success in "doing well by doing good" by generating new revenue streams through socially or environmentally conscious products or services; and believe that these initiatives, more often than not, contribute to profitability. "Social Supers" are more confident in their ability to handle the workforce challenges of Industry 4.0—they are 12 percent more likely to cite that their workforce composition is prepared for digital transformation and show far greater willingness to train workers (54 percent vs. 37 percent).
In Industry 4.0, Strategy is Left Behind
A third of global leaders cited lack of leadership vision as the top challenge their organizations face in adapting business strategies to meet the needs of tomorrow. Strategy also falters when it comes to implementing new technologies, as leaders reported concerns over too many technology choices and difficulty keeping pace with the rate of change. Only 29 percent of executives believe their organizations have clearly defined decision-making processes, so it's no surprise executives are struggling to keep up.
The "Data-Driven Decisives"
Strategic obstacles, such as organizational silos, can complicate decision-making processes and hamper innovation. "Data-Driven Decisives," however, are overcoming these challenges through a methodical, data-focused approach and are bolder in their decisions. These leaders are confident in comparison to other leaders, with sixty-two percent strongly agreeing that they are prepared to lead their organizations in capitalizing on the opportunities associated with Industry 4.0—almost twice as many as other leaders (32 percent) surveyed.
Technology Bringing a Wave of Disruption? Not So Fast
Despite the unquestionable economic and societal potential of Industry 4.0, many organizations opt to maintain the status quo with respect to their technology investments, leaving themselves at risk. Twice as many leaders said they're more likely to invest in Industry 4.0 technologies to protect themselves from disruption as are looking to disrupt other industries or the marketplace (67 percent versus 33 percent). So, what is responsible for this defensive approach? Issues such as being too focused on short-term results, having too many technology choices, and a lack of understanding of the technologies rose to the top as barriers to investment.
The "Disruption Drivers"
Leaders known as the "Disruption Drivers" understand that investment in new innovations is required for growth; they invest in technologies with a concerted focus on upending their markets. These bold decisions have paid off—their technology investments have achieved or exceeded their intended business outcomes. "Disruption Drivers" are more likely to say they feel ready to lead in the Industry 4.0 era (45 percent versus 32 percent) and are more assured that their organizations are prepared to capitalize on the opportunities associated with Industry 4.0.
Building the skills for Industry 4.0. Hire or train?
Global leaders appear to understand the new skills required by Industry 4.0 jobs, however, the fear of technology and automation isn't necessarily causing executives to increase efforts to train their workforce. While 55 percent of leaders highlighted a significant mismatch between current skill sets and those needed in the future, 25 percent still prefer hiring new employees over retraining their current workforces. Furthermore, 57 percent believe the education system is inadequately preparing incoming workers—up from 35 percent in 2017. If the education system isn't providing business with able professionals, it will fall to business leaders to either hire for the skills they need or retrain their existing workers.
The "Talent Champions"
The "Talent Champions" know what skill sets their companies need—and they believe they currently have the correct workforce composition. These executives are aggressively preparing their companies for digital transformation, and embrace their responsibilities to train their employees for the future of work (51 percent versus 41 percent for all other respondents). Talent Champions also are more likely to invest in technologies to disrupt competitors (42 percent versus 32 percent).
Leading in the Fourth Industrial Revolution
"Our research has uncovered four distinct types of leaders succeeding in Industry 4.0. These leaders are achieving greater revenue growth than their counterparts, in part, because they have conquered at least one, and sometimes more, of the dimensions required for success. For other leaders seeking to prepare for the challenges of this new era, these personas offer insights that can be used to shape their own strategies for success," added Renjen.
For more information and to view the full research results, read the report here.
Methodology
This research is based on a survey of 2,042 global executives conducted by Forbes Insights in June-August 2018. Survey respondents represented 19 countries from the Americas, Asia and Europe, and came from all major industry sectors. All survey respondents were C-level executives, including CEOs/presidents, COOs, CFOs, CMOs, CIOs and CTOs. All executives represented organizations with revenue of $1 billion or more, with half (50.1 percent) coming from organizations with more than $5 billion in revenue. Additionally, Forbes Insights and Deloitte Global conducted one-on-one interviews with global industry leaders and academics.
Salesforce Announces Salesforce Tower Dublin, Commits to Adding 1,500 New Jobs in Ireland
Reading Time:
4
minutes
Salesforce (NYSE:CRM), the global leader in CRM, today announced Salesforce Tower Dublin, significantly expanding the company's regional headquarters in Ireland. As part of the expansion, Salesforce plans to add 1,500 new local jobs over the next five years. Salesforce.org, the philanthropic arm of Salesforce, also announced a $1 million grant to Educate Together, supporting the opening and running of schools in Ireland. Today's announcements were made with the Irish Prime Minister, An Taoiseach Leo Varadkar TD at an event in the Convention Centre Dublin where nearly 1,000 Salesforce employees were present to hear details of the new plans.
Salesforce Tower Dublin will be an urban campus of four interconnected buildings located on North Wall Quay within Dublin's vibrant Silicon Docks, overlooking the River Liffey. Salesforce employees are due to start moving into the 430,000 Sq ft campus in mid-2021. Salesforce Tower Dublin is being developed by Ronan Group Real Estate and Colony Capital.
Plans for Salesforce Tower Dublin will include an immersive video lobby experience; riverside paths connecting the campus to the cultural city hub; and an "Ohana Floor", an open hospitality space for Salesforce employees, customers and partners, which will also be available for not-for-profit organisations and local community groups to use on weeknights and weekends at no cost.
New Campus Supports Salesforce's Continued Growth in Ireland
Salesforce has been named one of Ireland's Best Places to Work for three years and the Best Workplace in Europe in 2018. Salesforce Tower Dublin will be a regional hub for employees across sales, customer service, technical and business operations delivering new innovations to its more than 150,000 customers around the world. Salesforce has over 1,400 employees in Dublin and more than 34,000 employees worldwide. With plans to add 1,500 new jobs over the next five years, the company is actively recruiting for roles across all functions including engineering, customer support, sales and business services. Ireland is home to many Salesforce customers including Brown Thomas Arnotts, Icon PLC, Property Button and Ulster Bank.
Comments on the News
"Today we are announcing the location of Salesforce Tower Dublin and the creation of 1,500 new jobs over the next five years. This is one of the largest jobs announcements in Ireland in recent years," said An Taoiseach, Leo Varadkar TDwelcoming the news. "Salesforce is an important part of our technology sector, helping Ireland become the tech capital of Europe and one of the most globalised and open economies in the world. Ireland is open to investment, to capital, to trade, to talent and to creativity. I particularly welcome Salesforce's €1 million grant to Educate Together, and the hospitality space being set aside for local community groups. Well done to the entire team in Dublin on your success."
"Europe is Salesforce's fastest growing region, and Ireland has been a significant part of our success. We are excited to be announcing our continued commitment with this investment in Dublin as we grow our team in the coming years," said Miguel Milano, President, International, Salesforce. "Salesforce Tower Dublin will be an iconic campus and a beautiful space for our employees, customers, partners and the wider community in Dublin to enjoy."
"We were one of the first digital companies to locate in Dublin, and since opening here we have seen the city flourish into one of the world's leading technology hubs," said Dr. David Dempsey, Country Leader for Salesforce in Ireland. "We are proud to be part of this story and look forward to taking up residence in the very heart of Dublin's Silicon Docks."
New Innovations in Sustainability
Salesforce Tower Dublin will be one of the most sustainable office campuses in Ireland and one of Salesforce's most sustainable building projects to date. The building will be LEED v4 Core and Shell Platinum Certified. Also, Salesforce is pursuing LEED v4 Commercial Interiors Platinum Certification and ILFI Net Zero Carbon Certification. The all electric building will be one of the first commercial occupied nZEB (nearly Net Zero Energy Building) in Dublin and will source 100% renewable energy with some onsite solar and innovative battery storage to meet the company's commitment to low carbon buildings. In addition, its innovative green roof with rainwater capture will sequester carbon and filter water while providing accessible green space in the heart of the city.
Supporting Ireland Education with $1 Million Grant for Ireland's Educate Together
Salesforce is also committed to giving back to the community and today Salesforce.org, the philanthropic arm of Salesforce, announced a grant of $1 million to Educate Together, an educational charity that operates equality-based schools in Ireland with 84 primary schools and 13 second-level schools, providing education for over 28,000 pupils. The grant, which is Salesforce.org's largest European grant to date, will support the opening of new equality-based schools in Ireland, the development of a Quality Framework for existing schools in the network, support professional development programmes for teachers, and the further development of the organisation's unique Ethical Education curriculum.
Ebony Frelix, EVP & Chief Philanthropy Officer of Salesforce.org said, "As the patron body for almost 100 schools in Ireland, we were impressed by Educate Together's commitment to equality and human rights-based education. The democratic and culturally inclusive ethos of Educate Together as well as their focus on student engagement, community involvement, and the equality of access are all reasons we are excited to be supporting Educate Together."
Paul Rowe, CEO of Educate Together thanked Salesforce.org for their grant saying, "The generosity of Salesforce.org will have a wonderful impact on the work of Educate Together. It will directly benefit our students, the efforts of our teachers and the many families that are seeking our model of education. We are particularly excited that the grant will allow us to develop our important 'Quality Framework' which we hope will increase participation and innovation in all our schools. We also are enthused with the alignment of our Ethical Education curriculum and its focus on education for local, national and global sustainability with Salesforce.org's philanthropic goals."
The initiatives from Educate Together further build on Salesforce.org's commitment to improve the quality of schools and opportunities in the communities where Salesforce employees live and work. As part of its model of giving time, technology and resources back to the community, Salesforce.org has given more than $1.6 million in grants to support "Future Ready" organisations in Ireland including Bridge21, Citywise Education, Educate Together, St. Dominic's School in Ballyfermot and St. Peter's School in Bray. In addition, Salesforce employees in Ireland are committing to deliver 38,000 total employee volunteer hours to community programmes in 2019.
Salesforce—Fastest-Growing Top 5 Software Company
Salesforce is the global leader in customer relationship management (CRM), helping companies connect with their customers in a whole new way. Founded in 1999, Salesforce enables companies of every size and industry to take advantage of powerful Fourth Industrial Revolution technologies—cloud, mobile, social, internet of things, and artificial intelligence—to get closer to their customers. The Salesforce Customer Success Platform includes industry-leading services spanning sales, service, marketing, commerce, communities, collaboration and industries, all on a single trusted cloud platform.