Richtek Unveils New RTQ7880, the USB Type-C Power Delivery Car Charging Solution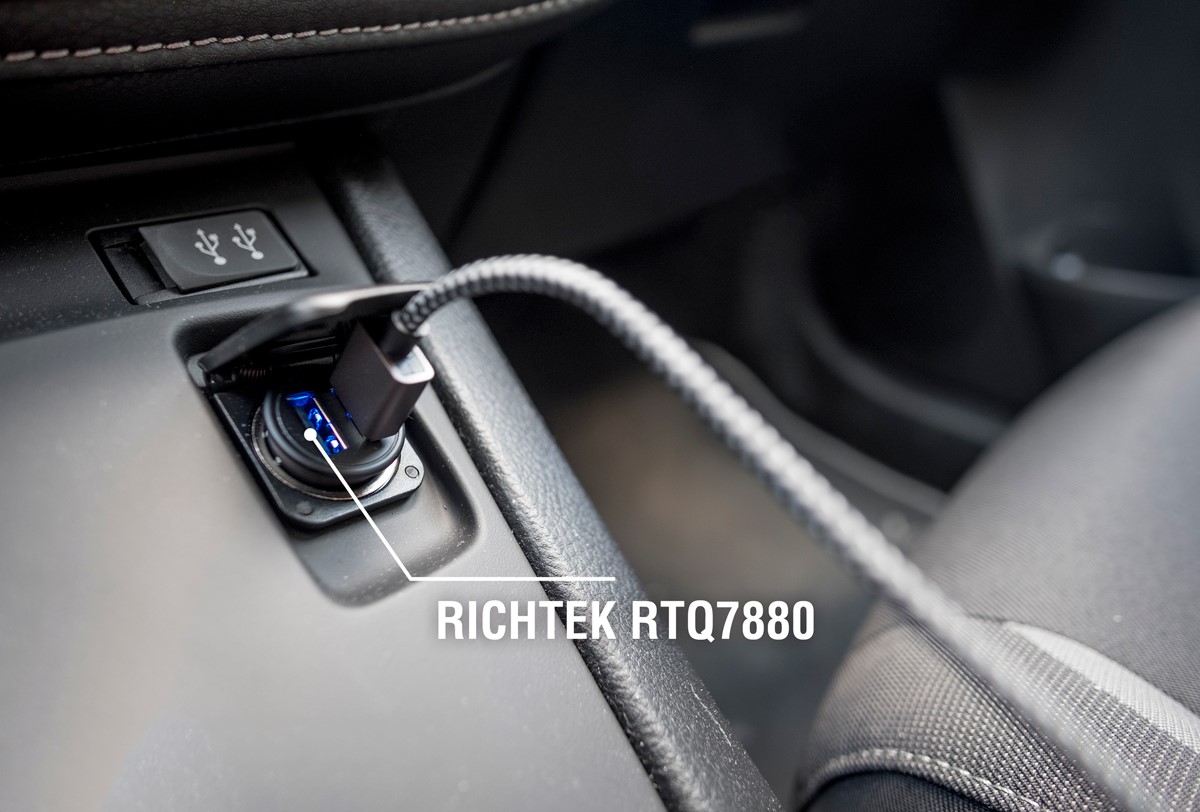 Reading Time:
2
minutes
Richtek, the global leading analog IC design company has brought its innovative power management solutions to automotive applications. Richtek has launched RTQ7880, the world's first integrated IC device that combines USB Type-C Power Delivery and a Buck-Boost controller, making it a true one-chip solution for the new generation 100 watts (20V/5A) high power car chargers. The AEC-Q100 grade-2 qualified RTQ7880 is ready to fulfil the requirements of current and future car chargers.
Richtek, being a member of USB Implementers Forum, has designed the RTQ7880 with a high level of flexibility. The built-in ARM MCU and fully programmable PWM block enable a special AnyPower™ functionality, which meets the latest USB PD 3.0 with Programmable Power Supply requirements. Furthermore, RTQ7880 includes comprehensive protection functionality which are all hardware-controlled, making the system truly PDSafe™. For charging systems that need to support non-USB-C legacy devices, the RTQ7880 includes USB data-line sensing circuits for detecting BC1.2, QC2.0 and QC3.0 and Apple mode systems. The RTQ7880 MTP memory firmware can be updated via the USB port.
To avoid voltage drops from long-distance power transmission for rear-seat passengers charging devices, RTQ7880 includes a 9-step programmable cable drop compensation function, which adjusts the output voltage based on charging current. The voltage compensation value is adjustable for different cable lengths. The result is a charging voltage through the charging cable end that varies less than +/-50mV over charge current. RTQ7880 also has 10 GPIO pins that can be used for various functions: LED indication, firmware option settings or communication with other devices.
Richtek also offers power management solutions for USB Type-C and Type-A car chargers. The RTQ2115/6 product family is the AEC-Q100 grade 1 qualified solution which combines a charging port controller and a Buck converter to support multiple USB protocols.
Over the past 5 years, Richtek has developed a strong automotive product portfolio to cover various areas, such as Infotainment, Telematics and ADAS. All Richtek automotive products are AEC-Q100 qualified with high performance and reliability, successfully selected by Automotive Tier 1 suppliers across the globe. Richtek is creating more new products through close collaboration with automotive manufacturers and in doing so they are shaping the future automotive industry together.
Find out more about Richtek automotive products:https://www.richtek.com/Applications/Automotive
H&M and Lyft Offer Free Rides for New Yorkers to Recycle Clothing
Reading Time:
2
minutes
New Yorkers to also receive 15% off their H&M purchase in return for donating unwanted garments
H&M and Lyft are teaming up to provide free rides to New Yorkers interested in donating clothing to H&M's Garment Collecting program. Starting Jan. 22 through Jan. 27, the first 5,000 H&M customers interested in donating clothing can use the promo code HMRECYCLES to claim a free ride up to $10 to any H&M location in New York City. Customers will also receive 15% off their H&M purchase in return for a donation of unwanted garments, from any brand and in any condition.
The partnership is part of a broader mission by the two companies to take on the challenges of climate change and circularity in fashion more directly. H&M started its Garment Collecting program in 2013, becoming the first fashion company to launch a clothing collecting initiative worldwide. The program has collected 163 million pounds of textiles globally, providing customers an easy way to give clothes a second life to ensure fewer garments end up in landfills.
In 2018, Lyft committed to full carbon neutrality and 100% renewable energy by offsetting the carbon emissions from all Lyft rides, meaning every Lyft ride in NYC is carbon-neutral. Lyft also has partnered with cities and public transit agencies across the U.S. to launch bikes and scooters programs, including NYC's Citi Bike, as well as set the goal to achieve 50% shared rides by the end of 2020.
"Lyft is proud to partner with H&M to support the Garment Collecting initiative and provide the local community with accessible opportunities to donate and recycle clothing," said Ann Ferracane, General Manager of Lyft New York. "Helping New Yorkers make donations is an important, but exciting, step in creating a positive impact on our natural resources for years to come."
"H&M is thrilled to partner with Lyft in a joint effort to give garments a second life through H&M's Garment Collecting program. Sustainability is a part of everything we do, and we are excited this initiative will allow more New Yorkers to both learn about and get involved in the program," said Martino Pessina, President of H&M North America.
Sandvik Acquires Supplier of Battery Electric Vehicle Solutions
Reading Time:
1
minute
Sandvik acquires privately owned Artisan Vehicle Systems, manufacturer of battery powered underground mining equipment, based in Camarillo, California, USA. The core technology is battery packs, electric motors, power electronics, software and control systems. Artisan's underground mining loaders and trucks are designed with these high-powered, highly reliable and field proven battery electric powertrains. Artisan is the market leader with most battery electric vehicles currently operating in underground mining.
"I am pleased to see the strategic acquisition of Artisan so soon after the opening of Sandvik's state-of-the-art Battery Electrification Innovation and Development Center in Turku, Finland, in 2018. It is in line with our ambition to be leading in the market for Battery Electric Vehicle solutions", says Lars Engström, President, Sandvik Mining and Rock Technology.
Artisan will be a Business Unit in the Load and Haul Division within Sandvik Mining and Rock Technology.
"The area in which Artisan is located is a frontrunner in electric vehicle development. Our new R&D foothold there will complement the skillset we have in Finland. The combination of know-how and skills creates a very strong platform", says Mats Eriksson, President Load and Haul Division, Sandvik Mining and Rock Technology.
Artisan is a start-up company which in 2017 had revenues of 12.3 million USD and approximately 60 employees.
The parties have agreed not to disclose the purchase price. The transaction is expected to close during the first quarter 2019. The deal is initially neutral to earnings per share.
Hemmels 280 SL Featured at Mercedes-Benz World
Reading Time:
1
minute
Mercedes-Benz World has welcomed its first Hemmels motorcar for display at its facility in Weybridge, UK.
The motorcar, a 1968 280 SL "Pagoda" is prominently featured in the main reception area.
The restoration was commissioned by British racing car driver Paul Rees who chose to finish the car in its original Horizon Blue paint colour with a new Navy Blue leather interior. Estimated at a value of £285,000, the restoration was completed at Hemmels' bespoke facility in Cardiff, commencing in late 2016 and taking over 4,000 labour hours.
"Mercedes-Benz World has a fantastic display of classic and rare along with interactive exhibits and driving experiences. Establishing a centre of this calibre is complementary to the vision and commitment to excellence of this marque," said Joseph Sullivan, MD Hemmels. "We're proud to have the first of hopefully many motorcars displayed this prestigious facility."
Hi-res photos of the car both during restoration period and as on display are available from Hemmels by request.
https://www.hemmels.com/gallery-of-classic-mercedes-benz-images-including-w113-w198-and-w121-cars
Offering a new car buying experience, Hemmels' clients can order a Mercedes-Benz classic car in the colours of their choice along with bespoke options and preferences. Hemmels then restores the cars according to the exacting standards of its trademarked Neugeboren ("newborn") Process where every car is fully dismantled and rebuilt from its bare metal beginnings over a 52 week period. Like a new car purchase, a full 12 month parts and labour warranty is included along with servicing options.
Hemmels is pleased to welcome interested parties for a personal tour of the showroom and facilities through prior appointment. The company will be displaying a selection of its classic cars at the London Classic Car show, ExCel Exhibition Centre, London, UK from February 14th-17th, 2019.