Richtek Unveils New RTQ7880, the USB Type-C Power Delivery Car Charging Solution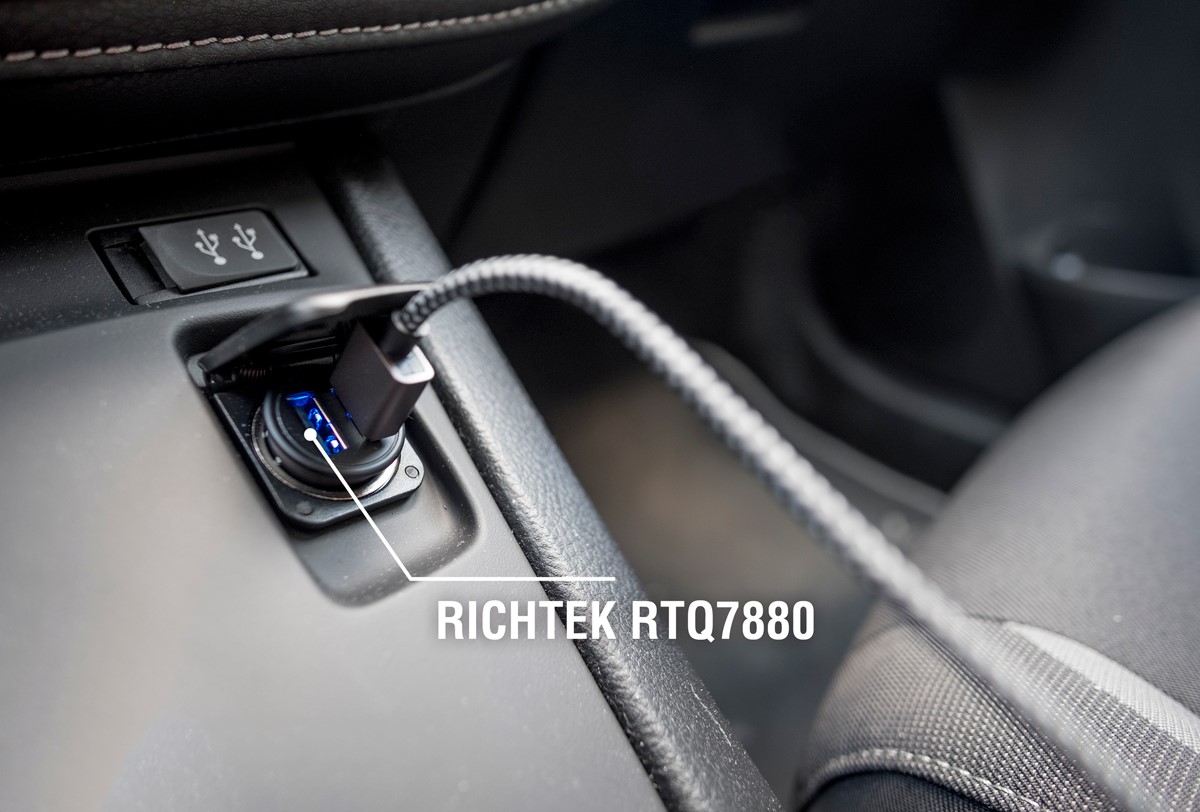 Reading Time:
2
minutes
Richtek, the global leading analog IC design company has brought its innovative power management solutions to automotive applications. Richtek has launched RTQ7880, the world's first integrated IC device that combines USB Type-C Power Delivery and a Buck-Boost controller, making it a true one-chip solution for the new generation 100 watts (20V/5A) high power car chargers. The AEC-Q100 grade-2 qualified RTQ7880 is ready to fulfil the requirements of current and future car chargers.
Richtek, being a member of USB Implementers Forum, has designed the RTQ7880 with a high level of flexibility. The built-in ARM MCU and fully programmable PWM block enable a special AnyPower™ functionality, which meets the latest USB PD 3.0 with Programmable Power Supply requirements. Furthermore, RTQ7880 includes comprehensive protection functionality which are all hardware-controlled, making the system truly PDSafe™. For charging systems that need to support non-USB-C legacy devices, the RTQ7880 includes USB data-line sensing circuits for detecting BC1.2, QC2.0 and QC3.0 and Apple mode systems. The RTQ7880 MTP memory firmware can be updated via the USB port.
To avoid voltage drops from long-distance power transmission for rear-seat passengers charging devices, RTQ7880 includes a 9-step programmable cable drop compensation function, which adjusts the output voltage based on charging current. The voltage compensation value is adjustable for different cable lengths. The result is a charging voltage through the charging cable end that varies less than +/-50mV over charge current. RTQ7880 also has 10 GPIO pins that can be used for various functions: LED indication, firmware option settings or communication with other devices.
Richtek also offers power management solutions for USB Type-C and Type-A car chargers. The RTQ2115/6 product family is the AEC-Q100 grade 1 qualified solution which combines a charging port controller and a Buck converter to support multiple USB protocols.
Over the past 5 years, Richtek has developed a strong automotive product portfolio to cover various areas, such as Infotainment, Telematics and ADAS. All Richtek automotive products are AEC-Q100 qualified with high performance and reliability, successfully selected by Automotive Tier 1 suppliers across the globe. Richtek is creating more new products through close collaboration with automotive manufacturers and in doing so they are shaping the future automotive industry together.
Find out more about Richtek automotive products:https://www.richtek.com/Applications/Automotive
All-New 2020 Toyota Corolla Ready To Rock The Sedan World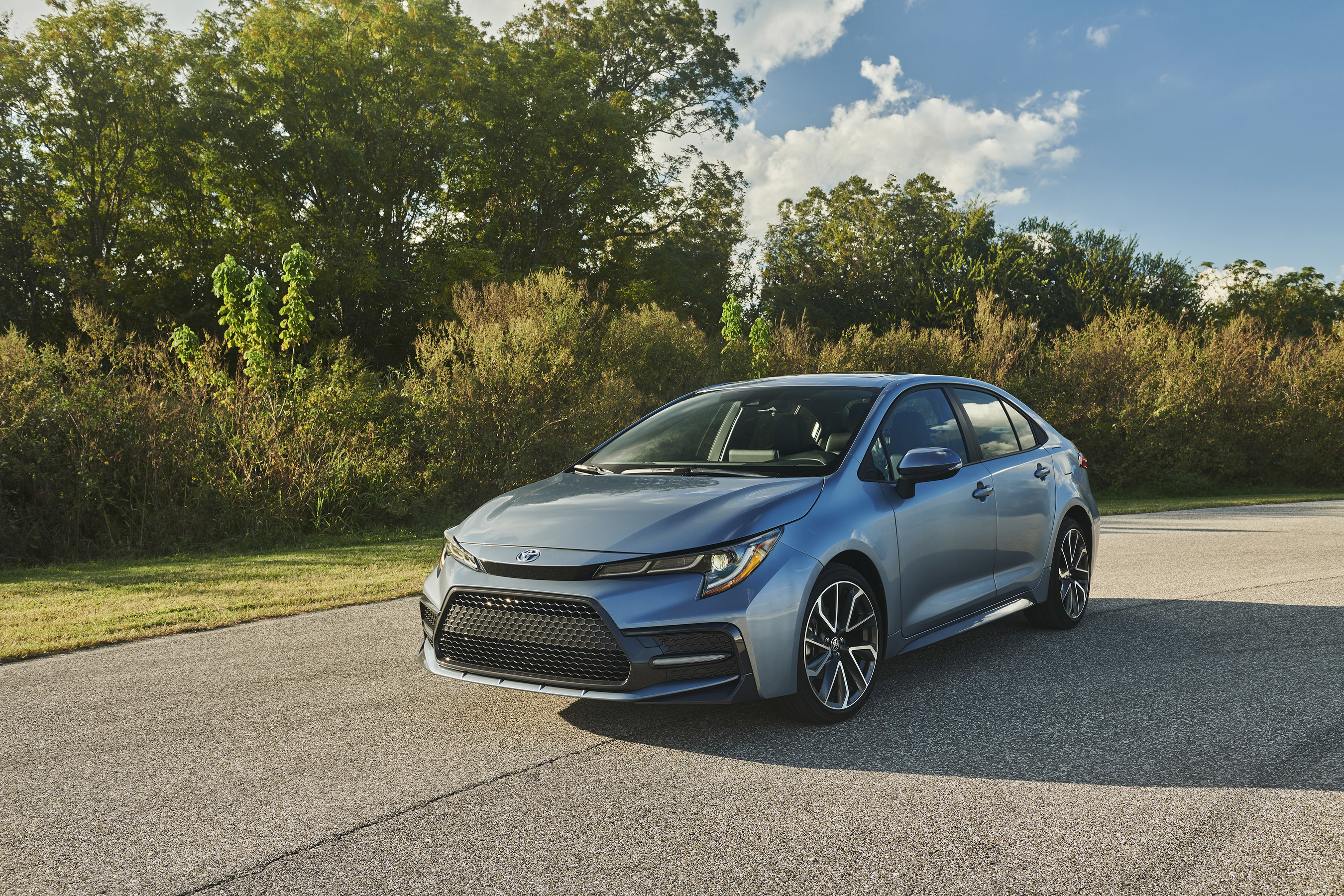 Reading Time:
3
minutes
With more than 46 million Toyota Corollas sold globally since its introduction in 1966, it would be difficult to find a driver who did not recognize the name. Everyone, it seems, has a Corolla story. Many, though are going to be doing double takes when they see the re-imagined and reconfigured 2020 Toyota Corolla sedan. And that's exactly the point.
The 12th-generation Toyota Corolla made its arrival in two chapters: the all-new Corolla hatchback arrived earlier this year, and now comes the current best-selling Corolla body style, the sedan. Both are based on the Toyota New Global Architecture (TNGA), which is far more than a new body structure, bringing together new approaches to engineering, design, assembly, and materials.
TNGA transforms both Corolla styles into drivers' delights while also bolstering the model's renowned value and reliability. Both draw from the same DNA and share powertrains. It's no surprise, then, that the 2020 Corolla sedan dramatically elevates this model's focus on comfort and refinement while also infusing it with the Corolla hatchback's feisty personality.
The Corolla sedan's bold new look is a perfect reflection of the bumper-to-bumper, wheels-to-roof transformation that has taken place. The TNGA platform means an available engine that produces more power than its predecessor yet delivers better fuel efficiency. TNGA imbues the Corolla sedan with greater agility, yet also with its smoothest, quietest ride. TNGA also means an elevated feeling of quality in every surface, switch and control the driver sees and touches. And, critically, TNGA delivers on Toyota's commitment to driver and passenger safety with the Toyota Safety Sense 2.0 suite of active safety systems – standard on every Corolla sedan model.
Design Transformation
Toyota shook up the midsize sedan ranks with the new-generation Camry, and now the compact sedan segment is in for a jolt with the 2020 Corolla sedan. From every angle, the new Corolla sedan looks lower and leaner, tauter and tighter. Powerful fender flares and generously curved fender top surfaces accent its sculpted, athletic core.
The bold front fascia details vary by model grade, with the SE and XSE putting on the sportiest face, including a body-color chin spoiler and aero stabilizing fins to emphasize the wide stance. The slim, J-shaped Bi-Beam LED headlamps wrap deeply into the front fenders and give the Corolla sedan a steely stare and a distinct nighttime signature. The sporty SE and XSE grades use triple J-shaped clearance lamps with LED light guides along with LED turn signals, creating a unique design signature.
The rear leaves a distinct lighting impression as well, with narrow combination lamps that wrap deeply into the fenders. All 2020 Corolla sedan models use LEDs, the type and style varying by model grade. The sporty grades feature smoked outer light lenses.
Cabin Fever
Simple. Warm. Inviting. Sensuous. These descriptors, seemingly from the luxury car realm, inspired designers' efforts when visualizing Corolla sedan's cabin. The result is called "sensuous minimalism." It's equal parts sporty and elegant, and, as always, Corolla-comfortable and durable.
A neat instrument panel lends an open, harmonious feeling thanks to its slimmer upper surface, with character lines that interlock with the door trim to convey an airy atmosphere. At the center of the instrument panel, within easy view for the driver and front passenger, sits a high-resolution 8-inch multimedia touchscreen for the standard Entune 3.0 multimedia system on all grades except the L grade, which gets a 7-inch multimedia touchscreen.
The center stack screen provides access to vehicle settings, audio controls, navigation, and Entune 3.0 apps. Climate controls, located below the multimedia portal, are fashioned in a bright, highly visible digitized configuration. The center stack flows into a wider console, with an armrest that's nearly 0.8-in. longer than in the previous model, for greater comfort.
Dynamic Force is with You
The 2020 Corolla sedan L, LE, and XLE grades will use the 1.8-liter engine (2ZR-FAE) found in the previous generation, yet with more horsepower and better fuel efficiency. The XSE and SE grades are powered by a completely-new 2.0-liter Dynamic-Force direct-injection inline four-cylinder engine (M20A-FKS). This new engine delivers more performance and using less fuel. Remarkably, the new Corolla sedan engine is physically smaller and lighter, helping to lower the car's center of gravity and improve its overall balance.
The 2020 Corolla will be available at dealerships Spring 2019.
Copart Opens New Location Near Hamburg, Germany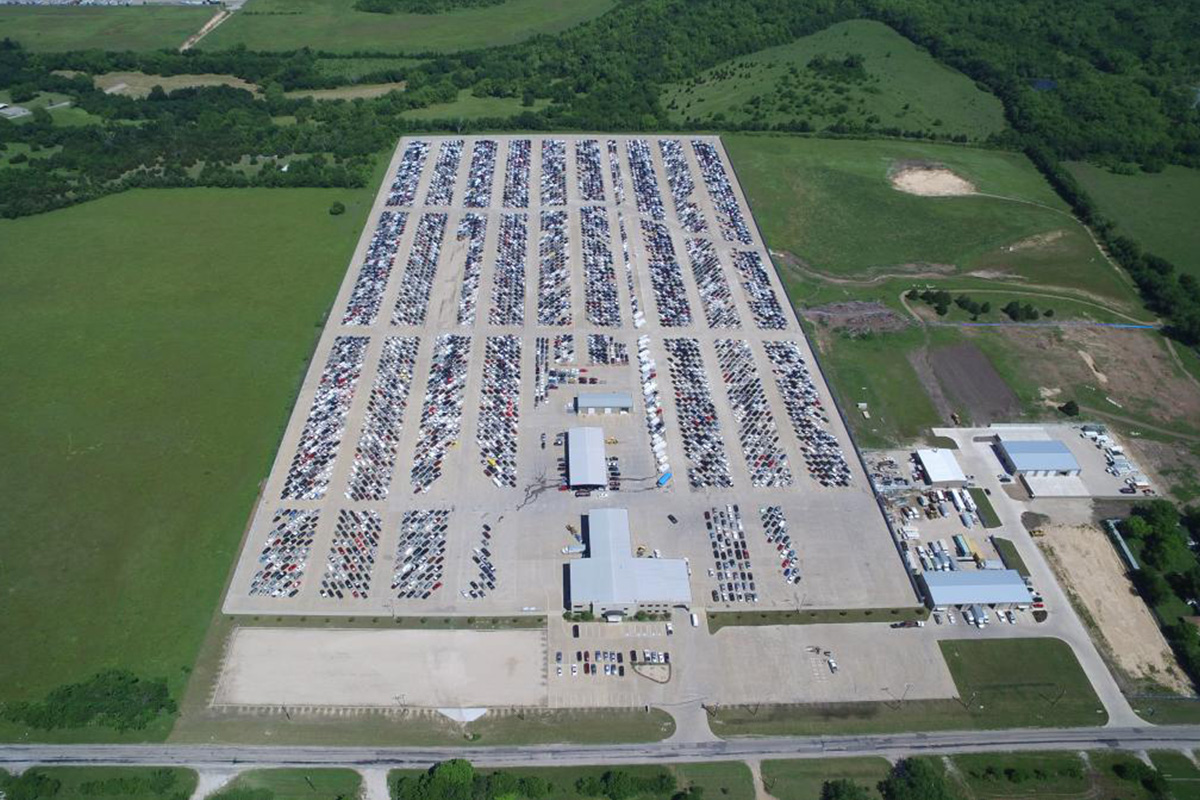 Reading Time:
1
minute
Copart, Inc. (NASDAQ:CPRT), a global online vehicle auction company, will open its seventh location in Germany. The facility is located at Magarete-Steiff-Weg 2 Itzehoe, Schleswig-Holstein, near Hamburg, the second largest city in Germany.
"We are thrilled to bring our online vehicle auction platform to the German market," said Alain Van Munster, Managing Director, Copart Germany.
The first online vehicle auction from the Hamburg location will be held at 12 p.m. Central European Time (5 a.m. Central Standard Time), Nov. 21, 2018.
"I am excited that our team is opening new facilities throughout Germany, creating additional buying opportunities for our buyers around the world," said Nigel Paget, Chief Executive Officer – Europe & the Middle East.
Eligible domestic and international buyers can visit Copart.de to bid on vehicles. The website is available in German, English, Polish and Spanish. Bids may also be placed through the Copart Mobile App for iOS and Android devices.
"The Copart team is working hard in Germany, resulting in more locations, bigger sales and a growing buyer base," said Copart Chief Executive Officer Jay Adair.
To learn more about Copart Germany, please visit Copart.de.
The new Mercedes-Benz A-Class makes its Canadian debut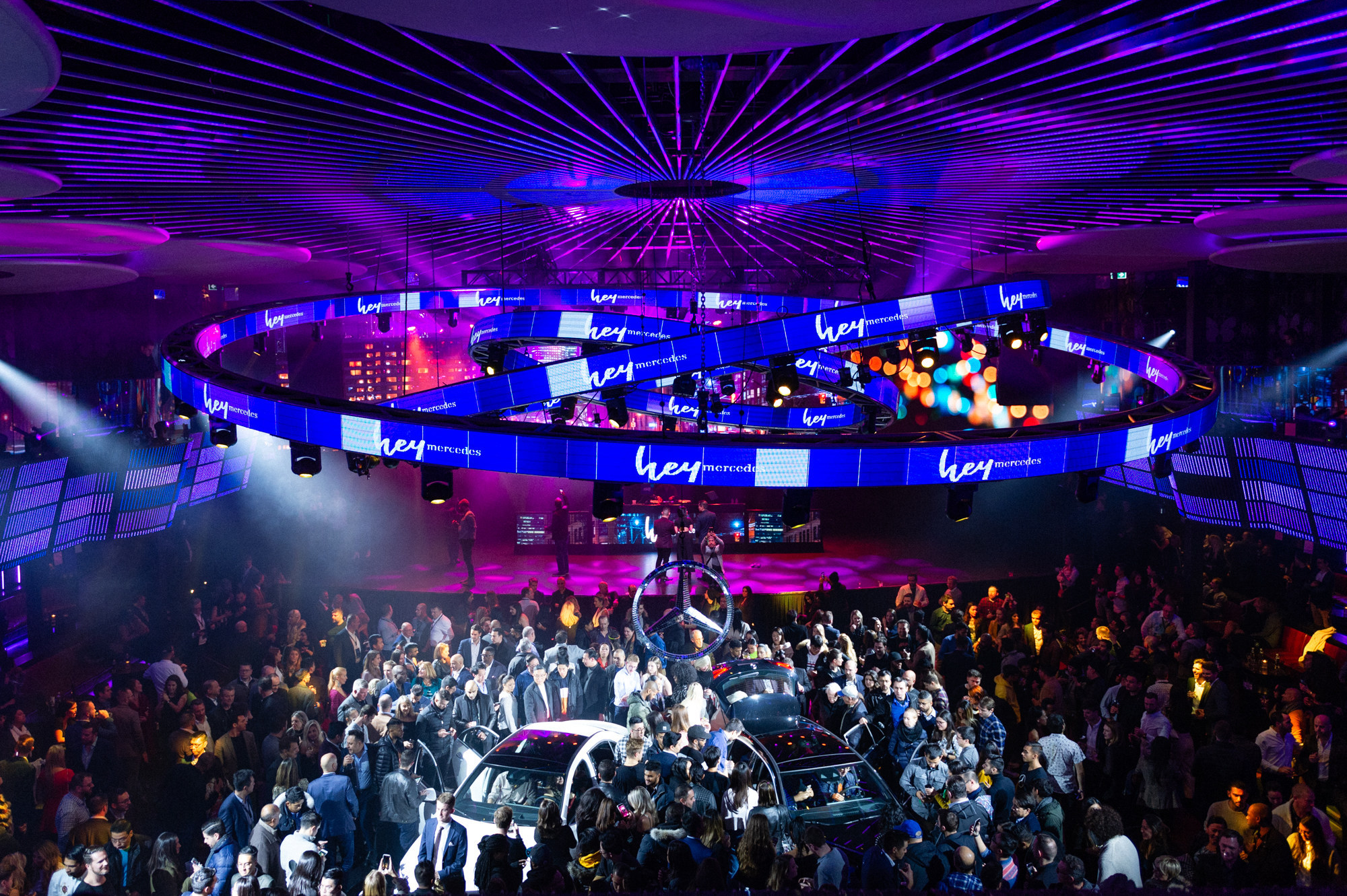 Reading Time:
2
minutes
The Mercedes-Benz A-Class made a dramatic Canadian debut at Toronto's REBEL nightclub on November 14. The unique launch event took guests on an exhilarating journey that recreated a day spent behind the wheel of an A-Class, and was inspired by the cutting-edge infotainment system that is making its debut in the model: Mercedes-Benz User Experience (MBUX).
The theme for the event was "Hey Mercedes, Set the Mood" – a nod to the A-Class's highly customizable features and ability to help the driver make the most of every moment of the day. Over the course of the evening, guests experienced four distinct moods – Up & At It, City Hustle, Escape the City, and Night Drive – each of which delivered a fully immersive sensory experience complete with sights, sounds, and a menu that was carefully crafted to match the ambiance.
The transition between each mood was scripted to mimic an interaction between MBUX and a driver, which underscored the theme's connection to the new infotainment system as well as the A-Class. "Hey Mercedes" is the verbal prompt to activate voice control for the advanced, voice-activated MBUX infotainment system. Each transition was cued up with a voice saying "Hey Mercedes, Set the Mood," which prompted every screen in the venue to update, immediately transforming the entire look and feel of the venue for the more than 2,000 guests in attendance. The impactful use of REBEL's digital screens was another effect that was designed to mimic the A-Class, whose interior features a digital cockpit that spans the entire width of the vehicle without visual interruption.
Prior to the dramatic reveal of the A-Class, a five metre tall 3D screen displayed oversized dynamic visuals, surrounding party-goers with images that helped to create the right ambiance to suit each mood. Between the third and fourth moods, the screen disappeared in a dramatic Kabuki drop, revealing the vehicle everyone had come to see: the new Mercedes-Benz A-Class.
"The A-Class redefines luxury in the compact class with a mix of beautiful design, a luxurious and spacious interior, and MBUX – our completely new, cutting-edge infotainment system," says Brian D. Fulton, President & CEO, Mercedes-Benz Canada. "We have become accustomed to constant connectivity and personalized experiences. In the A-Class we're bringing those capabilities to personal mobility. With this exciting entry in the compact class, we hope to welcome a new generation of Canadian drivers to the Mercedes-Benz family."
See photos and video from the Canadian Premiere of the A-Class here: https://media.mercedes-benz.ca/releases/the-new-mercedes-benz-a-class-makes-its-canadian-debut.