Song Whose Proceeds Are Dedicated to 9/11 Charities Rapidly Rising in Popularity and Spins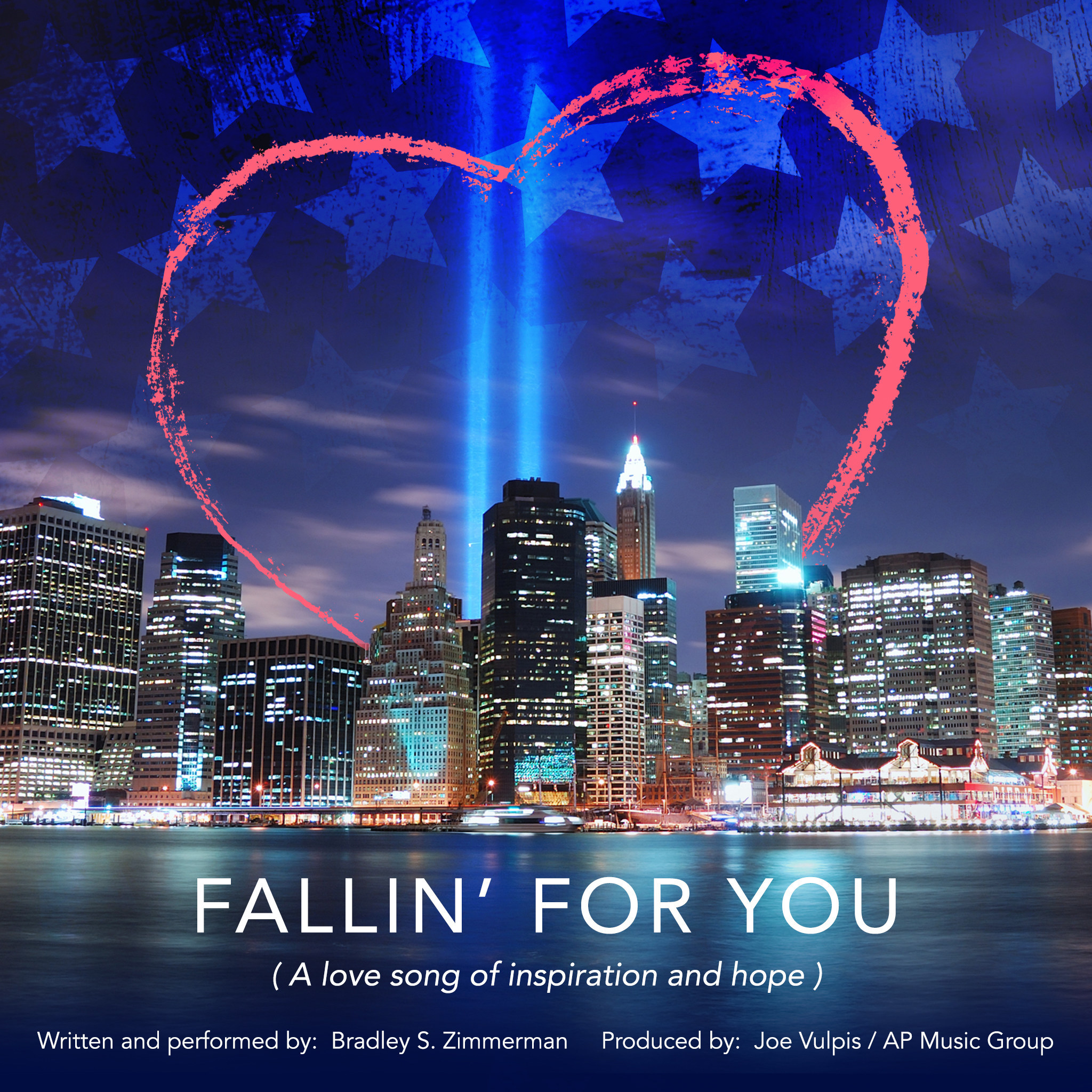 Reading Time:
2
minutes
"Fallin' for You" Touches Heartstrings and Inspires Charitable Giving
Bradley Zimmerman announced today that his song, "Fallin'for You," has hit number 28 on the All Access Music Group Chart for What's In Store Music. Since its release last month, the song has quickly risen to the top of this chart with over 150,000+ spins in the USA and Canada.
The success of "Fallin' for You" has been celebrated through a rotating billboard display in Times Square, and the song is currently being featured on whatsin-storemusic.com, with outreach nationwide. Many radio stations have also featured Mr. Zimmerman and his gift of song; his WPAT/NYC interview this month reached over 250,000 listeners during drive time. Additional appearances and interviews are being scheduled through the end of the year.
"Fallin' for You" will be feted during a release celebration anticipated for January 2019, with the intention of raising awareness of both the song and the various 9/11 charities who are receiving the song's proceeds. "It is a privilege to donate proceeds from my song to organizations like Tuesday's Children, whose mission is to provide a lifetime of healing for those who have been forever changed by terrorism or traumatic loss," said Bradley Zimmerman. "I had the great fortune to propose to my wife, Melissa, at Windows on the World in the World Trade Center by singing this song, and it seems only fitting that my family gives back to the organizations who are devoted to the families of those devastated by the 9/11 attacks. 'Fallin' for You' is an immensely joyful song about love and the future. Since all proceeds go to 9/11 charities, by purchasing the song, you can be part of our journey to a better future." https://fallinforyou.com/
"Fallin' for You," produced by Joe Vulpis at AP Music Group (Lady Gaga/Blackmore's Night), can be purchased at:
http://itunes.apple.com/album/id1436597184?ls=1&app=itunes
https://www.tuesdayschildren.org/support/
http://itunes.apple.com/album/id/1436597184
https://fallinforyou.com/
https://soundcloud.com/user-650792036/falling-for-you
https://www.youtube.com/watch?v=CNomMerjdXM
Ahlstrom-Munksjö One of the First Companies Within its Industry to be ISO 45001 Certified
Reading Time:
2
minutes
Ahlstrom-Munksjö believes that zero accidents is possible. The long-term goal is an accident-free workplace and in order to achieve this target, the company is certifying its plants with the ISO 45001-standard.
To achieve the long-term target and to ensure a safe working environment, Ahlstrom-Munksjö focuses on preventative activities, behavior-based safety interactions, safety inspections, auditing and tailored safety training. The performance is managed through systematic and efficient health and safety management processes.
Out of Ahlstrom-Munksjö's 45 plants globally, 8 have so far been ISO45001:2018 certified. The new standard, published in March 2018, confirms excellence and good practices in occupational health and safety management systems. It promotes a safe and healthy working environment by providing a framework that allows organizations to identify and reduce their risks related to occupational health and safety, reduce potential for workplace accidents and illnesses and improve legislative compliance.
The target is that all Ahlstrom-Munksjö's plants will be certified with the standard at the latest in 2021.
"A strong global safety culture increases the health and safety accountability for all coworkers, contractors and visitors. We are committed to apply the best practices within occupational health and safety and I am very happy to see this latest achievement. The ability to offer a safe place to work also supports us in attracting, developing and retaining talent for our global operations," says Dan Adrianzon, Executive Vice President, People & Safety at Ahlstrom-Munksjö.
"This new international, dynamic and process based safety management standard considers risks and opportunities rather than risks only and at the same time it requires that the views of our stakeholders are considered. This is fully in line with our preventative health and safety strategy. This standard takes our plants to a new level, and also increases efficiency, as it's based on the other ISO management system standards," says Rune Årnes, Vice President Health & Safety at Ahlstrom-Munksjö.
The new standard replaces the previous OHSAS 18001:2007 standard, which still continues to be the most widespread framework for occupational health and safety management. Currently 25 of Ahlstrom-Munksjö`s plants are OHSAS18001:2007 certified.
The majority of Ahlstrom-Munksjö's 8,000 employees work in circumstances where health, safety and environmental risks are present and the company's operations hence require excellent performance in safeguarding health, safety, and environmental related issues.
SOURCE: Ahlstrom-Munksjö
Hard Rock International Joins in Worldwide Commitment To Protect Our Planet During Earth Hour
Reading Time:
2
minutes
As part as of its on-going commitment to help 'save the planet', Hard Rock International participated in the worldwide Earth Hour movement — turning off the lights at 18 properties across the globe. As the world clock struck 8:30 p.m. local time on March 30, Hard Rock Hotel guests from China to the West Coast of the U.S. participated in this symbolic lights-out event. From the participating properties, Hard Rock saved a combined total of 11,400 kilowatts, which would be enough to power more than 50 outdoor concerts.
"We are proud to participate in this year's Earth Hour initiative and will continue to make strides to help the environment," said Dale Hipsh, senior vice president of hotels for Hard Rock International. "It is part of Hard Rock's continuous commitment to its founding motto to save the planet."
Earth Hour is a global environmental movement by World Wildlife Fund (WWF), a non-governmental organization working toward wilderness preservation. Each year, WWF inspires millions of people, businesses and landmarks worldwide to turn off their lights for 60 minutes and showcase their commitment to combatting climate change and protecting nature. In 2018, 188 countries and territories participated in Earth Hour, along with 18,000 landmarks.
"Corporate social responsibility (CSR) is a critical part of what we do," said Zubair Rashidi, regional director of marketing for Hard Rock International. "It's an honor to partner with WWF and support this initiative. We will continue to give back to our planet and hit the high note on sustainability."
During the event, all light sources in public areas such as the lobby, restaurants and bars, the terraces and the hotels' outdoor lighting were switched off. Even with the lights off, the Hard Rock vibe was still shining. Properties not only hosted candle-lit dinners but took a step further and planned enticing events for guests to enjoy. Various 'glow in the dark' activities were offered including: glowing manicure & pedicures, live painting sessions, flash mobs, nomadic dance performances, face-painting & tattoos, fire bowls & marshmallow sessions and much more.
"I think it's great how Hard Rock is using this global event to create fun events and bring environmental awareness to guests," said May Ch'ng Koe Chien, a guest at Hard Rock Hotel Desaru Coast. "My husband and I were really impressed with the glow-in-the-dark cocktails, and our kids were entertained with the glow-in-the-dark crafts and tattoos."
Participating properties were: Hard Rock Hotel Shenzhen, Hard Rock Hotel Bali, Hard Rock Hotel Penang, Hard Rock Hotel Pattaya, Hard Rock Hotel Desaru Coast, Hard Rock Hotel Goa, Hard Rock Hotel Davos, Hard Rock Hotel Tenerife, Hard Rock Hotel Sioux City, Hard Rock Hotel & Casino Lake Tahoe, Hard Rock Hotel San Diego, Hard Rock Hotel at Universal Orlando, Hard Rock Hotel Daytona Beach, Hard Rock Hotel Riviera Maya, Hard Rock Hotel & Casino Punta Cana, Hard Rock Hotel Cancun, Hard Rock Hotel Vallarta and Hard Rock Hotel Guadalajara.
SOURCE: Hard Rock International
Several Significant Donations Impact The Institute Of World Politics
Reading Time:
3
minutes
The Institute of World Politics, an independent graduate school of national security and international affairs, has received several significant gifts within the past year that are advancing the school's mission to educate principled, well-rounded leaders in national security and international affairs.
Recently, IWP received significant funding from Ned and Carol Spieker from the Silicon Valley area to support its Cyber Intelligence Initiative (Ci2). This program is focused not on technological vulnerabilities, but instead on human vulnerabilities, such as ignorance of how hostile intelligence organizations operate, poor cyber hygiene, and inadequate analysis of cyberattacks, their patterns, and their targets. The program is under the direction of IWP's Senior Vice President for Cyber Intelligence, Dean Lane, retired Navy Captain and retired Silicon Valley CIO and CEO.
"We are pleased to contribute to the Institute's Cyber Intelligence Initiative," Mr. Spieker commented. "We know some cyber threats can be costly or existential to financial networks, power and communications grids, and even civil society. This is a strategic investment, because it addresses a critical, non-technical aspect of cyber security that few other educational institutions are equipped to offer. IWP seems to be leading the way in cyber intelligence and counterintelligence."
This gift for Ci2 is one of several big gifts that IWP has received over the past year. IWP also recently received a $2 milliongift from its Vice Chairman, John Lovewell, and his wife Cynthia.
"Cynthia and I believe the success of IWP is critically important to the future of the United States," said Mr. Lovewell. "There are many worthy community causes competing for our support. But these community charities lose their relevance if the political economy on which they depend is overcome by external threats or fails from within. For this reason, we cannot think of a higher or more urgent priority than supporting those institutions dedicated to preserving the American experiment."
He added: "After 14 years as a Trustee, I know IWP offers far and away the best and most comprehensive graduate education in our field. It is not even close. No other institution offers the complete curriculum of integrated, full-spectrum, hard and soft power statecraft; a clear-eyed view of human nature and the global strategic environment; a study of the American founding and the political economy of our Republic; and an in-depth emphasis on ethical, selfless, courageous, and prudent leadership. Leaders who master this knowledge possess keys to national security and 'winning without war,' as John Lenczowski says."
Last June, the Sarah Scaife Foundation gave a sizable gift to support the Doctor of Statecraft and National Security program at IWP. This grant allowed IWP to market this program and to cover costs related to the administration of the program, including faculty salaries. As a result, several new doctoral students joined IWP in January.
Additionally, a $1 million matching challenge for the Kościuszko Chair of Polish Studies was met, thanks to a $75,000gift from the Polish and Slavic Federal Credit Union and another $75,000 gift from Adam and Ava Bak. This gift unlocks an additional $1 million for an endowment for the Kościuszko Chair from the American Institute of Polish Culture, made possible by Lady Blanka Rosenstiel. This match has enabled IWP to put a total of $2 million into the Kościuszko Chair endowment.
The Kościuszko Chair serves as a center for Polish Studies in the broadest sense, including teaching, researching, and writing about Poland's history, culture, government, and foreign policy and relations between the United States and this strategic country in NATO's Eastern flank. This Chair, originally established at the University of Virginia in 1998, was inaugurated at IWP on November 7, 2008. The Chair is held by Dr. Marek Chodakiewicz, a professor of history at IWP and expert on the Intermarium region. The Kościuszko Chair holds an annual Spring Symposium in honor of Lady Blanka to show gratitude and appreciation for her dedication to the study of this strategic region.
This run of success is welcome to John Bergholz, who began as Vice President for Institutional Advancement late in the fall of 2017. Mr. Bergholz said: "When I came on board, we were behind on our totals, down a couple of staff, and had our work cut out for us. President Lenczowski and I went on what we would later call a 'development surge' as we crisscrossed the country and contacted our supporters in personal meetings. New major donors came forward, and old friends stepped up generously."
The results of the "surge" included a gift this past summer of half a million dollars to the Institute for general operations from the WEM Foundation, thanks to Betty and Whitney MacMillan. Other significant support included an anonymous gift of $100,000 from a new donor to close the fiscal year. Fundraising activity has not let up, as the "surge" continues via personal approaches to donors, a new planned giving program, and a new and innovative direct mail and social media schedule to which donors are responding as IWP pushes forward in 2019.
IWP is enormously grateful to these most generous supporters, and to all of the supporters who enable its faculty to teach its students all of the arts of statecraft and their integration, American founding principles, and the Western moral tradition.
SOURCE Institute of World Politics