Song Whose Proceeds Are Dedicated to 9/11 Charities Rapidly Rising in Popularity and Spins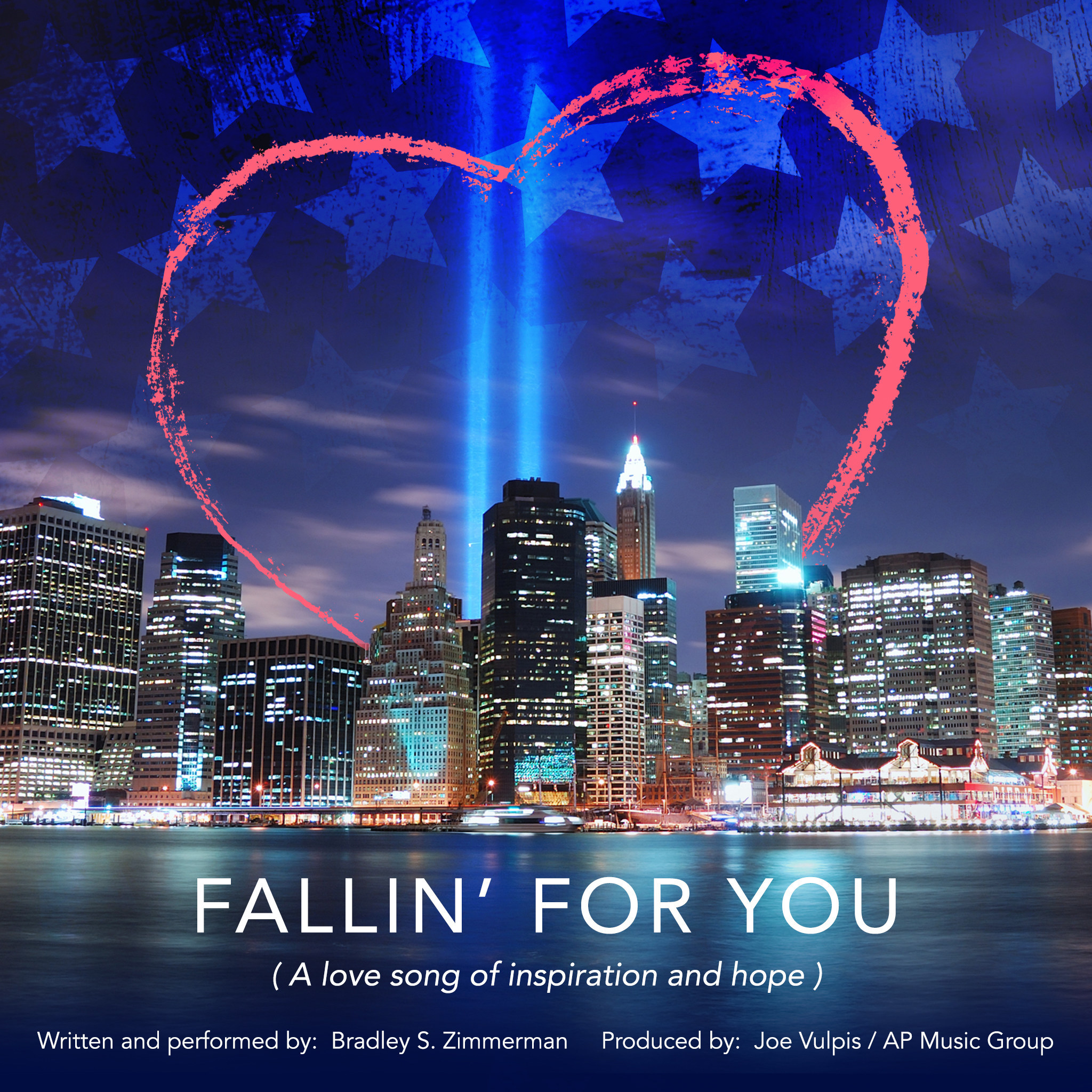 Reading Time:
2
minutes
"Fallin' for You" Touches Heartstrings and Inspires Charitable Giving
Bradley Zimmerman announced today that his song, "Fallin'for You," has hit number 28 on the All Access Music Group Chart for What's In Store Music. Since its release last month, the song has quickly risen to the top of this chart with over 150,000+ spins in the USA and Canada.
The success of "Fallin' for You" has been celebrated through a rotating billboard display in Times Square, and the song is currently being featured on whatsin-storemusic.com, with outreach nationwide. Many radio stations have also featured Mr. Zimmerman and his gift of song; his WPAT/NYC interview this month reached over 250,000 listeners during drive time. Additional appearances and interviews are being scheduled through the end of the year.
"Fallin' for You" will be feted during a release celebration anticipated for January 2019, with the intention of raising awareness of both the song and the various 9/11 charities who are receiving the song's proceeds. "It is a privilege to donate proceeds from my song to organizations like Tuesday's Children, whose mission is to provide a lifetime of healing for those who have been forever changed by terrorism or traumatic loss," said Bradley Zimmerman. "I had the great fortune to propose to my wife, Melissa, at Windows on the World in the World Trade Center by singing this song, and it seems only fitting that my family gives back to the organizations who are devoted to the families of those devastated by the 9/11 attacks. 'Fallin' for You' is an immensely joyful song about love and the future. Since all proceeds go to 9/11 charities, by purchasing the song, you can be part of our journey to a better future." https://fallinforyou.com/
"Fallin' for You," produced by Joe Vulpis at AP Music Group (Lady Gaga/Blackmore's Night), can be purchased at:
http://itunes.apple.com/album/id1436597184?ls=1&app=itunes
https://www.tuesdayschildren.org/support/
http://itunes.apple.com/album/id/1436597184
https://fallinforyou.com/
https://soundcloud.com/user-650792036/falling-for-you
https://www.youtube.com/watch?v=CNomMerjdXM
Oprah Winfrey and UMass Lowell raise over $3 million for scholarships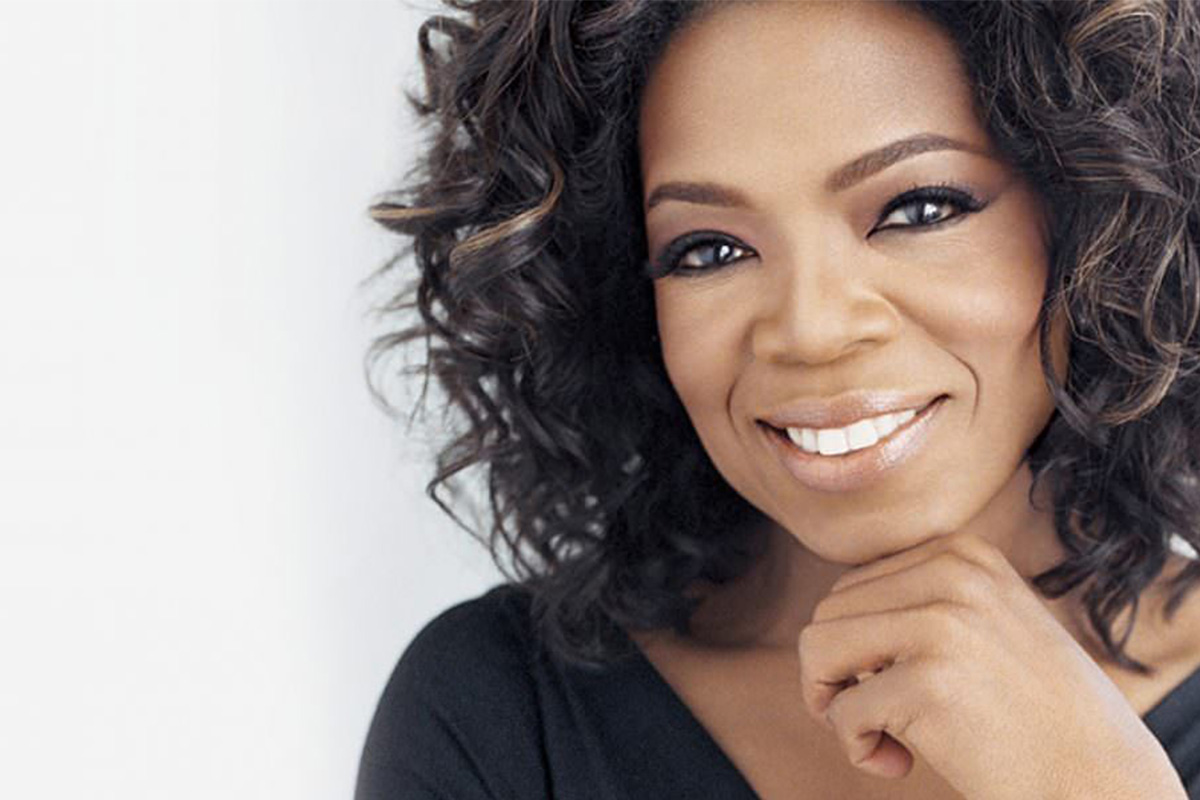 Reading Time:
2
minutes
First Oprah Winfrey Scholars announced at night filled with cheers and laughter
UMass Lowell thought it was saving the biggest news of the night for the end.
Oprah Winfrey had even bigger news.
After Chancellor Jacquie Moloney announced that UMass Lowell had raised more than $1.5 million for scholarships at the Chancellor's Speaker Series Nov. 15, Winfrey pledged on stage to match it.
Visit https://www.uml.edu/News/press-releases/2018/oprah-speaker-series.aspx to see Oprah Winfrey Scholar bios and to download video and photos.
More than 6,000 people listened to the nearly 90-minute conversation between Winfrey and Moloney, which touched on education, gratitude, "The Oprah Winfrey Show," her work with children in South Africa, a 10-day visit with Nelson Mandela and her commitment to living a life of purpose and service.
Earlier in the day, Winfrey met with more than 200 UMass Lowell students for a master class that provided students with the opportunity to ask her questions.
The evening concluded with the introduction of the first six Oprah Winfrey Scholars and the presentation to Winfrey of an honorary doctor of humane letters degree by UMass President Marty Meehan, UMass Board of Trustees Chairman Rob Manning and Chairman of the Committee on Academic and Student Affairs Trustee Imari Paris Jeffries.
"Oprah Winfrey's visit will provide scholarship support for UMass Lowell for years to come," Moloney said. "We are so honored to share an evening with one of the most powerful and most positive people on Earth."
Asked by Moloney why she had decided to spend her night at UMass Lowell, Winfrey pointed to the goal of the Chancellor's Speaker Series, saying she decided to come when she learned the university would use the event to raise money for scholarships.
Lowell was also on Winfrey's radar thanks to one of her Oprah's Book Club recommendations: "House of Sand and Fog" by UMass Lowell English professor and best-selling author Andre Dubus III. Winfrey said Dubus was one of the few authors she featured who wrote her a personal thank you note, something that stuck with her.
Moloney and Winfrey also discussed the value of education, including offering a standing ovation to the many teachers in the audience.
"The only way you change a life is by changing the way someone thinks about their life and you do that with education," Winfrey said.
Winfrey ended the night with a piece of advice for the audience.
"I try to do the right thing even when no one is looking," she said. "When you don't know what to do, do nothing until you do know. There is that still, small voice inside of you that always – always – has the answer."
UMass Lowell is a national research university located on a high-energy campus in the heart of a global community. The university offers its more than 18,000 students bachelor's, master's and doctoral degrees in business, education, engineering, fine arts, health, humanities, sciences and social sciences. UMass Lowell delivers high-quality educational programs, vigorous hands-on learning and personal attention from leading faculty and staff, all of which prepare graduates to be leaders in their communities and around the globe. www.uml.edu
FamilySearch Unlocking Centuries of Italian Ancestry Records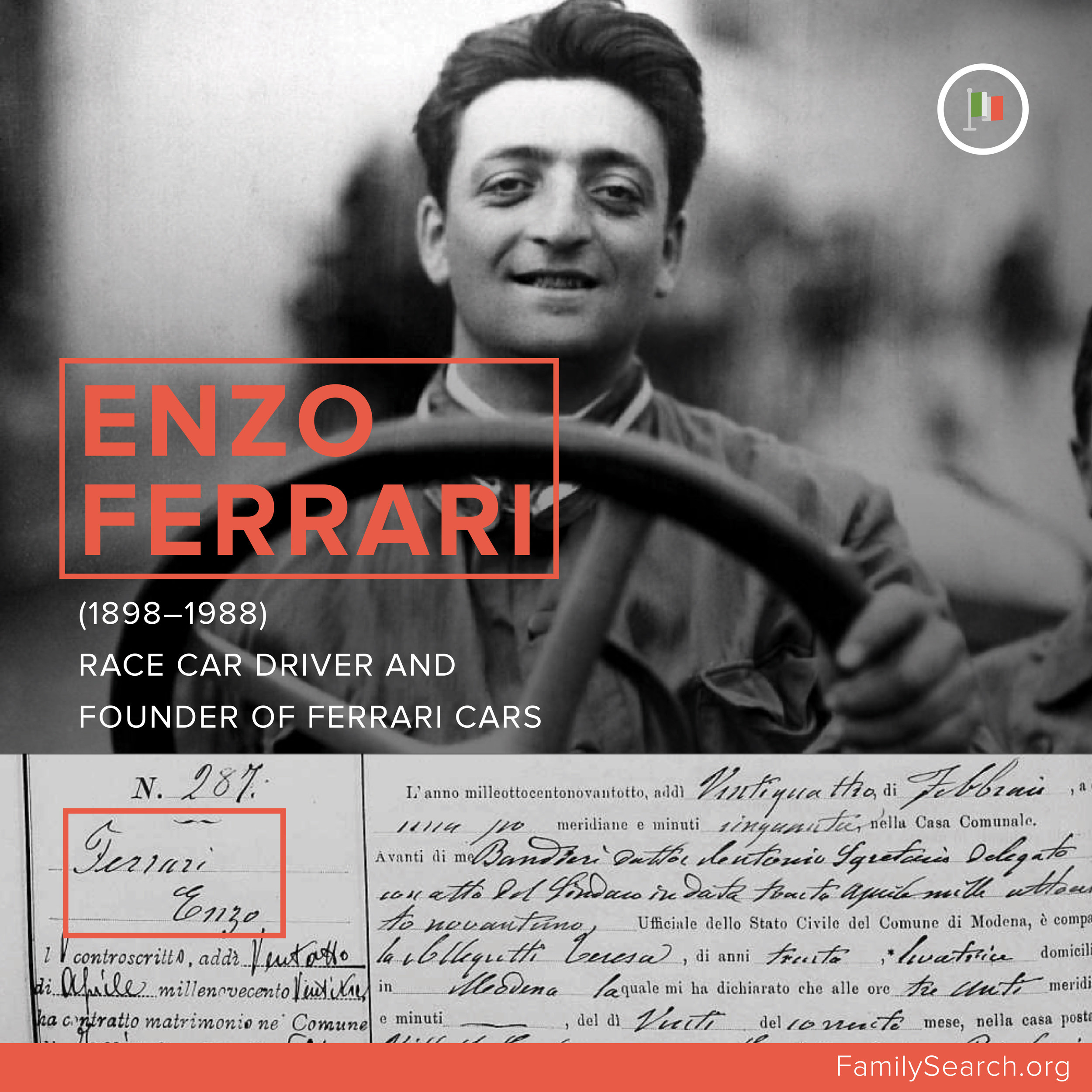 Reading Time:
1
minute
FamilySearch International announced free access to over 150 million Italian historical genealogical records—the largest online collection of its kind. The unprecedented initiative is the result of collaboration between FamilySearch, the Italian government, the Italian State Archives (Direzione Generale per gli Archivi or DGA), and many other archives. The free collections include over 200 years of digitized images of birth, marriage, death, and other significant family history records from all regions of Italy. Search the free Italy collections online at FamilySearch.org.
Over 100 million people worldwide claim Italian roots. Today, tracing their origins to Italy is much easier.
FamilySearch launched a massive collaborative effort with the National Archives of Italy (DGA) in 2011 that is proving to be "La Stele di Rosetta" (Rosetta Stone) for Italian family historians. The effort includes digitized birth, marriage, and death records from 1806 to 1945 found in the civil registrations of Italy in every state archive, and 15 million more are added yearly.
FamilySearch is now using online volunteers to make every name, place, and date in each record (estimated to be over 500 million names) easily discoverable online—for free. (To help go to FamilySearch.org/Indexing).
The civil registration records are the most complete of FamilySearch's Italy collections, but some Church records in Italy date back to the 1500s. Today, these are a gold mine for Italian family history researchers.
Through agreements with Italian governments and other repositories, FamilySearch is essentially helping to open Italian archives to patrons all over the world and protect them against loss.
Explore Italy's rich historical records:
Boys & Girls Clubs of America and Comcast NBCUniversal Celebrate My.Future Week with $1 Million Red Nose Day Grant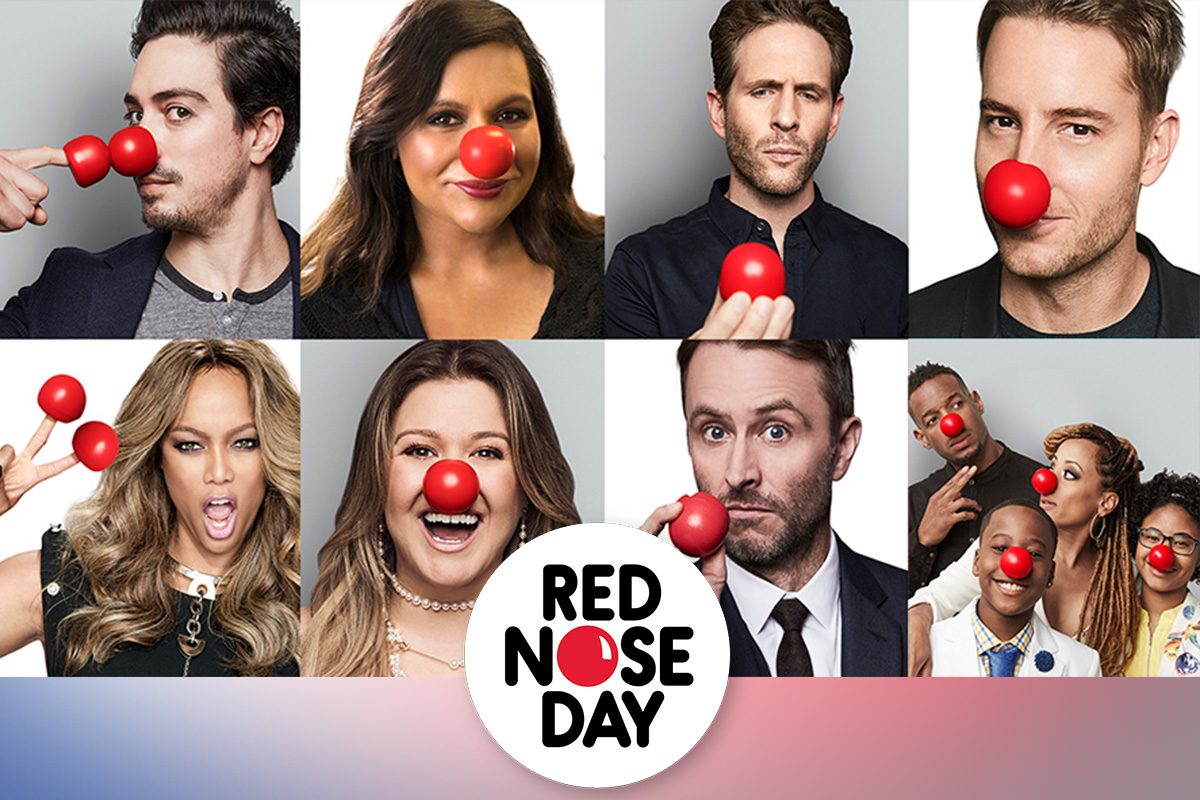 Reading Time:
3
minutes
Red Nose Day joins efforts to prepare underserved youth to compete in today's digital workforce
Boys & Girls Clubs of America today announced a $1 milliongrant from Red Nose Day to expand digital literacy skills to thousands more youth nationwide through the My.Future digital literacy program. The announcement comes as Boys & Girls Clubs of America celebrates "My.Future Week" with activities highlighting the critical role of digital skills in today's world.
Launched in 2014 by Boys & Girls Clubs of America in partnership with Comcast NBCUniversal, My.Future provides access to a variety of digital programs and activities that help youth develop the knowledge, skills, and behaviors needed for future success in STEM and any career – from building basic digital skills like online safety, to cultivating technical skills like coding, to building social and emotional competencies like problem-solving and innovative thinking.
"The world we live in runs on technology, and digital skills are essential for any future career," said Jim Clark, president and CEO of Boys & Girls Clubs of America. "Thanks to our long-time partnership with Comcast NBCUniversal, we're able to help young people in underserved communities prepare for and compete in today and tomorrow's digital workforce. Now with additional support from Red Nose Day, we look forward to enabling more youth to become anything they want, equipped with the skills needed to pursue their passions."
With nearly 4,400 Clubs serving more than 4 million youth through membership and community outreach, the partnership with Comcast NBCUniversal is critical to bridging the digital divide for kids and teens nationwide. The additional funding from Red Nose Day will help further expand the reach of My.Future to an additional 45 Clubs.
"We are proud Red Nose Day has teamed up with us to invest in closing the opportunity gap for youth who aspire to succeed in today's technology-driven world," said Dalila Wilson-Scott, senior vice president of Community Impact at Comcast Corporation. "Together with Boys & Girls Clubs of America, we're tackling the spectrum of digital literacy needs – whether that's improving high-speed internet access, offering STEM activities like coding and media making or helping youth hone their digital and social-emotional skills by participating in online extensions of in-Club programming."
Managed by the nonprofit Comic Relief Inc., Red Nose Day is a fundraising campaign dedicated to ending child poverty through their annual star-studded fundraising events, which have raised nearly $150 million in the last four years. The My.Future grant will enable Boys & Girls Clubs across the country to expand their technology capabilities, train staff, and bring My.Future and its program activities to more kids, especially those in under-resourced urban and rural areas with limited internet access and digital programming.
"Thanks to the millions of generous Red Nose Day supporters, we are thrilled to provide this grant to expand My.Future. More children in some of the most underserved communities across the country will now have the tech access to grow, learn and thrive," said Janet Scardino, CEO, Comic Relief USA. "It's a great way we can amplify this powerful program developed by two of our long-standing partners: The Boys & Girls Clubs of America and Comcast NBCUniversal."
While American youth are considered "digital natives" growing up in a world infused with technology, kids and teens from underserved communities often lag behind in technical skills due to inequities in access, content, and context of their interactions with technology. Increasing workplace digitalization makes it even more urgent for youth to learn technical skills to compete for most jobs because the vast majority now require digital skills.
According to a 2018 national survey commissioned by Boys & Girls Clubs of America and Comcast NBCUniversal:
Only 37% of teens say their career goal requires STEM skills, though industry reports show that 80% of future jobs will require STEM skills.
Most teens surveyed report that they are not involved in any STEM programs, and the #1 reason why is because their school doesn't offer them.
Less than half of teens think that women, minorities and low-income students have the same access to STEM education, resources and jobs when compared to the general population.
Nearly 60% of teens enjoy technology, and the majority state that they are really good at math and science; however, only 33% express an interest in pursuing a career in STEM.