Song Whose Proceeds Are Dedicated to 9/11 Charities Rapidly Rising in Popularity and Spins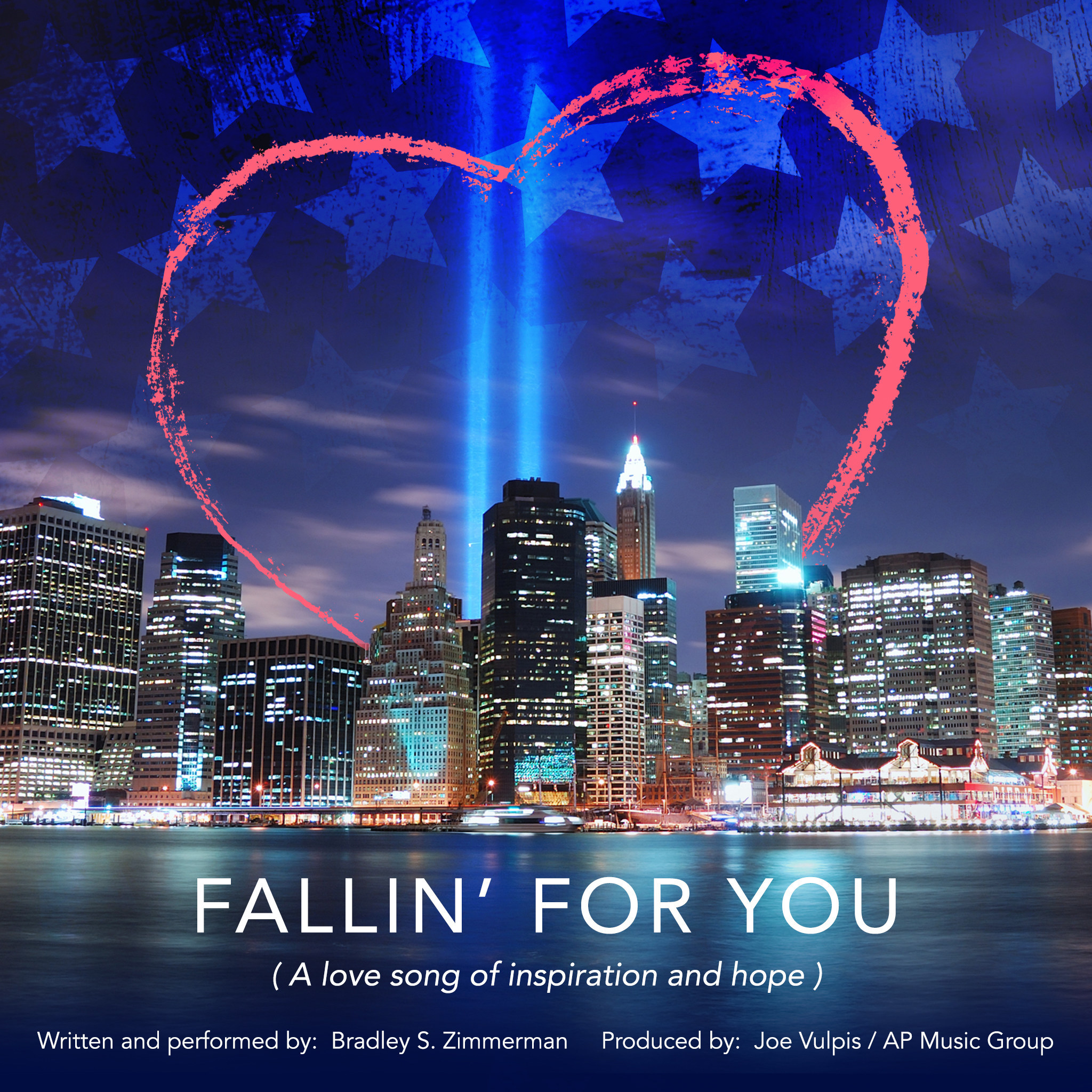 Reading Time:
2
minutes
"Fallin' for You" Touches Heartstrings and Inspires Charitable Giving
Bradley Zimmerman announced today that his song, "Fallin'for You," has hit number 28 on the All Access Music Group Chart for What's In Store Music. Since its release last month, the song has quickly risen to the top of this chart with over 150,000+ spins in the USA and Canada.
The success of "Fallin' for You" has been celebrated through a rotating billboard display in Times Square, and the song is currently being featured on whatsin-storemusic.com, with outreach nationwide. Many radio stations have also featured Mr. Zimmerman and his gift of song; his WPAT/NYC interview this month reached over 250,000 listeners during drive time. Additional appearances and interviews are being scheduled through the end of the year.
"Fallin' for You" will be feted during a release celebration anticipated for January 2019, with the intention of raising awareness of both the song and the various 9/11 charities who are receiving the song's proceeds. "It is a privilege to donate proceeds from my song to organizations like Tuesday's Children, whose mission is to provide a lifetime of healing for those who have been forever changed by terrorism or traumatic loss," said Bradley Zimmerman. "I had the great fortune to propose to my wife, Melissa, at Windows on the World in the World Trade Center by singing this song, and it seems only fitting that my family gives back to the organizations who are devoted to the families of those devastated by the 9/11 attacks. 'Fallin' for You' is an immensely joyful song about love and the future. Since all proceeds go to 9/11 charities, by purchasing the song, you can be part of our journey to a better future." https://fallinforyou.com/
"Fallin' for You," produced by Joe Vulpis at AP Music Group (Lady Gaga/Blackmore's Night), can be purchased at:
http://itunes.apple.com/album/id1436597184?ls=1&app=itunes
https://www.tuesdayschildren.org/support/
http://itunes.apple.com/album/id/1436597184
https://fallinforyou.com/
https://soundcloud.com/user-650792036/falling-for-you
https://www.youtube.com/watch?v=CNomMerjdXM
SC Johnson Announces Global Partnership with Ellen MacArthur Foundation
Reading Time:
2
minutes
SC Johnson and the Ellen MacArthur Foundation announce a global partnership reflective of their mutual passion and dedication to accelerating the transition to a circular economy. SC Johnson joins the Ellen MacArthur Foundation's nine existing Global Partners including Intesa Sanpaolo, Danone, Google, H&M, Nike, Phillips, Renault, Solvay and Unilever in driving forward market leading circular economy initiatives at scale.
SC Johnson and the Ellen MacArthur Foundation share a vision for influencing system-wide change and will work with others to encourage new circular business innovation. The multi-year partnership builds on SC Johnson's decade long journey to improve the sustainability of its products. As part of this effort, the company has spent years working with industry experts to understand barriers to circularity and to find solutions to overcome them.
"Plastic pollution is an enormous problem, and it is going to take businesses, governments, consumers and civil society working together to solve it," said Fisk Johnson, Chairman and CEO of SC Johnson. "We're all going to have to come together, and Ellen and the Foundation have done an excellent job creating an opportunity for partnership and progress."
"Built upon their strong history as a family company and pioneering work on transparency and product circularity, SC Johnson is taking a leadership role to help redesign global systems according to circular economy principles, and to address major challenges such as plastic pollution," said Dame Ellen MacArthur, Founder and Chair of Trustees of the Ellen MacArthur Foundation. "We are delighted to welcome SC Johnson as a Global Partner and look forward to the progress we can drive together, towards an economy that works in the long term."
A Shared Commitment to a New Plastics Economy
With the World Economic Forum and the Ellen MacArthur Foundation estimating that by 2050 there will be more plastic than fish in the ocean, it is imperative that all actors come together and change the way people live with and use plastic.
In October 2018, Fisk Johnson joined leaders from around the world to sign the New Plastics Economy Global Commitment at the 2018 Our Ocean Conference in Bali, Indonesia. SC Johnson joined a global coalition of leading businesses and governments to tackle the plastic pollution crisis. This commitment, led by the Ellen MacArthur Foundation in collaboration with U.N. Environment, is addressing the root causes of plastic pollution and will help keep plastic out of our oceans.
Constantly at Work to Improve Sustainability of its Products
With the increasing attention on the global plastic waste crisis, SC Johnson also published its commitments and progress to further reduce its own plastic footprint, as the company has been relentlessly focusing on designing unnecessary plastic packaging out of its products for years. The company announced plans to boost recycled plastic content in its packaging and support reuse of plastic bottles through concentrated refills, and launched an effort to make Ziploc® bags recyclable at curbside.
SC Johnson continues its mission to make curbside recycling of used flexible plastic film a reality in the U.S. and reduce waste that enters landfills. The company achieved an important milestone last year with the introduction of the first-ever trash bag made with 100 percent post-consumer recycled (PCR) film, including Ziploc® bags, collected through a pilot program at a U.S. recycling center.
For more information on SC Johnson's commitment to addressing plastic pollution and to learn how the company is helping to support a more circular plastic economy, visit www.scjohnson.com/plastic
H&M and Lyft Offer Free Rides for New Yorkers to Recycle Clothing
Reading Time:
2
minutes
New Yorkers to also receive 15% off their H&M purchase in return for donating unwanted garments
H&M and Lyft are teaming up to provide free rides to New Yorkers interested in donating clothing to H&M's Garment Collecting program. Starting Jan. 22 through Jan. 27, the first 5,000 H&M customers interested in donating clothing can use the promo code HMRECYCLES to claim a free ride up to $10 to any H&M location in New York City. Customers will also receive 15% off their H&M purchase in return for a donation of unwanted garments, from any brand and in any condition.
The partnership is part of a broader mission by the two companies to take on the challenges of climate change and circularity in fashion more directly. H&M started its Garment Collecting program in 2013, becoming the first fashion company to launch a clothing collecting initiative worldwide. The program has collected 163 million pounds of textiles globally, providing customers an easy way to give clothes a second life to ensure fewer garments end up in landfills.
In 2018, Lyft committed to full carbon neutrality and 100% renewable energy by offsetting the carbon emissions from all Lyft rides, meaning every Lyft ride in NYC is carbon-neutral. Lyft also has partnered with cities and public transit agencies across the U.S. to launch bikes and scooters programs, including NYC's Citi Bike, as well as set the goal to achieve 50% shared rides by the end of 2020.
"Lyft is proud to partner with H&M to support the Garment Collecting initiative and provide the local community with accessible opportunities to donate and recycle clothing," said Ann Ferracane, General Manager of Lyft New York. "Helping New Yorkers make donations is an important, but exciting, step in creating a positive impact on our natural resources for years to come."
"H&M is thrilled to partner with Lyft in a joint effort to give garments a second life through H&M's Garment Collecting program. Sustainability is a part of everything we do, and we are excited this initiative will allow more New Yorkers to both learn about and get involved in the program," said Martino Pessina, President of H&M North America.
Petland Charities Partners with RCHS
Reading Time:
2
minutes
Contract to feed all dogs at shelter beginning February 1
The Ross County Humane Society (RCHS) and Petland Charities are excited to announce their partnership to provide food for the dogs housed at the shelter during 2019.
The program, which begins February 1, will provide Petland's private label Heartland Naturals dog food at no cost to the shelter.
RCHS Executive Director Jenn Thomas is excited by the opportunity Petland has provided the shelter. "While we've had food donations in the past to feed our dogs, that program recently became unfeasible for us. Petland Charities stepping up will save our shelter thousands of dollars we would have otherwise spent on food that can now be redirected to other aspects of providing care, like medical needs and outreach."
Petland Charities also provided the shelter staff with a one-hour educational session on Heartland Naturals food, ingredients, feeding requirements, and other details about the program.
"We are grateful for this opportunity to provide consistent, nutritional food to the dogs at RCHS. Jenn does a fantastic job promoting the shelter and finding homes for dogs in the community and we are happy to be able to support her efforts any way we can," said Petland Charities Executive Director Steve Huggins.
In addition to the food donation contract, for every dog adopted at Ross County Humane Society Petland Charities will be providing a free bag of Heartland Naturals food in addition to a $50 gift card to help the adopter purchase necessary supplies for their newly adopted furry friend. Since March of 2016, Petland has redeemed more than $50,000 in gift cards from RCHS adopters.
The average adoption fee for an adult dog at Ross County Humane Society is $132 which includes the above listed, as well as first vaccines, deworming, microchipping, 2019 Ross County dog tags, and having the dog spay/neutered.
The shelter is open Monday thru Saturday 10 am- 4 pm at 2308 Lick Run Road, Chillicothe, Ohio 45601. Adoption applications as well as information about all of the dogs available for adoption can be found on the website www.rosscountyhumanesociety.org.
Petland Charities is a 501c3 organization, that partners with the communities Petland corporate stores call home to raise funds for local shelters, K9 units, service dogs and dogs for veterans.