FICO Survey: 8 in 10 Indian Firms Have Cybersecurity Insurance — But Only Half Say It Is Full Coverage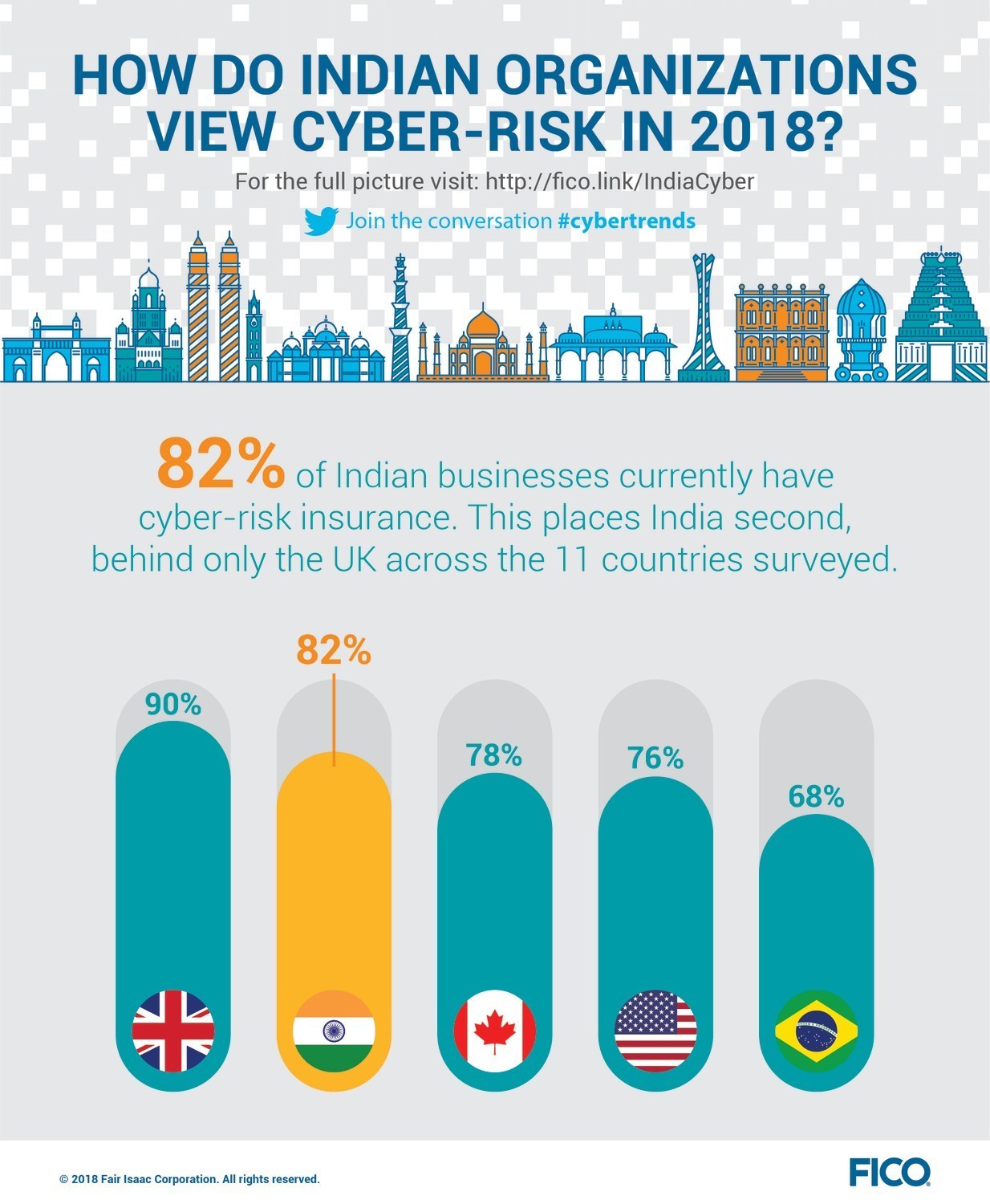 Reading Time:
2
minutes
Indian telco providers best prepared, with 60 percent reporting comprehensive cyber insurance
Highlights:

Only 18 percent of Indian executives surveyed say their firm has no cybersecurity insurance.
Only half (48 percent) of Indian firms said their cybersecurity insurance covers all risks.
44 percent of Indian firms said their insurer based their premiums on an accurate analysis of their risk profile.
Telco firms lead other industries, with 60 percent reporting comprehensive coverage.
Ovum conducted telephone surveys for FICO of security executives at 500 companies in Indiaand 10 other countries.
The second annual cybersecurity survey from research and consultancy firm Ovum, for Silicon Valley analytics firm FICO, found that the number of Indian firms with cybersecurity insurance was 82 percent. This places India second, behind only the UK across the 11 countries surveyed. However, the number of firms reporting comprehensive coverage sits at about half (48 percent) showing there is still a level of risk taken by business in India.
More information: http://www.fico.com/en/latest-thinking/ebook/india-views-from-the-c-suite-survey-2018
"It's is very encouraging to see the high uptake of cybersecurity insurance across India," said Vishal Goyal, country manager for India at FICO. "India has a well-developed IT sector and is on the front-foot with this issue. The data breaches in India in the past 12 months have continued to have an impact on local businesses, so there is recognition that insurance plays an important role in risk mitigation and is an important consideration to minimizing disruption."
Last year, a study by the Ponemon Institute investigated the cost of data breaches to Indian companies and discovered that in 2017 the average total cost increased 12.3 percent, the size of breaches increased 6 percent and the loss of existing customers increased by 4.3 percent.
When FICO's respondents were asked if they felt their insurance premiums were based on an assessment that accurately reflected their risk profile, 44 percent of firms said yes. Only 17 percent said firms said premiums were based on an inaccurate analysis, 32 percent said they were based on industry averages and 7 percent on unknown factors.
Indian telecommunications firms were the most likely to have cybersecurity insurance — 80 percent had insurance while 60 percent reported it as comprehensive to their level of risk. This compares well to financial services, where 40 percent of firms have comprehensive coverage.
"Indian companies are clearly leading the way when it comes to the take-up of cyber-insurance, with almost half having a comprehensive policy and a further one-third with at least some cover," said Maxine Holt, research director at Ovum. "Around two-thirds of surveyed organizations in India either use software to give a breach likelihood score, or use an external agency to carry out risk assessments."
Ovum conducted the survey for FICO through telephone interviews with 500 senior executives, mostly from the IT function, in businesses from the UK, the US, Canada, Brazil, Mexico, Germany, India, Finland, Norway, Sweden and South Africa. Respondents represented firms in financial services, telecommunications, retail and ecommerce, and power and utilities.
In July, FICO announced that it is offering free subscriptions to the Portrait portal of the FICO® Enterprise Risk Suite, which gives businesses access to their FICO® Cyber Risk Score. The score, a machine learning-based cybersecurity rating service, can show organizations how business partners and cyber insurance underwriters see their network security, and can help them benchmark their performance. More information is at http://cyberscore.fico.com.
Vivo's Elevating Front Camera is a Game Changer
Reading Time:
1
minute
Vivo has had a fantastic year of launching true innovations in 2018. The company has recently published a video to showcase its industry-leading innovative solution — the Elevating Front Camera.
In the past, brands have tried shaving the side bezels and minimizing the size of the notch to achieve a full-screen display, but still the notch remains. For Vivo, it started to explore ways to breakthrough this status quo, aiming to create a bezel-less phone display experience for the consumers.
After years of researching and testing various designs, Vivo presented the APEX™ FullView™ concept smartphone with the iconic Elevating Front Camera at MWC 2018. The challenge for Vivo, was then to turn this concept phone, into a reality.
Just 4 months after the debut at MWC, Vivo delivered its promise to make the bezel-less dream come true with NEX – the first mass-produced smartphone with an Elevating Front Camera. This is a small periscopic camera that pops up when taking selfies, and retracts automatically when the user exits selfie mode. The true bezel-less phone was finally achieved.
Vivo has rewritten the rules of the smartphone industry by completely scraping the notch with this groundbreaking invention. With such an impressive technology now made available to consumers, Vivo is sure to take the Elevating Front Camera a step further in 2019.
OKEx Launches Thai Baht (THB) and British Pound (GBP) OTC Trading
Reading Time:
2
minutes
OKEx, the Malta-based world-leading digital asset exchange, announced to launch two new currencies – Thai Baht (THB) and British Pound (GBP) on its over-the-counter (OTC) trading platform (also referred to as fiat-to-cryptocurrency platform). Users in Thailand and the United Kingdom can now complete KYC verification to be eligible to trade on the OTC trading platform.
OKEx OTC trading allows users to place orders with self-selected exchange rate and payment methods to buy or sell Virtual Financial Assets with fiat currencies, which benefits them by offering a low-volatility market and zero transaction fee. Instead of the listing of the new currencies, Thai Baht (THB) and British Pound (GBP), OKEx OTC trading platform has already been facilitating global digital assets trading with the Vietnamese Dong (VND) and Chinese Renminbi (CNY) fiat-to-cryptocurrency markets, and more currencies are expected to come in at a later time this year. The Thai Baht (THB) and British Pound (GBP) OTC trading markets currently support BTC, USDT, ETH, and LTC.
"Our mission is simple at OKEx. We aim to offer flexibility and convenience to our traders. Thailand and the UK own the fastest growing crypto communities in the world. We see great potential in these two markets and want to support the needs there. Because of the increasing trading volume and number of traders in these two countries, we decided to launch the new THB and GBP trading services on our OTC trading platform. Wherever the market potential locates, we will expand to there. In 2019, you can expect more currencies will be supported on OKEx," said Andy Cheung, OKEx's Head of Operations.
OKEx OTC Network Launch Events and Promotions
To celebrate the launch, OKEx has come up with new incentives to encourage new sign-up for merchants and customers in Thailand and the UK. From January 23 to 27, newly registered customers can earn up to 50 USDT for making a minimum deposit of 100 USDT (or equivalent) and complete their first OTC transaction on OKEx, while the top 70 merchants with the most transaction volume will be rewarded 30 USDT (1 time per day).
In addition, the OKEx OTC Network Launch events will be hosted in Bangkok, Thailand on February 13, 2019 and London, UK in March respectively.
For more details, please refer to OKEx Twitter.
Risk Warning: Trading digital assets involves significant risk and can result in the loss of invested capital. Users should ensure that they fully understand the risk involved and take into consideration their level of experience, investment objectives and seek independent financial advice if necessary.
Disruptive Ag Tech Company Hires New CTO
Reading Time:
2
minutes
HerdX Inc. new Chief Technology Officer, Austin Adams comes to the Texas Hill Country from the California Coast.
HerdX is pleased to announce that Austin Adams made the move to Boerne, Texas from the San Francisco Bay Area to become HerdX's Chief Technology Officer.
Adams is well qualified to accelerate the HerdX agricultural technology solution into the global market, holding over a decade of experience in leading innovative software teams. At his previous employer Adams took multiple greenfield projects from initial scoping, to research and development, to proof of concept, and ultimately to market leading products. Adams is an early adopter, leader, and contributor to the Kubernetes open source platform. He has used Kubernetes to create automation systems to help drive over a billion dollars of product sales.
Adams will be leading the HerdX technology team in implementing the HerdX solution by partnering with restaurant chains and established grocers in the coming year. Adams states, "I am most excited about bringing together blockchain and high security IoT to provide provenance mapping for the consumer. I am coming back to my roots working in the ag tech industry and am grateful to help lead this innovative team." Adams is already adding product innovations that will expand the company's offerings into more global markets. His skill set is also helping accelerate the implementation and commercialization of HerdX's blockchain system.
"I was looking for a top tier technology officer that could help our company's product offering grow rapidly in the U.S. and scale us faster overseas," says Ron Hicks, President and CEO of HerdX. With food traceability and tracking as a high priority for HerdX, Ron sees Austin as the ideal next step in the company's growth coming in at just the right time.
HerdX Inc. is an early stage agricultural technology company that develops products for farmers designed to reduce operational costs, improve animal health and well-being, and enable the delivery of traceable meat products to consumers. HerdX provides blockchain secure transparency for the consumer by connecting them back to the farmer through QR codes on packaging for grocers and menus for restaurants.