AT&T and Daimler Trucks North America Go Global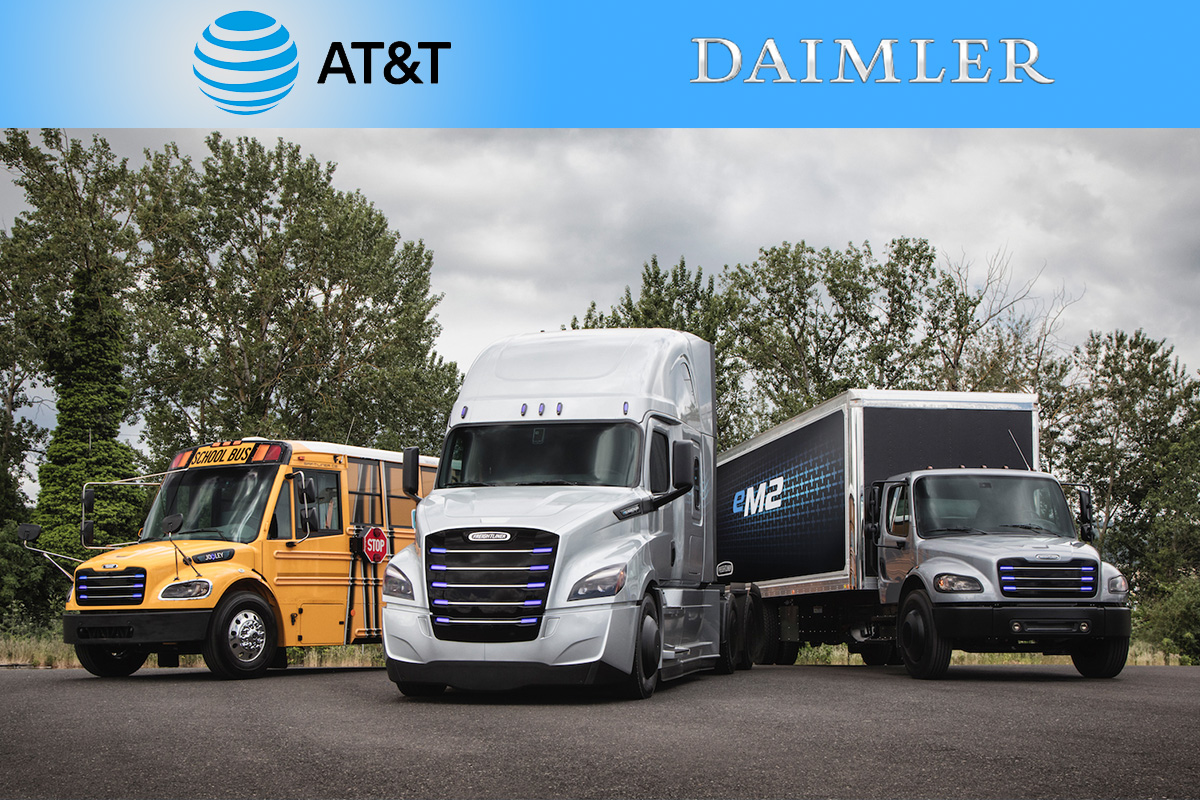 Reading Time:
1
minute
Will Add More than 20 Countries Across Europe and Australia for High-Speed Internet Services Connected by AT&T
AT&T* and Daimler Trucks North America (DTNA) are taking wireless connectivity for DTNA's heavy-duty trucks outside North America for the first time.
Today, AT&T provides connectivity for DTNA's Detroit Connect platform across the U.S. and Canada. The Detroit Connect platform is installed on all new DTNA's Freightliner Cascadia trucks built for customers in those countries. We will now expand the relationship to cover trucks built for the Australian and European markets.
The new Cascadia sets new standards in fuel efficiency, safety technologies and the latest connectivity solutions. Detroit Connect, connected by AT&T, enables enhanced safety reporting, powertrain diagnostics, software & features over-the-air updates and fuel efficiency analytics capabilities for vehicles across North America.
Daimler Trucks North America can now offer these services outside North America for 2018 model year Freightliners and newer.
New multi-year agreements cover Australia, Austria, Belgium, Bulgaria, Czech Republic, Denmark, Finland, France, Germany, Greece, Hungary, Ireland, Italy, Latvia, Lithuania, Netherlands, Norway, Poland, Portugal, Romania, Spain, Sweden, Switzerland and the United Kingdom.
"We've had tremendous success in launching our proprietary connected vehicle platform with AT&T," said Jason Krajewski, director of Connectivity, Daimler Trucks North America. "Working with AT&T, we will expand our connectivity services and connected vehicle portfolio to more vehicles and more regions."
"Daimler Trucks North America is the industry leader in bringing IoT connectivity and innovative solutions to long-haul trucking industry," said Chris Penrose, President, IoT Solutions, AT&T. "Broadening our collaboration outside North America for the first time will bring the benefits of efficiency, safety and performance to customers on a global scale."
Get more information about AT&T's leadership in the connected vehicle space here.
GAC Motor Unveils a New Model and Hosts International Distributor Conference During Auto Shanghai 2019
Reading Time:
2
minutes
GAC Motor, China's leading automaker, is debuting its all-new GA6, a sedan that features upgraded design, comfort, smart technology, driving control, and safety at the 18th Shanghai International Automobile Industry Exhibition (Auto Shanghai 2019), during which GAC Motor is also hosting its International Distributor Conference.
"GAC Motor has been implementing the 'quality first' strategy and steadily improving product quality, while continuously promoting the strength of our brand. This year, we will introduce all-new GA6, GS4 and GS8, striving to create enjoyable life of mobility for our consumers," noted Yu Jun, President of GAC Motor.
The all-new GA6 will be officially launched in June this year. The design of concise and clean lines, larger grille and full-width taillights gives the vehicle a sporty look. Capable of L2 Autonomous Driving, equipped with AI co-pilot operated by voice commands, and with a customized Harman Hi-Fi system, the GA6 offers a smart, safe and pleasant driving experience.
In addition, the ENTRANZE concept car has made its first domestic appearance at the show. Developed by GAC's advanced design center in the United States, equipped with the latest smart technologies, sustainable features and automated driving, the ENTRANZE is a new type of cross-over of SUV and MPV, exploring more possibilities for a modern family vehicle.
With the showcase of its all-star vehicle lineup, GAC Motor attracted the attention of domestic and overseas media, dealers, suppliers and visitors. They have been deeply impressed by the excellent quality and design of GAC Motor's models.
During Auto Shanghai 2019, more than 40 of GAC Motor's international distributors from 15 countries and regions attended its International Distributor Conference (the "Conference") in Suzhou, Jiangsu Province.
Themed "Stronger Together, Greater Future," the conference focused on reviewing the brand's successes of international development in 2018, and released the overseas strategies and planning for 2019.
In 2018, GAC Motor's sales and services covered 16 countries and regions around the world and has achieved 69% growth in overseas sales. It has entered new markets such as Saudi Arabia and Ecuador, and launched new sales and service centers in countries including the Philippines, Bolivia, becoming one of the most popular auto brands in various markets, as well as the best-selling Chinese auto brand in Kuwait, Bahrain and Nigeria. It has also been ranked in the top 50 list of the 2018 Best China Brands ranked by leading brand consultancy Inter-brand.
In 2019, GAC Motor will further explore markets along the Belt and Road and other important regions, and complete its overseas platform. Following the establishment of GAC Motor North America Company and Russian sub-company, GAC Motor International Sales Company, the coordinating institution of the company's overseas business, has started operation. The automaker will continue to improve its international operations to increase its international competitiveness.
Moreover, GAC Motor will continuously increase its investment in R&D in 2019 to maintain its edge in product offerings. Using in-depth analysis of market demand, it will put more effort into global branding, introduce adapted models in different markets, launch more sales and service centers, upgrade current stores, optimize its product market pricing strategy, and take more actions to increase oversea sales.
GAC Motor also presented awards to the best distributors, including Best Marketing Performance, Best Service Performance, Best Sales Performance, and Best Distributor, in recognition of their outstanding contributions to the overseas business in the past year.
At the conference, many of the dealers said that it helped them further understand GAC Motor's product quality, R&D and manufacturing capability and strategic goals, and they are fully confident of the future development of GAC Motor in the international market.
"We will continue to invest in supporting our distributers and partners and establish a win-win cooperation model together," said Yu.
SOURCE GAC Motor
SPECIAL EDITION STINGER GTS – ENTHUSIASTS REJOICE
Reading Time:
2
minutes
Since its debut nearly two years ago, the Kia Stinger has quickly become a crowd favorite, and at the New York International Auto Show, Kia Motors America gave driving purists yet another compelling reason to check out Kia's highest performing sport sedan. Limited to just 800 units, the special edition Stinger GTS1 punches up its on-road prowess with a newly developed dynamic all-wheel drive system2 (D-AWD) that inspires more spirited driving. With sport-inspired styling elements including genuine carbon fiber parts and a splashy new color that demands even more attention, the limited edition GTS is the one automotive enthusiasts will be lining up to drive.
Closing the Gap
During its short time on the market, the Stinger has established itself as a true competitor in the sport sedan segment with performance figures strong enough to embarrass its German rivals. Along the way, it has also redefined the Kia brand and consumer perception. But with all the praise and accolades the Stinger has received, Albert Biermann, head of research and development, strived for more. The result is a new version of the Stinger's all-wheel-drive system peppered with rear-wheel drive DNA. Dubbed D-AWD, the system has been tweaked to close the gap in behavior between the AWD-equipped and RWD-equipped Stinger GT.
Mechanical limited slip rear differential is added to the D-AWD system, which is designed to enhance traction and distribute power more evenly between the rear wheels when slip is detected
Drive Mode Select amplifies rear-biased dynamics

Comfort mode sends 60 percent of power to the rear for feeling of stability
Sport mode sends 80 percent of power to the rear for more spirited driving
Drift mode sends up to 100 percent of power to the rear wheels and holds gears without upshifting

New Control Logic

Slip Control and Counter Steer Detection
Transmission Shift Pattern
Stability Control
Available in either D-AWD or RWD, the Stinger GTS maintains the Stinger GT's potent powertrain underneath the hood.
3.3-liter V6 twin turbo

365 horsepower
376 lb-ft of torque

8-speed automatic transmission
The Hot Spot in the Stinger Lineup
Aside from what lies beneath, the GTS shows it's not your average Stinger thanks to a number of exterior and interior enhancements tailored to make it look ready for time on the track or carving hairpin turns.
Exterior enhancements include:
Exclusive "Federation" premium orange paint color
Genuine carbon fiber parts that outline the signature tiger nose grille, side mirror caps and side vents
GTS rear emblem
Center Stinger emblem replaces the Kia logo on the trunk lid for more custom appearance
Inside, the Stinger GTS adds more premium materials befitting of a true driver's car.
Headliner blanketed in premium suede-like Chamude®4
Handsomely and Affordably Equipped
Value continues to be pillar for the Stinger GTS, with lots of tech, creature comforts and driver assistance systems5. As part of the GTS treatment, the limited edition fastback includes:
Sunroof
720-watt Harman/Kardon6 premium audio system with QuantumLogic7 and Clari-Fi8 signal enhancing technology
Wireless charger for compatible smartphones
Keeping it competitive, the Stinger GTS hits the sweet spot in terms of pricing. With a start of production planned for this spring, the limited edition GTS is expected to have an MSRP9 starting around $44,000 for RWD and around $46,500 for D-AWD.
Kia HabaNiro Concept Heats Up Manhattan
Reading Time:
4
minutes
Today Kia Motors America (KMA) unveiled its vision of the future of electric vehicles and it's hot.  And spicy. The HabaNiro concept is a fully-electric, all-wheel drive, four-seat wonder car with an All Electric Range (AER) of more than 300 miles, level-five autonomous mode, butterfly wing doors and more advanced tech than what helped land men on the moon. But this is no fanciful supercar that will likely never be built, but a prescient look into the future of mobility where automobiles will seamlessly integrate design, capability, usefulness and creativity.
"We wanted this concept to be comfortable navigating city streets, carving turns on a coastal road and off-roading with confidence to remote wilderness adventures," said Tom Kearns, vice president of design for Kia Design Center America (KDCA). "We imagined a car for everyone and nearly everything. Then, when we saw the finished product, we were blown away by the imagination of the HabaNiro's creators and its laboratory of technology and we want it in our driveways. Today." With its rugged 20-inch wheels, short overhangs and big haunches, the HabaNiro exudes coiled muscularity and capability, whether you're on a grocery run, en route to a meeting or in search of a remote fishing hole.
"We couldn't be more proud of our design center," says Michael Cole, KMA chief operating officer and executive vice president. "The HabaNiro is a genius work of skill and imagination. Not only does its beautiful design incorporate the needs of future mobility, but its engineering and technology anticipate the way people will want to move in the near future."
A Whole New Category of Vehicle
The HabaNiro is a compact crossover utility vehicle only in terms of existing industry category language. But the HabaNiro can't be so easily defined. It's essentially an all-electric Everything Car or ECEV – commuter, crossover, sport utility, state-of-the-art technology workroom and adventure vehicle.
An Exterior to Move You
The HabaNiro design is defined by the energetic interplay between the protective metallic grey cladding that encompasses the front wheels and extends onto the body sides and the bright "Lava Red" aero panel that defines the C-pillar and extends up and over the roof. These two elements create a vibrant energy and a forward-leaning posture that suggests the HabaNiro is ready to launch. This latent forward energy is reinforced by the single elegant character line that wraps around the front end, extends through the shoulder, and ends dynamically pointed at the rear wheels.
The HabaNiro grille resembles a shark's snout, complete with a slit-like gap full of gloss black aluminum "teeth" similar to the cooling blades found on high-end electronic equipment. The EV chassis architecture allowed the wheels to be pushed to the corners, giving the HabaNiro its wide and confident stance.
Satin aluminum skid plates, milled billet aluminum tow hooks, anodized Lava Red aluminum accents, and the embossed HabaNiro name complement the upscale look while suggesting the vehicle's adventure-ready attitude. Perhaps most importantly, the heartbeat pulse of the daytime running lights announces the HabaNiro's animated energy – "I'm alive."
An Interior to Transport You and an Array of High-Tech Features
The scissor-like opening of the HabaNiro's four butterfly-wing doors hints at its future-forward interior design. The Lava Red interior suggests passion and vibrancy. Modern and airy, the interior is accented by the bouclé fabric-trimmed front seats that appear to float within the spacious cabin. Contributing to the interior's clean and modern appearance is the absence of rectangular screens and traditional control knobs and buttons. Instead, the HabaNiro features a full-width front windshield Heads-Up Display (HUD) system controlled by a concave acrylic instrument panel that is a large interactive touchpad display with Sensory Light Feedback (SLF). Technical Option Sharing System (TOSS) allows users to swipe and move vehicle options across the HUD screen as though moving chess pieces.
HabaNiro's occupants are kept comfortable by a slim Perimeter Ventilation System (PVS) that quietly and evenly blows a curtain of air throughout the cabin. A soft ambient glow shines through the bold geometrically-patterned floor, creating movement that reflects onto surfaces within the cabin. The Lighting Color Effect (LCE) can be dimmed or brightened, and the hue can be modified to impact the mood of the interior environment.
When HabaNiro's part-time level-five autonomous driving system is engaged the steering wheel and instrument panel retract forward to provide more room for the front occupants. Media or other entertainment, such as a movie for a long highway haul, can be displayed on the full-width HUD video system.
HabaNiro features Kia's new Real-time Emotion Adaptive Driving (R.E.A.D.) System introduced earlier this year at the Consumer Electronics Show. R.E.A.D. can optimize and personalize a vehicle cabin space by analyzing a driver's emotional state in real-time through artificial intelligence-based bio-signal recognition technology. The technology monitors the driver's emotional state and tailors the interior environment according to its assessment – potentially altering conditions relating to the human senses within the cabin and in turn creating a more pleasurable and safer driving experience.
R.E.A.D. also enables the HabaNiro's Eye Tracking System (ETS) with 180° rearview video display. The system uses AI-based emotional intelligence to monitor when the driver looks up to the top of the windshield where conventional rear view mirrors are traditionally located. The AI immediately senses the driver's need to see behind the vehicle and instantly activates the 180° rearview video display.
There are no immediate plans to utilize AI to sense when the driver is hungry and then direct to the nearest drive-through where an order will be waiting, but the technology may someday evolve to make just such a task possible. AI and automation shouldn't take the joy out of driving, as some auto lovers fear, but should enhance it – anticipating needs so we can concentrate on the driving experience.
Into the Future
Some will assume the HabaNiro concept will never be built, but we don't advise betting the farm on it. In the past 18 months, Kia has launched two vehicles, the Stinger and the Telluride, from concepts that fully captured the public's imagination. The HabaNiro's butterfly doors? Maybe not today, but the future is an exciting place and Kia is ready to lead the automotive industry into this spicy world of possibility.
The Details
Dimensions

Length: 4430 mm/ 171 inches
Height: 1600 mm/ 63 inches
Width: 1955 mm/ 77 inches
Wheelbase: 2830 mm/ 111.5 inches

Powertrain and battery

e-AWD supplied by two electric motors, fore and aft
300+ mile All Electric Range (AER)
Advanced state of the art battery technology

Exterior Features

Snowdrift 

Pearl White

 tri-coat exterior paint
Satin Metallic Granite Grey cladding
Anodized "Lava Red" aero panel
265/50R20 tires

Interior Features

Heads-Up Display Features:

Navigation system with augmented reality graphic directions
180° rearview video display in place of physical mirrors
Full windshield entertainment video system with surround sound
3D speed readout display
Full width acrylic touch panel with Sensory Light Feedback (SLF) with Technical Option Sharing System (TOSS) feature provides interaction with HUD

AI-based R.E.A.D. technology
Eye Tracking System (ETS) enables 180° rearview video display
SOURCE Kia Motors America