World Vegan Day: Evanna Lynch supports first ever app to help you go vegan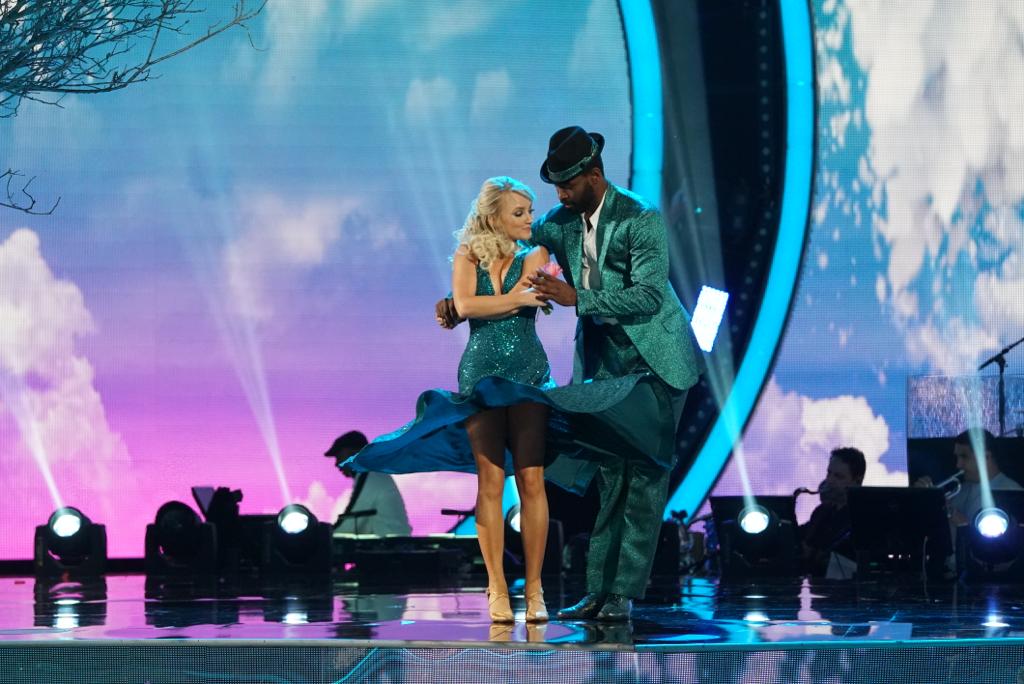 Reading Time:
2
minutes
Dancing with the Stars contestant and Harry Potter actress Evanna Lynch is today supporting the launch of a first of its kind mobile app to help people go vegan.
Educational charity The Vegan Society has released the free VeGuide app – which is now available on Android and iOS devices – to mark its 74th birthday this World Vegan Day (1 November).
Aside from performing alongside Keo Motsepe on the ABC show, Evanna is a long-term vegan and animal rights advocate who also runs her own vegan podcast, the ChickPeeps.
The pair are happily through to the quarter-finals next week and will be dancing a Rumba for 'Country Night' and also taking part in a team dance.
Evanna Lynch said: "VeGuide is an amazing tool for new and transitioning vegans and the only app designed to help you transition to veganism in 30 days.
"The educational videos tell you about the life of a vegan, how to overcome obstacles and how to deal with cravings for cheese or chocolate. The amazing thing about it is that you can learn a little bit every day and discover veganism gradually.
"Whether you're vegan or not, you'll certainly find VeGuide useful so please download it now and share with everyone you know."
The app is an introduction to the vegan lifestyle through a combination of interactive content with shopping, nutrition and recipe information, tailored for a US audience.
Budding vegans will be encouraged to stay on track with facts and motivational quotes, specifically tailored to the reasons why they said they wanted to go vegan.
The video content of the app is presented by the prominent YouTuber Mic the Vegan, and includes quizzes and a rewards programme.
Danielle Saunders, Digital Content Officer at The Vegan Society, said: "We are so excited to launch an app we developed specifically with the vegan-curious in mind.
"VeGuide was designed to provide a platform that's more suited to the younger audience, which our research showed are the most likely age group to have an interest in veganism.
"We feel the development of VeGuide marks a new phase for The Vegan Society and a new way of embracing veganism for the general public."
A Mintel survey showed that US consumers try meat alternatives because they consider them to be healthy, enjoy the taste, want to add variety to their meals or try to reduce their meat consumption.
Vegan milk is predicted to represent almost a half (40%) of the dairy and dairy alternative beverages industry by 2021 in America.
World Vegan Day and Month commemorate the founding of The Vegan Society and celebrate how far the vegan movement has come.
World Vegan Month is the best time to start your vegan journey. VeGuide is available to download for free on Google Play and the App Store now.
Pope Francis responds to 12-year-old climate change activist's plea to go vegan for Lent
Reading Time:
2
minutes
Genesis Butler and Million Dollar Vegan campaign acknowledge blessing and ask to share a vegan meal at the Vatican
As we begin the first day of Lent, 12-year-old climate change campaigner Genesis Butler has received a response from Pope Francis regarding her plea for him to try vegan for Lent as part of the Million Dollar Vegan campaign. However, Pope Francis has not confirmed whether he will do so, and therefore the campaign is now asking whether His Holiness can meet with Butler over a vegan meal at the Vatican, during the Lenten period, to discuss her concerns.
Should Pope Francis accept, Million Dollar Vegan will gladly donate $1 million to a charity (or charities) of His Holiness' choice. If the Pope prefers to meet Genesis over a vegan meal, without the $1 million donation to charity, that will also be gratefully received.
The response from Pope Francis, signed by senior priest and Assessor for General Affairs Paolo Borgia, reads: "His Holiness Pope Francis has received your letter, and he has asked me to thank you. He appreciates the concerns about care for the world, our common home, which prompted you to write to him.
"The Holy Father will remember you in his prayers, and he sends you his blessing."
A copy of the letter, as well as a photo of Butler holding it, can be found here.
Butler has recorded a new video message for Pope Francis, and is responding directly to his letter with: "Your Holiness, I am truly humbled with gratitude by your acknowledgment of my request to observe a vegan Lent. Thank you so very much for blessing me and keeping me in your thoughts and prayers. It means more to me than I can ever express in words.
"Your Holiness, if it is not too much to ask, may I humbly request an opportunity to sit down and share a vegan meal with you any time during Lent? It will be an enormous honor for me and everyone in the vegan community to have an audience with Your Holiness and receive your blessings in person. Eagerly awaiting your further response. Respectfully Yours, Genesis."
People of all faiths are being encouraged to join Orthodox Christians in trying a plant-based diet for the Lenten season. A Vegan Starter Kit is available to download from the Million Dollar Vegan website, packed with helpful information about switching to a vegan diet.
Matthew Glover, CEO of Million Dollar Vegan – who also co-founded the Veganuary campaign – said: "We are grateful that Pope Francis was able to take the time to respond to Genesis, but we are now politely requesting that His Holiness take action to address the issues of climate change, loss of biodiversity, species extinction, animal suffering and world hunger – all of which are linked to animal agriculture – by meeting with Genesis and discussing these issues. We would like His Holiness to consider what Jesus would say about factory farming, and also the fact that – according to research from Oxford University – we can reduce our personal greenhouse gas emissions by around 30-50 percent by adopting a plant-based diet."
The Million Dollar Vegan campaign also launched a change.org petition calling on Pope Francis to fight climate change with diet change, which has been signed by almost 85,000 people.
SOURCE: Million Dollar Vegan
AB 1586 – the Replacing Animals in Science Education Act will update science education in the state, protect students, and save animals
Reading Time:
2
minutes
California State Assembly Member Ash Kalra (D-San Jose), accompanied by cosponsors Social Compassion in Legislation, People for the Ethical Treatment of Animals (PETA), and the Physicians Committee for Responsible Medicine, announced the introduction of AB 1586, the Replacing Animals in Science Education (RAISE) Act. Under the proposed legislation, all California schools would replace animal dissection activities with contemporary and humane teaching methods in line with industry standards and best practices.
Dissecting animals is costly, exposes students and educators to carcinogenic chemicals, hurts animals and the environment. Advances in medical-simulation technology, educators' need for better teaching and assessment tools, and growing concern about animal use in laboratory experiments have all contributed to a paradigm shift in biomedical education. Today, simulation-based learning is more widely available.
The popular understanding of dissection in schools is the dissection of frogs and worms. However, a recent survey of schools that require dissection as a part of their science curricula include fetal pigs, cats, sharks, sheep and other animals. The use of these animals can number in the hundreds per academic school year. When accounted for in totality it provides a clearer picture of both the fiscal impact to schools and the impact that the sourcing of these animals can have on the environment and fragile ecosystems.
"Learning about anatomy in schools is important scientific pedagogy but dissection presents a significant impact on the environment and our fragile ecosystems. Advancements in educational technology have expanded access to this important scientific instructional methodology without having to rely on animals," said Assembly Member Kalra. "With the development technological alternatives, virtual and computer-based science teaching practicum offer more humane teaching methods that help to better prepare students for higher education and careers in science."
Judie Mancuso, Founder and CEO of Social Compassion in Legislation, added, "The fact is, we do not need to put our young people through this. There is a better way, and California can and should move to the more modern and accepted use of digital dissection resources. There is no reason for any student to cut apart an animal or be exposed to carcinogenic formaldehyde when there is state-of-the-art 3-D software available for free. Not only is getting rid of dissection the right thing to do, it will save taxpayer money."
Top academic programs including the International Baccalaureate, the Next Generation Science Standards (which California adopted in 2013), and The College Board's Advanced Placement program do not require—or even mention—animal dissection in their curricula.
"PETA hears from scores of students who are being compelled to dissect animals, either with the threat of a failing grade or with perceived ostracism from teachers or peers," says Samantha Suiter, professor of biology and PETA's manager of science education. "Formaldehyde is used as a preservative and also found in cigarette smoke—it is classified as a human carcinogen, and repeated exposure to low levels can cause respiratory difficulty, eczema, and skin sensitization." Suiter goes on to say that "Passage of AB 1586 would end the practice of animal dissection without relying on individual students to voice their ethical concerns when they may not feel comfortable doing so. This is a step forward for science, educators, students, and animals."
John J. Pippin, M.D., F.A.C.C., director of academic affairs at the Physicians Committee, adds, "It's long past time for animal dissections to be replaced by modern, interactive dissection software that is far more comprehensive and a better educational tool."
AB 1586 is also supported by the National Hispanic Medical Association, Humane Education Coalition, Center for Healthcare Education, Inc., and the United Federation of Teachers -Humane Education Committee.
SOURCE: Social Compassion in Legislation
Global campaign offers Pope Francis $1 million to try vegan for Lent to save the planet
Reading Time:
3
minutes
Paul McCartney, Moby, Chris Packham, Mena Suvari, Evanna Lynch and many other celebrities back the campaign led by 12-year-old activist Genesis Butler
A major global campaign has been announced  – and backed by a host of celebrities, environmentalists and scientists – is calling on Pope Francis to try vegan for Lent to "help fight climate change with diet change." In return, Million Dollar Vegan – the campaign behind the project – is offering $1 million to a charity of the pope's choice should he pledge to eat a plant-based diet for Lent.
The campaign seeks to highlight the devastating impact of animal agriculture, which according to the Food and Agriculture Organization of the United Nations, has a greater impact on global warming than the fuel emissions from the entire global transport sector combined, is a leading driver of deforestation and biodiversity loss, and causes suffering to billions of farmed animals.
In a letter written to the pope by 12-year-old animal rights and environmental campaigner Genesis Butler with the help of the Million Dollar Vegan team – and printed today in national newspapers in 15 countries across five continents – Butler urges Francis to try vegan for Lent. The letter outlines the connection between climate change and pollution and highlights the inefficiency of animal farming and how it contributes to world hunger, the extinction of wildlife and the suffering of farmed animals. These are all issues that Pope Francis has spoken out on in his 2015 encyclical letter Laudato Si.'
"Farming and slaughtering animals causes a lot of suffering and is also a leading cause of climate change, deforestation, and species loss," Butler wrote in the letter. "When we feed animals crops that humans can eat, it is wasteful. And with a growing world population, we cannot afford to be wasteful."
Butler has asked to meet Pope Francis so that she can discuss the issues raised in her letter. The campaign has already led her to meet well-known vegans including Evanna Lynch ("Harry Potter" and "Dancing with the Stars") and poet and writer Benjamin Zephaniah. She has also met with musical Moby, actress Mena Suvari, and Joseph Poore of Oxford University, and has the backing of environmentalists George Monbiot and Chris Packham. Paul McCartney, a long-time vegetarian and co-founder of the Meat Free Monday campaign, also supports Million Dollar Vegan and has signed the letter to the pope.
As part of the campaign, a petition has also been created to ask the pope to try vegan for Lent. If he agrees, the Blue Horizon International Foundation will donate $1 million to the charity or charities of the pope's choice.
"We are launching this deliberately bold, audacious campaign to jolt our world leaders from their complacency," said Matthew Glover, the CEO of Million Dollar Vegan and co-founder of the hugely successful Veganuary campaign. "For too long they have failed to act on evidence of the damage caused to people and the planet by animal agriculture. Worse, many have defended and subsidized that very industry. But the evidence now is stark and compelling, and we cannot afford for them to remain silent any longer. We are thankful that Pope Francis has spoken out on these issues and that is why we are humbly asking him to try vegan for Lent and set an example of how each of us can align our principles of caring and compassion with our actions."
Million Dollar Vegan is encouraging people of all backgrounds to try vegan for Lent and has produced a free Vegan Starter Kit – written in multiple languages and with country-specific content – that is available to download. It contains helpful information about following a vegan diet, including nutrition advice, recipe sites, vegan products, inspiring books and films, and the best places to eat out.
A major report published by the U.N. in 2018 warned there are just 12 years to limit a climate change catastrophe, with drastic measures needed imminently to keep global warming to a maximum of 1.5 degrees Celsius. Research from Oxford University has shown that a plant-based diet is the single biggest way to minimize our environmental impact.
Each person who goes vegan for Lent will save emissions equivalent to a flight from London to Berlin, and if every Catholic on the planet takes part, it will be equivalent to the whole of the Philippines not emitting CO2 for a year, according to Dr. Joseph Poore of Oxford University.
SOURCE: Million Dollar Vegan