Presidents, Prime Ministers, and AI Sensation Sophia the Robot to Gather at the 12th Global Residence and Citizenship Conference in Dubai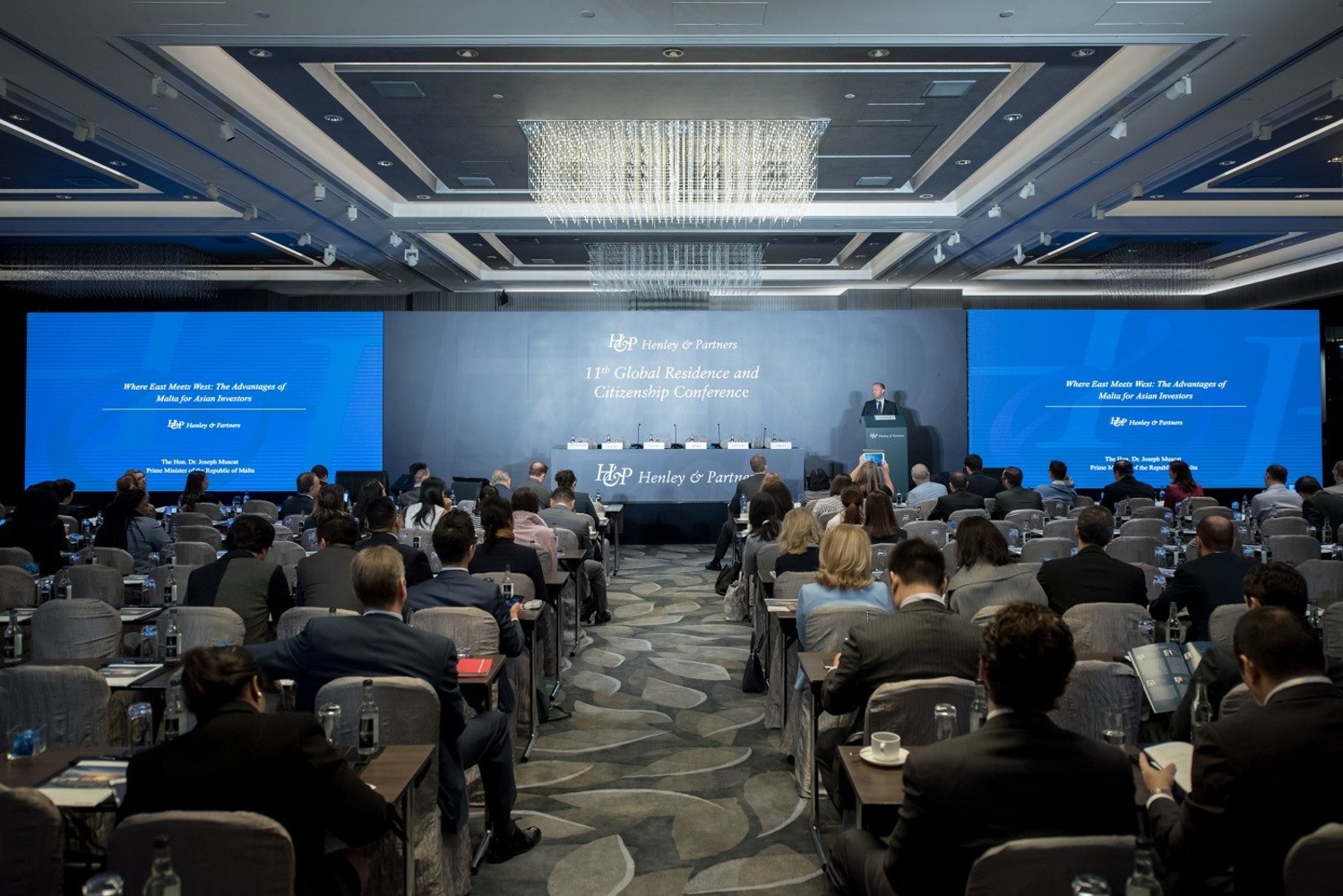 Reading Time:
3
minutes
[tag latest-news]
More than 400 delegates from over 40 countries are expected to attend the 12th annual Global Residence and Citizenship Conference, which takes place this week (4-6 November) at the Mina A'Salam Hotel in Dubai. Hosted by leading international citizenship and residence advisory firm Henley & Partners, this annual event has become the world's largest and most significant conference on investment migration, bringing together presidents, prime ministers, senior government ministers and officials, leading academics, experienced industry professionals, and top-tier financial and business media. The 2018 conference program features sophisticated, cutting-edge content on the major developments shaping investment migration and geopolitics today, offering delegates the opportunity to engage with the leading minds and ideas driving the growing trend towards global citizenship and interconnectivity.
Dr. Christian H. Kalin, Group Chairman of Henley & Partners, says of the event's relevance: "Residence- and citizenship-by-investment programs are very much the new frontier in terms of freedom, flexibility, and future-readiness, both for the countries issuing these programs and for the individuals participating in them. The societal and economic value they are able to generate is truly extraordinary, which is why we are seeing such strong industry growth year-on-year. The industry as a whole, with residence and citizenship combined, is currently grossing roughly USD 18 billion per year, by our estimates, and we expect that we will hit the USD 20 billion mark very soon."
Headlining the conference will be artificial intelligence sensation Sophia, the world's first-ever robot-citizen. Sophia will introduce an exclusive panel debate on the battle for digital supremacy being waged between the global superpowers and on what this new technological climate means for the future of global citizenship. Among the panelists participating will be Taavi Kotka, former CIO for the Government of Estonia and pioneer of the country's 'digital nation' and 'e-Residency' initiatives.
The Moldova Citizenship-by-Investment (MCBI) program – the latest and most exciting new investment migration opportunity in Europe – will be officially launched at the conference. Minister of Economy and Infrastructure for the Republic of Moldova, H.E. Chiril Gaburici said, "The MCBI program will provide our economy with much-needed foreign direct investment that will enhance the daily lives of all Moldovans, while strict due diligence standards and compliance procedures will guarantee the credibility and sustainability of the program."
Other notable key speakers include President of Montenegro, H.E. Milo Ðukanovic; the Hon. Dr. Timothy Harris, Prime Minister of St. Kitts and Nevis; and Peter S. Vincent, Assistant Director General for International Policy at BORDERPOL and General Counsel for Thomson Reuters. The event will be co-hosted by Tariq Qureishy, Founder and CEO of MadTalks, Dubai, and Katie Fielder, Dubai-based journalist and broadcaster.
In a talk entitled 'Nature, Nurture, and Nationality', Prof. Dr. Dimitry Kochenov will discuss the latest edition of the Henley & Partners –
Kochenov Quality of Nationality Index, revealing how the quality of a nationality affects the global distribution and movement of wealth and talent.
Other highly topical sessions in this year's program include 'A Changing World: Where Are We Going and How Are We Getting There?', 'Two Years with Trump: The New Trade Wars and What They Mean for Democracy and Investment Migration', and 'Stimulating Economic Growth through Transformative Foreign Direct Investment Policies'.
This prestigious event will be co-hosted by Tariq Qureishy, Founder and CEO of MadTalks, Dubai, and Katie Fielder, Dubai-based journalist and broadcaster.
The conference will conclude with a gala dinner on Tuesday 6 November, during which the 2018 winner of the Global Citizen Award® will be announced. The award is presented each year to an inspiring individual who has made an extraordinary and courageous contribution to the global community.
The full program of events for the 12th Global Residence and Citizenship Conference is available for download on Henley & Partners' website: henleyglobal.com/grcc2018-overview

Yardi to Highlight Artificial Intelligence at NMHC OPTECH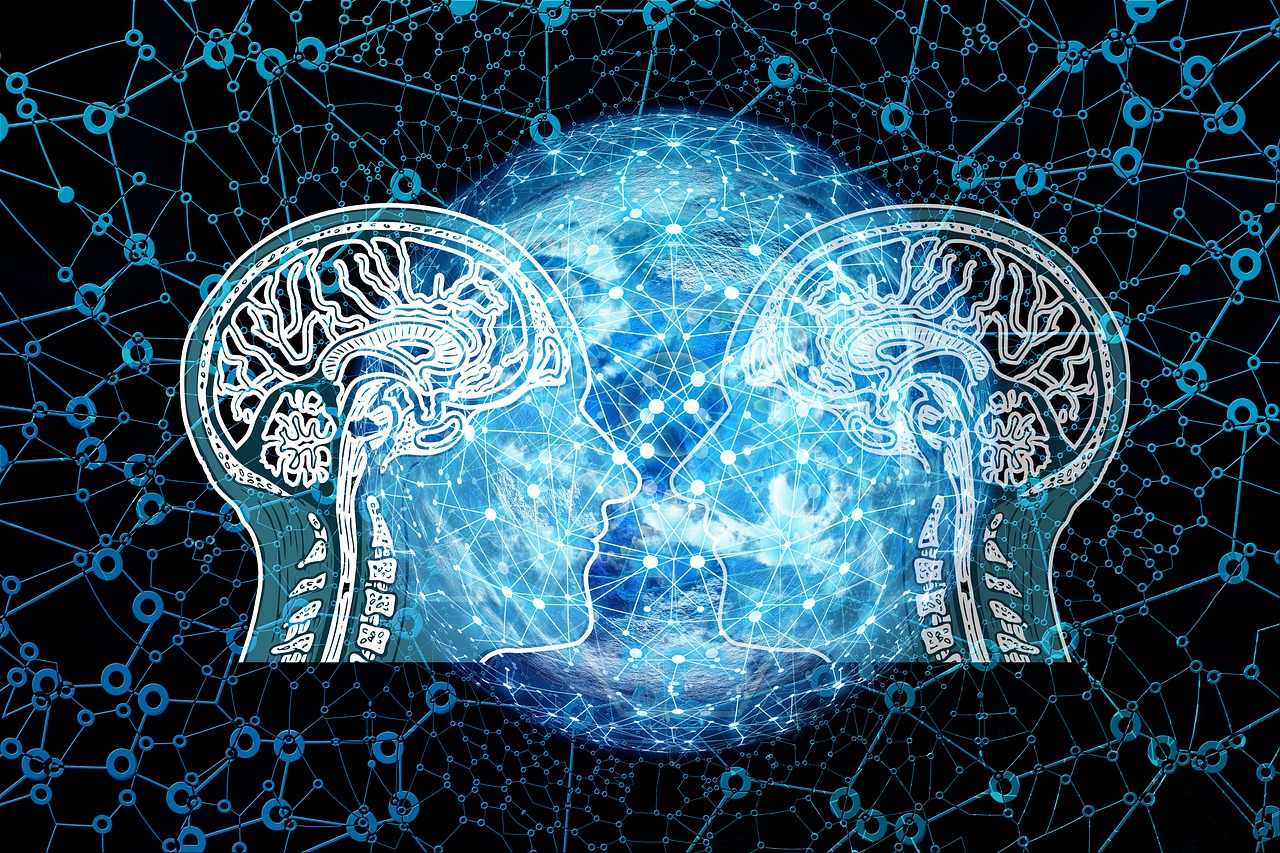 Reading Time:
1
minute
Real estate industry experts gather to get technical with insights and strategies
Yardi returns to the National Multifamily Housing Council (NMHC) OPTECH Conference & Exposition from November 14–16 in Orlando, Fla.
The 2018 edition of OPTECH will offer more than 40 sessions on emerging trends for property operations, marketing, technology, sustainability and telecommunications. The event is known for delivering insights on critical topics, with silo-breaking panels and inspirational discussions featuring the industry's brightest minds.
On Thursday, November 15 at 1:30 p.m., Tim Reardon, chief operating officer at Bridge Property Management, a Yardi client, will moderate "Machine Learning and the Future of Multifamily Business Intelligence." Joining Reardon are multifamily professionals and fellow Yardi clients Darren Wesemann, EVP and chief innovation officer at Berkadia, and Diana Norbury, SVP of multifamily operations at Pillar Properties, along with Michael Gaeta, director of programming at Yardi.
The panel will discuss the impact of artificial intelligence and machine learning on big data technologies and practices in multifamily. Attendees will discover new methods and tech tools that will transform business operations with previously unimaginable insight and access to advanced metrics.
"Yardi is committed to empowering its clients with innovative solutions that enable better business decisions that increase asset value. We are honored and excited to join with industry experts at NMHC OPTECH to talk about what's next for multifamily," said Gaeta.
Follow @Yardi on Twitter for live updates from the panel discussion and OPTECH.
Learn more about Yardi's full business solution for multifamily real estate marketing and management, including Asset Intelligence for elevating your asset performance.
PSP Investments and Tishman Speyer complete sale of major Paris office property to Société Générale In surance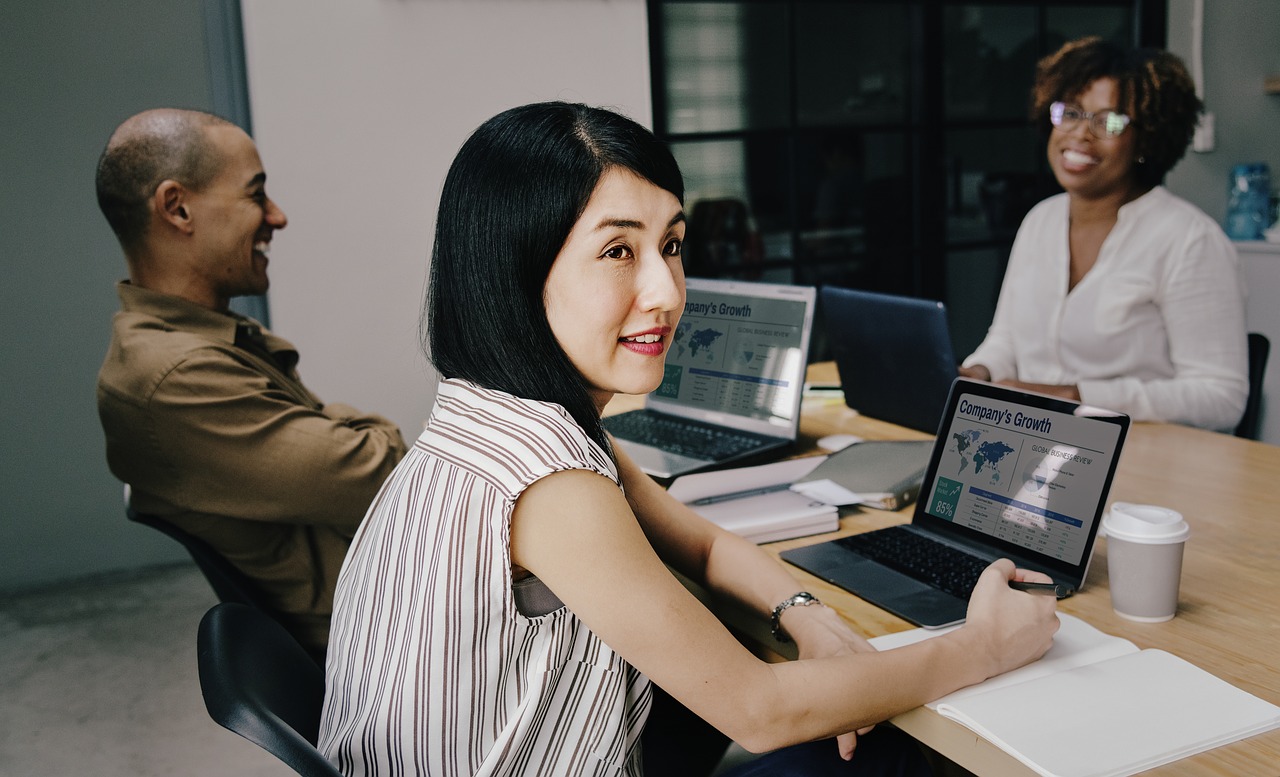 Reading Time:
2
minutes
Tishman Speyer, one of the world's leading owners, developers, operators and fund managers of first-class real estate around the world, and the Public Sector Pension Investment Board ("PSP Investments"), one of Canada's largest pension investment managers, today announced the sale of Tour Pacific to Société Générale Insurance for an undisclosed amount.
PSP Investments and Tishman Speyer acquired the 53,000 sq.m. office building, located in Paris' La Défense business district, in 2013. Following an extensive renovation and refurbishment program that transformed this 20-year-old office tower into a modern and efficient building, they have successfully leased approximately 50,000 sq.m. to over 30 tenants including CA Technologies, McAfee, Whirlpool, Manhattan Associates, RSA, NTT and Accenture.
Tour Pacific's tenants benefit from an iconic and modern design, direct access to natural light and a rooftop garden, in addition to new amenities such as a lounge, conference centre and fitness space. The building is also well-connected to major transport hubs, making it easily accessible by bus, metro, train and tram. The building is certified HQE Exploitation Excellent and Wired Certified Platinum.
"Tishman Speyer is very proud of our contribution to the transformation of Tour Pacific," said Philippe Joland, Senior Managing Director, President of Tishman Speyer France SAS. "Our goal was to attract clients in the 800-3,000 sq.m. segment by creating a highly appealing office building with new services and amenities, while providing a great work environment for the end users. We also believe that managing the asset directly creates additional value through the development of a unique relationship with the tenants. Tour Pacific has become a long-term, high-quality asset with a core profile as evidenced by the sale to Société Générale Insurance."
"Tour Pacific is an exemplary case of PSP's ability to align itself with best-in-class partners to execute on tactical value creation strategies in core global markets," said Stéphane Jalbert, Managing Director, Real Estate (Europe and Asia Pacific) at PSP Investments. "Tour Pacific was modernized through a comprehensive refurbishment to meet the demands and expectations of today's tenants, while taking advantage of the unique building design and vibrant La Défense submarket."
Sansiri strengthens its global vision by driving The Standard's aggressive international expansion of an additional 15 hotels in 5 years and the launch of One Night app in Asia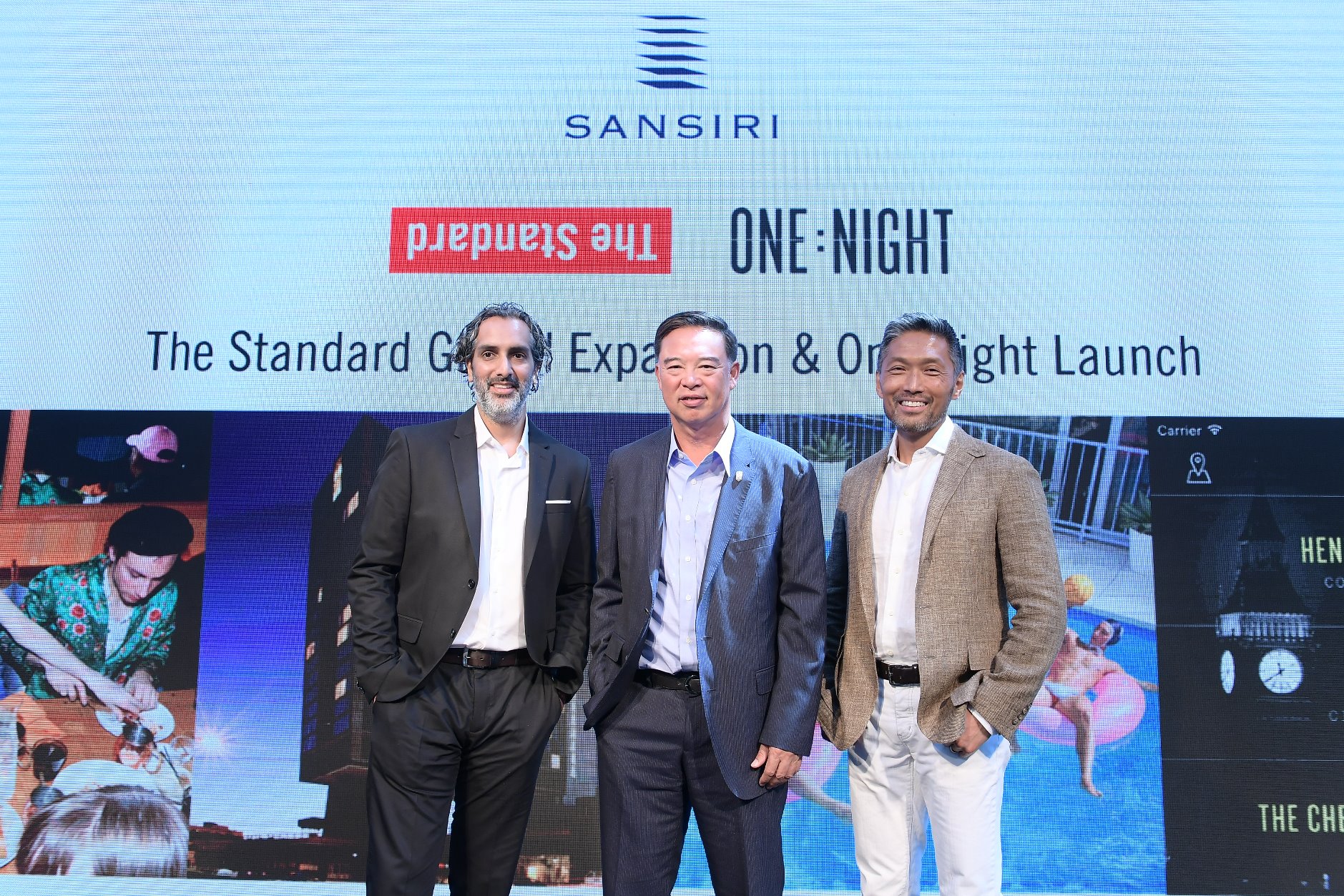 Reading Time:
3
minutes
As part of its recent expansion into the global hospitality, technology and lifestyle industries through an investment worth US$80 million in six global brands, Sansiri has announced the arrival in the Thai market of The Standard Hotels and Residences as part of its wider global expansion and Asia's first launch of the One Night spontaneous hotel booking app in Bangkok. The brands' move to Asia followed a rapid growth fueled by significant investments from Sansiri last year.
Apichart Chutrakul, Chief Executive Officer, Sansiri Public Company Limited, said: "In November 2017, we announced our investments in several global brands that are leaders in the hospitality, technology and lifestyle businesses as part of Sansiri's move to expand our collaborative, multi-disciplinary portfolio beyond real estate development. I'm delighted to share that only one year on, the investment has helped to fuel impressive growth that will see two of the brands — The Standard and One Night — expand into the lucrative Asian markets, with Thailand as their first port of call."
The Standard, considered the most powerful brand in the boutique hotel business, doubled its secured global footprint following Sansiri's acquisition of a 35% stake in the parent company for US$58 million. Ten properties are slated to open across the world including two in Thailand over the next few years, as part of its five-year plan to develop 20 hotels globally in thriving urban and intriguing resort locations, including London (opening Q1:2019), Paris, Milan, Berlin, Lisbon, Prague, Madrid, Chicago, Las Vegas, New Orleans, Atlanta, Dubai, Singapore, mainland China, Hong Kong, Taiwan, Bangkok, Phuket, Hua Hin, Jakarta and Bali.
Amar Lalvani, CEO, Standard International, said: "The arrival of The Standard brand in new locations across the world, including Thailand, will bring our unique approach to hospitality to many more people to enjoy. We create spaces that are culturally relevant to each market brought to life through our thoughtfully designed spaces and experiences for guests and locals alike."
"Our first hotel in Thailand will be in Phuket where we will also introduce the first Standard Residences product in partnership with Sansiri. Thailand is a particularly attractive market with the growth in visitor, and the fit with The Standard brand giving its thriving culinary, fashion and arts scene. We have chosen to open our regional office in Bangkok to oversee all of our operations in Asia and the Middle East."
With its existing portfolio of six properties and a combined 1,200 rooms (including the soon to open London property), The Standard generates annual property level revenue of approximately US$200 million, with an average occupancy rate of 85%, and 121% revenue per available room (RevPar) relative to its comparable set of hotels. Standard also has a very high percentage of direct bookings and repeat guests which are further indicators of the brand's strength relative to its competitors.
Jimmy Suh, President and Co-founder of One Night, said, "We are excited to announce the launch of Bangkok, marking One Night's expansion into Asia. As a 24×7 city that works hard and plays hard, Bangkok represents the ideal market for One Night – a last-minute hotel booking app offering a highly curated collection of the most sought-after independent hotels at the lowest rates."
"One Night celebrates spontaneous living and experiential travel catering to today's on-demand service economy. Moreover, hotels are becoming increasingly popular by locals who wish to escape their daily routine with a 'staycation' in their own cities."
In addition to Bangkok, One Night is operating in 15 major cities in the United States and London with over 170 independent hotels. One Night is projected to be in 30 cities by year-end 2019, including more cities in Asia and Europe.
"The strategic partnerships with such strong and exciting brands will strengthen Sansiri's core real estate business. Consumers will also benefit from having access to services provided by truly world-class leaders. The arrival of both The Standard and One Night in the Thai market marks another important step to be followed by several more in the future," concluded Chutrakul.