Trina Solar supplies 17MW to the largest floating PV system in Europe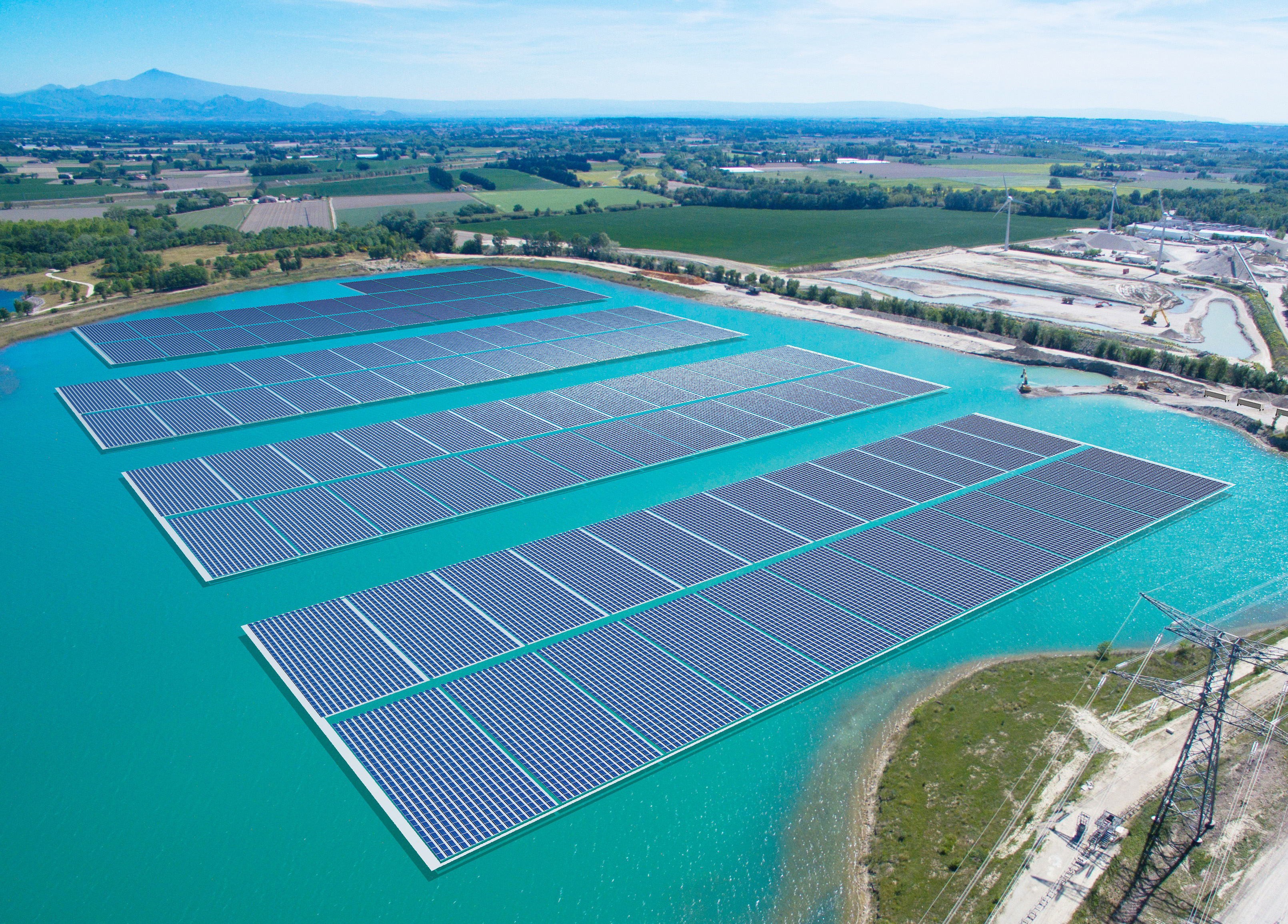 Reading Time:
2
minutes
Trina Solar Limited ("Trina Solar" or the "company"), a leading total solutions provider for solar energy, announced today that it has supplied 17MW of PV modules to the largest floating PV plant in Europe.
The "O'MEGA 1" PV project has been developed by Akuo Energy, France's leading independent producer of renewable energy, under the specific constraints of the French CRE4.1 tender, won with Trina Solar low carbon footprint modules. Once operational, the plant located in Piolenc (Vaucluse) will produce 100% renewable energy covering the consumption of more than 4,700 households. The plant is spread over a 17-hectare property and will avoid the emission of roughly 11,100 tons of CO2 per year.
"O'MEGA 1" is powered by more than 46,000 units of Trina Solar's TSM-DEG14.20(II) dual-glass PERC monocrystalline modules in its low carbon footprint version. The DUOMAX M Plus module offers high output performance for large utility-scale solar farms. Available with industry-leading 1500V UL/IEC rating, the DUOMAX M Plus top-end efficiency and high power density ensures maximum energy output while withstanding challenging environmental conditions. Its durable dual-glass structure made with high quality solar glass and encapsulation protects solar cells from strong humidity over lifetime, preventing energy loss from PID (potential induced degradation).
Eric Scotto, President and co-founder of Akuo Energy concludes: "O'MEGA 1 means multiple premieres for Akuo Energy: first floating solar power station in France; first time the group opens the capital of a project to individuals; and a common, first bank financing for floating solar. Through this societal project, we act as a global player in the energy transition and we hope to make this plant an example to follow. It is a great pride for us to be associated with all these actors who make it an exemplary and inspiring project."
Gonzalo de la Vina, Head of Module Business Europe at Trina Solar, says: "We are honored to have been chosen by Akuo for the largest floating solar system in Europe. This project developed under the specific constraints of the French CRE4.1 tender uses a competitive technical and economical solution, based on our low CO2 dual-glass monocrystalline PERC modules in combination with a Ciel et Terre floating structure. We trust this project will open doors to the further development of floating PV projects across France and Europe."
State-of-the-Art Climate Model funded by the Leonardo DiCaprio Foundation shows how we can solve the Global Climate Crisis
Reading Time:
3
minutes
Two-year scientific collaboration with the University of Technology Sydney, German Aerospace Center and University of Melbourne produces unique regional pathways to stay below a 1.5°C temperature rise by transitioning to 100% renewable energy and implementing natural climate solutions
As the Intergovernmental Panel on Climate Change (IPCC) Special Report warned in October 2018, the planet must be kept below the dangerous temperature rise of 1.5°C above pre-industrial levels if we are to avoid a worsening of climate-related impacts. We are already seeing the devastating consequences of a 1°C global temperature increase, including ever-rising sea levels, extreme storms, prolonged droughts, and intensified wildfires.
Now, after two years of research and modeling by leading scientists at the University of Technology Sydney, the German Aerospace Center, and the University of Melbourne, a groundbreaking new framework offers a feasible roadmap for achieving–and surpassing–the targets set by the 2016 Paris Climate Agreement. This research effort was funded by the Leonardo DiCaprio Foundation as part of its new One Earth initiative.
The research* produces the most detailed energy model to date, with 72 regional energy grids modeled in hourly increments through 2050, along with a comprehensive assessment of available renewable resources like wind and solar – and configurations for meeting projected energy demand and storage most efficiently for all sectors over the next 30 years.
Lead author Dr. Sven Teske, Research Director at the University of Technology Sydney's Institute for Sustainable Futures, said: "Scientists cannot fully predict the future, but advanced modeling allows us to map out the best scenarios for creating a global energy system fit for the 21st century – and with momentum around the Paris Agreement lagging, it's crucial that decision makers around the world can see that we can, in fact, meet global energy demand at a lower cost with clean renewables."
While climate scientists have created hundreds of models to help policymakers understand the impacts of climate change and how to mitigate them, nearly all of these models have relied upon negative emissions technologies, which are expensive and not proven to work at scale. This model is the first to achieve the required negative emissions through natural climate solutions, including the restoration of degraded forests and other lands, along with a transition to 100% renewable energy by mid-century.
Malte Meinshausen, Founding Director of the Climate and Energy College at the University of Melbourne and Potsdam Institute Fellow, said: "Citing a growing body of research, we show that using land restoration efforts to meet negative emissions requirements, along with a transition to 100% renewable energy by 2050, gives the world a good chance of staying below the 1.5°C target."
A transition to 100% renewables and the implementation of natural climate solutions offer additional benefits beyond keeping the climate system in check. The energy transition will be able to recycle our natural gas infrastructure and create millions of permanent jobs. Natural climate solutions could also dramatically increase sustainable livelihoods in the developing world, offering better water security and reduced soil erosion.
Justin Winters, Executive Director of the Leonardo DiCaprio Foundation, said: "Nature is the key to solving the climate crisis. Currently our wildlands and oceans absorb one-half of all CO2 emissions. While the renewable energy transition is imperative to solving the climate crisis, it isn't enough. As this climate model shows, in order to keep the global temperature rise to no more than 1.5°C, we have to keep our natural carbon sinks intact, scale up restoration efforts and shift to regenerative agriculture."
The proposed energy transition outlined in the climate model is estimated to cost approximately $1.7 trillion per year. This sounds like a lot, but it pales in comparison to the vast subsidies that governments currently provide to prop up the polluting fossil fuels largely responsible for climate change, estimated at more than $5 trillion a year – $10 million a minute, every day, according to the IMF. The research tells us that we could be creating the clean energy future we so desperately need for one-third of the cost.
Leonardo DiCaprio, Founder of LDF, said: "With the pace of urgent climate warnings now increasing, it's clear that our planet cannot wait for meaningful action. This ambitious and necessary pathway shows that a transition to 100% renewable energy and strong measures to protect and restore our natural ecosystems, taken together, can deliver a more stable climate within a single generation."
Can Africa Help California? Of Course It Can!
Reading Time:
2
minutes
The world's biggest Palm Oil producing company, in terms of access to African palm plantations with more than 8 million hectares under contract, has been contacted by major energy conglomerates in the U.S. to reach agreements whereby palm oil produced in Africa can be exported to North America to be transformed into Biodiesel.
New regulations developed in jurisdictions specifically in California are requiring companies to provide and use renewable energy to drive their activities, and because of this a great deal of attention is currently turning towards Biodiesel.
The African palm is the source of palm oil, a profitable product due to its economic efficiency and versatility as a source of both food and energy.
Palm oil is the most efficient raw material for creating the various blends of biodiesel that can be sold at points of sale all over the west coast of the United States, for significant profit.
However, the development of the palm oil industry as a source of biodiesel is not without controversy. The internet is full of criticism about deforestation, displacement of animals that contributes to the threat of extinction, maltreatment and human rights abuse problems.
Company President Oscar Faria notes that, "It's possible to produce palm oil in Africa and achieve the best for both worlds: social and environmental development for regions and people on one hand, and profitable results for investors and strategic partners on the other hand. This balancing act is the driving force that guides the strategy of African Palm Corporation."
The company is collaborating with local leaders who are concerned about the wellbeing of their people and the conservation of their lands. These relationships are based on strong principles of mutual respect without imposing on anyone. It is a win-win situation.
As a result of African Palm Corp's actions, agreements have been signed with local proprietors for more than 8 million hectares of land in west and central Africa, where African palms grow wild or on empty lands, though they can also be planted with EG seeds. This guarantees that there is no risk of deforestation due to the fact that practically unlimited areas of land are easily available.
The company has an exclusive agreement with one of the largest and most prestigious insurance brokers in the world to coordinate insurance coverage of its operations against climate and political risk through a syndicate of Lloyd's of London.
All of the lands will be developed with the help and support of members of the local communities surrounding the plantations. This will ensure that people do not suffer the consequences of forced migrations and have to live apart from their nearest and dearest. Local leaders have expressed zero tolerance for negative environmental impact that could result from operations. The commitment undertaken with them has been documented in written agreements expressing a commitment to directly invest 10% of the operation's net profits in social projects in the communities involved. The company wishes to be always welcome on these precious lands.
The company's primary objective is to uphold its commitment to social responsibility, environmental protection and good commercial practices with its partners, investors, insurers, suppliers and the communities of Africa, so that, when anyone searches for palm oil on Google, the links connecting to the company will tell nothing but good stories.
African Palm Corp is a U.S. corporation with headquarters in Miami.
For further information, please go to:
Civic, Aviation Leaders Showcase Viability of Alternative Jet Fuels In Live Demo
Reading Time:
5
minutes
Today, a coalition of international business aviation organizations joined Los Angeles-area civic leaders to mark a milestone in the development and adoption of sustainable alternative jet fuels (SAJF) through Business Jets Fuel Green: A Step Toward Sustainability.
"We are excited to see our industry demonstrating the viability of sustainable alternative jet fuel at general aviation airports for business aviation users," said General Aviation Manufacturers Association (GAMA) President and CEO Pete Bunce. "This event will help raise awareness of the safety and accessibility of the fuel, and demonstrate our industry's commitment to building the necessary demand for SAJF that will be integral to achieving industry climate emissions goals."
"Today's ground-breaking event demonstrates that National Air Transportation Association (NATA) members across the supply chain – from fuel suppliers and distributors to aircraft owners and operators – are committed to a future of Sustainable Alternative Jet Fuel," stated NATA President Gary Dempsey. "Van Nuys Airport was the perfect backdrop for today's activities, and we appreciate the support of the Van Nuys Airport Association, Los Angeles World Airports and the other coalition members in making 'Business Jets Fuel Green: A Step Toward Sustainability' a reality. We look forward to continuing to spread the message of the impact and benefits of SAJF throughout the industry and across the world."
The day-long series of events included demonstration flights conducted by business aircraft, established Van Nuys Airport as the first general aviation airport in the U.S. to offer SAJF on a trial basis, and served as a model for offering the fuels at other airports.
"As one of the world's busiest general aviation airports – with 231,000 annual operations supporting diverse private, business and government aviation needs – Van Nuys Airport is committed to leading the way in environmental sustainability," said Van Nuys Airport Association (VNAA) President Curt Castagna. "The airport's four fixed-base operators participating in this initiative exemplify the Van Nuys Airport Association's long history of building collaborative partnerships among industry, business and community stakeholders to achieve meaningful progress and change. We are honored to play a key role in advancing the use of sustainable alternative fuels and reducing greenhouse gas emissions from aircraft at airports across the nation."
The trial flights, which were first announced at the European Business Aviation Convention & Exhibition (EBACE) in 2018, are an extension of the SAJF initiative, reflecting the industry's long-standing commitment to emissions reduction, including, among other aims, carbon neutrality from 2020 forward. In conjunction with EBACE, the coalition released the "Business Aviation Guide to the Use of Sustainable Alternative Fuel" to provide a roadmap for the education about, and use of, SAJF.
"This first-ever event focused on business aviation use of SAJF demonstrates the industry's strong interest in reducing its environmental impacts, particularly its carbon emissions," commented International Business Aviation Council (IBAC) Director General, Kurt Edwards. "SAJF represents a critical measure to help meet the sector's global commitment to halve carbon emissions by 2050 relative to 2005 levels. Always at the forefront of innovation, business aviation will be an international leader in taking up and seeing the benefits of this cutting-edge and available technology."
The success of the trial flights clearly demonstrated three key points:
SAJF are safe and do not impact aircraft performance.
SAJF offer great impact and benefits to the airport and the community, including reduced particulate matter.
SAJF reflect the commitment by business aviation to aircraft carbon reduction.
"Business aviation has long led the way in promoting advances aimed at reducing the industry's environmental footprint," said National Business Aviation Association (NBAA) President and CEO Ed Bolen. "We are proud to celebrate this major industry milestone, and look forward to launching SAJF flights in locations around the world."
The SAJF initiative, developed by a coalition of international aviation organizations, is intended, first, to address a "knowledge gap" on the availability of SAJF and concerns within the industry regarding its safety and, second, to advance the proliferation of alternative jet fuels at all the logical touchpoints: the manufacturers, the ground handlers and the operators, at the regional, national and international levels.
"The commitment of this coalition to continued emissions reduction is one shared across the business aviation sector. In fact, thanks to a continuing focus on emissions, business aircraft today are cleaner, quieter and more fuel-efficient than ever. I am therefore proud to say, on behalf of the European Business Aviation Association (EBAA), that we fully endorse this initiative and appreciate all of the coalition's efforts and are looking forward to continuing this momentum on the European continent," said EBAA Secretary-General Athar Husain Khan.
Business Jets Fuel Green: A Step Toward Sustainability was made possible through the efforts of EBAA, GAMA, IBAC, NATA, NBAA and VNAA, in coordination with Avfuel Corporation, Bombardier Business Aircraft, Gevo, Inc., World Energy, World Fuel Services and other industry stakeholders.
"Our industry is uniquely poised to make a huge, positive difference in the fight against climate change – not by changing how much we fly, but by changing how we fuel. SAJF will enable a future of clean, efficient propulsion in business aviation: their advantages are real and current – we can benefit from the regular use of SAJF not just in our lifetime, but immediately, starting today," said David Coleal, President, Bombardier Business Aircraft and Chair of GAMA's Environment Committee. "We commend the Van Nuys Airport community for their historic leadership in not only making SAJF accessible for operators, but also for providing an example for other airports to follow. This is how meaningful change begins."
"Avfuel is proud to support the SAJF initiative with its first full truckload of sustainable alternative jet fuel delivered to a business aviation airport," said Keith Sawyer, Avfuel's manager of alternative fuels. "We are committed to helping the industry achieve its goals of carbon neutrality and are pleased with this first step, which proves that SAJF can become a viable option for the industry at large. We are working ardently to secure further sources of the product to champion one of the largest hurdles yet to the initiative, availability. We're also working with operators who can help us support this initiative by making commitments for the SAJF product—commitments that will drive demand and, hopefully, the supply of the fuel at the production level."
"This event demonstrates our partnership and mutual commitment with Avfuel to feed the world, sequester carbon dioxide and reduce greenhouse gas emissions," said Dr. Patrick Gruber, Chief Executive Officer of Gevo. "In our production process, not only do we produce renewable jet fuel, we also can produce large quantities of protein for the food chain and even sequester carbon in the soil. In fact, for every barrel of bio jet fuel produced by Gevo, we could produce approximately 420 pounds of protein and sequester up to 60 pounds of carbon back into the soil. We are planning on expanding our plant in Luverne, MN, to make it capable of producing nearly 10 million gallons per year of our sustainable alcohol-to-jet fuel, and we are putting plans in place for additional sustainable alcohol-to-jet fuel production plants that could even use wood as a feedstock," continued Dr. Gruber.
"In 2016, World Fuel Services, in partnership with World Energy, became the first to deliver commercially viable SAJF to the aviation industry, and after three years remains the only large-scale distributor," said Steve Drzymalla, SVP, Business Aviation Bulk Fuel at World Fuel. "Since that time, we have delivered nearly 500K gallons of SAJF to business aviation and over 13M gallons to commercial customers. We are proud to partner with World Energy, whose Paramount, CArefinery is the U.S.'s first and only fully operational, consistent producer of SAJF. Events like today are critical to developing awareness and increasing industry momentum and investment."­
"Since January 2016, as the only commercial producer globally of SAJF, World Energy has forged partnerships with industries such as general aviation, who are committed to a low-carbon future. World Energy's SAJF has been independently certified to reduce GHG emissions in excess of 60% relative to petroleum Jet-A. Importantly, turbine criteria pollutants are significantly lowered in a flight's life-cycle, primarily upon take-off and landing, providing local solutions to airport communities such as Van Nuys," said Bryan Sherbacow, CCO of World Energy.
Learn more about the SAJF initiative, see a full list of participants and view a video stream of key portions from today's event at Van Nuys Airport at futureofsustainablefuel.com. Follow business aviation's commitment to alternative fuels on Twitter and Facebook at #Sustainability.
Coalition Members:
NBAA (National Business Aviation Association)
NATA (National Air Transportation Authority)
GAMA (General Aviation Manufacturers Association)
EBAA (European Business Aviation Association)
IBAC (International Business Aviation Council)
SOURCE Sustainable Alternative Jet Fuels Initiative Coalition