Indonesian Ministry of Youth & Sports (Kemenpora) Announces Indonesia's Top Cities & Young Achievers to Optimize the Demographic Bonus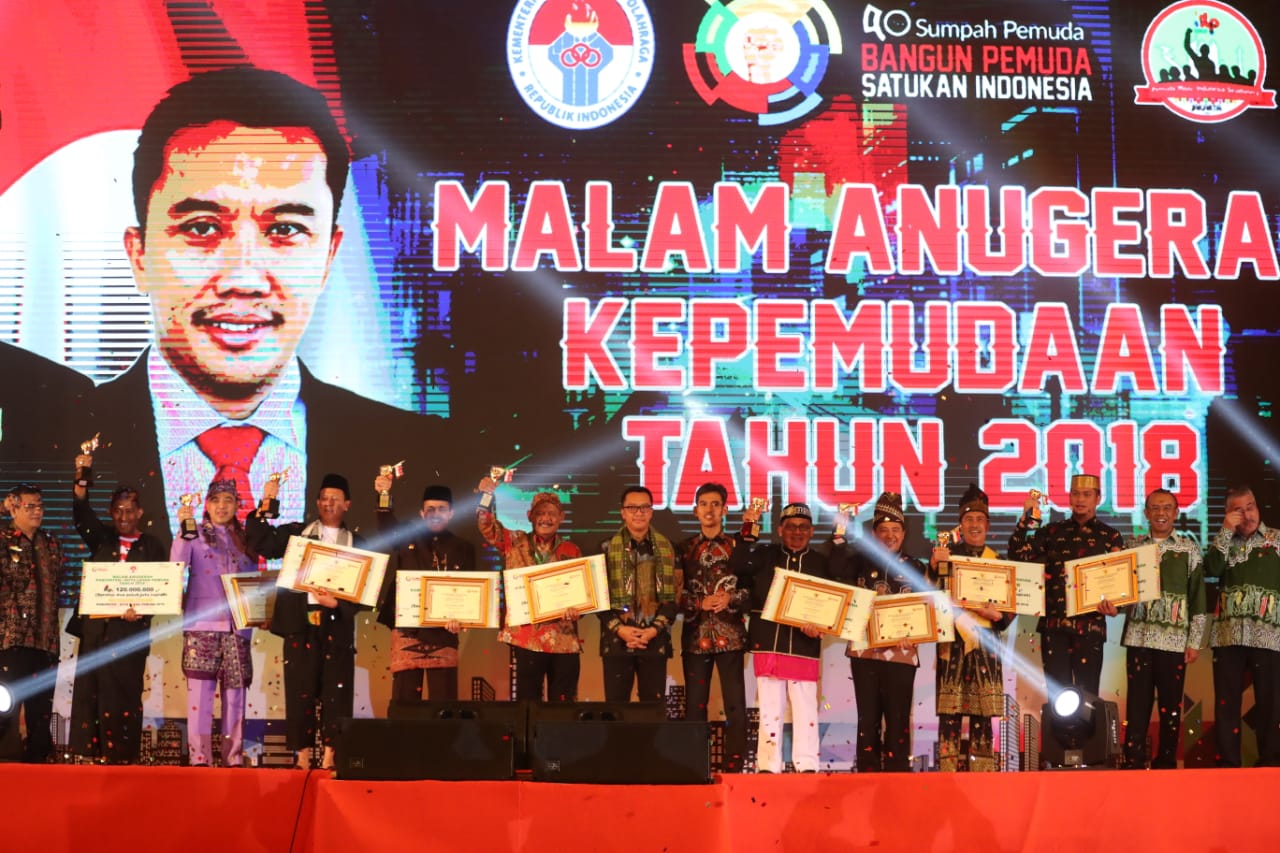 Reading Time:
3
minutes
39 selected youths and cities got involved with full support from the Ministry to build communities in respective regions.
In commemoration of the 90th Youth Pledge Day, the Indonesian Ministry of Youth and Sports (Kemenpora) through the Deputy Ministry of Youth Development awarded 39 Indonesian young achievers and 20 cities focusing on the lives of youth, or "Kota Layak Pemuda", on Monday (10/29) at Balai Samudera Kelapa Gading, Jakarta. Entitled "Bangun Pemuda, Satukan Indonesia," the youth award was attended by Indonesian Minister of Youth and Sports, Imam Nahrawi; Deputy Minister of Youth Development, Asrorun Ni'am Sholeh; the Echelon Iand II of Kemenpora; Deputy of the Coordinating Ministry of Human Development & Cultural Affairs; as well as regents and mayors throughout Indonesia.
"Through this award, the government reinforced their commitment to young generations, particularly towards youth developments in the country. They were selected through a strict, tiered and comprehensive selection for the past few months, which has been going on since the beginning of 2018," said Asrorun Ni'am Sholeh, Deputy of Youth Ministry of Youth and Sport Development.
The 39 outstanding youths were then selected through their contribution in building the city and community. Divided into several categories, they include:
Pemuda Pelopor, or young pioneers, in education; the first winner was chosen from West Sulawesi through the development of the education village.
Pemuda Pelopor, or young pioneers, in natural resources, environment, and tourism; the first winner were from West Sumatera, after preserving mangroves and coral reefs in his city.
Pemuda Pelopor, or young pioneers, in technological innovation was won by DKI Jakarta, through a creation of new application to overcome waste disposal problem.
Pemuda Pelopor, or young pioneers, in food sector, as well as religion and culture, were achieved by West Sumatera and East Java's youths.
Other categories of young achiever awards comprise of outstanding entrepreneurs in food and culinary, trade and services; top drivers of high-achieving entrepreneurs; international young achievers, and young achievers with disabilities.
Kemenpora also sets standardization to improve the quality of young generation, one of which is through 20 chosen cities of "Kota Layak Pemuda". The main goal of setting specific cities' criteria is to ensure all young people from age 16 to 30 years can get access to develop their potential, as stipulated in the Act and Regulation of the Minister of Youth and Sports No.11 of 2017.
Selection process of "Kota Layak Pemuda" were based on specific criteria, such as local government regulations of youth services, budgeting and facilitation, youth activities, program availability, and infrastructure for youth organizing. Split into three categories, top winners of each Utama, Madya, and Pratama's categories are Sumenep Regency in East Java; Jeneponto Regency in South Sulawesi; and Pamekasan Regency in East Java.
Young generations play an important role as agents of change in their community. "Therefore, all youths in Indonesia should be focusing on intellectual, high-integrity, and express the character of true leaders. These things are highly important to embrace any opportunities and challenges faced in Indonesia, by upholding the values of the national unity," said Imam Nahrawi, Indonesian Minister of Youth and Sports. "Furthermore, we are now facing the demographic, in which the population of productive age is much larger than the less productive population. This will bring new advantages for Indonesia to optimize all the potentials."
Demographic bonus occurs when the number of productive age (15-64 years) reaches 70% of the total population. In other words, this 70% will be seen as life supporters of 30% of non-productive age (under 15 years of age above 65 years). According to the Central Bureau of Statistics (BPS), the demographic bonus in Indonesia will reach the peak in 2025-2030.
"Unlike any other countries, Indonesia is heading toward a demographic bonus. We need to optimize the potential through intensive youth coaching and encourage them to contribute more in community organizations. We will build a strong character of leaders, thus Indonesia will gain most-respected recognition in the world," added Asrorun Ni'am Sholeh.
International Paper Again Selected to FORTUNE's List of World's Most Admired Companies
Reading Time:
1
minute
International Paper (NYSE: IP) announced that it has been named again by FORTUNE magazine as one of the "Worlds Most Admired Companies." International Paper has earned this recognition sixteen times in the last seventeen years based on scores achieved in the following categories:
Ability to attract and retain talented people
Quality of management
Social responsibility to the community and the environment
Innovativeness
Quality of products or services
Wise use of corporate assets
Financial soundness
Long-term investment value
Effectiveness in doing business globally
"This recognition reflects the exceptional talent and commitment of International Paper's 52,000 employees around the globe," said Mark Sutton, chairman and chief executive officer. "We work with the world's leading brands to make products that improve peoples' lives and we mobilize our people, products and resources to address critical needs in the communities where our employees live and work. I want to thank our global team members for this well-deserved achievement."
Motivational Speaker, School Trivia to Feature at Houghton Academy Pep Rally for School Choice
Reading Time:
1
minute
A school choice pep rally featuring motivational speeches, class cheers, school trivia, and the National School Choice Week dance will take place at Houghton Academy 9:45 a.m.- 2:15 p.m. Tuesday, Jan. 22.
The high-energy rally will feature a keynote address by Pastor James Giles, president of the Buffalo Peacemakers Violence and Gang Intervention Program, which advocates violence prevention for at-risk youth.
More than 150 students, staff, and community members are expected to attend.
This event is planned to coincide with the history-making celebration of National School Choice Week 2019, which will feature more than 40,000 school choice events across all 50 states.
"We celebrate school choice by recognizing all that Houghton Academy has to offer its students," said Elaine Vardi-Kirkland, principal of Houghton Academy. "We are thrilled to participate in National School Choice Week and to advocate parents having the information they need to make the best decisions for their children's education."
Houghton Academy is a Buffalo public school serving students in grades Pre-K-8.
As a nonpartisan, nonpolitical public awareness effort, National School Choice Week shines a positive spotlight on effective education options for students, families, and communities around the country. From January 20 through 26, 2019, more than 40,000 independently-planned events will be held in celebration of the Week. For more information, visit:
The 61st Annual GRAMMY Awards® Continue To Rock The World With New International Sales Secured By Alfred Haber, Inc .
Reading Time:
1
minute
With the recent news that 15-time GRAMMY® Award winner Alicia Keys will host the 61st Annual GRAMMY Awards®, and having previously announced key sales to Rogers (Canada), Tencent (China), WOWOW (Japan) and M-Net (Africa), among others, Alfred Haber, President of Alfred Haber, Inc., announced today that the company has secured additional international sales for the 61st Annual GRAMMY Awards. Slated to air February 10 on the CBS Television Network for the 47th consecutive year, broadcasters who have recently signed on for the 61st edition include: 4 Music (UK), Turner (Latin America), Foxtel (Australia), Danmark Radio (Denmark), FOX (Southeast Asia), Solar Entertainment Corporation (Philippines), Norwegian Broadcasting (Norway) and TVNZ (New Zealand).
The first group of artists confirmed to perform during the 61st Annual GRAMMY Awards are current nominees Camila Cabello, Cardi B, Dan + Shay, Post Malone, Shawn Mendes, Janelle Monáe, and Kacey Musgraves.
"The GRAMMY Awards continue to be the most anticipated musical event the world over," commented Haber. "Today's greatest music performed by today's greatest musicians, coupled with phenomenal production value, creates a viewing and listening opportunity for broadcast territories around the globe. We at AHI are honored to again be entrusted with bringing the GRAMMY Awards to the international marketplace."