Beaches Resorts To Host 100 Elite Digital Mom Influencers At 4th Annual "Social Media On The Sand" Conference October 17-21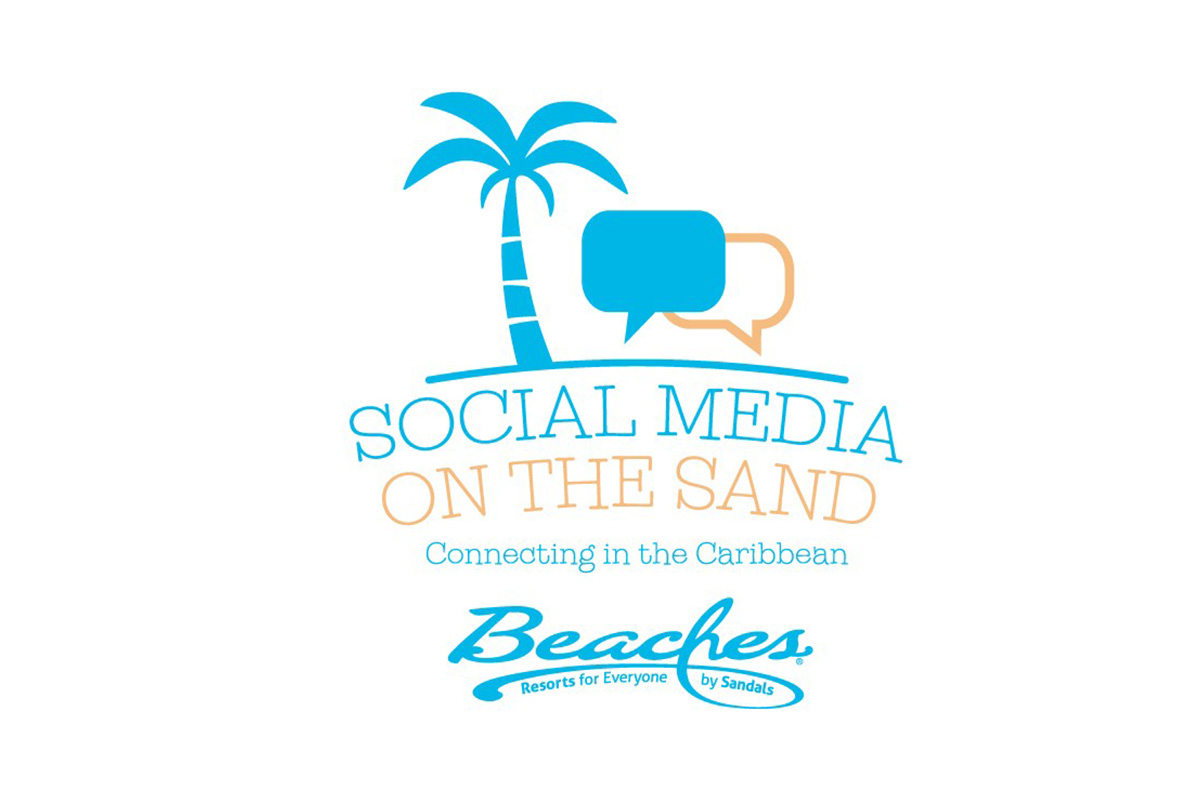 Reading Time:
4
minutes
~All-star speaker lineup includes modern brand builders Rebecca Minkoff, Alli Webb, Holly Robinson Peete and more
100 elite digital mom influencers will converge in paradise at Beaches Turks & Caicos Resort Villages and Spa for the Fourth Annual Beaches Resorts "Social Media on the Sand" conference. This sold out, invitation only event will be led by some of industry's most successful, motivated women, eager to share their stories on how to effectively navigate the use of social media to connect through the clutter. This five-day event will empower attendees by sharpening their social media savvy at an array of inspiring and immersive sessions amidst the best backdrop of all, a Luxury Included® vacation along 12 miles of one of the world's best beaches, Grace Bay.
Beaches Resorts handpicked an impressive list of guest speakers with valuable insights on how influencers can continue to build their social media presence in an increasingly crowded space. Keynotes include Rebecca Minkoff (founder of the eponymous fashion powerhouse), Alli Webb(founder of Drybar, the nation's premier blowout salon) and Holly Robinson Peete (award-winning author, actress, entrepreneur, philanthropist and brand spokesperson).
"It's a fantastic time to be a woman in business, as technology has opened so many new doors" said Debbie-Ann White, senior vice president of public relations and promotions, Unique Vacations, Inc., the marketing and sales organization for Beaches Resorts. "Our #BeachesMoms are paving the way for women looking to break into the fast-growing influencer marketing industry and expand their businesses through social media. It's never too late to evolve your career path. We want to support all moms in this arena, whether they're up-and-coming or well-established."
"Social media has had an exponential effect on my business, and brands that know how to connect with consumers, authentically and consistently, are leading the way in today's market," said Rebecca Minkoff, Co-Founder and Creative Director. "I'm excited to visit beautiful Beaches Turks & Caicos Resort and to be among many other strong, driven, female entrepreneurs sharing ideas and inspirational support."
Throughout the conference, additional speakers will take the stage to discuss everything from how they built their brands to how to finesse social media skills to succeed. There's learning at every turn including a special set of more intimate cabana chats and popular interactive experiences. A sampling of speakers and sessions includes:
Adam Stewart, CD (Deputy Chairman, Sandals Resorts International): "An Even Better Beaches – What's Next in Programming, Dining and Expanding"
Maria Bailey (CEO, BSM Media, host, Mom Talk Radio): "Monetizing Your Business – A Panel"
Michelle Vincent (Facebook Industry Manager): "Social Media Q&A with Top Digital Mom Influencers"
Kristin Castillo (VP of Strategy for Trendera): "Now and Next: Trends Shaping 2018 and Beyond"
Myron Pincomb (Board Chairman, IBCCES): "Transforming Lives: Understanding Families with Kids on the Spectrum"
Julia Furlan (Former Supervising Producer at Buzzfeed): "Podcasting from Scratch"
Amy Choi (Head of Brand Partnerships of ShopStyle): "The ShopStyle Skinny: A Successful Formula for Winning Content and Monetization"
Julie Cole (co-founder and VP, Mabel's Labels): "Balancing Business, Babies and Blogging: Tips and Tricks from a Mom of Six"
Cindy Goodman (business journalist, social media maven): "Blogging Behind-the-Scenes: Tips and Trends"
Holly Homer (KidsActivities.com, Quirky Momma Facebook page): "New Strategies for Leveraging Facebook Organically"
Brianne Manz (Stroller in the City): "Snap, Shoot and Story Tell"
Dayvee Sutton (Emmy-winning Journalist for Television and Digital Media): "How to go from Blogger to TV News Contributor"
Ella Peddy (17-year old YouTuber and DIY Expert): Teen Programming & YouTube
Also new this year, a selection of fun pop-ups, including the Just Chill Lounge at Registration and the Beaches Swag Bungalow. Beaches will surprise and delight participants by deconstructing the traditional conference attendee gift bag and turning it into an interactive gifting experience. Attendees will meet and greet with event sponsors while working their way around the bungalow to snag the great complimentary swag that comes along with being a #BeachesMom.
In addition to receiving great perks, attendees will have the chance to give back, as giving back is at the heart of Beaches Resorts. During their stay, influencers will participate in an extraordinary "school makeover" project at the Ianthe Pratt Primary School – home to 600 children ages five to eleven. Sponsored by the Sandals Foundation and School Specialty, this activity will provide the opportunity to paint the school's existing playground and outdoor stage, along with a collection of inspirational murals. Prior to travel, attendees will also receive special backpacks encouraging them to join Beaches Resorts' Pack for a Good Cause campaign. They will each fill their backpacks with five pounds of desperately needed school supplies and distribute them personally to the school children on-site. Participation in this activity is always 100%, which equates to 500 pounds of new educational supplies on the island.
In addition to the conference, outdoor-oriented activities – from Cabana Chats, informative sessions where attendees will dive deep on industry-specific topics, to Interactive Experiences, where they will participate in fun resort activities – will round out the programming. From oceanside yoga, TruFusion exclusive workouts that keep power couples like A-Rod and J. Lo in shape, and curated parties including Hollywood Records' artists In Real Life (IRL), the winners of ABC's hit show, Boy Band, who recently wrapped their first North American headline tour – guests will enjoy all that the resort has to offer and more. Graced by 12 miles of the world's best beach on Grace Bay, Beaches Turks & Caicos offers the ultimate Luxury Included® Vacation with endless land and water sports, 5-Star Global Gourmet™ dining at up to 21 restaurants, luxurious rooms and suites, and exciting family-friendly activities including Sesame Street® stage shows and the Caribbean's most thrilling waterpark.
Event partners include Drybar, Yummie, TruFusion, SpinMaster, JetBlue, Rebecca Minkoff, Hollywood Records, Cable and Wireless Business, The Crafted Coconut, Swarovski, School Specialty, SNUBA, Twiddle, NuFACE, Gaiam, Red Lane Spa, FITKICKS, Dreampad, Desert Sunglass of Scottsdale, Sprout Foods, Sun Bum, Pevonia, Air Esscentials, Build-A-Bear Workshop, The House of Perna, Sesame Workshop, Buddha Shack, Instax, essie, Tuuci, Bling2o, KooKooLoos, HeroBoys, Hapari, 8 Greens, Coconut Float, The Bouqs Co., U.R. Bath and Body, Lands' End, the Red Lane Spa, Island Routes, the International Board of Credentialing and Continuing Education Standards (IBCCES), and the Sandals Foundation.  For more information on "Social Media on the Sand," please visit socialmediaonthesand.com.
Excitech to Deliver Common Data Environment to Heathrow Airport Limited
Reading Time:
2
minutes
Excitech, the UK leader in technology and services for the construction sector, has been awarded a 7-year framework agreement to lead a consortium comprising GroupBC and Autodesk technologies to deliver Heathrow Airport Limited's chosen Common Data Environment (CDE) solution.
The CDE is at the heart of Heathrow's Information Management strategy.  It will be its primary common information repository and allow for specific controls to be put in place to share information in a controlled manner with suppliers and across Heathrow Departments. It will provide world-class information and asset management in line with emerging industry-standards, ensuring the efficient whole-life management of Heathrow's critical assets.
David Hughes, Excitech's managing director said, "Having worked on the Terminal 5 construction project we are excited to be involved in this latest strategic project at Heathrow.  The Autodesk and GroupBC technologies being deployed are market-leading and will enable Heathrow to trust the data they hold and have the confidence to make decisions based on 'one version of the truth."
The project is already underway and is expected to be complete by December 2020.  It will see the deployment of Autodesk's BIM 360 visualisation and design tools integrated and underpinned with management and governance from GroupBC's Enterprise CDE.
Jo Ellman Brown, PMO Director at Heathrow said, "We are aiming to be the first airport operator in the world who can leverage value from our digital assets, allowing our people to work in a safe environment, design and plan in a collaborative way, and operate a fully integrated asset system.  With a long-established relationship with Excitech, we're delighted they were the successful bidder on this project.  We anticipate that the solution they have proposed will significantly improve the management of our critical assets."
As well as enabling Heathrow to have accurate and up to date information readily available in the CDE, the new solution will result in fewer surveys and reduced costs as a result of earlier and greater collaboration across all parties.  In addition, maintenance costs will reduce through better, earlier clash detection and more accurate maintenance information being readily available.
Polystar's Enhanced 5G Core Network Testing Capabilities Help CSPS on Road to Commercial Deployment
Reading Time:
2
minutes
Polystar, a leading supplier of Customer Experience Management, Network Monitoring and test solutions for the telecom industry today announced that Solver, its advanced virtual test solution for mobile networks, has been enhanced with support for the N2 interface, allowing end-to-end testing of the new 5G core network. This strengthens Solver's current 5G test capabilities, such as support for testing 5G SBA and virtualised CUPS architectures.
Ensuring that the first 5G networks are delivered on time, on budget, and, crucially, with the correct functionality is a complex process. To meet these challenges and to ensure that networks perform as expected requires rigorous testing. Polystar's award-winning Solver solution has been enhanced with new 5G features that enable mobile network operators to validate 5G performance as part of their release and deployment schedules. It is already in action, testing key functionality in new 5G deployments.
The first step in testing such deployments is to validate 5G core functionality. Specifically, mobile network operators and their equipment vendors must test the N2 interface, which connects the access node (NG-RAN gNodeB) and the Access and Mobility Management Function (AMF) in the core. This is the primary path for the transmission of signalling, connection, contextual and other information from the RAN to the core. Solver is used to generate test messages across the N2 interface, validating connectivity and the correct flow of information.
"This is an important milestone along the road to commercial availability of 5G networks and a pioneering step for Solver," commented Thomas Nilsson, CTO of Polystar. "Solver is helping mobile network operators prove the operational effectiveness of their 5G investments, ensuring that they meet challenging performance and launch demands."
The next step is to test voice and data services from the 5G-NR RAN to demonstrate that live users can access the full capabilities offered by 5G. Polystar's Solver solution is already equipped with the necessary adaptations for 5G and will play a key role in this and other deployments.
"At Mobile World Congress, we'll hear a great deal about new 5G deployments," adds Mr Nilsson. "The success of these will depend on their full verification and validation. Solver provides these capabilities and is a key asset for mobile network operators as they seek to capitalise on their 5G investments."
SOURCE Polystar
Nielsen Launches SMARTSTORE in Hong Kong
Reading Time:
2
minutes
Nielsen has added a new product solution to their Shopper toolkit – a creative and unique solution for retailers and manufacturers globally, helping them get closer to shopper behaviour at the moment of truth and uncover What's Next.
The solution helps retailers measure, evaluate and optimise a range of retail concepts on sales and profit, based on how target shoppers react at the moment of truth, in any store format. It helps measure the effectiveness of Point of Sale Merchandise (POSM) based on what shoppers "See, Think and Do".
SMARTSTORE is designed to radically transform how the industry conducts shopper research today by creating a remarkably realistic and immersive simulation of a 3D, 360 total store environment. Testing in a virtual environment eliminates the unnecessary risk of trial-and-error execution because things can be perfected thus providing retailers with cost, time and flexibility.
Sue Temple, VP Global Product Development, Nielsen Consumer Insights Division says, "This solution has been put together using the latest virtual reality technology available and adapting it to create a unique, fully immersive shopper research and merchandising solution.  We have partnered with our clients through our SMARTSTORE development process in pilot projects over the last several months to make sure it meets their needs as we bring SMARTSTORE to life. We have launched it in 12 markets in 2018 and are excited with today's launch and hope this would drive greater insights into shopper behaviours at the moment of truth and build collaborative partnership between retailers and manufacturers in Hong Kong."
SMARTSTORE builds a live environment, creating multiple scenarios helping in comprehensive analytics of shopper experience (track shopper head, eye and feet movements, 3D heat maps, etc). This also drives affordable research costs for retailers through the "Attention, Appeal, Action" framework thus building confidence in commercial results and measurable ROI on research investment.
"The challenging market environment has spurred changes to consumer shopping mindset and behavior. With shoppers spending more rationally, in-store execution and shopper activation take center stage. It is essential that manufacturers and brand owners understand the behavior and priorities of in-store shoppers in order to lure them with the right offerings," said Michael Lee, Managing Director, Nielsen Hong Kong & Macau. "The introduction of SMARTSTORE is a testimony to our innovation capabilities, a cutting-edge solution that enables our clients to project results close to the reality and make the right preparations to win over the market shares. We are very pleased to launch SMARTSTORE, one of our continuous commitments and investments, to kick off Nielsen Hong Kong's 50th anniversary celebration."
SOURCE Nielsen