Thermostat Recycling Corp. Celebrates 20th Anniversary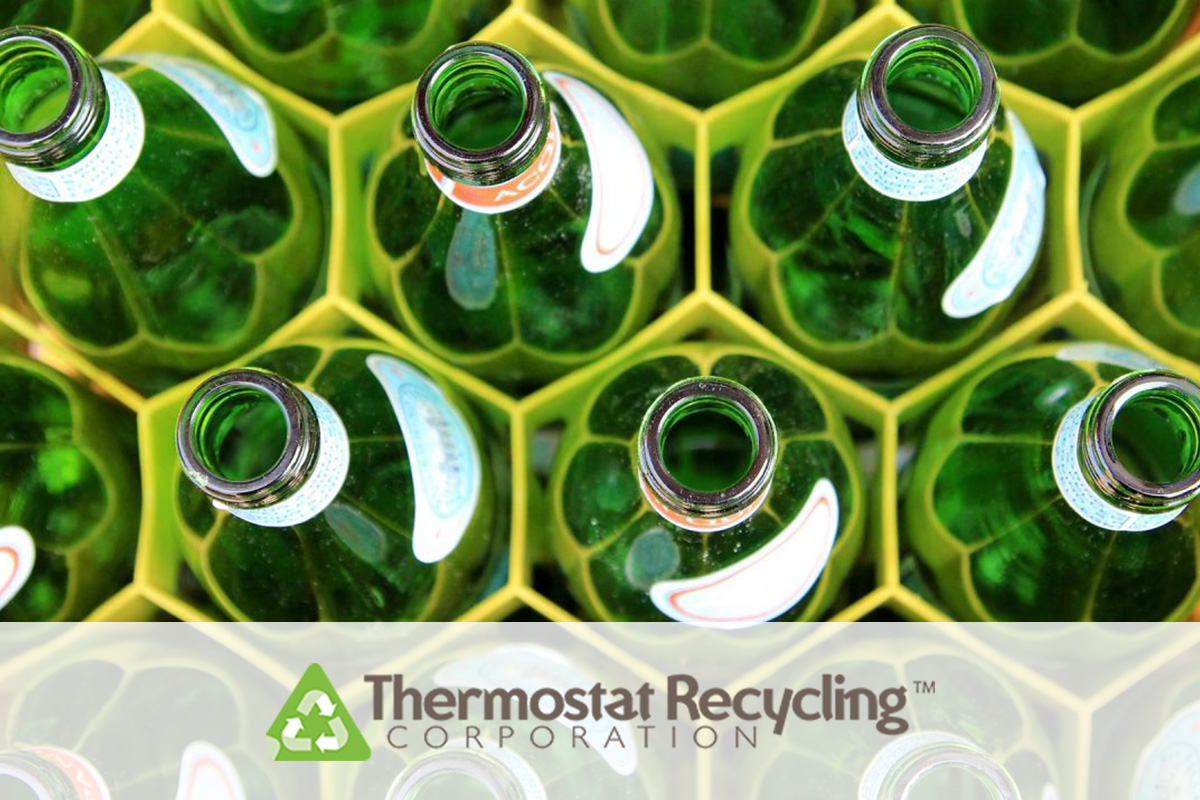 Reading Time:
2
minutes
America's Top Mercury Recycler Highlights Collection of 2.4 Million Thermostats
Thermostat Recycling Corp., (TRC) celebrates its 20th anniversary Oct. 24, when it incorporated as a stewardship nonprofit.
The original founders — Honeywell, White-Rogers and General Electric — created TRC (through National Electrical Manufacturers Association) with the mission of collecting and recycling thermostats containing mercury, a universally recognized health hazard.
TRC has contributed to the effort by collecting 2.4 million thermostats and prevented 11 tons of mercury from entering the environmental stream.
"This is a landmark anniversary not only because we collected millions of mercury containing thermostats, but we made a consistent and successful contribution to keep our environment safer," said Ryan L. Kiscaden, executive director, Thermostat Recycling Corp. "Our charter members and those who joined subsequently were determined that TRC would ensure that our effort would be widespread and diligent. Reaching this milestone anniversary allows a moment of reflection. Given the success we've had, it proves the foresight of our founders is paying off."
From the trio of original manufacturers, TRC has expanded to 30 members that provide financial support. Its recycling program now covers the 48 contiguous states, with more than 3,600 businesses and communities serving as collection centers for the free service.
The vast number of TRC's collection sites consist of HVAC wholesale businesses, who provide space for a special green container that allows their contractor customers to deposit the thermostats in. The wholesalers send the container, via FedEx, to TRC's recycling center in Port Washington, Wisconsin, where the recycler safely extracts, recycles and stores the mercury. In 2006, TRC added household waste collection sites and thermostat retailers to their collection efforts.
"While we're gratified to celebrate this 20-year effort and an enviable measure of success, our job is still unfinished," says Kiscaden. "We're still engaged in finding that last, elusive mercury containing thermostat, and we don't plan on taking a rest until we find and safely recycle it."
Sono Motors to Produce Sion in Sweden
Reading Time:
2
minutes
The first series production solar electric vehicle (SEV) developed by the German mobility provider Sono Motors is to be manufactured in Sweden. As Sono Motors officially announced today, the first generation of the Sion will be produced in Trollhättan by National Electric Vehicle Sweden (NEVS). The plant located there was home to the production lines of the long-standing and innovative automobile manufacturer SAAB. In total, an initial 260,000 vehicles will roll off the production line in Trollhättan over an eight-year period. Production will commence in the second half of 2020. After the ramp-up period, approximately 43,000 Sion a year will be manufactured in two-shift operations. Production will be carried out using one hundred percent renewable energy.
"In NEVS, we found the perfect partner for us," says Thomas Hausch, Chief Operating Officer, Sono Motors. "Together, we share a vision of intelligent and resource-conserving mobility. We also value our partner's specific expertise based on their many years of experience in traditional automobile development and production in combination with proven expertise in the area of electromobility."
The innovative vehicle concept of the Sion already represents tomorrow's mobility today – the aim of which needs to be the reduction of vehicles on the roads through more sustainable and more efficient usage. The Sion will therefore be equipped ex works with integrated sharing options. These enable the owner to share the vehicle itself, individual journeys, or even energy via a mobile application (goSono app), developed by Sono Motors. A bidirectional charging function enables the Sion to both receive and supply electricity, power electrical devices independently, and feed energy to other vehicles or into the electricity grid. Thanks to full-surface solar integration, the vehicle battery can be charged with pure and free solar energy worth up to 34 kilometers' range per day in addition to its regular WLTP range of 255 kilometers.
For its market launch, the Sion will be rolled out in one single variant version costing 25,500 euros. There are plans afoot to develop other vehicle models based on the vehicle's platform.
Since the presentation of the prototypes in summer 2017, the Sono Motors team has been going on test drive road shows all over Europe. On the occasion of the cooperation with NEVS, the next road show will take place in Sweden. Sono Motors has so far taken approximately 9,800 partially paid preorders for the Sion.
SOURCE Sono Motors GmbH
Wuhan Lays Out Construction of Guanggu Nanda Health Industrial Park
Reading Time:
1
minute
Wuhan, capital city of central China's Hubei province, has attracted ten major healthcare industry companies, including Taikang Group and China Biotech, to participate in building its Health Industrial Park.
The Health Industrial Park is being created with the goal of becoming a 100 billion yuan (about 15 billion U.S. dollars) hotspot of biomedicine, medical equipment, and healthcare by 2030, according to a local official at the ongoing First World Health Expo.
Wuhan's Jiangxia District, known as China Guanggu, or China's "Optics Valley," has formed a health-centered industrial cluster of bio-pharmaceutical, diagnostic equipment, and drug manufacturers. The planned Guanggu Health Industrial Park will cover 98.1 square kilometers.
Compared with Wuhan Guanggu Bio-City, which brings in revenue in excess of 100 billion yuan, the park will focus on the research and development of cutting-edge technologies in the fields of life and health while incubating key healthcare enterprises.
The Health Industry Park is positioned as a "production-research interaction" space which integrates R&D and manufacturing activities in harmony. The park will partner with Guanggu Bio-City to facilitate active industrial collaboration.
Jiangxia District will offer a preferential policy support package to health industry enterprises interested in the area, which will include financial services and R&D incentives.
Zhang Li, Jiangxia District mayor, said that Optics Valley Nanda Health Industrial Park would provide preferential policies and financial support to enterprises interested in the area. The value of a single-item policy fund is over 100 million yuan, or around 15 million U.S. dollars.
The Wuhan Health Industry Development Plan specifies that Guanggu Nanda Health Industry Park intends to introduce 100 enterprises over the next 10 years in building a 100 billion yuan-level center of business. 50,000 employees are projected to participate in establishing the fifth national industrial park in Wuhan, reaching an important milestone for Wuhan's healthcare industry.
SOURCE: Wuhan Jiangxia District Government
Computers From Dell, HP and Lenovo Meet Tough Criteria in New TCO Certified
Reading Time:
2
minutes
Several brands show leadership in sustainability by certifying notebook and desktop computers according to the stricter criteria in TCO Certified, generation 8. Organizations wanting to purchase IT products that are in the frontline for sustainability now have more to choose from.
TCO Certified, generation 8 was launched in December 2018.  The new and updated criteria drive responsibility and transparency in the supply chain and require that IT products are durable, upgradeable and recyclable, which enables the circular economy. The certification also helps purchasing organizations contribute to national and global sustainability goals.
"This is our largest step yet toward a sustainable life cycle for IT products. The criteria in generation 8 are comprehensive and challenging and the brands that have products which comply with them show that they are serious about their ambitions in the sustainability field," says Sören Enholm, CEO at TCO Development, the organization behind TCO Certified.
Many of the sustainability issues facing the IT industry are connected to the relatively short lifespans of IT products and the manner in which they are handled when discarded. By including sustainability criteria in procurement, organizations can help drive the development of more circular solutions.
"As a purchaser, you can really make a difference. Your demands have a direct effect on how industry acts and can drive the development of more sustainable products on the market," says Sören Enholm.
He adds that using a complete certification is easier and has a greater impact than designing your own criteria.
"TCO Certified includes updated, driving criteria, covering the IT product's life cycle, and independent verification that the criteria actually are being met. It saves both time and resources for the purchasing organization."
"Also, change happens faster when many organizations use the same set of criteria. A certification helps purchasers all over the world send a strong, united message to the IT industry," Enholm concludes.
Find more than 3,500 certified products in Product Finder.
Toward sustainable IT products
With over 25 years of experience, TCO Certified is the world-leading sustainability certification for IT products. Our comprehensive criteria are designed to drive social and environmental responsibility throughout the product life cycle. Covering eight product categories including displays, computers and mobile devices, compliance is independently verified, both pre and post certification.
SOURCE TCO Development