Saveyra App Launches Worldwide on iOS and Android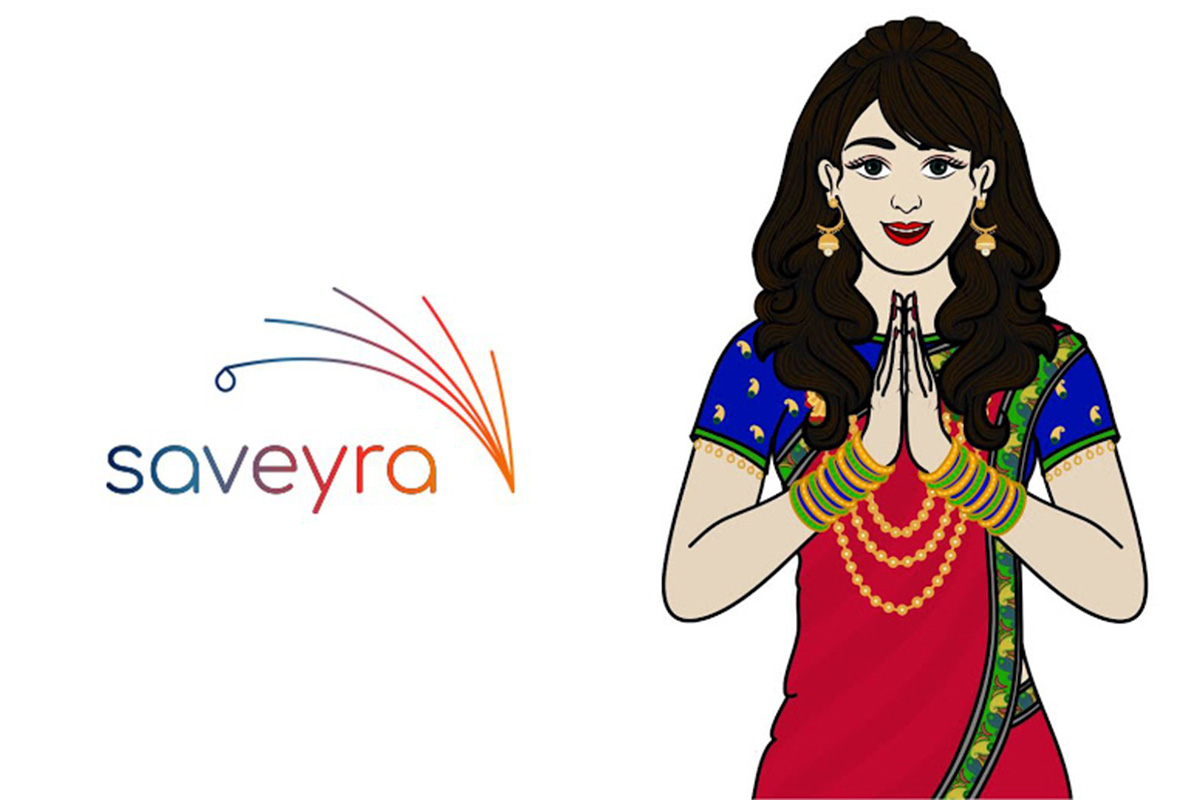 Reading Time:
2
minutes
Emojis, Avatars and Stickers for a new generation
– Dil Ki Baat, Emoji Ke Saath – 
Silvermine Group launches Saveyra, India's homegrown emoji, avatar and stickers app.  Saveyra is designed specifically for a new generation of India's youth, who like to express identity, emotions and greetings with images. Saveyra presents a visual language that celebrates both the unique identity and the diversity of Indian community . Built with love and teamwork, this language helps to show the strenth of togetherness .
Saveyra, the app and keyboard, currently supports Hindi and English. It features avatars and stickers depicting a variety of emotions, greetings, and expressions. Avatars and stickers are customized for the user based on seasons, local customs, and the user's design of the avatar. Dil ki baat, emoji ke saath.
Saveyra's team is led by ESPN and NFL alumnus Manish Jha. A mobile industry veteran, Manish brings over two decades of media and technology expertise to Saveyra.
"Saveyra represents dawn, a new beginning, full of hope and optimism. The Saveyra app infuses the distinct voices of India's diverse communities with a modern sensibility, a union inspired by the colourful history and tapestry of India itself," said Manish Jha, CEO of Saveyra.
"Designed to be fun and playful, Saveyra empowers a new generation of youth with a positive self-image. Rather than using technology to divide people based on gender, race, class, caste, religion, etc., the Saveyra team celebrates our differences, reminding us that the whole world is indeed one family," Jha continued.
With offices in Bengaluru, Los Angeles, and Madhubani, the Saveyra team collaborates across the world to bring the latest episode of what our ancestors started thousands of years ago when they started drawing on cave walls.
Saveyra supports the major communications platforms, including Facebook, Twitter, Instagram, WhatsApp and Hike. Saveyra is adding new platforms all the time. Users can seamlessly browse for emojis and stickers within the keyboard and share their customized user created avatars.
Unique Movie for Nature Lovers – Releasing on May 2019
Reading Time:
1
minute
The premiere of the latest film 'I am Arbor' written and directed by the award-winning film maker and Co-founder of AAJ Media Productions Jijo Sengupta, will be screened in select theaters in May this year. A father and child actor duo will debut in this heart touching story on a theme that brings a new idea that plants have emotions.
After the successful production of 'Ping Pong'd', an animated short film and the music video 'RED' that was internationally acclaimed at several Film festivals globally; director Jijo Sengupta, once again brings a social message to this world, through his animation short that is a fusion of Live Action and 3D Animation .
Set in the backdrop of an emotional journey of a child, growing up with a tree that comes alive as characters; this film encapsulates the raw emotions and feelings of plants that have enabled the survival of human species on this planet.
"This movie sensitizes everyone living on this earth, to once again ponder on the deep bond that exists between trees and human beings. I have attempted to bring on screen, the organic feelings and emotions between objects and subjects," said Jijo Sengupta, Writer and Director of the Film.
The school of Film and Animation at Rochester Institute of Technology, NY and AAJ Media Productions in Mumbai, collaborated in making this production come alive for Nature Lovers in the world.
SOURCE: AAJ Media Productions
Will Bagley to Receive Western Writers of America's Owen Wister Award
Reading Time:
2
minutes
Will Bagley, a journalist known for monumental nonfiction books about the Mormon West and overland trails, will receive the 2019 Owen Wister Award for Lifetime Contributions to Western Literature from Western Writers of America (WesternWriters.org).
Bagley will also be inducted into the Western Writers Hall of Fame, housed outside the McCracken Research Library at the Buffalo Bill Center of the West in Cody, Wyo.
"People either love or hate me," said Bagley, who lives in Salt Lake City. "The Wister Award is an expression of affection from my WWA friends that is appreciated and humbling, for it calls to mind the words 'I am not worthy!'"
The nonprofit guild's highest honor will be presented during Western Writers of America's convention June 19-22 in Tucson, Ariz.
Bagley is a three-time winner of WWA's Spur Award for "Blood of the Prophets: Brigham Youngand the Massacre at Mountain Meadows"; "The Mormon Rebellion: America's First Civil War, 1857-1858"; and "With Golden Visions Bright Before Them Trails to the Mining West, 1849–1852," all published by the University of Oklahoma Press.
Bagley has also received the Western Heritage Wrangler Award from the National Cowboy and Western Heritage Museum and the Caroline Bancroft History Prize. His books have also been honored by Westerners International, Utah Division of State History, Wyoming State Historical Society and the John Whitmer Historical Association.
"Will is not just a tenacious researcher, he is a brilliant writer," WWA executive director Candy Moulton said. "His 'Blood of the Prophets' is a classic – impeccably researched and written with precision."
Bagley's other books include "South Pass: Gateway to a Continent" and "So Rugged and Mountainous: Blazing the Trails to Oregon and California, 1812–1848," both Spur Award finalists.
Since the early 1950s, Western Writers of America has honored and promoted all forms of literature about the American West. Previous Owen Wister honorees include Pulitzer Prize winner N. Scott Momaday; historians David Dary and Robert M. Utley; and best-selling novelists Rudolfo Anaya, Elmore Leonard, Tony Hillerman and Lucia St. Clair Robson.
The Wister Award is a bronze statue of a buffalo created especially for Western Writers of America by artist Robert Duffie.
SOURCE: Western Writers of America
"Artist in Hotel" Project B2F Elevator Hall Completed at Park Hotel Tokyo
Reading Time:
2
minutes
 Park Hotel Tokyo announced on February 19 that the elevator hall which was created as an extra production of the "Artist in Hotel" project is complete.
The "Artist in Hotel" project is Park Hotel Tokyo's version of "Artist in Residence" programs, whereby Japanese artists stay at the hotel and paint on walls and ceilings in guest rooms based on the concept "beauty of Japan." In 2017, the project was honored at the Japan Tourism Awards.
Artist OZ-Yamaguchi Keisuke, who worked on "Artist Room Kabuki" for the "Artist in Hotel" project, painted the second-basement floor elevator hall under the theme of "HAZAMA (interstitial space)." This means that the "spatial beauty" unique to Japan can now be enjoyed in the key space that welcomes guests to the hotel.
Park Hotel Tokyo General Manager Takayuki Suzuki said:
"The entrance connecting the mundane to 'Infinite time and space amid cognizant Japanese beauty' has been reborn. We invite guests to feast their eyes on the uniquely Japanese aesthetics of 'HAZAMA'."
Park Hotel Tokyo Art Project Manager Yoshitomo Fujikawa said:
"The completion of this art installation of the elevator hall is indeed befitting of an art hotel. We hope that all visitors will enjoy this."
Park Hotel Tokyo hopes that more guests will enjoy the "beauty of Japan" through this new art work in the form of an elevator hall.
Park Hotel Tokyo, opened in 2003, is located on the 25th floor and above in the Shiodome Media Tower. The 25th floor has the lobby and reception desk besides restaurants and a bar. The city's view can be enjoyed through the windows behind the reception desk. There are 270 guest rooms, located from the 26th to 34th floors. In 2013, Park Hotel Tokyo put forth a new concept, "Infinite time and space amid cognizant Japanese beauty." In line with this, every room on the 31st floor is decorated and turned into Artist Rooms, based on the theme "Beauty of Japan." To offer a memorable experience in various parts of the stay, Park Hotel Tokyo will continue to maximize the role of Japanese aesthetics and hospitality.
SOURCE: Park Hotel Tokyo