KT Runs Special Promo on Top-Up SIM Card for Visitors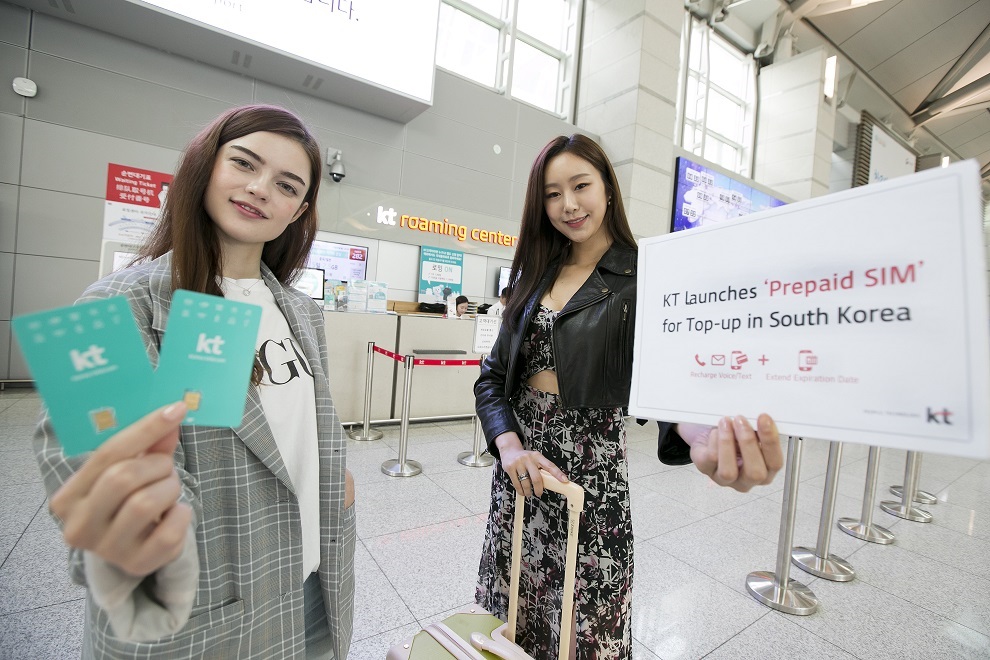 Reading Time:
2
minutes
South Korea's First Top-Up Card Can Be Recharged for Calls and Text
KT's Special Promotion Includes Free Recharge and Eco-Friendly Bag
KT Corp. (KRX: 030200; NYSE: KT), South Korea'slargest telecommunications company, is running a special promotion for international travelers who purchase its new top-up prepaid SIM (Subscriber Identification Module) card.
Starting today through the end of the year, KT will provide a free top-up worth 1,100 won (US$ 1) to foreign visitors who buy the new SIM card for five, 10 or 30 days of service. The amount is worth a two-minute international voice call or three SMS (Short Message Service) uses by U.S. standards.
The top-up SIM card, which was launched last month, is the first of its kind in South Korea. It allows global visitors to make pre-paid outbound voice calls and text messages in addition to unlimited data use and free inbound calls and texts.
Visitors who make advance purchases or reservations on KT's English website (http://roaming.kt.com/rental/eng/main.asp) can receive a 10 percent discount. The first 10,000 customers who top up their the new SIM card for more than 11,000 won at the place of purchase will receive a complementary, eco-friendly bag designed by KT.
The new top-up SIM card can be purchased at KT's Roaming Center — located at the Incheon, Gimpo and Gimhae airports and Busan Port — by providing a valid passport or an Alien Registration Card as an official form of identification, and a credit card matching the applicant's name with an expiration date extending more than 3 months from the purchase date.
To maximize customer convenience, KT's official website (http://roaming.kt.com) allows users to extend their SIM card's service period should they decide to stay longer in South Korea. Those who need further information may visit the website or contact the company's customer service center (+81-2-2190-0901).
Handsets that have country locks are not compatible with KT SIMs. It is advised that travelers call their home service providers to check if their handsets are unlocked.
The 13th Annual ADCOLOR Awards Takes Place September 8th, 2019 in Los Angeles
Reading Time:
4
minutes
Eva Longoria to be Recognized with the Beacon Award Presented by ADWEEK
ADCOLOR, the premier organization dedicated to celebrating and promoting professionals of color and diversity in the creative industries, announced their 2019 Honorees and Nominees at ADCOLOR Live in the Facebook Live Studios.
The organization also announced the 2019 class of ADCOLOR FUTURES, a program that chooses the best and brightest professionals who are one to three years into their career to attend the annual conference and awards show which will take place September 6th through the 8th at the J.W. Marriott Los Angeles L.A. Live Hotel in Los Angeles, CA.
Actor, director, producer and activist, Eva Longoria was recognized as the 2019 Beacon Award presented by ADWEEK, the leading resource for the brand marketing and advertising community.  "There is no better honoree to set the tone of Adweek's inaugural Beacon Award than Eva Longoria," said Lisa Granatstein, Editor, SVP, Programming, Adweek. "From her formidable seven-year-old Eva Longoria Foundation that empowers Latinas via STEM education and entrepreneurship to her leadership role calling for diversity in Hollywood, Eva's remarkable accomplishments are both authentic and action-oriented." The inaugural Beacon Award honors talent who uses their celebrity as a catalyst to change the status quo in the quest for diversity and inclusion. In May, ADCOLOR and Adweek partnered on the first Champion awards and celebration recognizing the fearless leaders and rising stars in marketing and media who embody ADCOLOR's call to "Rise Up. Reach Back."
The announcement took place at the Facebook Live Studios and was hosted by Dana Blair, on-air host, correspondent and entrepreneur, along with Tiffany R. Warren, ADCOLOR Founder and President and members of the ADCOLOR community.
The 13th Annual ADCOLOR Awards will highlight and honor the achievements of African-American, American Indian/Native American, Asian Pacific-American, Hispanic/Latino and LGBTQ professionals, as well as spotlighting diversity and inclusion champions in the creative industries.
"I'm so inspired by the collective achievements, energy and the ways in which the 2019 Honorees, Nominees and FUTURES have taken a stand in their professional and personal lives," said ADCOLOR Founder and President Tiffany R. Warren. "The 13th Annual ADCOLOR Awards in September will provide us with an opportunity to express the ways in which ADCOLOR honorees, nominees ad FUTURES 'Took A Stand,' in line with this year's theme. I can't wait to celebrate the remarkable ways they have risen up and reached back with our ADCOLOR community and beyond."
The ADCOLOR Award Nominees and Honorees are carefully selected from a large population of diverse influencers across the creative industries. The finalists are chosen by the individual's representation of ADCOLOR's motto, "Rise Up and Reach Back" and ways they took a stand in line with this year's conference and awards theme. Those honored not only excel in their own careers, but also give back to the community and support their peers. Their goal is to create a network of diverse professionals to encourage and celebrate one another.
Please join September 6th through 8th for ADCOLOR 2019. Registration is now open and early bird pricing ends July 1st. Visit ADCOLOR.org for more details.
Below you can find the full list of Nominees, Honorees and FUTURES for this year's ADCOLOR Awards.
ADCOLOR 2019 Partners 
Facebook, Google, Microsoft, Omnicom Group, DIAGEO, Procter & Gamble, Verizon Media, Wieden+Kennedy, Apple, Spotify, TBWA\ Worldwide, American Express, NBCUniversal, Ogilvy, Twitter, 72andSunny, DDB Worldwide, Deutsch Inc., Disney Advertising Sales, Edelman, Pandora, 72andSunny, Anomaly, Apple Music, Beats By Dre, BMW, Buzzfeed, DAS Global Group of Companies, Digitas, FCB, HBO, LOL Network, McCann New York, Omnicom Media Group, Pinterest, Publicis Groupe, Publicis Health Group, RGA, Trip Advisor, Zambezi
ADCOLOR Corporate Members 
72andSunny, Ad Club of New York, American Advertising Federation, BBDO NY, Deutsch Inc., Dieste, Droga5, Facebook, Hearst Magazines, MSL Group, Stephen Kim, TBWA\ Worldwide, Wieden+Kennedy
The 2019 ADCOLOR Nominees are as follows:
The Ad of the Year 
Campaign: Love Has No Labels – "Rising" 
Client: Ad Council 
Agency: R/GA
Campaign: "Changing The Game" 
Client: Microsoft 
Agency: McCann NY
Campaign: "Dream Crazy" 
Client: Nike 
Agency: Wieden+Kennedy
Campaign: "An Open Mind Is The Best Look" 
Client: Nordstrom 
Agency: Droga5
Campaign: "Truth Is Worth It – Perseverance" 
Client: NY Times 
Agency: Droga5
Change Agent
Vincent Pierson, Director, Diversity & Inclusion, Minor League Baseball
Alexandra Siegel, Senior Manager, Equality Content, Narrative, and Marketing, Salesforce
Sherice Torres, Marketing Director, Google
Rockstar
Dhane Scotti, Integrated Consumer Marketing Lead for Pixel, Google
Michael Warner, Chief Relationship Officer | Partner, EGAMI Group
Krystle Watler, Head of Business Development, Virtue
Innovator
Shala Akintunde, Creative Director/ Founder, The Movement Worldwide
Antionette Carroll, President and CEO (Founder), Creative Reaction Lab
LaToya Drake, Global Outreach Lead, Google
Rising Star
Julian Gillian, Senior Art Director, Leo Burnett Chicago
Tiffany Golden, Associate Producer, Wieden+Kennedy
Mariano Pintor, Account Supervisor / Social Media, McCann NY
ADCOLOR in Tech
Brendan Chan, Program Manager, CS Education, Google
Danielle Lee, VP, Global Head of Partner Solutions, Spotify
Stacey Mahoney, Global Sales Strategist, Microsoft
MVP
TONL & NIKE
R/GA & The AD Council
Google, Inc. & UN Women
The 2019 ADCOLOR Honorees are as follows:
Beacon Award presented by ADWEEK
Eva Longoria

, Actress, Producer, Director, Philanthropist
Legend Awards
Steve Pamon

, Chief Operating Officer, Parkwood Entertainment

Helen Lin

, Chief Digital Officer, Publicis Media

Ted Chung

, Founder & Chairman, Cashmere Agency
Catalyst Awards
Gold House
AdFellows, a program of Verizon
The Curly Girl Collective
Advocate Award
Don Lemon

, Host "CNN Tonight
Lifetime Achievement Awards
Hector Orci

, Founder & Co-Chairman, Orci

Sheldon Levy

, Former SVP, Deputy/Associate Head of Production, Saatchi & Saatchi NY
ADCOLOR/One Club Creative Awards
Robert Wong

, Chief Creative Officer, Google

Brandon Rochon

, Managing Chief Creative Officer, Kastner & Partners and Founder & Chief Creative Officer, SNKRINC.
Mx. ADCOLOR
Joon Park

, Cultural Strategist, Sparks + Honey
Ms. ADCOLOR
Brittany Johnson

, Creative Strategist, Facebook
The 2019 FUTURES are as follows:
Ace Patterson

, Consumer Marketing Operations Manager, Facebook

Alex Harris

, Partner Manager, Facebook

Alex Studer

, Account Executive, Deutsch

Alexandra Givan

, Government Communications Manager, Comcast

Aniqua Hendricks

, Multicultural Media Strategist, Hearts & Science

Barbara Gonzales

, Assistant Manager of PR and Social Media, Ad Council

Bryan Stromer

, Communications Manager, Microsoft

Gloria Lin

, Community Manager, Edelman

Helena Berhane

, Strategic Planner, Fluent360

James Ramseur

, Assistant Comms and Media Planner, Wieden+Kennedy
Jorge Tajj Badil-Abish, Junior Copywriter, FCB West

Julian Soto

, Copy Supervisor, Patients & Purpose

Kelly Garcia

, Copywriter, Ogilvy

Kevin Lam

, Senior Product Designer, Elephant

Keyon Branch

, Digital Media Planner, OMD

Maimouna Siby

, Marketing Strategist, Squarespace

Makeda Loney

, Copywriter, FCB Chicago
Nagini Reddy, Junior Graphic Designer, Wieden+Kennedy

Nicole Dei

, Account Coordinator, HBO

Omar Wilson

, Account Manager, Facebook

Pilar McQuirter

, Talent Program Manager, Havas WorldWide Chicago

Samrawit Seifu

, Associate Creative, Buzzfeed

Sayid Abdullaev

, Product Marketing Manager, YouTube

Selly Sallah

, Sponsorship Marketing Associate, NPR

Shantae Howell

, Creative Strategist, Vox Media

Tatiana Britt

, Assistant Account Executive
Veronica Peñaloza-Wolfermann, Account Manager, Facebook
Victoria Onuzuruike, Assistant Producer, Ogilvy
For more information, please visit: www.adcolor.org and follow @adcolor across all social media.
SOURCE: ADCOLOR
The North Face Launches a Global Effort to Make Earth Day a National Holiday
Reading Time:
3
minutes
The brand will close its stores on Earth Day, launch a global petition to make Earth Day an officially recognized holiday and celebrate exploration through city takeovers across the globe
Beginning today, The North Face will activate "Explore Mode" in major cities leading up to Earth Day on Monday, April 22. Throughout the week, The North Face will partner with musicians, artists and culinary influencers to host a series of one-of-a-kind experiences that encourage people to disconnect digitally and engage with their surroundings.
The week will culminate with The North Face and 15 organizations around the world partnering to launch a global Change.org petition to make Earth Day an officially recognized holiday. The North Face will also shut down 113 stores in the US and Canada, as well as its global headquarters on Earth Day to provide opportunity for employees to disconnect and explore.
"The North Face is no stranger to exploration and this Earth Day we are proud to join our partners and fellow explorers in a global effort to make Earth Day a national holiday," said Global General Manager of Lifestyle at The North Face, Tim Bantle. "We believe that when people take time to appreciate the Earth, they feel more connected to it and are more likely to protect it. Explore Mode urges us to unplug from our digital lives to connect in real life to the world, each other, and ourselves in the effort to move the world forward."
The North Face partnered with influencers including singer and songwriter Ella Mai, chef Angela Dimayuga and model and activist Gabrielle Richardson to host bespoke events in New York City that will reflect the brand's spirit and the mindset of exploration in music, food and art, along with encouraging exploration in the outdoors. These experiences will only be accessible to those who put down their phones and digital devices to be present in the moment.
Explore Mode experiences are rooted in inspiring and enabling people everywhere to unplug from their digital lives and connect in real life to the one another and the world around them.
Tuesday, April 16: Grammy-winning singer and songwriter Ella Maijoins with vintage fashion collector and curator, Brian Procell, to throw the ultimate 90s throwback party – a mash-up of music and streetwear. Mai will pay homage to the hits and looks of past decades that inspire culture today, while Procell's collection, including vintage looks from The North Face, is on display.
Wednesday, April 17: World renowned chef Angela Dimayuga will go off menu and bring a select number of consumers along for the ride as she explores the many flavors of NYC that bring her inspiration.
Thursday, April 18: Model-artist-activist Gabrielle Richardson takes over Skylight Soho to curate an art exhibition under the theme of exploration. Guests are invited to participate in a "live" piece onsite with Gabrielle and her partners through an interactive display of artistic exploration.
The brand will also activate Explore Mode in other major cities globally including London, Manchester, Munich and Paris.
"Exploration drives creativity. It is important to me to find musical inspiration from all the world's aspects," said Mai. "I'm excited to partner with The North Face to celebrate the many forms of exploration and show New York City what exploration means to me."
Before closing stores, The North Face will also switch its retail locations into Explore Mode where customers can find all the resources they need to spend Earth Day off the grid, exploring the outdoors. Customers who choose to take part in The North Face exploration activities will be rewarded with an exploration kit that includes analog gear to stay present and capture memories without the need for digital devices.
The North Face is committed to social good through programs like the Explore Fund, as well as conservation efforts since its founding in 1966. For more information on Earth Day as a national holiday or to sign the petition visit:
SOURCE: The North Face
RAVE Reviews Releases Ranking of the Best Hair Straighteners
Reading Time:
2
minutes
RAVE Reviews, the innovative site that publishes entertaining rankings based on advanced data-driven analysis, has published a ranking series of the "Best Hair Straighteners," available at:
https://www.ravereviews.org/women/best-hair-straighteners/.
You've probably been there before. The plan was to spend time straightening your hair to perfection so that you could strut out of your house in supermodel fashion. Yet, an hour later, you stumble out of your house burned and looking like a crow tried to nest in your hair. Forget your subpar straightener. Your hair is a diva and demands more. This is why RAVE Reviews put together a ranking of the best straighteners to ensure you are equipped with the best of the best.
The perfect straightener is different for everyone. Frequency of usage, hair thickness, and hair texture are all factors that need to be taken into account in order to select the ideal straightener. RAVE's number one choice, the Furden Two-In-One Straightener, does the job wonderfully for most people. As some hair has very particular needs, however, RAVE highlighted the best straightener for everyday use, thick hair, fine hair, and for those working on a budget. This ranking outlines the tools you need for that supermodel look. It's time to get your strut back.
Flat irons are one of the most versatile styling tools, but they can seriously damage your hair if you're not using the right one," said Hillary Miller, Managing Editor for RAVE Reviews. "Whether you're looking to straighten, create beachy waves, or get tighter curls, a good straightener can do it all — without frying your hair in the process. That's what we wanted to highlight in this ranking."
In determining which straighteners to feature, RAVE compared reviews from sources across the internet and took into account multiple factors such as price, materials, technology, feel, effectiveness, and more.
The full list of featured products includes:
Agave Healing Vapor Iron – Los Angeles, California
Bio Ionic Onepass Straightening Iron, 1 Inch, Black – Staten Island, New York
BylissPRO Nano Titanium-Plated Ultra-Thin Straightening Iron – Stamford, Connecticut
Drybar Tress Press Flatiron – Brentwood, California
FHI Brands Platform Tourmaline Ceramic Professional Hair Styling Iron – Norwalk, California
Furiden 2 in 1 – Shenzhen, China
ghd Platinum White Styler – Leeds, United Kingdom
HAI Gold Convertible – Chino, California
HSI Professional Glider – Hialeah, Florida
KIPOZI Pro Flat Iron – Zhuhai, China
Remington Pro 1″ Digital Heat Flat Iron – DeForest, Wisconsin
T3 Singlepass Luxe – Venice, California
RAVE Reviews is an authoritative and entertaining guide for consumer goods, entertainment, and travel. It's not a product review site or a lifestyle magazine. But if those two met on an online dating site, 9 months later, you'd have RAVE Reviews.
SOURCE: RAVE Reviews