NEXT STEP! Mars Blockchain Summit NYC to be Held on October 18, 2018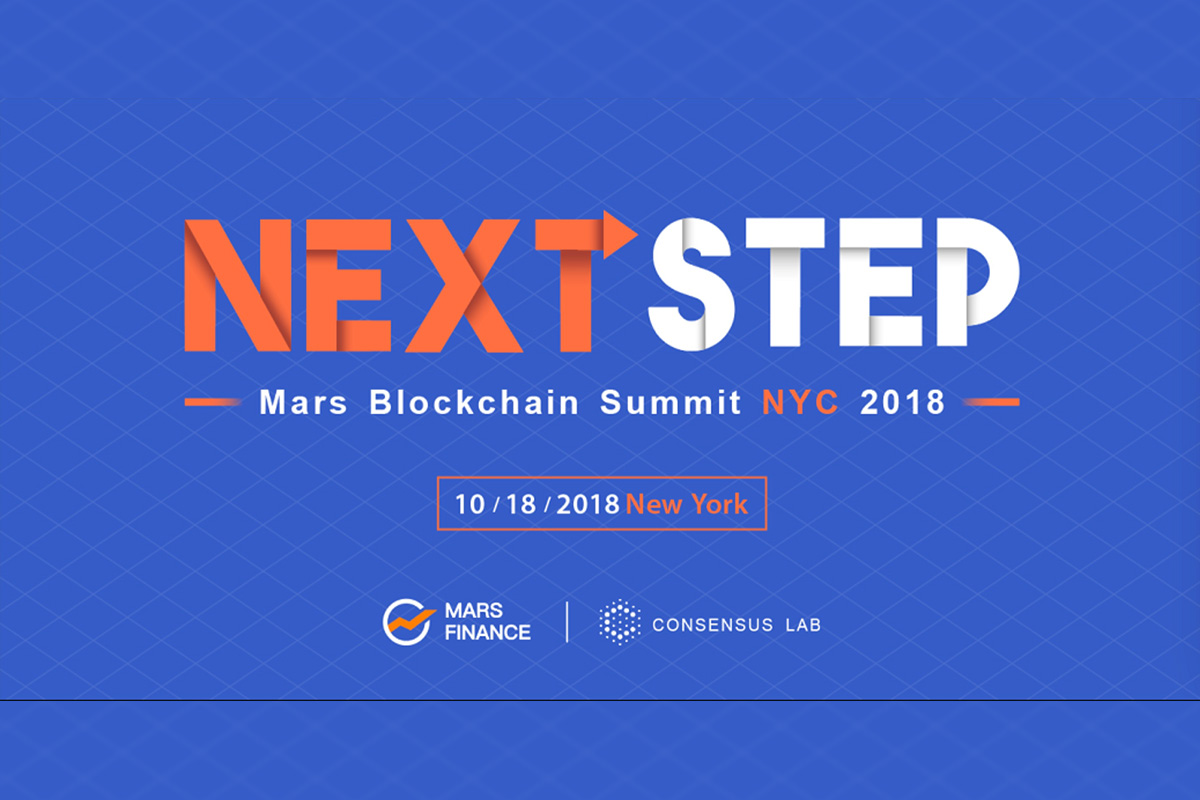 Reading Time:
2
minutes
The global blockchain market is uncertain, but the power of transition is brewing. On October 18, 2018, Mars Finance, the leading deep service platform for blockchain, will hold the 2018 Mars Blockchain Summit NYC at the Westin New York at Times Square. Gathering at the Summit, powerful financial institutions and industrial leaders from Wall Street and China will hold a one-day summit dialogue around "NEXT STEP" to find a turning point for global blockchain industry in the context of a downturn market.
Mars Finance will also be taking another step. Fred Wang, the founder of Mars Finance, disclosed that Mars Finance U.S. Version will be officially released at the Summit. Using this Summit as an opportunity, Mars Finance will gradually move toward becoming an international blockchain service platform from China's leading blockchain service platform, thus further strengthening deep connectivity with the global blockchain industry.
At this Summit, Mars Finance will gather leaders from China's blockchain industry to carry out in-depth discussion and exchange together with many investment institutions, financial companies, and regulatory authorities from Wall Street with respect to topics that reverse the market and bring about new opportunities. Hot topics will include regulation and policy, stablecoins and secondary market, next generation of public blockchain, and blockchain economic model and governance.
The Summit has attracted active participation of top investment banks from Wall Street such as Morgan Stanley and Barclays. Senior management from Digital Galaxy, the global largest digital currency investment bank, also confirmed their attendance at the Summit. Honorable guests from global top powerful institutions such as NASDAQ and Standard & Poor's will also express their expert opinions with respect to regulation, compliance, and other perspectives.
Shuoji Zhou, a representative figure of China blockchain industry and founder of FBG Capital, a leading blockchain investment institution; Fred Wang, founder of Mars Finance and partner of Consensus Lab, an institution invested by Mars Finance; Chuanwei Zou, chief economist of Bitmain; Dao Yuan, chairman of Zhonguancun Blockchain Industry Alliance; Feng Han co-founder of Elastos; and Tianyuan Wei, partner of Sharp Eye Capital also confirmed that they will be present in Manhattan for a collision of global finance ideas from Wall Street. The confirmed participants also include Jeffrey Wernick, early Investor of Airbnb, Uber and Bitcoin; David Namdar, Partner of Galaxy Digital; Katina Stefanova, CEO of Marto Capital; Danny Aranda, Managing Director of Ripple; Keith Azzopardi, Ambassador of Malta to the USA; Franklin Urteaga, Former Clinton White House Tech Advisor; Sarah Olsen, Head of Business Development of Gemini.com; Eugenio GomeZ, Restructuring and Finance Expert at Harvard Law School; and others. Currently popular stablecoins such as USDT, GUDS, PAX and USDC will hold an in-depth roundtable discussion.
Following the 2018 Silicon Valley Mars Blockchain Summit & 1st China-US Blockchain Leaders Dialogue on August 28, 2018, Mars Blockchain Summit NYC 2018 will launch large-scale summit events in the U.S. This unrivaled event is hosted by Mars Finance and co-hosted by Consensus Lab, Liaoyuan, Crypto Capital, Sharp Eye Capital, EUB Chain, and DFG. In addition to the theme summit, a lot of events including super roadshow and sleepless night link cocktail party will also be held.
Blockchain leaders from Beijing will make profound exchanges with powerful financial companies and research institutions from Wall Street. The 2018 New York Mars Blockchain Summit will become an important event in the global blockchain industry.
Parties interested in being a part of the Summit can visit the summit's page for more information.
IPwe Announces Significant Patent Portfolio Acquisition Transaction Completed Across the IPwe Platform
Reading Time:
1
minute
Within the first month of IPwe's Patent Platform official launch, a US based seller and Irish buyer utilized the IPwe Platform to initiate, negotiate and complete a patent acquisition transaction for a large patent portfolio.
The IPwe Platform is the world's first global patent transaction platform utilizing artificial intelligence and blockchain technology to facilitate acquisitions, licensing, financings, maintenance fee and other patent transactions on a more efficient basis measured by time and cost.
The Irish based buyer purchased 86 issued patents and 25 pending applications in the connected car technology area from AutoConnect Holdings. The transaction was executed on the IPwe Platform for a purchase price exceeding $3 million.  By removing complexities out of patent transactions, the IPwe Platform handled negotiations, signing, closing and payment and will handle the follow-on obligations, such as future reporting and payment obligations, leveraging smart contracts.
"By leveraging AI and Blockchain, we have brought unprecedented speed and efficiency to the global patent ecosystem by providing the first patent transaction platform where both buyers, sellers and other intermediaries can connect and transact.  We will be launching The IPwe Network initiative in the coming weeks that will leverage the IPwe Platform and a select group of global patent brokers and patent boutiques that will further expand the transactional capabilities of the IPwe Platform," said Pascal Asselot, Managing Director of IPwe.
A spokesperson of AutoConnect was quoted as stating, "As you would expect from an innovation leader in the IP space, the execution across the IPwe Platform was exceptional. The use of smart contracts brings automation and certainty in the execution of the patent transaction, including for the provisions relating to future payments and performance obligations."
The EY and Guardtime joint venture company signs agreement with China's Zhuhai Port Holdings for future collaboration
Reading Time:
2
minutes
The EY and Guardtime marine insurance blockchain joint venture company Insurwave Limited today announces a new agreement with Zhuhai Port Holdings Group Co., Ltd. to explore and collaborate on shipping logistics and marine insurance to promote frictionless trade across the Greater Bay Area and beyond. During the World Port Conference in Guangzhou, Karen Maddocks, British Consul-General in Guangzhouand Tenghui Chi, Director-General of the Financial Services Bureau for the Hengqin New Area of Zhuhai, attended as witnesses to the signing on May 8th 2019.
Zhuhai Port Holdings Group businesses span across the development, construction, management and operation of ports, land and supporting facilities. Insurwave Limited launched Insurwave, the world's first marine insurance blockchain platform for commercial use, in May 2018. The Memorandum of Understanding (MoU) focuses on the link between marine insurance blockchain technology and port logistics, identifying a strategic cooperation in the marine economy of the Greater Bay Area, which can lead to more efficient and effective global trade conditions.
Shaun Crawford, EY Global Vice Chair for Industry, says: 
"Combining the knowledge from Insurwave with Zhuhai Port Holdings' experience in port logistics, we're pleased to establish a joint initiative for identifying blockchain's applications in cross-border financial services, logistics and trade. Insurwave was developed a year ago to transform how businesses manage risk across their organization and how they work with brokers and (re)insurers. Our hope is this is another step in the right direction and will have the same impact on international trade and port logistics. This agreement comes at a great time and we look forward to supporting the Greater Bay Area plan and the Belt and Road initiative."
Botao Liu, Strategic Development Center General Manager of Zhuhai Port Holdings Group, says: 
"Both parties have a common interest and by leveraging our core strengths we're able to seize the opportunities of the Belt and Road initiative, the opening of the Hong-Kong-Zhuhai-Macao Bridge and the Greater Bay Area to promote the connection between marine insurance blockchain technology and global port logistics."
Karen Maddocks, British Consul-General, says:
"Insurwave is a great example of a British technology supporting the development of the Greater Bay Area and on this occasion Zhuhai in particular. This innovative British blockchain platform will streamline marine insurance in the Greater Bay Area and boost international trade along the Belt and Road initiative."
Tenghui Chi, Director-General of the Financial Services Bureau for the Hengqin New Area of Zhuhai says:
"The agreement lays a great foundation for the future win-win collaboration between the two parties. We look forward to supporting upcoming initiatives from Insurwave and Zhuhai Port Holdings that will deliver valuable insights and growth to the marine insurance sector, logistics and trade in the Greater Bay Area."
SOURCE EY
Explore the Future of Blockchain Technology at SANS Minneapolis Cyber Security Training Event
Reading Time:
1
minute
SANS Institute, the global leader in cyber security training and certifications, today announced the agenda for SANS Minneapolis 2019 (#SANSMinneapolis) taking place August 12-17 in Minnesota. Course topics to include cyber defense, ethical hacking, penetration testing, SIEM, critical security controls, digital forensics, and security management. G. Mark Hardy (@g_mark), the founder and president of National Security Corporation will give an evening talk, "Blockchain: Building Better Business Models Securely".
Hardy explains, "Blockchain as a technology has been proposed as a solution to everything from frictionless currency transfer to tracking cargo on ships. With over one billion dollars in venture funds invested and several hundred patents filed, every security professional must know the impact on organizations in terms of risk, volatility, and competitiveness. Join me in Minneapolis where we will explore the future of this technology. I'll also share how to identify business processes at your organization that can be improved or enabled by blockchain."
In addition to his talk Hardy will teach MGT514: Security Strategic Planning, Policy, and Leadership. This course provides students with the tools to become a security business leader who can build and execute strategic plans that resonate with other business executives. Students will learn how to create effective information security policy, and develop management and leadership skills to better lead, inspire, and motivate their teams.
SANS Minneapolis 2019 features cutting-edge courseware covering today's most complex cyber security issues. Courses include SEC401: Security Essentials Bootcamp Style, SEC555: SIEM with Tactical Analytics, FOR572: Advanced Network Forensics: Threat Hunting, Analysis, and Incident Response, and SEC566: Implementing and Auditing the Critical Security Controls – In-Depth.
SOURCE SANS Institute