Razer Announces The Razer Phone 2 Flagship Gaming Device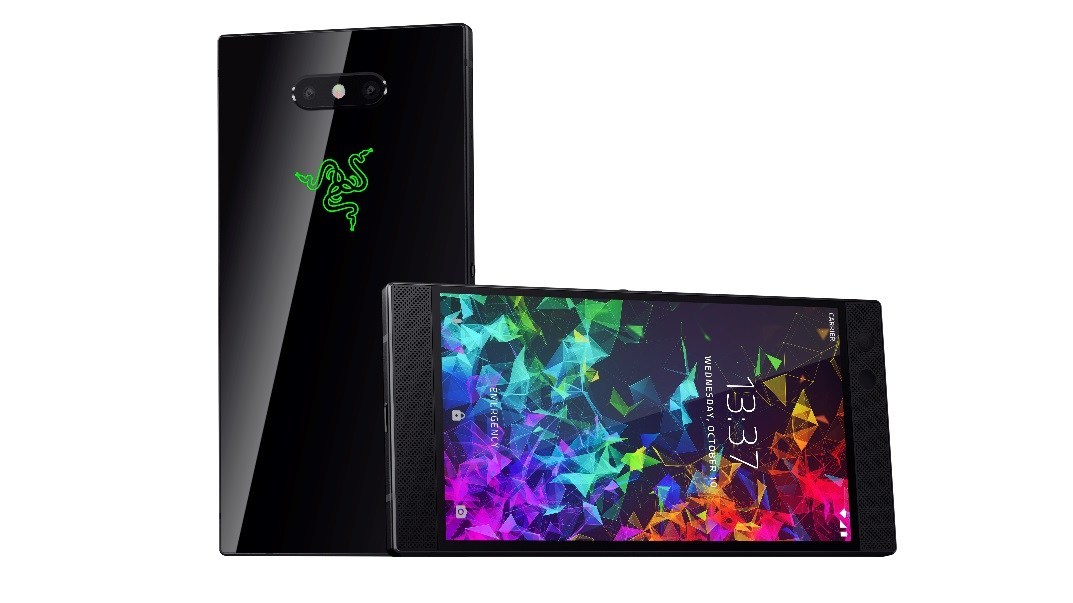 Reading Time:
5
minutes
New smartphone is the very definition of flagship performance and true mobile gaming
Razer, the world's leading lifestyle brand for gamers, today announced the Razer Phone 2, the very definition of flagship performance and true mobile gaming.
After creating the category of gaming phones with the first Razer Phone in 2017, Razer further pushed the boundaries of mobile devices to power the world of mobile esports and entertainment.
"The first Razer Phone disrupted the smartphone industry and created a new category," said Min-Liang Tan, co-founder and CEO of Razer Inc. "With the Razer Phone 2, we have pulled out the stops to define flagship and gaming on our terms."
GAMING // PERFORMANCE
The Razer Phone 2 offers up to 30 percent more performance than its predecessor, thanks to the combination of the latest flagship components and thermal cooling solutions.
The Qualcomm 845 Snapdragon chipset and Qualcomm Adreno 630 graphics processing unit (GPU) will blitz through the most demanding apps, and their performance is further enhanced by the Razer vapor chamber cooling system that provides for industry-leading thermal cooling.
The vapor chamber provides more surface area for heat to dissipate, while sustaining high frame rates for an overall cooler and more powerful experience.
FLAGSHIP // CAMERA
The Razer Phone 2 improves on its imaging capabilities with a new rear dual-camera setup that offers a 12 MP wide-angle lens with optical image stabilization (OIS) and a 12 MP telephoto lens with 2x zoom. Be it fast action or low-light scenes, the Sony IMX sensors are tuned to produce low-noise images with a wide gamut of colors.
On the front, the 8 MP camera supports video streaming at full HD resolution, a boon for all live-streaming professionals.
The Razer Phone 2 camera app comes with a new user interface that allows for easy one-handed operation for portraits and scenic panoramas. Razer is committed to constantly provide software updates to take advantage of the latest improvements in the imaging space.
FLAGSHIP // ESSENTIALS
The Razer Phone 2 is now powered by Razer Chroma, the world's most popular RGB lighting system for gamers.
The rear of the phone features the Razer triple-headed snake logo that glows in 16.8 million colors to provide app notifications (such as Facebook comments or WhatsApp messages). Razer Chroma also allows you to customize lighting effects such as Static, Spectrum Cycling and Breathing.
Wireless charging is now enabled on the Razer Phone 2 with its new glass back. Razer has announced its new wireless charger with Chroma – the world's largest RGB lighting ecosystem.
If you prefer plugging in a USB-C cable, Qualcomm QuickCharge 4+ allows users to charge the phone from a flat battery to 50 percent charge within just 30 minutes.
The Razer Phone 2 has also been tested for IP67 resistance to dust and water.
GAMING // TRUE 120 HZ DISPLAY
One year after Razer launched the world's first true gaming phone, the Razer Phone 2 continues to take the lead with the only true 120 Hz display – now with even better performance for those who love for high framerates and silky-smooth action without any lag or stuttering.
Unlike other competing phones, the Razer Phone 2's 5.7-inch UltraMotion™ IGZO display remains the only display in the industry that offers both 120 Hz screen refresh and 120 Hz touch sampling. What you see is what you touch.
The new display is now 50 percent brighter than the one in the first Razer Phone.
GAMING // DUAL FRONT-FACING SPEAKERS
The first Razer Phone made history by being able to churn out audio at record levels without distortion. The Razer Phone 2 is even louder and clearer than before, thanks to upgraded hardware and Dolby Atmos.
The dual front-spacing speakers take up home position on the top and bottom bezels, allowing for both incredible sound projection across any room, as well as an ergonomic form factor for long hours of handheld gaming.
GAMING // BATTERY LIFE
The Razer Phone 2 packs a 4,000 mAH capacity battery for all-day gaming and entertainment needs, and Razer continues to improve battery efficiency.
Where its predecessor was benchmarked for 10 hours of battery life at a screen refresh rate setting of 90 Hz, the Razer Phone 2 is optimized to also last 10 hours at a higher 120 Hz1.
The Razer Phone works with LTE Gigabit networks with download speeds up to 1.2 Gbit/s, allowing for 20 percent faster downloads while on the go.
GAMING // OPTIMIZED
As the pioneer in PC esports, and now mobile esports, Razer continues to work with the largest number of game publishers in the industry to bring about the best gaming experiences.
The Razer Phone 2 has been optimized for today's hottest mobile titles like "PlayerUnknown Battlegrounds Mobile (PUBG Mobile)," "Rival Crimson x Chaos," "Marvel Future Fight," "Guns of Boom," "RuneScape" and more.
Netflix
The Razer Phone 2 is the only phone officially certified by Netflix for HDR (high dynamic range) video content and Dolby Surround 5.1 audio content.
Razer Cortex
Razer introduces Razer Cortex, the app that was built for mobile gamers.
Razer Cortex will help users organize their games on their phone, as well as recommend the latest games optimized for 120 Hz gaming. It will also optimize the Razer Phone 2's performance for different games, either with easy presets or manual settings.
Razer Cortex is now available on Google Play Store, and will work with a variety of phones.
Razer Theme Store
The Razer Theme Store on the Razer Phone 2 offers exclusive themes and wallpapers featuring today's top gaming titles. Today gamers can already enjoy themes featuring "Vainglory," "Arena of Valor," "Tekken," "Guns of Boom," "Gear Club" and "Titan Assault," and you can soon download "PUBG Mobile" themes.
PRICE AND AVAILABILITY
The Razer Phone 2 will be available starting at US$799 MSRP in Mirror Black and in a Satin Black variant (arriving in Q4), in USA, Europe and Asia-Pacific.  Preorders start on Oct. 11, 2018 at 12.01 a.m. PTon Razer.com.
PRESS IMAGES: Download them from here, password R8Z3R1234!
For more information, visit the Razer Phone 2 product page
RAZER PHONE 2 – TECHNICAL SPECIFICATIONS

Processor & Cooling:

Qualcomm® Snapdragon™ 845 (2.80 GHz) with Adreno 630 GPU, Vapor Chamber Cooling       

System Memory: 

8 GB (LPDDR4X)         

Storage – Internal:

64 GB UFS

Storage – External:

SIM + micro SD slot (up to 1TB)        

Display:

5.72-inch IGZO LCD 1440 x 2560

120 Hz, Wide Color Gamut

UltraMotion™ Technology

Corning Gorilla Glass 5

Multi-touch

Anti-Fingerprint Protection    

Rear Cameras: 

12 MP AF f1.75 Wide with OIS

12 MP AF f2.6 Telephoto

Dual PDAF (Phase detection Autofocus)

Dual tone, dual LED flash

Video: Up to 4K video recording with stereo audio  

Front Camera

8 MP FF f2.0

1080p Video   

Sound

Stereo front-facing speakers

Dual Amplifiers / Dolby Atmos Technology

USB-C to 3.5 mm Audio Adapter with 24-bit DAC     

Power

4,000 mAh Li-Po battery

Qualcomm QuickCharge 4.0+

Wireless Fast Charging          

Wireless

802.11 a/b/g/n/ac

Dual-band (MIMO), Antennae 2×2

Bluetooth 5.0

Logo

RGB Illuminated Razer Chroma Logo

Bands

GSM: 850/900/1800/1900

WCDMA: 1/2/3/4/5/8

FDD-LTE: 1/2/3/4/5/7/8/12/13/14/17/18/19/20/26/28/29/30/32/66/71

TDD LTE: 38/39/40/41/48

TD-SCDMA: 34/39

LAA: 46

4×4 MIMO: 1/2/3/4/7/30/38/48/66  

Speeds

Up to 1.2 Gbit/s (Cat18)         

Water Resistance 

IP67    

Size

158.5 mm x 78.99 mm x 8.5 mm      

Android Version

Android 8.1
ABOUT RAZER
Razer™ is the world's leading lifestyle brand for gamers.
The triple-headed snake trademark of Razer is one of the most recognized logos in the global gaming and esports communities. With a fan base that spans every continent, the company has designed and built the world's largest gamer-focused ecosystem of hardware, software and services.
Razer's award-winning hardware includes high-performance gaming peripherals, Blade gaming laptops and the acclaimed Razer Phone.
Razer's software platform, with over 50 million users, includes Razer Synapse (an Internet of Things platform), Razer Chroma (a proprietary RGB lighting technology system), and Razer Cortex (a game optimizer and launcher).
In services, Razer zGold is one of the world's largest virtual credit services for gamers. Razer Pay is the e-wallet designed for youth and millennials, and Razer Game Store is the only games download store that offers rewards for gamers.
Founded in 2005 and dual-headquartered in San Francisco and Singapore, Razer has 15 offices worldwide and is recognized as the leading brand for gamers in the USA, Europe and China. Razer is listed on the Hong Kong Stock Exchange (Stock Code: 1337).
Excitech to Deliver Common Data Environment to Heathrow Airport Limited
Reading Time:
2
minutes
Excitech, the UK leader in technology and services for the construction sector, has been awarded a 7-year framework agreement to lead a consortium comprising GroupBC and Autodesk technologies to deliver Heathrow Airport Limited's chosen Common Data Environment (CDE) solution.
The CDE is at the heart of Heathrow's Information Management strategy.  It will be its primary common information repository and allow for specific controls to be put in place to share information in a controlled manner with suppliers and across Heathrow Departments. It will provide world-class information and asset management in line with emerging industry-standards, ensuring the efficient whole-life management of Heathrow's critical assets.
David Hughes, Excitech's managing director said, "Having worked on the Terminal 5 construction project we are excited to be involved in this latest strategic project at Heathrow.  The Autodesk and GroupBC technologies being deployed are market-leading and will enable Heathrow to trust the data they hold and have the confidence to make decisions based on 'one version of the truth."
The project is already underway and is expected to be complete by December 2020.  It will see the deployment of Autodesk's BIM 360 visualisation and design tools integrated and underpinned with management and governance from GroupBC's Enterprise CDE.
Jo Ellman Brown, PMO Director at Heathrow said, "We are aiming to be the first airport operator in the world who can leverage value from our digital assets, allowing our people to work in a safe environment, design and plan in a collaborative way, and operate a fully integrated asset system.  With a long-established relationship with Excitech, we're delighted they were the successful bidder on this project.  We anticipate that the solution they have proposed will significantly improve the management of our critical assets."
As well as enabling Heathrow to have accurate and up to date information readily available in the CDE, the new solution will result in fewer surveys and reduced costs as a result of earlier and greater collaboration across all parties.  In addition, maintenance costs will reduce through better, earlier clash detection and more accurate maintenance information being readily available.
Polystar's Enhanced 5G Core Network Testing Capabilities Help CSPS on Road to Commercial Deployment
Reading Time:
2
minutes
Polystar, a leading supplier of Customer Experience Management, Network Monitoring and test solutions for the telecom industry today announced that Solver, its advanced virtual test solution for mobile networks, has been enhanced with support for the N2 interface, allowing end-to-end testing of the new 5G core network. This strengthens Solver's current 5G test capabilities, such as support for testing 5G SBA and virtualised CUPS architectures.
Ensuring that the first 5G networks are delivered on time, on budget, and, crucially, with the correct functionality is a complex process. To meet these challenges and to ensure that networks perform as expected requires rigorous testing. Polystar's award-winning Solver solution has been enhanced with new 5G features that enable mobile network operators to validate 5G performance as part of their release and deployment schedules. It is already in action, testing key functionality in new 5G deployments.
The first step in testing such deployments is to validate 5G core functionality. Specifically, mobile network operators and their equipment vendors must test the N2 interface, which connects the access node (NG-RAN gNodeB) and the Access and Mobility Management Function (AMF) in the core. This is the primary path for the transmission of signalling, connection, contextual and other information from the RAN to the core. Solver is used to generate test messages across the N2 interface, validating connectivity and the correct flow of information.
"This is an important milestone along the road to commercial availability of 5G networks and a pioneering step for Solver," commented Thomas Nilsson, CTO of Polystar. "Solver is helping mobile network operators prove the operational effectiveness of their 5G investments, ensuring that they meet challenging performance and launch demands."
The next step is to test voice and data services from the 5G-NR RAN to demonstrate that live users can access the full capabilities offered by 5G. Polystar's Solver solution is already equipped with the necessary adaptations for 5G and will play a key role in this and other deployments.
"At Mobile World Congress, we'll hear a great deal about new 5G deployments," adds Mr Nilsson. "The success of these will depend on their full verification and validation. Solver provides these capabilities and is a key asset for mobile network operators as they seek to capitalise on their 5G investments."
SOURCE Polystar
Nielsen Launches SMARTSTORE in Hong Kong
Reading Time:
2
minutes
Nielsen has added a new product solution to their Shopper toolkit – a creative and unique solution for retailers and manufacturers globally, helping them get closer to shopper behaviour at the moment of truth and uncover What's Next.
The solution helps retailers measure, evaluate and optimise a range of retail concepts on sales and profit, based on how target shoppers react at the moment of truth, in any store format. It helps measure the effectiveness of Point of Sale Merchandise (POSM) based on what shoppers "See, Think and Do".
SMARTSTORE is designed to radically transform how the industry conducts shopper research today by creating a remarkably realistic and immersive simulation of a 3D, 360 total store environment. Testing in a virtual environment eliminates the unnecessary risk of trial-and-error execution because things can be perfected thus providing retailers with cost, time and flexibility.
Sue Temple, VP Global Product Development, Nielsen Consumer Insights Division says, "This solution has been put together using the latest virtual reality technology available and adapting it to create a unique, fully immersive shopper research and merchandising solution.  We have partnered with our clients through our SMARTSTORE development process in pilot projects over the last several months to make sure it meets their needs as we bring SMARTSTORE to life. We have launched it in 12 markets in 2018 and are excited with today's launch and hope this would drive greater insights into shopper behaviours at the moment of truth and build collaborative partnership between retailers and manufacturers in Hong Kong."
SMARTSTORE builds a live environment, creating multiple scenarios helping in comprehensive analytics of shopper experience (track shopper head, eye and feet movements, 3D heat maps, etc). This also drives affordable research costs for retailers through the "Attention, Appeal, Action" framework thus building confidence in commercial results and measurable ROI on research investment.
"The challenging market environment has spurred changes to consumer shopping mindset and behavior. With shoppers spending more rationally, in-store execution and shopper activation take center stage. It is essential that manufacturers and brand owners understand the behavior and priorities of in-store shoppers in order to lure them with the right offerings," said Michael Lee, Managing Director, Nielsen Hong Kong & Macau. "The introduction of SMARTSTORE is a testimony to our innovation capabilities, a cutting-edge solution that enables our clients to project results close to the reality and make the right preparations to win over the market shares. We are very pleased to launch SMARTSTORE, one of our continuous commitments and investments, to kick off Nielsen Hong Kong's 50th anniversary celebration."
SOURCE Nielsen