Where Did the Time Go? Holidays are Just Around the Corner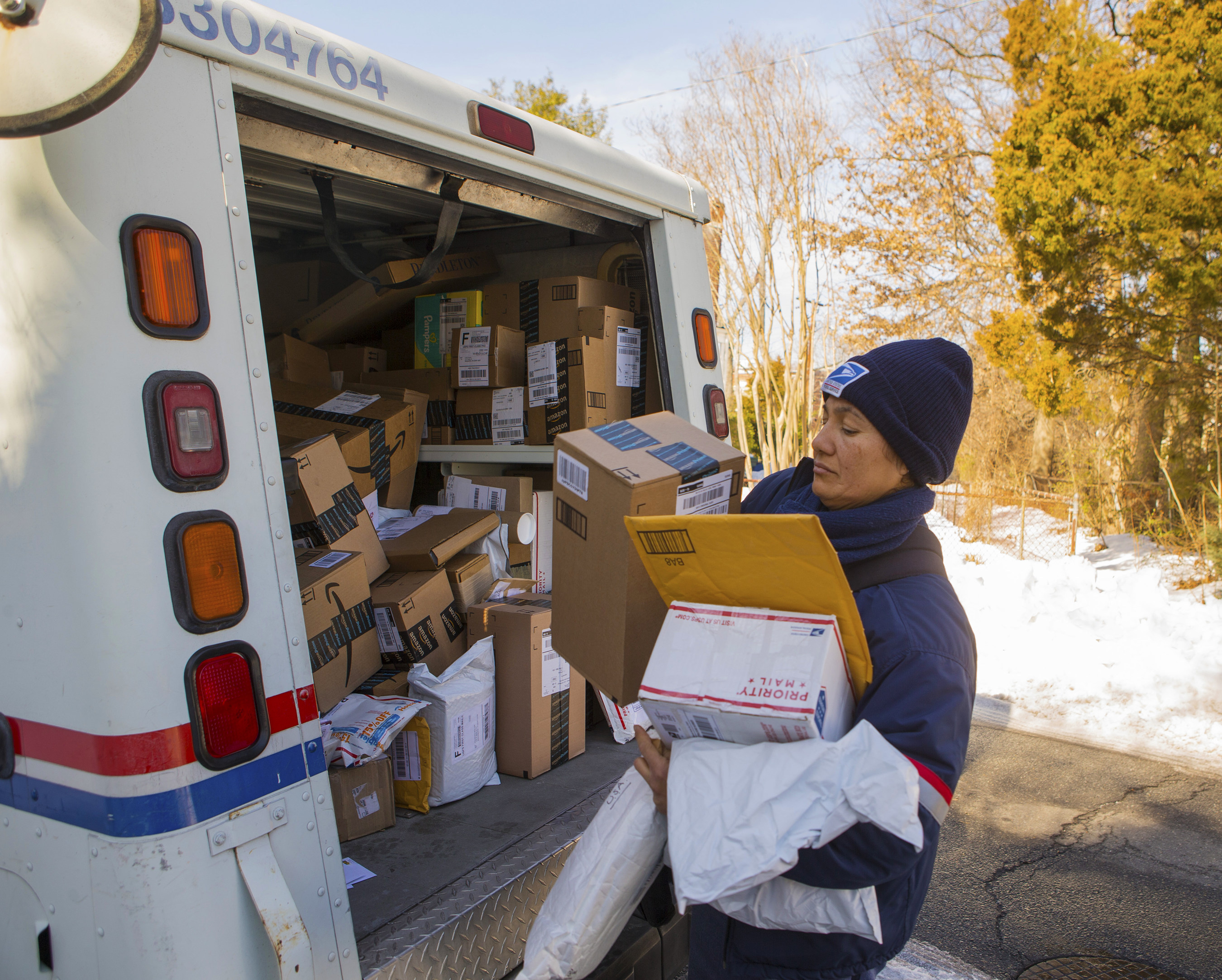 Reading Time:
3
minutes
USPS has important shipping deadlines you need
The calendar says October, and you're contemplating fall-related items, such as pumpkin spiced anything, seasonal festivals, or what to wear for Halloween. The holidays seem so far away, but they'll be here before you know it. With that in mind, the U.S. Postal Service has the mailing deadlines for the expected delivery of cards and gifts to your loved ones this holiday season.
2018 Holiday Shipping Deadlines
The Postal Service recommends the following mailing and shipping deadlines for expected delivery by Dec. 25 to Air/Army Post Office/Fleet Post Office/Diplomatic Post Office and domestic addresses*:
Nov. 6      – APO/FPO/DPO (all ZIP Codes) USPS Retail Ground®
Dec. 4      – APO/FPO/DPO (ZIP Code 093 only) Priority Mail® and First-Class Mail®
Dec. 11    – APO/FPO/DPO (all other ZIP Codes) Priority Mail and First-Class Mail
Dec. 14    – USPS Retail Ground
Dec. 18    – APO/FPO/DPO (except ZIP Code 093) USPS Priority Mail Express®
Dec. 20    – First-Class Mail (including greeting cards)
Dec. 20    – First-class packages (up to 15.99 ounces)
Dec. 20   –  Hawaii to mainland Priority Mail and First-Class Mail
Dec. 20    – Priority Mail
Dec. 20    – Alaska to mainland Priority Mail and First-Class Mail
Dec. 22    – Alaska to mainland Priority Mail Express
Dec. 22    – Hawaii to mainland Priority Mail Express
Dec. 22    – Priority Mail Express
*Not a guarantee, unless otherwise noted. Dates are for estimated delivery before December 25. Actual delivery date may vary depending on origin, destination, Post Office acceptance date and time and other conditions. Some restrictions apply. For Priority Mail Express® shipments mailed December 22 through December 25, the money-back guarantee applies only if the shipment was not delivered, or delivery was not attempted, within two (2) business days.
Busiest Mailing and Delivery Days
Thanks to more people shopping earlier and shopping online, the Postal Service's "busiest day" notion is now a thing of the past. Instead, the Postal Service now has a busiest time, and it starts two weeks before Christmas. Beginning the week of Dec. 10, customer traffic is expected to increase and the Postal Service expects to deliver nearly 200 million packages per week during these two weeks. The week of Dec. 17-23 is predicted to be the busiest mailing, shipping and delivery week. During this week alone, the Postal Service expects to process and deliver nearly 3 billion pieces of First-Class Mail, including greeting cards.
Skip the Trip and Ship Online 
Consumers don't even have to leave home to ship their packages, simply visit usps.com. The Postal Service anticipates Dec. 17 will be the Postal Service's busiest day online with more than 8 million consumers predicted to visit usps.com for help shipping that special holiday gift. It's predicted that nearly 105 million consumers will visit the USPS website between Thanksgiving and New Year's Day. And usps.com is always open.
It's estimated nearly 400,000 consumers will use the Click-N-Ship® feature and other online services on Dec. 17 to order free Priority Mail boxes, print shipping labels, purchase postage and even request free next-day Package Pickup.
New for this Year
Packages and cards have been sent on time, now what? USPS Informed Delivery™ is the Postal Service's free daily digital preview of what's coming to your mailbox. This holiday season, not only can you manage your packages and sneak a peek at cards headed your way, you can also see some exterior images of magazines and catalogs — all from your mobile app, dashboard, tablet or computer. Informed Delivery™ is one more way the Postal Service is helping you anticipate, communicate and celebrate this holiday season.
Additional news and information, including all domestic, international and military mailing and shipping deadlines, can be found at the Postal Service Holiday Newsroom: usps.com/holidaynews.
The Postal Service receives no tax dollars for operating expenses and relies on the sale of postage, products and services to fund its operations.
Please Note: For U.S. Postal Service media resources, including broadcast quality video and audio and photo stills, visit the USPS Newsroom. Follow us on Twitter, Instagram, Pinterest, and LinkedIn. Subscribe to the USPS YouTube Channel, like us on Facebook and enjoy our Postal Posts blog. For more information about the Postal Service, visit usps.com and facts.usps.com.
More USPS holiday news, including shipping deadlines and Santa mail, can be found at usps.com/holidaynews.
Invitation to Essity's Investor Day 2019
Reading Time:
1
minute
Essity, a leading global hygiene and health company, invites investors, analysts and media to an investor day in Stockholm on May 23, 2019. Presentations will be held by President and CEO Magnus Groth, other members of the Executive Management Team and representatives from Vinda.  
Essity's vision is: Dedicated to improving well-being through leading hygiene and health solutions. During its investor day, Essity will describe its strategic work for achieving its vision and continuing to deliver profitable growth. The work on launching successful innovations, building our brands, improving efficiency, leveraging digitalization opportunities and contributing to a sustainable and circular society will be presented. Essity's subsidiary Vinda, one of China's largest hygiene companies, will also be presented. 
For more information, an agenda and to register for the event, see https://www.essity.com/investors/investor-day-2019/. You can also follow the investor day via a webcast on www.essity.com.
For further information, please contact:
Per Lorentz, 
Vice President, Corporate Communications,
+46-8-788-52-51
per.lorentz@essity.com
Johan Karlsson
Vice President Investor Relations
+46-8-788-51-30
johan.ir.karlsson@essity.com
This information was brought to you by Cision http://news.cision.com
The following files are available for download:
SOURCE Essity
Kiehl's Since 1851 Introduces Herbal Treatment For Problem Skin, With Cannabis Sativa Seed Oil
Reading Time:
2
minutes
Inspired by Kiehl's apothecary heritage and the traditional uses and applications of powerful herbs, Kiehl's chemists proudly introduce the new Cannabis Sativa Seed Oil Herbal Concentrate – a lightweight, calmative, non-comedogenic facial oil that helps to improve the appearance of skin prone to imperfections such as visible redness and discomfort.
The non-acnegenic formula with 100% naturally-derived ingredients including Cannabis Sativa Seed Oil and Green Oregano Oil, helps balance hydration and relieve the feeling of stressed skin. Kiehl's considers ingredients to be naturally derived if they retain more than 50% of their molecular structure after being processed from a natural source.
Cannabis Sativa Seed Oil Herbal Concentrate, with 60% Cannabis Sativa Seed Oil, helps visibly reduce skin redness and provides skin with relief from discomfort after one use, while helping to strengthen the skin barrier, encouraging more resilient, healthier skin over time. It even improves skin's hydration levels for a full 8 hours.
Containing only 13 ingredients, including an herbal blend of botanical and essential oils, the formula has been expertly calibrated to ensure both potent efficacy with a lightweight, fast-absorbing application.
Cannabis Sativa Seed Oil is known for its emollient and soothing benefits. Kiehl's Cannabis Sativa Seed Oil, sourced in Germany, is cold pressed from hemp seeds and has a natural green color.
Green Oregano, a perennial herb, is obtained via steam distillation from the flower portion of the botanical herb. Well-known for its anti-oxidant properties, this ingredient has been traditionally used as an antiseptic and skin soother and in this formula, Green Oregano Oil helps to revitalize and relieve problem-prone skin.
Cannabis Sativa Seed Oil Herbal Concentrate is rich in unsaturated fatty acids and helps soothe the skin. The formula as a whole has been demonstrated in an instrumental study to strengthen the skin barrier, and helps to keep problem skin looking healthy by reducing the look of visible redness and the feeling of discomfort.
It was tested1 for safety on sensitive skin, is non-acnegenic and non-comedogenic, and is appropriate for all skin types.
Kiehl's Cannabis Sativa Seed Oil Herbal Concentrate, $49, is available at Kiehl's stores and Kiehls.com.
SOURCE: Kiehl's Since 1851
Rew's Bath Time Releases Line of Elevated Children's Bath Products
Reading Time:
2
minutes
Michigan business Rew's Bath Time has entered the children's bath care market with a line of additive-free, vegan bubble baths.
Launching with four unique bubble baths to support the varied needs of children 3 months and older, Rew's Bath Time aims to encourage healthy, fun bath time as part of the family bonding experience. Eden's Gentle Bath Suds, Lennon's Sunshine Bath Suds, Parker's Feel Better Bath Suds, and Vinnie's Calming Bath Suds each add benefits to the daily bathing routine of families everywhere. The bath suds also come with a bath book featuring a story about one of the wolf pup mascots, which parents can read to their child during the bath. Each product is paraben- and gluten-free, and is not tested on animals. Rew's avoids harmful ingredients that could hurt a child's development.
"Bath time is an important part of any child's routine. That bonding experience is so important for both parent and child. We wanted to put some attention on kids' comfort and making bath time more purposeful," says Anna Mrdeza, mother and co-creator, "Especially during the more challenging times for parents, like bedtime. Vinnie's Calming Bath Suds uses lavender essential oil to help calm and relax your child, while Parker's Feel Better Bath Suds with eucalyptus-mint could provide a sick kiddo with some comfort when they're struggling with sniffles."
Rew's Bath Time was launched by a Michigan family, who realized through their own children that the market for safe, natural products was lacking the components of fun and functionality. The joy children experience during a bubble bath could be combined with purposeful, tailored natural ingredients to bring comfort as well. Each scent is represented by one of four Rew's wolf pups, who are based on the children in the creators' lives: Eden, Lennon, Parker, and Vinnie. With adorable mascots and colorful bath books, Rew's aims to be more kid-oriented than other natural bath products, which are designed with the consumer in mind rather than the children who will be using them.
"For me, there is no better or more accomplished feeling than after bath time, when my kids are clean, full from dinner, and ready for bed. I know they just got my undivided attention, had fun, are well cared for, and know they are loved," Anna adds, "Our hope was to make that good feeling even better by adding products that work with a purpose, but also encourage fun and learning."
Rew's Bath Time products are available on Amazon and at their website, rewsbathtime.com. Each bubble bath contains 16 fluid ounces, and comes with a unique bath book featuring Eden, Lennon, Parker, or Vinnie in a short story. Rew's Bath Time is set to launch more products in the future, and will make updates to their website accordingly.
SOURCE: Rew's Bath Time