Where Did the Time Go? Holidays are Just Around the Corner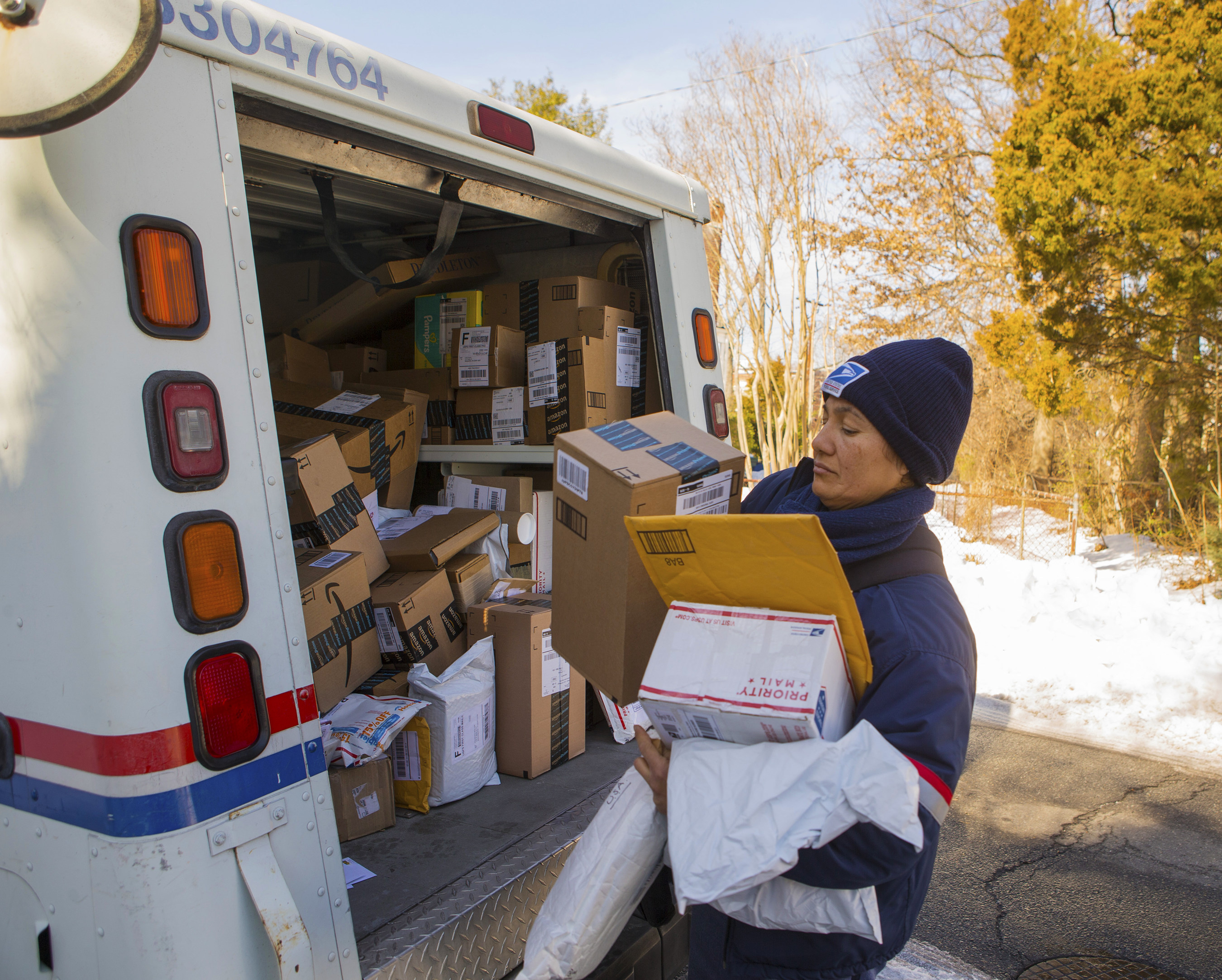 Reading Time:
3
minutes
USPS has important shipping deadlines you need
The calendar says October, and you're contemplating fall-related items, such as pumpkin spiced anything, seasonal festivals, or what to wear for Halloween. The holidays seem so far away, but they'll be here before you know it. With that in mind, the U.S. Postal Service has the mailing deadlines for the expected delivery of cards and gifts to your loved ones this holiday season.
2018 Holiday Shipping Deadlines
The Postal Service recommends the following mailing and shipping deadlines for expected delivery by Dec. 25 to Air/Army Post Office/Fleet Post Office/Diplomatic Post Office and domestic addresses*:
Nov. 6      – APO/FPO/DPO (all ZIP Codes) USPS Retail Ground®
Dec. 4      – APO/FPO/DPO (ZIP Code 093 only) Priority Mail® and First-Class Mail®
Dec. 11    – APO/FPO/DPO (all other ZIP Codes) Priority Mail and First-Class Mail
Dec. 14    – USPS Retail Ground
Dec. 18    – APO/FPO/DPO (except ZIP Code 093) USPS Priority Mail Express®
Dec. 20    – First-Class Mail (including greeting cards)
Dec. 20    – First-class packages (up to 15.99 ounces)
Dec. 20   –  Hawaii to mainland Priority Mail and First-Class Mail
Dec. 20    – Priority Mail
Dec. 20    – Alaska to mainland Priority Mail and First-Class Mail
Dec. 22    – Alaska to mainland Priority Mail Express
Dec. 22    – Hawaii to mainland Priority Mail Express
Dec. 22    – Priority Mail Express
*Not a guarantee, unless otherwise noted. Dates are for estimated delivery before December 25. Actual delivery date may vary depending on origin, destination, Post Office acceptance date and time and other conditions. Some restrictions apply. For Priority Mail Express® shipments mailed December 22 through December 25, the money-back guarantee applies only if the shipment was not delivered, or delivery was not attempted, within two (2) business days.
Busiest Mailing and Delivery Days
Thanks to more people shopping earlier and shopping online, the Postal Service's "busiest day" notion is now a thing of the past. Instead, the Postal Service now has a busiest time, and it starts two weeks before Christmas. Beginning the week of Dec. 10, customer traffic is expected to increase and the Postal Service expects to deliver nearly 200 million packages per week during these two weeks. The week of Dec. 17-23 is predicted to be the busiest mailing, shipping and delivery week. During this week alone, the Postal Service expects to process and deliver nearly 3 billion pieces of First-Class Mail, including greeting cards.
Skip the Trip and Ship Online 
Consumers don't even have to leave home to ship their packages, simply visit usps.com. The Postal Service anticipates Dec. 17 will be the Postal Service's busiest day online with more than 8 million consumers predicted to visit usps.com for help shipping that special holiday gift. It's predicted that nearly 105 million consumers will visit the USPS website between Thanksgiving and New Year's Day. And usps.com is always open.
It's estimated nearly 400,000 consumers will use the Click-N-Ship® feature and other online services on Dec. 17 to order free Priority Mail boxes, print shipping labels, purchase postage and even request free next-day Package Pickup.
New for this Year
Packages and cards have been sent on time, now what? USPS Informed Delivery™ is the Postal Service's free daily digital preview of what's coming to your mailbox. This holiday season, not only can you manage your packages and sneak a peek at cards headed your way, you can also see some exterior images of magazines and catalogs — all from your mobile app, dashboard, tablet or computer. Informed Delivery™ is one more way the Postal Service is helping you anticipate, communicate and celebrate this holiday season.
Additional news and information, including all domestic, international and military mailing and shipping deadlines, can be found at the Postal Service Holiday Newsroom: usps.com/holidaynews.
The Postal Service receives no tax dollars for operating expenses and relies on the sale of postage, products and services to fund its operations.
Please Note: For U.S. Postal Service media resources, including broadcast quality video and audio and photo stills, visit the USPS Newsroom. Follow us on Twitter, Instagram, Pinterest, and LinkedIn. Subscribe to the USPS YouTube Channel, like us on Facebook and enjoy our Postal Posts blog. For more information about the Postal Service, visit usps.com and facts.usps.com.
More USPS holiday news, including shipping deadlines and Santa mail, can be found at usps.com/holidaynews.
Kat Von D Beauty Launches Must-Have Lolita Collection – And It's 100% Vegan & Cruelty-Free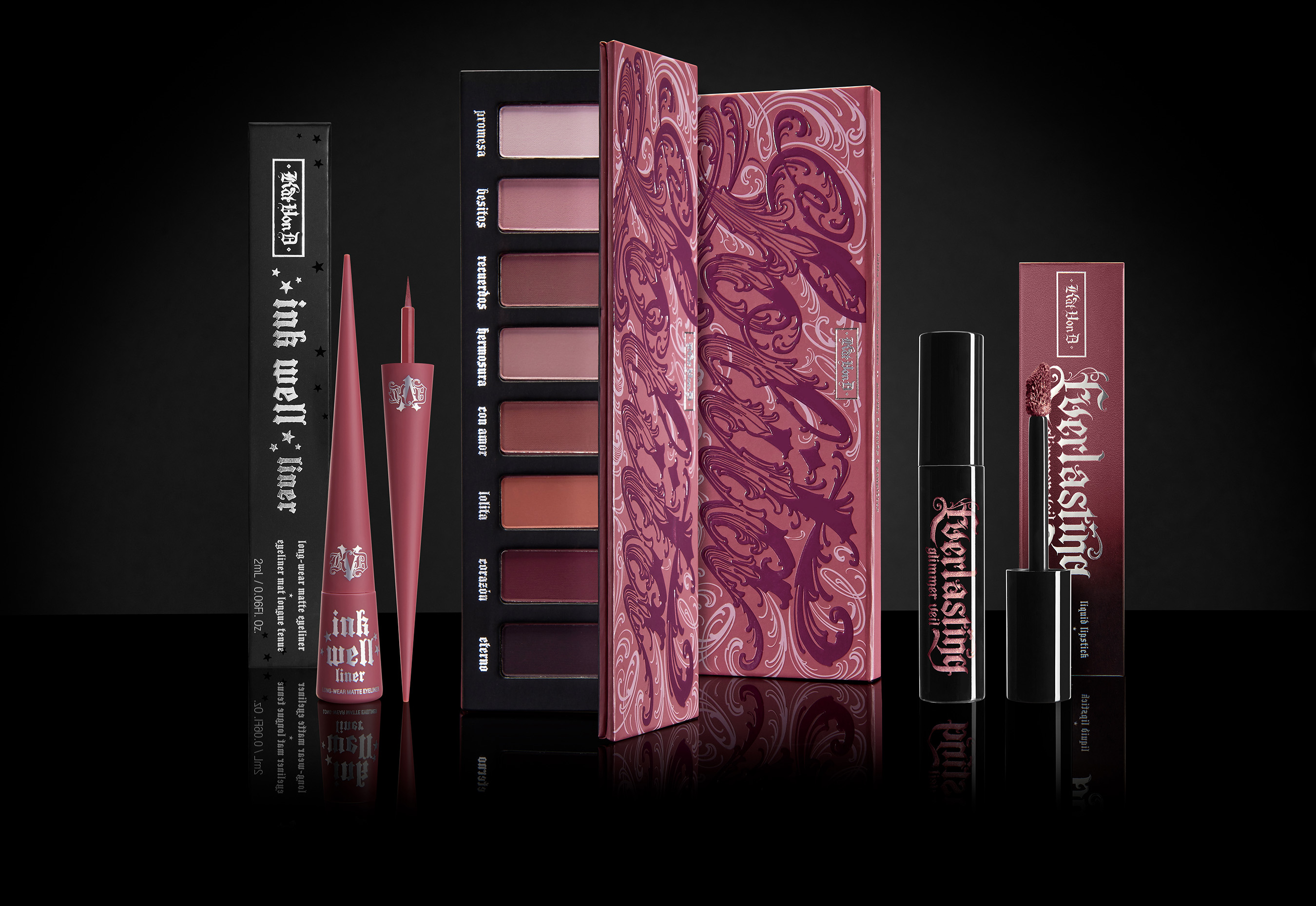 Reading Time:
3
minutes
Just in time for the holidays, Kat Von D Beauty introduces the Lolita Capsule Collection, three all-new ways to wear the brand's most beloved and fast-selling shade of all time! The collection features an eyeshadow palette, liquid eyeliner and liquid lipstick that you can wear alone or together to create the ultimate monochromatic look.
Fun fact: a Lolita shade is sold once every minute around the world!
The original Everlasting Liquid Lipstick in Lolita sparked a frenzy in 2015, becoming an instant favorite for its beautiful balance of undertones that make this iconic chestnut rose shade a universal neutral uniquely flattering on any complexion.
Lolita Eyeshadow Palette ($39) – From "Besitos" (little kisses) to "Corazón" (heart), the 8 high-pigment, blendable matte shades in this palette were inspired by Lolita's rosy tones, with each shade name reflecting the brand's Latin heritage. Of course, the palette wouldn't be complete without the original Lolita eyeshadow, which sold out in just a few hours when it debuted as a single shade.
https://www.katvondbeauty.com/sets-and-palettes/lolita-eyeshadow-palette/32374.html
https://www.sephora.com/product/lolita-eyeshadow-palette-P439203
Everlasting Glimmer Veil Liquid Lipstick in Lolita ($22) – This rich, glimmery-not-gritty formula combines the same long-wear, weightless innovation behind Everlasting Liquid Lipstick with a multi-dimensional liquid-crystal glitter finish, available for the first time in the gorgeous chestnut rose Lolita shade.
https://www.katvondbeauty.com/lip/glimmer-veil/everlasting-glimmer-veil-liquid-lipstick-in-lolita/40013.html
https://www.sephora.com/product/everlasting-glimmer-veil-liquid-lipstick-in-lolita-P440462
Ink Well Long-Wear Matte Eyeliner in Lolita ($20) – Kat Von D Beauty's most matte, bulletproof eyeliner is now available in Lolita. Ink Well's super-innovative formula offers extreme 24-hour wear and waterproof, transfer-proof, and smudge-proof performance that's ultra-precise with 1-swipe opacity.
https://www.katvondbeauty.com/eye/ink-well-long-wear-matte-eyeliner/29703V1.html
https://www.sephora.com/product/ink-well-long-wear-matte-eyeliner-in-lolita-P440698
Kat Von D Beauty Lolita Collection (each sold separately) will be available on December 10, 2018online at Katvondbeauty.com and Sephora.com, and in stores at Sephora and Sephora inside JCPenney.
#Vegan! Kat Von D Beauty's passion for animals means that all products are 100% Cruelty Free Forever. The Kat Von D Beauty Lolita Collection is 100% vegan. Share your looks and find more inspiration at KatVonDBeauty.com, @KatVonDBeauty, #KatVonDBeauty #LolitaPorVida
ABOUT KAT VON D BEAUTY: Long wear. High pigment. Cruelty Free Vegan.
Kat Von D Beauty was created and launched in 2008. Inspired by the inks of her world-famous tattoo shop, High Voltage Tattoo, Kat created an unstoppable, beloved makeup brand that specializes in long wear, high pigment, and full coverage beauty products that empower you to unleash your inner artist.
In her nonstop pursuit of creating the most perfect beauty products you've never imagined, Kat Von D tests and wears everything she makes, drawing endless inspiration from her experience as an artist, tattooer, musician, animal-rights activist, social media leader, and creator. Praised and cherished for her artistry, authenticity, innovation, and quality obsession, Kat Von D is one of the fastest-growing beauty brands in the industry.
As a passionate animal-rights activist, Kat Von D is committed to ensuring 100% Cruelty Free beauty and 100% Vegan makeup within her line. In recognition of her work, Kat was the recipient of the Animal Rights National Conference's Celebrity Animal Advocate Award and named Vegan Celebrity of the Year in 2017. Kat Von D Beauty has twice been awarded Best Cruelty-Free Cosmetics Company by peta2 in their Annual Libby Awards.
Kat Von D Beauty is distributed in 35 countries across North America, Latin America, Europe, South East Asia, Australia, the Middle East, Scandinavia, the United Kingdom and Ireland.
Dandelion Sun Launches "be free", a 4 in 1 Anti-Aging Moisturizer with SPF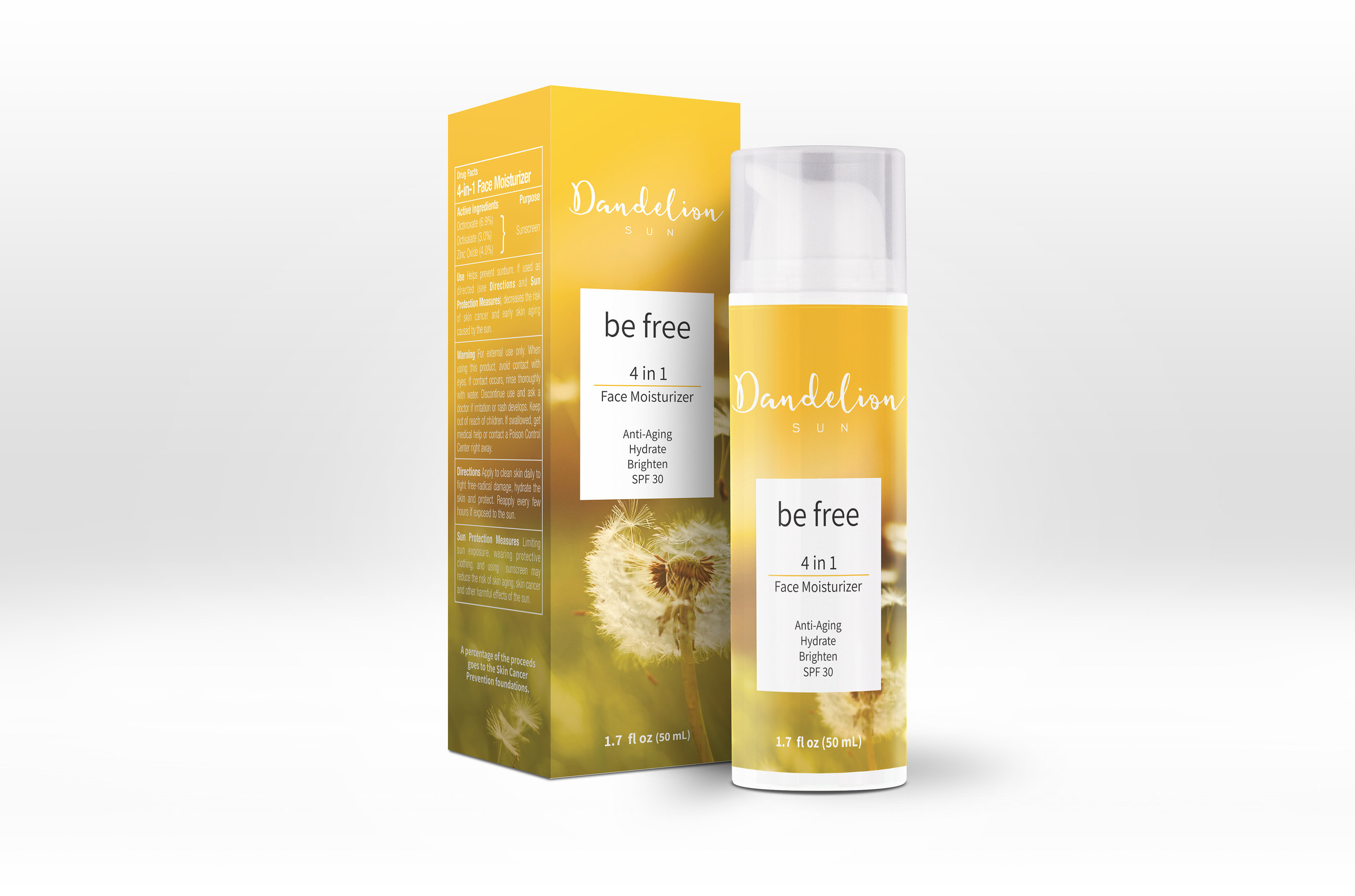 Reading Time:
1
minute
Dandelion Sun, a new leading anti-aging moisturizer brand made in California, has launched its first product in a vegan line to combat the most common skin issues facing women. Dandelion Sun's be free: 4 in 1 Face Moisturizer is an instant essential to be included in your daily skincare regimen. This multi-tasking moisturizer helps decrease the appearance of wrinkles, hydrate and brighten uneven skin tones, as well as provide Broad Spectrum SPF 30. be free is available now for $29.99 at dandelionsun.com and Amazon. This Holiday Season enjoy 25% off your first purchase, going on now until January 1st, 2019.
"90% of skin aging is caused by daily sun exposure," says Co-Founder and Head of Product, Marlena Chang, "incorporating a daily SPF can combat this." Combined with clean and effective ingredients like Vitamin C & E, Squalane from Avocado Oil, Japanese Green Tea Leaf extract (and more), makes this clinically proven formulation very powerful. be free is cruelty-free and contains no Parabens, Sulfates or Phthalates.
"Dandelion Sun was created with women like ourselves in mind," says Co-Founder and CEO, Stephanie Marks. "We have fast-paced, active lifestyles but are also mindful about our health and the products we use. If you remember to use only one skin care product in the morning, make it be free."
Bill Bakho of BB Lifestyle is Bringing a Revolution in the Skin Care Industry with Organic CBD Oil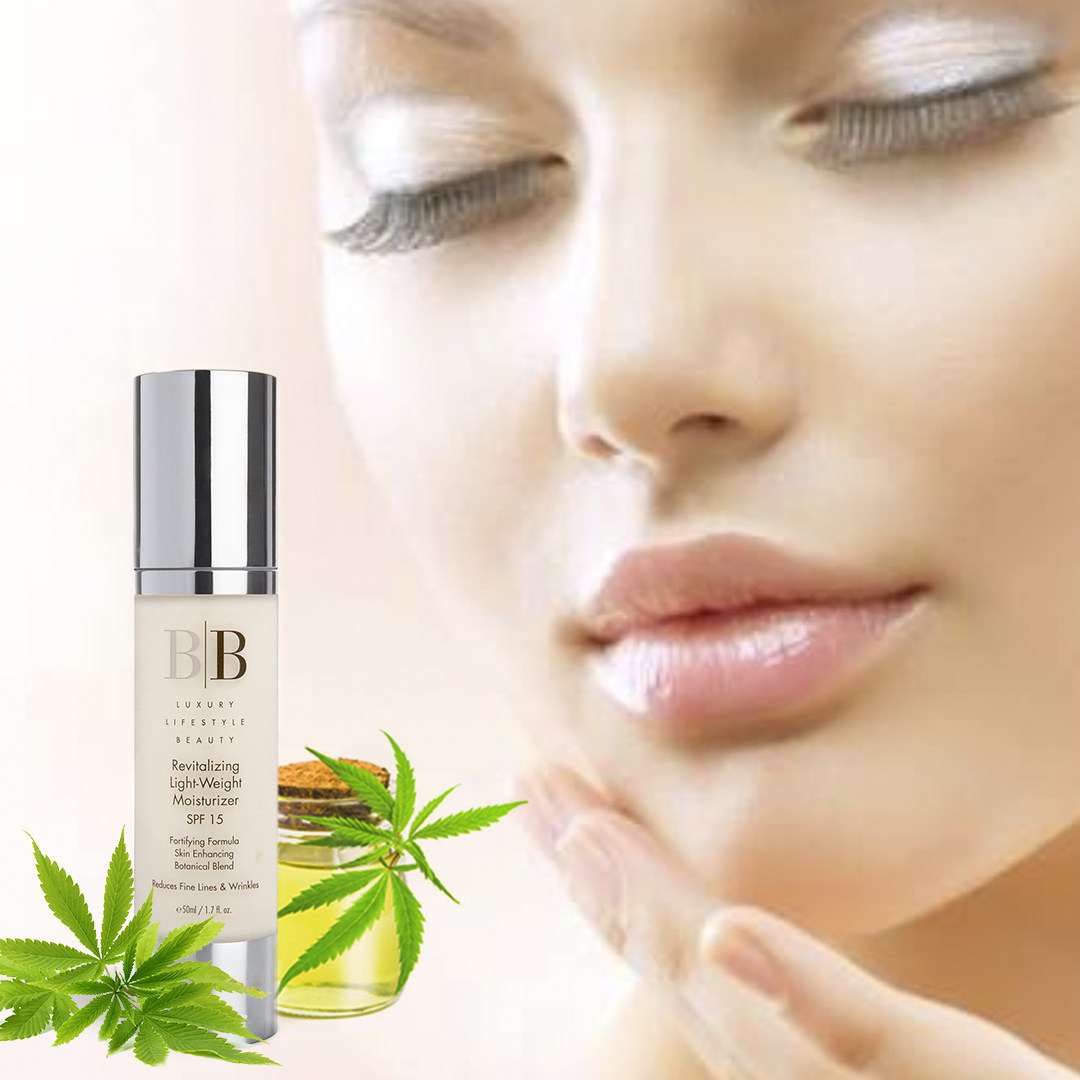 Reading Time:
2
minutes
The award-winning skincare expert launched a new line with nature's help & the results are astonishing
BB Lifestyle has proudly announced that it is bringing an organic revolution to the health and beauty industry with its growing range of CBD skin care products. The renowned skincare brand is also offering a wide range of dermatology grade luxury skincare products on its online store that are getting an overwhelming response around the world. Moreover, the award-winning Founder and President of the luxury skincare brand, Bill Bakho has shared several amazing secrets behind the phenomenal success of his company in a recent interview that reveal a lot of information on how his brand became one of the best in the increasingly competitive health and beauty industry worldwide.
50% OFF FIRST ORDER BLACK FRIDAY CBD50 CODE
"I created BB Lifestyle to inspire others to enjoy their life by taking care of their health, inside and out, while using products that will give the best results possible," said Bill Bakho, the BB Lifestyle Founder, while sharing his inspiration in a recent interview. "From our award-winning and certified eco-friendly packaging to our scientifically developed organic products, every aspect of BB Lifestyle is unique and exquisite in its own way," he added. Bill has been frequently featured on several major media platforms including 400 magazines, radio shows and television.
With its all-natural, organic and vegan ingredients, BB Lifestyle offers products that contain the next-generation HC56Complex™. This organic compound is primarily the secret ingredients, which set BB Lifestyle apart from the rest of its competition. Moreover, this proprietary ingredient is a highly potent supercritical CO2 extracted organic CBD oil from Colorado that delivers unprecedented health and beauty benefits. Customers have been using these products for their nourishing, soothing, reparative, antioxidant, and anti-aging benefits and have shared inspiring feedback regarding their experience.
"We have worked closely with various doctors and practitioners including some of the leading dermatologists, plastic surgeons and also with the Chairman of Dermatology at UCI," said Bill Bakho, while sharing his professional experiences. "The entire concept of CBD skin care and CBD oil for your skin is basically the future of skincare and we have proudly mastered this secret." He added. The company also manufactures CBD sunscreen, CBD facial moisturizer and several other effective products for men and women worldwide.
Besides making quality products at BB Lifestyle, Bill has also taught at multiple aesthetic schools and beauty academies to teach the students about skin health, products and ingredients over the years. Moreover, Lupus LA honored Bill as a Supporter of their foundations as he worked with them on various events; including 5k runs and other charity events for more than two decades now. Furthermore, Bill has also worked with over 50 charities over the years in various forms.
In addition to his own luxury skincare brand, Bill has also created multiple formulations for other skin care companies. He launched his skin care line called Fenix in Korea, Japan, Jordan, Qatar, UAE and Kuwait. His own academic background of business and pre-med made him work more closely with the experts from the medical field and due to the effective lab research, every product has been amazingly effective. Furthermore, Bill is autodidactic and therefore deeply understands his industry, as he has been in it for 19+ years, working closely with labs and MD's who specialize in skincare and other fields of medicine.
For more information, please visit the website at: www.bblifestyle.com