Nesstoy's ArmoGear Gears Up and Gets Ready for the Holiday Season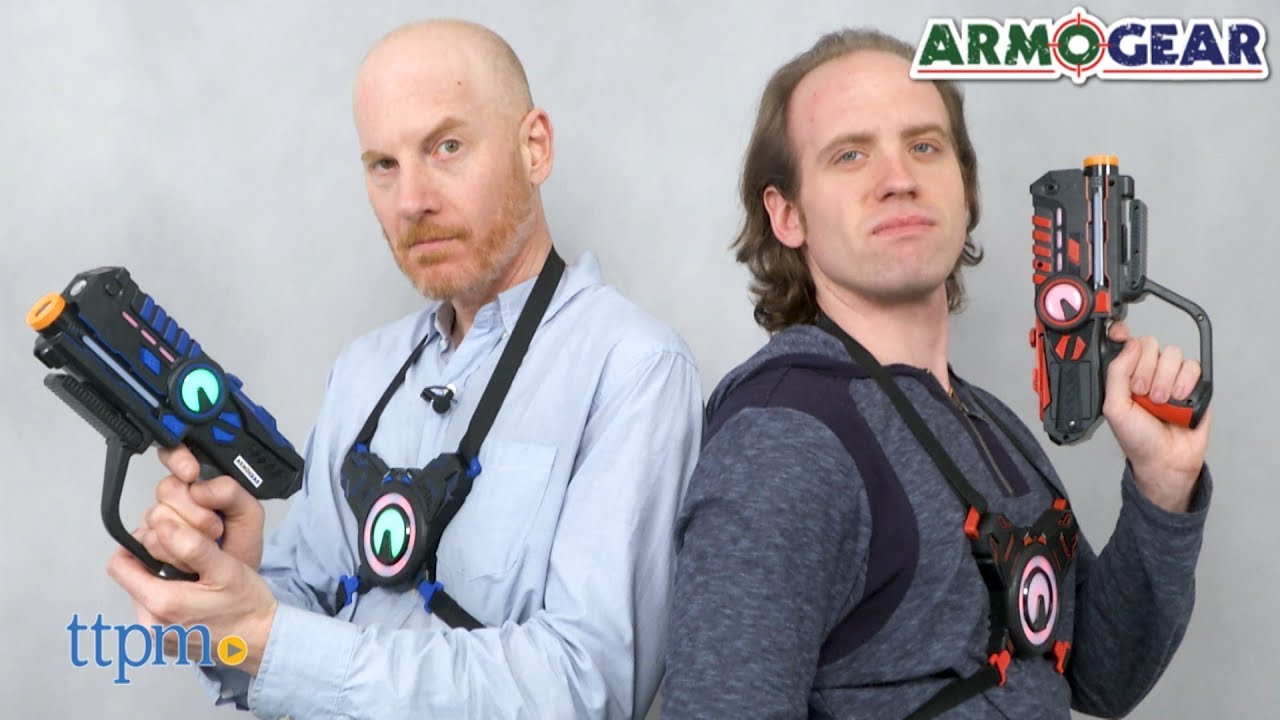 Reading Time:
1
minute
Experience laser tag from your own backyard! Laser Battle is the toy that has taken Amazon by storm. It has garnered almost 200 reviews in under a year and is frequently awarded the Best Seller badge.
This gaming set fuses arcade-style features and a retro design and feel. It's the Lamborghini of laser tag, says Joseph Cowlishaw, a toy photographer who was sent the laser tag to photograph
Unique features include wireless target vests that keep score and vibrate when zapped, a 15-second invisibility mode, an LED night vision flashlight and a voice guide to inform players when there's "one more life!" and more.
Laser Battle is a Nesstoy game the whole family can partake in, and with the holidays approaching sales are expected to soar. Kids, teens and adults can battle indoors, outdoors, day or night, through winter break and beyond.
Available exclusively online at amazon.com, walmart.com and armogear.com.
Tom's of Maine and mindbodygreen Motivate Fans to "Nature Up" with Free Wellness Reboot Resources and Giveaways
Reading Time:
2
minutes
Starting the new year off on the right foot can set the tone for the months to come. Each new year offers the opportunity to revisit your wellness routine and make mindful changes. To start 2019 off strong and healthy, natural personal care leader Tom's of Maine is co-hosting a free 4-Week Wellness Reboot. Each week top mindbodygreen contributors and wellness experts will share their self-care tips, recommended products, meal plans and exercise tips on mindbodygreen and through Facebook Live sessions on January 16 with Betina Gozo and January 23 with Cassandra Bodzak. Visit Facebook.com/MindBodyGreen or Facebook.com/TomsofMaine for details.
Tom's of Maine is also partnering with the experts at mindbodygreen to help fans "Nature Up" by entering for a chance to win $600 worth of popular mindbodygreen online video classes on wellness topics, a personal consultation with a mindbodygreen expert, and Tom's of Maine products. To enter, visit TomsofMaine.com/NatureUp between now and February 28.
"A key component of 'naturing up' is discovering new practices, ideas and products that bring the best of nature to your health and wellness routine," says Rob Robinson, brand and goodness leader at Tom's of Maine. "In addition to the expert tips from our partners at mindbodygreen, Tom's of Maine will introduce nine new innovations in the coming months that harness the power of nature to deliver premium products."
mindbodygreen Founder and CEO Jason Wachob says, "mindbodygreen is thrilled to partner with Tom's of Maine, a natural care pioneer, in creating accessible opportunities for everyone to 'nature up' and further their wellness practice with our 4-Week Wellness Reboot. A new year is an opportunity to reset intentions and habits. Our goal is that together with Tom's of Maine we can encourage readers to consider going natural in 2019."
Tom's of Maine gives 10% of its profits back to organizations that support nature and healthy families. As well, employees are encouraged to give 5% of paid time to volunteer. For mindbodygreen sweepstakes terms and conditions visit https://www.tomsofmaine.com/natureup/nature-up-official-rules and to learn more about how the company supports healthy lifestyles, visit:
Globalegrow made its debut in CES 2019 Las Vegas
Reading Time:
2
minutes
Last week, Globalegrow brought 3 of its consumer electronic brands, iHaper, Suaoki, Floureon, to Las Vegas and showcased them at CES 2019. This was the first time that Globalegrow has appeared on the global stage to comprehensively boost the growth of its proprietary brands and global company image.
Globalegrow's official appearance at CES 2019
At CES, Globalegrow's booth could be seen from afar with its white and simple frame. It was designed specifically to integrate the three brands, turning it into a smart home experience space. All exhibits were neatly displayed on branding desks and open for visitors to test, compare and make live reviews.
During the 4 days in LVCC, Globalegrow attracted a large number of visitors and attention from both new and old clients to communicate and exchange ideas. Jason Wong, one of the visitors, had heard of Globalegrow long ago, "Globalegrow is already well-known in the cross-border e-commerce circle in China. We would like to cooperate and communicate more through international platforms such as CES," he said.
In 2019, Globalegrow is planning to accelerate the growth of its proprietary brands by attending more international events to bring the best products and brands to the global stage. Meanwhile, for proprietary brands themselves, the international interaction will also boost their off-line business development and help them form a localized promotion strategy. Lilac Luo, the branding director of Globalegrow, made her comments after the event. "CES, is not only an international business platform, but also a branding platform. It is a great opportunity to tell a brand story and to experience it on the set as well."
Proprietary brands reaching global audience
iHaper, Suaoki and Floureon are the three major consumer electronics brands growing and developing inside Globalegrow and they have achieved great results online.
iHaper, one of the youngest representative brands, is committed to smart home products and the whole intelligent ecosystems in Apple Homekit. They exhibited lamps, bulbs, and lighting strips in a smart and transparent space where visitors could experience their products and control them with an iPad.
CES 2019 is a milestone for iHaper as they officially kick off their off-line sales and marketing worldwide. According to the founder of iHaper, the product catalog will be continuously expanding to include all household appliances in 2019.
Suaoki focuses mainly in power supply and peripheral products. At CES, Suaoki exhibited two of its very popular power stations, G500 and S270. The S270 mini power supply is the most popular one for individual consumers and a good partner for outdoor travel with its wide variety of functions. Weighing about 3lbs and having a hidden handle design, the product is compact and easy to carry. The high-quality, multi-function, convenient and environmentally-friendly features brought considerable attention and popularity from consumers and potential overseas partners.
Floureon mostly produces safety and battery products. At CES, Floureon brought 8 of its representative products including vacuum cleaners, sweeping robots, walkie talkies, and monitor cameras. Their innovative business enables Floureon to offer premium quality at lower costs. So far, it has reached over 5000 SKUs, covering the catalog for safety products. In 2019, Floureon is starting to develop its off-line strategy in experience stores, agents and distribution through more international events.
Globalegrow is planning on bringing even more exciting innovations in consumer electronics to next year's CES.
ICMEI Announced Launching of Comoros Cultural Forum
Reading Time:
2
minutes
The Global Headquarters of International Chamber of Media and Entertainment Industry at Noida Film City was bubbling with new energy when Indo Comoros Cultural Formed was announced on the arrival of H.E. K.L.Ganju, Consul General of Comoros to India for Asian Academy of Film & Television (AAFT) and International Film & Television Club's 12th International Festival of Cellphone Cinema.
"We are proud in joining hands and expanding our cultural business and cultural diplomacy through ICMEI. We are sure we will be able to deliver better and bigger results under the leadership of great international leader Dr. Sandeep Marwah and his efficient team," said H.E. K.L.Ganju Consul General of Comoros.
"I am lucky as this is the first event I am attending after being elected in the General body meeting of honorary consular corps Diplomatique – India (HCCD-I) as the President of the corps for a term of three years, Formation of Cultural forum is a powerful action which is going to support me," added H.E. K. L. Ganju.
A poster with the flags of both the countries India and Comoros was released as a mark of respect to the wonderful relation both the countries are enjoying. H.E. K.L. Ganju nominated Dr. Sandeep Marwah President of ICMEI and Marwah Studios as the Chair of the forum and who presented the Patronship of the Forum to Mr. K.L.Ganju.
A formal MOU will be signed between the two countries in a short period of time where ICMEI will support the office of Consul General with large number of cultural activities." We are keen in developing and promoting relations between India and Comoros through art and culture which is our specialization," said Dr. Sandeep Marwah.
Later AAFT mementos were presented to some of the prominent members of the Chamber attending the 12th International Festival of Cellphone Cinema, which was earlier inaugurated by H.E. K.L.Ganju.
Devendra Pathak, Vice Chancellor Oriental University; Prof. N.K. Sinha, Vice Chancellor of Himalayan Garhwal University; Ashok Tyagi, Film Maker and Yogesh Mishra Dean AAFT also spoke on Cellphone Cinema and relation of India with Comoros.