Nesstoy's ArmoGear Gears Up and Gets Ready for the Holiday Season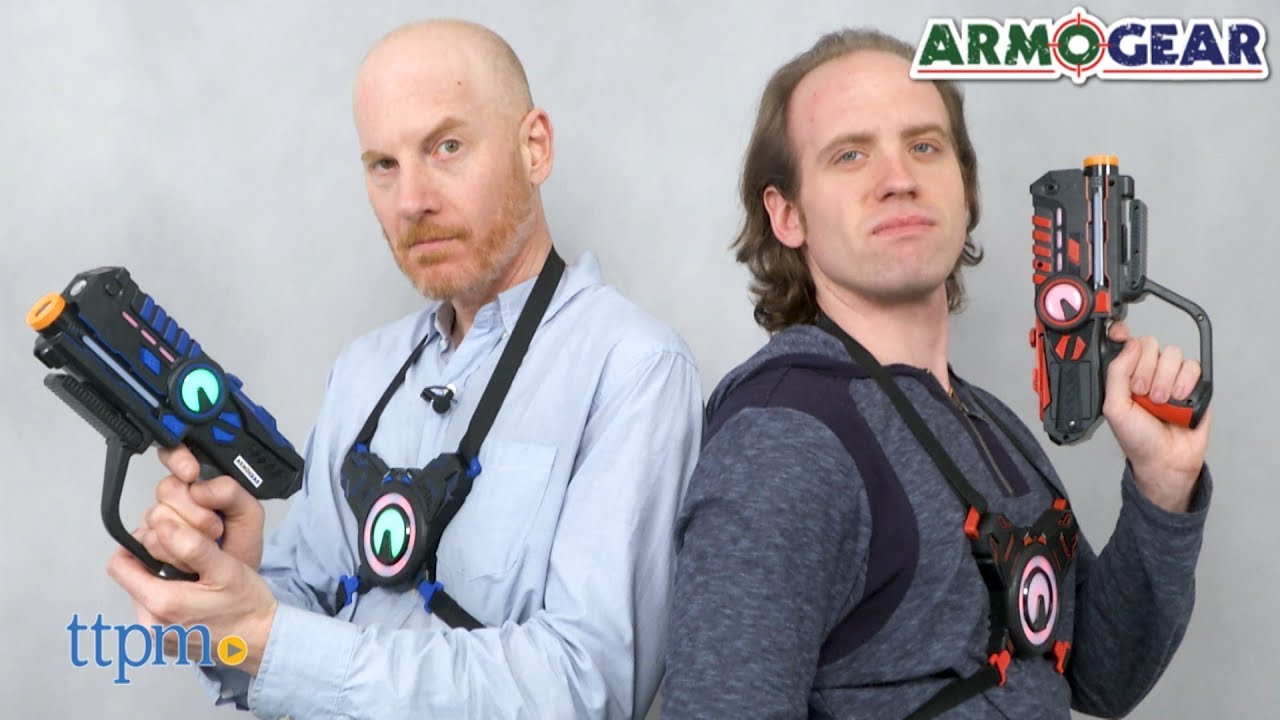 Reading Time:
1
minute
Experience laser tag from your own backyard! Laser Battle is the toy that has taken Amazon by storm. It has garnered almost 200 reviews in under a year and is frequently awarded the Best Seller badge.
This gaming set fuses arcade-style features and a retro design and feel. It's the Lamborghini of laser tag, says Joseph Cowlishaw, a toy photographer who was sent the laser tag to photograph
Unique features include wireless target vests that keep score and vibrate when zapped, a 15-second invisibility mode, an LED night vision flashlight and a voice guide to inform players when there's "one more life!" and more.
Laser Battle is a Nesstoy game the whole family can partake in, and with the holidays approaching sales are expected to soar. Kids, teens and adults can battle indoors, outdoors, day or night, through winter break and beyond.
Available exclusively online at amazon.com, walmart.com and armogear.com.
Defining the essence of future, DIGIX HUAWEI Global Smartphone Theme Design Competition Officially Launched
Reading Time:
3
minutes
DIGIX HUAWEI Global Smartphone Theme Design Competition was formally launched on April 11th, inviting exceptional designers and art enthusiasts from all over the globe to send in their thematic interface designs, including illustrations, animations, and 3D graphics. With the theme of 'Hello, New Art', this competition aims to create a fusion of art and technology, sharing the cutting-edge design and aesthetic trends with global users.
Global Authoritative judges facilitate to forge an international professional design arena
An impressive panel of judges has been appointed including Xiaokang Liu(KL&K Creative Strategics Founder), Jun Fei (Professor of School of Design, Central Academy of Fine Arts), Bai Cha (One of China's Most Popular Cartoonists), María José Pérez-Luque (Head of the Multimedia and Graphic Design program, ESNE, Madrid), Alejandro Magallenes (Member of the Alliance Graphique Internationale), Jun Liang (Huawei UCD Chief User Experience Design Director), Alexandre Plicque Gurlitt (Senior Visual Designer, Paris Aesthetic Research Center), and other prominent design masters so as to forge the most influential design arena in the mobile phone industry.
Special guest designers to create conceptual works, interpreting the essence of new art 
For the warming-up of this competition, an influential panel of design masters had been invited to create a set of stylish and imaginative masterpieces, showing audiences the new definition of art. The panel list is as follow:
Ye Luying, illustrator named in the Forbes Under 30 Asia List
Wu Sijun, young artist
LOST7, popular illustrator
Paulo Villagrán, One of Mexico's Most Prominent Illustrators
Wang Yunfei, popular illustrator
FIREYE, popular illustrator
Free to show your strengths in four major categories
This year's Global Theme Design competition is divided into four separate categories, including illustrations, animations, 2D graphics, and 3D graphics. Designers can choose to submit work into any category to compete for the prize and demonstrate their uniqueness in the specific art field.
In this world-class design competition, designers from all over the world will compete on the same stage and interpret new art with extraordinary creativity. Art design will be revitalized by those talented designers in the process of exploring the futuristic aesthetics.
Generous rewards to your design talent
Eight major awards were set up for 134 winners, with a total prize of more than $330,000 US dollars, and will include the Global Winner Grand Prize, Stars of Tomorrow Award, Most Popular Award etc. In addition to cash rewards, as part of the designer support program, a special Creative Fund is established to incentivize the art work creation and guarantee artists the corresponding income. At the same time, this competition will be launched in more than 170 countries and regions. All entries are able to receive exposure from billions through online and offline channels worldwide, bringing an  extraordinary experience to hundreds of millions of Huawei smartphone users.
Easy to create themes by employing Huawei Themes Development Tool 9.0
In line with this competition, Huawei officially launched the Theme Development Tool 9.0. The newly upgraded theme development tool supports theme visualization editing, multi-effect online preview, and materials one-click packaging, enabling designers to get rid of complex lock screen script development etc., generating a designer friendly environment and leaving more time for the creation.
Event information not to be missed: Your participation will affect the future of smartphone theme design aesthetics
The theme is one of the key artistic measure of smartphones and the theme designer is the master of making the fusion of art and technology possible. And hundreds of millions of users will be influenced by every detail of the theme design.
A great number of designers from all over the world will participate this competition enthusiastically!
For more information, please visit the official website: https://themes.cloud.huawei.com/contest/index.html or open the Huawei Themes application to enter the competition registration page and sign up to participate!
SOURCE: Huawei
Global Survey Shows Travellers Still Struggle With Lack of Information About Delayed and Cancelled Flights, Says Cirium
Reading Time:
3
minutes
New survey reveals well over a third of travellers have had to pay more to make alternative travel plans following a delayed flight
Nearly two thirds would be likely to use an app which alerted family, friends and work colleagues if their flight was disrupted
Cirium, the aviation data and analytics experts, say flight delays and cancellations cost airlines over 

US$30bn

 a year
Over a third of global travellers (36%) say they don't get enough information about delayed and cancelled flights, according to aviation and data analytics experts at Cirium.
A new survey for Cirium reveals the impact of flight delays and cancellations and the need for better management of flight disruption, with more communication via proactive flight updates for affected passengers.
Almost two thirds (61%) of those surveyed said that they would be likely to use an app which alerted their friends, family or company about their delay.
In 2018, approximately 3.9 million flights – or 10,700 a day – were delayed by over 30 minutes or cancelled globally, affecting more than 470 million passenger journeys around the world.
Flight delays and cancellation cost airlines globally US$30bn a year in lost revenue, in addition to costs borne by their passengers.
Airline flight delays and cancellations are caused by a wide range of factors, such as technical issues with aircraft, bad weather, air traffic control problems, strikes, medical diversions and congested airports, among many others.
The global YouGov study conducted for Cirium in the UK, US, UAE and China, showed more than a third of travellers worldwide (35%) who had experienced a delayed or cancelled flight, did not find it easy to change their travel plans, with well over a third (40%) left out of pocket after being forced to pay more to make alternative travel plans.
Airlines also had to bear the massive cost of disruption with flight delays and cancellations costing the equivalent of US$7 for every departing passenger – slightly less than the airline's net profit per person per departing flight.
Jeremy Bowen, Cirium Chief Executive Officer, said: "Flight delays and cancellations are an unfortunate aspect of modern air travel and can have a big impact on travellers, whether flying for business or leisure. We recognize that the cost of disruption for airlines is also a significant problem. While our survey reveals well over a third of passengers still have to pay more for alternative travel plans, airlines can proactively issue flight alerts ahead of travel and re-allocate tickets without fees to take the sting out of flight disruption. We all want to travel stress free and get people to where they want to go, which is why at Cirium we work closely with airlines around the world on initiatives which reduce the impact of disrupted flights."
The survey revealed nearly two thirds (57%) of those polled only found out about their flight delay or cancellation once they had reached the airport. When asked 29% said that they would prefer to be informed about a delay through a text alert with another two thirds (61%) saying they would use an app which alerted their friends, family or company about their delay.
More than double (48%) said that they would be most frustrated if their leisure flight was delayed or cancelled compared to the 21% who would be most frustrated if a business flight was cancelled.
Over a third of global travellers would be most sympathetic if a flight was disrupted due to bad weather (35%) followed by technical issues with their aircraft (30%). However, only a tiny 5% would be most sympathetic with delays or cancellations due to problems caused by air traffic control.
Cirium enables the wider travel industry to manage the impact of disruption with intelligent data and analytics solutions. For example, Cirium analyzes more than 70 million passenger journeys annually to provide meaningful insights and keep the travel industry in motion.
This data is used by a wide range of customers, such as airlines and airports, to improve the travel experience by smart devices and metasearch engines, like Google, Amazon and Expedia, to provide information directly to passengers, enabling them to make more informed choices when on the move.
Cirium's data and analytics divisions have been the first to bring innovative solutions to market, such as the first to automate the ticket waiver process during times of flight delays and cancellations.
It employs over 400 technologists, analysts, data scientists and market experts in the UK, US, Europe, Middle East, Indiaand Asia-Pacific.
The group has significantly grown in recent years with the acquisition of leading data intelligence companies, including Ascend, Innovata, Diio and FlightStats.
SOURCE Cirium
Suzy Says: Consumers Are More Likely To Learn About Healthy Food Trends From Social Media Than News Sources
Reading Time:
2
minutes
Suzy, a leading consumer insights platform that provides "actionable insights at the speed of culture," asked U.S. consumers where they are most likely to first hear about the latest in healthy food trends. The results, powered by the platform's on-demand network of more than one million consumers, may surprise you. Regardless of their interest in health, all survey respondents are most likely to hear about the latest in healthy food trends from their friends, family or social media, as opposed to television, blogs, magazines or online news sources.
Below are Suzy's in-depth findings on the ways consumers are most likely to first hear about healthy food trends.
Suzy says healthy eaters are most likely to learn about the latest healthy food trends via the following:
Facebook – 17 percent
Instagram – 15 percent
Friends or Family – 13 percent
Blogs – 8 percent
Television – 8 percent
Non-healthy eaters are most likely to learn about the latest healthy food trends via the following:
Facebook – 20 percent
Friends or Family – 19 percent
Instagram – 10 percent
Online News Sources – 10 percent
Television – 10 percent
"These results highlight the power that the collective voice of consumers has in today's marketplace," said Matt Britton, founder & CEO of Suzy. "When social networks play a larger role in alerting consumers to healthy food trends than traditional media outlets, you can see how important it is to create products, packaging, brands and advertisements that truly resonate with your target audience, and inspire them to share the information with others."
Called the "Siri for brands," Suzy is a consumer intelligence platform that unlocks critical consumer insights to help organizations make better and more informed decisions—faster. Like having a focus group right in your pocket, Suzy brings the voice of real consumers directly to brands within minutes, so they can better understand their customers.
The platform currently serves some of the biggest brands in the world, including Coca-Cola, Procter & Gamble, Johnson & Johnson, Citibank, Verizon, Nintendo and Nestle. These leading companies validate critical assumptions with Suzy, so they can focus on creating compelling new products, developing effective marketing strategies, and validating direct offers that increase conversions and drive growth.
This survey was conducted online within the United States by Suzy on survey was run from Feb 27-28. This online survey is not based on a probability sample and therefore no estimate of theoretical sampling error can be calculated. To download the full white paper with additional results, click here. For complete survey methodology please contact Kyle Kim-Hays at kylek@suzy.com.
SOURCE Suzy