The Digital Transformation of Mercedes-Benz Vans: Leveraging artificial intelligence in last-mile logistics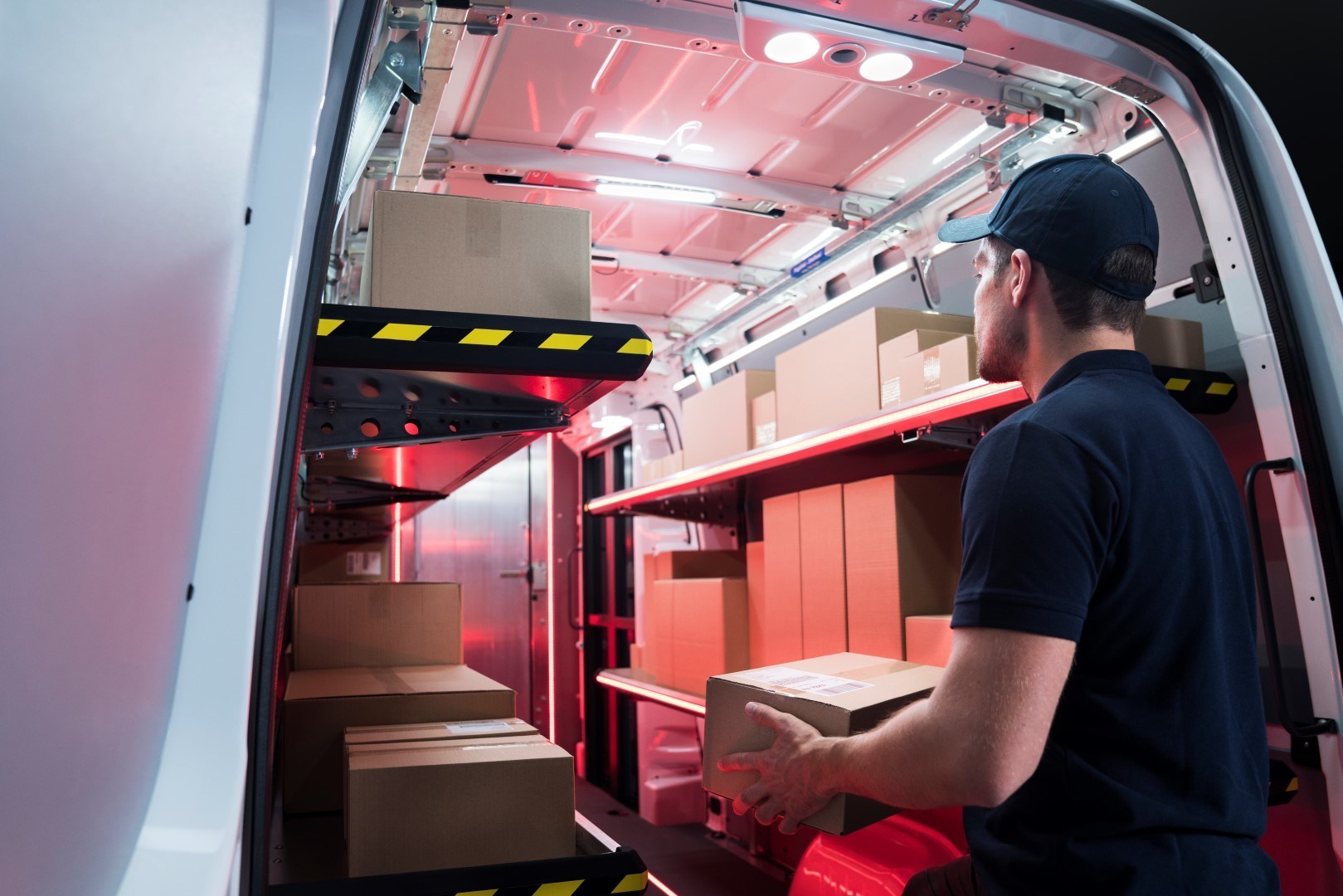 Reading Time:
2
minutes
– Future Transportation team of Mercedes-Benz Vans develops AI-powered cargo sensor system.
– With computer vision and AI the new Cargo Recognition and Organization System (CoROS) is able to optimize the delivery process of logistic companies.
Mercedes-Benz Vans is transforming itself into a provider of holistic transportation solutions with the help of new digital product offerings. The Future Transportation team of Mercedes-Benz Vans developed a new AI-powered cargo sensor system to address the growing demands of e-commerce and last-mile delivery.
The growing popularity of e-commerce has led to high revenues for delivery service providers but has also put strain on their ability to manage this increase of packages and deliver them under tight deadlines. To meet these challenges for its commercial van customers, Mercedes-Benz Vans is developing next-generation in-vehicle cargo systems powered by artificial intelligence and machine learning. These new technologies automate cargo management, decrease package handling and improve delivery times, allowing logistics companies to deliver more packages with greater speed, transparency and efficiency.
The Cargo Recognition and Organization System, known as CoROS equips the new Mercedes-Benz Sprinter with an array of cameras that automatically scan and track packages as they enter and exit the vehicle. Leveraging computer vision and AI, CoROS identifies, scans, and records packages as they are brought into the vehicle and recommends the optimal loading position based on the package's size and final destination. CoROS continuously monitors the cargo space throughout a driver's route and tracks any changes to a package's location if a sharp turn or road bump causes the cargo to shift, or if the driver reorganizes their cargo throughout the day. At each stop, the system automatically looks up the customer's order and directs the driver to that customer's packages via LEDs installed on shelves and throughout the cargo space. CoROS also reduces time spent by the driver searching for the right packages at each customer stop, enabling faster and more reliable deliveries.
The system provides additional benefits through real-time status updates for fleet managers and customers on a driver's progress and the status of individual packages, reducing potential customer frustration regarding uncertain delivery times. This data also provides valuable insight into a fleet's performance, allowing fleet managers and dispatchers to forecast delays, optimize process operations, and address areas of concern.
Launched as proof of concept at IAA Commercial Vehicles in Hanover, Germany, it will be now presented at Fleet Forward Conference in San Francisco, October 9.
At home in a garage in Menlo Park, the Future Transportation team of Mercedes-Benz Vans uses user-centered design and rapid prototyping to innovate new products. Its interdisciplinary team combines Mercedes-Benz's decades of expertise in the commercial vehicle sector with fresh perspectives from a variety of industries. Leveraging the innovative Silicon Valley network, the Mercedes-Benz Vans Future Transportation explores new ventures and opportunities in the changing transportation ecosystem, and considers how emerging technologies will shape the future landscape of logistics and mobility. As part of Mercedes-Benz Research & Development North America headquartered in Sunnyvale the team is part of the global R&D network of Daimler AG.
Further information about Mercedes-Benz is available online:
www.mbrdna.com and www.media.daimler.com
Jeep® Cherokee Named 'Most American' Vehicle on Cars.com's American-Made Index for Second Consecutive Year
Reading Time:
2
minutes
Jeep® Cherokee earns top spot on Cars.com's annual American-Made Index
Cherokee boasts a new-for-2019 premium design, along with a new turbocharged 2.0-liter engine that enhances performance and fuel efficiency
For the second consecutive year, Jeep® Cherokee – the most capable midsize sport-utility vehicle – is ranked first on Cars.com's annual American-Made Index (AMI).
"The Jeep Cherokee tops Cars.com's American-Made Index for the second year in a row, taking the number-one position, thanks to high scores across the five major factors analyzed in the index," said Kelsey Mays, Senior Consumer Affairs Editor, Cars.com.
Now in the second year of its revised methodology, the AMI considers five major factors to zero in on the economic impact of a given model: assembly location, domestic-parts content as determined by the American Automobile Labeling Act, engine sourcing, transmission sourcing and factory jobs provided by each automaker's U.S. plants.
"As we approach the Fourth of July holiday, we are especially pleased to celebrate Cherokee's place as the most American vehicle on Cars.com's American-Made Index for the second consecutive year," said Jim Morrison, Head of Jeep Brand – North America. "We salute the dedicated employees who build the Cherokee, the most capable midsize SUV on the planet, as well as all the loyal Jeep owners who drive it."
Jeep Cherokee boasts an authentic and more premium design for 2019, along with the addition of an advanced 2.0-liter direct-injection inline four-cylinder engine that enhances performance and fuel efficiency up to 31 mpg.
Complete with a refreshed fascia, lightweight hood, LED headlamps, daytime running lamps (DRL), fog lamps and liftgate, the Jeep Cherokee is a vehicle that offers a fresh look, and maintains its unmatched capability in all weather conditions, on the road or trail.
Jeep Cherokee is manufactured at the Belvidere Assembly Plant in Belvidere, Illinois. It competes in the largest SUV segment in the United States, with more than 2 million sales annually.
SOURCE FCA US LLC
GAC Motor Collaborates With Tata Elxsi to Develop Smart Gateway Module
Reading Time:
1
minute
Tata Elxsi announced today that it is developing an AUTOSAR-compliant Smart Gateway module for GAC Motors R&D Center. This module will feature in their new range of Electric Vehicles expected to launch in the second half of 2020.
The Smart Gateway module consists of multiple CAN, Ethernet and LIN channels and will act as the communication centre to control the inter-bus communications between various other ECUs like ADAS, IVI, BMS, HUD cluster.
"Tata Elxsi has rich experience in the development of automotive electronics software. We are very happy to leverage Tata Elxsi's experience on the central gateway product and jointly go for development. This will accelerate our software technology development in the intelligent connected vehicle," said Zhang Ying, Project Director of Ethernet Gateway, GAC R&D Center.
"We are delighted to partner with GAC R&D Center in the development of the smart gateway to help better manage the increasing complexity of automotive electronic architecture and network, with enhanced safety and security. This win also enables us to leverage our expertise and contribute to the development of intelligent connected vehicles inChina, one of the world's leading hubs for next-generation mobility systems," said Nitin Pai, SVP and Global Head of Marketing, Tata Elxsi.
Tata Elxsi works with leading global automotive OEMs, suppliers and chip vendors in system and software development for the next generation of intelligent, autonomous and electric vehicles. This is complemented by a proven suite of software for classic and adaptive Autosar, ADAS and autonomous software and tools for automated testing and validation.
SOURCE Tata Elxsi
Ideanomics signs MoU with Beijing Foton Motor Company; Definitive Agreement to Follow
Reading Time:
2
minutes
Ideanomics (NASDAQ: IDEX) ("Ideanomics" or the "Company"), a global Fintech and AI catalyst for transformative industries, today announced the signing of a MoU with Beijing Foton Motor Company("Foton"), which will serve as a pre-cursor to a definitive agreement, to allow the two parties to begin working immediately.
The agreement for China-based activities is a 2-year deal, at 5 Billion RMB (approximately $750 Million) per year, making the overall deal valued at 10 Billion RMB (approximately US $1.5 Billion). Ideanomics will provide ABS lease financing of 10 Billion RMB over two years, and fulfill with for Foton on orders of 60,000 EV buses, broken down as follows: 1) not less than 20,000 vehicles from state-owned large-scale tourism groups and referred to as "Tourist bus orders"; 2) no less than 20,000 bus orders from local governments or local bus transportation systems; 3) no less than 20,000 Tourist bus orders from major domestic tourism associations and/or their members. Furthermore, for bus orders introduced by Ideanomics, a commission will be paid for each bus unit sold, at an amount to be determined according to each respective order.
For Malaysia-based activities, including cooperation for the extended ASEAN region, the supply of bus parts and systems, including EV batteries, and a cooperation on the implementation of a charging network, for which Ideanomics shall source no less than 6,000 vehicles from the Malaysian central government and its departmental agencies including EV buses and Police passenger vehicles (cars and motorcycles). For orders within Malaysia and the ASEAN region, Ideanomics shall be entitled to commission per unit sold, at an amount to be determined according to each respective order.
For Vietnam-based activities, Ideanomics shall source no less than 20,000 vehicles, both EV Bus and passenger car for e-taxi conversion, with Foton making available its 30,000-part bus system and technology for assembly in Vietnam. The agreement allows for negotiations with the Vietnam state electrical grid, to introduce a national charging network.
The agreement also allows for projects in other geographical areas, including Europe and the Americas, on a project-by-project basis.
"We are very grateful for the efforts of Dr. Wu, Avis Zhu and the entire China-based Ideanomics team, with support from our colleagues at Treeletrik in Malaysia, for successfully delivering on this deal. Foton is arguably the premier EV bus manufacturer globally, and this agreement positions us to further consolidate our position as a global EV advisory services company, as well as enable us to expand our footprint beyond China with the leading EV bus product available today. The fact Foton promoted signing a MoU, to allow the parties to begin activities immediately while the broader definitive agreement is signed, is testament to our growing reputation as the advisory partner of choice for large-scale EV initiatives in Asia," said Alf Poor, CEO of Ideanomics.
Beijing Foton's commercial division is focused on building a future of efficient and environmentally friendly EV Buses and other commercial vehicles, as a vehicle manufacturer. Ideanomics is leading the way for the future of ABS financing, technology enablement with the application of blockchain and artificial intelligence technologies as part of the next-generation of financial services," said Mr. Liang Shaowen, of Beijing Auto Foton Commercial Vehicle. "Together, Foton and Ideanomics will seize upon the opportunity of large-scale EV and Hydrogen replacement of public and private transportation infrastructure in major markets and the same time raise the standard for technologically advanced vehicles which offer dependability, reliability and improved customer satisfaction. This, coupled with compelling, economically viable, financing programs for the cities and bus operators that manage these fleets will serve a much-needed gap in the market."
SOURCE Ideanomics