The Digital Transformation of Mercedes-Benz Vans: Leveraging artificial intelligence in last-mile logistics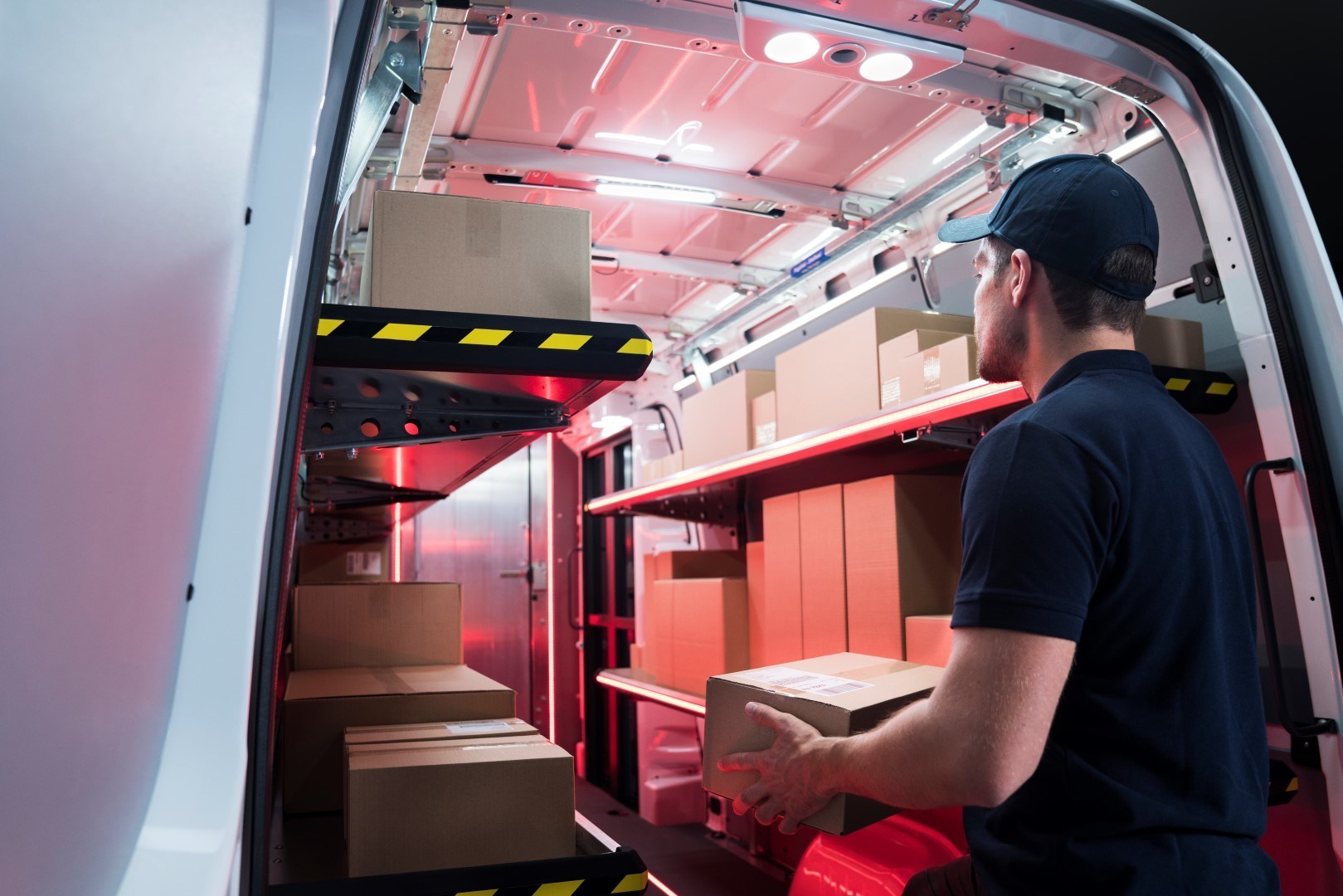 Reading Time:
2
minutes
– Future Transportation team of Mercedes-Benz Vans develops AI-powered cargo sensor system.
– With computer vision and AI the new Cargo Recognition and Organization System (CoROS) is able to optimize the delivery process of logistic companies.
Mercedes-Benz Vans is transforming itself into a provider of holistic transportation solutions with the help of new digital product offerings. The Future Transportation team of Mercedes-Benz Vans developed a new AI-powered cargo sensor system to address the growing demands of e-commerce and last-mile delivery.
The growing popularity of e-commerce has led to high revenues for delivery service providers but has also put strain on their ability to manage this increase of packages and deliver them under tight deadlines. To meet these challenges for its commercial van customers, Mercedes-Benz Vans is developing next-generation in-vehicle cargo systems powered by artificial intelligence and machine learning. These new technologies automate cargo management, decrease package handling and improve delivery times, allowing logistics companies to deliver more packages with greater speed, transparency and efficiency.
The Cargo Recognition and Organization System, known as CoROS equips the new Mercedes-Benz Sprinter with an array of cameras that automatically scan and track packages as they enter and exit the vehicle. Leveraging computer vision and AI, CoROS identifies, scans, and records packages as they are brought into the vehicle and recommends the optimal loading position based on the package's size and final destination. CoROS continuously monitors the cargo space throughout a driver's route and tracks any changes to a package's location if a sharp turn or road bump causes the cargo to shift, or if the driver reorganizes their cargo throughout the day. At each stop, the system automatically looks up the customer's order and directs the driver to that customer's packages via LEDs installed on shelves and throughout the cargo space. CoROS also reduces time spent by the driver searching for the right packages at each customer stop, enabling faster and more reliable deliveries.
The system provides additional benefits through real-time status updates for fleet managers and customers on a driver's progress and the status of individual packages, reducing potential customer frustration regarding uncertain delivery times. This data also provides valuable insight into a fleet's performance, allowing fleet managers and dispatchers to forecast delays, optimize process operations, and address areas of concern.
Launched as proof of concept at IAA Commercial Vehicles in Hanover, Germany, it will be now presented at Fleet Forward Conference in San Francisco, October 9.
At home in a garage in Menlo Park, the Future Transportation team of Mercedes-Benz Vans uses user-centered design and rapid prototyping to innovate new products. Its interdisciplinary team combines Mercedes-Benz's decades of expertise in the commercial vehicle sector with fresh perspectives from a variety of industries. Leveraging the innovative Silicon Valley network, the Mercedes-Benz Vans Future Transportation explores new ventures and opportunities in the changing transportation ecosystem, and considers how emerging technologies will shape the future landscape of logistics and mobility. As part of Mercedes-Benz Research & Development North America headquartered in Sunnyvale the team is part of the global R&D network of Daimler AG.
Further information about Mercedes-Benz is available online:
www.mbrdna.com and www.media.daimler.com
Human Horizons Launches a Premium All-Electric Smart Car Brand HiPhi and Its First Production-Ready Vehicle HiPhi 1
Reading Time:
1
minute
HiPhi is a premium brand created by Human Horizons and enhanced by its users. The first production ready vehicle, HiPhi 1, integrates and develops world leading technologies, establishes a unique design philosophy and embeds sustainability as a core product development principle. HiPhi 1 is targeted at the growing global high technology, luxury market.
Human Horizons pursues a human-oriented philosophy and applies human-centric intelligence to advance the transformation of future human mobility. Its holistic solution consists of the development of smart vehicles, smart transportation and smart cities.
Human Horizons hopes to promote the development of the Vehicle-Road-City ecosystem through perception collaboration, computing collaboration, intelligence collaboration to ultimately transform individual intelligence to swarm intelligence.
Ding Lei, founder of Human Horizons believes that truly smart vehicles should seamlessly connect to the world of the Internet, IoT and IoE. They act as a node within the city linking the vehicle-road-city ecosystem together to enable the free flow of technical data. A smart vehicle will adapt itself and become more intelligent over time.
HiPhi 1 is equipped with more than 500 sensors and the first production car with a 5G-V2X enabled communication network. In addition, HiPhi 1 introduces the world's first Human Oriented Architecture (HOA), featuring a software-developer enabled platform within the electric and electrical (E/E) architecture which allows functions to be created that are both adaptive and self-learning. Together, these provide a new level of customer experience that can continuously evolve over time. Artificial Intelligence learns and adjusts a substantial number of vehicle parameters based on the occupants' habits and preferences.
SOURCE Human Horizons
TVS Motor Singapore to Invest US$7 Million in Scienaptic Systems, an AI Powered Decision Platform
Reading Time:
2
minutes
TVS Motor (Singapore) Pte. Limited, a wholly-owned subsidiary of TVS Motor Company Limited, India, has signed definitive agreements to invest US$7 million in Scienaptic Systems Inc., a Delaware corporation, headquartered in New York City. TVS Motor (Singapore) Pte. Limited led this Series A funding in Scienaptic. The closing of the investment is subject to obtaining appropriate regulatory approvals.
Scienaptic has combined latest big data technologies and proprietary machine learning and artificial intelligence algorithms on its decision platform, "Ether." Solutions built on Ether enable enterprises to improve risk and credit assessment, monitor evolving fraud patterns, and improve customer journeys and experience. Scienaptic counts several marquee Fortune 100 enterprises as its clients.
Rajesh Narasimhan, Board Member of TVS Motor Company and CEO of TVS Motor (Singapore), stated that, "We evaluated many companies providing big data analytics and risk management solutions and found Scienaptic's product offerings and solutions with their ability to help organizations leverage actionable insights through the power of a strong analytics platform to be a clear differentiator and a unique proposition. Scienaptic's end-to-end data analytics solution, with applicability to customers in various industries, has the potential to generate a new profit stream for our group. We are happy to invest in, and strategically partner with, Scienaptic as they continue to pursue bottom-line impact for Fortune 100 companies, and to leverage Scienaptic for our businesses. Our current investment in Scienaptic is part of the initial set of investments being made in strategically relevant digital startups."
Pankaj Kulshreshtha, Founder & CEO of Scienaptic added, "We are witnessing the adoption of our AI platform at Fortune 100 companies. With the cutting edge instruments on our platform, companies are able to drive adoption of AI in their processes. The investment by TVS enables us to accelerate our sales and product development. We found a significant match in value systems between the two organizations and believe that our collective strengths will enable Scienaptic to grow exponentially and become a global leader in AI-powered decisioning space."
SOURCE TVS Motor
AI-led start-up UVeye raises $31 million led by Toyota Tsusho, Volvo Cars and W. R. Berkley Corporation
Reading Time:
2
minutes
Israeli company UVeye, which provides sophisticated solutions for automatic external inspection of vehicles, has raised an additional $31 million in funding, led by Toyota Tsusho, Volvo Cars and W. R. Berkley Corporation, bringing total funds raised since 2017 to $35 million.
"This latest investment including leading automotive strategic partners is an important signal that we believe paves the way for UVeye to become the standard of automotive inspection and safety," said Amir Hever, CEO of UVeye. "We are delighted to have world-class companies in their respective sectors endorse our game-changing auto-scanning solution."
UVeye's technology enables vehicle manufacturers, logistic operators, retailers and rental-car companies to carry out automatic vehicle inspection leveraging first-of-its-kind artificial intelligence, purpose-built for vehicles. Importantly, UVeye's system has proven it can drive higher accuracy and improve efficiency, all with minimal human intervention.
UVeye's drive-through systems can detect external and mechanical flaws and identify anomalies, modifications or foreign objects – both along the undercarriage and around the exterior of the vehicle. The scanning process completes within a matter of seconds and can be used throughout the entire lifecycle of the vehicle. The technology is being actively deployed today across many use cases, from the vehicle manufacturing line – the moment components are placed on the conveyor belt through end-of-line inspection – to logistics, maintenance and beyond.
Since inception, UVeye has generated millions of vehicle scans across dozens of countries. UVeye's anomaly detection accuracy rate has exceeded client thresholds in all case studies to date.
In conjunction with today's announcement, Volvo Cars and Toyota Tsusho intend to use UVeye's inspection systems at various sites internationally, including Volvo Cars factories, dealerships and in the aftermarket. For Toyota Tusho, UVeye also will support distribution to used-car centers and throughout the company's footprint within the Japanese auto market. UVeye welcomes these new relationships, adding to existing partnerships with Skoda and Daimler, according to Hever.
"Premium quality standards are at the core of the Volvo brand, and we are intrigued by the possibilities that UVeye's technology offers," said Zaki Fasihuddin, CEO of the Volvo Cars Tech Fund. "This type of advanced scanning technology could allow us to take the next step in quality."
According to Mike Nannizzi, director of Fintech investments from W. R. Berkley Corporation:  "When we made our initial investment in UVeye two years ago, we believed its system could have game-changing impact within security and inspection applications globally, and today's announcement validates that early hypothesis. We congratulate UVeye, Toyota Tsusho and Volvo Cars for building a cohesive partnership with enormous potential."
SOURCE UVeye