Lost Glen Campbell Album 'Sings For The King' Featuring Songs Recorded For Elvis Presley Discovered And Released Half A Century Later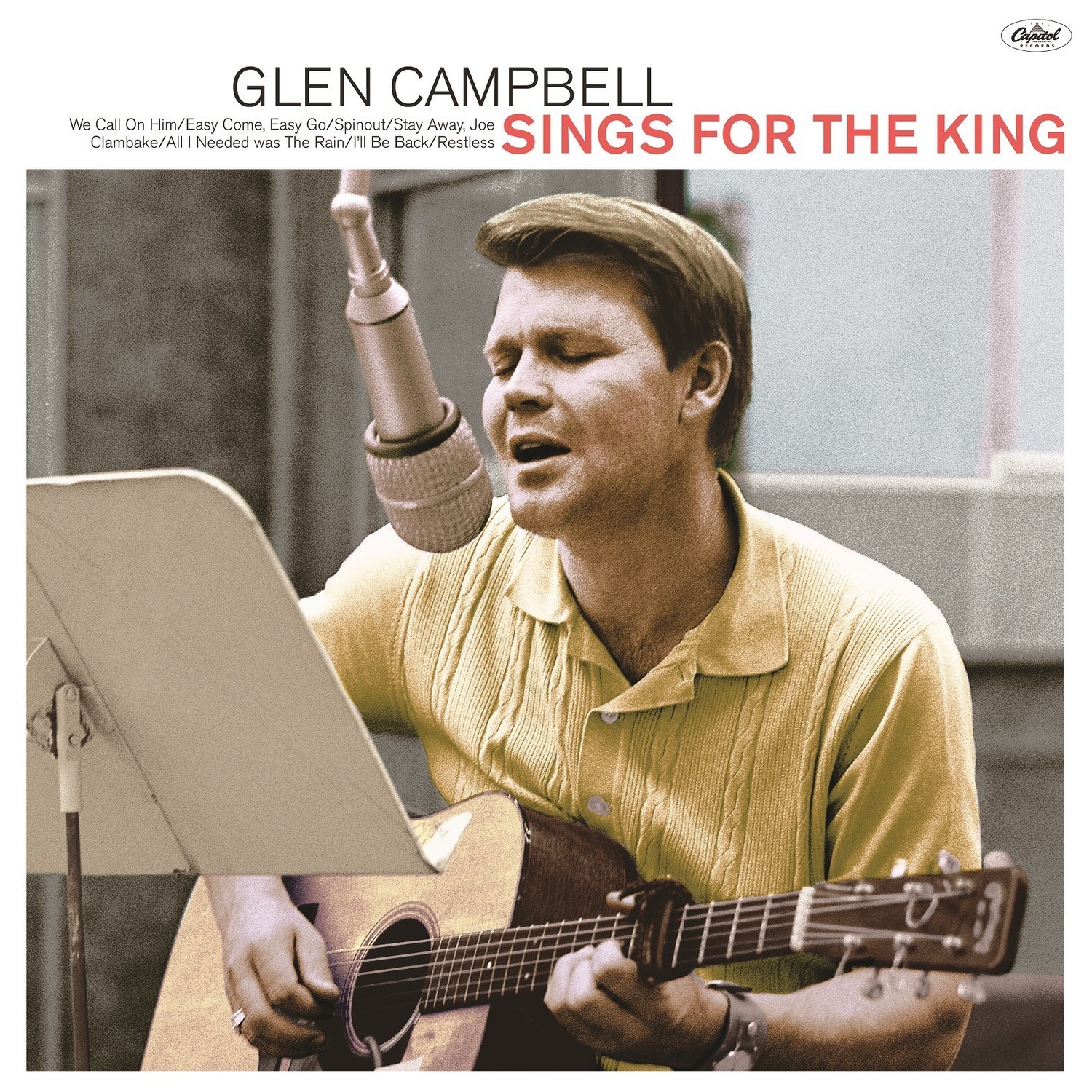 Reading Time:
4
minutes
AVAILABLE NOVEMBER 16 VIA CAPITOL/UMe
LISTEN TO "EASY COME, EASY GO" TODAY
From 1964 to 1968—in between recording sessions with the Wrecking Crew, touring with the Beach Boys, and recording his own albums—Glen Campbell was recruited to record songs for the King of Rock & Roll, Elvis Presley. Originally intended for Elvis's ears only, eighteen of these recently unearthed and unreleased gems will be released together on CD, LP and digitally for the first time, more than half a century later, as the lost album Sings For The King on November 16 via Capitol/UMe. The collection will also be available on limited edition 180-gram clear vinyl exclusively at GlenCampbell.com.
Pre-order Sings For The King now: https://UMe.lnk.to/GCSingsForTheKingPR
Sings For The King includes songs written by the songwriting team of Ben Weisman and Sid Wayne. Weisman is significant for having written the most songs recorded by Elvis than any other songwriter in history at 57. Weisman and Wayne turned to Glen Campbell who had perfect pitch and an uncanny ability to match Elvis's key and even mimic his delivery, to record fully fleshed out studio versions that they could present to Elvis for his recording consideration. The songs were discovered by Executive Producer Stephen Auerbach who found the fifty-year-old recordings on long-forgotten reel-to-reel tapes in a storage space belonging to his uncle-in-law, Ben Weisman. Of the 29 recordings that have been rescued, there are twelve of Glen's recordings that went on to be recorded and released by Elvis including "Stay Away Joe," "Clambake," "Spinout" and "Easy Come, Easy Go," which were all made famous with iconic singing performances of the title tracks in his movies. "Easy Come, Easy Go" is available today on all streaming services and as an instant grat download with digital pre-order. Listen to "Easy Come, Easy Go" here: https://UMe.lnk.to/GCSingsForTheKingPR
The variety of the material is striking and ranges from the country-flavored "Any Old Time" to the more rocked-up "I'll Be Back" to meaty ballads like "I'll Never Know." On "I Got Love" Glen begins the song sounding like himself but then subtly shifts into Elvis's trademark tone. The album opens with the gospel song "We Call on Him," which features the two legendary voices fused into a duet, giving a real sense of how Glen's performances teed up these songs for Elvis, and then where The King took them and made them his own. All eighteen songs highlight Glen's incredible vocal range and guitar skills and draw focus to Weisman and Wayne's understanding of all the styles of music Elvis could perform.
As noted music journalist and author Alan Light writes in the illuminating liner notes, "With their genre-bending musical exploration and rural Southern roots, it's no surprise that Glen Campbell and Elvis Presley formed something of a mutual admiration society. 'Elvis and I were brought up the same humble way,' Campbell once said, 'picking cotton and looking at the north end of a south-bound mule.' The friendship between the Rhinestone Cowboy and the King of Rock and Roll spanned three decades, and they often orbited each other professionally."
Glen and Elvis first met in 1956, when Elvis performed in Albuquerque, where Glen had recently moved to join his uncle's band, Dick Bills and the Sandia Mountain Boys. "I saw him in the rough," Glen later said. "He was so electrifying." In 1960, Glen headed to Los Angeles to find work as a session musician and took a regular gig at a club called the Crossbow, where Elvis and his friends would sometimes come watch from a small private room upstairs. As a member of the incomparable group of LA studio musicians known as the Wrecking Crew, Glen appeared on dozens of immortal hits, from "You've Lost that Lovin' Feelin' " to "Strangers in the Night." In 1963 alone, he added his guitar to almost 600 sessions, including his one and only recording with Elvis, for the "Viva Las Vegas" soundtrack.
By 1967, Glen's own career was exploding with the release of his breakthrough albums Gentle on My Mind and By the Time I Get to Phoenix, which both reached Number One on the charts, and made Grammy history by sweeping the Song and Performance awards in both the pop and country & western categories. The following year, By The Time I Get To Phoenix took home the prize for Album of the Year, the first country record to do so. Yet Glen continued to knock out songs for Weisman and Wayne in whatever spare time he had.
The relationship between these two Hall of Famers might have become more extensive: When Elvis was assembling his TCB band in 1969, his two finalists for the lead guitar chair were Glen and James Burton. But while Glen was riding high as a solo artist following the monster hits "Gentle on My Mind," "By the Time I Get to Phoenix," and "Wichita Lineman," Burton was available since his previous boss, Ricky Nelson, had recently broken up his backing band.
As it turns out, though, there was a deep connection between Elvis and Glen that almost no one was aware of—until now, with the release of Sings for the King. This historic collection casts new light on the quiet influence that one musical giant, and an often-overlooked songwriting team, had on America's greatest rock and roll star.
SINGS FOR THE KING TRACK LISTING
1. We Call On Him (A Duet With Elvis Presley) *
2. Easy Come, Easy Go *
3. Any Old Time
4. Anyone Can Play
5. I Got Love
6. I'll Never Know *
7. All I Needed Was The Rain *
8. How Can You Lose What You Never Had *
9. Spinout *
10. Magic Fire
11. I'll Be Back *
12. Love On The Rocks
13. Stay Away, Joe *
14. Cross My Heart And Hope To Die *
15. Clambake *
16. There Is So Much World To See *
17. Do The Clam *
18. Restless
* Recorded by Elvis Presley
'Long Gone By' to Premiere at HBO's New York Latino Film Festival 2019
Reading Time:
5
minutes
From Acclaimed Filmmaker Andrew Morgan and Untold Films Comes a Feature Narrative Film, Starring Erica Muñoz, Portraying The Impossible Realities of Undocumented Latinx Immigrants
HBO's New York Latino Film Festival has just announced the premiere details for LONG GONE BY, starring Erica Muñoz who is also the associate producer, directed by Andrew Morgan and produced by Emily Morgan. The film will premiere on Saturday August 17, 2019 at 2pm at AMC Times Square.
LONG GONE BY tells the tale of Ana Alvarez, a single mother from Nicaragua living in Warsaw, Indiana with her teenage daughter, Izzy. When a routine check in leads to a deportation order, life as Ana knows it ends. The timing could not be worse as Izzy has just been accepted to Indiana University, a dream that becomes a nightmare when she discovers that because of her immigration status she will not qualify for the needed scholarships or federal aid. Faced with an impossible reality of a lifetime away from her daughter, Ana decides to risk everything in a last chance effort to leave Izzy's tuition paid before her time runs out. An intimately unnerving portrait of a woman willing to sacrifice everything to give her daughter the chance at a life she never had.
Said director, Andrew Morgan, "There is nothing in my life that comes close to relating to what we witness Ana and Izzy go through in this film. The prospect of facing a lifetime away from my children is a nightmare I have never had to imagine. For me that reality, as I listened to the stories of families being torn apart gave me the motivation to do something in my own way to shine a light on these issues and ideas." Said lead Erica Muñoz, "I've seen people forced into impossible situations. Parents having to make unthinkable decisions in order to try to give their children a better life. Since we shot the film, the horrors are only amplified." These issues are what drove the cast and crew to create LONG GONE BY, and the effect of the film is palpable.
The film was set and shot on location in Warsaw, Indiana. Morgan wanted to portray the classic small town America through the eyes of an outsider. He said "I absolutely loved working there, the entire community was so helpful and it gave the film a look and feel that I really love."
"Andrew is focused, driven, kind, incredibly patient, and ridiculously talented.  Working with him was, without question, the most rewarding professional experience of my life," said lead and Associate Producer, Erica Muñoz. "The rest of the team – in particular, Emily Morgan, his wife and producing partner, created an environment where everyone felt so supported in every conceivable way."
The filmmakers responsible for LONG GONE BY are very excited to be premiering at the 16th year of HBO's New York Latino Film Festival. Muñoz has been following the festival since its inception. She says "the spotlight on Latinx creatives has created opportunities for so many filmmakers like myself. It's by passing the gate keepers and opening the door for unknown talent to be seen."
Director's Statement from Andrew Morgan:
"No storyline has continued to haunt me over the last few years like the one surrounding immigrant families in this country. As I got the chance to spend time with some of these families and hear first hand about the fear that overshadows their lives, I knew I wanted to find a way to tell a story set against this backdrop that opened up space for more conversation, humanity and love.
When we look back at this moment years from now, I believe the struggle facing immigrant families in this country will be one of most defining challenges of our time. But for millions of people this is not about history it is about their story. There are roughly eleven million undocumented immigrants currently living in the US. Two-thirds have lived in this country for more than a decade and have fled countless cases of corruption and violence in search of basic opportunity for their families.
While dramatized in the film, Ana's story is one that encapsulates the dream turned nightmare facing so many immigrants today. The story serves to humanize her struggle and in so doing asks larger questions about what kind of a society we are choosing to create. One in which our common values of hard work, family and increased opportunity for all give way to a more narrow American story in which far too many people are forced to make impossible choices for those they love.
One of the things I love most about film is that it can open a space for us to think and feel more deeply. It gives us the opportunity to encounter things we thought we understood in a whole new way. In spending time with these characters, I have come to see their story as both foreign and familiar to us all. It is a story about struggle, sacrifice, family, and what is at stake when the laws regarding the outsider threaten to betray our truest values."
About Andrew Morgan (Director): 
Andrew Morgan is an internationally recognized filmmaker focused on telling stories for a better tomorrow. His experience includes a broad range of work spanning narrative and documentary storytelling for multiple film and new media projects that have been filmed and released all over the world. The New York Times described his unique style as "gentle, humane investigations," and Vogue Magazine wrote that it is "evidence that each of us can act as a catalyst for change within our own lives and work together towards a greater good." He lives in LA with his wife Emily, their four children and a dog named Lady.
About Erica Muñoz (Lead Actress/ Associate Producer):
Erica Muñoz is an actress and producer known for her roles in the the Pulitzer Prize winning Broadway musical, RENT,  Grey's Anatomy, Numb3ers, & Jericho. More recently, she was featured in O.A.R.'s "Miss you all the Time" video directed by Rudy Mancuso, & is currently shooting the lead role opposite Renee Victor in the feature, City of Crows.  She lives in LA with her husband and two children and continues to work on television, film, theatre and print work.
LONG GONE BY Online:
The 13th Annual ADCOLOR Awards Takes Place September 8th, 2019 in Los Angeles
Reading Time:
4
minutes
Eva Longoria to be Recognized with the Beacon Award Presented by ADWEEK
ADCOLOR, the premier organization dedicated to celebrating and promoting professionals of color and diversity in the creative industries, announced their 2019 Honorees and Nominees at ADCOLOR Live in the Facebook Live Studios.
The organization also announced the 2019 class of ADCOLOR FUTURES, a program that chooses the best and brightest professionals who are one to three years into their career to attend the annual conference and awards show which will take place September 6th through the 8th at the J.W. Marriott Los Angeles L.A. Live Hotel in Los Angeles, CA.
Actor, director, producer and activist, Eva Longoria was recognized as the 2019 Beacon Award presented by ADWEEK, the leading resource for the brand marketing and advertising community.  "There is no better honoree to set the tone of Adweek's inaugural Beacon Award than Eva Longoria," said Lisa Granatstein, Editor, SVP, Programming, Adweek. "From her formidable seven-year-old Eva Longoria Foundation that empowers Latinas via STEM education and entrepreneurship to her leadership role calling for diversity in Hollywood, Eva's remarkable accomplishments are both authentic and action-oriented." The inaugural Beacon Award honors talent who uses their celebrity as a catalyst to change the status quo in the quest for diversity and inclusion. In May, ADCOLOR and Adweek partnered on the first Champion awards and celebration recognizing the fearless leaders and rising stars in marketing and media who embody ADCOLOR's call to "Rise Up. Reach Back."
The announcement took place at the Facebook Live Studios and was hosted by Dana Blair, on-air host, correspondent and entrepreneur, along with Tiffany R. Warren, ADCOLOR Founder and President and members of the ADCOLOR community.
The 13th Annual ADCOLOR Awards will highlight and honor the achievements of African-American, American Indian/Native American, Asian Pacific-American, Hispanic/Latino and LGBTQ professionals, as well as spotlighting diversity and inclusion champions in the creative industries.
"I'm so inspired by the collective achievements, energy and the ways in which the 2019 Honorees, Nominees and FUTURES have taken a stand in their professional and personal lives," said ADCOLOR Founder and President Tiffany R. Warren. "The 13th Annual ADCOLOR Awards in September will provide us with an opportunity to express the ways in which ADCOLOR honorees, nominees ad FUTURES 'Took A Stand,' in line with this year's theme. I can't wait to celebrate the remarkable ways they have risen up and reached back with our ADCOLOR community and beyond."
The ADCOLOR Award Nominees and Honorees are carefully selected from a large population of diverse influencers across the creative industries. The finalists are chosen by the individual's representation of ADCOLOR's motto, "Rise Up and Reach Back" and ways they took a stand in line with this year's conference and awards theme. Those honored not only excel in their own careers, but also give back to the community and support their peers. Their goal is to create a network of diverse professionals to encourage and celebrate one another.
Please join September 6th through 8th for ADCOLOR 2019. Registration is now open and early bird pricing ends July 1st. Visit ADCOLOR.org for more details.
Below you can find the full list of Nominees, Honorees and FUTURES for this year's ADCOLOR Awards.
ADCOLOR 2019 Partners 
Facebook, Google, Microsoft, Omnicom Group, DIAGEO, Procter & Gamble, Verizon Media, Wieden+Kennedy, Apple, Spotify, TBWA\ Worldwide, American Express, NBCUniversal, Ogilvy, Twitter, 72andSunny, DDB Worldwide, Deutsch Inc., Disney Advertising Sales, Edelman, Pandora, 72andSunny, Anomaly, Apple Music, Beats By Dre, BMW, Buzzfeed, DAS Global Group of Companies, Digitas, FCB, HBO, LOL Network, McCann New York, Omnicom Media Group, Pinterest, Publicis Groupe, Publicis Health Group, RGA, Trip Advisor, Zambezi
ADCOLOR Corporate Members 
72andSunny, Ad Club of New York, American Advertising Federation, BBDO NY, Deutsch Inc., Dieste, Droga5, Facebook, Hearst Magazines, MSL Group, Stephen Kim, TBWA\ Worldwide, Wieden+Kennedy
The 2019 ADCOLOR Nominees are as follows:
The Ad of the Year 
Campaign: Love Has No Labels – "Rising" 
Client: Ad Council 
Agency: R/GA
Campaign: "Changing The Game" 
Client: Microsoft 
Agency: McCann NY
Campaign: "Dream Crazy" 
Client: Nike 
Agency: Wieden+Kennedy
Campaign: "An Open Mind Is The Best Look" 
Client: Nordstrom 
Agency: Droga5
Campaign: "Truth Is Worth It – Perseverance" 
Client: NY Times 
Agency: Droga5
Change Agent
Vincent Pierson, Director, Diversity & Inclusion, Minor League Baseball
Alexandra Siegel, Senior Manager, Equality Content, Narrative, and Marketing, Salesforce
Sherice Torres, Marketing Director, Google
Rockstar
Dhane Scotti, Integrated Consumer Marketing Lead for Pixel, Google
Michael Warner, Chief Relationship Officer | Partner, EGAMI Group
Krystle Watler, Head of Business Development, Virtue
Innovator
Shala Akintunde, Creative Director/ Founder, The Movement Worldwide
Antionette Carroll, President and CEO (Founder), Creative Reaction Lab
LaToya Drake, Global Outreach Lead, Google
Rising Star
Julian Gillian, Senior Art Director, Leo Burnett Chicago
Tiffany Golden, Associate Producer, Wieden+Kennedy
Mariano Pintor, Account Supervisor / Social Media, McCann NY
ADCOLOR in Tech
Brendan Chan, Program Manager, CS Education, Google
Danielle Lee, VP, Global Head of Partner Solutions, Spotify
Stacey Mahoney, Global Sales Strategist, Microsoft
MVP
TONL & NIKE
R/GA & The AD Council
Google, Inc. & UN Women
The 2019 ADCOLOR Honorees are as follows:
Beacon Award presented by ADWEEK
Eva Longoria

, Actress, Producer, Director, Philanthropist
Legend Awards
Steve Pamon

, Chief Operating Officer, Parkwood Entertainment

Helen Lin

, Chief Digital Officer, Publicis Media

Ted Chung

, Founder & Chairman, Cashmere Agency
Catalyst Awards
Gold House
AdFellows, a program of Verizon
The Curly Girl Collective
Advocate Award
Don Lemon

, Host "CNN Tonight
Lifetime Achievement Awards
Hector Orci

, Founder & Co-Chairman, Orci

Sheldon Levy

, Former SVP, Deputy/Associate Head of Production, Saatchi & Saatchi NY
ADCOLOR/One Club Creative Awards
Robert Wong

, Chief Creative Officer, Google

Brandon Rochon

, Managing Chief Creative Officer, Kastner & Partners and Founder & Chief Creative Officer, SNKRINC.
Mx. ADCOLOR
Joon Park

, Cultural Strategist, Sparks + Honey
Ms. ADCOLOR
Brittany Johnson

, Creative Strategist, Facebook
The 2019 FUTURES are as follows:
Ace Patterson

, Consumer Marketing Operations Manager, Facebook

Alex Harris

, Partner Manager, Facebook

Alex Studer

, Account Executive, Deutsch

Alexandra Givan

, Government Communications Manager, Comcast

Aniqua Hendricks

, Multicultural Media Strategist, Hearts & Science

Barbara Gonzales

, Assistant Manager of PR and Social Media, Ad Council

Bryan Stromer

, Communications Manager, Microsoft

Gloria Lin

, Community Manager, Edelman

Helena Berhane

, Strategic Planner, Fluent360

James Ramseur

, Assistant Comms and Media Planner, Wieden+Kennedy
Jorge Tajj Badil-Abish, Junior Copywriter, FCB West

Julian Soto

, Copy Supervisor, Patients & Purpose

Kelly Garcia

, Copywriter, Ogilvy

Kevin Lam

, Senior Product Designer, Elephant

Keyon Branch

, Digital Media Planner, OMD

Maimouna Siby

, Marketing Strategist, Squarespace

Makeda Loney

, Copywriter, FCB Chicago
Nagini Reddy, Junior Graphic Designer, Wieden+Kennedy

Nicole Dei

, Account Coordinator, HBO

Omar Wilson

, Account Manager, Facebook

Pilar McQuirter

, Talent Program Manager, Havas WorldWide Chicago

Samrawit Seifu

, Associate Creative, Buzzfeed

Sayid Abdullaev

, Product Marketing Manager, YouTube

Selly Sallah

, Sponsorship Marketing Associate, NPR

Shantae Howell

, Creative Strategist, Vox Media

Tatiana Britt

, Assistant Account Executive
Veronica Peñaloza-Wolfermann, Account Manager, Facebook
Victoria Onuzuruike, Assistant Producer, Ogilvy
For more information, please visit: www.adcolor.org and follow @adcolor across all social media.
SOURCE: ADCOLOR
The North Face Launches a Global Effort to Make Earth Day a National Holiday
Reading Time:
3
minutes
The brand will close its stores on Earth Day, launch a global petition to make Earth Day an officially recognized holiday and celebrate exploration through city takeovers across the globe
Beginning today, The North Face will activate "Explore Mode" in major cities leading up to Earth Day on Monday, April 22. Throughout the week, The North Face will partner with musicians, artists and culinary influencers to host a series of one-of-a-kind experiences that encourage people to disconnect digitally and engage with their surroundings.
The week will culminate with The North Face and 15 organizations around the world partnering to launch a global Change.org petition to make Earth Day an officially recognized holiday. The North Face will also shut down 113 stores in the US and Canada, as well as its global headquarters on Earth Day to provide opportunity for employees to disconnect and explore.
"The North Face is no stranger to exploration and this Earth Day we are proud to join our partners and fellow explorers in a global effort to make Earth Day a national holiday," said Global General Manager of Lifestyle at The North Face, Tim Bantle. "We believe that when people take time to appreciate the Earth, they feel more connected to it and are more likely to protect it. Explore Mode urges us to unplug from our digital lives to connect in real life to the world, each other, and ourselves in the effort to move the world forward."
The North Face partnered with influencers including singer and songwriter Ella Mai, chef Angela Dimayuga and model and activist Gabrielle Richardson to host bespoke events in New York City that will reflect the brand's spirit and the mindset of exploration in music, food and art, along with encouraging exploration in the outdoors. These experiences will only be accessible to those who put down their phones and digital devices to be present in the moment.
Explore Mode experiences are rooted in inspiring and enabling people everywhere to unplug from their digital lives and connect in real life to the one another and the world around them.
Tuesday, April 16: Grammy-winning singer and songwriter Ella Maijoins with vintage fashion collector and curator, Brian Procell, to throw the ultimate 90s throwback party – a mash-up of music and streetwear. Mai will pay homage to the hits and looks of past decades that inspire culture today, while Procell's collection, including vintage looks from The North Face, is on display.
Wednesday, April 17: World renowned chef Angela Dimayuga will go off menu and bring a select number of consumers along for the ride as she explores the many flavors of NYC that bring her inspiration.
Thursday, April 18: Model-artist-activist Gabrielle Richardson takes over Skylight Soho to curate an art exhibition under the theme of exploration. Guests are invited to participate in a "live" piece onsite with Gabrielle and her partners through an interactive display of artistic exploration.
The brand will also activate Explore Mode in other major cities globally including London, Manchester, Munich and Paris.
"Exploration drives creativity. It is important to me to find musical inspiration from all the world's aspects," said Mai. "I'm excited to partner with The North Face to celebrate the many forms of exploration and show New York City what exploration means to me."
Before closing stores, The North Face will also switch its retail locations into Explore Mode where customers can find all the resources they need to spend Earth Day off the grid, exploring the outdoors. Customers who choose to take part in The North Face exploration activities will be rewarded with an exploration kit that includes analog gear to stay present and capture memories without the need for digital devices.
The North Face is committed to social good through programs like the Explore Fund, as well as conservation efforts since its founding in 1966. For more information on Earth Day as a national holiday or to sign the petition visit:
SOURCE: The North Face