Olympic Contenders Take Home Their Winnings in Bitcoin Cash at This Weekend's Major League Triathlon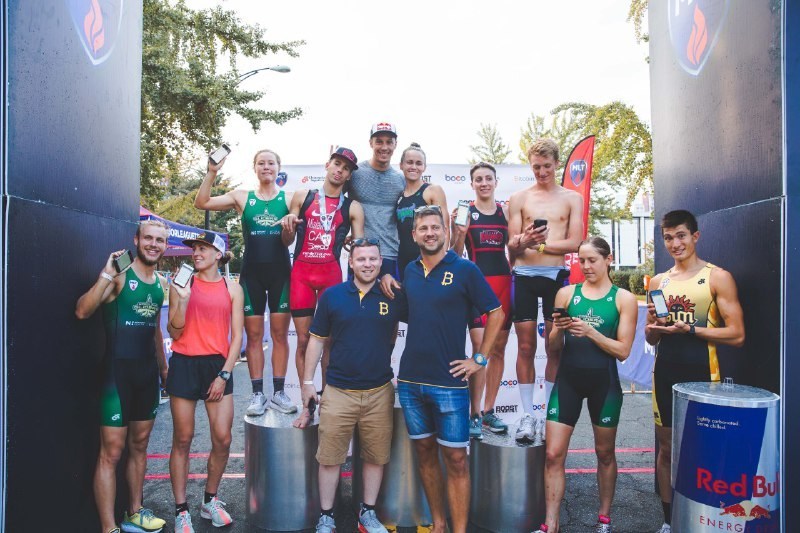 Reading Time:
2
minutes
Carolina Gliders sweep the October 6th major league triathlon sponsored by Bitcoin.com
Top triathletes are paid their prize money in cryptocurrency at the podium in Charlotte, North Carolina
This weekend, for one of the first times in history, the prize money of top-ranked professional athletes was paid out in cryptocurrency. At the October 6thMajor League Triathlon event in Charlotte, sponsored by Bitcoin.com, the top five overall male and female splits in the mixed-team relay event received their prize payouts at the podium entirely in Bitcoin Cash (BCH).
The first-place winners at Saturday's event were the Carolina Gliders, comprised of Chelsea Burns, Lindsey Jerdonek, Tamara Gorman, Kevin McDowell, Ben Kanute, Tommy Zaferes, and Tony Smoragiewicz. The Arizona Kingsnakes took second place, while the San Diego Stingrays crossed the finish line third.
"Paid their winnings in BCH in real time, the MLT athletes received their prizes this weekend virtually immediately–right at the podium," says Gergo Szoke, Marketing Manager at Bitcoin.com. "At Bitcoin.com, we see BCH as the future of money and MLT as the future of sports and triathlon, which makes for a dynamic collaboration between our brands. The October 6th event in Charlotte was a great chance to showcase the convenience and ease of transactions with Bitcoin Cash."
Like Bitcoin Cash, a practical answer to the complex problem of centralized money, Major League Triathlon aims for accessibility and mainstream appeal. Major League Triathlon events are spectator-friendly and inclusive.
In MLT mixed-team relays, co-ed teams of four professional athletes–each team representing a city–complete a 300-meter swim and a four-mile looped biking course, followed by a one-mile run. The events are only about 70 minutes long, making for a friendly, competitive, and highly watchable experience. And the athletes involved represent the cream of the crop: 100% of MLT athletes are ranked within the top 100 triathletes in the world, and 98% of them are current Olympic contenders.
Bitcoin.com and MLT are natural partners, with CEOs Roger Ver and David Cassidy equally committed to their respective visions for the future. As peer-to-peer electronic cash, bitcoin is permissionless, decentralized, and practical, putting monetary power back into the hands of the individual. Major League Triathlon, meanwhile, removes the usual barriers of entry into endurance sports, making them less expensive for athletes and a lot more thrilling to watch for spectators.
TigerWit and Liverpool FC Foundation Launch Employment Program
Reading Time:
2
minutes
TigerWit Limited, the UK-headquartered global financial technology company, has teamed up with Liverpool FC Foundation to support the club's Premier League Works employment program.
The initiative aims to help young adults explore their career aspirations and lead them on the route to employment.
The course, which runs for five weeks throughout May and June as part of the Premier League Works programme, provides CV support, interview techniques and personal branding training, including a social media marketing masterclass on how to get noticed by employers online.
Those who complete the course will receive an employment certified qualification and benefit from 12 months follow up support, with the aim of giving them the best possible start towards employment.
TigerWit is also offering the opportunity for select participants to attend an all-expenses-paid week of work experience in their London Head Office later in the year. This will give participants the opportunity to learn about financial markets and working in the City.
Sharon Shahzad, Global Head of Marketing at TigerWit said: "One of TigerWit's core values is to help improve financial literacy around the world, with the purpose of securing a stronger financial future for communities and improving quality of life. Partnering with LFC Foundation enables us to reach and empower young adults around the country, deepening their financial knowledge to help them on their way to a long-lasting career."
Matt Parish, director of LFC Foundation, said: "Our Premier League Works scheme is an exciting programme that can be extremely valuable to the 18-25-year olds that attend to build their skills and find meaningful employment. This has been enhanced by club partner TigerWit, who have enriched this programme and taken it to the next level. We are looking forward to working together closely to offer life-changing experiences to the future generations and improve their chances of employment across Liverpool."
Whilst youth unemployment is trending downwards, it is still at 11.3%* which is far higher than the 3.8% national rate of unemployment. TigerWit and the Liverpool FC Foundation will work closely together to help the declining trend in youth unemployment.
"I recall how daunting the City was when I commenced my career. We want to help better prepare and equip young adults starting out in their chosen industry, so it isn't as daunting a prospect. Along with the wider TigerWit team, which has an overwhelming experience in financial markets, we can share our knowledge and help guide the next generation in their career choices," said Tim Hughes, CEO at TigerWit.
SOURCE TigerWit
Huobi Makes Bitcoin Pizza Day Huobi Prime Day With Up To 50% Off Bitcoin & Prime 3 Launch
Reading Time:
3
minutes
Nearly nine years ago on May 22, 2010, Florida-based programmer Laszlo Hanyecz made crypto history when he managed to exchange 10,000 Bitcoins with another early Bitcoin enthusiast for two pizzas. With BTC worth $0.003 at the time, those pizzas cost him about USD $30. Under today's prices, they would be worth well over USD $70 million and Bitcoin Pizza Day has become a well-loved crypto community tradition.
Huobi Global will honor that tradition on May 22 with a range of initiatives, including the launch of Reserve Protocol's Reserve Rights Token (RSR) through our premium coin launch platform Huobi Prime. We will also be hosting a special sale of Bitcoin featuring prices discounted up to 50% off market value*.
"Bitcoin Pizza Day is Prime Day this year," said Huobi Global CEO Livio Weng on the BTC promotion. "Things started as a joke that we were going to list Bitcoin through Prime but then I kept thinking, what better way to mark Prime 3 and celebrate Pizza Day? Let's actually do this!"
Pizza Day Promotions:
Huobi will be providing 1.5 million* USDT-worth of Bitcoin to users in two special trading rounds on May 22, starting at 18:00 (GMT +8). In the first round, 20% of the total Bitcoin supply will be offered to users at 50% off market price*. In the second, the remaining 80% of Bitcoin will be provided to users at 12% off market price*. While the first round will be first-come, first-served, in the second, all qualified orders will be partially filled via adjusted system matching. "To put it another way, all qualified users in our second round will get at least some of the BTC they seek," said Ross Zhang, Head of Marketing for Huobi Group. "I do want to warn people, though – we expect demand to be very high, so you'll have to be lucky and quick in the first round. Also, anyone who goes into the second expecting his or her entire order to be filled may need to adjust their expectations."
There are several ways to qualify. Users who hold at least 1000 Huobi Token (HT), our native token on Huobi Global, over the seven days leading up to launch (May 15 to May 21) are eligible to participate. Users who have a daily average holding of 20000 or more USDT or the same value of in BTC, NEW, TT, or TOP can also take part.
Huobi is also hosting a number of other activities related to Bitcoin, including giving away 1 BTC at original Bitcoin Pizza Day prices ($0.0031) to a lucky user and more.
For full rules and details: https://huobiglobal.zendesk.com/hc/en-us/articles/360000271862-Huobi-Global-will-Launch-Special-Prime-Trading-Project-Bitcoin-BTC-on-May-22-2019
Huobi Prime 3 Launch – Reserve Rights Token (RSR)
The core of Huobi Prime Day will be the launch of RSR on Huobi Prime, which is the support token for the payment-service-over-blockchain project Reserve. The project features backers like PayPal co-founder Peter Thiel, Y Combinator Chairman Sam Altman, Ran Neuner, and TechCrunch's Mike Arrington, plus a founding team that includes former members of Google, Tesla, OpenAI, IBM,  MIRI, and Impossible Foods. RSR is designed to maintain the stability of Reserve's USD-pegged stablecoin Reserve token (RSV). The overall project's mission is to build a universal store of value – particularly in regions with unreliable banking infrastructure and/or where inflation is a major issue.
Trading will also take place over two rounds for the RSR launch. As with our special BTC sale, 20% of the RSR tokens on Prime will be offered to users in the first round on a first-come, first-served basis, and 80% of the RSR tokens on Prime will be distributed to users in the second via adjusted system matching.
In order to qualify, users need to hold at least 1,000 HT between May 15 and May 21.
Trading on Huobi Prime 3 will start at 20:00 (GMT + 8) on May 22. The price of RSR will be capped at 1RSR = $0.0006 for the first round and 1RSR = $0.0011 in the second.
"We're extremely excited to be working with Reserve for our third Prime launch, especially for Prime Day," said Weng.
For full rules and details of Prime 3: https://huobiglobal.zendesk.com/hc/en-us/articles/360000266501-Huobi-Global-will-Launch-Third-Prime-Trading-Project-Reserve-Protocol-on-May-22-2019
Disclaimer: Huobi Prime will not, under any circumstances, make price forecasts or representations as to the asset's investment characteristics. Huobi Prime will not provide any trading or financial advice and Huobi Prime users should conduct independent analysis including, where appropriate, taking third party legal, tax and financial advice.  Huobi Prime is limited to users from jurisdictions where digital asset trading is a permissible activity and no regulatory restrictions apply.
*Market value to be determined as the average price of the trading pair HT/BTC between May 22, 2019, 16:45:00 to 17:45:00.
SOURCE Huobi Global
Calastone Goes Live With World's Largest Financial Services Community on Blockchain
Reading Time:
3
minutes
Calastone has successfully launched its blockchain-enabled Distributed Market Infrastructure (DMI)
The migration sees the largest group of financial services organisations ever to connect and transact on a live distributed ledger
The entire global funds network of more than 1,800 customers across 41 countries and territories have been migrated onto the blockchain-based network
The DMI enables friction-free trading, stripping out cost, risk and operational inefficiencies
Calastone, the largest global funds transaction network, today announces the successful go-live of its blockchain Distributed Market Infrastructure (DMI).
The technology underpinning Calastone's network has now been migrated to a blockchain-enabled market infrastructure. The migration of Calastone's global network of more than 1,800 customers across 41 markets is a world-first and represents the largest community of global financial services organisations connecting and transacting via distributed ledger technology.
Less than two years since Calastone announced the completion of its first phase to test the feasibility of using blockchain to develop a common global marketplace for the trading and settlement of funds, the company's DMI is today live. This represents a major step in enabling digitalisation and friction-free trading at a significant global scale. Calastone has highlighted the scale of tangible value the DMI could bring to the industry, forecasting more than £3.4bn in savings per year for the mutual funds market worldwide, achieved through the technological mutualisation of the distribution model.
Financial services organisations around the world – whichever size and scale – can, through the DMI, now access a fully mutualised global funds marketplace whereby the trading, settlement and servicing of funds is conducted in real-time. This will play a key role in stripping out the ever-increasing costs, operational burdens and risks inherent within the current model.
Campbell Brierley, Calastone's Chief Innovation Officer, comments:
"Developing the DMI has been a fulfilling journey of innovation and it is incredibly exciting to have completed a world first for the financial services sector. Over 1,800 clients across 41 markets are now transacting on the DMI, transforming how fund organisations interact with one another.
"Through Calastone's blockchain-enabled market infrastructure all participants across the fund's world can work together seamlessly and view trading activity in real-time. Information now ripples instantly across the market, a step change from the previous, fragmented model. Financial services firms worldwide can, via the DMI, utilise new services, enhanced capabilities and new investment opportunities, allowing them to evolve their proposition to one that will be more competitive and valuable long-term."
At launch, the DMI immediately solves several key points of friction which are fully automated and visible as all participants are connected into a common infrastructure. It will also bring a new service, the Sub-Register, which creates a shared, real-time view and history of the registers between trading partners at any point in the distribution chain.
Julien Hammerson, Calastone's Chief Executive Officer, adds:
"Since we launched in 2008, our vision has been to use innovative technology to create a friction-free funds market and reduce the overall cost of trading for all market participants. Today more than ever, investors expect increased returns, greater access and transparency, at a time when the funds industry feels the effect of growing cost pressures.
"The launch of the DMI today marks an important step for the entire funds industry, creating a friction-free global marketplace for funds. By leveraging the latest technology we are able to provide the investment management community with the tools they need to control risk and cost, while meeting the evolving needs of investors."
In the lead up to the go-live, Calastone has been engaged with a community of early adopters who have had access to the technology, including RBC Investor & Treasury Services, Bravura Solutions, Seven Investment Management, Multrees and Tilney Investment Management.
SOURCE Calastone