Eisai to Present LENVIMA® (lenvatinib) and HALAVEN® (eribulin) Data in a Variety of Advanced Cancers at ESMO 2018 Congress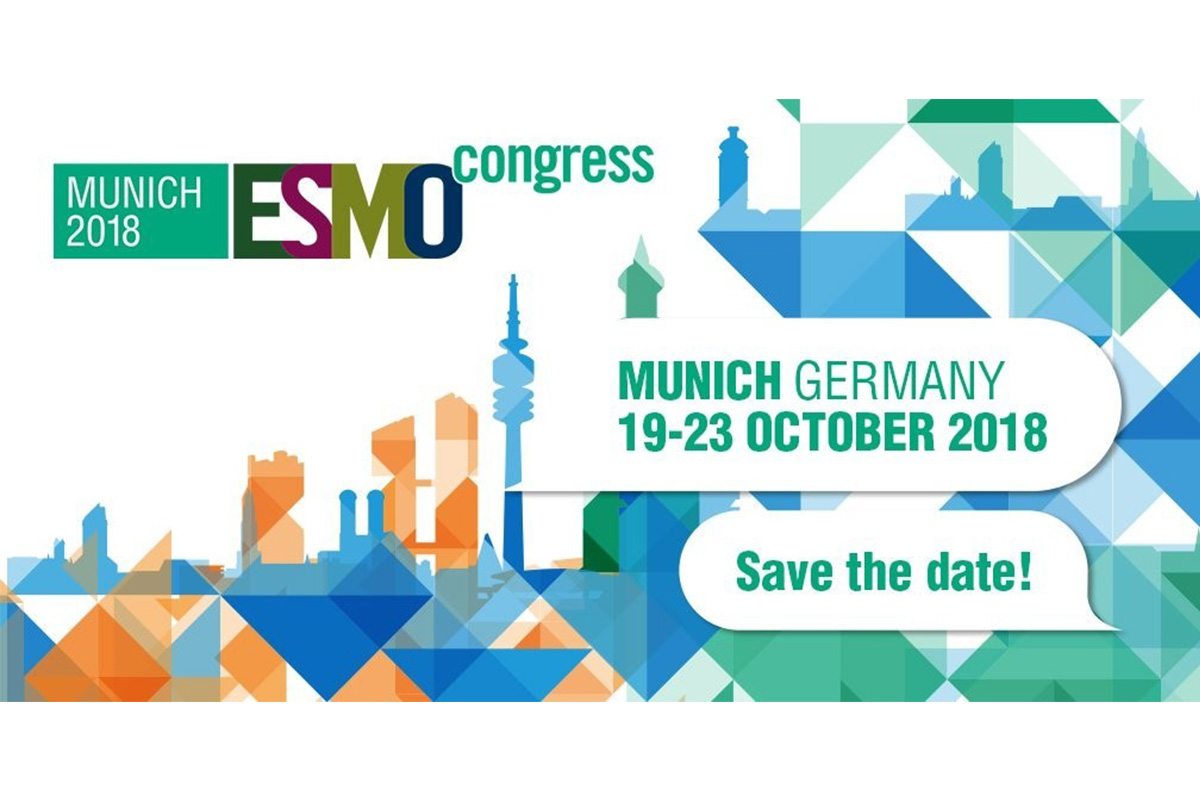 Reading Time:
3
minutes
– New data on tumor growth rate and lenvatinib efficacy in radioiodine-refractory differentiated thyroid cancer to be presented in oral Proffered Paper session on Monday, Oct. 22 at 3:09 p.m. CEST
Eisai Inc. announced today the presentation of six abstracts featuring data and analyses on its cancer treatments at the European Society of Medical Oncology (ESMO) 2018 Congress taking place in Munich from October 19-23. The results to be presented highlight new data for the company's oncology agents, lenvatinib (marketed as LENVIMA®) and eribulin (marketed as HALAVEN®) for approved and investigational uses, respectively.
Presentations of interest include:
An oral presentation on tumor growth rate and lenvatinib efficacy in radioiodine-refractory differentiated thyroid cancer.
Correlative analyses of serum biomarkers and efficiency outcomes for lenvatinib, everolimus and the combination of these two agents in patients with metastatic renal cell carcinoma.
A final analysis of serum biomarkers from a Phase III study of lenvatinib vs. sorafenib in unresectable hepatocellular carcinoma.
Early results of a Phase Ib/II study on the combination of eribulin and PEGPH20 (PEGylated recombinant human hyaluronidase) in patients with HER2-negative, high hyaluronan metastatic breast cancer.
"Our data at ESMO include insights into the potential of lenvatinib and eribulin both as monotherapies and in combination with other agents across a variety of difficult-to-treat cancers," said Alton Kremer, MD, PhD, Chief Clinical Officer and Chief Medical Officer, Oncology Business Group at Eisai. "As part of our human health care mission and dedication to patient access, we are committed to continually exploring ways to improve understanding of Eisai's oncology treatments for the medical community and the patients impacted by these advanced cancers."
This release discusses investigational compounds that are not Food and Drug Administration (FDA)-approved and investigational uses for FDA-approved products. It is not intended to convey conclusions about efficacy and safety. There is no guarantee that any investigational uses of FDA-approved products will successfully complete clinical development or gain FDA approval.
The full list of Eisai presentations along with the time and location of each session is included below.
ABSTRACT NAME

SESSION (ALL TIMES ARE CEST)

Lenvatinib Abstracts (in collaboration with Merck)

Tumor growth rate and lenvatinib efficacy in 
radioiodine-refractory differentiated thyroid cancer

Presentation #1819O

Proffered Paper Session

Monday, October 22, 2018

3:09 p.m. – 3:33 p.m.

Location: Hall A1, Room 16

S. Leboulleux, MD

Correlative analyses of serum biomarkers and efficacy 
outcomes in the randomized, phase 2 trial of lenvatinib 
(LEN), everolimus (EVE) or LEN+EVE in patients with 
metastatic renal cell carcinoma

Presentation #76P

Poster Display Session

Saturday, October 20, 2018

12:30 p.m. – 1:30 p.m.

Location: Hall A3

C. H. Lee, MD, PhD

Final analysis of serum biomarkers in patients (pts) from 
the phase 3 study of lenvatinib (LEN) vs sorafenib (SOR) 
in unresectable hepatocellular carcinoma (uHCC) 
[REFLECT]

Presentation #59PD

Poster Discussion Session

Saturday, October 20, 2018

3:00 p.m. – 4:00 p.m.

Location: Hall B4, Room 19

R. Finn, MD

Eribulin Abstracts

Eribulin as first- or second-line chemotherapy for 
advanced or metastatic HER2-negative breast cancer: a 
real-world prospective study

Presentation #314P

Poster Display Session

Monday, October 22, 2018

12:45 p.m. – 1:45 p.m.

Location: Hall A3

M. Takahashi, MD

Early Results from an Open-label Phase 1b/2 Study of 
Eribulin Mesylate (EM) + Pegvorhyaluronidase Alfa 
(PEGPH20) Combination for the Treatment of Patients 
(Pts) with HER2-Negative, High-Hyaluronan (HA) 
Metastatic Breast Cancer (MBC)

Presentation #311P

Poster Display Session

Monday, October 22, 2018

12:45 p.m. – 1:45 p.m.

Location: Hall A3

M. Shum, MD

Economic Evaluation of Eribulin in the Treatment of Triple 
Negative Breast Cancer in the United Kingdom

Presentation #348P

Poster Display Session

Monday, October 22, 2018

12:45 p.m. – 1:45 p.m.

Location: Hall A3

J. Wex, MD, PhD
In March 2018, Eisai and Merck (known as MSD outside of the United States and Canada), through an affiliate, entered into a strategic collaboration for the worldwide co-development and co-commercialization of lenvatinib.
Addressing THC Detox Myths and Facts
Reading Time:
4
minutes
Cannabis is a popular drug. Slowly it's becoming more socially acceptable for people of all ages. But that doesn't mean marijuana is safe, especially in terms of detoxing.
There are several myths concerning THC detox; so much so that many users perform it without any health concerns.
Below is a list of THC detox myths and facts to consider. But before that, here's a brief explanation of what detoxing is.
THC Detox: What Is Detoxing?
Detox is the practice of refraining from consuming a substance to cleanse your system of any trace, which in this case is a Tetrahydrocannabinol (THC) cleanse.
As you abstain from consuming marijuana, your body is able to flush THC out of the system. While the process could be easy for some, others may find it difficult; it mostly depends on how heavily one has been consuming marijuana and whether or not they were doing it for medical purposes.
Some of the side effects of THC detox are as follows:
Anxiety
Headaches
Insomnia
Irritability
Loss of appetite, etc.
Usually, it takes up to 15 days before your system is clean—that is if you're an occasional user. However, reports suggest that heavy users should abstain from pot usage for about 77 days. Now, if you have a drug test next week at the office, it's likely to try some unusual things to cheat the test—this is where we cue in.
Here are some common myths and facts regarding THC detox you should know about.
Myth no. 1: All It Takes Is an Ungodly Amount of Water
False. Also referred to as "dilution" or 'flushing," this myth indicates that drinking a lot of water dilutes your urine just enough to make THC completely undetectable.
Fact: It's Dangerous
Excessive water consumption is dangerous and may cause hyperhydration, which, in turn, can also lead to electrolyte disorders. When you dilute urine excessively, it'll have a decreased specific creatinine and gravity level—both of these are identified during the drug testing process.
Myth no. 2: Fake Urine is Key
No. You will find a bunch of firms selling synthetic urine online. As far as stories go, some people have claimed to use chicken broth as a substitute, even though it lacks all of the chemical properties of urine.
Fact: Lab Test Are No Joke
It would be silly to assume that a highly trained lab specialist will be tricked by chicken noodle soup broth. The chemical properties and analysis are sure to catch you, if not the smell. And it's the same story with fake urine.
Myth no. 3: Natural Diuretics Help to Flush Toxins Out of the System
Diuretics are essentially substances that boost urine production, as well as output. Some of the most popular diuretics are tea, coffee, cranberry juice, beer, and pretty much any beverages with caffeine. Furthermore, there are medications like Modil or Lasix that claim to work.
Fact: They Do Not Eliminate Toxins
While diuretics can make you urinate, they don't eliminate THC. Of course, they can remove toxins from your body and reduce metabolites' concentration in urine. However, the consumption of diuretic is similar to drinking plenty of water concerning detox purposes.
Myth no. 4: Intense Exercise Is the Answer
THC is stored in the fat cells of our body. Therefore, the more body fat one has, the longer it will take to detox. Solid exercise like resistance training and cardio can burn fat and boost your metabolism.
Fact: It's Not a Short-Term Fix
You must exercise on a regular basis to stay healthy, fit, and make sure your weight is under control. But it's by no means a magic "THC detox getaway card." Exercising regularly may help to pass the test, but keep in mind that it's a slow process; not one that can be achieved overnight.
Myth no. 5: "I am only a passive smoker."
When everything else fails, some people claim to be in a room full of heavy smokers; hence they did not pass the drug test. As interesting as it may sound, the world doesn't work that way.
Fact: You Cannot Inhale Smoke From Other People's Bong and Use It As Defense
All drug tests have a certain cut-off level. A urinalysis for cannabis, in most cases, has its cut-off point at 50 ng per milliliter, and you simply cannot reach that point through passive inhalation.
Wrapping Up
So, the time has come for a THC detox. Maybe you have a drug test coming up or decided to take a tolerance break and want to cleanse your body before starting anew. Regardless of the reason, we hope you'll consider the myths and facts concerning THC detox mentioned in this article. Also, it's always good to consult with a doctor beforehand.
About the author: Kathrin Garner is an enthusiastic journalist and writes article on social issues. As an activist, she takes part in NCSM program, which is a discussion platform on the relevant cannabis topics. So, if you want to know how to detox from weed, feel free to contact her. Also, she is a volunteer at Marijuana Detox.  She searches for current issues, and writes about it to a wide range of readers.
Marijuana Detox: The Main Things You Should Know
Reading Time:
3
minutes
As more states move to end marijuana criminalization, Americans' support for legalizing and regulating cannabis has only grown stronger.
60% of Americans support cannabis legalization, according to The Hill. While some are assessing the medicinal value it possesses, others are seeking ways to rid the toxins of their bodies.
Today, we're going to discuss everything you need to know about marijuana detox and how it works.
What Does Cannabis Leave Behind?
As you smoke pot, you're able to feel instant effects. However, even when the effects are no longer present, cannabis metabolites remain. What this means is that the plant's chemical remnants stay within your system.
These chemical remnants are commonly known as cannabinoids. They are easily detected in hair, saliva, blood, urine, and fingernails.
Drug Tests: What Do They Look For?
Usually, drug tests identify THC presence in your system. A urine test is pretty common in that regard because it's easier to collect and THC remains identifiable for a longer period in urine compared to elsewhere.
The key metabolite these drug tests determine is known as THC-COOH, which is stored in our body fat.
Detox Remedies: How Do They Work?
The majority of cannabis detoxes look to flush any traceable THC out of the body. These kits may include drinks, mouthwashes, shampoos, capsules, and chewable tablets—all of which help to pass saliva tests.
If drug tests are your primary concern, you should know that detoxes can come with additional effects (e.g., the urine sample may look suspicious).
Teas and cleanses can decrease THC levels via their known diuretic properties. What they do is make you pee a lot—this washes out your kidneys. The flushing of kidneys can potentially reduce the specific density or gravity of your urine, and a decreased specific gravity means contamination on your test. Therefore, you'll be discounted.
Furthermore, teas and cleanses can alter the amounts of creatinine in your urine, which is another measure most drug tests tend to look at. Unusual creatinine levels may indicate contamination, meaning the tester can assume you've attempted to cheat your test.
THC: How Long Does It Stick Around?
Tetrahydrocannabinol (THC) can be identified in your urine, blood, and fat cells. The number of days THC remains identifiable in your body depends on various factors, including your:
Exercise routine
Eating habits and metabolism
Quantity and frequency of cannabis use, and
The percentage of body fat
Due to the above-mentioned factors, there's no standard identification time. However, some estimate THC can linger in your system for anywhere between 2 to 77 days (or even more).
THC remains detectable in blood for around 7 days, depending solely on how often you use cannabis. For instance, someone who smokes pot on a daily basis will likely carry cannabis metabolites for a longer period than someone who does so occasionally.
Wrapping Up
As of this year, 33 states and the District of Columbia have passed laws broadly legalizing cannabis in some form. However, regardless of the legality, it's crucial to note that cannabis carries certain health risks with it. We suggest you know the potential risks of using marijuana before deciding to consume it.
About the author: Kathrin Garner is an enthusiastic journalist and writes article on social issues. As an activist, she takes part in NCSM program, which is a discussion platform on the relevant cannabis topics. So, if you want to know how to detox from weed, feel free to contact her. Also, she is a volunteer at Marijuana Detox.  She searches for current issues, and writes about it to a wide range of readers.
Latest Innovations to Transform Revenue Cycle Management (RCM) Landscape
Reading Time:
5
minutes
Revenue cycle management, better known as RCM, is a business process that allows healthcare companies to be paid for providing services. For most healthcare service providers, RCM is available right from the process of pre-registering a patient all the way through the collection of final payment. Efficiency and time management play vital roles in RCM. A healthcare provider's choice of electronic health record (EHR) can often be largely centered on how its RCM is deployed.
The implementation of RCM in a particular healthcare company is a lengthy process. The company has to submit all the documents of its patient to the in-house staff or RCM vendor, who will then code the charts according to the ICD-10 CM. Afterward, the claims are posted, submitted, and adjudicated by the payer. If a claim is rejected, steps are taken to resubmit and adjust it before the deadline of appeal. Then the patient cycle is initiated if there is a patient responsibility portion following adjudication. Nowadays, numerous RCM vendors are providing coding benchmarking, managed-care contracting, analytics, and coding education services to capture all the earned revenue for a practice. No matter the size of a hospital, health system, or practice, failure to prioritize and maintain revenue collection efforts and RCM can hinder growth, create an uncertain financial failure, and increase operational risk.
As per Fortune Business Insights the market is anticipated to reach USD 216,990.6 Million by 2026, exhibiting a CAGR of 12.4% in the forecast period. But, the RCM market was valued at USD 86,811.4 Million in 2018.
Why is Revenue Cycle Management a Complex Procedure?
The focus of several healthcare service providers is on offering top-notch care to their growing patient population. However, attention must also be paid to the financial solvency of the business to make sure that a hospital will be able to provide the same level of care in the upcoming years. Doctors and physicians are persistently faced with the challenge of providing cost-effective care to the patients while witnessing annual increase in administrative and care-delivery costs. Maintaining healthy accounts, preventing and reducing unpaid claims, reducing inefficient billing and coding processes, and enhancing point-of-service collections can severely impact profit margins.
The task of preventing unpaid claims to witness the greatest profit margins is strenuous, considering the nature of healthcare. The healthcare sector is complex as the price to offer services is shouldered by the organizations even before those services are paid either by the patient or the insurance companies. But the claims process is time-consuming. It can take months before a bill is paid in full. According to a survey, more than 95% of medical practice leaders reported inadequate billing processes. The majority of the leaders executed backup efforts to resolve the process by the end of the year. Besides, an inclination towards direct patient responsibility with high deductible health plans from commercial payer reimbursement supports the fact that healthcare service providers must closely examine their RCM and evaluate the methods to achieve multiple benefits.
Key Industry Developments
A rise in the adoption and usage of novel technologies have aided the prominent players in acquiring a lucrative revenue since the past few years. The utilization of RCM software solutions has supported several companies on a global scale. This article further provides insights into a few of the key developments that have recently occurred in the revenue cycle management industry.
Homecare Homebase Launches its New Revenue Cycle Management Service
Homecare Homebase, LLC, a developer of mobile software solutions for home health and hospice agencies, headquartered in Dallas, announced the launch of its new RCM service in June 2019. The latest RCM service is providing part of the organization's HCHB services suite, a collection of technology-driven services that are designed to reduce the burden of time-consuming administrative operations. Moreover, it reduces in-house billing staff of the agencies by transferring the lion's share of the collection tasks and administrative billing to a highly skilled team of billing experts.
Additionally, it offers more clarity into the often opaque RCM process for managing agencies through the use of the company's dashboards and analytics. Homecare's new service provides an extraordinary return on investment as several agencies are ready to leave money on the table. They are often not ready to spend the time required to resolve all the billing issues. The company's extensive knowledge and expertise of billing will put it in a unique position.
Apprio, Inc. Unveils its New Commercial Health Unit Named ApprioHealth
In March 2019, Apprio, Inc., a provider of specialized technology solutions, based in Washington, D.C., unveiled its new, commercially focused business unit called ApprioHealth. The unit is aimed to fulfill the revenue cycle management requirements of health systems and hospitals. It will be led by Donny Zamora, who will be the division's president. ApprioHealth will provide advanced technological solutions and services catered to the needs of the healthcare providers' revenue cycle. The unit is a perfect blend of Apprio's highly skilled revenue cycle management team and 20 years of technology experience. The main aim of the new division is to transform the way health systems and hospitals use technology to maximize revenue from existing payers as well as to register patients in the available coverage options.
Into the Future of Revenue Cycle Management Industry
With susceptible relationships enter new challenges that require attention. Payers have to prioritize individuals as buyers of healthcare coverage and healthcare due to the increasing exchanges in ways that they may not have focused as acutely in the past. The future of RCM is fully entangled with the idea of a more accountable customer. Payers are taking multiple actions to prevent and minimize financial glitches. The industry will exhibit a more consumer-centric approach. It would occur as patients are now responsible for a significant part of healthcare revenue due to a rise in the number of high-deductible health plans.
Accenture had surveyed approximately 2,000 consumers regarding medical bill payment. As per the survey, nearly 40% of the consumers mentioned that they would pay their medical bills in advance if they knew the cost beforehand. To increase the likelihood that patients will pay the bills and to guard their revenue streams, hospitals and healthcare companies are likely to maintain their consumer-friendly transparency in the future.
Sou
rce:
About the author: Reeti Banerjee is currently working as a content writer in a prominent market research firm named Fortune Business Insights. She specializes in writing articles, press releases, blogs, and news reports. She believes in maintaining simplicity throughout her content to provide the clients with a seamless reading experience. Reeti Banerjee on Linkedin