Gerber Launches FashionTech Platform 1.0, Enabling Purchase-Activated Fashion Through Collaboration with OnPoint Manufacturing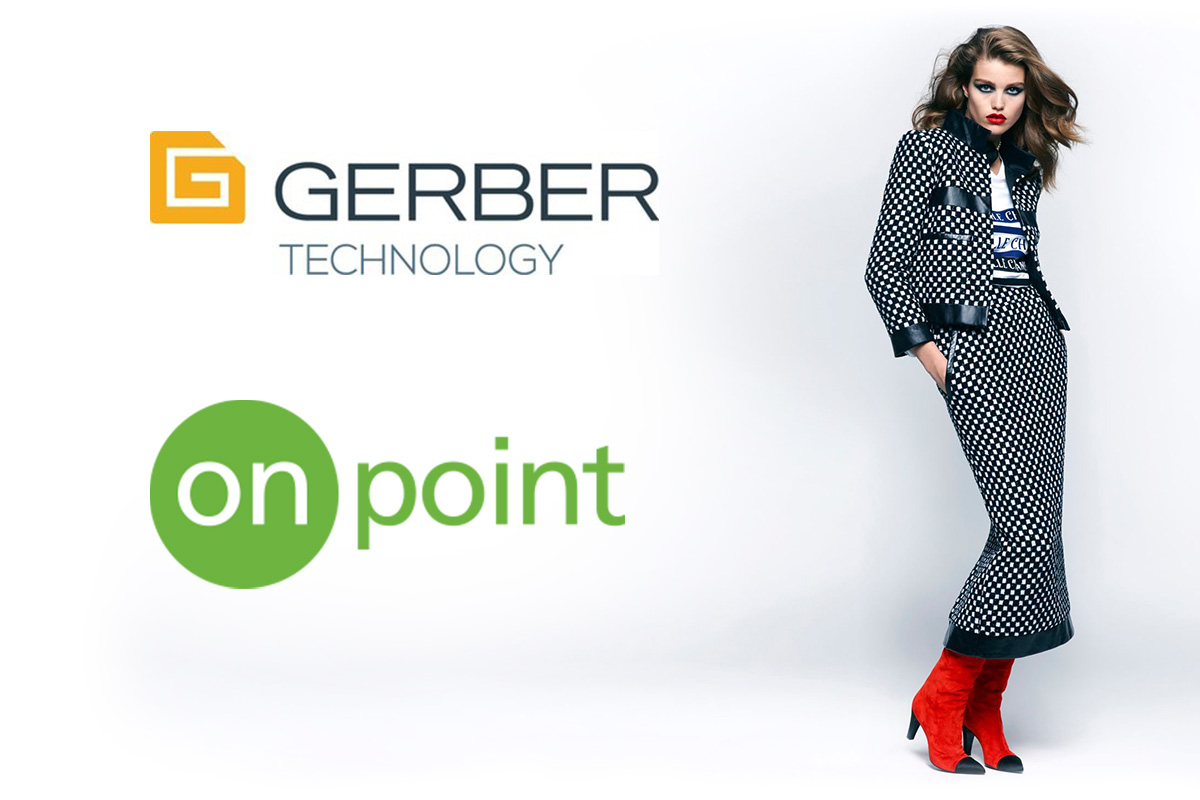 Reading Time:
2
minutes
The personalization economy is creating challenges for fashion and apparel brands trying to keep pace with consumer expectations and needs. To address this need, Gerber Technology is launching FashionTech Platform 1.0, which includes software, equipment and consulting to set-up a purchase-activated fashion model with a digitally integrated e-commerce and on-demand design to print, cut and sew micro-factory operation. The first FashionTech Platform 1.0 installation will be implemented in partnership with OnPoint Manufacturing in Florence, Alabama and PAAT, Inc. in Nashville, Tennessee.
"Our eco-system, the expertise of our people and recent advances in our technology are enabling us to deliver value to our customers, helping them to achieve the countless benefits of a demand generated micro-factory," said Karsten Newbury, SVP and GM of Software at Gerber, "To effectively achieve this concept you need a strong knowledge base and products that can digitally integrate the design through production workflow with speed and efficiency."
FashionTech Platform 1.0 eliminates costly inventory and re-defines just-in-time manufacturing, so production adjusts as demands fluctuate – allowing products to be produced more efficiently and sold at full retail price without heavy discounting. OnPoint Manufacturing has expertise in digitizing processes and on-demand work flows. Their current mass customization manufacturing process supports millions of unique SKUs.
"We have been working with Gerber for several years now," said J. Kirby Best, Chairman of OnPoint Manufacturing and PAAT. "We are continually refining our approach to mass customization and we believe adding Gerber's full suite of software and automated cutting systems will help us to dramatically improve our speed and efficiency."
The FashionTech Platform 1.0 includes an e-commerce virtual try-on application developed by Avametric, and the complete set of Gerber's Digital Solutions tools including the newest software releases of YuniquePLM®, a cloud-based product lifecycle management software, and AccuMark®, the industry-leading pattern design, grading, marker making and production planning software as well as AccuMark 3D. Data will be transmitted directly to the micro-factory environment where the optimized marker files from AccuMark will drive a digital printer to print and continuously feed finished textiles to a GERBERcutter® Z1 with CountourVision™. A combination of robotic and lean loop sewing operations will be deployed depending upon apparel finishing requirements.
The FashionTech Platform 1.0 announcement was made to industry leaders at Gerber's 20th annual ideation tech conference. Transformation was the core topic as Gerber highlighted key trends, like the need to embrace digitalization in the fashion supply chain to enable speed and personalization.
Alma Celebrates Its Platinum Anniversary – 20 Years of Global Leadership
Reading Time:
1
minute
Alma, one of the top five global leaders of energy-based medical and aesthetic solutions, today announced global launch of its 20th anniversary celebrations, kicked-off in Milan, one of the world's beauty capitals, during WCD tradeshow
From its early days, Alma has been at the forefront of medical and aesthetics technologies, carrying the torch of revolution in various arenas around the world, determined to become a market leader. Today, Alma is a world-leading provider of energy-based solutions for the surgical, medical aesthetics and beauty markets, delivering cutting-edge technologies to its partners and customers in over 80 countries.
Alma's 20th anniversary events and activities will span around the world throughout 2019, celebrating our journey guided by our key values:
Wellbeing of body and soul, a positive celebration of life
Knowledge – harness the industry's brightest minds to lead our endless engagement with science, technology, manufacturing and much more
People First – people are our power and passion
Daring – being first and doing things differently, constantly challenging ourselves and embracing change in this dynamic world we live in
Modern Life – crafting our work around the way people live today, seeking for authentic, inherent realities, identifying trends alongside timeless truths, welcoming the world's diverse beauty with open arms
"We are delighted to announce our 20th anniversary and invite all of you to join our global celebration. With 20 years of successful and impactful operation behind us, we are excited and committed towards the future – for you, for life," said Lior Dayan, Alma's CEO.
SOURCE: Alma Lasers
Learn more about Quantum Technology and Quantum Mechanics with Dr. André Xuereb at TCE2019 Prague
Reading Time:
2
minutes
Decades of research, laboratory curiosities, and world-changing effect notes are starting to be implemented worldwide and the age of quantum is here.
Whenever we are talking about the atomic clock (which already 69 years old) or supercomputers, everything in the natural world can be described by quantum mechanics.
Although, the theory was born a century ago, what is notable about the effort now is that the challenges are no longer scientific but have become matters of engineering. A new industry is born and the future definitely looks exciting as the quantum industry covers far more than just quantum computing. Quantum technology harnesses the strange behavior of tiny particles for a whole range of applications, including navigation tools, enhanced imaging technology, and extremely precise timing devices.
Quantum techniques can also be used to improve the efficiency and capacity of communication channels on a global scale and the method used is Photonics.
The method is focused on the use of light particles, photons, to transmit or carry information. This has been proved to be a less resource-intensive process, since photons are more accessible than other sources of energy, and fiber cables weigh around 40 times less than cables currently used for telephone lines and broadband internet.
During the inaugural PICANTE Tech Conference Europe, we are bringing together industry leaders, scientist and will discuss (among other topics) the investment opportunities in Quantum Technology and Nanotech.
The panel discussion which is titled "Discussions and Investment Opportunities in Quantum Technology and Nanotech" will be joined by Dr. André Xuereb, Professor of Atomic and Quantum Physics at the University of Malta.
About Dr. André Xuereb
André Xuereb is physicist from Malta. He read for an undergraduate degree in mathematics and physics at the University of Malta, a Ph.D. in theoretical physics at the University of Southampton in the UK, and a master degree in entrepreneurship at the University of Malta. He is a professor of atomic and quantum physics at the University of Malta, is Science Policy Officer of the Malta Chamber of Scientists, represents Malta on several European research networks, and was recently elected as the first Maltese member of the Global Young Academy. André has an active career in science, having established and leading the quantum research group at the University of Malta, and co-owns an educational software startup.
PICANTE Tech Conference Europe is designed to bring both people and knowledge together and provides the excellent ecosystem of networking and learning opportunities without interruptions with emphasis on comfort and communication. After learning from genuine world-class experts and wayseers, meeting achievers shaping the B2B ecosystem, all attendees will get the chance to grab a drink and relax while networking at the evening social gathering.
REGISTER HERE or BROWSE THE AGENDA/PROGRAM!
Seats are limited (Super Early Bird Rate – valid through 30th of June)
Elekta Wins 2019 'Medical Device Engineering Breakthrough' Award From MedTech Breakthrough
Reading Time:
2
minutes
Annual awards program recognizes outstanding health and medical technology products and companies
Elekta (EKTA-B.ST), today announced that MedTech Breakthrough, an independent organization that recognizes the top companies and solutions in the global health and medical technology market, has presented the "Medical Device Engineering Breakthrough" award in the 2019 MedTech Breakthrough Awards program to Elekta for its Elekta Unity MR-linac.
Elekta Unity combines two technologies: a state-of-the-art 1.5T MRI scanner and a best-in-class 7 MV linear accelerator, driven by breakthrough real-time adaptive radiotherapy software. It provides the ability to reshape the dose based on daily changes in shape, size and position of the tumor and surrounding healthy anatomy, as visualized with MRI, and then enables accurate dose delivery with real-time visualization of the tumor.
"We reserve our Medical Device Engineering Breakthrough award for recognizing transformative technology and Elekta Unity is a shining example of groundbreaking medical technology deserving of this designation," said James Johnson, managing director, MedTech Breakthrough. "In addition to Elekta Unity displaying breakthrough engineering that combines precision radiation therapy and high-field MR imaging, Elekta Unity addresses one of the most critical healthcare issues in the world with a focus on providing the next generation of cancer care."
The mission of the MedTech Breakthrough Awards is to honor excellence and recognize the innovation, hard work and success in a range of health and medical technology categories, including Robotics, Clinical Administration, Telehealth, Patient Engagement, Electronic Health Records, mHealth, Medical Devices, Medical Data and many more. This year's program attracted more than 3,500 nominations from over 15 different countries throughout the world.
"It's an honor for Elekta to win this prestigious award," said Richard Hausmann, Elekta's President and CEO. "The Unity system's breakthrough technology demonstrates our leadership in precision radiation medicine and commitment to the needs of the patient and cancer care team delivering treatment."
Robert Woolston, Managing Director at DCA Design International, Elekta's design partner for the MR-linac system, commented, "Congratulations to all involved in the development of Elekta Unity. We are delighted to see this system winning award after award and most importantly to see it improving cancer patients' radiotherapy experience and outcomes, as it ushers in a transformation in precision and personalized cancer treatment."
Through Elekta Unity's integrated and responsive software, tumors and surrounding tissue can be precisely located, their movement tracked, and treatment adapted in real time based on live information. This allows treatment plans to be adapted while the patient is on the table in response to changes in tumor position, shape, biology and the relationship to sensitive organs over time.
SOURCE: Elekta