Level Ex® Expands into Pulmonology with Its Newest Video Game, Pulm Ex™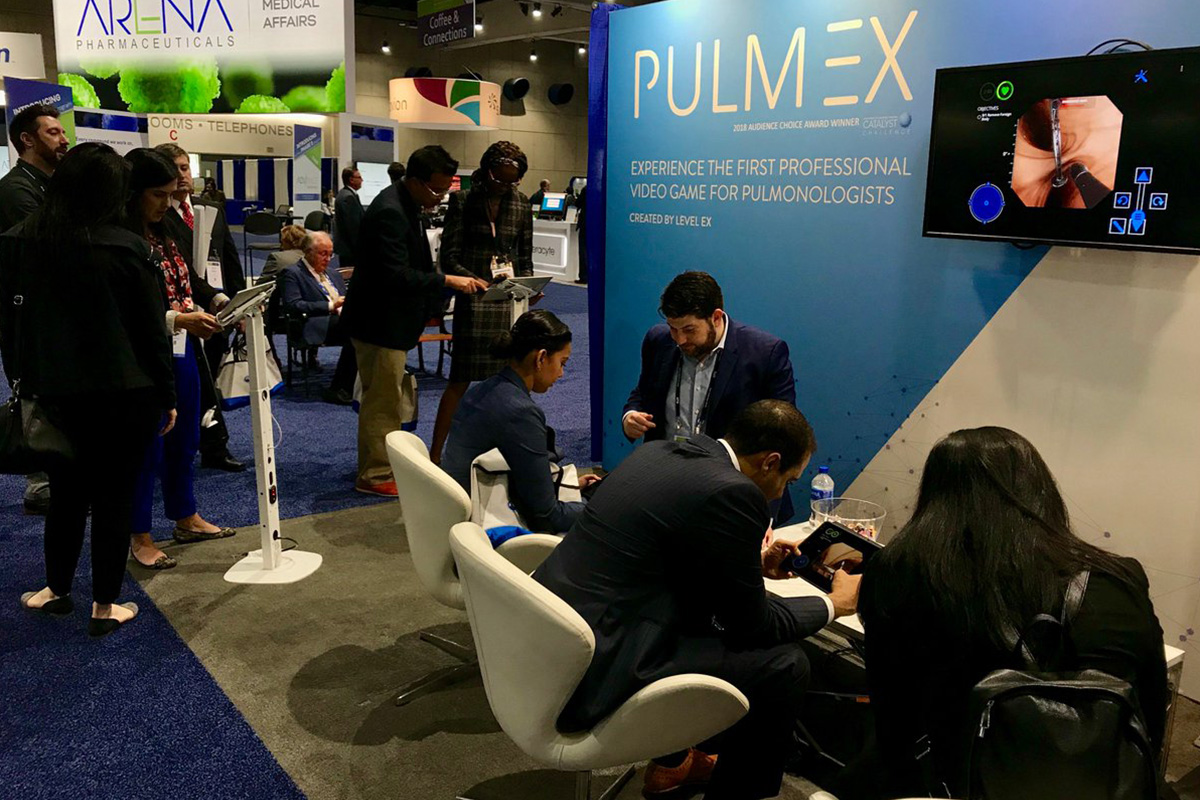 Reading Time:
2
minutes
The first high-fidelity mobile game to help pulmonologists improve their clinical skills
Level Ex, award-winning creators of industry-leading video games for physicians, announced the launch of its newest game title, Pulm Ex, at this week's CHEST 2018 Annual Meeting.
The Pulm Ex mobile game presents physicians with challenging and rare patient case scenarios seen in general and interventional pulmonology. Using state-of-the-art visual effects and market-proven game design principles, physicians can hone their diagnosis and treatment skills on the company's highly realistic virtual patients. The game will feature a library of pulmonary cases, including obstructive and restrictive diseases, foreign bodies, endobronchial masses, and lung cancers. Physicians can perform procedures in-game such as bronchoscopy on lifelike simulations of the trachea and bronchial tree of the lungs.
"Pulm Ex is our most challenging game to date. Advanced levels captivate even experts in pulmonology. The reception has been incredible with physicians audibly cheering during play, and posting their victories during our nationwide play tests. The technology and video game mechanics in Pulm Ex are a leap forward toward our goal to bring immersive and skill-advancing experiences to doctors across the globe on the device they use the most – their phone," said Founder and CEO, Sam Glassenberg.
Award-winning game developers at Level Ex work side-by-side with expert physicians to recreate anatomy with unprecedented levels of realism and interactivity. Physicians can treat virtual patients that breathe, bleed, secrete fluids, respond to pressure, and react realistically. Interventional bronchoscopy cases include a comprehensive virtual tool set of forceps, needles, cautery/APC, saline administration, and suction, with plans underway to add brushes, stents, and balloons. Pulm Ex features recreations of actual cases submitted by pulmonologists, with select cases offering continuing medical education (CME) credits. The game discretely measures player performance, including treatment decisions, tissue damage, blood loss, navigation, errors, and speed. Scores and times can be compared with colleagues. The games are designed using best-practices honed in popular physics-puzzle games, strategy games, and first-person perspective games on mobile.
"Level Ex provides an incredible tool to aid in decision making during bronchoscopy. Their new pulmonology game, Pulm Ex, creates realistic scenarios which can be practiced and perfected by physicians. As the field of pulmonology, especially advanced bronchoscopy, continues to grow, more effective tools for training and continuing education are essential," said D. Kyle Hogarth, MD, Associate Professor of Medicine, Director of Bronchoscopy, Lung Cancer Screening, and Pulmonary Rehabilitation Programs, at the University of Chicago Hospital.
Prior to its launch in the App Store, over 1,000 pulmonologists played a prototype version of Pulm Ex. The game was named Audience Choice Winner of the 2018 IPF Catalyst Challenge as a solution to most positively impact the diagnosis of Idiopathic Pulmonary Fibrosis (IPF). Its first two mobile games, Airway Ex (anesthesiology) and Gastro Ex (gastroenterology), hit 300,000 healthcare professional users in less than a year. Top pharmaceutical, biotech and medical device companies and several top medical societies partner with Level Ex to use their games to educate and train physicians about their products and solutions.
Level Ex plans to release new cases and levels to its player base each month. The company's fourth video game title, Cardio Ex, intended for general and interventional cardiologists, is scheduled for release in early 2019.
Pulm Ex is available to download from the App Store and coming soon to Google Play..
Yara and IBM join forces to transform the future of farming
Reading Time:
3
minutes
Yara and IBM will combine world-class agronomy and cutting-edge technology to develop the world's leading global digital farming platform.
Yara International (OSE: YAR), a global leader in crop nutrition, and IBM (NYSE: IBM), today announced an agreement to build the world's leading digital farming platform, providing holistic digital services and instant agronomic advice.
Yara and IBM Services will jointly innovate and commercialize digital agricultural solutions that will help increase global food production by drawing on the two companies' complementary capabilities: Yara's unrivalled agronomic knowledge, backed by more than 800 agronomists and a century of experience, and IBM's digital platforms, services and expertise in artificial intelligence (AI) and data analytics.
"Our collaboration centers around a common goal to make a real difference in agriculture. To be able to responsibly feed a growing population, it is critical that farmers increase food production on existing farmland to avoid deforestation. Yara and IBM will develop digital solutions that empower professional and smallholder farmers to optimize farming practices to increase yields, crop quality and incomes in a sustainable way," said Terje Knutsen, EVP Sales and Marketing in Yara.
The joint global digital farming platform will apply artificial intelligence, machine learning and in-field data to unlock new insights for farmers. The digital platform will have worldwide coverage and aspires to reach 100 million hectares of farmland – which is equivalent to twice the size of Spain or close to 7 percent of all arable land worldwide* including millions of smallholder farms.
"As demand for food rises along with the world's population, the digital farming platform will play a key role in increasing global farming yields in a sustainable way. The collaboration is a perfect symbiosis of IBM's capabilities in AI, big data management and blockchain technology and Yara's agronomic knowledge, farmer-centric digital innovation, and proven track record in improving farming across the globe," said Luq Niazi, IBM Global Managing Director Consumer Industries.
As a first step, Yara and IBM will establish joint innovation teams, collaborating at digital hubs in Europe, Singapore, the US and Brazil. The teams will work closely with IBM researchers to develop new capabilities, such as visual analytics and machine learning techniques for crop insights. The first services are planned for end 2019.

Advancing the digital frontier of farming
The Yara/IBM partnership will focus on all aspects of farm optimization. One specific area of collaboration will be weather data. The ability to respond optimally to weather conditions is critical for farming. By merging analytical insights from IBM's Watson Studio, IBM PAIRS technology, The Weather Company and other services, with Yara's unrivaled crop knowledge and modelling capabilities, the joint platform will not only provide hyperlocal weather forecasts but will in addition give real-time actionable recommendations, tailored to the specific needs of individual fields/crops.
As the joint digital farming platform expands, the teams will explore innovative business solutions to integrate the joint platform into the IBM Food Trust, IBM's blockchain-enabled network of food chain players. This will allow for greater traceability and supply chain efficiency as well as ways to tackle food fraud, food waste and sustainability. It will firmly link the farm into the full food chain, creating a holistic approach to food production from farm to plate.
The contract was signed in April 2019.
*World Bank, FAO.
SOURCE: IBM
China based innovation, CDMOs and Parallel Approvals driving huge growth in manufacturing at CPhI China
Reading Time:
3
minutes
Significant increase in exhibitors driven by bio growth at bioLIVE and separate nutraceuticals event.
CPhI & P-MEC China (#CPhIChina and #PMECChina) – co-organized by UBM EMEA, CCCMHPIE, and UBM Sinoexpo – takes place at the Shanghai New International Expo Center (SNIEC) on 18-20 June 2019. The event will be co-located with ICSE, InnoPack, bioLIVE, NEX, Labworld, FDF, and EP & Clean Tech. Seen as the bellwether of pharmaceutical trends across the country, CPhI & P-MEC China's agenda is packed with content from over 100 onsite conferences and activities as well as more than 50 seminars, with speakers from China and abroad.
One of the key trends to emerge this year is the rise in the number of innovative China-based biotechs – coupled with the easing of regulatory pathways and an emerging CDMO sector – is fueling a significant growth in manufacturing across China. In view of this, experts at the event will assess the Marketing Authorization Holder (MAH) Pilot Program, as well as recent reforms of China's regulatory landscape and the opportunities for international pharma.
With the Chinese pharma growing at a ferocious pace, CPhI & P-MEC China is expected to welcome 50,000 attendees in its 19th edition – a year-on-year increase of 30% – which is further indicative of the buoyancy of the Chinese market. The event is also expected to see a 6% increase in exhibitors, with more than 3,200 from over 120 countries in attendance.
"China is issuing new guidelines at a feverish pace and will be harmonized with ICH very quickly. The result is that over the next two to three years' poorer quality manufacturers will drop out of the market and China's manufacturers will look to compete in international markets as well as domestic" CPhI Annual Report Expert, Bikash Chatterjee on outlook of 2019.
Wider market data also supports this ongoing boom, with China's pharmaceutical market projected to grow strongly from 115.2bn USD in 2016 to 159.4bn USD by 2021 and 234.2bn USD by 2026. This represents a 10-year compound annual growth rate of 8.8% in local currency terms and 7.3% in US dollar terms. Similarly, bioprocessing in China has been on a trajectory of rapid growth, with a 39% growth in facilities, and total capacity is growing >8% annually, with biosimilars offering the largest growth potential.
At the 2019 edition, for the first time, CPhI & P-MEC China 2019 will launch bioLIVE – their new bioprocessing and manufacturing exhibition – which has evolved from the previous BioPh China and will run adjacent. This exposition is in response to the large molecule trend within the industry, and arrives at a particularly prominent moment. Within the last year, there has been a proliferation of biosimilars and double-digit approvals of biologics – as well as a host of investments taking place in contract services.
Marie Lagrenee, Brand Manager at CPhI & P-MEC China, commented: "The growth of the Chinese pharma economy has been exponential in recent years, with regulatory reforms spearheading the increased interest in the region from both domestic and international companies. With a bourgeoning CDMO sector and recent harmonization by ICH, it's pivotal that events such as CPhI & P-MEC China provide a platform to drive growth, exchange new ideas and expedite new deals to help nurture this budding market."
The third edition of China Pharma Week will take place alongside CPhI & P-MEC China on June 17-21 2019, focusing on Leadership, Business, Networking, Innovation, Recognition and Knowledge. Activities will include plant visits, a networking dinner, women in leadership forum, summits and the Innovation Gallery Tours, giving a deeper work floor insight and dedicated industry conferences on different sectors.
For more information, please visit the official website: www.cphi.com/china
Notes to editors
Notable features at CPhI China 2019 include:
Over 100 onsite conferences and activities with speakers from China and abroad, 50+ seminars
The renowned Matchmaking Service, an online matchmaking tool, which enables attendees to search for and arrange meetings with exhibitors prior to the show according to their business goals
The Innovation Gallery Tours will provide 2019 attendees with the latest insight into Functional and Insulin packaging solutions in the Chinese market as well as the opportunity to meet exhibitors
The Supplier Finder System, an interactive floor plan via dedicated screen, onsite visitors will be able to discover the location of existing or future business numbers, based on the search by a company name, product name or company's stand number
CPhI TV will bring live interviews from the top companies on the show floor and live content onsite to get the best out of the show.
SOURCE: UBM Sinoexpo
Curcushine™ Enhances Beauty from Within Market
Reading Time:
2
minutes
Lipofoods partners with Sphera on turmeric extract encapsulation
 Lipofoods SLU, introduces Curcushine™ microcapsules, a highly bioavailable microencapsulated curcumin for the beauty-from-within market. This innovative formulation is natural and vegan, with high solubility when dissolved in water. It has a neutral taste and can be readily incorporated into nutricosmetics and beauty drinks. The company will launch the product at Vitafoods Europe in Geneva on May 7-9, 2018, booth #K180.
Lipofoods created Curcushine microcapsules in collaboration with the Italian R&D company, Sphera Encapsulation S.R.L. Sphera is dedicated to the research and development of nano- and micro-encapsulation strategies. The collaboration will act through a licensing agreement to market this new, highly bioavailable and water-soluble microencapsulated curcumin source.
Creating a highly soluble turmeric ingredient is challenging. Most curcumin ingredients on the market are water-dispersible, rather than water-soluble. Sphera was able to overcome this challenge by developing an innovative technology that can turn hydrophobic active ingredients into soluble microcapsules via exclusive coating materials and processing.
"Sphera's proprietary technology is key to fulfilling the increased demand for better-for-you products in new delivery systems," says Gianni Zoccatelli, CEO of Sphera. "We are excited to partner with Lipofoods, a company committed to the development of innovative botanical solutions."
"Partnering with Sphera is a strategic move that opens new opportunities for Lipofoods to launch advanced botanical formulations that have a cutting-edge advantage," declares David Padro, Business Manager of Lipofoods. "Lipofoods is engaged in ongoing research into the anti-aging benefits and other health condition benefits of Curcushine microencapsulated curcumin, seeking out new markets and different food applications."
The aging process is driven by the lifelong accumulation of molecular damages, mainly due to Reactive Oxygen Species (ROS) produced by mitochondria, as well as random errors in DNA replication. Measurement of ROS levels is a good predictor of oxidative stress and can be used to test the anti-oxidant properties in live cells.
Curcumin has been shown to delay skin aging by protecting skin's structures and proteins — including collagen and elastin — from oxidative and inflammatory damage. The antioxidant properties of curcumin can reduce ROS in cells and eliminate the effects of advanced glycation species (AGEs) on the divergent regulation of gene expression of receptors.
The innovative delivery system transforms the curcumin into a highly bioavailable formulation using a completely natural encapsulant matrix that protects and embeds the curcumin. The increased bioavailability of Curcushine microcapsules can be attributed to the superior solubility in water due to the small dimension of the particles. The high solubility characteristic also allows easy incorporation of the product into all varieties of nutricosmetics and beauty drinks. The formulation is gluten-free, vegan, plant-based, and kosher- and halal-certified.
"Curcushine microcapsules provides anti-aging benefits and is suitable for multiple nutraceutical applications," explains Isabel Gomez, Marketing Manager of Lipofoods. "We plan to showcase beauty gummies containing Curcushine microcapsules in our booth at Vitafoods and we will also perform live demos to demonstrate the product´s high solubility."
SOURCE: Lipofoods