Level Ex® Expands into Pulmonology with Its Newest Video Game, Pulm Ex™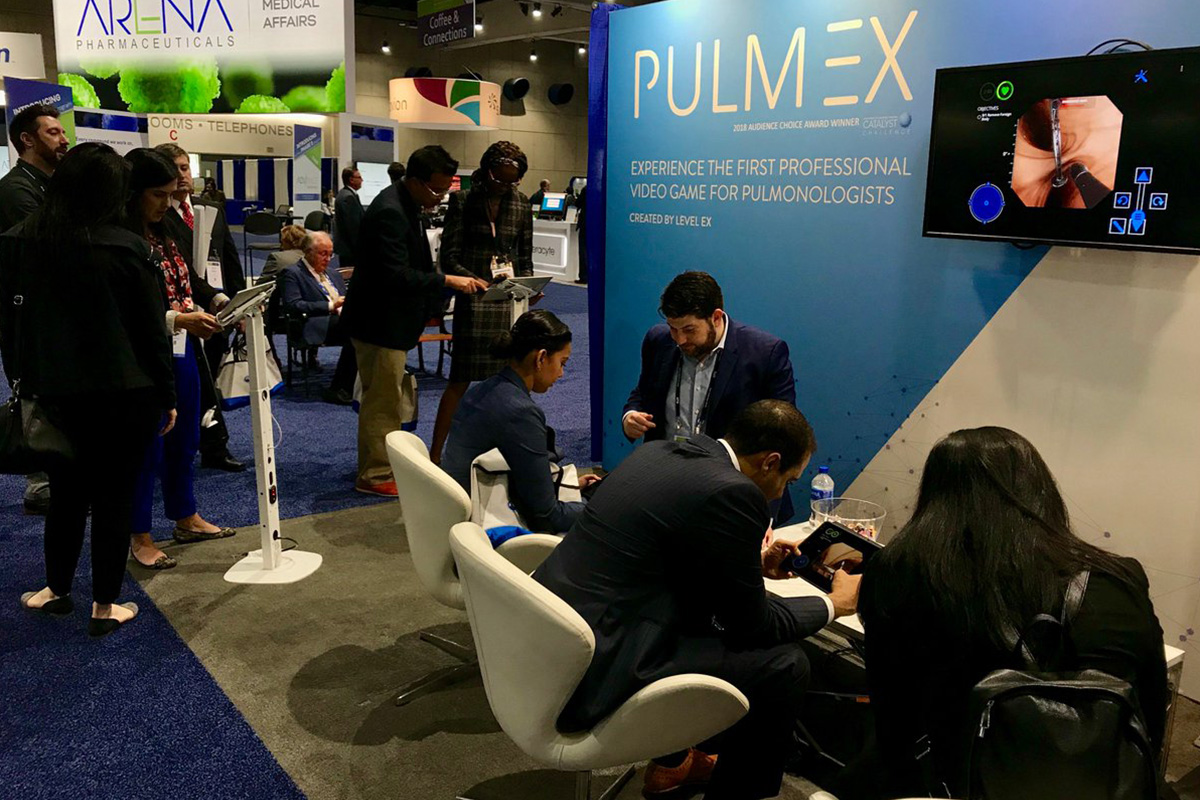 Reading Time:
2
minutes
The first high-fidelity mobile game to help pulmonologists improve their clinical skills
Level Ex, award-winning creators of industry-leading video games for physicians, announced the launch of its newest game title, Pulm Ex, at this week's CHEST 2018 Annual Meeting.
The Pulm Ex mobile game presents physicians with challenging and rare patient case scenarios seen in general and interventional pulmonology. Using state-of-the-art visual effects and market-proven game design principles, physicians can hone their diagnosis and treatment skills on the company's highly realistic virtual patients. The game will feature a library of pulmonary cases, including obstructive and restrictive diseases, foreign bodies, endobronchial masses, and lung cancers. Physicians can perform procedures in-game such as bronchoscopy on lifelike simulations of the trachea and bronchial tree of the lungs.
"Pulm Ex is our most challenging game to date. Advanced levels captivate even experts in pulmonology. The reception has been incredible with physicians audibly cheering during play, and posting their victories during our nationwide play tests. The technology and video game mechanics in Pulm Ex are a leap forward toward our goal to bring immersive and skill-advancing experiences to doctors across the globe on the device they use the most – their phone," said Founder and CEO, Sam Glassenberg.
Award-winning game developers at Level Ex work side-by-side with expert physicians to recreate anatomy with unprecedented levels of realism and interactivity. Physicians can treat virtual patients that breathe, bleed, secrete fluids, respond to pressure, and react realistically. Interventional bronchoscopy cases include a comprehensive virtual tool set of forceps, needles, cautery/APC, saline administration, and suction, with plans underway to add brushes, stents, and balloons. Pulm Ex features recreations of actual cases submitted by pulmonologists, with select cases offering continuing medical education (CME) credits. The game discretely measures player performance, including treatment decisions, tissue damage, blood loss, navigation, errors, and speed. Scores and times can be compared with colleagues. The games are designed using best-practices honed in popular physics-puzzle games, strategy games, and first-person perspective games on mobile.
"Level Ex provides an incredible tool to aid in decision making during bronchoscopy. Their new pulmonology game, Pulm Ex, creates realistic scenarios which can be practiced and perfected by physicians. As the field of pulmonology, especially advanced bronchoscopy, continues to grow, more effective tools for training and continuing education are essential," said D. Kyle Hogarth, MD, Associate Professor of Medicine, Director of Bronchoscopy, Lung Cancer Screening, and Pulmonary Rehabilitation Programs, at the University of Chicago Hospital.
Prior to its launch in the App Store, over 1,000 pulmonologists played a prototype version of Pulm Ex. The game was named Audience Choice Winner of the 2018 IPF Catalyst Challenge as a solution to most positively impact the diagnosis of Idiopathic Pulmonary Fibrosis (IPF). Its first two mobile games, Airway Ex (anesthesiology) and Gastro Ex (gastroenterology), hit 300,000 healthcare professional users in less than a year. Top pharmaceutical, biotech and medical device companies and several top medical societies partner with Level Ex to use their games to educate and train physicians about their products and solutions.
Level Ex plans to release new cases and levels to its player base each month. The company's fourth video game title, Cardio Ex, intended for general and interventional cardiologists, is scheduled for release in early 2019.
Pulm Ex is available to download from the App Store and coming soon to Google Play..
Breaking Ground on Europe's Largest Hemp Extraction Facility
Reading Time:
2
minutes
Precision Extraction Solutions Named Exclusive Equipment Supplier of Canapar S.r.L.
Precision Extraction Solutions ("Precision"), a market leader in cannabis and hemp extraction technology, has been named the exclusive equipment supplier of Canapar S.r.L. ("Canapar") for the development and outfitting of its flagship extraction facility in Sicily, Italy.
On the heels of a $25 million CAD ($20 million USD) round of financing, that included a lead investment by Canopy Rivers Inc (TSXV: RIV), the corporate venture capital platform of Canopy Growth Corporation (TSX: WEED, NYSE: CGC), a global leader in the cannabis sector, Canapar engaged Precision for the design and manufacturing of an industrial scale hemp extraction plant.
"The KPD series extraction plant represents the newest and most innovative extraction technology in the marketplace. We are excited to see this revolutionary and automated cGMP solution at Canapar's state-of-the-art facility," states Nick Tennant, CTO of Precision.
The Precision® KPD Series is a scalable solution for industrial and agri-processing demands ranging from 2,200 lbs (1,000 kilograms) of cannabis or hemp input material per day to more than 100,000+ lbs per day.
Canapar's Ragusa, Sicily facility, outfitted with a KPD series extraction plant, is expected to produce CBD extracts and isolate, which will then be used for a wide range of health and beauty, cosmetics, pharmaceutical and veterinary products.
"We chose Precision as our extraction technology partner because they are the most recognized and innovative extraction equipment company in the world. They are assisting us in all aspects of the project from facility design to equipment and training. With Precision's help, the aim is to optimize the extraction process for the production of the world's finest CBD isolate for the cosmetic and pharmaceutical market," said Sergio Martines, CEO of Canapar.
The cGMP-compliant Ragusa facility is initially expected to be able to process over 600 tons of hemp biomass per year, making it the largest extraction facility in the European Union. With Precision's assistance, Canapar is planning on scaling its operation within the next 12-18 months to keep up with projected demand.
According to Marc Beginin, CEO of Precision, "We are thrilled to be working with the professionals at Canapar. Canapar is poised to be the leading CBD isolate provider in Europe. They asked us to produce a scalable extraction plant with speed-to-market top of mind. Our team will be ready to deliver the first phase in Sicily this summer."
The market for hemp extraction solutions to produce CBD isolate is growing rapidly. "Indeed, the market is robust," says Beginin, "with the passage of the 2018 Farm Bill in the US, and increased legality of hemp-derived products worldwide, it is estimated that the market for hemp extracts will grow to $22 billion by 2020."
About Precision® Extraction Solutions
Precision® Extraction Solutions is the industry leader and most trusted brand in cannabis and hemp extraction equipment, technology, lab design, training and consulting.
Precision® extraction systems are world renowned for quality, safety and precise operation. Certified for use in all regulated US and EU jurisdictions, more award-winning extracts are made with Precision® than any other brand.
Precision's multi-solvent extraction systems process 100 to over 100,000+ lbs of material per day, making Precision® the professional's choice for commercial and scaled industrial operations.
For more information about Precision® Extraction Solutions visit:
https://precisionextraction.com/.
SOURCE: Precision Extraction Solutions
Moorfields Dubai Welcomes New Highly Experienced Consultant Surgeon Specialising in Children's Eye Diseases and Eye Screening for Premature Babies
Reading Time:
2
minutes
Moorfields Eye Hospital Dubai (Moorfields) has announced the appointment of a new Consultant Paediatric Ophthalmologist specialising in children's eye diseases, strabismus (squint) and cataract surgery for children.
Dr. Namir Kafil-Hussain is an experienced consultant ophthalmic surgeon and has held senior clinical consulting roles in some of the leading specialist hospitals in the UK and Republic of Ireland, managing high quality paediatric ophthalmic services. His work encompasses all aspects of eye surgery for children including small incision cataract surgery, intraocular lens implantation, squint surgery and botulinum toxin injection for treatment of squint. He has screened and performed laser treatment on premature babies (Retinopathy of Prematurity – ROP) as early as 23 weeks, as well as publishing research on ROP prevention and treatment trends.
Dr. Namir trained at centres of excellence in ophthalmology, including Oxford, London and Dublin, and completed his specialist training at the Royal College of Ophthalmologists. He has lectured, researched and published extensively on his specialist areas of interest, including original clinical papers related to Children's Eye Diseases, Strabismus (Squints) and Cataract surgery. He is a Fellow of the Royal College of Surgeons of Edinburgh; Fellow of the Royal College of Ophthalmologists; and is a member of the United Kingdom and Ireland Society of Cataract and Refractive Surgery.
Dr. Ammar Safar, Medical Director of Moorfields Eye Hospital Dubai, commented: "At Moorfields Dubai, we pride ourselves on our unique capacity to treat the most complex eye conditions, including those affecting children, who comprise a significant proportion of our patients. Dr. Namir brings exceptional skills and experience to the paediatric team, which provides a comprehensive service to younger patients by covering the full range of advanced medical and surgical services including the most challenging cases, even in premature babies."
Moorfields Eye Hospital Dubai (MEHD) is the first overseas branch of Moorfields Eye Hospital NHS Foundation Trust, the oldest and one of the largest centres for ophthalmic treatment, teaching and research in the world. Located at the Al Razi Medical Complex in Dubai Health Care City, the facility provides day case surgery and outpatient diagnostic and treatment services, for a variety of surgical and non-surgical eye conditions. MEHD will also raise standards for research and teaching in the region. MEHD is owned and managed by the NHS Foundation Trust, and maintains close links with London, to ensure that patients in the GCC receive the best eye care treatment in the world.
SOURCE Moorfields Eye Hospital Dubai
Collaboration Between Andrew Alliance SA and Ziath Ltd Brings Sample Tracking to Andrew Automation
Reading Time:
1
minute
Sample tracking on Andrew automation brings added levels of traceability to a wide variety of low to medium throughout applications
Andrew Alliance S.A., the robotics company that is improving repeatability with an innovative approach to liquid handling with conventional laboratory pipettes, and technology company Ziath Ltd, today announced a collaboration agreement to integrate barcode reading into Andrew Alliance's software package. Under the co-marketing agreement, Andrew Alliance's will integrate Ziath's DataPaq™ Mirage 2D barcode rack scanner and other devices with their OneLab software platform and associated hardware, bringing sample tracking capability to a large number of applications.
"These days' most high value samples are labelled with either 1D or 2D barcodes, and these samples need to be tracked throughout workflows within the laboratory," said Piero Zucchelli, CEO and founder of Andrew Alliance. "Many of our customers and partners have been asking for us to add this capability into the OneLab platform and by working with Ziath we are able to combine industry leading technology to do this."
"We are very pleased to be working with an innovative partner such as Andrew Alliance and look forward to introducing our technology to a new range of customers. Ziath is committed to easy to use sample tracking system and first class customer support and this is why we identify Andrew Alliance as a natural fit for both organisations to co-operate," said Neil Benn, Managing Director, Ziath Ltd.
This collaboration reflects both companies' commitment to providing scientists with the tools and solutions that enable them to make strides in their respective fields, without the worry of the consequences associated with manual errors.
SOURCE Andrew Alliance SA