Beyond crypto: Pundi X unveils blockchain-powered phone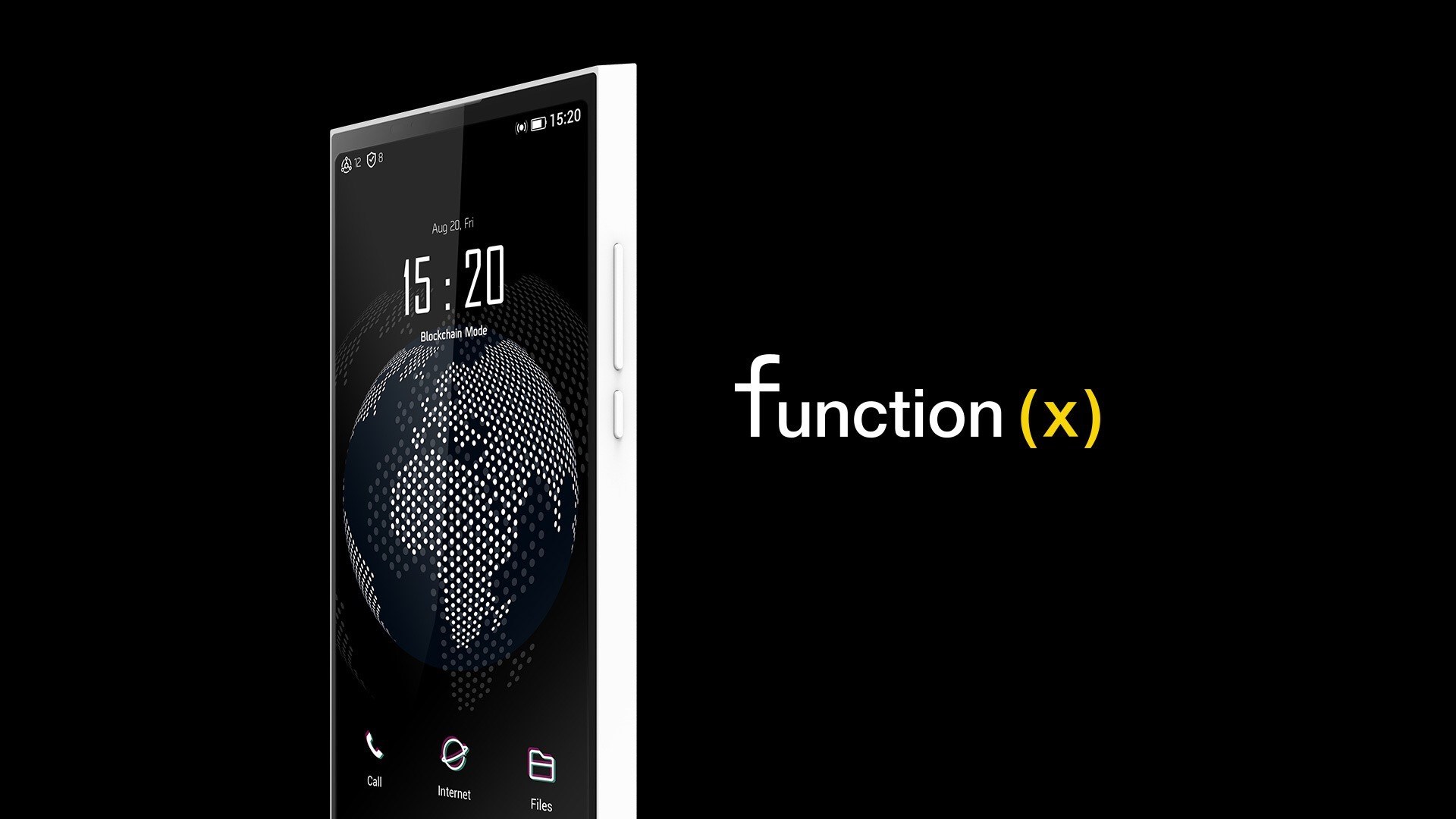 Reading Time:
3
minutes
First mobile phone runs on a decentralized ecosystem powering telephony, messaging, data transmission, and more
World's first blockchain phone call made today
Users have exclusive control over the data they share
New blockchain to have wide applications for data decentralization
Pundi X, a leading global developer of blockchain-powered devices, today announced it had successfully created a blockchain-based OS and communication protocol for mobile devices, allowing users to make calls, send messages and transmit data via a fully decentralized blockchain network.
Powered by Function X, an ecosystem built entirely on and for blockchain, the new mobile phone called 'XPhone' runs on a new transmission protocol for the blockchain age. The innovation significantly expands the use of blockchain technology beyond financial transfers.
Unlike other 'blockchain powered' phones still in development, XPhone can operate independently of centralized carriers. Users can route phone calls and messages via blockchain nodes without the need for phone numbers.
Function X, the new blockchain eco-system, also enables users to securely send and receive data of all kinds, via a new transmission protocol, FXTP, while a decentralized file storage system is known as IPFX. Users will be able to share data in much the same way as they do online securely via the blockchain, while developers can quickly and easily publish decentralized applications via FXTP.
"Pundi X develops technology to solve challenges that blockchain technology is facing and make it usable in our life," said Pitt Huang, the co-founder and CTO of Pundi X. "It took decades before the uses of the internet could be applied widely enough to reshape the global economy, human relationships and governance.
"We see blockchain as being at a similar stage of development to the Internet in the early '90s; a new kind of network and decentralized protocol like Function X will be transformational to blockchain as the browser was to the Internet. For a start, it's putting blockchain in the hands of millions via a smartphone and returning control of their data back to them, but it also answers so many other challenges.
"The possibilities for decentralized data storage and transmission are limitless. Decentralisation is the core of blockchain technology and a new protocol for truly decentralized data transmission reflects Pundi X's belief that everything should flow from this core philosophy".
Pundi X CEO and co-founder Zac Cheah said that the XPhone has the potential to establish a large global pool of nodes that can be harnessed to help achieve scalability and decentralisation for the broader blockchain ecosystem.
"Scalability in blockchain is derived from the number and geographic spread of nodes," Zac said. "While certain blockchains such as Ethereum have achieved an admirable spread of nodes at 15,000 through transaction-based protocols, it's clear that achieving a critical mass in terms of scale will require something with utility for the vast majority.
"Function X is the answer. By offering people the choice to be independent of a centralized communications network we've created a new use for blockchain that can be appreciated and used by most people.
"In turn this will have considerable implications for the future of blockchain and give life to a network large enough to support better scale, throughput, new potential applications and true decentralisation that has so far eluded blockchain."
Trial demo units of the XPhone have been displayed to journalists and attendees at the XBlockchain Summit Inaya Putri Bali today.
Blockchain-based calling and messaging can be toggled on and off on the phone operating system, which builds upon Android 9.0.
Availability: The XPhone OS is currently available to phone manufacturers for testing. The detailed information of Function X will be available on https://functionx.io on October 15th. The Function X blockchain, FXTP, IPFX, and XPhone will be officially launched in Q2 2019.
XPhone features include:
A mobile Operating System built on the blockchain
Sending and sharing data, such as SMS, securely via Function X blockchain
Easy publication and release of decentralized applications
Making phone calls and sending messages independently of a central carrier
Users have the exclusive control over the data they share.
Decentralized data storage
Every XPhone is a node
Video footages:
Stan Group Launched Buy-a-Brick to Reward Staff Members Through Revenue Sharing
Reading Time:
2
minutes
An innovative staff incentive programme leveraging blockchain and real estate tokenization technology
Stan Group (Holdings) Limited ("Stan Group") announced the launch of Buy-a-Brick, an innovative employee incentive and recognition programme that applies blockchain technology and real estate tokenization to enable Stan Group employees to generate wealth alongside Stan Group.
Committed to driving corporate innovation, Stan Group has pioneered the application of real estate tokenization to employee incentive and recognition. Buy-a-Brick is designed to motivate staff engagement in innovation, cultivate intrapreneurship and recognize staff for the efforts. Unlike other conventional revenue-sharing models, Buy-a-Brick provides employees with the opportunity to share the future capital gain of a building, without making any monetary contribution. A "Brick" is a digital token stored on the blockchain, which represents a smart contract for a selected building. By participating in Buy-a-Brick, if the property selected is sold and profit is made on the sale of that property, the brick holders will be entitled to share the profit made.
"We are thrilled to launch Buy-a-Brick for internal staff as it redefines staff appreciation. I believe every one of our staff members plays an integral role in the Group's success and should be able to reap the reward and share the value created," said Stan Tang, Chairman of Stan Group. "The launch of Buy-a-Brick has cemented the leading position of Stan Group in corporate innovation and entrepreneurship. Buy-a-Brick started with a dream, through matching the idea with resources within our business ecosystem, it is now a reality. I hope to ignite innovation and initiate change within and outside the Group, and shape a better future for entrepreneurs and all."
Buy-a-Brick is the newest addition to the existing Stan Group credit system, where employees earn points with innovative business pitches, business referral, attending design thinking and other talent development workshops, etc. There are two types of points, namely Credit Point and Shared Value Point. With Credit Point, employees can redeem vouchers, hotel stay, and even an extra day off. On the other hand, the new Shared Value Points can be used to redeem a "Brick" at Buy-a-Brick.
About Stan Group
Stan Group (Holdings) Limited ("Stan Group" or "the Group") is a leading conglomerate rooted in property with a wide array of diverse businesses. Committed to sustainable business development and social investment, the Group manages a HK$60 billion real estate portfolio in strategic partnership with the Tang Shing-bor family and operates more than 40 respected brands across five business pillars: property, hospitality, communication services, financial services and The STILE, innovative businesses with social purposes. Dedicated to innovation, collaboration, human focus and entrepreneurship, the Group's core values empower it to achieve the vision of driving the vibrancy of society, and the mission of creating shared value (CSV) for shareholders, business partners, customers, employees and the community at large.
Malta AIBC Summit secures largest crowd for 2019
Reading Time:
2
minutes
6000+ to attend Europe's premier event for blockchain, AI, and emerging tech
Malta AI & Blockchain Summit will be Europe's largest event for the blockchain, AI, and emerging tech sectors, it was today confirmed by events company SiGMA Group – the team behind the forward-looking business technology expo.  More than 6000 are expected to attend the show, taking place on 7th and 8th November at the Intercontinental Hotel in St Julian's, Malta.
Many delegates will likely be attending the various conferences and workshops at AIBC Summit, which have always been extremely popular.  Headline topics will include the Future of Fintech, Business and Emerging Tech, Innovation, and of course, Regulation. Leading the discussions will be Joseph Muscat (Malta Prime Minister), Silvio Schembri (Malta Financial Services, Digital Economy and Innovation), Anthony Pompliano, AKON, Ian Balina, Matt Greenspan, Yorick Wilks, David Orban, Miko Matsumura, Grace Rachman, Tim Draper, Virgil Griffith, and Alfio Bardolla.
In addition to this enviable schedule of engaging content, the AI Start-up pitch will highlight 10 of the best Start-ups at the conference (there will be 100 or more in the Start-up village).   Each of these 10 companies will pitch their concepts and services to a panel of judges, with one set to win a business-supporting package for the year.
The AIBC Awards on 7th November will be a glittering celebration of the best of the best in the worlds of AI, blockchain, tokenisation, robotics, IoT, and more.  A charity event will wrap up the evening, with the intention of raising a 5 figure sum for the SiGMA Foundation's global activities to help those in need.
Finally, this year's show also adds glitz and glamour to the proceedings, courtesy of Grammy Awards-winning artist Akon, who will be delivering a keynote on the main stage about his West African AKOIN project, as well as performing at the extravagant closing night on Friday 8th November.
Eman Pulis, CEO & founder of SiGMA Group and AIBC Summit, said, "We're so excited to bring this third edition of AIBC Summit to fruition in November.   Alongside the latest government initiatives to further establish Malta as Europe's leading hub for technology, our wider Malta Week activity will develop the synergy between the blockchain and medical cannabis sectors, offering a profitable new direction for smart DLT investors.  It's set to be a busy but successful week for everyone!"
– ends –
For sharing in social media, please use the handle: @AIBC Summit
Telegram: https://t.me/maltablockchainsummit
Hashtags: #AIBCsummit #BlockchainIsland
For further information, please contact: pr@maltablockchainsummit.com 
About AIBC:
Malta AI & Blockchain Summit is a bi-annual expo covering topics relating to the global sectors for blockchain, AI, Big Data, IoT, and Quantum technologies.  The event includes conferences hosted by globally renowned speakers, workshops for industry learning and discussion, an exhibit space accommodating more than 400 brands and much more.
The first Malta Blockchain Summit took place in November 2018 at the Intercontinental Hotel in St Julians, Malta, attracting 8,500 attendees from over 80 countries worldwide, with 300 sponsors and exhibitors, 200 speakers, and No. 1 AI VIP (Sophia the world's first robot citizen). With strong support from the Maltese government, the event has quickly established itself as one of the world's leading destinations for the growing sectors of AI, Blockchain and DLT, IoT, and other vertical industries. At the 2018 event the Maltese government introduced 3 new bills to support the growth of the sector and promoting Malta as the "Blockchain Island".
AIBC Summit Official Channel:
https://t.me/maltablockchainsummit
AIBC Summit Official Group:
https://t.me/joinchat/OldghxVZWtOj_FedxyL
AIBC Media Group:
ChainPoint 19 Conference | Connecting people, making future visible.
Reading Time:
2
minutes
ChainPoint 19 Conference – commenced in Yerevan, Armenia for the second time, on the 14th of October, 2019. The conference was hosted by Nooor Blockchain Armenia and suffice as the opening partner event for the Aurora Forum.
About five hundred attendees gathered in the beautiful Dvin Hall to discuss the current state of blockchain and future tech, where it is headed, and the true potential that lies within the Armenian ecosystem. Speeches by Vigen Arushanyan, President of Nooor Blockchain Armenia, Tigran Khachatryan, the Minister of Economy of the Republic of Armenia, and Noubar Afeyan, Co-Founder of Aurora Forum, opened the ceremony.
Over the fulfilled two-days-program, there were 16 presentations, 7 panel discussions and a whole lot of networking!  The key speakers included Global Crypto Leader and FinTech Leader for Asia at PwC Henri Arslanian, the Minister of Economy of the Republic of Armenia, Tigran Khachatryan, the Deputy Governor of the Central Bank of Armenia, Vakhtang Abrahamyan, the Deputy Governor of the Central Bank of Armenia, Chris Emms, the Business development manager at Bitcoin.com.
Topics of the the hottest panel discussions centered around:
the regulatory aspects of crypto-assets
Armenia as a home to future tech companies
investments opportunities in blockchain
the latest crypto trends and the rise of exchanges
the merging of FinTech with blockchain.
The conference was an exceptional way to converge Nooor's international blockchain community and local enthusiasts of the technology. ChainPoint became a cornerstone of opportunity, investment, and new beginnings. Without a doubt, Armenia established itself on the world blockchain map, showcasing the untapped resources that the region can offer.
In the scope of the ChainPoint 19 Conference, we had a networking event at the Armenian General Benevolent Union (AGBU), flavoured with Henri Arslanian's book presentation "The Future of Finance: The Impact of FinTech, AI, and Crypto on Financial Services". In the framework of AGBU's Bridge for CSO's program Henri Arslanian was appointed  as the Goodwill Ambassador for Nooor Blockchain Armenia. With this there are a number of projects coming.
Additionally, during the conference we had witnessed the most outstanding speeches delivered from all the stakeholders involved in the development of blockchain in Armenia. Vakhtang Abrahamyan, the Deputy Governor of the Central Bank of Armenia, proposed his own vision towards the regulatory issues and stated that they are open to discussions and are looking at the market demand.
Parallel to the conference there was an Expo area where local and international businesses and organizations had the opportunity to present their offerings and receive feedback from the community.
One of the most noteworthy moments of the conference was the startup battle, which included a $350,000 prize fund raised by, CV VC labs, AE ventures, SmartGateVC, x10 Agency, ECOS and InnMind. The Prizes were granted to four lucky startups: CoinStats – the official portfolio tracking app of ChainPoint, To the Moon, Creatr and GeBeCert/SmartCheck.
ChainPoint 19 Conference is officially a part of the history now. See you at ChainPoint 2020 and let's #thinkthefuture together!