Beyond crypto: Pundi X unveils blockchain-powered phone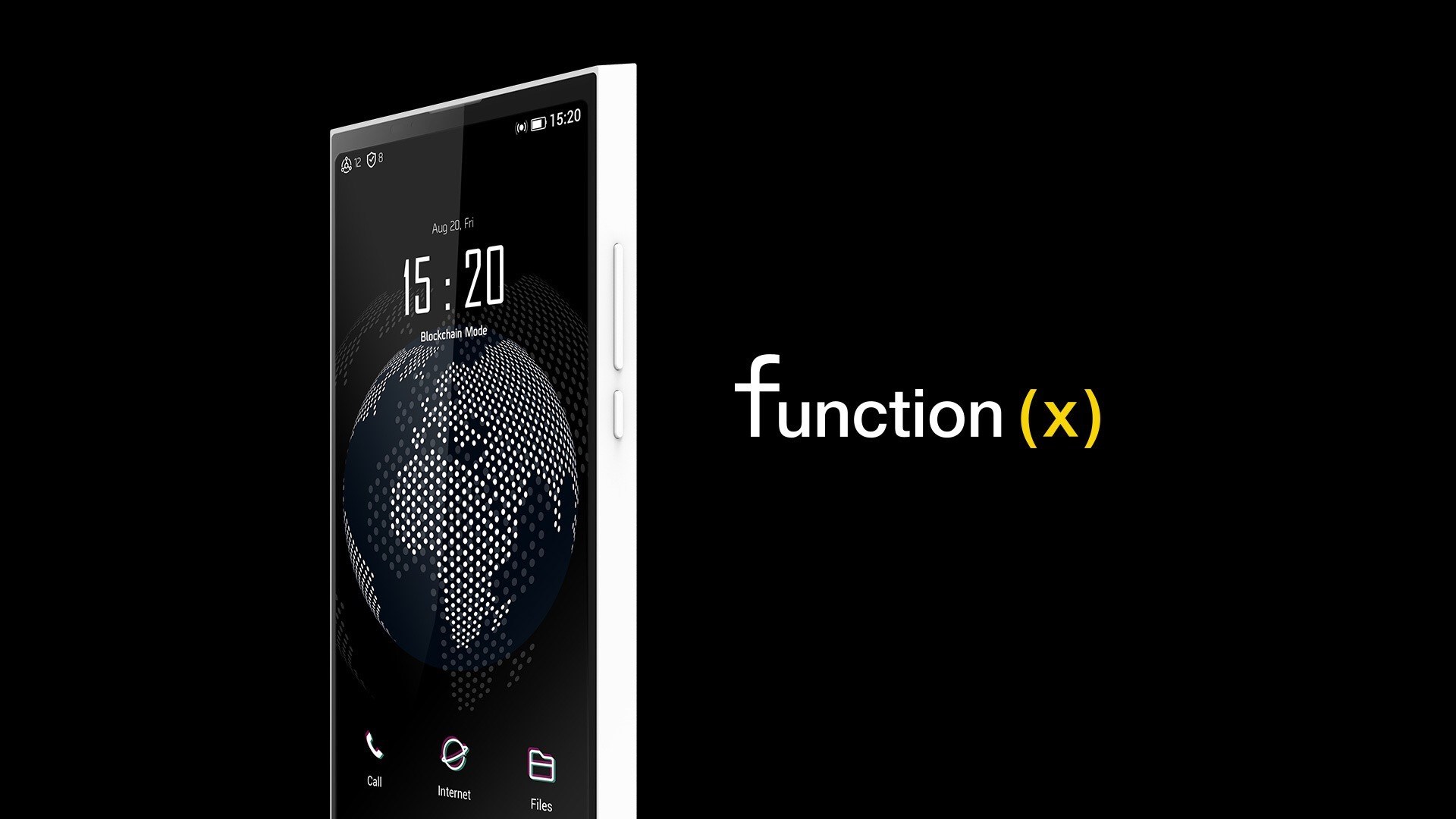 Reading Time:
3
minutes
First mobile phone runs on a decentralized ecosystem powering telephony, messaging, data transmission, and more
World's first blockchain phone call made today
Users have exclusive control over the data they share
New blockchain to have wide applications for data decentralization
Pundi X, a leading global developer of blockchain-powered devices, today announced it had successfully created a blockchain-based OS and communication protocol for mobile devices, allowing users to make calls, send messages and transmit data via a fully decentralized blockchain network.
Powered by Function X, an ecosystem built entirely on and for blockchain, the new mobile phone called 'XPhone' runs on a new transmission protocol for the blockchain age. The innovation significantly expands the use of blockchain technology beyond financial transfers.
Unlike other 'blockchain powered' phones still in development, XPhone can operate independently of centralized carriers. Users can route phone calls and messages via blockchain nodes without the need for phone numbers.
Function X, the new blockchain eco-system, also enables users to securely send and receive data of all kinds, via a new transmission protocol, FXTP, while a decentralized file storage system is known as IPFX. Users will be able to share data in much the same way as they do online securely via the blockchain, while developers can quickly and easily publish decentralized applications via FXTP.
"Pundi X develops technology to solve challenges that blockchain technology is facing and make it usable in our life," said Pitt Huang, the co-founder and CTO of Pundi X. "It took decades before the uses of the internet could be applied widely enough to reshape the global economy, human relationships and governance.
"We see blockchain as being at a similar stage of development to the Internet in the early '90s; a new kind of network and decentralized protocol like Function X will be transformational to blockchain as the browser was to the Internet. For a start, it's putting blockchain in the hands of millions via a smartphone and returning control of their data back to them, but it also answers so many other challenges.
"The possibilities for decentralized data storage and transmission are limitless. Decentralisation is the core of blockchain technology and a new protocol for truly decentralized data transmission reflects Pundi X's belief that everything should flow from this core philosophy".
Pundi X CEO and co-founder Zac Cheah said that the XPhone has the potential to establish a large global pool of nodes that can be harnessed to help achieve scalability and decentralisation for the broader blockchain ecosystem.
"Scalability in blockchain is derived from the number and geographic spread of nodes," Zac said. "While certain blockchains such as Ethereum have achieved an admirable spread of nodes at 15,000 through transaction-based protocols, it's clear that achieving a critical mass in terms of scale will require something with utility for the vast majority.
"Function X is the answer. By offering people the choice to be independent of a centralized communications network we've created a new use for blockchain that can be appreciated and used by most people.
"In turn this will have considerable implications for the future of blockchain and give life to a network large enough to support better scale, throughput, new potential applications and true decentralisation that has so far eluded blockchain."
Trial demo units of the XPhone have been displayed to journalists and attendees at the XBlockchain Summit Inaya Putri Bali today.
Blockchain-based calling and messaging can be toggled on and off on the phone operating system, which builds upon Android 9.0.
Availability: The XPhone OS is currently available to phone manufacturers for testing. The detailed information of Function X will be available on https://functionx.io on October 15th. The Function X blockchain, FXTP, IPFX, and XPhone will be officially launched in Q2 2019.
XPhone features include:
A mobile Operating System built on the blockchain
Sending and sharing data, such as SMS, securely via Function X blockchain
Easy publication and release of decentralized applications
Making phone calls and sending messages independently of a central carrier
Users have the exclusive control over the data they share.
Decentralized data storage
Every XPhone is a node
Video footages:
YAO Network: The Blockchain Paradise Developers Have Been Waiting For
Reading Time:
4
minutes
Permissioned blockchain? Private blockchain? Public blockchain? Fret not for YAO Network accepts them all. YAO Network is a cloud service paradise for new blockchain projects looking for a community to nestle in and make their homes there. By integrating cloud computation with decentralized computation, the YAO Network is able to support computation eco-platforms of multiple blockchain networks, maximizing the utility of all participants while helping projects to achieve their technological targets and generate value.
The YAO Network was built for a vision: to benefit developers and to help enterprises achieve much more, freeing the successes of blockchain technologies for all to enjoy. This vision grounds the design of YAO Network's architecture as the platform seeks to establish a comprehensive service and utility computation platform where Pareto optimality is achieved amongst developers, enterprises, and overall public utility.
Like many other blockchain platforms out there, technology remains a key factor in determining a platform's functionality. The YAO Network certainly has a strong pillar of support in its robust technical infrastructure to achieve its goals.
1. YAO Network integrates multiple computation paradigms in utility computation.
The YAO Network platform effectively combines three computational paradigms, cloud computing, decentralized computing and encrypted computing, to meet the demands of different applications and create maximum computation utility.
Cloud computation has been gaining massive popularity as a computational model in many enterprises and the public. The advantages of cloud computation are numerous. It saves cost for enterprises, developers and the public while offering flexible workload deployments, which enhances the overall utility of both individuals and society.
Recognizing the advantages of cloud computation, the YAO Network platform makes cloud computing the only carrier of all service and computation units in the blockchain. Cloud computing is not only utilized for deployments and encrypted computation of centralized applications, but also widely applied in decentralized blockchain networks.
2. YAO Network standardizes decentralized and centralized computation units based on cloud computation.
Different computation units have been designed for various types of applications to promote the usage of blockchains in the public domain. YaoLet is the solution designed by the YAO Network for decentralized applications, while BuildPack is its equivalent for centralized applications designed based on PaaS. The entire architecture is rested on these two solutions alongside other services. As YaoLet and BuildPack are both multiplexed; developers and service providers can participate in the sharing of YaoLet and BuildPack and reap the rewards through corresponding YAO Network reward system.
3. YAO Network allows softwares to define blockchain through topological orchestration and virtualization.
Most computations are no longer an isolated and individual computation unit; they have complex interconnections that are unified by a topological structure. This combination of computational units is achieved through topological orchestration.
On one hand, new services and components can be combined and orchestrated by existing computation units. On the other hand, various infranets in blockchains can also be orchestrated to establish corresponding nodes and services. Most blockchain architectures like YAO Network take on a modularized approach where interledger general blockchain protocols are made viable through plugging and unplugging every component and service as well as modularizing operations. The blockchain network becomes the virtual superposition of peer-to-peer networks, making it possible to define new blockchain network models and service models through virtual and abstract orchestrations.
4. YAO Network supports multiple blockchain network architectures and paradigms including public blockchains, permissioned blockchains and private blockchains.
The blockchain network within YAO Network supports three types of blockchains, namely public blockchain, permissioned blockchain and private blockchain. They can be broken down into shared and exclusive nodes based on the extent of its isolation. Enterprises and developers can build on shared blockchains or create their own exclusive blockchains on the YAO Network platform. Another alternative would be to classify the blockchain network based on its testnet and mainnet, and their applications.
5. YAO Network maximizes utility of developers, enterprises and the general public.
YAO Network is a one-stop blockchain service platform for blockchain service consumers, developers and enterprises to share innovations both in public and private. One of the biggest hurdles blockchain has yet to overcome is its low adoption rate and thus the YAO Network has provided blockchain PaaS services for developers to utilise and a platform where they can release their blockchain products directly to blockchain service providers. This forms a healthy supply and demand ecosystem as iterations of blockchain products are incubated or eliminated based on practicality and impact. Those that are proven viable will unite and form a larger blockchain ecosystem and platform.
Developers even earn the chance to make some profits through the YAO Network. The network rewards developers when their creations are utilised by others. In addition, the YAO Network has three specific function modules in terms of product modality: blockchain marketplace, enterprise aggregation and solutions, and developer community. This forms a trinity that works together to serve both developers and enterprises. Driven by supply, YAO Network solves the scarcity of blockchain comprehensive services by connecting and bridging between developers and enterprises, in order to establish a healthy and organic ecosystem where all participants have maximum utility within the system.
6. YAO Network has high inclusivity in the system.
A well-designed architecture should have open interfaces. Every layer delivers its own functions, and is connected to each other through the same cross layer interface. The YAO Network system is designed based on important principles including openness, security, technology neutrality, verifiability in the future, interoperability, scalability, modularization, manageability and dependability, to achieve inclusivity in the system.
YAO Network embraces existing and future blockchain applications and is committed to establishing a comprehensive computation platform with multiple blockchains, multiple computational paradigms and integrated utilities.
SOURCE YAO Network
Knowmatix: An Online Educational Platform for the Cryptocurrency Industry
Reading Time:
2
minutes
Knowmatix is an online, in-depth educational platform providing the fundamentals and practical skills necessary to become successful in the Blockchain, Cryptocurrency industry from the comfort of your own home.
By applying our easy to understand, proven methods and applications, it is now easier than ever to successfully become a knowledgeable leader in blockchain technologies industry through our online accelerated educational program.  Our comprehensive introductory program provides a fundamental understanding of how various blockchains operate and how easy it is to strategically trade cryptocurrency in today's centralized economy.
Our founder and curriculum developer, Abdulaziz AlYaqout, is currently operating in Miami Beach, Florida.  Prior to forming Knowmatix, Mr. AlYaqout took lead as an important consultant for the business analyst team at Ryder Systems, Inc. and the University of Miami Hospital and Clinics.  He holds BS Degree and MS in Industrial Engineering, both from the University of Miami.
As lead instructor for Knowmatix, Mr. AlYaqout's first course is a blockchain and digital currency microdegree that provides you the basic tools to start and advance your professional career in the cryptocurrency.
Learn the technical analysis basics and terminology and develop buying strategies and skills to grow your personal finances. Learn how to deconstruct the blockchain technology, and the importance of Hashing.  Discover Bitcoin and understand its history and role in the cryptocurrency marketplace.
Knowmatix, seeks to create a Knowmatix Impact Program (KIP) that forms strategic alliances with reputable businesses operating in the Blockchain industry. This involves Knowmatix assigning project managers to given projects, and delegating work per project basis to qualified star students. While forming alliances with businesses, Knowmatix will align itself with schools and institutions to provide a custom backend solutions curriculum to help revamp their online courses. This effort provides colleges and institutions cost saving measures by offering its platform in a software program, which acts as an additional resource to aid students with completing their education, and securing a career through Knowmatix alliances and partners in the ever growing technology field, nationwide.
With Knowmatix' proprietary platform and blockchain-focused training services, Mr. AlYaqout ventures to be part of the governmental effort to Buy American and Hire American with special interest for advancing the careers of woman and Veteran groups nationwide to team up with Knowmatix.
For additional information and preview of our proprietary educational curriculum, please visit our website at www.knowmatix.com.
Bullet Points
What You Will Learn
Cryptocurrency terminology
Deconstructing blockchain technology
Understanding Hashing
Digital Currency and its Future
Bitcoins role and history
Currency wallets
Crypto Research tools
Buying strategies
Digital Asset Classifications
Blockchain Analysis Basics
SOURCE Knowmatix
Whiteblock leads networking workshop for Ethereum 2.0 – achieves basic client-to-client comms
Reading Time:
2
minutes
A major milestone has been achieved in the development of Ethereum 2.0 as key team members collaborate on the first instance of protocol networking.
From June 25-29, the Whiteblock team was joined in Toronto by members of several Ethereum 2.0 client teams to work on client interoperability. Teams represented included Artemis, Prysmatic, Nimbus, Lodestar, and Yeeth. The broad goal for the week was to facilitate simple networking between two clients: a HELLO message sent between Artemis and Prysm according to the Hobbits wire spec – read up on it here. This is what nodes use to establish and confirm network relationships, and it's a crucial component of any p2p protocol. Given the significance, the team was excited for the challenge.
The first roadblock was that the Prysm client had been set up to only parse the initial HELLO, whereas received GOSSIP messages would simply `return nil`. On the Artemis side, the client was sending HELLO followed by GOSSIP messages. Due to a hard-coded p2p port in Prysm, the Artemis message type had to be changed in order to accommodate Prysm.
After a few days of exploration and troubleshooting we were able to get both clients to exchange HELLO messages. This is an important marker on the path towards standing up long lived inter-client testnets.
Spec construction will be an ongoing and iterative process involving Prysmatic (Prysm), Chainsafe (Lodestar), Pegasys (Artemis), Status (Nimbus), Sigma Prime (Lighthouse) Yeeth, Whiteblock and other interested participants.
NEXT STEPS
The teams will continue to collaborate on integrating Gossipsub, working up the stack in terms of complexity. Next steps include continuing to build out the remainder of RPC query and response handling as well as GOSSIP message propagation in Prysm and Lodestar. The Whiteblock team will also be looking to support test networks by snapshotting state after the genesis kickoff, which will make test cycles more efficient.
There's certainly a large amount of work ahead, but we're excited to share our progress as the summer continues. Stay tuned for more updates.
SOURCE Whiteblock