Simple Expands Intelligent Marketing Platform Into MENA to Help CMOs Claw Back Cost of Marketing Complexity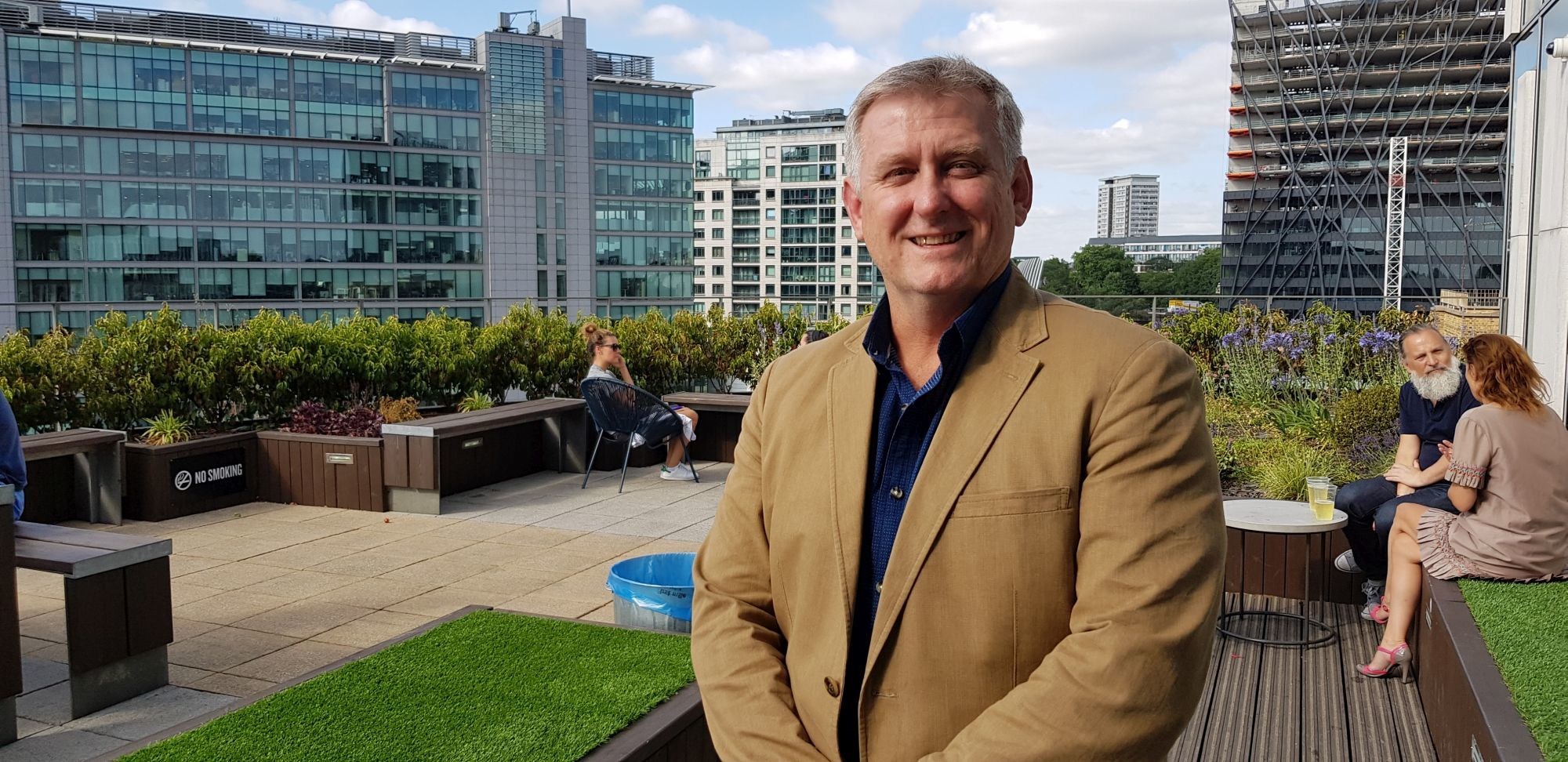 Reading Time:
2
minutes
Australia-based marketing technology company Simple has opened a London office and announced its EMEA management team a month after an investment round worth
AUD $17m to expand its Intelligent Marketing Platform globally.
Simple has appointed Joe Jarrett, former CEO of global marketing and brand asset management platform Adgistics, as managing director, EMEA, heading up a highly experienced team.
Wolfgang von Enckevort also joins Simple as global chief technology officer, based in London. Mr von Enckevort has held chief technologist and executive management roles at several multinational advertising and marketing software firms and comes to Simple after establishing award-winning customer engagement and Microsoft solution consultancy Vepro.
Simple, whose marketing resource management platform is powered by Microsoft, is moving quickly to establish its brand in the EMEA market, expanding its existing footprint in Australasia and the United States. Simple's customer base includes a number of blue-chip brands in the financial services, retail, entertainment and gaming sectors including Westpac Group.
"The combination of Simple's experience in marketing and Microsoft's technology stack will redefine the marketing execution landscape," Mr Jarrett said. "Our new capability will enable organisations to rapidly integrate marketing data from multiple sources to generate insights and improve marketing performance without losing sight of the value of creativity."
"Marketing has become too fragmented with CMOs now directly owning relationships with up to 50 different technology platforms and sometimes more. This means 50 different but often overlapping sets of data," Mr Jarrertt said. "If you can't join all the activity together to understand and demonstrate the return on your marketing investment, then there's a cost to that complexity. Simple helps marketers claw back that cost."
The EMEA launch enables Simple to capitalise on momentum generated with the global unveiling of Simple's Intelligent Marketing Platform onstage at Microsoft's Inspire partners' conference in July, leveraging the engineering and marketing support Simple receives as a Microsoft Cloud Solution Provider.
Smart integrations for enterprises already working within Microsoft's services ecosystem will be a key differentiator in EMEA, according to Mr von Enckevort.
"Introducing Simple's Intelligent Marketing Platform to the Microsoft Business Solution ecosystem presents us with the unique opportunity to reinvent marketing operations management for enterprise and corporate organisations – at scale and anywhere in the world," Mr von Enckevort said.
Also joining Simple's EMEA team is sales director Mike Brothers, who was previously vice-president at Intellectsoft, and has worked with a number of startups in leading-edge technologies including martech, blockchain and IoT.
Simple chief executive officer Aden Forrest said marketers were grappling with an increasingly fragmented process and a burgeoning landscape of 7000 technology providers, most of which were only concerned with their little piece of the marketing puzzle.
"Chief marketing officers must show that the end-to-end marketing process delivers, from brand management, collaboration and resource allocation, to distribution channels and results — that's intelligent marketing," Mr Forrest said. "Simple is the engine that powers the process and the brain that tells you what's working and what isn't."
When and How to Use Nofollow Tag in WordPress?
Reading Time:
6
minutes
If you are a good blogger, at that point I'm confident you have known about nofollow links. On the off chance that you haven't, at that point you may be living under a cyber rock. Genuinely however, if you don't have any idea what they are or don't have any idea how to implement them, for that point we are demonstrating how this is done by WordPress development company (our platform of choice), yet the HTML code we give you will work in any kind of platform.
What is Nofollow?
This tag was made as a path for website owners to tell web crawlers not pursue interfaces in the most essential sense. This can be on a whole page or explicit links. Having nofollow on your links essentially tells web search tools (figure the Google bot) to not creep the links it was appended on. It additionally prevents them from appointing any inquiry esteem from your links to their objective site.
The vast majority talk about Google when they reference nofollow, yet Bing likewise focuses on this tag. On the off chance that you've perused this page on Google, at that point you may find out about them. Here is a little selection about how they handle nofollow joins.
Generally, we don't tail them. This implies Google doesn't move PageRank or grapple message over these links. Basically, utilizing nofollow makes us drop the objective links from our general diagram of the web. Be that as it may, the objective pages may even now show up in our record if different destinations links to them without utilizing nofollow, or if the URLs are submitted to Google in a Sitemap. Additionally, it's imperative to take note of that other web indexes may deal with nofollow in somewhat various manners.
A nofollow tag is very basic when added to a standard link. It's basically this:
rel="nofollow"
When Do I Use Nofollow?
This is the issue I get regularly nowadays. The reason of a nofollow is basic. Just not following certain links, yet shouldn't something be said about when do we use them?
For a very long time (back when I began blogging in 2004), you could purchase a links on a webpage (in the substance or even in the sidebar/footer) and it would assist you with beginning positioning for search terms.
We could purchase a links like "WordPress Backing" on a site that discussed WordPress and it would assist us with picking up footing in Google. You could likewise simply get interfaces on different locales with a similar book of the links and it would enable our site to begin positioning for WordPress Bolster when individuals search.
This destroyed the nature of the list items after some time and Google paid heed. Throughout the previous quite a while (at any rate 5), Google has begun to punish you for purchasing joins and minimizing your rankings. On the off chance that you attempt to outmaneuver them, they will make up for lost time and punish you. Try not to purchase joins!
In 2014 I accept, they began advising individuals to put the nofollow tag on any links they have been paid to put. This didn't mean you couldn't get paid to put links in your substance, yet the purchaser just couldn't influence their rankings thusly.
Here are some of the times you should utilize a nofollow link:
Sponsored post by a brand/organization
Any affiliate link (counting Amazon)
Any paid links using any means
Any links you can't vouch for when composing content *
Links to login pages, enlistment pages, or blocked pages
*Linking to outside assets is something to be thankful for when composing content, yet on the off chance that you can't vouch for the nature of the substance you're connecting to, at that point you can just nofollow it. In the event that something helps answer an inquiry in your post, yet you would prefer not to give them search advantage, you can nofollow the links.
Method to Set a Nofollow links in WordPress
I'm certain this is what you're searching for, so we should begin. Setting up a nofollow links is quite simple in the event that you know HTML, yet in addition simple on the off chance that you simply take a couple of moments to learn it. There are plugins out there to effectively make a checkbox in your supplement links zone in WordPress, however I don't trust these plugins.and if this looks like tough then there are many wordpress development services provider for it, The explanation is that I've seen a considerable lot of them simply stop and all the nofollow labels simply vanish. This is terrible for you and not something I'd recommend. Manual is probably the best choice in my book.
As noticed, this is the tag for nofollow:
rel="nofollow"
Here is what an ordinary interface resembles when you see it in the content some portion of your editor:
<a href="https://www.example.com/login/">Login</a>
This is a link to our login page for our clients. On the off chance that I put this in our substance, I would normally set this as nofollow. Here's the means by which I would do it.
In the first place, include your links ordinarily in WordPress. Snap the chain symbol, embed the data, at that point apply it.
On the off chance that you need to open up a link in another program tab (suggested for outside links), at that point you can tap on the cogwheel and afterwards check the crate to open links in another tab.
This will currently have a links that looks typical in your editorial manager, however how would you add the nofollow part to it? Basic.
Snap the "Content" tab in your editorial manager in WordPress. It's next to the visual tab.
Presently you will find the links that you need to change to nofollow by glancing through the content code. You're searching for something that starts with "
At the point when I discover this code, I will then simply go in and include rel="nofollow" to the links and this is what it would resemble:
<a href="https://www.example.com/login/" rel="nofollow">Login</a>
Presently, this progressions a tad when you need to have the links open in another program tab, which is likely going to be the most widely recognized situation you run over.
In this way, we should tell you the best way to manage that.
At the point when you open a links in another tab, the HTML code resembles this in WordPress:
<a href="https://www.example.com/login/" target="_blank" rel="noopener">Login</a>
Where most turn out badly is they attempt to evacuate the rel="noopener" some portion of the HTML or they attempt to include another rel="nofollow" to the links. This is erroneous. There should just be on rel= part of your links.
On the off chance that you see this, at that point this is your main thing to the links:
<a href="https://www.example.com/login/" target="_blank" rel="nofollow noopener">Login</a>
Fundamentally, simply include nofollow directly into the rel="noopener" tag and you're ready. It will resemble this in the proofreader:
I understand that exchanging to and fro from the visual tab to the content tab in the manager can cause issues. This will ideally be settled when Gutenberg turns out in WordPress 5.0, however this is the thing that we have at this moment. The most ideal approach to manage this is to compose your whole post, and do the altering. At the point when you are done, change it to content and afterwards deal with the nofollow in your partner joins/paid links. At that point you can plan or distribute and be good to go.
In the event that you aren't sure where every one of your links are in the event that it's an enormous post, at that point add something like nofollow beside your links, so you can look for it when in the content manager. Something like this:
"Login" nofollow
At that point simply erase the nofollow content when adding the HTML code to the links.
Thus, that is fundamentally what a nofollow tag is, the point at which it ought to be applied, and how to include it in WordPress.
About the author: Yashraj Singh is the Digital Marketing Manager in a WordPress Development Company, he has a passion for Digital Marketing and web design, and when not in the gym enjoys playing cricket. In free time, he publish some articles on his blog
Attest Raises $16 Million to Take the Guesswork Out of Growth for Consumer Businesses
Reading Time:
3
minutes
Attest, the London-based technology startup launched to enable every business to be consumer-focussed, today announced a $16 million Series-A investment round to expand their Consumer Growth Platform.
Attest's Consumer Growth Platform enables companies to engage directly with over 100 million consumers across 80 countries, in as little as 90 seconds. The platform is used by consumer businesses, to learn, measure and grow ever-faster, across ideas, departments and teams.
The financing was led by leading global venture capital firm NEA headquartered in Menlo Park, California, with participation from existing investors Oxford Capital and Episode 1 Ventures. Crystal Huang, Principal at NEA, will join the Attest board of directors.
The Attest platform is designed for any business looking to unlock its full growth potential, by engaging real consumers to uncover the right decisions.
Jeremy King, Founder and CEO of Attest, said: "Businesses are constantly seeking new ways to understand trends, grow in new markets, and explore innovations – however 99% of the questions businesses would love to explore go unanswered. Attest is designed to solve that, replacing the guesswork with facts, for all consumer businesses everywhere.
"Our team is so excited to work with NEA and their global scale. NEA share our vision for helping consumer businesses discover predictable, repeatable growth by enabling anyone to get much closer to consumers and real inputs than has ever been possible before.
"Attest is built to deliver the most powerful, unique insights that can help every business unlock their greatest growth opportunities. Attest can deliver over 467% return on investment; it's a huge new capability, now open to all."
This financing comes hot on the heels of a year of dramatic growth for Attest, with recurring revenues climbing 1,800% across 2018, and the Attest team more than doubling in size from 20 to over 50. The company's expanding client roster has added notable brands such as Heineken, Walgreens Boots, Samsung, Fever-Tree, Discovery and Transferwise.
The new capital also accelerates Attest's growth in North America with the opening of a new office in New York, while expanding engineering, product and design teams to deliver ever-more intuitive and predictive insights; supporting Attest's mission to enrich consumer understanding for all.
"We've been exploring innovations within the consumer growth and insights space for a while," said Crystal Huang, Principal at NEA. "The traditional research market is worth $76 Billion, and yet it only serves a fraction of those who would benefit from fast and reliable consumer insights. Attest has a tremendous vision, thoughtful culture, ambitious team and impressive traction, which puts them in a position to accelerate the delivery and adoption of a category-defining and market-expanding platform. Our investment in Attest also reflects our enthusiasm for the UK tech ecosystem and eagerness to continue investing in this region going forward."
Attest combines power and simplicity into an all-in-one SaaS platform. "It's always been easy to guess or project, but now it's possible for anyone to simply ask detailed consumer groups for their input directly. Not just any consumers, the real people that matter most for each decision. We're democratising, demystifying and accelerating consumer intelligence."
Jamie Cooke, Chief of Staff EMEA at Discovery, added "Attest gives us agility and empowerment, bringing the consumer and people in the organisation doing the work together in a faster, more direct and intuitive way than our traditional ways of doing things. Attest is a catalyst for changing the culture of our company."
Jeremy King concluded "We believe that unique consumer insights and understanding hold the key to long-term business success, and we're on a mission to place real consumers into daily decision-making for every business. Most importantly, we do this in ways that suit consumers; constantly respectful of time and privacy, all via beautiful interfaces. We aspire to be leading global business, and that take a great leap forward today."
SOURCE Attest
Comscore Releases New Advanced Segmentation Data for Digital Audiences in Canada
Reading Time:
2
minutes
Comscore, a trusted partner for planning, transacting and evaluating digital media across platforms, today released new data from Plan Metrix® Multi-Platform Powered by Vividata, the psychographic digital segmentation tool. Launched in Canada in December of 2018, Comscore Plan Metrix Multi-Platform combines consumers' desktop and mobile behaviour with detailed information about their lifestyles, interests, attitudes, demographics and behaviors from Vividata's survey data for a unified digital view.
"We are excited about the early client participation and industry excitement with Plan Metrix Multi-Platform. This reinforces our beliefs that there has been a gap in Canada for robust, person-centric data sets that are better aligned with how digital media is analyzed and planned today," said Bryan Segal, senior vice president, commercial, Comscore. "We are looking forward to serving the industry and helping our clients deliver against these new data and insights with this innovative partnership."
A first for the Canadian marketplace, the new data from Plan Metrix Multi-Platform provides the following benefits to buyers and sellers of media:
Generate stronger media plans, identify advanced audience segments, and reach consumers across different platforms
Achieve better ROI by creating segments based on nearly 20,000 attributes
Demonstrate the value of a platform's audiences and competitive comparisons through a deep understanding of the total media consumption, attitudes and interest of their audience
Media buyers and sellers can combine a wide array of behaviour and lifestyle categories to create richer custom segments in different industries, including retail, travel, automotive, media, real estate, lifestyle, finance and household products. An online lifestyle publisher, for example, can demonstrate how their properties over index for certain attractive target groups such as expectant mothers, food lovers or cosmetics shoppers. Inversely, a media buyer for a baby formula brand can gain insight into expectant mothers' online behaviors to better optimize advertising campaigns.
"Plan Metrix Multi-Platform is part of our continued strategic plan to build and partner on new solutions for the marketplace that help media buyers and sellers maximize the power of our rich consumer and media data," said Pat Pellegrini, Ph.D., president and CEO, Vividata.
Since its initial launch the solution has been met with enthusiastic responses from industry thought leaders who are engaged with the platform:
"We are thrilled to add Plan Metrix Multi-Platform data to enhance The Globe and Mail's continued investment in audience data science, which is extremely valuable in generating brand engagement," said Greg Doufas, chief digital and technology officer, The Globe and Mail. "This will allow us to deepen our understanding of audiences and to use Plan Metrix Multi-Platform data to showcase our value to advertisers throughout the entire consumer path to purchase."
"The Comscore and Vividata partnership will enable agencies to create better targeting and narratives, and more complex campaigns for our clients looking to reach the multi-touchpoint, multi-screen consumer of today," said Fred Auchterlonie, executive vice president, client service, PHD Canada. "We welcome the availability of new tools that enable us to deliver more relevant and timely ads by using third-party, industry standard data to give our clients a complete picture of how to optimize success in reaching their targets."
SOURCE Comscore