12th Edition of Renewable Energy India Expo Reiterates Renewed Focus on Clean Energy Sector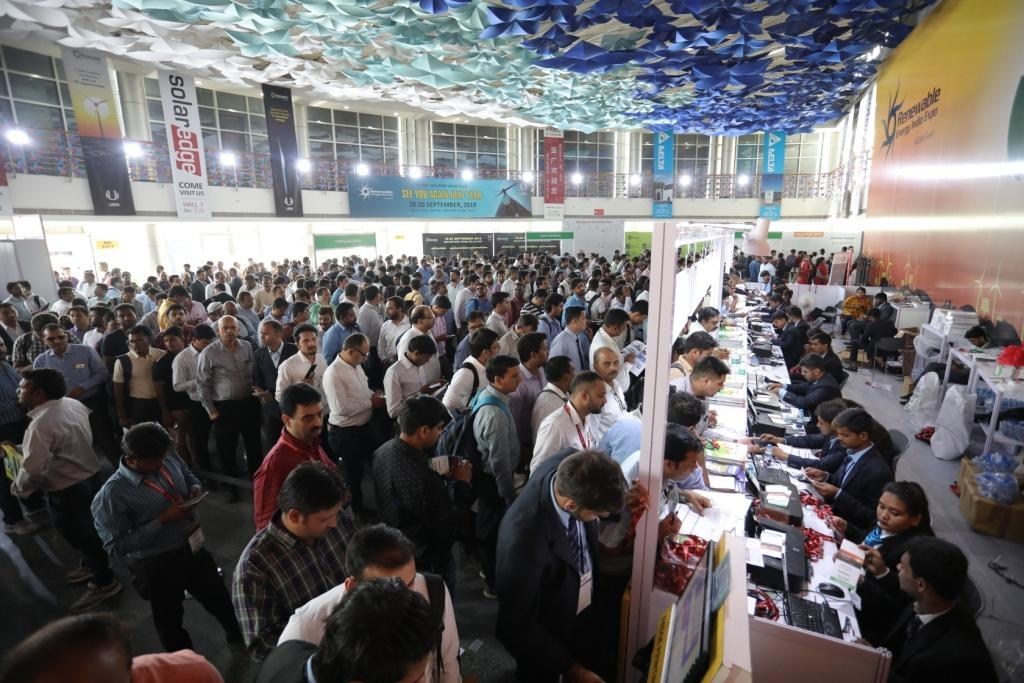 Reading Time:
5
minutes
Keen Global and Local Participation, Foreign Investments & Technology Breakthroughs Marked the Show 
UBM India successfully concluded the 12th edition of Renewable Energy India (REI) Expo, the three day (18th – 20th September, 2018) show at the India Expo Center, Greater Noida. This year, the show focused on approaching renewables in a more holistic manner, with due consideration to wind, hydropower and biomass along with solar energy. The expo witnessed over 750+ exhibitors participation from 45 countries, with over 1,000 delegates and 225 speakers at the 37 conference sessions.
The event was well supported by European Union India – Clean Energy & Climate Days and Business Beyond Borders (BBB), National Skill Development Corporation (NSDC), Skill Council for Green Jobs (SCGJ), European Business Technology Center (EBTC), Euro Chambers, Bloomberg News Energy Finance, Bridge to India, World Business Council for Sustainable Development (WBCSD), Indo-German Energy Forum (IGEF), Solar Energy Research Institute of Singapore (SERIS), Asian Photovoltaic Industry Association (APVIA), TFE Consulting GmbH, PV magazine and Indian Biogass Association and German Biogass Association (IBA and GBA), among others, joining in the rich conference domain themed 'Accelerating Momentum…From Ambition to Action'.
The event witnessed new product showcases including charging stations, frameless glass to glass panels, solar inverters, solar kit solutions, bi-facial modules and testing lab facilities. There was an increased presence of floating solar equipment makers, demonstrating the growing demand for such projects in the country. Business to Business (B2B) meetings were facilitated in two separate zones to enable focused and well-directed match-making. Various subjects ranging from viability of manufacturing, large-scale project development challenges caused by land and transmission bottlenecks, Rooftop challenges caused by DISCOM's, low bids, payment issues, net-metering, and financing were discussed.
REI 2018 also showcased bolstering Start-ups and SMEs with the launch of Sunrisers Pavilion, Session on Advantage Telangana, crucial industry dialogues in the form of CEO Roundtable, Financial Leadership Forum, Quality & Future Round Table, 5th Indo-German Energy Symposium, EU – India Clean Energy & Climate Days and International Matchmaking, and the 4th edition of Renewable Energy India Awards to recognize the Innovation & Excellence in the field of Renewable Energy.
Commenting on the successful conclusion of the show, Mr. Yogesh Mudras, Managing Director, UBM India, said, "Over the years, REI has duly acquired a unique dynamism and influence as a comprehensive global platform for the RE domain addressing these challenges and aiding India'sgreen mission. This year was remarkable, with intense global participation in the form of renowned forums such as Business Beyond Borders, European Business Technology Center (EBTC), European Commission, World Business Council for Sustainable Development (WBCSD), Indo-German Energy Forum (IGEF), European Union, and more. REI also witnessed a pre-bidding meet by the Govt. of Madhya Pradesh for its project RESCO and a session – Advantage Telangana by the Govt. Of Telangana which made it one of the must-attend event for green energy professionals in India and across the globe."
Industry Speaks and New Launches at REI 2018:
Nitin Sharma, Raychem RPG said, "This past year has been fairly tumultuous and at the same time exciting for the industry. We are particularly excited by the progress we have made in expanding our portfolio and strengthening our partnerships. We commissioned India's first MW scale Energy Storage Project – Integrating Grid, Solar and Diesel generator to provide quality and stable power to load and partnered with Dynapower, USA for Energy Storage Power Conversion System for technology collaboration. We were nominated as Knowledge Partner to International Solar Alliance (ISA) for Energy Storage System. We also launched an integrated Small Scale Energy Storage System – upto 15 KW, Launched Solar and Energy Storage Kits upto 20 KW installation & eBOS for larger applications and engineered solutions like Optimizer, DG-PV Controller and other interesting products for customers. Through REI, we connected and demonstrated exciting solution ranges to leap into brighter and sunnier future."
Saurabh Bhandari, Chief Executive Officer, SolarMaxx said, "REI, as in the past, proved to be a tremendous platform for the RE sector to come together and witness new technology and product launches. Our brand, SolarMaxx, once again received an overwhelming response from the industry. Our high efficiency modules, especially the half-cut cell modules were particularly appreciated. We look forward to many more such events by UBM. "
Mr. Rishi Seth, Joint Managing Director, HPL Electric & Power Ltd said , "REI Expo layers an outstanding platform to showcase our latest BOS (Balance of System) product range and offerings in renewable energy, along with the hands on experience of our latest technology. REI Expo is also a meeting place for some of the major suppliers, consultants and industry experts, even what also amazes us is that the relevant people from different states and power utilities are present to witness the showcased products."
He further added, "We are showcasing two new products at the expo namely Solar home Light Solution and Solar Inverter equipped with latest technology and modern designs. Our Solar home light solution is an energy solution which is specially designed for remote and rural areas. It is a highly portable product that requires negligible maintenance and perfect for outdoor activities. The second product which we are displaying at the Expo, Solar Inverter is a transformer less Inverter with 97% Efficiency. It comes with remote monitoring features enabling the user to operate the device wherever they are located and also ensure the greater security & better performance. This exceptional product has a twin MPPT charge controller in order to optimize sun light utilization at all times and is embedded with IP 65 which makes it suitable for outdoor application. Being a battery less inverter, it is quite cost effective as compared to OFF Grid invertors."
Mr. Vinay Shetty, Managing Director, Canadian Solar Energy Private Limited said, "In line with its global policy to offer highest quality premium modules to its customers world wide with a sole objective to make solar energy more and more affordable and continuously drive down the LCOE, Canadiansolar has launched their most premium highest efficiency module – HiKu series 405Wp Poly PERC Module, HiDM series modules – 410Wp Mono PERC Module and 365Wp BiKu series Poly PERC Bifacial Modules in REI Expo 2018."
To demonstrate their commitment to Indian customers, they are the first company to announce BIS Certification in India for their China and Thailand factory made modules. As per BTI, Canadiansolar Ranks No.1 in India for the period of October 2017 to September 2018. As per Canadiansolar, Poly PERC is more sustainable product compared to Mono PERC, in terms of lower manufacturing cost, systems cost, higher energy yield and lower LCOE.
"With the increasing deployment of solar energy in India, the quality of each and every component matters to help ensure investment stability for all stakeholders to continue investing in this form of energy for long term. Our vast experience in the global solar industry enables us to bring market leading PV materials that provide high efficiency, high reliability solutions to our customers," said Rajaram Pai, Business Leader – South Asia & ASEAN, DuPont Photovoltaic Solutions. "Winning the REI Award 2018 for International Excellence is of great significance to us as we continue to work together with industry partners to help build a robust quality infrastructure for India's sustainable clean energy future," Pai added.
Mr. Jamie Yang, Director, Can Solar Inc. said, "At REI 2018, we displayed the Solar Storage system – 'Solar Power Bank for Home' – 2kW / 2.5kWh and a Solar DC combiner box that doesn't require wiring. REI Expo's new International Matchmaking feature helped us set up meetings prior to the show. Also, the visitors that showed up, says a lot about the blooming Renewable market in India."
RenewSys, the first integrated manufacturer of Solar PV Modules and its key components launched India's first and only such initiative, the RenewSys Module Wellness Programme that will allow customers to test their PV module health at the RenewSys' Reliability Lab at Zero cost.
48North Approved to Open One of the World's Largest Licensed Outdoor Cannabis Operations
Reading Time:
2
minutes
48North Cannabis Corp. ("48North" or the "Company") (TSXV:NRTH) is poised to produce over 40,000 kilograms of outdoor-grown organic cannabis this year, at what is expected to be the lowest-cost per gram in Canada.
Earlier today, 48North received its outdoor cultivation license from Health Canada for its 100-acre (3.7 million square feet) organic farm ("Good Farm"), located in Brant County, Ontario. Good Farm will become one of the largest-ever licensed cannabis operations in the world.
Health Canada's licensing of Good Farm will allow 48North to harvest in excess of 45,000 kilograms of dried cannabis in 2019 across it three Canadian facilities.  In turn, 48North is well-positioned to become a global leader in the production of low-cost, high-quality, next-generation products in the lead-up to Canada's legalization of next-generation products later this year.
48North has also recently signed three supply agreements for cannabis from its Good Farm, including:
a historic outdoor cannabis agreement with the SQDC (the exclusive distributor of cannabis in 

Quebec

) for 1,200 kg of dried cannabis;
a supply agreement to provide 2,460 kilograms of dried cannabis to AGLC, the wholesaler of 

Alberta

, which leads the country in both cannabis stores and per capita cannabis sales; and
an agreement with Humble + Fume for 6,000 kg of dried cannabis and trim.
"Receiving the outdoor cultivation license from Health Canada for our Good Farm is an absolute game changer for 48North and the cannabis industry. Overnight, the company expands its annual expected capacity from 5,000 kg to over 45,000 kg. As a result, I am confident that 48North will deliver on its promise to produce, high-quality, low-cost, organic cannabis for the next-generation of cannabis products, and the dried flower market," said Jeannette VanderMarel co-CEO of 48North.
"48North is now better positioned than ever to deliver on its commitment to deliver high-quality cannabis products to the Canadian and international cannabis markets. 48North knows that consumer packaged goods brands looking to get into the cannabis space need a low-cost, consistent, and organic cannabis inputs, 48North's Good Farm, without question, fulfills this need," added Alison Gordon co-CEO of 48North.
Good Farm has a number of strategic advantages, including: ultra-low-cost cannabis, environment-friendly and energy-efficient production, in addition the farm provides a source of relief to the national shortage of recreational cannabis.
SOURCE 48North Cannabis Co.
The Rising Global Impression of Manipal's AUA, College of Medicine
Reading Time:
3
minutes
Manipal's American University of Antigua (AUA), College of Medicine is on their mission to execute the promise of addressing the global shortage of physicians. AUA is proclaiming their worldwide presence with each association and partnership.
AUA, the top medical school in the Caribbean has been securing its highest rank among the best medical schools consistently. The medical graduates of AUA are licensed to practice in all the 50 states of the United States of America. And now with agreements with various medical schools and hospitals in other countries, AUA is spreading its wings far and wide enabling the dreams of numerous students aspiring to take up the medical profession.
Recently, an agreement has been signed between American University of Antigua and Warwick Medical School with the purpose of enabling students of AUA's College of Medicine transfer to WMS to finish their medical degree. This partnership between both these prestigious universities aims at nurturing a diverse academic community to propagate global medical health propelled by their promise of delivering nothing but excellence.
Expanding its reach, AUA has entered into a new articulation agreement with Royal Crown College of Business and Technology Inc. to increase the scope for students to fulfil their passion to become physicians. "We are pleased to partner with Royal Crown College and provide their successful students the opportunity to continue their medical education at AUA," said AUA President Neal Simon.
According to the agreement, after the successful completion of the premedical program or prerequisite courses at Royal Crown College, qualified medical students will be eligible to complete their first two years of medical study at AUA in Antigua and Barbuda, and the last two years in AUA's affiliated hospitals in the United States, Canada, United Kingdomand India.
The next recent and proud partnership has been sealed between AUA and Yeovil District Hospital, Great Britain. "Learning from the professors and physicians at Yeovil District Hospital and performing rotations under the talented professionals there provides our students an enhanced clinical experience, as well as the opportunity to study in Great Britain" said AUA President Neal Simon.
This agreement allows qualified AUA students to complete their clinical rotations at Yeovil District Hospital, located in Somerset, England. Upon completion of the program, students will receive a medical degree from AUA, a Yeovil District Hospital graduate certificate program transcript and a Yeovil District Hospital certificate of completion.
A similar agreement was recently signed between AUA and University Hospitals Coventry and Warwickshire NHS Trust.  This agreement too enables qualified AUA students to complete their core and elective clinical rotations at UHCW, Coventry, United Kingdom. Students who successfully complete their clinical rotations from UHCW, and fulfil all other requirements to graduate from AUA, will receive medical degree from AUA, UHCW graduate certificate program transcript and a UHCW certificate of completion.
Further, on Saturday, May 4, and Sunday, May 5, it was a matter of pride for AUA College of Medicine to have hosted the ninth mid-year conference of the Global Association of Physicians of Indian Origin (GAPIO) at AUA's campus. GAPIO is a non-profit organization that is dedicated to empowering physicians of Indian origin providing affordable healthcare, contributing to local and regional community development and helping reduce health inequalities on a global level.
The goal of this collaboration was to gather physicians of Indian origin to initiate connections, share ideas and learn through a singular platform. Sessions on recent developments and advancements in cardiology, the metabolic syndrome like obesity and diabetes, nephrology with a focus on transplants and neurology were an integral part of this conference. The event also included sessions on artificial intelligence in healthcare, Vedic Wisdom – leadership in medicine and reaching the unreached and global opportunities in healthcare.
"The conference is in celebration of India's vital contributions to global healthcare – a matter AUA commemorates," said AUA President Neal Simon. "As a university that strives to advance the field of medicine and shape physicians who come from underrepresented minorities, we are honoured to host the event."
SOURCE Manipal's American University of Antigua (AUA)
Erasmus+: a turning point in the lives of 5 million European students
Reading Time:
3
minutes
New evidence shows that Erasmus+ makes students more successful in their personal and professional lives and helps universities to become more innovative, according to two new independent studies released today by the European Commission.
The large-scale studies based on the feedback from nearly 77 000 students and staff and over 500 organisations measure and analyse the impact the Erasmus+ programme has on its main beneficiaries. Results show how the EU programme helps prepare young Europeans for the new digital era and thrive in their future careers. Erasmus+ also boosts innovation capacity of universities, their international engagement and ability to answer the needs of the labour market.
Commissioner for Education, Culture, Youth and Sport, Tibor Navracsics said: "It is impressive to see how Erasmus+ enables young people to thrive in the modern labour market and in a more diverse society. I am happy to see that Erasmus+ graduates feel more ready to take on new challenges, have better career prospects and are more aware of the benefits the EU brings to their daily lives. At the same time, universities that take part in Erasmus+ are not only more international but also better placed to respond to the needs of the world of work."
The key findings of the studies are:
Erasmus+ helps students find their desired careers and get jobs quicker
Over 70% of former Erasmus+ students say that they have a better understanding of what they want to do in their future careers when they return from abroad. Their experience abroad also enables them to re-orient their studies to better match their ambitions. The higher education impact study further reveals that 80% were employed within three months of graduation and 72% say their experience abroad helped them get their first job. Nine in ten Erasmus+ alumni say they make use of the skills and experiences acquired abroad in their daily work. Erasmus+ addresses skills mismatches by focusing on soft and interdisciplinary skills development businesses need.
Erasmus+ boosts European sense of belonging
More than 90% of Erasmus+ students also improve their ability to work and collaborate with people from different cultures and feel they have a European identity. The biggest impact is on the students who felt less convinced about the EU prior to their exchange and the students that spent time in a more culturally different country. Of all Erasmus+ students those coming from Eastern Europe identify the most with the EU.
Erasmus+ supports digital transformation and social inclusion
Erasmus+ cooperation projects make the majority of participating universities better prepared for digital transformation. Making use of new technologies and innovative teaching and learning methods helps strengthen their international cooperation and innovation capacity. Academic staff, who made use of Erasmus+ are more open to involving staff from enterprises in their courses than their non-mobile peers, around 60% compared to 40%. More than 80% of academics report that their experience abroad has led to the development of more innovative curricula. Moreover, two out of three participating universities stated EU-wide projects also contribute to increasing social inclusion and non-discrimination in higher education.
Other findings show that former Erasmus+ students are more satisfied with their jobs compared to those who have not gone abroad. They also have careers that are more international and are almost twice as likely to work abroad. Erasmus+ also supports entrepreneurship. One in four cooperation projects contributed to entrepreneurial education and strengthened entrepreneurship. A third of projects helped create spin-offs and start-ups.
Background
Between 2014 and 2018, more than 2 million students and staff in higher education undertook a learning, training or teaching period abroad as part of the Erasmus+ programme. During the same period, almost 1 000 Erasmus+ Strategic Partnerships between higher education institutions and 93 Knowledge Alliances between universities and businesses received EU funding. More than 40% of these trained students and academic staff in forward-looking skills related to environment and climate change, energy and resources, digital (ICT and digital skills) and entrepreneurship.
The two studies (Erasmus+ Higher Education Impact study and the Erasmus+ Higher Education Strategic Partnerships and Knowledge Alliances study) assessed the impact of the programme on its two main beneficiaries: individuals and organisations.
For the first study, almost 77 000 responses, including from around 47 000 Erasmus+ students, 12 000 graduates and 10 000 staff members with Erasmus+ experience were analysed. The findings of the second study are based on responses from 258 Erasmus+ Strategic Partnerships and Knowledge Alliances (representing 504 organisations) awarded funding in 2014-2016 as well as 26 detailed case studies.