Girl Scouts of the USA Announces the 2018 National Gold Award Girl Scouts, Who Innovate Sustainable Solutions for Pressing Issues Worldwide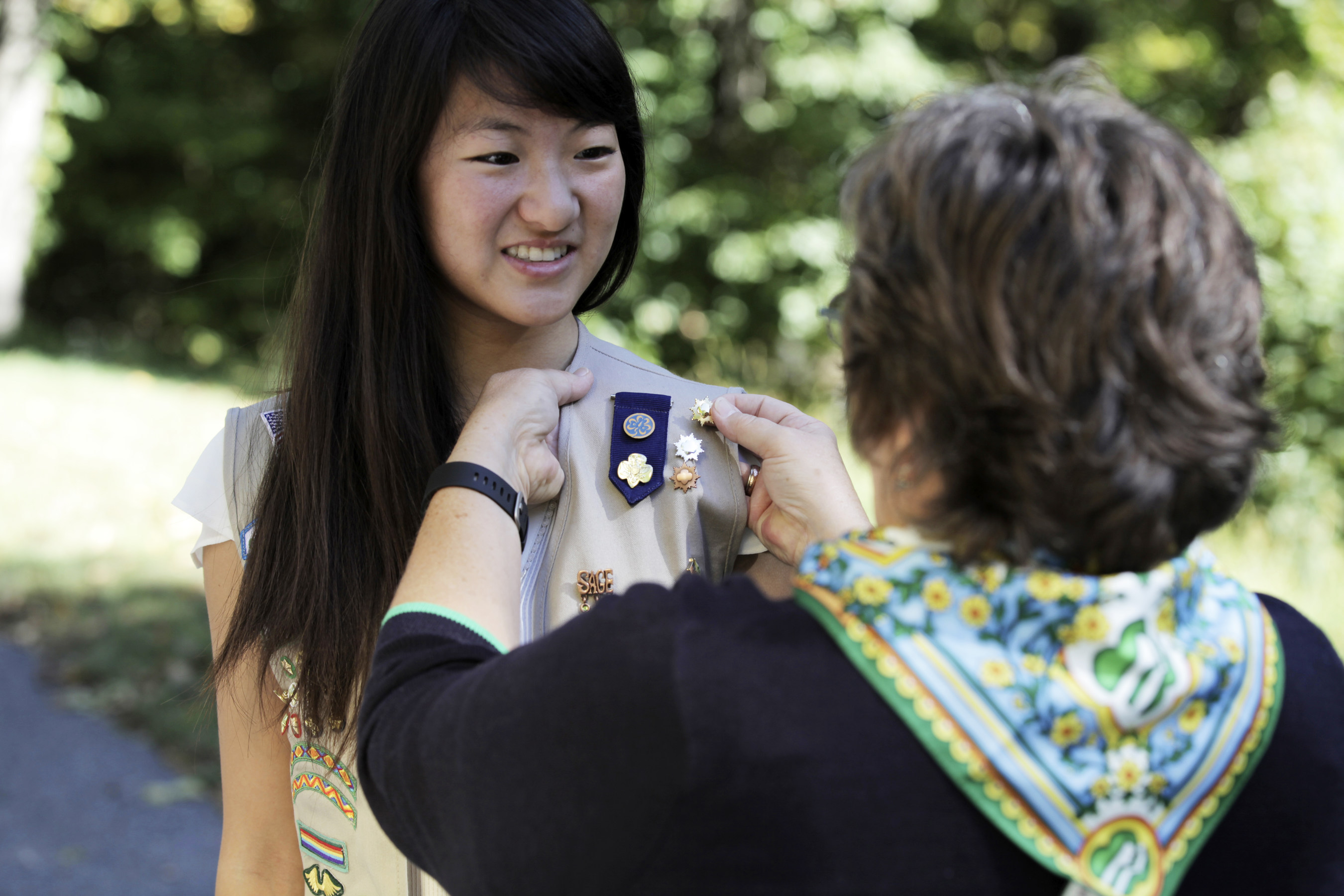 Reading Time:
8
minutes
These ten exceptional change-makers took action to improve their local, national, and global communities while earning Girl Scouts' highest award
Today Girl Scouts of the USA (GSUSA) announces this year's National Gold Award Girl Scouts (formerly known as the National Young Women of Distinction). These ten remarkable young women channeled their leadership, passion, work ethic, and creativity toward discovering innovative solutions for today's most pressing local, national, and global issues. This year's class tackled issues related to unnecessary plastic straws; human rights; mental health education; pollinator endangerment; menstrual health resources; art therapy; literacy; noise-induced hearing loss; girls' interest in science, technology, engineering, and math (STEM); and veteran visibility and appreciation.
The 2018 National Gold Award Girl Scouts were selected from thousands this year who earned their Gold Award, the highest award a Girl Scout can earn, and one that is only available to Girl Scouts. By designing and implementing extraordinary projects of measurable, sustainable, and far-reaching impact, these girls demonstrate a steadfast commitment, as well as a stunning ability, to create true change.
This year's class of National Gold Award Girl Scouts will be honored on International Day of the Girl Child (on October 11), as their achievements tie in with this year's United Nations' theme of preparing girls for the world of work. Not only do the seven steps of a Gold Award project address a community or global problem—both in the short term and for years to come—but they also prepare girls to be leaders and hone skills that are important to all fields of work. The 2018 National Gold Award Girl Scouts exhibited business sense and an entrepreneurial mindset to help achieve their outcomes, such as by raising hundreds of thousands of dollars in funding, working with politicians to create legislative change, and educating others. Their actions prove how girls are successful in their own right, how their financial decisions generate substantial economic impact, and how they are prepared to be our next generation of business leaders.
The October 11th celebration in New York City is made possible through generous support by the premier event sponsor, Toyota Financial Services. Through a multiyear partnership, Toyota Financial Services and GSUSA are helping girls become financially savvy leaders; obtain real-life, age-appropriate financial skills; and gain the tools necessary to make a positive influence in their communities.
The National Gold Award Girl Scouts will receive a combined $100,000 in college scholarships from Susan Bulkeley Butler, founder of the Susan Bulkeley Butler Institute for the Development of Women Leaders and former member of the Girl Scouts of the USA Board of Directors; a combined $50,000 in college scholarships from the Kappa Delta Foundation; and a combined $50,000 in college scholarships from Arconic Foundation. Applications for the distinction were reviewed by a panel of previous National Gold Award Girl Scouts, leaders from a diverse array of fields, GSUSA executives, and a representative from the Kappa Delta Foundation.
"Our 2018 National Gold Award Girl Scouts demonstrate how girls are creating positive, sustainable change to improve their communities and the world," said GSUSA CEO Sylvia Acevedo. "With their incredible aspirations, innovative problem solving, and risk-taking spirit, these girls are exactly the kind of employees 21st-century companies are looking for. They are well on their way to becoming the business leaders, activists, scientists, entrepreneurs, policymakers, and artists who will build our collective future. Earning the Gold Award also unlocks great opportunities for Girl Scouts, from getting into college and securing scholarships to entering the military one rank higher."
Research verifies that participating in Girl Scouts and earning the Gold Award are linked to developing crucial leadership skills and advanced achievements. In addition to Girl Scouts being more than twice as likely than other girls to identify and solve problems in their communities, they over index when it comes to seeking challenges and learning from setbacks, having confidence in themselves and their leadership abilities, and forming and maintaining healthy relationships. The majority of women who earned their Gold Award display more positive life outcomes compared with women who did not participate in Girl Scouts in their youth, including being more optimistic about their future; seeing themselves as leaders; and being more civically engaged, particularly in politics.
Girl Scouts like the 2018 National Gold Award Girl Scouts will continue to defy expectations and act as outstanding change-makers. To join or volunteer with Girl Scouts, visit www.girlscouts.org/join.
Meet GSUSA's 2018 National Gold Award Girl Scouts
Caroline M.—Girl Scouts of Northeastern New York
Pollinators, like bees, are essential to New York's agricultural industry and global food security, yet more than 450 species are threatened by habitat collapse and other environmental stressors. To protect pollinators, Caroline set up the first municipal solar pollinator gardens in her state. As ideal pollinator habitats, these gardens located within solar arrays help secure local food sources. Caroline also rallied political support for her food security efforts and environmental advocacy. Working with her governor and other state officials, she secured $300,000 in state funding for pollinator research and habitat development. In addition, she helped create and advocate for legislation to develop guidelines for vegetation-management plans to be used by persons or corporations that claim to provide pollinator protection. The legislation, which passed both the New York State Senate and Assembly, is currently awaiting the governor's signature to become law.
Haley W.—Girl Scouts of Southeastern Michigan
To address a lack of mental health knowledge and curricula in her state, Haley developed We Stand Together, a comprehensive, multi-level program that offers age-appropriate mental health education for students in grades K–12. Through this program and local partnerships, Haley engaged 9,000 students and their families in lessons about topics ranging from stress management to suicide prevention. Her innovative and interactive program ultimately reached 30,000 people, successfully bolstering empathy and mental health awareness in her community. It is currently expanding to other school districts in Michigan and several other states.
Kelly C.—Girl Scouts of Tropical Florida
A massive 1.1 billion young people worldwide are at risk for noise-induced hearing loss (NIHL), and one in five teens in the United States now has NIHL by age 19 due to their exposure to damaging levels of sound from personal audio devices and noisy entertainment venues. Kelly set out to inform teens, parents, and educators about this permanent, yet preventable, form of hearing damage. Working with Ear Peace: Save Your Hearing Foundation, she scripted, filmed, and edited an educational video, Band Together to Protect Your Hearing, which is used in the foundation's teacher training workshops for 392 schools in Miami-Dade County. She has educated elementary and high school students about hearing conservation, presented on this topic at a statewide music educator's conference, and presented to 125 teachers at a professional development workshop. Kelly has also created and distributed educational posters and informative brochures to pediatric offices and hospitals statewide. She plans to expand this distribution to a nationwide campaign.
Nikole R.—Girl Scouts of Eastern South Carolina
With a keen interest in the power of history and storytelling to unite people, Nikole decided to share the untold stories of local heroes with her broader community. To do so, she interviewed 29 veterans from diverse backgrounds and conflicts and compiled their stories into a four-hour documentary. By showcasing the veterans' experiences, especially their struggles with post-traumatic stress disorder, Nikole taught her peers about the sacrifices and severe mental and physical consequences of fighting for freedom. The documentary, Our Veteran Stories: FOREVER Live Our Dorchester County Heroes, is now a permanent part of her community's historical and archive center as well as the South Carolina State Museum's library, where it will continue to educate and inspire students of different races, backgrounds, and beliefs for years to come.
Sakshi S.—Girl Scouts of Northern California 
Working with Amnesty International and Girls Learn International, Sakshi learned about gender-based violence and was inspired to tackle the issues of human trafficking and child marriage. Sakshi created Project GREET (Girl Rights: Engage, Empower, Train) in which she designed, created, and distributed documentary films, a training curriculum, a website, and a YouTube playlist to engage and educate audiences on these topics. The materials address root causes, statistics, misconceptions, warning signs, and community actions to stop trafficking and child marriage. Sakshi also wrote an extensive curriculum, "Guidelines to Rehabilitate Young Trafficked Girls," a tool for activist organizations to set up vocational training programs for girls who are at risk of being trafficked or were previously trafficked. Working with 35 partner organizations, Sakshi's films have been screened in over 59 locations in 15 countries. She also presented Project GREET materials at the United Nations' 62nd Commission on the Status of Women, where she discussed child marriage; trafficking-prevention laws; and cultural practices with ambassadors, activists, and survivors.
Sarah M.—Girl Scouts of Central Texas
In some regions of the world, girls can miss up to 20 percent of school a year during their periods because of the high cost or lack of menstrual products, such as sanitary pads. Sarah traveled to rural Bolivia, where she organized eight workshops that taught girls, families, and educators how to sew washable pads. She also raised funds to donate new sewing machines and taught community members how to repurpose other materials, such as umbrellas, to make pads. Sarah's efforts, which focused on sustainable community involvement, helped hundreds of girls gain access to affordable menstrual resources so they can continue with their education uninterrupted.
Selina N.—Girl Scouts of Greater Atlanta
Selina launched GirlsFIRST Jr., a program that sparks girls' curiosity in STEM through engaging, hands-on activities in a supportive, all-girl learning environment. With her sponsorships and the $5,000 she raised, Selina developed free workshops, coding seminars, and other resources to promote girls' education and innovation in science and technology. And through the 17 events she hosted worldwide, including three seminars in China, she reached over 7,000 girls ages 10–13, parents, and educators. With her team, she also designed a STEM toolkit containing student activities, an instructive manual and videos on how to host STEM camps, and a STEM Storybook for elementary educators available in six languages.
Shelby O.—Girl Scouts of California's Central Coast
Shelby founded the nonprofit Jr Ocean Guardians to combat waste and defend the environment. Initiating a movement called No Straw November, she encouraged people who don't medically need a straw to reject unnecessary plastic straws during November, because they're a main source of ocean pollution. As a result of her advocacy, Shelby's resolution proclaiming November to be No Straw November in California was approved by the state legislature. She also conducted a letter-writing campaign to executives at prominent corporations, convincing a leading airline to formally discontinue its use of nonrecyclable plastic straws and working with other companies to improve their sustainability practices. Shelby's organization, with support from Girl Scout troops and notable environmental activists, has eliminated the use of millions of plastic straws and promoted reusable alternatives.
Susan S.—Girl Scouts of San Jacinto
Susan learned about a town in Guatemala where children spoke a local Mayan dialect only, rather than also speaking the country's official language of Spanish. These children struggled in primary school, and their illiteracy was often linked to difficult life outcomes, like dropping out of school and experiencing poverty. To promote literacy and primary school readiness, Susan partnered with Guatemala SANA, recruiting Spanish speakers to record children's audiobooks, setting up a library, and establishing regular language programs. Because of her efforts, over 400 children visit the library every month to listen to and read books, and most of them score at or above reading level in Spanish by the time they enter public school. By creating instructions on how to record and donate books and teaching members of a local school dropout-prevention program how to record the books, Susan also ensured that the library would continue to offer families effective educational tools.
Trinity W.—Girl Scouts Heart of the South
Recognizing the healing power of art therapy, Trinity set out to help teen girls with mental illnesses and emotional challenges learn healthy ways of coping. She organized the Note 2 Self Art Expression Workshop and Showcase, through which she developed materials that enhance mental health resources and social justice programs in her community. After raising $3,000 to fund her workshop, Trinity taught girls about art expression as a means of achieving mindfulness and supporting their mental well-being. At her showcase and through various social media platforms, she educated 1,500 people about teen mental health issues.
We're Girl Scouts of the USA
We're 2.6 million strong—1.8 million girls and 800,000 adults who believe in the power of every G.I.R.L. (Go-getter, Innovator, Risk-taker, Leader)™ to change the world. Our extraordinary journey began more than 100 years ago with the original G.I.R.L., Juliette Gordon "Daisy" Low. On March 12, 1912, in Savannah, Georgia, she organized the very first Girl Scout troop, and every year since, we've honored her vision and legacy, building girls of courage, confidence, and character who make the world a better place. We're the preeminent leadership development organization for girls. And with programs from coast to coast and across the globe, Girl Scouts offers every girl a chance to practice a lifetime of leadership, adventure, and success. To volunteer, reconnect, donate, or join, visit www.girlscouts.org.
The 13th Annual ADCOLOR Awards Takes Place September 8th, 2019 in Los Angeles
Reading Time:
4
minutes
Eva Longoria to be Recognized with the Beacon Award Presented by ADWEEK
ADCOLOR, the premier organization dedicated to celebrating and promoting professionals of color and diversity in the creative industries, announced their 2019 Honorees and Nominees at ADCOLOR Live in the Facebook Live Studios.
The organization also announced the 2019 class of ADCOLOR FUTURES, a program that chooses the best and brightest professionals who are one to three years into their career to attend the annual conference and awards show which will take place September 6th through the 8th at the J.W. Marriott Los Angeles L.A. Live Hotel in Los Angeles, CA.
Actor, director, producer and activist, Eva Longoria was recognized as the 2019 Beacon Award presented by ADWEEK, the leading resource for the brand marketing and advertising community.  "There is no better honoree to set the tone of Adweek's inaugural Beacon Award than Eva Longoria," said Lisa Granatstein, Editor, SVP, Programming, Adweek. "From her formidable seven-year-old Eva Longoria Foundation that empowers Latinas via STEM education and entrepreneurship to her leadership role calling for diversity in Hollywood, Eva's remarkable accomplishments are both authentic and action-oriented." The inaugural Beacon Award honors talent who uses their celebrity as a catalyst to change the status quo in the quest for diversity and inclusion. In May, ADCOLOR and Adweek partnered on the first Champion awards and celebration recognizing the fearless leaders and rising stars in marketing and media who embody ADCOLOR's call to "Rise Up. Reach Back."
The announcement took place at the Facebook Live Studios and was hosted by Dana Blair, on-air host, correspondent and entrepreneur, along with Tiffany R. Warren, ADCOLOR Founder and President and members of the ADCOLOR community.
The 13th Annual ADCOLOR Awards will highlight and honor the achievements of African-American, American Indian/Native American, Asian Pacific-American, Hispanic/Latino and LGBTQ professionals, as well as spotlighting diversity and inclusion champions in the creative industries.
"I'm so inspired by the collective achievements, energy and the ways in which the 2019 Honorees, Nominees and FUTURES have taken a stand in their professional and personal lives," said ADCOLOR Founder and President Tiffany R. Warren. "The 13th Annual ADCOLOR Awards in September will provide us with an opportunity to express the ways in which ADCOLOR honorees, nominees ad FUTURES 'Took A Stand,' in line with this year's theme. I can't wait to celebrate the remarkable ways they have risen up and reached back with our ADCOLOR community and beyond."
The ADCOLOR Award Nominees and Honorees are carefully selected from a large population of diverse influencers across the creative industries. The finalists are chosen by the individual's representation of ADCOLOR's motto, "Rise Up and Reach Back" and ways they took a stand in line with this year's conference and awards theme. Those honored not only excel in their own careers, but also give back to the community and support their peers. Their goal is to create a network of diverse professionals to encourage and celebrate one another.
Please join September 6th through 8th for ADCOLOR 2019. Registration is now open and early bird pricing ends July 1st. Visit ADCOLOR.org for more details.
Below you can find the full list of Nominees, Honorees and FUTURES for this year's ADCOLOR Awards.
ADCOLOR 2019 Partners 
Facebook, Google, Microsoft, Omnicom Group, DIAGEO, Procter & Gamble, Verizon Media, Wieden+Kennedy, Apple, Spotify, TBWA\ Worldwide, American Express, NBCUniversal, Ogilvy, Twitter, 72andSunny, DDB Worldwide, Deutsch Inc., Disney Advertising Sales, Edelman, Pandora, 72andSunny, Anomaly, Apple Music, Beats By Dre, BMW, Buzzfeed, DAS Global Group of Companies, Digitas, FCB, HBO, LOL Network, McCann New York, Omnicom Media Group, Pinterest, Publicis Groupe, Publicis Health Group, RGA, Trip Advisor, Zambezi
ADCOLOR Corporate Members 
72andSunny, Ad Club of New York, American Advertising Federation, BBDO NY, Deutsch Inc., Dieste, Droga5, Facebook, Hearst Magazines, MSL Group, Stephen Kim, TBWA\ Worldwide, Wieden+Kennedy
The 2019 ADCOLOR Nominees are as follows:
The Ad of the Year 
Campaign: Love Has No Labels – "Rising" 
Client: Ad Council 
Agency: R/GA
Campaign: "Changing The Game" 
Client: Microsoft 
Agency: McCann NY
Campaign: "Dream Crazy" 
Client: Nike 
Agency: Wieden+Kennedy
Campaign: "An Open Mind Is The Best Look" 
Client: Nordstrom 
Agency: Droga5
Campaign: "Truth Is Worth It – Perseverance" 
Client: NY Times 
Agency: Droga5
Change Agent
Vincent Pierson, Director, Diversity & Inclusion, Minor League Baseball
Alexandra Siegel, Senior Manager, Equality Content, Narrative, and Marketing, Salesforce
Sherice Torres, Marketing Director, Google
Rockstar
Dhane Scotti, Integrated Consumer Marketing Lead for Pixel, Google
Michael Warner, Chief Relationship Officer | Partner, EGAMI Group
Krystle Watler, Head of Business Development, Virtue
Innovator
Shala Akintunde, Creative Director/ Founder, The Movement Worldwide
Antionette Carroll, President and CEO (Founder), Creative Reaction Lab
LaToya Drake, Global Outreach Lead, Google
Rising Star
Julian Gillian, Senior Art Director, Leo Burnett Chicago
Tiffany Golden, Associate Producer, Wieden+Kennedy
Mariano Pintor, Account Supervisor / Social Media, McCann NY
ADCOLOR in Tech
Brendan Chan, Program Manager, CS Education, Google
Danielle Lee, VP, Global Head of Partner Solutions, Spotify
Stacey Mahoney, Global Sales Strategist, Microsoft
MVP
TONL & NIKE
R/GA & The AD Council
Google, Inc. & UN Women
The 2019 ADCOLOR Honorees are as follows:
Beacon Award presented by ADWEEK
Eva Longoria

, Actress, Producer, Director, Philanthropist
Legend Awards
Steve Pamon

, Chief Operating Officer, Parkwood Entertainment

Helen Lin

, Chief Digital Officer, Publicis Media

Ted Chung

, Founder & Chairman, Cashmere Agency
Catalyst Awards
Gold House
AdFellows, a program of Verizon
The Curly Girl Collective
Advocate Award
Don Lemon

, Host "CNN Tonight
Lifetime Achievement Awards
Hector Orci

, Founder & Co-Chairman, Orci

Sheldon Levy

, Former SVP, Deputy/Associate Head of Production, Saatchi & Saatchi NY
ADCOLOR/One Club Creative Awards
Robert Wong

, Chief Creative Officer, Google

Brandon Rochon

, Managing Chief Creative Officer, Kastner & Partners and Founder & Chief Creative Officer, SNKRINC.
Mx. ADCOLOR
Joon Park

, Cultural Strategist, Sparks + Honey
Ms. ADCOLOR
Brittany Johnson

, Creative Strategist, Facebook
The 2019 FUTURES are as follows:
Ace Patterson

, Consumer Marketing Operations Manager, Facebook

Alex Harris

, Partner Manager, Facebook

Alex Studer

, Account Executive, Deutsch

Alexandra Givan

, Government Communications Manager, Comcast

Aniqua Hendricks

, Multicultural Media Strategist, Hearts & Science

Barbara Gonzales

, Assistant Manager of PR and Social Media, Ad Council

Bryan Stromer

, Communications Manager, Microsoft

Gloria Lin

, Community Manager, Edelman

Helena Berhane

, Strategic Planner, Fluent360

James Ramseur

, Assistant Comms and Media Planner, Wieden+Kennedy
Jorge Tajj Badil-Abish, Junior Copywriter, FCB West

Julian Soto

, Copy Supervisor, Patients & Purpose

Kelly Garcia

, Copywriter, Ogilvy

Kevin Lam

, Senior Product Designer, Elephant

Keyon Branch

, Digital Media Planner, OMD

Maimouna Siby

, Marketing Strategist, Squarespace

Makeda Loney

, Copywriter, FCB Chicago
Nagini Reddy, Junior Graphic Designer, Wieden+Kennedy

Nicole Dei

, Account Coordinator, HBO

Omar Wilson

, Account Manager, Facebook

Pilar McQuirter

, Talent Program Manager, Havas WorldWide Chicago

Samrawit Seifu

, Associate Creative, Buzzfeed

Sayid Abdullaev

, Product Marketing Manager, YouTube

Selly Sallah

, Sponsorship Marketing Associate, NPR

Shantae Howell

, Creative Strategist, Vox Media

Tatiana Britt

, Assistant Account Executive
Veronica Peñaloza-Wolfermann, Account Manager, Facebook
Victoria Onuzuruike, Assistant Producer, Ogilvy
For more information, please visit: www.adcolor.org and follow @adcolor across all social media.
SOURCE: ADCOLOR
Elekta Wins 2019 'Medical Device Engineering Breakthrough' Award From MedTech Breakthrough
Reading Time:
2
minutes
Annual awards program recognizes outstanding health and medical technology products and companies
Elekta (EKTA-B.ST), today announced that MedTech Breakthrough, an independent organization that recognizes the top companies and solutions in the global health and medical technology market, has presented the "Medical Device Engineering Breakthrough" award in the 2019 MedTech Breakthrough Awards program to Elekta for its Elekta Unity MR-linac.
Elekta Unity combines two technologies: a state-of-the-art 1.5T MRI scanner and a best-in-class 7 MV linear accelerator, driven by breakthrough real-time adaptive radiotherapy software. It provides the ability to reshape the dose based on daily changes in shape, size and position of the tumor and surrounding healthy anatomy, as visualized with MRI, and then enables accurate dose delivery with real-time visualization of the tumor.
"We reserve our Medical Device Engineering Breakthrough award for recognizing transformative technology and Elekta Unity is a shining example of groundbreaking medical technology deserving of this designation," said James Johnson, managing director, MedTech Breakthrough. "In addition to Elekta Unity displaying breakthrough engineering that combines precision radiation therapy and high-field MR imaging, Elekta Unity addresses one of the most critical healthcare issues in the world with a focus on providing the next generation of cancer care."
The mission of the MedTech Breakthrough Awards is to honor excellence and recognize the innovation, hard work and success in a range of health and medical technology categories, including Robotics, Clinical Administration, Telehealth, Patient Engagement, Electronic Health Records, mHealth, Medical Devices, Medical Data and many more. This year's program attracted more than 3,500 nominations from over 15 different countries throughout the world.
"It's an honor for Elekta to win this prestigious award," said Richard Hausmann, Elekta's President and CEO. "The Unity system's breakthrough technology demonstrates our leadership in precision radiation medicine and commitment to the needs of the patient and cancer care team delivering treatment."
Robert Woolston, Managing Director at DCA Design International, Elekta's design partner for the MR-linac system, commented, "Congratulations to all involved in the development of Elekta Unity. We are delighted to see this system winning award after award and most importantly to see it improving cancer patients' radiotherapy experience and outcomes, as it ushers in a transformation in precision and personalized cancer treatment."
Through Elekta Unity's integrated and responsive software, tumors and surrounding tissue can be precisely located, their movement tracked, and treatment adapted in real time based on live information. This allows treatment plans to be adapted while the patient is on the table in response to changes in tumor position, shape, biology and the relationship to sensitive organs over time.
SOURCE: Elekta
Canadian Entrepreneurs Recognized for Breakthrough Innovations in Food, Health, Aviation and Environment
Reading Time:
1
minute
Five up-and-coming Canadian researchers-turned-entrepreneurs will be recognized at the following event for their ground-breaking innovations that are strengthening Canada's economy and improving the lives of Canadians.
What:
Mitacs Entrepreneur Awards
Recognizing leading Canadian innovators
When:
Tuesday, May 28, 2019
Time:
5:30–7:30 p.m.
Networking at 5:30 p.m.; Panel discussion on Canadian
entrepreneurship at 6:15 p.m.; Awards ceremony at 6:45 p.m
Where:
Canadian Museum of Immigration at Pier 21
1055 Marginal Rd, Halifax
R.S.V.P.:
Elizabeth Glassen – GBPR
elizabeth@gailbergmanpr.com or 905-886-4091
The awards, presented by Mitacs — a not-for-profit organization that fosters growth and innovation in Canada for business and academia — celebrate start-up companies founded by outstanding former Mitacs interns, postdoctoral fellows and training participants, who have gone on to lead their respective fields as independent business owners.
SOURCE: Mitacs Inc.