Girl Scouts of the USA Announces the 2018 National Gold Award Girl Scouts, Who Innovate Sustainable Solutions for Pressing Issues Worldwide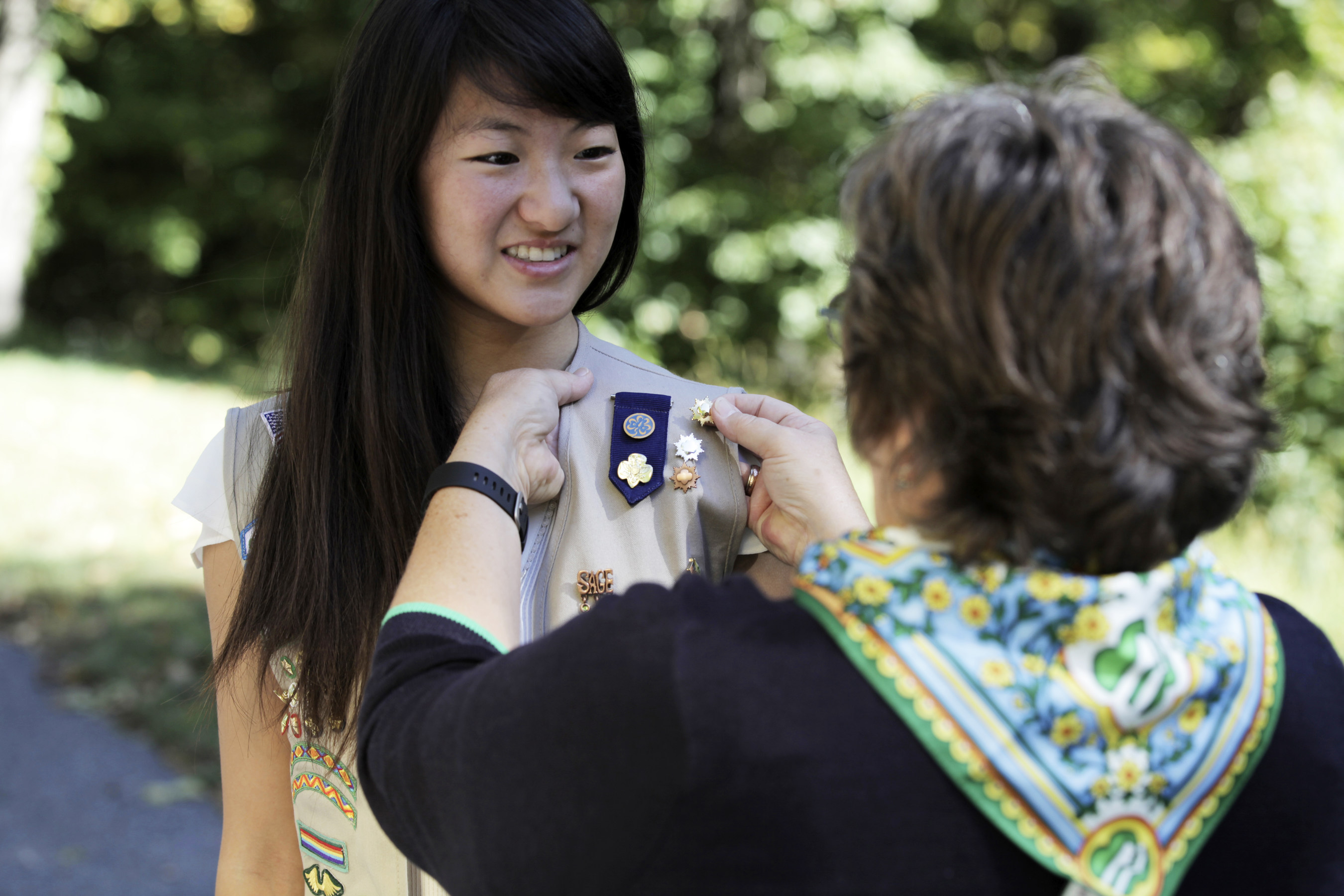 Reading Time:
8
minutes
These ten exceptional change-makers took action to improve their local, national, and global communities while earning Girl Scouts' highest award
Today Girl Scouts of the USA (GSUSA) announces this year's National Gold Award Girl Scouts (formerly known as the National Young Women of Distinction). These ten remarkable young women channeled their leadership, passion, work ethic, and creativity toward discovering innovative solutions for today's most pressing local, national, and global issues. This year's class tackled issues related to unnecessary plastic straws; human rights; mental health education; pollinator endangerment; menstrual health resources; art therapy; literacy; noise-induced hearing loss; girls' interest in science, technology, engineering, and math (STEM); and veteran visibility and appreciation.
The 2018 National Gold Award Girl Scouts were selected from thousands this year who earned their Gold Award, the highest award a Girl Scout can earn, and one that is only available to Girl Scouts. By designing and implementing extraordinary projects of measurable, sustainable, and far-reaching impact, these girls demonstrate a steadfast commitment, as well as a stunning ability, to create true change.
This year's class of National Gold Award Girl Scouts will be honored on International Day of the Girl Child (on October 11), as their achievements tie in with this year's United Nations' theme of preparing girls for the world of work. Not only do the seven steps of a Gold Award project address a community or global problem—both in the short term and for years to come—but they also prepare girls to be leaders and hone skills that are important to all fields of work. The 2018 National Gold Award Girl Scouts exhibited business sense and an entrepreneurial mindset to help achieve their outcomes, such as by raising hundreds of thousands of dollars in funding, working with politicians to create legislative change, and educating others. Their actions prove how girls are successful in their own right, how their financial decisions generate substantial economic impact, and how they are prepared to be our next generation of business leaders.
The October 11th celebration in New York City is made possible through generous support by the premier event sponsor, Toyota Financial Services. Through a multiyear partnership, Toyota Financial Services and GSUSA are helping girls become financially savvy leaders; obtain real-life, age-appropriate financial skills; and gain the tools necessary to make a positive influence in their communities.
The National Gold Award Girl Scouts will receive a combined $100,000 in college scholarships from Susan Bulkeley Butler, founder of the Susan Bulkeley Butler Institute for the Development of Women Leaders and former member of the Girl Scouts of the USA Board of Directors; a combined $50,000 in college scholarships from the Kappa Delta Foundation; and a combined $50,000 in college scholarships from Arconic Foundation. Applications for the distinction were reviewed by a panel of previous National Gold Award Girl Scouts, leaders from a diverse array of fields, GSUSA executives, and a representative from the Kappa Delta Foundation.
"Our 2018 National Gold Award Girl Scouts demonstrate how girls are creating positive, sustainable change to improve their communities and the world," said GSUSA CEO Sylvia Acevedo. "With their incredible aspirations, innovative problem solving, and risk-taking spirit, these girls are exactly the kind of employees 21st-century companies are looking for. They are well on their way to becoming the business leaders, activists, scientists, entrepreneurs, policymakers, and artists who will build our collective future. Earning the Gold Award also unlocks great opportunities for Girl Scouts, from getting into college and securing scholarships to entering the military one rank higher."
Research verifies that participating in Girl Scouts and earning the Gold Award are linked to developing crucial leadership skills and advanced achievements. In addition to Girl Scouts being more than twice as likely than other girls to identify and solve problems in their communities, they over index when it comes to seeking challenges and learning from setbacks, having confidence in themselves and their leadership abilities, and forming and maintaining healthy relationships. The majority of women who earned their Gold Award display more positive life outcomes compared with women who did not participate in Girl Scouts in their youth, including being more optimistic about their future; seeing themselves as leaders; and being more civically engaged, particularly in politics.
Girl Scouts like the 2018 National Gold Award Girl Scouts will continue to defy expectations and act as outstanding change-makers. To join or volunteer with Girl Scouts, visit www.girlscouts.org/join.
Meet GSUSA's 2018 National Gold Award Girl Scouts
Caroline M.—Girl Scouts of Northeastern New York
Pollinators, like bees, are essential to New York's agricultural industry and global food security, yet more than 450 species are threatened by habitat collapse and other environmental stressors. To protect pollinators, Caroline set up the first municipal solar pollinator gardens in her state. As ideal pollinator habitats, these gardens located within solar arrays help secure local food sources. Caroline also rallied political support for her food security efforts and environmental advocacy. Working with her governor and other state officials, she secured $300,000 in state funding for pollinator research and habitat development. In addition, she helped create and advocate for legislation to develop guidelines for vegetation-management plans to be used by persons or corporations that claim to provide pollinator protection. The legislation, which passed both the New York State Senate and Assembly, is currently awaiting the governor's signature to become law.
Haley W.—Girl Scouts of Southeastern Michigan
To address a lack of mental health knowledge and curricula in her state, Haley developed We Stand Together, a comprehensive, multi-level program that offers age-appropriate mental health education for students in grades K–12. Through this program and local partnerships, Haley engaged 9,000 students and their families in lessons about topics ranging from stress management to suicide prevention. Her innovative and interactive program ultimately reached 30,000 people, successfully bolstering empathy and mental health awareness in her community. It is currently expanding to other school districts in Michigan and several other states.
Kelly C.—Girl Scouts of Tropical Florida
A massive 1.1 billion young people worldwide are at risk for noise-induced hearing loss (NIHL), and one in five teens in the United States now has NIHL by age 19 due to their exposure to damaging levels of sound from personal audio devices and noisy entertainment venues. Kelly set out to inform teens, parents, and educators about this permanent, yet preventable, form of hearing damage. Working with Ear Peace: Save Your Hearing Foundation, she scripted, filmed, and edited an educational video, Band Together to Protect Your Hearing, which is used in the foundation's teacher training workshops for 392 schools in Miami-Dade County. She has educated elementary and high school students about hearing conservation, presented on this topic at a statewide music educator's conference, and presented to 125 teachers at a professional development workshop. Kelly has also created and distributed educational posters and informative brochures to pediatric offices and hospitals statewide. She plans to expand this distribution to a nationwide campaign.
Nikole R.—Girl Scouts of Eastern South Carolina
With a keen interest in the power of history and storytelling to unite people, Nikole decided to share the untold stories of local heroes with her broader community. To do so, she interviewed 29 veterans from diverse backgrounds and conflicts and compiled their stories into a four-hour documentary. By showcasing the veterans' experiences, especially their struggles with post-traumatic stress disorder, Nikole taught her peers about the sacrifices and severe mental and physical consequences of fighting for freedom. The documentary, Our Veteran Stories: FOREVER Live Our Dorchester County Heroes, is now a permanent part of her community's historical and archive center as well as the South Carolina State Museum's library, where it will continue to educate and inspire students of different races, backgrounds, and beliefs for years to come.
Sakshi S.—Girl Scouts of Northern California 
Working with Amnesty International and Girls Learn International, Sakshi learned about gender-based violence and was inspired to tackle the issues of human trafficking and child marriage. Sakshi created Project GREET (Girl Rights: Engage, Empower, Train) in which she designed, created, and distributed documentary films, a training curriculum, a website, and a YouTube playlist to engage and educate audiences on these topics. The materials address root causes, statistics, misconceptions, warning signs, and community actions to stop trafficking and child marriage. Sakshi also wrote an extensive curriculum, "Guidelines to Rehabilitate Young Trafficked Girls," a tool for activist organizations to set up vocational training programs for girls who are at risk of being trafficked or were previously trafficked. Working with 35 partner organizations, Sakshi's films have been screened in over 59 locations in 15 countries. She also presented Project GREET materials at the United Nations' 62nd Commission on the Status of Women, where she discussed child marriage; trafficking-prevention laws; and cultural practices with ambassadors, activists, and survivors.
Sarah M.—Girl Scouts of Central Texas
In some regions of the world, girls can miss up to 20 percent of school a year during their periods because of the high cost or lack of menstrual products, such as sanitary pads. Sarah traveled to rural Bolivia, where she organized eight workshops that taught girls, families, and educators how to sew washable pads. She also raised funds to donate new sewing machines and taught community members how to repurpose other materials, such as umbrellas, to make pads. Sarah's efforts, which focused on sustainable community involvement, helped hundreds of girls gain access to affordable menstrual resources so they can continue with their education uninterrupted.
Selina N.—Girl Scouts of Greater Atlanta
Selina launched GirlsFIRST Jr., a program that sparks girls' curiosity in STEM through engaging, hands-on activities in a supportive, all-girl learning environment. With her sponsorships and the $5,000 she raised, Selina developed free workshops, coding seminars, and other resources to promote girls' education and innovation in science and technology. And through the 17 events she hosted worldwide, including three seminars in China, she reached over 7,000 girls ages 10–13, parents, and educators. With her team, she also designed a STEM toolkit containing student activities, an instructive manual and videos on how to host STEM camps, and a STEM Storybook for elementary educators available in six languages.
Shelby O.—Girl Scouts of California's Central Coast
Shelby founded the nonprofit Jr Ocean Guardians to combat waste and defend the environment. Initiating a movement called No Straw November, she encouraged people who don't medically need a straw to reject unnecessary plastic straws during November, because they're a main source of ocean pollution. As a result of her advocacy, Shelby's resolution proclaiming November to be No Straw November in California was approved by the state legislature. She also conducted a letter-writing campaign to executives at prominent corporations, convincing a leading airline to formally discontinue its use of nonrecyclable plastic straws and working with other companies to improve their sustainability practices. Shelby's organization, with support from Girl Scout troops and notable environmental activists, has eliminated the use of millions of plastic straws and promoted reusable alternatives.
Susan S.—Girl Scouts of San Jacinto
Susan learned about a town in Guatemala where children spoke a local Mayan dialect only, rather than also speaking the country's official language of Spanish. These children struggled in primary school, and their illiteracy was often linked to difficult life outcomes, like dropping out of school and experiencing poverty. To promote literacy and primary school readiness, Susan partnered with Guatemala SANA, recruiting Spanish speakers to record children's audiobooks, setting up a library, and establishing regular language programs. Because of her efforts, over 400 children visit the library every month to listen to and read books, and most of them score at or above reading level in Spanish by the time they enter public school. By creating instructions on how to record and donate books and teaching members of a local school dropout-prevention program how to record the books, Susan also ensured that the library would continue to offer families effective educational tools.
Trinity W.—Girl Scouts Heart of the South
Recognizing the healing power of art therapy, Trinity set out to help teen girls with mental illnesses and emotional challenges learn healthy ways of coping. She organized the Note 2 Self Art Expression Workshop and Showcase, through which she developed materials that enhance mental health resources and social justice programs in her community. After raising $3,000 to fund her workshop, Trinity taught girls about art expression as a means of achieving mindfulness and supporting their mental well-being. At her showcase and through various social media platforms, she educated 1,500 people about teen mental health issues.
We're Girl Scouts of the USA
We're 2.6 million strong—1.8 million girls and 800,000 adults who believe in the power of every G.I.R.L. (Go-getter, Innovator, Risk-taker, Leader)™ to change the world. Our extraordinary journey began more than 100 years ago with the original G.I.R.L., Juliette Gordon "Daisy" Low. On March 12, 1912, in Savannah, Georgia, she organized the very first Girl Scout troop, and every year since, we've honored her vision and legacy, building girls of courage, confidence, and character who make the world a better place. We're the preeminent leadership development organization for girls. And with programs from coast to coast and across the globe, Girl Scouts offers every girl a chance to practice a lifetime of leadership, adventure, and success. To volunteer, reconnect, donate, or join, visit www.girlscouts.org.
New Research Identifies the Technology That Hotel Guests Really Want
Reading Time:
3
minutes
Research conducted by leading travel technology firm Criton reveals the importance of hotel technology to improve the experience of today's travellers
Dependence on mobile phones when travelling is brought into sharp focus by a survey of more than 3,600 travellers which reveals a growing appreciation for bespoke travel apps. Research commissioned by Edinburgh-based hospitality firm Criton, highlights that loyalty programmes, self-check-in/out and accessing your hotel room via a digital door key are primary requirements of today's guests.
 The findings highlight crucial information for all hoteliers, with guests' smartphones now recognised as an essential tool for delivering and improving their travel experience. With 45% of respondents travelling for leisure more than four times a year, findings showed that 62% of respondents regularly use an accommodation app, with the figure increasing to 67% amongst business travellers.
If their favourite hotel was to have its own app, 74% of respondents overwhelmingly stated they would use this digital channel, with only 10% favouring an in-room device such as a hotel's smartphone or tablet. This reinforces Criton's core belief that the future of hotel technology is own device. Hoteliers no longer need to absorb the cost of installing in-room devices when their guests travel with their own smartphone and are more comfortable with the apps and content within it.
The opportunity to check-in via an app and access their hotel room via a digital door key was warmly received with 58% likely or very likely to want this technology. With 68% finding it unacceptable to queue at reception for longer than five minutes, offering guests access to a service which global chains already offer is fast becoming a core priority for independent operators.
Respondents prioritised loyalty programmes as their favoured element of hotel technology with 53% recognising it as their top requirement. In a competitive landscape, the opportunity to drive direct and repeat bookings through a personalised loyalty programme will ensure hoteliers save on OTA commission while creating their own closed marketing group to upsell onsite services and facilities.
Underlining modern travellers' awareness of technology, the survey found an audience ready to talk about tech use and expectations while travelling. Reflecting on the results of the survey, Julie Grieve, founder and CEO of Criton, which developed the UK's first intuitive app builder for the hospitality sector, said:
"Increasingly, today's travellers are downloading apps that help them get around and stay connected with their hotel. That level of tech awareness or even dependency also raises expectations for information, guest services, such as check-in, digital key and offers and incentives to reward their loyalty.
"Respondents to the survey were people who travel regularly, with the majority opting for a mid-range hotel or accommodation. It is increasingly clear that adopting technology has to be seen as an imperative for all hospitality providers; it is not something purely for the major franchises."
Criton lets independent operators compete with big chain technology through an easy to use platform. From digitising the traditional hotel room guest book to PMS, live chat, digital door key and in-room ordering integrations all contained within a fully-branded hotel app; Criton supports hospitality businesses with their digital transformation strategies and work with clients across the UK and overseas.
Research Methodology:
An online survey ran from Tuesday 26th March until Monday 1st April and received a total of 3,654 responses, of whom 1,311 were classed as business travellers.
Key Findings:
45% of travellers stated they travel for leisure 2-3 times a year
36% travel for business
39% use TripAdvisor as main source of research and inspiration before booking a hotel, followed by 29% of respondents relying on online search
40% of travellers said they regularly stay in a 4-star (boutique) hotel, with 6% in a 5-star (luxury) hotel. The majority (47%) stated they regularly stay in a 3-star (mid-range) hotel
53% have at least one hotel app on their phone
74% would use a hotel app if their favourite hotel had one
55% stated it is acceptable to wait at check-in 2-5 minutes
62% would be likely or very likely to check-in to a hotel via an app
58% would be likely or very likely to check-in to a hotel via an app and use digital key
App usage
62% use an accommodation app regularly (eg Airbnb)
57% use a transport app regularly
47% use an airline app regularly
36% uses a hotel app regularly
The hotel technology that respondents seek:
53% – loyalty programmes
35% – self check-in
10% – in-room mobile
18% – in-room tablet
Awards:
Criton won the 'Best Technology Provider' award at the 2018 Travolution Awards and was Highly Commended for Best Use of Mobile
Criton won the 'Industry Breakthrough and Innovation Award' at the ASAP Awards 2018
Julie Grieve, Founder & CEO won the prestigious 'HOSPACE 2017 Best Entrepreneur Award'
SOURCE: Criton
cbdMD Co-Presents Prabal Gurung's 2019 Fall/Winter Women's Collection Launch at Bloomingdale's New York
Reading Time:
3
minutes
Tonight, April 9, 2019, cbdMD, a Level Brands company (NYSE American: LEVB), will serve as the co-presenting sponsor with Kitchen Toke Magazine for a dinner celebrating fashion designer Prabal Gurung's official launch of his Fall/Winter 2019 modern, luxury women's collection at Bloomingdale's New York. With a distinct focus on quality, innovation, and community, cbdMD's partnership with Kitchen Toke was built on shared values.
Hosted at Café Clover, the celebratory dinner commemorates Prabal Gurung's collection being sold in a dedicated space at Bloomingdale's headquarters in their New York City store. Attendees, including ELLE Magazine, NY Times, The Daily, Vogue, Huffington Post, Vanity Fair, and a wealth of fashion influencers, will receive a range of cbdMD CBD oil products as well as a specialty dessert infused with cbdMD's Natural CBD Oil.
"As our industry continues to develop and break down barriers, it's important for CBD brands to keep category education and awareness at the forefront," said Caryn Dunayer, Co-Founder and President of cbdMD. "Partnering with Prabal at Bloomingdale's is a no-brainer – we are able to educate a large group of customers that align well with our mission regarding all-natural alternatives for health and wellness."
Born in Singapore, raised in Nepal, Gurung has excelled in American fashion with designs worn by trendsetters like First Lady Michelle Obama. He has been recognized for his achievements and unique approach to style with many awards, including the 2010 Ecco Domani Fashion Fund Award, USA Network's Character Approved Award recipient in 2011, named goodwill ambassador of Maiti Nepal, recipient of the 2011 CFDA Swarovski Award for Womenswear, and was honored in 2015 with the inaugural Creativity Award from The Drawing Center – to name a few.
cbdMD has also been acknowledged for their approach to innovation in the CBD industry. Among many firsts, cbdMD was the first CBD company to join the New York Stock Exchange, is the official founder of national CBD Day, was the first cannabis company to advertise in Times Square and in ELLE Magazine. cbdMD was also named Entrepreneur Magazine's 2018 CBD Editor's Choice for the top 100 Cannabis Leaders Issue.
For a sneak peek of the line, click here; to purchase your premium CBD oil products, visit:
Forward-Looking Statements
This press release contains certain forward-looking statements that are based upon current expectations and involve certain risks and uncertainties within the meaning of the U.S. Private Securities Litigation Reform Act of 1995. Such forward-looking statements can be identified by the use of words such as "should," "may," "intends," "anticipates," "believes," "estimates," "projects," "forecasts," "expects," "plans," and "proposes." These forward-looking statements are not guarantees of future performance and are subject to risks, uncertainties, and other factors, some of which are beyond our control and difficult to predict and could cause actual results to differ materially from those expressed or forecasted in the forward-looking statements. You are urged to carefully review and consider any cautionary statements and other disclosures, including the statements made under the heading "Risk Factors" in Level Brands, Inc.'s Annual Report on Form 10-K for the fiscal year ended September 30, 2018 as filed with the Securities and Exchange Commission (the "SEC") on December 12, 2018 and our other filings with the SEC. All forward-looking statements involve significant risks and uncertainties that could cause actual results to differ materially from those in the forward-looking statements, many of which are generally outside the control of Level Brands, Inc. and are difficult to predict.  Level Brands, Inc. does not undertake any duty to update any forward-looking statements except as may be required by law.
SOURCE: cbdMD
LexisNexis Risk Solutions Anti-Money Laundering Solution Takes Prestigious Asia Award Second Year Running
Reading Time:
2
minutes
LexisNexis® Risk Solutions has been awarded the "Best AML Solution" in the Asian Private Banker Technology Awards for the second consecutive year. The award recognizes LexisNexis Bridger® Insight XG as the premier screening tool in the market, helping private banks and other institutions reduce complexity, increase efficiency, boost profitability and tackle financial crime.
"We are honored to receive this significant award from Asian Private Banker," said Thomas C. Brown, senior vice president, U.S. Commercial Markets and Global Market Development, LexisNexis Risk Solutions. "It reflects the quality of Bridger Insight XG, which provides robust intelligence and a unified workflow to strengthen risk oversight through a single point of entry, while reducing consumer onboarding friction. This influences the entire consumer experience and helps boost bank profitability by helping consumers transact faster. Institutions in Asia have never been under so much pressure to comply with regulations aimed at combatting financial crime. Harnessing technology is crucial ⸺ Bridger Insight XG allows compliance personnel to review personal and business histories to gather critical Know Your Customer details via its link to profiles of over 3 million individuals and companies, covering more than 50 risk categories, such as sanctions, money laundering and politically exposed persons."
LexisNexis Risk Solutions is tackling a chronic problem for private banks and wealth management firms ⸺ 'false positives' when screening for money laundering. A false positive is a result that wrongly indicates a positive result during the screening process, slowing the adoption of good clients and diverting financial crime compliance resources from managing true risk issues.
"In 2018, we began expanding the use of machine learning within Bridger Insight XG to reduce false positives. LexisNexis Risk Solutions will also be implementing new technology that allows private banks and wealth management firms to identify and address substantial hidden risk in their anti-money laundering compliance efforts, specifically around sanctions screening this year" said Doug Wolfson, director, financial crime compliance strategy at LexisNexis Risk Solutions. Digital identity risk exposes institutions to potential threat of massive fines and reputational damage, while allowing terrorist financiers, money launderers and fraudsters to move money through the global financial system with impunity. The new digital identity technology monitors the sanctions risk of digital identity transactions in real time, a significant innovation not provided by any other vendor. Private banks and wealth management firms will be able to monitor whether they face any potential sanctions risk from where their clients are located with the increased uptake of web portals and internet servicing amongst their clients.
LexisNexis Risk Solutions is uniquely able to innovate this new digital identity technology due to its 2018 acquisition of ThreatMetrix®, a global digital identity company with roots in Australia.
SOURCE LexisNexis Risk Solutions