Girl Scouts of the USA Announces the 2018 National Gold Award Girl Scouts, Who Innovate Sustainable Solutions for Pressing Issues Worldwide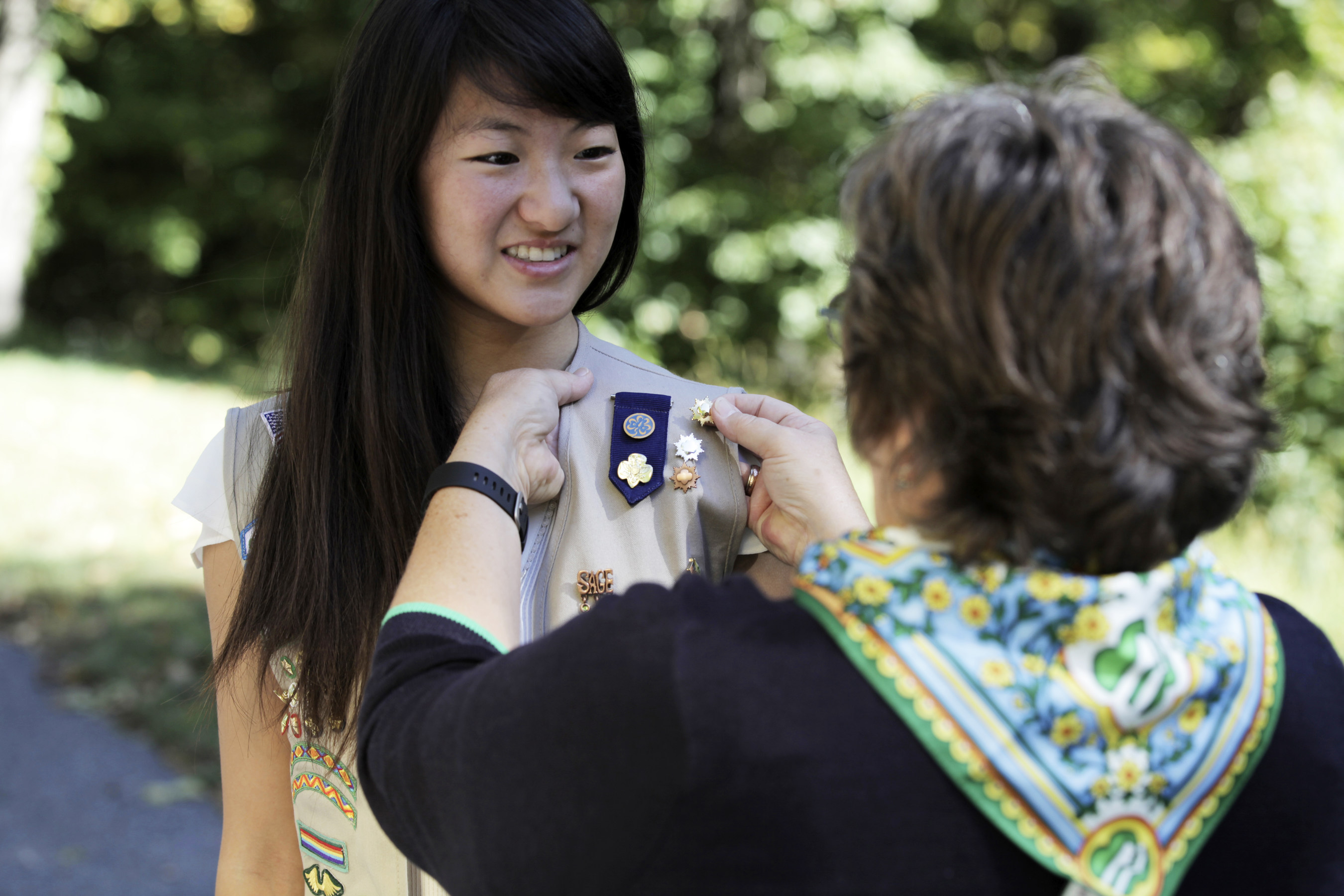 Reading Time:
8
minutes
These ten exceptional change-makers took action to improve their local, national, and global communities while earning Girl Scouts' highest award
Today Girl Scouts of the USA (GSUSA) announces this year's National Gold Award Girl Scouts (formerly known as the National Young Women of Distinction). These ten remarkable young women channeled their leadership, passion, work ethic, and creativity toward discovering innovative solutions for today's most pressing local, national, and global issues. This year's class tackled issues related to unnecessary plastic straws; human rights; mental health education; pollinator endangerment; menstrual health resources; art therapy; literacy; noise-induced hearing loss; girls' interest in science, technology, engineering, and math (STEM); and veteran visibility and appreciation.
The 2018 National Gold Award Girl Scouts were selected from thousands this year who earned their Gold Award, the highest award a Girl Scout can earn, and one that is only available to Girl Scouts. By designing and implementing extraordinary projects of measurable, sustainable, and far-reaching impact, these girls demonstrate a steadfast commitment, as well as a stunning ability, to create true change.
This year's class of National Gold Award Girl Scouts will be honored on International Day of the Girl Child (on October 11), as their achievements tie in with this year's United Nations' theme of preparing girls for the world of work. Not only do the seven steps of a Gold Award project address a community or global problem—both in the short term and for years to come—but they also prepare girls to be leaders and hone skills that are important to all fields of work. The 2018 National Gold Award Girl Scouts exhibited business sense and an entrepreneurial mindset to help achieve their outcomes, such as by raising hundreds of thousands of dollars in funding, working with politicians to create legislative change, and educating others. Their actions prove how girls are successful in their own right, how their financial decisions generate substantial economic impact, and how they are prepared to be our next generation of business leaders.
The October 11th celebration in New York City is made possible through generous support by the premier event sponsor, Toyota Financial Services. Through a multiyear partnership, Toyota Financial Services and GSUSA are helping girls become financially savvy leaders; obtain real-life, age-appropriate financial skills; and gain the tools necessary to make a positive influence in their communities.
The National Gold Award Girl Scouts will receive a combined $100,000 in college scholarships from Susan Bulkeley Butler, founder of the Susan Bulkeley Butler Institute for the Development of Women Leaders and former member of the Girl Scouts of the USA Board of Directors; a combined $50,000 in college scholarships from the Kappa Delta Foundation; and a combined $50,000 in college scholarships from Arconic Foundation. Applications for the distinction were reviewed by a panel of previous National Gold Award Girl Scouts, leaders from a diverse array of fields, GSUSA executives, and a representative from the Kappa Delta Foundation.
"Our 2018 National Gold Award Girl Scouts demonstrate how girls are creating positive, sustainable change to improve their communities and the world," said GSUSA CEO Sylvia Acevedo. "With their incredible aspirations, innovative problem solving, and risk-taking spirit, these girls are exactly the kind of employees 21st-century companies are looking for. They are well on their way to becoming the business leaders, activists, scientists, entrepreneurs, policymakers, and artists who will build our collective future. Earning the Gold Award also unlocks great opportunities for Girl Scouts, from getting into college and securing scholarships to entering the military one rank higher."
Research verifies that participating in Girl Scouts and earning the Gold Award are linked to developing crucial leadership skills and advanced achievements. In addition to Girl Scouts being more than twice as likely than other girls to identify and solve problems in their communities, they over index when it comes to seeking challenges and learning from setbacks, having confidence in themselves and their leadership abilities, and forming and maintaining healthy relationships. The majority of women who earned their Gold Award display more positive life outcomes compared with women who did not participate in Girl Scouts in their youth, including being more optimistic about their future; seeing themselves as leaders; and being more civically engaged, particularly in politics.
Girl Scouts like the 2018 National Gold Award Girl Scouts will continue to defy expectations and act as outstanding change-makers. To join or volunteer with Girl Scouts, visit www.girlscouts.org/join.
Meet GSUSA's 2018 National Gold Award Girl Scouts
Caroline M.—Girl Scouts of Northeastern New York
Pollinators, like bees, are essential to New York's agricultural industry and global food security, yet more than 450 species are threatened by habitat collapse and other environmental stressors. To protect pollinators, Caroline set up the first municipal solar pollinator gardens in her state. As ideal pollinator habitats, these gardens located within solar arrays help secure local food sources. Caroline also rallied political support for her food security efforts and environmental advocacy. Working with her governor and other state officials, she secured $300,000 in state funding for pollinator research and habitat development. In addition, she helped create and advocate for legislation to develop guidelines for vegetation-management plans to be used by persons or corporations that claim to provide pollinator protection. The legislation, which passed both the New York State Senate and Assembly, is currently awaiting the governor's signature to become law.
Haley W.—Girl Scouts of Southeastern Michigan
To address a lack of mental health knowledge and curricula in her state, Haley developed We Stand Together, a comprehensive, multi-level program that offers age-appropriate mental health education for students in grades K–12. Through this program and local partnerships, Haley engaged 9,000 students and their families in lessons about topics ranging from stress management to suicide prevention. Her innovative and interactive program ultimately reached 30,000 people, successfully bolstering empathy and mental health awareness in her community. It is currently expanding to other school districts in Michigan and several other states.
Kelly C.—Girl Scouts of Tropical Florida
A massive 1.1 billion young people worldwide are at risk for noise-induced hearing loss (NIHL), and one in five teens in the United States now has NIHL by age 19 due to their exposure to damaging levels of sound from personal audio devices and noisy entertainment venues. Kelly set out to inform teens, parents, and educators about this permanent, yet preventable, form of hearing damage. Working with Ear Peace: Save Your Hearing Foundation, she scripted, filmed, and edited an educational video, Band Together to Protect Your Hearing, which is used in the foundation's teacher training workshops for 392 schools in Miami-Dade County. She has educated elementary and high school students about hearing conservation, presented on this topic at a statewide music educator's conference, and presented to 125 teachers at a professional development workshop. Kelly has also created and distributed educational posters and informative brochures to pediatric offices and hospitals statewide. She plans to expand this distribution to a nationwide campaign.
Nikole R.—Girl Scouts of Eastern South Carolina
With a keen interest in the power of history and storytelling to unite people, Nikole decided to share the untold stories of local heroes with her broader community. To do so, she interviewed 29 veterans from diverse backgrounds and conflicts and compiled their stories into a four-hour documentary. By showcasing the veterans' experiences, especially their struggles with post-traumatic stress disorder, Nikole taught her peers about the sacrifices and severe mental and physical consequences of fighting for freedom. The documentary, Our Veteran Stories: FOREVER Live Our Dorchester County Heroes, is now a permanent part of her community's historical and archive center as well as the South Carolina State Museum's library, where it will continue to educate and inspire students of different races, backgrounds, and beliefs for years to come.
Sakshi S.—Girl Scouts of Northern California 
Working with Amnesty International and Girls Learn International, Sakshi learned about gender-based violence and was inspired to tackle the issues of human trafficking and child marriage. Sakshi created Project GREET (Girl Rights: Engage, Empower, Train) in which she designed, created, and distributed documentary films, a training curriculum, a website, and a YouTube playlist to engage and educate audiences on these topics. The materials address root causes, statistics, misconceptions, warning signs, and community actions to stop trafficking and child marriage. Sakshi also wrote an extensive curriculum, "Guidelines to Rehabilitate Young Trafficked Girls," a tool for activist organizations to set up vocational training programs for girls who are at risk of being trafficked or were previously trafficked. Working with 35 partner organizations, Sakshi's films have been screened in over 59 locations in 15 countries. She also presented Project GREET materials at the United Nations' 62nd Commission on the Status of Women, where she discussed child marriage; trafficking-prevention laws; and cultural practices with ambassadors, activists, and survivors.
Sarah M.—Girl Scouts of Central Texas
In some regions of the world, girls can miss up to 20 percent of school a year during their periods because of the high cost or lack of menstrual products, such as sanitary pads. Sarah traveled to rural Bolivia, where she organized eight workshops that taught girls, families, and educators how to sew washable pads. She also raised funds to donate new sewing machines and taught community members how to repurpose other materials, such as umbrellas, to make pads. Sarah's efforts, which focused on sustainable community involvement, helped hundreds of girls gain access to affordable menstrual resources so they can continue with their education uninterrupted.
Selina N.—Girl Scouts of Greater Atlanta
Selina launched GirlsFIRST Jr., a program that sparks girls' curiosity in STEM through engaging, hands-on activities in a supportive, all-girl learning environment. With her sponsorships and the $5,000 she raised, Selina developed free workshops, coding seminars, and other resources to promote girls' education and innovation in science and technology. And through the 17 events she hosted worldwide, including three seminars in China, she reached over 7,000 girls ages 10–13, parents, and educators. With her team, she also designed a STEM toolkit containing student activities, an instructive manual and videos on how to host STEM camps, and a STEM Storybook for elementary educators available in six languages.
Shelby O.—Girl Scouts of California's Central Coast
Shelby founded the nonprofit Jr Ocean Guardians to combat waste and defend the environment. Initiating a movement called No Straw November, she encouraged people who don't medically need a straw to reject unnecessary plastic straws during November, because they're a main source of ocean pollution. As a result of her advocacy, Shelby's resolution proclaiming November to be No Straw November in California was approved by the state legislature. She also conducted a letter-writing campaign to executives at prominent corporations, convincing a leading airline to formally discontinue its use of nonrecyclable plastic straws and working with other companies to improve their sustainability practices. Shelby's organization, with support from Girl Scout troops and notable environmental activists, has eliminated the use of millions of plastic straws and promoted reusable alternatives.
Susan S.—Girl Scouts of San Jacinto
Susan learned about a town in Guatemala where children spoke a local Mayan dialect only, rather than also speaking the country's official language of Spanish. These children struggled in primary school, and their illiteracy was often linked to difficult life outcomes, like dropping out of school and experiencing poverty. To promote literacy and primary school readiness, Susan partnered with Guatemala SANA, recruiting Spanish speakers to record children's audiobooks, setting up a library, and establishing regular language programs. Because of her efforts, over 400 children visit the library every month to listen to and read books, and most of them score at or above reading level in Spanish by the time they enter public school. By creating instructions on how to record and donate books and teaching members of a local school dropout-prevention program how to record the books, Susan also ensured that the library would continue to offer families effective educational tools.
Trinity W.—Girl Scouts Heart of the South
Recognizing the healing power of art therapy, Trinity set out to help teen girls with mental illnesses and emotional challenges learn healthy ways of coping. She organized the Note 2 Self Art Expression Workshop and Showcase, through which she developed materials that enhance mental health resources and social justice programs in her community. After raising $3,000 to fund her workshop, Trinity taught girls about art expression as a means of achieving mindfulness and supporting their mental well-being. At her showcase and through various social media platforms, she educated 1,500 people about teen mental health issues.
We're Girl Scouts of the USA
We're 2.6 million strong—1.8 million girls and 800,000 adults who believe in the power of every G.I.R.L. (Go-getter, Innovator, Risk-taker, Leader)™ to change the world. Our extraordinary journey began more than 100 years ago with the original G.I.R.L., Juliette Gordon "Daisy" Low. On March 12, 1912, in Savannah, Georgia, she organized the very first Girl Scout troop, and every year since, we've honored her vision and legacy, building girls of courage, confidence, and character who make the world a better place. We're the preeminent leadership development organization for girls. And with programs from coast to coast and across the globe, Girl Scouts offers every girl a chance to practice a lifetime of leadership, adventure, and success. To volunteer, reconnect, donate, or join, visit www.girlscouts.org.
The BBVA Foundation recognizes Ivan Sutherland for revolutionizing human-machine interaction through computer graphics and virtual reality
Reading Time:
5
minutes
The BBVA Foundation Frontiers of Knowledge Award in the Information and Communication Technologies category has gone in this eleventh edition to American computer engineer Ivan Sutherland, for "pioneering the move from text-based to graphical computer displays," in the words of the citation. Almost sixty years ago, at a time when computers took up an entire room, Sutherland not only invented the first system supporting graphical interaction with these machines, he also developed the first virtual reality headset, which he nicknamed the "Sword of Damocles."
In a career spanning more than six decades, Sutherland has paired "a deep knowledge of technology with an understanding of human behavior to transform computer interaction," the citation continues. Nowadays, "everybody using a computer or smartphone benefits from his vision and contributions."
Sutherland gave notice of his visionary talent with his doctoral thesis, presented at the Massachusetts Institute of Technology (MIT) in 1963 under the supervision of Claude Shannon, the "father" of information theory. It described the Sketchpad program, which showed that computer graphics could provide a more natural interaction between user and machine, and is generally regarded as the predecessor of the graphical interfaces we know today, from the windows system begun by Apple to the icons of our smartphone apps. It is in honor of these achievements that the committee describes him as "the father of computer graphics."
At a time when punch cards were the norm, the ideas behind Sketchpad were "revolutionary," says the awards committee. The program "laid the foundations for intuitive and powerful human-computer interaction through drawing and manipulating shapes and icons rather than through typing commands. Sketchpad provided a light pen and commands to draw directly on a computer display, to zoom in and out, and to transform objects."
In conversation yesterday after hearing of the award, Sutherland gave thanks to Wesley Clark, builder of "what was then the world's biggest computer, the TX-2" for letting him use it "for hours at a time" to develop Sketchpad. "Being able to draw on a computer screen was totally unusual and unexpected, and awakened a lot of people to the possibility of using computer graphics," the new laureate remarked.
Asked if he could imagine then the kind of applications his work would inspire, Sutherland admitted he had "no idea what it would lead to. I did it because it was interesting to do. I was given access to a computer. I wanted to make drawings on that computer, because I liked drawings, and I liked to make them neat, and the computer delivered that. I did what I did because each step was interesting and technically possible, and clearly gave us access to information in a new way that would obviously be useful, even if how it would be used was not clear."
The first virtual reality headset
A few years later, as a professor at Harvard University, Sutherland created the first virtual reality headset "with potential to track the user's gaze," the committee explains. This device, which he built with his students in 1968, was nicknamed "The Sword of Damocles" due to its weight, and is referred to in the citation as the precursor of "today's virtual and augmented reality systems such as HoloLens, Rift and Vive."
In the original paper describing the device, Sutherland explained that his goal was "to surround the user with three-dimensional information," an image that "must change in exactly the way that the image of a real object would" when the observer moves their head. The objects projected "appear to hang in the space all around the user," writes Sutherland, for whom "the biggest surprise" was the enthusiastic response of the device's initial public and the "realism" of its images. He ends the report confessing that at the outset he had "no idea how much effort would be involved."
As with Sketchpad, Sutherland had no inkling of the world that virtual reality would open up. Nor is he willing now to hazard predictions about its future uses: "If you want to know the future, you have to ask the people who make it not the people who started it. I have no idea what other people will do."
More than 60 patents
Sutherland's influence has spanned academia and industry. Not only does he himself hold over 60 patents, but a number of his students have gone on to found some of the sector's most thriving companies.
In 1968 he moved to the University of Utah, where he incorporated Evans & Sutherland, a firm that pioneered the development of 3D graphics hardware, and was accompanied by "brilliant students," he remarked yesterday. "Their excellence enabled several of them to be involved in entrepreneurial companies, some of which did marvelous things. For instance, Edwin Catmull started Pixar, which makes very entertaining films. And John Warnock was one of the founders of Adobe. I am pleased to have known those people and made some small contribution to their education."
His next academic appointment, in the 1970s, was at the California Institute of Technology, where he worked closely with Carver Mead, winner of the Frontiers of Knowledge Award in the fourth edition. Sutherland's name was put forward for the award by another Frontiers laureate, Leonard Kleinrock, honored in the seventh edition.
The latest awardee makes just one assertion about the future; that it will depend entirely on the next generation's spirit of inquiry: "Young people are wonderful. They don't know what they can't do, so they go ahead and do it."
Bio notes
Ivan Sutherland (Hastings, Nebraska, United States, 1938) earned a Bachelor of Science degree in Electrical Engineering at Carnegie Mellon University, then went on to complete an MS and PhD in the same subject at California Institute of Technology (Caltech) and Massachusetts Institute of Technology respectively.
His research and teaching career began at the University of Maryland, followed by appointments at Harvard and Utahuniversities, Caltech (where he set up the Department of Computer Science), Carnegie Mellon University, Imperial College London, the University of California, Berkeley, and Portland State University, where he is currently a Visiting Scientist.
He has founded a number of companies, including Evans & Sutherland Computer Corporation, Picture Design Group and Sutherland, Sproull & Associates, the latter acquired by Sun Microsystems to form Sun Microsystems Laboratory, where Sutherland would remain for several years as Vice President and Sun Fellow (the firm's most senior technical post).
An intensive research enterprise in both the university and corporate sectors has earned him numerous patents; the first in 1956, when he was just 21 years old, followed by another seventy-four.
He combines his post at Portland State University with consulting work for the U.S. Government and firms like Oracle Laboratory and ForrestHunt
Information and Communication Technologies committee and evaluation support panel
The rigor, quality and independence of the judging process have earned these awards the attention of the international scientific community and a firm place among the world's foremost prize families.
The jury in this category was chaired by Joos Vandewalle, Honorary President of the Royal Flemish Academy of Belgium for Science and the Arts, with Ron Ho, Director of Silicon Engineering at Facebook (United States) acting as secretary. Remaining members were Liz Burd, Pro Vice-Chancellor in Learning and Teaching at the University of Newcastle(Australia), Georg Gottlob, Professor of Informatics at the University of Oxford (United Kingdom), Oussama Khatib, Professor of Computer Science at Stanford University (United States), Rudolf Kruse, Emeritus Professor in the Faculty of Computer Science at the Otto von Guericke University Magdeburg (Germany), and Mario Piattini, Professor of Computer Languages and Systems at the University of Castilla-La Mancha (Spain).
The BBVA Foundation is aided in the evaluation process by the Spanish National Research Council (CSIC), the country's premier public research organization. The Foundation and CSIC jointly appoint the evaluation support panels charged with undertaking an initial assessment of the candidates proposed by institutions across the world and drawing up a reasoned shortlist for the consideration of the award committees. CSIC is also responsible for designating each committee chair.
The evaluation support panel in this category was coordinated by María Victoria Moreno, the Council's Deputy Vice President for Scientific and Technical Areas, and formed by: Carmen García, Coordinator of the Physical Science and Technologies Area and Research Professor in the Institute of Corpuscular Physics (IFIC); Manuel Lozano, Research Professor at the Barcelona Institute of Microelectronics (IMB-CNM); Pedro Meseguer, Scientific Researcher at the Institute of Research in Artificial Intelligence (IIIA); Federico Thomas, Research Professor in the Institute of Robotics and Industrial Computing (IRII); and Roberta Zambrini, Tenured Researcher in the Institute of Interdisciplinary Physics and Complex Systems (IFISC).
SOURCE BBVA Foundation
Best New Automotive Innovations for 2019 Announced by Automobile Journalists Association of Canada
Reading Time:
2
minutes
The Automobile Journalists Association of Canada (AJAC) announced today the winners of its 2019 Innovation Awards at the Canadian International AutoShow in Toronto. The winners are:
Best Green Innovation – Infiniti, for the VC-Turbo engine.
Best Safety Innovation – Subaru, for DriverFocus.
Best Technical Innovation – Mercedes-Benz, for Mercedes-Benz User Experience (MBUX).
"The Innovation Awards now recognize safety, environmental awareness and technology," said Mark Richardson, President, Automobile Journalists Association of Canada. "This is an opportunity to recognize the very best and most innovative examples of new automotive products available to Canadian drivers."
In 2018, AJAC members nominated 30 different automotive innovations for consideration. The awards were judged by a panel of nine journalists who specialize in automotive technology. They independently reviewed briefs on all nominated entries, and from that initial review the jurors established a short list of finalists in each category.  In late October, they convened for a day of presentations and questioning with manufacturer representatives on each of the short-listed entries.  The jurors then voted a second time by secret ballot.
As with the Canadian Car of the Year awards program, these votes were compiled and authenticated by accounting firm KPMG.
Infiniti's VC-Turbo engine is the world's first production-ready variable compression ratio engine and one of the most advanced internal combustion engines ever created. More than 20 years in development, it represents a major breakthrough in internal-combustion powertrain technology. It delivers the power of a high-performance 2.0-liter turbo gasoline engine with a high level of efficiency.
Subaru's DriverFocus utilizes a camera angled at the driver's face and facial recognition software to monitor fatigue or lack of attention. When the driver begins to lose focus, DriverFocus immediately sends out a helpful alert — it's like an automated co-driver.
Mercedes-Benz's MBUX uses artificial intelligence to adapt to suit the user, creating an emotional connection between the vehicle, driver and passengers. It includes the high-resolution widescreen cockpit with touchscreen operation, navigation display with augmented reality technology, plus intelligent voice control with natural speech recognition, which is activated with the keyword "Hey Mercedes."
Photography is available at http://www.ajac.ca/press-room.asp
SOURCE Automobile Journalists Association of Canada
Will Bagley to Receive Western Writers of America's Owen Wister Award
Reading Time:
2
minutes
Will Bagley, a journalist known for monumental nonfiction books about the Mormon West and overland trails, will receive the 2019 Owen Wister Award for Lifetime Contributions to Western Literature from Western Writers of America (WesternWriters.org).
Bagley will also be inducted into the Western Writers Hall of Fame, housed outside the McCracken Research Library at the Buffalo Bill Center of the West in Cody, Wyo.
"People either love or hate me," said Bagley, who lives in Salt Lake City. "The Wister Award is an expression of affection from my WWA friends that is appreciated and humbling, for it calls to mind the words 'I am not worthy!'"
The nonprofit guild's highest honor will be presented during Western Writers of America's convention June 19-22 in Tucson, Ariz.
Bagley is a three-time winner of WWA's Spur Award for "Blood of the Prophets: Brigham Youngand the Massacre at Mountain Meadows"; "The Mormon Rebellion: America's First Civil War, 1857-1858"; and "With Golden Visions Bright Before Them Trails to the Mining West, 1849–1852," all published by the University of Oklahoma Press.
Bagley has also received the Western Heritage Wrangler Award from the National Cowboy and Western Heritage Museum and the Caroline Bancroft History Prize. His books have also been honored by Westerners International, Utah Division of State History, Wyoming State Historical Society and the John Whitmer Historical Association.
"Will is not just a tenacious researcher, he is a brilliant writer," WWA executive director Candy Moulton said. "His 'Blood of the Prophets' is a classic – impeccably researched and written with precision."
Bagley's other books include "South Pass: Gateway to a Continent" and "So Rugged and Mountainous: Blazing the Trails to Oregon and California, 1812–1848," both Spur Award finalists.
Since the early 1950s, Western Writers of America has honored and promoted all forms of literature about the American West. Previous Owen Wister honorees include Pulitzer Prize winner N. Scott Momaday; historians David Dary and Robert M. Utley; and best-selling novelists Rudolfo Anaya, Elmore Leonard, Tony Hillerman and Lucia St. Clair Robson.
The Wister Award is a bronze statue of a buffalo created especially for Western Writers of America by artist Robert Duffie.
SOURCE: Western Writers of America