Hungarian Researchers Gain Access to Powerful Genocide Testimonies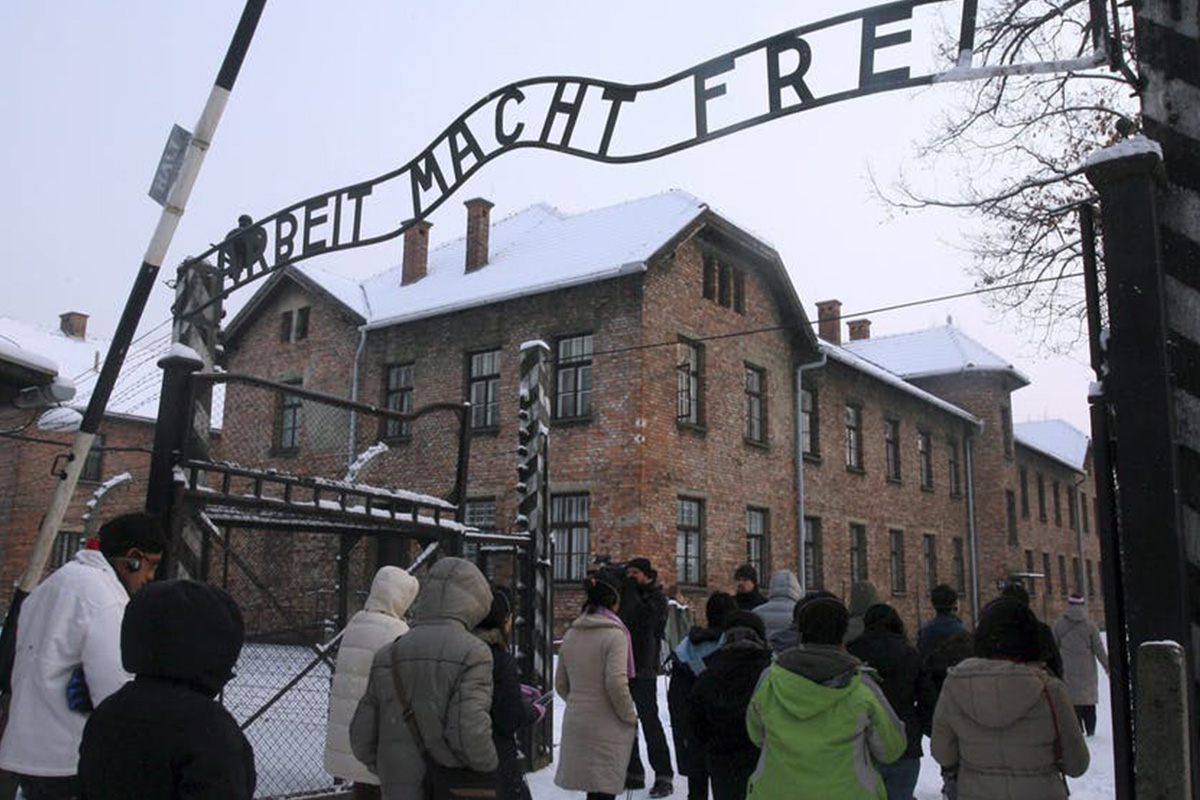 Reading Time:
2
minutes
More than 55,000 interviews with survivors of and witnesses to genocide are now available via streaming video to members of Hungary's Electronic Information Service National Programme (EISZ) – providing researchers an evocative, deeply personal view of the impact of the Holocaust and other crimes against humanity.
The testimonies were collected by USC Shoah Foundation, an institute dedicated to using the voices of those who witnessed some of history's darkest times as a tool to teach about empathy and respect. They reside in the Institute's Visual History Archive, a fully searchable portal of testimonies that detail first-hand experiences with genocide. It is distributed to academic libraries by ProQuest. 40 Hungarian academic and public libraries who are members of the EISZ consortium can now make this content available to their users.
"The Visual History Archive includes rich content about local history in Hungary – including more than 1,300 Hungarian interviews that enable students and researchers to gain further insight into and understand their history," said Professor István Monok, General Director of the Library and Information Centre of the Hungarian Academy of Science and President of EISZ Programme Board."Having access to these primary sources will ensure that these stories will never be forgotten."
The largest digital collection of its kind, the Visual History Archive encompasses 115,000 hours of interviews, conducted in 65 countries and 43 languages. Each interview is expertly indexed in one-minute segments, resulting in 65,000 searchable terms. More than 1,800 transcripts of Holocaust-related interviews enable granular searching – part of an ongoing project to transcribe all interviews. Designed to empower researcher and student learning, the Visual History Archive also includes tools for studying and sharing testimonies. For example, users can bookmark clips, save projects and embed testimonies in LMS course packs via durable URLs.
"The Visual History Archive is an incredible tool for students and researchers," said USC Shoah Foundation Executive Director Stephen Smith. "Access for researchers and students is sure to spark further discovery on the social and cultural dynamics that lead to genocide, and ultimately provide vital clues on how best to intervene in that deadly cycle."
USC Shoah Foundation and ProQuest launched an exclusive partnership in 2016 to expand, enrich and simplify access to Visual History Archive in the academic market. This version surfaces the library's related ProQuest® content, which can encompass six centuries of content spanning dissertations, news and historical newspapers, periodicals, scholarly journals and primary source materials – a combination that improves contextual discovery while viewing the video testimonies.
Excitech to Deliver Common Data Environment to Heathrow Airport Limited
Reading Time:
2
minutes
Excitech, the UK leader in technology and services for the construction sector, has been awarded a 7-year framework agreement to lead a consortium comprising GroupBC and Autodesk technologies to deliver Heathrow Airport Limited's chosen Common Data Environment (CDE) solution.
The CDE is at the heart of Heathrow's Information Management strategy.  It will be its primary common information repository and allow for specific controls to be put in place to share information in a controlled manner with suppliers and across Heathrow Departments. It will provide world-class information and asset management in line with emerging industry-standards, ensuring the efficient whole-life management of Heathrow's critical assets.
David Hughes, Excitech's managing director said, "Having worked on the Terminal 5 construction project we are excited to be involved in this latest strategic project at Heathrow.  The Autodesk and GroupBC technologies being deployed are market-leading and will enable Heathrow to trust the data they hold and have the confidence to make decisions based on 'one version of the truth."
The project is already underway and is expected to be complete by December 2020.  It will see the deployment of Autodesk's BIM 360 visualisation and design tools integrated and underpinned with management and governance from GroupBC's Enterprise CDE.
Jo Ellman Brown, PMO Director at Heathrow said, "We are aiming to be the first airport operator in the world who can leverage value from our digital assets, allowing our people to work in a safe environment, design and plan in a collaborative way, and operate a fully integrated asset system.  With a long-established relationship with Excitech, we're delighted they were the successful bidder on this project.  We anticipate that the solution they have proposed will significantly improve the management of our critical assets."
As well as enabling Heathrow to have accurate and up to date information readily available in the CDE, the new solution will result in fewer surveys and reduced costs as a result of earlier and greater collaboration across all parties.  In addition, maintenance costs will reduce through better, earlier clash detection and more accurate maintenance information being readily available.
Polystar's Enhanced 5G Core Network Testing Capabilities Help CSPS on Road to Commercial Deployment
Reading Time:
2
minutes
Polystar, a leading supplier of Customer Experience Management, Network Monitoring and test solutions for the telecom industry today announced that Solver, its advanced virtual test solution for mobile networks, has been enhanced with support for the N2 interface, allowing end-to-end testing of the new 5G core network. This strengthens Solver's current 5G test capabilities, such as support for testing 5G SBA and virtualised CUPS architectures.
Ensuring that the first 5G networks are delivered on time, on budget, and, crucially, with the correct functionality is a complex process. To meet these challenges and to ensure that networks perform as expected requires rigorous testing. Polystar's award-winning Solver solution has been enhanced with new 5G features that enable mobile network operators to validate 5G performance as part of their release and deployment schedules. It is already in action, testing key functionality in new 5G deployments.
The first step in testing such deployments is to validate 5G core functionality. Specifically, mobile network operators and their equipment vendors must test the N2 interface, which connects the access node (NG-RAN gNodeB) and the Access and Mobility Management Function (AMF) in the core. This is the primary path for the transmission of signalling, connection, contextual and other information from the RAN to the core. Solver is used to generate test messages across the N2 interface, validating connectivity and the correct flow of information.
"This is an important milestone along the road to commercial availability of 5G networks and a pioneering step for Solver," commented Thomas Nilsson, CTO of Polystar. "Solver is helping mobile network operators prove the operational effectiveness of their 5G investments, ensuring that they meet challenging performance and launch demands."
The next step is to test voice and data services from the 5G-NR RAN to demonstrate that live users can access the full capabilities offered by 5G. Polystar's Solver solution is already equipped with the necessary adaptations for 5G and will play a key role in this and other deployments.
"At Mobile World Congress, we'll hear a great deal about new 5G deployments," adds Mr Nilsson. "The success of these will depend on their full verification and validation. Solver provides these capabilities and is a key asset for mobile network operators as they seek to capitalise on their 5G investments."
SOURCE Polystar
Nielsen Launches SMARTSTORE in Hong Kong
Reading Time:
2
minutes
Nielsen has added a new product solution to their Shopper toolkit – a creative and unique solution for retailers and manufacturers globally, helping them get closer to shopper behaviour at the moment of truth and uncover What's Next.
The solution helps retailers measure, evaluate and optimise a range of retail concepts on sales and profit, based on how target shoppers react at the moment of truth, in any store format. It helps measure the effectiveness of Point of Sale Merchandise (POSM) based on what shoppers "See, Think and Do".
SMARTSTORE is designed to radically transform how the industry conducts shopper research today by creating a remarkably realistic and immersive simulation of a 3D, 360 total store environment. Testing in a virtual environment eliminates the unnecessary risk of trial-and-error execution because things can be perfected thus providing retailers with cost, time and flexibility.
Sue Temple, VP Global Product Development, Nielsen Consumer Insights Division says, "This solution has been put together using the latest virtual reality technology available and adapting it to create a unique, fully immersive shopper research and merchandising solution.  We have partnered with our clients through our SMARTSTORE development process in pilot projects over the last several months to make sure it meets their needs as we bring SMARTSTORE to life. We have launched it in 12 markets in 2018 and are excited with today's launch and hope this would drive greater insights into shopper behaviours at the moment of truth and build collaborative partnership between retailers and manufacturers in Hong Kong."
SMARTSTORE builds a live environment, creating multiple scenarios helping in comprehensive analytics of shopper experience (track shopper head, eye and feet movements, 3D heat maps, etc). This also drives affordable research costs for retailers through the "Attention, Appeal, Action" framework thus building confidence in commercial results and measurable ROI on research investment.
"The challenging market environment has spurred changes to consumer shopping mindset and behavior. With shoppers spending more rationally, in-store execution and shopper activation take center stage. It is essential that manufacturers and brand owners understand the behavior and priorities of in-store shoppers in order to lure them with the right offerings," said Michael Lee, Managing Director, Nielsen Hong Kong & Macau. "The introduction of SMARTSTORE is a testimony to our innovation capabilities, a cutting-edge solution that enables our clients to project results close to the reality and make the right preparations to win over the market shares. We are very pleased to launch SMARTSTORE, one of our continuous commitments and investments, to kick off Nielsen Hong Kong's 50th anniversary celebration."
SOURCE Nielsen