The Impact Of Digital Media On Children's Health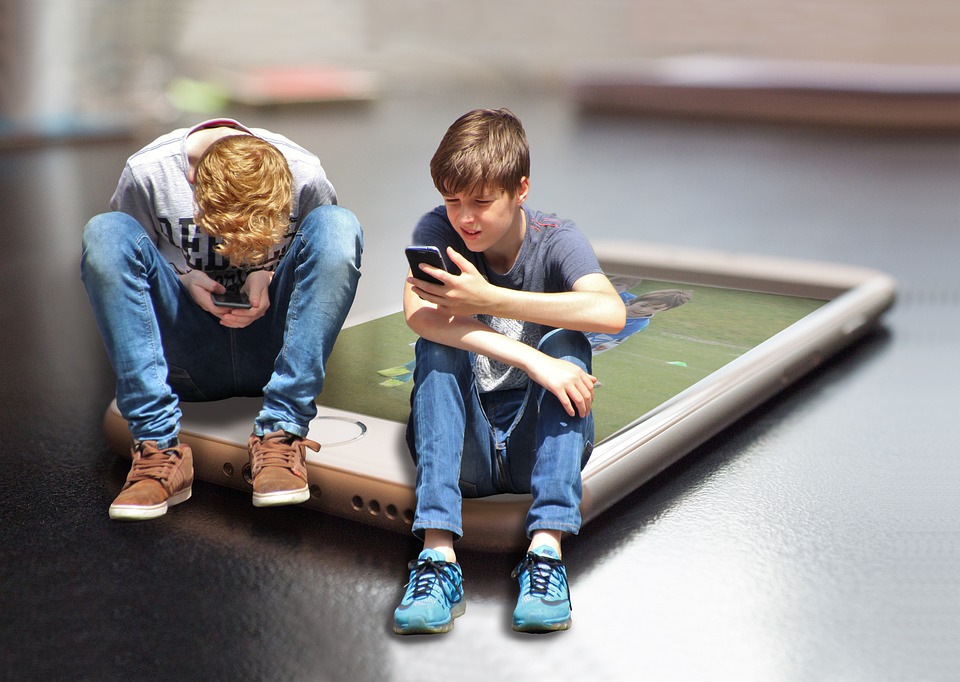 Reading Time:
3
minutes
International Research Conference Draws Multi disciplinary Body of Experts to Cold Spring Harbor Laboratory
Almost half of all teens are consistently online. Children as young as babies are constantly entertained by tablets, phones, and other digital devices. What will be the long-term impact of sustained screen time on children's mental and physical health and how will it be effectively measured? How do we expand knowledge and hone research methodologies to improve understanding of risk and benefits?
Renowned experts from the National Institutes of Health and leading academic and research Institutions, nationally and abroad, will present at the Second Congress on Digital Media and Developing Minds. The conference, co-sponsored by Children and Screens: Institute of Digital Media and Child Development and Cold Spring Harbor Laboratory, will be held on Oct. 15-18, 2018 at Cold Spring Harbor Laboratory.
Fake news, internet addiction, cognition, privacy, cyberbullying, digital media and relationships, the links between social media, violence, depression and suicide, and technology in schools will be among the topics addressed by leading neuroscientists, clinicians, social and data scientists, psychologists and educators as well as members of the media.
Children and Screens: Institute of Digital Media and Child Development is a nonprofit organization devoted to maximizing children's health benefits and minimizing risks from digital media through interdisciplinary dialogue, public information, and rigorous, objective research bridging the medical, neuroscientific, social science, education and academic communities.
See the Congress agenda here.
| | |
| --- | --- |
| When: | October 15-18, 2018 |
| | |
| Where: | Cold Spring Harbor Laboratory |
| | 1 Bungtown Road, Cold Spring Harbor, Long Island, NY |
| | |
| What: | Digital Media and Developing Minds is the only interdisciplinary research event dedicated to providing a trusted environment for medical researchers, neurologists, psychologists, educators, technologists, and policy-makers to collaborate with peers and explore in-depth knowledge. |
| | |
| Expo: | The "Tools and Methodologies Exposition" runs concurrently with the Congress and showcases new and emerging technologies that can be leveraged to measure, track and analyze physiological and psychological impacts of digital media on infants, toddlers, adolescents, and teenagers. |
Details on Speakers:
Co-Chairs:
Pamela Hurst-Della Pietra, DO, Children and Screens
David Stewart, PhD, Cold Spring Harbor Laboratory
Congress Committee:
Dimitri A. Christakis, MD, MPH, University of Washington; Seattle Children's Research Institute
Elizabeth Englander, PhD, Massachusetts Aggression Reduction Center, Bridgewater State University
Patricia Greenfield, PhD, Children's Digital Media Center at Los Angeles, University of California Los Angeles
Carrie James, PhD, Project Zero, Harvard Graduate School of Education
Larry Rosen, PhD, California State University, Dominguez Hills
Christopher Starr, MD, FACS, Weill Cornell Medicine, New York-Presbyterian Hospital
Melina Uncapher, PhD, University of California San Francisco
Ellen Wartella, PhD, Northwestern University
Paul Weigle, MD, Natchaug Hospital; American Academy of Child and Adolescent Psychiatry's Media Committee
Domestic Researchers:
Anissa Abi-Dargham, MD, Stony Brook University
Craig Anderson, PhD, Iowa State University
Jennifer Stevens Aubrey, PhD, University of Arizona
Jakki Bailey, PhD, University of Texas at Austin
Rachel Barr, PhD, Georgetown University
Courtney Blackwell, PhD, Northwestern University
Brad Bushman, PhD, University of Ohio
Cordelia Carter, MD, New York University
Justine Cassell, PhD, Carnegie Mellon University
Linda Charmaraman, PhD, Wellesley College
Jason Chein, PhD, Temple University
Sarah Coyne, PhD, Brigham Young University
Eric Dubow, PhD, Bowling Green State University
Serge Egelman, PhD, University of California Berkeley
Sherry Emery, PhD, University of Chicago
Elizabeth Englander, PhD, Bridgewater State University
Dorothy Espelage, PhD, University of Florida
Adam Gazzaley, PhD, University of California San Francisco
Douglas Gentile, PhD, Iowa State University
Madeleine George, PhD, Purdue University
Arnold Glass, PhD, Rutgers University
Lauren Hale, PhD, Stony Brook University
Richard Halverson, PhD, University of Wisconsin-Madison
Carolyn Heinrich, PhD, Vanderbilt University
Kathryn Hirsh-Pasek, PhD, Temple University
Tom Hummer, PhD, Indiana University
Thomas Joiner, PhD, Florida State University
Sara Konrath, PhD, Indiana University
Ethan Kross, PhD, University of Michigan
Monique LeBourgeois, MD, University of Colorado Boulder
Steve Lee, PhD, University of California Los Angeles
Jennifer Manganello, PhD, University at Albany School of Public Health
Marc Potenza, MD, PhD, Yale
Tom Robinson, MD, MPH, Stanford University
Larry Rosen, PhD, California State University
Rachel Severson, PhD, University of Montana
Lindsay Squeglia, PhD, Medical University of South Carolina
Joanne Broder Sumerson, PhD, Research Psychologist
Melina Uncapher, PhD, University of California San Francisco
Stephen Uzzo, PhD, New York Institute of Technology
Ellen Wartella, PhD, Northwestern School of Communication
Emily Weinstein, EdD, Harvard University
Michele Ybarra, PhD, Johns Hopkins Bloomberg School of Public Health
Kimberly Young, PhD, St Bonaventure University
Karla Zadnik, OD, PhD, Ohio State University.
International Researchers:
Susanne Baumgartner, PhD, University of Amsterdam
Daphne Bavelier, PhD, University of Geneva, Switzerland
Guilherme Borges, ScD, Universidad Nacional Autonoma, Mexico
Matthias Brand, PhD, University of Duisburg-Essen, Germany
Zsolt Demetrovics, PhD, Eotvos Lorand University, Budapest
Young-Sam Koh, Tongmyong University, Korea
Tijana Milosevic, PhD, University of Oslo
Mark Mon Williams, PhD, University of Leeds
Hans-Jurgen Rumpf, PhD, University of Lubeck, Germany
Klaus Wolfling, PhD, Johannes Gutenberg University Mainz, Germany
Government Representatives:
James Griffin, PhD, National Institutes of Health
Paul Hambleton, MA, Formerly of Maine Department of Education
Edward J. Markey, U.S. Senator of Massachusetts; co-author of the CAMRA Act (via video); and more
Industry, Non-Profit, Authors and Media Speakers Include:
Sandra Calvert, PhD, Children's Digital Media Center, Georgetown University
Hilarie Cash, PhD, LMHC, Internet/Computer Addiction Services
Patricia Greenfield, PhD, Children's Digital Media Center at Los Angeles, University of California Los Angeles
Tristan Harris, PhD, The Center for Humane Technology
Anya Kamenetz, National Public Radio
Nicholas Kardaras, LCSW-R, Launch House Digital Detox
Trisha Prabhu, ReThink; Student at Harvard University
Vicky Rideout, MA, VJR Consulting
Michael Robb, PhD, Common Sense Media
John Silva, MEd, NBCT, The News Literacy Project
Brenda Wiederhold, PhD, MBA, BCB, BCN, Interactive Media Institute
SOURCE: Children and Screens: Institute of Digital Media and Child Development
Yara and IBM join forces to transform the future of farming
Reading Time:
3
minutes
Yara and IBM will combine world-class agronomy and cutting-edge technology to develop the world's leading global digital farming platform.
Yara International (OSE: YAR), a global leader in crop nutrition, and IBM (NYSE: IBM), today announced an agreement to build the world's leading digital farming platform, providing holistic digital services and instant agronomic advice.
Yara and IBM Services will jointly innovate and commercialize digital agricultural solutions that will help increase global food production by drawing on the two companies' complementary capabilities: Yara's unrivalled agronomic knowledge, backed by more than 800 agronomists and a century of experience, and IBM's digital platforms, services and expertise in artificial intelligence (AI) and data analytics.
"Our collaboration centers around a common goal to make a real difference in agriculture. To be able to responsibly feed a growing population, it is critical that farmers increase food production on existing farmland to avoid deforestation. Yara and IBM will develop digital solutions that empower professional and smallholder farmers to optimize farming practices to increase yields, crop quality and incomes in a sustainable way," said Terje Knutsen, EVP Sales and Marketing in Yara.
The joint global digital farming platform will apply artificial intelligence, machine learning and in-field data to unlock new insights for farmers. The digital platform will have worldwide coverage and aspires to reach 100 million hectares of farmland – which is equivalent to twice the size of Spain or close to 7 percent of all arable land worldwide* including millions of smallholder farms.
"As demand for food rises along with the world's population, the digital farming platform will play a key role in increasing global farming yields in a sustainable way. The collaboration is a perfect symbiosis of IBM's capabilities in AI, big data management and blockchain technology and Yara's agronomic knowledge, farmer-centric digital innovation, and proven track record in improving farming across the globe," said Luq Niazi, IBM Global Managing Director Consumer Industries.
As a first step, Yara and IBM will establish joint innovation teams, collaborating at digital hubs in Europe, Singapore, the US and Brazil. The teams will work closely with IBM researchers to develop new capabilities, such as visual analytics and machine learning techniques for crop insights. The first services are planned for end 2019.

Advancing the digital frontier of farming
The Yara/IBM partnership will focus on all aspects of farm optimization. One specific area of collaboration will be weather data. The ability to respond optimally to weather conditions is critical for farming. By merging analytical insights from IBM's Watson Studio, IBM PAIRS technology, The Weather Company and other services, with Yara's unrivaled crop knowledge and modelling capabilities, the joint platform will not only provide hyperlocal weather forecasts but will in addition give real-time actionable recommendations, tailored to the specific needs of individual fields/crops.
As the joint digital farming platform expands, the teams will explore innovative business solutions to integrate the joint platform into the IBM Food Trust, IBM's blockchain-enabled network of food chain players. This will allow for greater traceability and supply chain efficiency as well as ways to tackle food fraud, food waste and sustainability. It will firmly link the farm into the full food chain, creating a holistic approach to food production from farm to plate.
The contract was signed in April 2019.
*World Bank, FAO.
SOURCE: IBM
Sono Motors to Produce Sion in Sweden
Reading Time:
2
minutes
The first series production solar electric vehicle (SEV) developed by the German mobility provider Sono Motors is to be manufactured in Sweden. As Sono Motors officially announced today, the first generation of the Sion will be produced in Trollhättan by National Electric Vehicle Sweden (NEVS). The plant located there was home to the production lines of the long-standing and innovative automobile manufacturer SAAB. In total, an initial 260,000 vehicles will roll off the production line in Trollhättan over an eight-year period. Production will commence in the second half of 2020. After the ramp-up period, approximately 43,000 Sion a year will be manufactured in two-shift operations. Production will be carried out using one hundred percent renewable energy.
"In NEVS, we found the perfect partner for us," says Thomas Hausch, Chief Operating Officer, Sono Motors. "Together, we share a vision of intelligent and resource-conserving mobility. We also value our partner's specific expertise based on their many years of experience in traditional automobile development and production in combination with proven expertise in the area of electromobility."
The innovative vehicle concept of the Sion already represents tomorrow's mobility today – the aim of which needs to be the reduction of vehicles on the roads through more sustainable and more efficient usage. The Sion will therefore be equipped ex works with integrated sharing options. These enable the owner to share the vehicle itself, individual journeys, or even energy via a mobile application (goSono app), developed by Sono Motors. A bidirectional charging function enables the Sion to both receive and supply electricity, power electrical devices independently, and feed energy to other vehicles or into the electricity grid. Thanks to full-surface solar integration, the vehicle battery can be charged with pure and free solar energy worth up to 34 kilometers' range per day in addition to its regular WLTP range of 255 kilometers.
For its market launch, the Sion will be rolled out in one single variant version costing 25,500 euros. There are plans afoot to develop other vehicle models based on the vehicle's platform.
Since the presentation of the prototypes in summer 2017, the Sono Motors team has been going on test drive road shows all over Europe. On the occasion of the cooperation with NEVS, the next road show will take place in Sweden. Sono Motors has so far taken approximately 9,800 partially paid preorders for the Sion.
SOURCE Sono Motors GmbH
New Research Identifies the Technology That Hotel Guests Really Want
Reading Time:
3
minutes
Research conducted by leading travel technology firm Criton reveals the importance of hotel technology to improve the experience of today's travellers
Dependence on mobile phones when travelling is brought into sharp focus by a survey of more than 3,600 travellers which reveals a growing appreciation for bespoke travel apps. Research commissioned by Edinburgh-based hospitality firm Criton, highlights that loyalty programmes, self-check-in/out and accessing your hotel room via a digital door key are primary requirements of today's guests.
 The findings highlight crucial information for all hoteliers, with guests' smartphones now recognised as an essential tool for delivering and improving their travel experience. With 45% of respondents travelling for leisure more than four times a year, findings showed that 62% of respondents regularly use an accommodation app, with the figure increasing to 67% amongst business travellers.
If their favourite hotel was to have its own app, 74% of respondents overwhelmingly stated they would use this digital channel, with only 10% favouring an in-room device such as a hotel's smartphone or tablet. This reinforces Criton's core belief that the future of hotel technology is own device. Hoteliers no longer need to absorb the cost of installing in-room devices when their guests travel with their own smartphone and are more comfortable with the apps and content within it.
The opportunity to check-in via an app and access their hotel room via a digital door key was warmly received with 58% likely or very likely to want this technology. With 68% finding it unacceptable to queue at reception for longer than five minutes, offering guests access to a service which global chains already offer is fast becoming a core priority for independent operators.
Respondents prioritised loyalty programmes as their favoured element of hotel technology with 53% recognising it as their top requirement. In a competitive landscape, the opportunity to drive direct and repeat bookings through a personalised loyalty programme will ensure hoteliers save on OTA commission while creating their own closed marketing group to upsell onsite services and facilities.
Underlining modern travellers' awareness of technology, the survey found an audience ready to talk about tech use and expectations while travelling. Reflecting on the results of the survey, Julie Grieve, founder and CEO of Criton, which developed the UK's first intuitive app builder for the hospitality sector, said:
"Increasingly, today's travellers are downloading apps that help them get around and stay connected with their hotel. That level of tech awareness or even dependency also raises expectations for information, guest services, such as check-in, digital key and offers and incentives to reward their loyalty.
"Respondents to the survey were people who travel regularly, with the majority opting for a mid-range hotel or accommodation. It is increasingly clear that adopting technology has to be seen as an imperative for all hospitality providers; it is not something purely for the major franchises."
Criton lets independent operators compete with big chain technology through an easy to use platform. From digitising the traditional hotel room guest book to PMS, live chat, digital door key and in-room ordering integrations all contained within a fully-branded hotel app; Criton supports hospitality businesses with their digital transformation strategies and work with clients across the UK and overseas.
Research Methodology:
An online survey ran from Tuesday 26th March until Monday 1st April and received a total of 3,654 responses, of whom 1,311 were classed as business travellers.
Key Findings:
45% of travellers stated they travel for leisure 2-3 times a year
36% travel for business
39% use TripAdvisor as main source of research and inspiration before booking a hotel, followed by 29% of respondents relying on online search
40% of travellers said they regularly stay in a 4-star (boutique) hotel, with 6% in a 5-star (luxury) hotel. The majority (47%) stated they regularly stay in a 3-star (mid-range) hotel
53% have at least one hotel app on their phone
74% would use a hotel app if their favourite hotel had one
55% stated it is acceptable to wait at check-in 2-5 minutes
62% would be likely or very likely to check-in to a hotel via an app
58% would be likely or very likely to check-in to a hotel via an app and use digital key
App usage
62% use an accommodation app regularly (eg Airbnb)
57% use a transport app regularly
47% use an airline app regularly
36% uses a hotel app regularly
The hotel technology that respondents seek:
53% – loyalty programmes
35% – self check-in
10% – in-room mobile
18% – in-room tablet
Awards:
Criton won the 'Best Technology Provider' award at the 2018 Travolution Awards and was Highly Commended for Best Use of Mobile
Criton won the 'Industry Breakthrough and Innovation Award' at the ASAP Awards 2018
Julie Grieve, Founder & CEO won the prestigious 'HOSPACE 2017 Best Entrepreneur Award'
SOURCE: Criton