The Impact Of Digital Media On Children's Health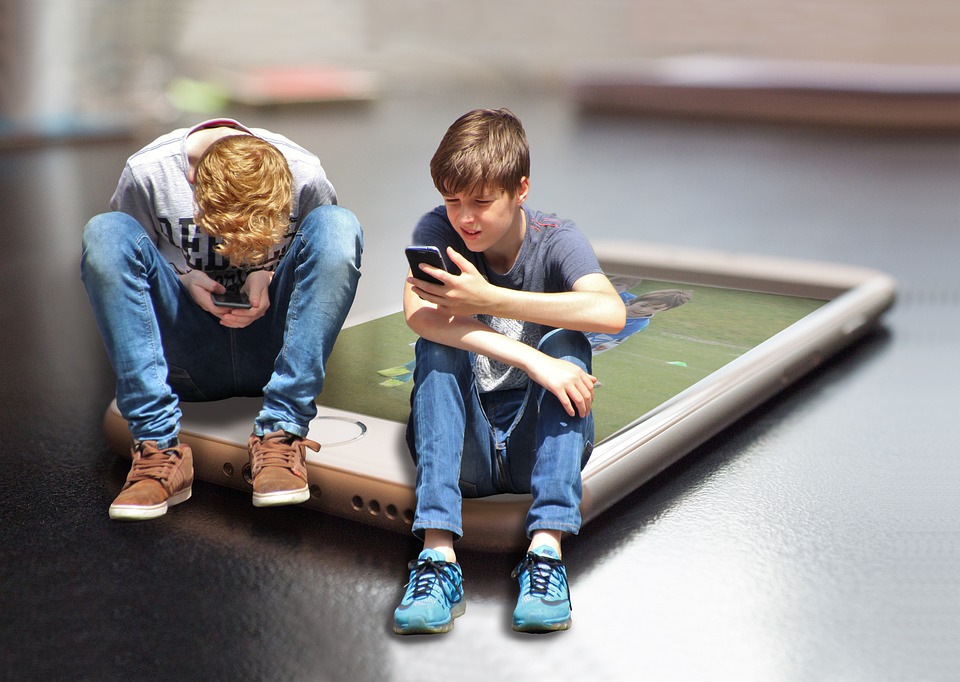 Reading Time:
3
minutes
International Research Conference Draws Multi disciplinary Body of Experts to Cold Spring Harbor Laboratory
Almost half of all teens are consistently online. Children as young as babies are constantly entertained by tablets, phones, and other digital devices. What will be the long-term impact of sustained screen time on children's mental and physical health and how will it be effectively measured? How do we expand knowledge and hone research methodologies to improve understanding of risk and benefits?
Renowned experts from the National Institutes of Health and leading academic and research Institutions, nationally and abroad, will present at the Second Congress on Digital Media and Developing Minds. The conference, co-sponsored by Children and Screens: Institute of Digital Media and Child Development and Cold Spring Harbor Laboratory, will be held on Oct. 15-18, 2018 at Cold Spring Harbor Laboratory.
Fake news, internet addiction, cognition, privacy, cyberbullying, digital media and relationships, the links between social media, violence, depression and suicide, and technology in schools will be among the topics addressed by leading neuroscientists, clinicians, social and data scientists, psychologists and educators as well as members of the media.
Children and Screens: Institute of Digital Media and Child Development is a nonprofit organization devoted to maximizing children's health benefits and minimizing risks from digital media through interdisciplinary dialogue, public information, and rigorous, objective research bridging the medical, neuroscientific, social science, education and academic communities.
See the Congress agenda here.
| | |
| --- | --- |
| When: | October 15-18, 2018 |
| | |
| Where: | Cold Spring Harbor Laboratory |
| | 1 Bungtown Road, Cold Spring Harbor, Long Island, NY |
| | |
| What: | Digital Media and Developing Minds is the only interdisciplinary research event dedicated to providing a trusted environment for medical researchers, neurologists, psychologists, educators, technologists, and policy-makers to collaborate with peers and explore in-depth knowledge. |
| | |
| Expo: | The "Tools and Methodologies Exposition" runs concurrently with the Congress and showcases new and emerging technologies that can be leveraged to measure, track and analyze physiological and psychological impacts of digital media on infants, toddlers, adolescents, and teenagers. |
Details on Speakers:
Co-Chairs:
Pamela Hurst-Della Pietra, DO, Children and Screens
David Stewart, PhD, Cold Spring Harbor Laboratory
Congress Committee:
Dimitri A. Christakis, MD, MPH, University of Washington; Seattle Children's Research Institute
Elizabeth Englander, PhD, Massachusetts Aggression Reduction Center, Bridgewater State University
Patricia Greenfield, PhD, Children's Digital Media Center at Los Angeles, University of California Los Angeles
Carrie James, PhD, Project Zero, Harvard Graduate School of Education
Larry Rosen, PhD, California State University, Dominguez Hills
Christopher Starr, MD, FACS, Weill Cornell Medicine, New York-Presbyterian Hospital
Melina Uncapher, PhD, University of California San Francisco
Ellen Wartella, PhD, Northwestern University
Paul Weigle, MD, Natchaug Hospital; American Academy of Child and Adolescent Psychiatry's Media Committee
Domestic Researchers:
Anissa Abi-Dargham, MD, Stony Brook University
Craig Anderson, PhD, Iowa State University
Jennifer Stevens Aubrey, PhD, University of Arizona
Jakki Bailey, PhD, University of Texas at Austin
Rachel Barr, PhD, Georgetown University
Courtney Blackwell, PhD, Northwestern University
Brad Bushman, PhD, University of Ohio
Cordelia Carter, MD, New York University
Justine Cassell, PhD, Carnegie Mellon University
Linda Charmaraman, PhD, Wellesley College
Jason Chein, PhD, Temple University
Sarah Coyne, PhD, Brigham Young University
Eric Dubow, PhD, Bowling Green State University
Serge Egelman, PhD, University of California Berkeley
Sherry Emery, PhD, University of Chicago
Elizabeth Englander, PhD, Bridgewater State University
Dorothy Espelage, PhD, University of Florida
Adam Gazzaley, PhD, University of California San Francisco
Douglas Gentile, PhD, Iowa State University
Madeleine George, PhD, Purdue University
Arnold Glass, PhD, Rutgers University
Lauren Hale, PhD, Stony Brook University
Richard Halverson, PhD, University of Wisconsin-Madison
Carolyn Heinrich, PhD, Vanderbilt University
Kathryn Hirsh-Pasek, PhD, Temple University
Tom Hummer, PhD, Indiana University
Thomas Joiner, PhD, Florida State University
Sara Konrath, PhD, Indiana University
Ethan Kross, PhD, University of Michigan
Monique LeBourgeois, MD, University of Colorado Boulder
Steve Lee, PhD, University of California Los Angeles
Jennifer Manganello, PhD, University at Albany School of Public Health
Marc Potenza, MD, PhD, Yale
Tom Robinson, MD, MPH, Stanford University
Larry Rosen, PhD, California State University
Rachel Severson, PhD, University of Montana
Lindsay Squeglia, PhD, Medical University of South Carolina
Joanne Broder Sumerson, PhD, Research Psychologist
Melina Uncapher, PhD, University of California San Francisco
Stephen Uzzo, PhD, New York Institute of Technology
Ellen Wartella, PhD, Northwestern School of Communication
Emily Weinstein, EdD, Harvard University
Michele Ybarra, PhD, Johns Hopkins Bloomberg School of Public Health
Kimberly Young, PhD, St Bonaventure University
Karla Zadnik, OD, PhD, Ohio State University.
International Researchers:
Susanne Baumgartner, PhD, University of Amsterdam
Daphne Bavelier, PhD, University of Geneva, Switzerland
Guilherme Borges, ScD, Universidad Nacional Autonoma, Mexico
Matthias Brand, PhD, University of Duisburg-Essen, Germany
Zsolt Demetrovics, PhD, Eotvos Lorand University, Budapest
Young-Sam Koh, Tongmyong University, Korea
Tijana Milosevic, PhD, University of Oslo
Mark Mon Williams, PhD, University of Leeds
Hans-Jurgen Rumpf, PhD, University of Lubeck, Germany
Klaus Wolfling, PhD, Johannes Gutenberg University Mainz, Germany
Government Representatives:
James Griffin, PhD, National Institutes of Health
Paul Hambleton, MA, Formerly of Maine Department of Education
Edward J. Markey, U.S. Senator of Massachusetts; co-author of the CAMRA Act (via video); and more
Industry, Non-Profit, Authors and Media Speakers Include:
Sandra Calvert, PhD, Children's Digital Media Center, Georgetown University
Hilarie Cash, PhD, LMHC, Internet/Computer Addiction Services
Patricia Greenfield, PhD, Children's Digital Media Center at Los Angeles, University of California Los Angeles
Tristan Harris, PhD, The Center for Humane Technology
Anya Kamenetz, National Public Radio
Nicholas Kardaras, LCSW-R, Launch House Digital Detox
Trisha Prabhu, ReThink; Student at Harvard University
Vicky Rideout, MA, VJR Consulting
Michael Robb, PhD, Common Sense Media
John Silva, MEd, NBCT, The News Literacy Project
Brenda Wiederhold, PhD, MBA, BCB, BCN, Interactive Media Institute
SOURCE: Children and Screens: Institute of Digital Media and Child Development
Excitech to Deliver Common Data Environment to Heathrow Airport Limited
Reading Time:
2
minutes
Excitech, the UK leader in technology and services for the construction sector, has been awarded a 7-year framework agreement to lead a consortium comprising GroupBC and Autodesk technologies to deliver Heathrow Airport Limited's chosen Common Data Environment (CDE) solution.
The CDE is at the heart of Heathrow's Information Management strategy.  It will be its primary common information repository and allow for specific controls to be put in place to share information in a controlled manner with suppliers and across Heathrow Departments. It will provide world-class information and asset management in line with emerging industry-standards, ensuring the efficient whole-life management of Heathrow's critical assets.
David Hughes, Excitech's managing director said, "Having worked on the Terminal 5 construction project we are excited to be involved in this latest strategic project at Heathrow.  The Autodesk and GroupBC technologies being deployed are market-leading and will enable Heathrow to trust the data they hold and have the confidence to make decisions based on 'one version of the truth."
The project is already underway and is expected to be complete by December 2020.  It will see the deployment of Autodesk's BIM 360 visualisation and design tools integrated and underpinned with management and governance from GroupBC's Enterprise CDE.
Jo Ellman Brown, PMO Director at Heathrow said, "We are aiming to be the first airport operator in the world who can leverage value from our digital assets, allowing our people to work in a safe environment, design and plan in a collaborative way, and operate a fully integrated asset system.  With a long-established relationship with Excitech, we're delighted they were the successful bidder on this project.  We anticipate that the solution they have proposed will significantly improve the management of our critical assets."
As well as enabling Heathrow to have accurate and up to date information readily available in the CDE, the new solution will result in fewer surveys and reduced costs as a result of earlier and greater collaboration across all parties.  In addition, maintenance costs will reduce through better, earlier clash detection and more accurate maintenance information being readily available.
Polystar's Enhanced 5G Core Network Testing Capabilities Help CSPS on Road to Commercial Deployment
Reading Time:
2
minutes
Polystar, a leading supplier of Customer Experience Management, Network Monitoring and test solutions for the telecom industry today announced that Solver, its advanced virtual test solution for mobile networks, has been enhanced with support for the N2 interface, allowing end-to-end testing of the new 5G core network. This strengthens Solver's current 5G test capabilities, such as support for testing 5G SBA and virtualised CUPS architectures.
Ensuring that the first 5G networks are delivered on time, on budget, and, crucially, with the correct functionality is a complex process. To meet these challenges and to ensure that networks perform as expected requires rigorous testing. Polystar's award-winning Solver solution has been enhanced with new 5G features that enable mobile network operators to validate 5G performance as part of their release and deployment schedules. It is already in action, testing key functionality in new 5G deployments.
The first step in testing such deployments is to validate 5G core functionality. Specifically, mobile network operators and their equipment vendors must test the N2 interface, which connects the access node (NG-RAN gNodeB) and the Access and Mobility Management Function (AMF) in the core. This is the primary path for the transmission of signalling, connection, contextual and other information from the RAN to the core. Solver is used to generate test messages across the N2 interface, validating connectivity and the correct flow of information.
"This is an important milestone along the road to commercial availability of 5G networks and a pioneering step for Solver," commented Thomas Nilsson, CTO of Polystar. "Solver is helping mobile network operators prove the operational effectiveness of their 5G investments, ensuring that they meet challenging performance and launch demands."
The next step is to test voice and data services from the 5G-NR RAN to demonstrate that live users can access the full capabilities offered by 5G. Polystar's Solver solution is already equipped with the necessary adaptations for 5G and will play a key role in this and other deployments.
"At Mobile World Congress, we'll hear a great deal about new 5G deployments," adds Mr Nilsson. "The success of these will depend on their full verification and validation. Solver provides these capabilities and is a key asset for mobile network operators as they seek to capitalise on their 5G investments."
SOURCE Polystar
Nielsen Launches SMARTSTORE in Hong Kong
Reading Time:
2
minutes
Nielsen has added a new product solution to their Shopper toolkit – a creative and unique solution for retailers and manufacturers globally, helping them get closer to shopper behaviour at the moment of truth and uncover What's Next.
The solution helps retailers measure, evaluate and optimise a range of retail concepts on sales and profit, based on how target shoppers react at the moment of truth, in any store format. It helps measure the effectiveness of Point of Sale Merchandise (POSM) based on what shoppers "See, Think and Do".
SMARTSTORE is designed to radically transform how the industry conducts shopper research today by creating a remarkably realistic and immersive simulation of a 3D, 360 total store environment. Testing in a virtual environment eliminates the unnecessary risk of trial-and-error execution because things can be perfected thus providing retailers with cost, time and flexibility.
Sue Temple, VP Global Product Development, Nielsen Consumer Insights Division says, "This solution has been put together using the latest virtual reality technology available and adapting it to create a unique, fully immersive shopper research and merchandising solution.  We have partnered with our clients through our SMARTSTORE development process in pilot projects over the last several months to make sure it meets their needs as we bring SMARTSTORE to life. We have launched it in 12 markets in 2018 and are excited with today's launch and hope this would drive greater insights into shopper behaviours at the moment of truth and build collaborative partnership between retailers and manufacturers in Hong Kong."
SMARTSTORE builds a live environment, creating multiple scenarios helping in comprehensive analytics of shopper experience (track shopper head, eye and feet movements, 3D heat maps, etc). This also drives affordable research costs for retailers through the "Attention, Appeal, Action" framework thus building confidence in commercial results and measurable ROI on research investment.
"The challenging market environment has spurred changes to consumer shopping mindset and behavior. With shoppers spending more rationally, in-store execution and shopper activation take center stage. It is essential that manufacturers and brand owners understand the behavior and priorities of in-store shoppers in order to lure them with the right offerings," said Michael Lee, Managing Director, Nielsen Hong Kong & Macau. "The introduction of SMARTSTORE is a testimony to our innovation capabilities, a cutting-edge solution that enables our clients to project results close to the reality and make the right preparations to win over the market shares. We are very pleased to launch SMARTSTORE, one of our continuous commitments and investments, to kick off Nielsen Hong Kong's 50th anniversary celebration."
SOURCE Nielsen