Vigilant Solutions Honors the Brookhaven Police Department, Las Vegas Metropolitan Police Department and New Jersey State Police with Vigilant Communities Award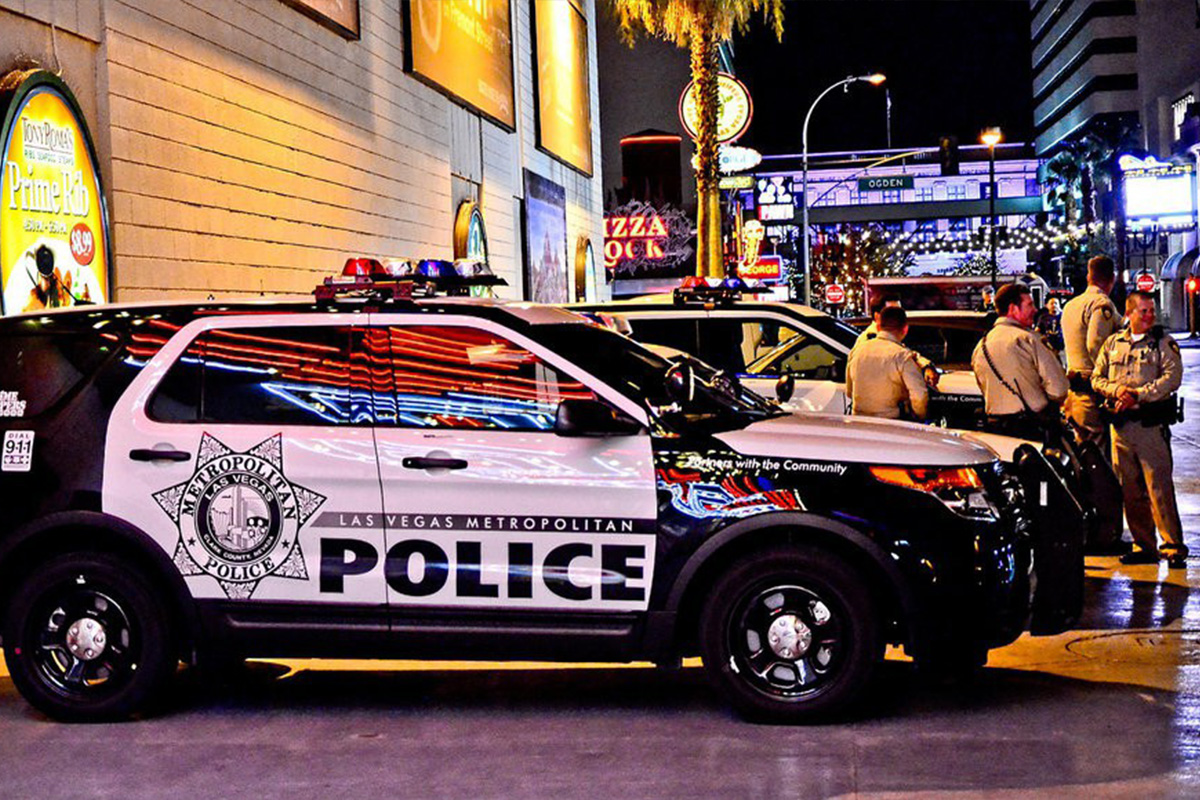 Reading Time:
3
minutes
Company donates funds to charities in name of award-winning police agencies
Vigilant Solutions – an AI and data analytics company that provides technology to public safety – today announced it awarded its Vigilant Communities Award at the International Association of Chiefs of Police (IACP) Conference in Orlando, Fla., to three law enforcement agencies: Brookhaven Police Department (BPD), Las Vegas Metropolitan Police Department (LVMPD) and New Jersey State Police (NJSP). The Vigilant Communities Awards program recognizes law enforcement agencies for the exceptional use of artificial intelligence (AI) to prevent and solve crime.
"We are honored to present the Vigilant Communities Award to these three police agencies," said Shawn Smith, Founder and President of Vigilant Solutions. "Each agency has distinguished itself in using technology to prevent crime by arresting prolific offenders. They are among our nation's top innovators in using AI technology to solve cases and keep their communities safe. We look forward to watching them continue to innovate and model the use of technology to achieve success in the law enforcement community."
BPD received its Vigilant Communities Award for building an outstanding partnership between public and private sectors to utilize shared automated license plate recognition (ALPR) technology for the reduction and prevention of crime. The BPD pioneered a public-private collaboration that has allowed for the installation of 44 ALPR readers city-wide creating an invisible fence to protect its residents.
For example, in mid-2018, the metro Atlanta area saw an identifiable trend among several burglary crews who were using yellow crowbars to forcibly enter commercial buildings. During that time, a Brookhaven convenience store fell victim to one such burglary. Video evidence showed that the suspect vehicle was a gold SUV. The BPD queried the Vigilant investigative platform and learned that a gold Nissan Murano passed an ALPR camera entering the City of Brookhaven shortly before and one-half mile away from the burglary. This information provided a critical lead that investigators needed to locate a suspect and issue arrest and search warrants, where bright yellow crowbars were found inside the suspect's car.
In honor of BPD, Vigilant Solutions is donating $2,000 in its name to the Brookhaven Police Foundation – a 501 (C) 3 non-profit organization. The Foundation provides scholarships for officers in school, charitable contributions to the 'Shop with a Badge' outreach program and a line-of-duty death benefit payable to the officer's beneficiary.
The LVMPD received its Vigilant Communities Award for its exceptional use of AI via ALPR to solve crimes and close cases. For example, on August 25, 2017, in the southeast corner of the Las Vegasvalley, three hooded and armed suspects robbed an armored truck in a bank parking lot. This armored truck robbery was the fourth of its kind in a matter of a few weeks. Up until that time, there were little to no leads for investigators to focus on. On this date, a partial plate was obtained at the scene. That license plate was entered into Vigilant Solutions investigative platform, which catapulted the investigation forward. Within two more weeks, the armed and violent robbery suspects would be arrested. The arrest would take place in a bank parking lot, with the perpetrators wearing masks and carrying guns, with the intent to complete their fifth armored truck/ bank robbery. The closure and prevention of additional violent crime would not have been possible without the use of the ALPR system.
In honor of LVMPD, Vigilant Solutions is donating $2,000 in its name to the Las Vegas Victims Fund, a fund established to aid victims of the October 1, 2017 mass shooting at the Mandalay Bay Hotel.
The NJSP received its Vigilant Communities Award for its exceptional use of AI technology via gun crime mapping to solve crimes and close cases. NJSP has been using GunOps – an interactive investigation tool that allows firearm examiners, detectives and intelligence analysts to work as a team, linking crimes, guns and suspects. Via GunOps, NJSP has been sharing National Integrated Ballistic Information Network (NIBIN), ALPR and Records Management System data statewide to over 700 users, including state police homicide detectives, users at eight state crime labs and district attorneys' offices, as well as with federal agencies, including the Department of Homeland Security and the Bureau of Alcohol, Tobacco, Firearms and Explosives.
NJSP uses GunOps – a solution driven by artificial intelligence – to show links to shootings that occurred across jurisdictions. The sharing of intelligence has helped NJSP cross-reference the additional information that is appended to NIBIN in GunOps and share this intelligence statewide to find commonality between crimes and generate leads. With this platform they have been successful in disrupting gun violence cycles and reversing the trend of cross border hits that at its high exceeded 48 percent. Gun crime is down over 20 percent and ballistics processing productivity is up over 300 percent.
In honor of NJSP, Vigilant Solutions is donating $2,000 in its name to The Officer Down Memorial Page1, Inc., (ODMP), a non-profit organization dedicated to honoring America's fallen law enforcement heroes. More than 22,000 officers have made the ultimate sacrifice in the United States since 1791.
The BBVA Foundation recognizes Ivan Sutherland for revolutionizing human-machine interaction through computer graphics and virtual reality
Reading Time:
5
minutes
The BBVA Foundation Frontiers of Knowledge Award in the Information and Communication Technologies category has gone in this eleventh edition to American computer engineer Ivan Sutherland, for "pioneering the move from text-based to graphical computer displays," in the words of the citation. Almost sixty years ago, at a time when computers took up an entire room, Sutherland not only invented the first system supporting graphical interaction with these machines, he also developed the first virtual reality headset, which he nicknamed the "Sword of Damocles."
In a career spanning more than six decades, Sutherland has paired "a deep knowledge of technology with an understanding of human behavior to transform computer interaction," the citation continues. Nowadays, "everybody using a computer or smartphone benefits from his vision and contributions."
Sutherland gave notice of his visionary talent with his doctoral thesis, presented at the Massachusetts Institute of Technology (MIT) in 1963 under the supervision of Claude Shannon, the "father" of information theory. It described the Sketchpad program, which showed that computer graphics could provide a more natural interaction between user and machine, and is generally regarded as the predecessor of the graphical interfaces we know today, from the windows system begun by Apple to the icons of our smartphone apps. It is in honor of these achievements that the committee describes him as "the father of computer graphics."
At a time when punch cards were the norm, the ideas behind Sketchpad were "revolutionary," says the awards committee. The program "laid the foundations for intuitive and powerful human-computer interaction through drawing and manipulating shapes and icons rather than through typing commands. Sketchpad provided a light pen and commands to draw directly on a computer display, to zoom in and out, and to transform objects."
In conversation yesterday after hearing of the award, Sutherland gave thanks to Wesley Clark, builder of "what was then the world's biggest computer, the TX-2" for letting him use it "for hours at a time" to develop Sketchpad. "Being able to draw on a computer screen was totally unusual and unexpected, and awakened a lot of people to the possibility of using computer graphics," the new laureate remarked.
Asked if he could imagine then the kind of applications his work would inspire, Sutherland admitted he had "no idea what it would lead to. I did it because it was interesting to do. I was given access to a computer. I wanted to make drawings on that computer, because I liked drawings, and I liked to make them neat, and the computer delivered that. I did what I did because each step was interesting and technically possible, and clearly gave us access to information in a new way that would obviously be useful, even if how it would be used was not clear."
The first virtual reality headset
A few years later, as a professor at Harvard University, Sutherland created the first virtual reality headset "with potential to track the user's gaze," the committee explains. This device, which he built with his students in 1968, was nicknamed "The Sword of Damocles" due to its weight, and is referred to in the citation as the precursor of "today's virtual and augmented reality systems such as HoloLens, Rift and Vive."
In the original paper describing the device, Sutherland explained that his goal was "to surround the user with three-dimensional information," an image that "must change in exactly the way that the image of a real object would" when the observer moves their head. The objects projected "appear to hang in the space all around the user," writes Sutherland, for whom "the biggest surprise" was the enthusiastic response of the device's initial public and the "realism" of its images. He ends the report confessing that at the outset he had "no idea how much effort would be involved."
As with Sketchpad, Sutherland had no inkling of the world that virtual reality would open up. Nor is he willing now to hazard predictions about its future uses: "If you want to know the future, you have to ask the people who make it not the people who started it. I have no idea what other people will do."
More than 60 patents
Sutherland's influence has spanned academia and industry. Not only does he himself hold over 60 patents, but a number of his students have gone on to found some of the sector's most thriving companies.
In 1968 he moved to the University of Utah, where he incorporated Evans & Sutherland, a firm that pioneered the development of 3D graphics hardware, and was accompanied by "brilliant students," he remarked yesterday. "Their excellence enabled several of them to be involved in entrepreneurial companies, some of which did marvelous things. For instance, Edwin Catmull started Pixar, which makes very entertaining films. And John Warnock was one of the founders of Adobe. I am pleased to have known those people and made some small contribution to their education."
His next academic appointment, in the 1970s, was at the California Institute of Technology, where he worked closely with Carver Mead, winner of the Frontiers of Knowledge Award in the fourth edition. Sutherland's name was put forward for the award by another Frontiers laureate, Leonard Kleinrock, honored in the seventh edition.
The latest awardee makes just one assertion about the future; that it will depend entirely on the next generation's spirit of inquiry: "Young people are wonderful. They don't know what they can't do, so they go ahead and do it."
Bio notes
Ivan Sutherland (Hastings, Nebraska, United States, 1938) earned a Bachelor of Science degree in Electrical Engineering at Carnegie Mellon University, then went on to complete an MS and PhD in the same subject at California Institute of Technology (Caltech) and Massachusetts Institute of Technology respectively.
His research and teaching career began at the University of Maryland, followed by appointments at Harvard and Utahuniversities, Caltech (where he set up the Department of Computer Science), Carnegie Mellon University, Imperial College London, the University of California, Berkeley, and Portland State University, where he is currently a Visiting Scientist.
He has founded a number of companies, including Evans & Sutherland Computer Corporation, Picture Design Group and Sutherland, Sproull & Associates, the latter acquired by Sun Microsystems to form Sun Microsystems Laboratory, where Sutherland would remain for several years as Vice President and Sun Fellow (the firm's most senior technical post).
An intensive research enterprise in both the university and corporate sectors has earned him numerous patents; the first in 1956, when he was just 21 years old, followed by another seventy-four.
He combines his post at Portland State University with consulting work for the U.S. Government and firms like Oracle Laboratory and ForrestHunt
Information and Communication Technologies committee and evaluation support panel
The rigor, quality and independence of the judging process have earned these awards the attention of the international scientific community and a firm place among the world's foremost prize families.
The jury in this category was chaired by Joos Vandewalle, Honorary President of the Royal Flemish Academy of Belgium for Science and the Arts, with Ron Ho, Director of Silicon Engineering at Facebook (United States) acting as secretary. Remaining members were Liz Burd, Pro Vice-Chancellor in Learning and Teaching at the University of Newcastle(Australia), Georg Gottlob, Professor of Informatics at the University of Oxford (United Kingdom), Oussama Khatib, Professor of Computer Science at Stanford University (United States), Rudolf Kruse, Emeritus Professor in the Faculty of Computer Science at the Otto von Guericke University Magdeburg (Germany), and Mario Piattini, Professor of Computer Languages and Systems at the University of Castilla-La Mancha (Spain).
The BBVA Foundation is aided in the evaluation process by the Spanish National Research Council (CSIC), the country's premier public research organization. The Foundation and CSIC jointly appoint the evaluation support panels charged with undertaking an initial assessment of the candidates proposed by institutions across the world and drawing up a reasoned shortlist for the consideration of the award committees. CSIC is also responsible for designating each committee chair.
The evaluation support panel in this category was coordinated by María Victoria Moreno, the Council's Deputy Vice President for Scientific and Technical Areas, and formed by: Carmen García, Coordinator of the Physical Science and Technologies Area and Research Professor in the Institute of Corpuscular Physics (IFIC); Manuel Lozano, Research Professor at the Barcelona Institute of Microelectronics (IMB-CNM); Pedro Meseguer, Scientific Researcher at the Institute of Research in Artificial Intelligence (IIIA); Federico Thomas, Research Professor in the Institute of Robotics and Industrial Computing (IRII); and Roberta Zambrini, Tenured Researcher in the Institute of Interdisciplinary Physics and Complex Systems (IFISC).
SOURCE BBVA Foundation
Best New Automotive Innovations for 2019 Announced by Automobile Journalists Association of Canada
Reading Time:
2
minutes
The Automobile Journalists Association of Canada (AJAC) announced today the winners of its 2019 Innovation Awards at the Canadian International AutoShow in Toronto. The winners are:
Best Green Innovation – Infiniti, for the VC-Turbo engine.
Best Safety Innovation – Subaru, for DriverFocus.
Best Technical Innovation – Mercedes-Benz, for Mercedes-Benz User Experience (MBUX).
"The Innovation Awards now recognize safety, environmental awareness and technology," said Mark Richardson, President, Automobile Journalists Association of Canada. "This is an opportunity to recognize the very best and most innovative examples of new automotive products available to Canadian drivers."
In 2018, AJAC members nominated 30 different automotive innovations for consideration. The awards were judged by a panel of nine journalists who specialize in automotive technology. They independently reviewed briefs on all nominated entries, and from that initial review the jurors established a short list of finalists in each category.  In late October, they convened for a day of presentations and questioning with manufacturer representatives on each of the short-listed entries.  The jurors then voted a second time by secret ballot.
As with the Canadian Car of the Year awards program, these votes were compiled and authenticated by accounting firm KPMG.
Infiniti's VC-Turbo engine is the world's first production-ready variable compression ratio engine and one of the most advanced internal combustion engines ever created. More than 20 years in development, it represents a major breakthrough in internal-combustion powertrain technology. It delivers the power of a high-performance 2.0-liter turbo gasoline engine with a high level of efficiency.
Subaru's DriverFocus utilizes a camera angled at the driver's face and facial recognition software to monitor fatigue or lack of attention. When the driver begins to lose focus, DriverFocus immediately sends out a helpful alert — it's like an automated co-driver.
Mercedes-Benz's MBUX uses artificial intelligence to adapt to suit the user, creating an emotional connection between the vehicle, driver and passengers. It includes the high-resolution widescreen cockpit with touchscreen operation, navigation display with augmented reality technology, plus intelligent voice control with natural speech recognition, which is activated with the keyword "Hey Mercedes."
Photography is available at http://www.ajac.ca/press-room.asp
SOURCE Automobile Journalists Association of Canada
Will Bagley to Receive Western Writers of America's Owen Wister Award
Reading Time:
2
minutes
Will Bagley, a journalist known for monumental nonfiction books about the Mormon West and overland trails, will receive the 2019 Owen Wister Award for Lifetime Contributions to Western Literature from Western Writers of America (WesternWriters.org).
Bagley will also be inducted into the Western Writers Hall of Fame, housed outside the McCracken Research Library at the Buffalo Bill Center of the West in Cody, Wyo.
"People either love or hate me," said Bagley, who lives in Salt Lake City. "The Wister Award is an expression of affection from my WWA friends that is appreciated and humbling, for it calls to mind the words 'I am not worthy!'"
The nonprofit guild's highest honor will be presented during Western Writers of America's convention June 19-22 in Tucson, Ariz.
Bagley is a three-time winner of WWA's Spur Award for "Blood of the Prophets: Brigham Youngand the Massacre at Mountain Meadows"; "The Mormon Rebellion: America's First Civil War, 1857-1858"; and "With Golden Visions Bright Before Them Trails to the Mining West, 1849–1852," all published by the University of Oklahoma Press.
Bagley has also received the Western Heritage Wrangler Award from the National Cowboy and Western Heritage Museum and the Caroline Bancroft History Prize. His books have also been honored by Westerners International, Utah Division of State History, Wyoming State Historical Society and the John Whitmer Historical Association.
"Will is not just a tenacious researcher, he is a brilliant writer," WWA executive director Candy Moulton said. "His 'Blood of the Prophets' is a classic – impeccably researched and written with precision."
Bagley's other books include "South Pass: Gateway to a Continent" and "So Rugged and Mountainous: Blazing the Trails to Oregon and California, 1812–1848," both Spur Award finalists.
Since the early 1950s, Western Writers of America has honored and promoted all forms of literature about the American West. Previous Owen Wister honorees include Pulitzer Prize winner N. Scott Momaday; historians David Dary and Robert M. Utley; and best-selling novelists Rudolfo Anaya, Elmore Leonard, Tony Hillerman and Lucia St. Clair Robson.
The Wister Award is a bronze statue of a buffalo created especially for Western Writers of America by artist Robert Duffie.
SOURCE: Western Writers of America