Malaysia Rice Bowl Startup Awards Fetes Nation's Best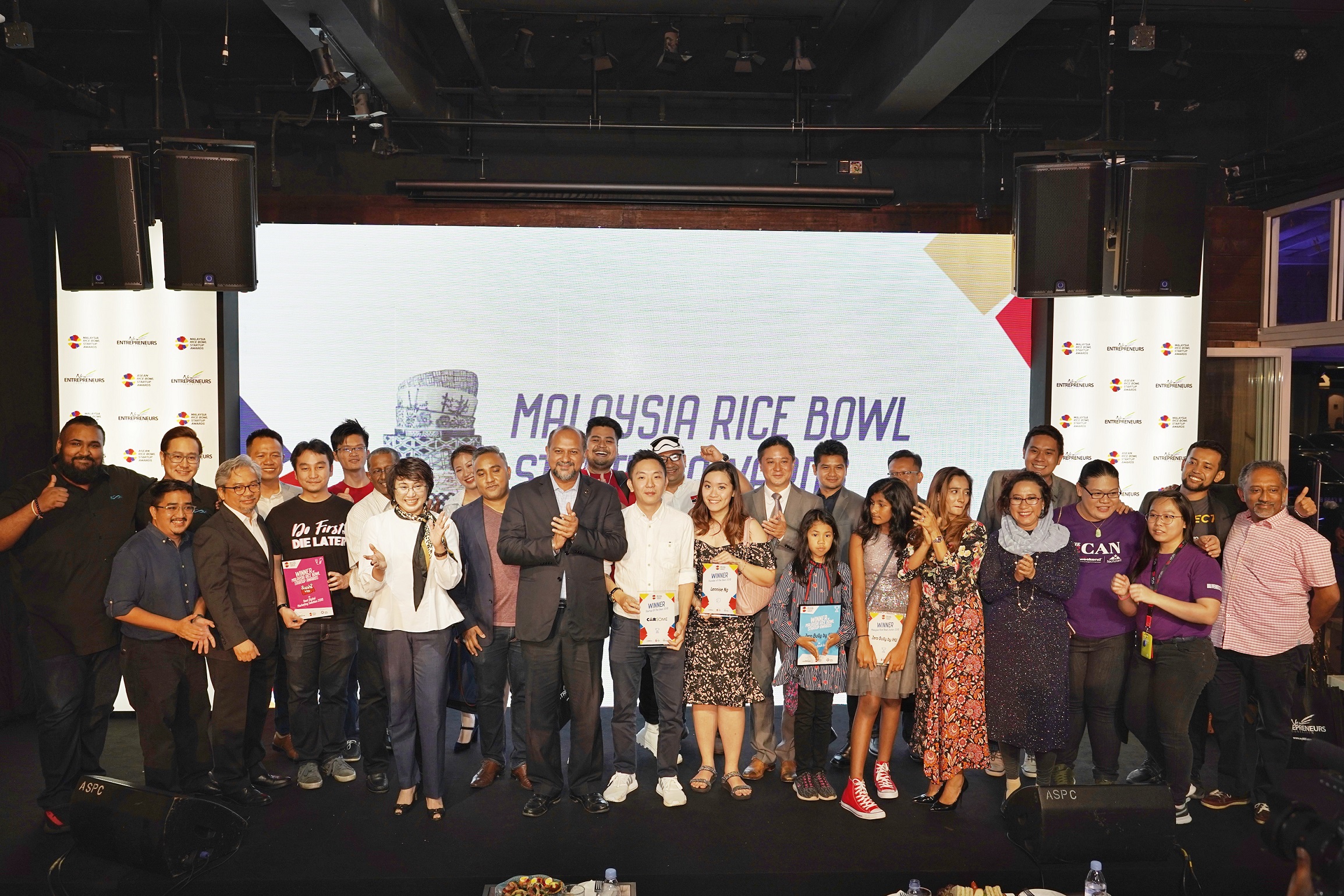 Reading Time:
7
minutes
Winners will proceed to the exciting finale — ASEAN Rice Bowl Startup Awards 2018 in Bali in December, a showcase of Southeast Asia's best!
How to thrive in the age of constant digital disruption?  How can young startups forge their own path?
Answers to these questions and more were found at the much–anticipated Malaysia Rice Bowl Startup Awards 2018 that was held on 28th September at the Oasis Discovery Centre in Ara Damansara, Selangor.
Organised by the New Entrepreneurs Foundation Malaysia (myNEF) and now into its fourth year, the Malaysia Rice Bowl Startup Awards is the platform for recognising young startups disrupting old processes and industries.
A brainchild of myNEF, the awards recognise breakout startups in the country that harness digital technology, and celebrate rising tech entrepreneurs in various categories of excellence ranging from retail, media, digital, tech, products, services and innovative campaigns to women and social enterprises.
myNEF believes businesses can grow fast and be sustainable when they harness technology and knowledge.
It plays a significant role in bridging industry players and the government, working closely with various agencies and government-related organisations to support existing and upcoming entrepreneur development programmes.
The Malaysia Rice Bowl Startup Awards and ASEAN Rice Bowl Startup Awards are among myNEF's signature programmes.
The Rice Bowl Award (Rice Bowl) is beneficial to both the Malaysian startup and ASEAN startup ecosystems as it connects and empowers the ASEAN Economic Community to power up their local economies with startups and scaleups.
YB Tuan Gobind Singh Deo, Minister of Communications and Multimedia commented, "I am extremely happy to hear that Malaysian Startups are accelerating faster than ever, and we hope that they become a significant contributor to our nation's GDP and growth, and also become a significant type of business that employs and cultivate cutting edge talent and become a key source of employment."
Rice Bowl recognises innovation, excellence and best practice in startups and ecosystem players across ASEAN, as well as celebrates the ASEAN community's spirit of diversity in entrepreneurship to solve local rice bowl issues that are replicable across the region.
It also recognises the excitement, risk and hard work involved in developing a startup and the influence each person has on driving the success of their company.
myNEF believes that by celebrating startups, together they can solve the diverse local rice bowl issues faced by each country across Southeast Asia. This will ultimately benefit Malaysia and subsequently ASEAN as a region.
According to the Chief Executive Officer of myNEF, Lilyana Abdul Latiff, "With over 50 nominations for Founder of the Year, and over 70 nominations for Startup of the Year at this year's Rice Bowl Startup Awards – I think Malaysia's Tech Startup Ecosystem has matured rapidly in the past 3 years. It is a testament to the developmental investments and programmes by the Malaysian government, private sector support and independent initiatives. For a modest market size, we should be on track to produce Malaysian-based 'Unicorns' within the next few years."
The categories of the Malaysia Rice Bowl Startup Awards 2018 are Star Awards (Startup of the Year, Founder of the Year, Best Newcomer, People's Choice); and Industry Awards (Best Fintech, Best Health/Med Tech, Best Food & Agri Tech, Best e-Commerce, Best Logistics & Supply Chain, Best Business Automation Tool, Best Life Helper).
The other categories are Ecosystems Awards (Investor of the Year, Best Accelerator/Incubator Programme, Best Ecosystem Initiative, Best Co-working Space); and Cross Sector Awards (Best Digital Marketing, Best AI/Machine Learning, Best IoT).
National award winners will proceed to compete at the regional ASEAN Rice Bowl Startups Awards 2018 to be held in Bali, Indonesia, in December, which highlights model entrepreneurship and inspires a dynamic community of startup enthusiasts, serial entrepreneurs, policymakers and diverse mentors in tech innovation.
Regional winners at the four-day ASEAN finale will benefit from partnership opportunities, media exposure, regional and global networking as well as funding from investors.
The Rice Bowl Community consists of 3,372 alumni from 10 ASEAN countries and connects with the Global Startup Awards.
The Rice Bowl has a total of US$108.4 million pledged investments from 2015 to 2017 as well as over 17,000 social media followers and five million media reach.
For more information about Malaysia Rice Bowl Startup Awards 2018, visit http://ricebowlawards.com/
CATEGORY

WINNER

WINNER DESCRIPTION

RICE BOWL JUNIOR

An app-developing competition that ran across the Southeast Asian countries for students below 18 years old.

The competition runs in parallel with a program called Technovation.

Technovation offers girls below 18 years old around the world the opportunity to learn the necessary skills to become tech entrepreneurs and leaders.

ZERO BULLY BY IHU

Zero Bully is an app that aims to educate the community, adults and children about bullying and in doing so, to reduce the case of bullying at school in particular.

The app provides informative links and assistance to the users. Users also able to write a report of an incident into a central database, and will be submitted as public (anonymous) or private

Best Digital Marketing Solution

For the startup that was the best at developing tools that are used by organizations to improve digital marketing, customer experience and sales conversion.

SushiVid

SushiVid helps brands launch and manage influencer marketing campaigns at scale through their content management software

Best AI / Machine Learning Startup

(AI is Artificial Intelligence)

A startup that was the best at developing powerful application of deep tech / artificial intelligence / big data to reinvent how business and societies develop solutions to previously unsolvable problems.

Hyperlab

Hyperlab automates sales and support for visionary enterprises with their leading Conversational AI and RPA technology.

Best IoT Startup

(IoT stands for Internet of Things)

A startup that was the best at developing a product embedded with electronics, software, sensors, and internet connectivity enabling efficient data collection and exchange.

Jom Parking

JomParking is a quick and convenient way to pay for parking platform.

Best Life Helper Startup

For the startup that was the best at developing tools that works virtually to "get things done" for people and consumers — so they can get back valuable time to spend with family and friends, giving the healthy work-life balance that people aim for, and also celebrate digital innovations that improves the world around us.

Vidi

Vidi is a visual discovery platform that helps travellers see and book amazing experiences for their next holiday

Best Business Automation Tool

For the startup that was the best at developing tools, software, or devices that help companies and organizations to cope with changing markets, ensure a competitive position and improve business performance and productivity.

RunCloud

RunCloud is a modern control panel to help web developer managing multiple cloud hosting and web deployments easily.

Best Logistic & Supply Chain Startup

For the startup that was the best at disrupting traditional business models and impacting productivity and efficiency in logistics and supply-chain (via storing or movement of goods) by using online, communication or mobile technology.

Zoom

Zoom is a technology based on-demand delivery platform for e-commerce businesses that requires last mile fulfilment

Best e-Commerce Startup

For a startup that was the best at developing innovative business solutions through online or mobile merchandising, sourcing, distribution, logistics, marketing and/or retail.

Tripfez Travel Sdn Bhd

Tripfez offer Muslim friendly travel solutions all over the globe.

Best FoodTech / AgriTech Startup

(Agritech is agriculture tech)

A startup that was the best at developing a product/service that uses technology to improve agriculture and food production, supply chain, distribution channels and consumption.

STIXFRESH

Stixfresh is a sticker that can prolongs the shelf life of fresh fruits which indirectly can reduce fruits wastage.



Best HealthTech Startup

A startup that was the best at developing a product/service that uses technology to keep people (or animals) healthier and/or improve the ability to diagnose and treat illness.

MEDKAD

MEDKAD provide a Medical Benefits Automation Systems for companies to efficiently manage their staff medical benefits.

Best Fintech Startup

(Fintech is Finance Tech)

A startup that was the best at developing a product/service/technology in the delivery and/or infrastructure of financial services.

CurrenSeek

CurrenSeek is a platform connecting money services to travelers to make money changing & remittance convenient & secure

Best Coworking Space

For the co-working space that deserves the recognition for its services, support and resources to fast-growth tech startups, and for creating a culture and environment that fosters innovation.

PAPER and TOAST

PAPER + TOAST is the first coworking space in Malaysia. Established in 2010, their aim is to serve as a one stop community platform for talents, entrepreneurs and startups to get together.

Best Ecosystem Initiative

For the organisation (not including co-working spaces or accelerator programs) initiated by individuals, community building organisations, corporates and/or government that has proven to support entrepreneurs and tech startups.

Malaysia Digital Economy Corporation (MDEC)

Malaysia Digital Economy Corporation (MDEC) is the lead agency in driving the digital economy in Malaysia.


MDEC's implementations and efforts are centred on building awareness on digital economy, creating credible talents for the industry, and encouraging digital technology adoption among the people (rakyat) and businesses.

Best Accelerator or Incubator Program

For a fixed-term, cohort-based, mentorship-driven program, this program helps and empowers entrepreneurs to foster the growth of their innovative companies by providing tools, resources, connections, knowledge and expertise.

MaGIC Global Accelerator Program

(GAP)

MaGIC GAP is a programme to accelerate global startups to be investment-ready in 4 months and build a strong startup community in ASEAN.

Investor of the Year

For an individual or company that has displayed the best investment acumen over the last year. This could be in the form of a successful exit, early investment of a notable startup, or realization of an earlier investment.

Andrew Tan

Andrew Tan is a serial entrepreneur and an all-rounder venture capitalist. He is now at helm of a venture capital firm and a private equity firm with a pool of funds totalling USD50 million.

People Choice

A startup with a huge fan-base for their product or service. They got the most accumulated votes throughout the national public voting round.

11tune

11Tune is a total music solution platform that connects composers with users in just a few clicks.

Best Newcomer

For the startup with up to 2 years of age (or from incorporation) that has shown the greatest development over the last year based on growth, innovation and impact with their product/service.

Dropee

Dropee is a B2B marketplace that brings together suppliers and retailers on a single platform.

Founder of the Year

For the person who is an inspirational leader for thier startup. They are astute in business, has strong leadership skills, and a skilled promoter. They make running their business look easy, and their team, partners and customers are inspired by their vision.

Lennise Ng

Lennise is the Miss Chief (CEO) of Dropee



She kickstarted her entrepreneurship journey during college years by starting her own talent management company.


Her life goal is to push humanity forward through merging traditional businesses with innovative tech solutions.

Startup Of The Year

For the startup that is above the rest of the competition, in terms of user or customer acquisition, or sales or profit projection and is likely to be bought by Facebook or Google or Ali Baba for millions.

carsome

Carsome, Southeast Asia's leading and fastest growing online used car platform.
New Research Identifies the Technology That Hotel Guests Really Want
Reading Time:
3
minutes
Research conducted by leading travel technology firm Criton reveals the importance of hotel technology to improve the experience of today's travellers
Dependence on mobile phones when travelling is brought into sharp focus by a survey of more than 3,600 travellers which reveals a growing appreciation for bespoke travel apps. Research commissioned by Edinburgh-based hospitality firm Criton, highlights that loyalty programmes, self-check-in/out and accessing your hotel room via a digital door key are primary requirements of today's guests.
 The findings highlight crucial information for all hoteliers, with guests' smartphones now recognised as an essential tool for delivering and improving their travel experience. With 45% of respondents travelling for leisure more than four times a year, findings showed that 62% of respondents regularly use an accommodation app, with the figure increasing to 67% amongst business travellers.
If their favourite hotel was to have its own app, 74% of respondents overwhelmingly stated they would use this digital channel, with only 10% favouring an in-room device such as a hotel's smartphone or tablet. This reinforces Criton's core belief that the future of hotel technology is own device. Hoteliers no longer need to absorb the cost of installing in-room devices when their guests travel with their own smartphone and are more comfortable with the apps and content within it.
The opportunity to check-in via an app and access their hotel room via a digital door key was warmly received with 58% likely or very likely to want this technology. With 68% finding it unacceptable to queue at reception for longer than five minutes, offering guests access to a service which global chains already offer is fast becoming a core priority for independent operators.
Respondents prioritised loyalty programmes as their favoured element of hotel technology with 53% recognising it as their top requirement. In a competitive landscape, the opportunity to drive direct and repeat bookings through a personalised loyalty programme will ensure hoteliers save on OTA commission while creating their own closed marketing group to upsell onsite services and facilities.
Underlining modern travellers' awareness of technology, the survey found an audience ready to talk about tech use and expectations while travelling. Reflecting on the results of the survey, Julie Grieve, founder and CEO of Criton, which developed the UK's first intuitive app builder for the hospitality sector, said:
"Increasingly, today's travellers are downloading apps that help them get around and stay connected with their hotel. That level of tech awareness or even dependency also raises expectations for information, guest services, such as check-in, digital key and offers and incentives to reward their loyalty.
"Respondents to the survey were people who travel regularly, with the majority opting for a mid-range hotel or accommodation. It is increasingly clear that adopting technology has to be seen as an imperative for all hospitality providers; it is not something purely for the major franchises."
Criton lets independent operators compete with big chain technology through an easy to use platform. From digitising the traditional hotel room guest book to PMS, live chat, digital door key and in-room ordering integrations all contained within a fully-branded hotel app; Criton supports hospitality businesses with their digital transformation strategies and work with clients across the UK and overseas.
Research Methodology:
An online survey ran from Tuesday 26th March until Monday 1st April and received a total of 3,654 responses, of whom 1,311 were classed as business travellers.
Key Findings:
45% of travellers stated they travel for leisure 2-3 times a year
36% travel for business
39% use TripAdvisor as main source of research and inspiration before booking a hotel, followed by 29% of respondents relying on online search
40% of travellers said they regularly stay in a 4-star (boutique) hotel, with 6% in a 5-star (luxury) hotel. The majority (47%) stated they regularly stay in a 3-star (mid-range) hotel
53% have at least one hotel app on their phone
74% would use a hotel app if their favourite hotel had one
55% stated it is acceptable to wait at check-in 2-5 minutes
62% would be likely or very likely to check-in to a hotel via an app
58% would be likely or very likely to check-in to a hotel via an app and use digital key
App usage
62% use an accommodation app regularly (eg Airbnb)
57% use a transport app regularly
47% use an airline app regularly
36% uses a hotel app regularly
The hotel technology that respondents seek:
53% – loyalty programmes
35% – self check-in
10% – in-room mobile
18% – in-room tablet
Awards:
Criton won the 'Best Technology Provider' award at the 2018 Travolution Awards and was Highly Commended for Best Use of Mobile
Criton won the 'Industry Breakthrough and Innovation Award' at the ASAP Awards 2018
Julie Grieve, Founder & CEO won the prestigious 'HOSPACE 2017 Best Entrepreneur Award'
SOURCE: Criton
cbdMD Co-Presents Prabal Gurung's 2019 Fall/Winter Women's Collection Launch at Bloomingdale's New York
Reading Time:
3
minutes
Tonight, April 9, 2019, cbdMD, a Level Brands company (NYSE American: LEVB), will serve as the co-presenting sponsor with Kitchen Toke Magazine for a dinner celebrating fashion designer Prabal Gurung's official launch of his Fall/Winter 2019 modern, luxury women's collection at Bloomingdale's New York. With a distinct focus on quality, innovation, and community, cbdMD's partnership with Kitchen Toke was built on shared values.
Hosted at Café Clover, the celebratory dinner commemorates Prabal Gurung's collection being sold in a dedicated space at Bloomingdale's headquarters in their New York City store. Attendees, including ELLE Magazine, NY Times, The Daily, Vogue, Huffington Post, Vanity Fair, and a wealth of fashion influencers, will receive a range of cbdMD CBD oil products as well as a specialty dessert infused with cbdMD's Natural CBD Oil.
"As our industry continues to develop and break down barriers, it's important for CBD brands to keep category education and awareness at the forefront," said Caryn Dunayer, Co-Founder and President of cbdMD. "Partnering with Prabal at Bloomingdale's is a no-brainer – we are able to educate a large group of customers that align well with our mission regarding all-natural alternatives for health and wellness."
Born in Singapore, raised in Nepal, Gurung has excelled in American fashion with designs worn by trendsetters like First Lady Michelle Obama. He has been recognized for his achievements and unique approach to style with many awards, including the 2010 Ecco Domani Fashion Fund Award, USA Network's Character Approved Award recipient in 2011, named goodwill ambassador of Maiti Nepal, recipient of the 2011 CFDA Swarovski Award for Womenswear, and was honored in 2015 with the inaugural Creativity Award from The Drawing Center – to name a few.
cbdMD has also been acknowledged for their approach to innovation in the CBD industry. Among many firsts, cbdMD was the first CBD company to join the New York Stock Exchange, is the official founder of national CBD Day, was the first cannabis company to advertise in Times Square and in ELLE Magazine. cbdMD was also named Entrepreneur Magazine's 2018 CBD Editor's Choice for the top 100 Cannabis Leaders Issue.
For a sneak peek of the line, click here; to purchase your premium CBD oil products, visit:
Forward-Looking Statements
This press release contains certain forward-looking statements that are based upon current expectations and involve certain risks and uncertainties within the meaning of the U.S. Private Securities Litigation Reform Act of 1995. Such forward-looking statements can be identified by the use of words such as "should," "may," "intends," "anticipates," "believes," "estimates," "projects," "forecasts," "expects," "plans," and "proposes." These forward-looking statements are not guarantees of future performance and are subject to risks, uncertainties, and other factors, some of which are beyond our control and difficult to predict and could cause actual results to differ materially from those expressed or forecasted in the forward-looking statements. You are urged to carefully review and consider any cautionary statements and other disclosures, including the statements made under the heading "Risk Factors" in Level Brands, Inc.'s Annual Report on Form 10-K for the fiscal year ended September 30, 2018 as filed with the Securities and Exchange Commission (the "SEC") on December 12, 2018 and our other filings with the SEC. All forward-looking statements involve significant risks and uncertainties that could cause actual results to differ materially from those in the forward-looking statements, many of which are generally outside the control of Level Brands, Inc. and are difficult to predict.  Level Brands, Inc. does not undertake any duty to update any forward-looking statements except as may be required by law.
SOURCE: cbdMD
LexisNexis Risk Solutions Anti-Money Laundering Solution Takes Prestigious Asia Award Second Year Running
Reading Time:
2
minutes
LexisNexis® Risk Solutions has been awarded the "Best AML Solution" in the Asian Private Banker Technology Awards for the second consecutive year. The award recognizes LexisNexis Bridger® Insight XG as the premier screening tool in the market, helping private banks and other institutions reduce complexity, increase efficiency, boost profitability and tackle financial crime.
"We are honored to receive this significant award from Asian Private Banker," said Thomas C. Brown, senior vice president, U.S. Commercial Markets and Global Market Development, LexisNexis Risk Solutions. "It reflects the quality of Bridger Insight XG, which provides robust intelligence and a unified workflow to strengthen risk oversight through a single point of entry, while reducing consumer onboarding friction. This influences the entire consumer experience and helps boost bank profitability by helping consumers transact faster. Institutions in Asia have never been under so much pressure to comply with regulations aimed at combatting financial crime. Harnessing technology is crucial ⸺ Bridger Insight XG allows compliance personnel to review personal and business histories to gather critical Know Your Customer details via its link to profiles of over 3 million individuals and companies, covering more than 50 risk categories, such as sanctions, money laundering and politically exposed persons."
LexisNexis Risk Solutions is tackling a chronic problem for private banks and wealth management firms ⸺ 'false positives' when screening for money laundering. A false positive is a result that wrongly indicates a positive result during the screening process, slowing the adoption of good clients and diverting financial crime compliance resources from managing true risk issues.
"In 2018, we began expanding the use of machine learning within Bridger Insight XG to reduce false positives. LexisNexis Risk Solutions will also be implementing new technology that allows private banks and wealth management firms to identify and address substantial hidden risk in their anti-money laundering compliance efforts, specifically around sanctions screening this year" said Doug Wolfson, director, financial crime compliance strategy at LexisNexis Risk Solutions. Digital identity risk exposes institutions to potential threat of massive fines and reputational damage, while allowing terrorist financiers, money launderers and fraudsters to move money through the global financial system with impunity. The new digital identity technology monitors the sanctions risk of digital identity transactions in real time, a significant innovation not provided by any other vendor. Private banks and wealth management firms will be able to monitor whether they face any potential sanctions risk from where their clients are located with the increased uptake of web portals and internet servicing amongst their clients.
LexisNexis Risk Solutions is uniquely able to innovate this new digital identity technology due to its 2018 acquisition of ThreatMetrix®, a global digital identity company with roots in Australia.
SOURCE LexisNexis Risk Solutions