Malaysia Rice Bowl Startup Awards Fetes Nation's Best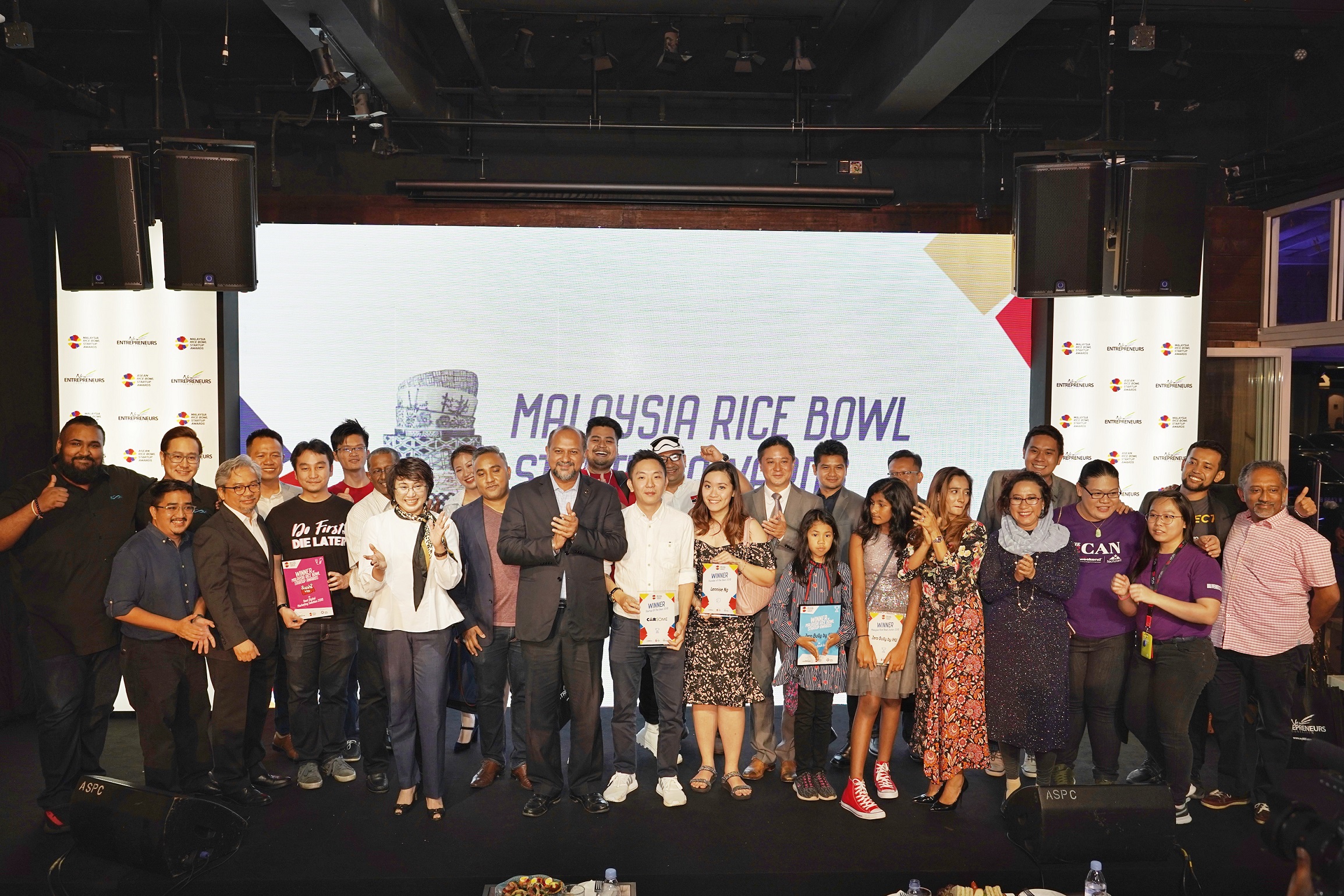 Reading Time:
7
minutes
Winners will proceed to the exciting finale — ASEAN Rice Bowl Startup Awards 2018 in Bali in December, a showcase of Southeast Asia's best!
How to thrive in the age of constant digital disruption?  How can young startups forge their own path?
Answers to these questions and more were found at the much–anticipated Malaysia Rice Bowl Startup Awards 2018 that was held on 28th September at the Oasis Discovery Centre in Ara Damansara, Selangor.
Organised by the New Entrepreneurs Foundation Malaysia (myNEF) and now into its fourth year, the Malaysia Rice Bowl Startup Awards is the platform for recognising young startups disrupting old processes and industries.
A brainchild of myNEF, the awards recognise breakout startups in the country that harness digital technology, and celebrate rising tech entrepreneurs in various categories of excellence ranging from retail, media, digital, tech, products, services and innovative campaigns to women and social enterprises.
myNEF believes businesses can grow fast and be sustainable when they harness technology and knowledge.
It plays a significant role in bridging industry players and the government, working closely with various agencies and government-related organisations to support existing and upcoming entrepreneur development programmes.
The Malaysia Rice Bowl Startup Awards and ASEAN Rice Bowl Startup Awards are among myNEF's signature programmes.
The Rice Bowl Award (Rice Bowl) is beneficial to both the Malaysian startup and ASEAN startup ecosystems as it connects and empowers the ASEAN Economic Community to power up their local economies with startups and scaleups.
YB Tuan Gobind Singh Deo, Minister of Communications and Multimedia commented, "I am extremely happy to hear that Malaysian Startups are accelerating faster than ever, and we hope that they become a significant contributor to our nation's GDP and growth, and also become a significant type of business that employs and cultivate cutting edge talent and become a key source of employment."
Rice Bowl recognises innovation, excellence and best practice in startups and ecosystem players across ASEAN, as well as celebrates the ASEAN community's spirit of diversity in entrepreneurship to solve local rice bowl issues that are replicable across the region.
It also recognises the excitement, risk and hard work involved in developing a startup and the influence each person has on driving the success of their company.
myNEF believes that by celebrating startups, together they can solve the diverse local rice bowl issues faced by each country across Southeast Asia. This will ultimately benefit Malaysia and subsequently ASEAN as a region.
According to the Chief Executive Officer of myNEF, Lilyana Abdul Latiff, "With over 50 nominations for Founder of the Year, and over 70 nominations for Startup of the Year at this year's Rice Bowl Startup Awards – I think Malaysia's Tech Startup Ecosystem has matured rapidly in the past 3 years. It is a testament to the developmental investments and programmes by the Malaysian government, private sector support and independent initiatives. For a modest market size, we should be on track to produce Malaysian-based 'Unicorns' within the next few years."
The categories of the Malaysia Rice Bowl Startup Awards 2018 are Star Awards (Startup of the Year, Founder of the Year, Best Newcomer, People's Choice); and Industry Awards (Best Fintech, Best Health/Med Tech, Best Food & Agri Tech, Best e-Commerce, Best Logistics & Supply Chain, Best Business Automation Tool, Best Life Helper).
The other categories are Ecosystems Awards (Investor of the Year, Best Accelerator/Incubator Programme, Best Ecosystem Initiative, Best Co-working Space); and Cross Sector Awards (Best Digital Marketing, Best AI/Machine Learning, Best IoT).
National award winners will proceed to compete at the regional ASEAN Rice Bowl Startups Awards 2018 to be held in Bali, Indonesia, in December, which highlights model entrepreneurship and inspires a dynamic community of startup enthusiasts, serial entrepreneurs, policymakers and diverse mentors in tech innovation.
Regional winners at the four-day ASEAN finale will benefit from partnership opportunities, media exposure, regional and global networking as well as funding from investors.
The Rice Bowl Community consists of 3,372 alumni from 10 ASEAN countries and connects with the Global Startup Awards.
The Rice Bowl has a total of US$108.4 million pledged investments from 2015 to 2017 as well as over 17,000 social media followers and five million media reach.
For more information about Malaysia Rice Bowl Startup Awards 2018, visit http://ricebowlawards.com/
CATEGORY

WINNER

WINNER DESCRIPTION

RICE BOWL JUNIOR

An app-developing competition that ran across the Southeast Asian countries for students below 18 years old.

The competition runs in parallel with a program called Technovation.

Technovation offers girls below 18 years old around the world the opportunity to learn the necessary skills to become tech entrepreneurs and leaders.

ZERO BULLY BY IHU

Zero Bully is an app that aims to educate the community, adults and children about bullying and in doing so, to reduce the case of bullying at school in particular.

The app provides informative links and assistance to the users. Users also able to write a report of an incident into a central database, and will be submitted as public (anonymous) or private

Best Digital Marketing Solution

For the startup that was the best at developing tools that are used by organizations to improve digital marketing, customer experience and sales conversion.

SushiVid

SushiVid helps brands launch and manage influencer marketing campaigns at scale through their content management software

Best AI / Machine Learning Startup

(AI is Artificial Intelligence)

A startup that was the best at developing powerful application of deep tech / artificial intelligence / big data to reinvent how business and societies develop solutions to previously unsolvable problems.

Hyperlab

Hyperlab automates sales and support for visionary enterprises with their leading Conversational AI and RPA technology.

Best IoT Startup

(IoT stands for Internet of Things)

A startup that was the best at developing a product embedded with electronics, software, sensors, and internet connectivity enabling efficient data collection and exchange.

Jom Parking

JomParking is a quick and convenient way to pay for parking platform.

Best Life Helper Startup

For the startup that was the best at developing tools that works virtually to "get things done" for people and consumers — so they can get back valuable time to spend with family and friends, giving the healthy work-life balance that people aim for, and also celebrate digital innovations that improves the world around us.

Vidi

Vidi is a visual discovery platform that helps travellers see and book amazing experiences for their next holiday

Best Business Automation Tool

For the startup that was the best at developing tools, software, or devices that help companies and organizations to cope with changing markets, ensure a competitive position and improve business performance and productivity.

RunCloud

RunCloud is a modern control panel to help web developer managing multiple cloud hosting and web deployments easily.

Best Logistic & Supply Chain Startup

For the startup that was the best at disrupting traditional business models and impacting productivity and efficiency in logistics and supply-chain (via storing or movement of goods) by using online, communication or mobile technology.

Zoom

Zoom is a technology based on-demand delivery platform for e-commerce businesses that requires last mile fulfilment

Best e-Commerce Startup

For a startup that was the best at developing innovative business solutions through online or mobile merchandising, sourcing, distribution, logistics, marketing and/or retail.

Tripfez Travel Sdn Bhd

Tripfez offer Muslim friendly travel solutions all over the globe.

Best FoodTech / AgriTech Startup

(Agritech is agriculture tech)

A startup that was the best at developing a product/service that uses technology to improve agriculture and food production, supply chain, distribution channels and consumption.

STIXFRESH

Stixfresh is a sticker that can prolongs the shelf life of fresh fruits which indirectly can reduce fruits wastage.



Best HealthTech Startup

A startup that was the best at developing a product/service that uses technology to keep people (or animals) healthier and/or improve the ability to diagnose and treat illness.

MEDKAD

MEDKAD provide a Medical Benefits Automation Systems for companies to efficiently manage their staff medical benefits.

Best Fintech Startup

(Fintech is Finance Tech)

A startup that was the best at developing a product/service/technology in the delivery and/or infrastructure of financial services.

CurrenSeek

CurrenSeek is a platform connecting money services to travelers to make money changing & remittance convenient & secure

Best Coworking Space

For the co-working space that deserves the recognition for its services, support and resources to fast-growth tech startups, and for creating a culture and environment that fosters innovation.

PAPER and TOAST

PAPER + TOAST is the first coworking space in Malaysia. Established in 2010, their aim is to serve as a one stop community platform for talents, entrepreneurs and startups to get together.

Best Ecosystem Initiative

For the organisation (not including co-working spaces or accelerator programs) initiated by individuals, community building organisations, corporates and/or government that has proven to support entrepreneurs and tech startups.

Malaysia Digital Economy Corporation (MDEC)

Malaysia Digital Economy Corporation (MDEC) is the lead agency in driving the digital economy in Malaysia.


MDEC's implementations and efforts are centred on building awareness on digital economy, creating credible talents for the industry, and encouraging digital technology adoption among the people (rakyat) and businesses.

Best Accelerator or Incubator Program

For a fixed-term, cohort-based, mentorship-driven program, this program helps and empowers entrepreneurs to foster the growth of their innovative companies by providing tools, resources, connections, knowledge and expertise.

MaGIC Global Accelerator Program

(GAP)

MaGIC GAP is a programme to accelerate global startups to be investment-ready in 4 months and build a strong startup community in ASEAN.

Investor of the Year

For an individual or company that has displayed the best investment acumen over the last year. This could be in the form of a successful exit, early investment of a notable startup, or realization of an earlier investment.

Andrew Tan

Andrew Tan is a serial entrepreneur and an all-rounder venture capitalist. He is now at helm of a venture capital firm and a private equity firm with a pool of funds totalling USD50 million.

People Choice

A startup with a huge fan-base for their product or service. They got the most accumulated votes throughout the national public voting round.

11tune

11Tune is a total music solution platform that connects composers with users in just a few clicks.

Best Newcomer

For the startup with up to 2 years of age (or from incorporation) that has shown the greatest development over the last year based on growth, innovation and impact with their product/service.

Dropee

Dropee is a B2B marketplace that brings together suppliers and retailers on a single platform.

Founder of the Year

For the person who is an inspirational leader for thier startup. They are astute in business, has strong leadership skills, and a skilled promoter. They make running their business look easy, and their team, partners and customers are inspired by their vision.

Lennise Ng

Lennise is the Miss Chief (CEO) of Dropee



She kickstarted her entrepreneurship journey during college years by starting her own talent management company.


Her life goal is to push humanity forward through merging traditional businesses with innovative tech solutions.

Startup Of The Year

For the startup that is above the rest of the competition, in terms of user or customer acquisition, or sales or profit projection and is likely to be bought by Facebook or Google or Ali Baba for millions.

carsome

Carsome, Southeast Asia's leading and fastest growing online used car platform.
River Logic's Rohan Guthal Named to the 2019 Food Logistics Champions: Rock Stars of the Supply Chain
Reading Time:
2
minutes
Food Logistics, the only publication exclusively dedicated to covering the movement of product through the global food supply chain, has named Rohan Guthal, Senior Consultant at River Logic, to its 2019 Food Logistics Champions: Rock Stars of the Supply Chain award list.
The award recognizes influential individuals whose achievements, hard work and vision have shaped our industry and attained milestones in safety, efficiency, productivity and innovation through the global food supply chain. From early pioneers and entrepreneurs to non-conformist thinkers and executive standouts, this award aims to honor remarkable leaders and their contributions.
"Our 2019 Food Logistics Champions: Rock Stars of the Supply Chain award reflects the expanding diversity that is emerging in our industry, both in terms of demographics and talent," said Lara L. Sowinski, Editorial Director of AC Business Media's Supply Chain Group. "The combination of experience and wisdom complemented with a new generation of professionals is resulting in a food and beverage supply chain that is in sync with consumers' demands while simultaneously adept and staying ahead of the logistical requirements."
"Rohan absolutely deserves being recognized in this space. Over just a few months, he has brought transformational change to one of the largest food and beverage companies in North America and worked tirelessly to deliver a satisfied customer. He is a rock star in his ability to quickly and successfully help customers leverage optimization-based prescriptive analytics to solve their most important decision-making challenges," said Carlos Centurion, President of River Logic. "He's intelligent, energetic, positive and never shies away from a challenge — and our customers say the same thing."
Food Production Use Case Example
One of Guthal's projects includes a well-known snack-food manufacturer with dozens of North American manufacturing plants. The company had no visibility into supply chain planning trade-offs across production and logistics; it used more than a dozen spreadsheets to create production allocation plans and knew it was missing out on significant profit opportunities. In just a few months of using River Logic's supply chain optimization solution to tackle their planning challenges, he was able to help the company reveal hundreds of thousands in cost savings per week, and $2.5 million in opportunity cost.
Guthal joined River Logic six years ago, after graduating with a Master's degree in Operations Research from Rutgers University. Prior to Rutgers, he graduated with a Bachelor's degree in Engineering from the Bangalore Institute of Technology.
As a recipient of this year's Food Logistics Champions: Rock Stars of the Supply Chain award, Guthal will be profiled in the March issue of Food Logistics and online at www.foodlogistics.com.
SOURCE River Logic, Inc.
SPA Sigma & Strategic Pricing Associates Doug Wyatt wins Sales Operations & Enablement Award
Reading Time:
2
minutes
Doug Wyatt, Director of Sales Enablement SPA Sigma/Strategic Pricing Associates, has been named a Sales Hacker 2019 Top 50 Sales Operations & Enablement winner.
Doug Wyatt spent ten years in an industrial B2B sales organization where he developed a suite of skills training and tools to drive revenue growth.  His initiatives established a track record of providing significant impacts on the performance of new sellers and veterans alike. Since joining SPA and SPASIGMA as Director of Sales Enablement, Doug has worked closely with clients to equip their sales teams with strategies, tools, and training needed to retain and grow revenue in today's evolving B2B marketplace. An energetic, professional trainer and presenter, Doug presents at national sales industry conferences and leads hands-on workshops to help attendees approach their own sales enablement and training efforts strategically. Currently, he is working to develop and bring to market training courses and sales analytics tools designed to accelerate growth in industrial B2B organizations.
"We congratulate all the Sales Hacker Top 50 Award winners. We are especially blessed to have Doug Wyatt on our team here at SPA Sigma and Strategic Pricing Associates," said David Bauders, Founder, President & CEO, SPA & SPASIGMA. "Doug continues to provide immense impact by engaging managers, provide training and coaching to improve training adoption and sales rep skill levels, resulting in improved sales for our clients."
The 2019 Sales Hacker Top 50 Awards is an awards program in the United States recognizing individuals that have elevated the sales profession through innovation and leadership. Awards categories included: Sales Development, Account Executive, Account Manager/CSM, Sales Operations and Enablement, and Sales Leadership. The judging panel was comprised of experienced leaders and professionals working in the sales and marketing industry.
For more information on how SPA Sigma provides modern, impactful, and memorable sales training that delivers true skills mastery to drive long-term profitability and growth, visit  or call 844-772-7446.
For more information on the 2019 Sales Hacker Top 50 Awards, please visit
SOURCE SPA Sigma/Strategic Pricing Associates
BBDO Tops "Best of the Best"
Reading Time:
2
minutes
The independent World Advertising Research Center (WARC) today released its first-ever "Best of the Best" global index of excellence, aggregating results from its Creative 100, Effective 100 and Media 100 rankings.  These provide a benchmark for agency, network, holding company, brand and advertisers' performance in the most important areas of communication success:  creativity, marketing effectiveness and media excellence.  They are compiled from results at the most important global and regional industry award shows and competitions.
BBDO was ranked the #1 agency network in the world.
BBDO New York was ranked the #1 agency, and was joined in the Top Ten by AMVBBDO in London at  #4, ColensoBBDO in New Zealand at #6 and AlmapBBDO in Brazil at #10.
BBDO's parent, Omnicom, was the world's best holding company.
Being named "Best of the Best" in this inaugural WARC index caps an impressive run for BBDO.  In early February, The Drum released its Directory Big Won, ranking agency performance across all marketing communication disciplines.  BBDO was the #1 global agency network and BBDO New York the #1 agency.  Then, WARC published its Creative 100, listing the most creative agencies, clients and brands.  Again, BBDO was the #1 network (for the 13th year in a row), and BBDO New York was the #1 agency.  More recently, Fast Company released its list of the World's Most Innovative Companies.  BBDO New York was selected among the Top Ten in Advertising for the second year in a row.
"'The 'Best of the Best.'  It literally can't get better than that when it comes to public recognition of BBDO Worldwide.  I am proud of, and grateful to, our clients and all of the people in our agencies who made this happen," said Andrew Robertson, President and CEO, BBDO Worldwide, adding, "Having four agencies from four regions all ranked in the Top Ten, including BBDO New York at No. 1, demonstrates the breadth of talent in the network."
Added David Tiltman, Head of Content at WARC, "The WARC rankings deliver independent and transparent global benchmarks in creativity, effectiveness and media.  The 'Best of the Best' takes this one step further, to showcase the best all-round performances.  We congratulate BBDO New York as the #1 agency and BBDO Worldwide as the #1 Network – a truly outstanding double achievement."
SOURCE BBDO Worldwide