Malaysia Rice Bowl Startup Awards Fetes Nation's Best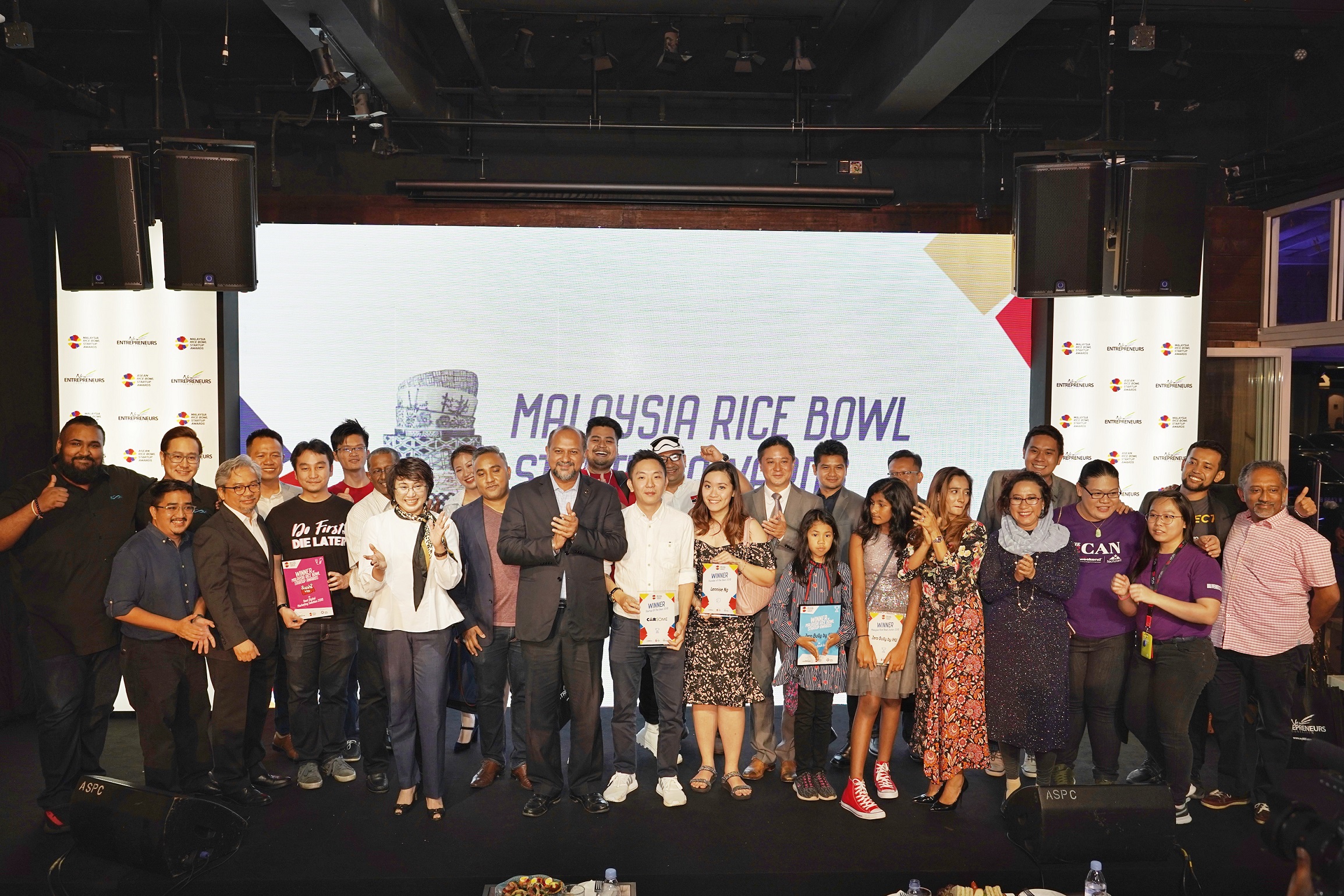 Reading Time:
7
minutes
Winners will proceed to the exciting finale — ASEAN Rice Bowl Startup Awards 2018 in Bali in December, a showcase of Southeast Asia's best!
How to thrive in the age of constant digital disruption?  How can young startups forge their own path?
Answers to these questions and more were found at the much–anticipated Malaysia Rice Bowl Startup Awards 2018 that was held on 28th September at the Oasis Discovery Centre in Ara Damansara, Selangor.
Organised by the New Entrepreneurs Foundation Malaysia (myNEF) and now into its fourth year, the Malaysia Rice Bowl Startup Awards is the platform for recognising young startups disrupting old processes and industries.
A brainchild of myNEF, the awards recognise breakout startups in the country that harness digital technology, and celebrate rising tech entrepreneurs in various categories of excellence ranging from retail, media, digital, tech, products, services and innovative campaigns to women and social enterprises.
myNEF believes businesses can grow fast and be sustainable when they harness technology and knowledge.
It plays a significant role in bridging industry players and the government, working closely with various agencies and government-related organisations to support existing and upcoming entrepreneur development programmes.
The Malaysia Rice Bowl Startup Awards and ASEAN Rice Bowl Startup Awards are among myNEF's signature programmes.
The Rice Bowl Award (Rice Bowl) is beneficial to both the Malaysian startup and ASEAN startup ecosystems as it connects and empowers the ASEAN Economic Community to power up their local economies with startups and scaleups.
YB Tuan Gobind Singh Deo, Minister of Communications and Multimedia commented, "I am extremely happy to hear that Malaysian Startups are accelerating faster than ever, and we hope that they become a significant contributor to our nation's GDP and growth, and also become a significant type of business that employs and cultivate cutting edge talent and become a key source of employment."
Rice Bowl recognises innovation, excellence and best practice in startups and ecosystem players across ASEAN, as well as celebrates the ASEAN community's spirit of diversity in entrepreneurship to solve local rice bowl issues that are replicable across the region.
It also recognises the excitement, risk and hard work involved in developing a startup and the influence each person has on driving the success of their company.
myNEF believes that by celebrating startups, together they can solve the diverse local rice bowl issues faced by each country across Southeast Asia. This will ultimately benefit Malaysia and subsequently ASEAN as a region.
According to the Chief Executive Officer of myNEF, Lilyana Abdul Latiff, "With over 50 nominations for Founder of the Year, and over 70 nominations for Startup of the Year at this year's Rice Bowl Startup Awards – I think Malaysia's Tech Startup Ecosystem has matured rapidly in the past 3 years. It is a testament to the developmental investments and programmes by the Malaysian government, private sector support and independent initiatives. For a modest market size, we should be on track to produce Malaysian-based 'Unicorns' within the next few years."
The categories of the Malaysia Rice Bowl Startup Awards 2018 are Star Awards (Startup of the Year, Founder of the Year, Best Newcomer, People's Choice); and Industry Awards (Best Fintech, Best Health/Med Tech, Best Food & Agri Tech, Best e-Commerce, Best Logistics & Supply Chain, Best Business Automation Tool, Best Life Helper).
The other categories are Ecosystems Awards (Investor of the Year, Best Accelerator/Incubator Programme, Best Ecosystem Initiative, Best Co-working Space); and Cross Sector Awards (Best Digital Marketing, Best AI/Machine Learning, Best IoT).
National award winners will proceed to compete at the regional ASEAN Rice Bowl Startups Awards 2018 to be held in Bali, Indonesia, in December, which highlights model entrepreneurship and inspires a dynamic community of startup enthusiasts, serial entrepreneurs, policymakers and diverse mentors in tech innovation.
Regional winners at the four-day ASEAN finale will benefit from partnership opportunities, media exposure, regional and global networking as well as funding from investors.
The Rice Bowl Community consists of 3,372 alumni from 10 ASEAN countries and connects with the Global Startup Awards.
The Rice Bowl has a total of US$108.4 million pledged investments from 2015 to 2017 as well as over 17,000 social media followers and five million media reach.
For more information about Malaysia Rice Bowl Startup Awards 2018, visit http://ricebowlawards.com/
CATEGORY

WINNER

WINNER DESCRIPTION

RICE BOWL JUNIOR

An app-developing competition that ran across the Southeast Asian countries for students below 18 years old.

The competition runs in parallel with a program called Technovation.

Technovation offers girls below 18 years old around the world the opportunity to learn the necessary skills to become tech entrepreneurs and leaders.

ZERO BULLY BY IHU

Zero Bully is an app that aims to educate the community, adults and children about bullying and in doing so, to reduce the case of bullying at school in particular.

The app provides informative links and assistance to the users. Users also able to write a report of an incident into a central database, and will be submitted as public (anonymous) or private

Best Digital Marketing Solution

For the startup that was the best at developing tools that are used by organizations to improve digital marketing, customer experience and sales conversion.

SushiVid

SushiVid helps brands launch and manage influencer marketing campaigns at scale through their content management software

Best AI / Machine Learning Startup

(AI is Artificial Intelligence)

A startup that was the best at developing powerful application of deep tech / artificial intelligence / big data to reinvent how business and societies develop solutions to previously unsolvable problems.

Hyperlab

Hyperlab automates sales and support for visionary enterprises with their leading Conversational AI and RPA technology.

Best IoT Startup

(IoT stands for Internet of Things)

A startup that was the best at developing a product embedded with electronics, software, sensors, and internet connectivity enabling efficient data collection and exchange.

Jom Parking

JomParking is a quick and convenient way to pay for parking platform.

Best Life Helper Startup

For the startup that was the best at developing tools that works virtually to "get things done" for people and consumers — so they can get back valuable time to spend with family and friends, giving the healthy work-life balance that people aim for, and also celebrate digital innovations that improves the world around us.

Vidi

Vidi is a visual discovery platform that helps travellers see and book amazing experiences for their next holiday

Best Business Automation Tool

For the startup that was the best at developing tools, software, or devices that help companies and organizations to cope with changing markets, ensure a competitive position and improve business performance and productivity.

RunCloud

RunCloud is a modern control panel to help web developer managing multiple cloud hosting and web deployments easily.

Best Logistic & Supply Chain Startup

For the startup that was the best at disrupting traditional business models and impacting productivity and efficiency in logistics and supply-chain (via storing or movement of goods) by using online, communication or mobile technology.

Zoom

Zoom is a technology based on-demand delivery platform for e-commerce businesses that requires last mile fulfilment

Best e-Commerce Startup

For a startup that was the best at developing innovative business solutions through online or mobile merchandising, sourcing, distribution, logistics, marketing and/or retail.

Tripfez Travel Sdn Bhd

Tripfez offer Muslim friendly travel solutions all over the globe.

Best FoodTech / AgriTech Startup

(Agritech is agriculture tech)

A startup that was the best at developing a product/service that uses technology to improve agriculture and food production, supply chain, distribution channels and consumption.

STIXFRESH

Stixfresh is a sticker that can prolongs the shelf life of fresh fruits which indirectly can reduce fruits wastage.



Best HealthTech Startup

A startup that was the best at developing a product/service that uses technology to keep people (or animals) healthier and/or improve the ability to diagnose and treat illness.

MEDKAD

MEDKAD provide a Medical Benefits Automation Systems for companies to efficiently manage their staff medical benefits.

Best Fintech Startup

(Fintech is Finance Tech)

A startup that was the best at developing a product/service/technology in the delivery and/or infrastructure of financial services.

CurrenSeek

CurrenSeek is a platform connecting money services to travelers to make money changing & remittance convenient & secure

Best Coworking Space

For the co-working space that deserves the recognition for its services, support and resources to fast-growth tech startups, and for creating a culture and environment that fosters innovation.

PAPER and TOAST

PAPER + TOAST is the first coworking space in Malaysia. Established in 2010, their aim is to serve as a one stop community platform for talents, entrepreneurs and startups to get together.

Best Ecosystem Initiative

For the organisation (not including co-working spaces or accelerator programs) initiated by individuals, community building organisations, corporates and/or government that has proven to support entrepreneurs and tech startups.

Malaysia Digital Economy Corporation (MDEC)

Malaysia Digital Economy Corporation (MDEC) is the lead agency in driving the digital economy in Malaysia.


MDEC's implementations and efforts are centred on building awareness on digital economy, creating credible talents for the industry, and encouraging digital technology adoption among the people (rakyat) and businesses.

Best Accelerator or Incubator Program

For a fixed-term, cohort-based, mentorship-driven program, this program helps and empowers entrepreneurs to foster the growth of their innovative companies by providing tools, resources, connections, knowledge and expertise.

MaGIC Global Accelerator Program

(GAP)

MaGIC GAP is a programme to accelerate global startups to be investment-ready in 4 months and build a strong startup community in ASEAN.

Investor of the Year

For an individual or company that has displayed the best investment acumen over the last year. This could be in the form of a successful exit, early investment of a notable startup, or realization of an earlier investment.

Andrew Tan

Andrew Tan is a serial entrepreneur and an all-rounder venture capitalist. He is now at helm of a venture capital firm and a private equity firm with a pool of funds totalling USD50 million.

People Choice

A startup with a huge fan-base for their product or service. They got the most accumulated votes throughout the national public voting round.

11tune

11Tune is a total music solution platform that connects composers with users in just a few clicks.

Best Newcomer

For the startup with up to 2 years of age (or from incorporation) that has shown the greatest development over the last year based on growth, innovation and impact with their product/service.

Dropee

Dropee is a B2B marketplace that brings together suppliers and retailers on a single platform.

Founder of the Year

For the person who is an inspirational leader for thier startup. They are astute in business, has strong leadership skills, and a skilled promoter. They make running their business look easy, and their team, partners and customers are inspired by their vision.

Lennise Ng

Lennise is the Miss Chief (CEO) of Dropee



She kickstarted her entrepreneurship journey during college years by starting her own talent management company.


Her life goal is to push humanity forward through merging traditional businesses with innovative tech solutions.

Startup Of The Year

For the startup that is above the rest of the competition, in terms of user or customer acquisition, or sales or profit projection and is likely to be bought by Facebook or Google or Ali Baba for millions.

carsome

Carsome, Southeast Asia's leading and fastest growing online used car platform.
The 13th Annual ADCOLOR Awards Takes Place September 8th, 2019 in Los Angeles
Reading Time:
4
minutes
Eva Longoria to be Recognized with the Beacon Award Presented by ADWEEK
ADCOLOR, the premier organization dedicated to celebrating and promoting professionals of color and diversity in the creative industries, announced their 2019 Honorees and Nominees at ADCOLOR Live in the Facebook Live Studios.
The organization also announced the 2019 class of ADCOLOR FUTURES, a program that chooses the best and brightest professionals who are one to three years into their career to attend the annual conference and awards show which will take place September 6th through the 8th at the J.W. Marriott Los Angeles L.A. Live Hotel in Los Angeles, CA.
Actor, director, producer and activist, Eva Longoria was recognized as the 2019 Beacon Award presented by ADWEEK, the leading resource for the brand marketing and advertising community.  "There is no better honoree to set the tone of Adweek's inaugural Beacon Award than Eva Longoria," said Lisa Granatstein, Editor, SVP, Programming, Adweek. "From her formidable seven-year-old Eva Longoria Foundation that empowers Latinas via STEM education and entrepreneurship to her leadership role calling for diversity in Hollywood, Eva's remarkable accomplishments are both authentic and action-oriented." The inaugural Beacon Award honors talent who uses their celebrity as a catalyst to change the status quo in the quest for diversity and inclusion. In May, ADCOLOR and Adweek partnered on the first Champion awards and celebration recognizing the fearless leaders and rising stars in marketing and media who embody ADCOLOR's call to "Rise Up. Reach Back."
The announcement took place at the Facebook Live Studios and was hosted by Dana Blair, on-air host, correspondent and entrepreneur, along with Tiffany R. Warren, ADCOLOR Founder and President and members of the ADCOLOR community.
The 13th Annual ADCOLOR Awards will highlight and honor the achievements of African-American, American Indian/Native American, Asian Pacific-American, Hispanic/Latino and LGBTQ professionals, as well as spotlighting diversity and inclusion champions in the creative industries.
"I'm so inspired by the collective achievements, energy and the ways in which the 2019 Honorees, Nominees and FUTURES have taken a stand in their professional and personal lives," said ADCOLOR Founder and President Tiffany R. Warren. "The 13th Annual ADCOLOR Awards in September will provide us with an opportunity to express the ways in which ADCOLOR honorees, nominees ad FUTURES 'Took A Stand,' in line with this year's theme. I can't wait to celebrate the remarkable ways they have risen up and reached back with our ADCOLOR community and beyond."
The ADCOLOR Award Nominees and Honorees are carefully selected from a large population of diverse influencers across the creative industries. The finalists are chosen by the individual's representation of ADCOLOR's motto, "Rise Up and Reach Back" and ways they took a stand in line with this year's conference and awards theme. Those honored not only excel in their own careers, but also give back to the community and support their peers. Their goal is to create a network of diverse professionals to encourage and celebrate one another.
Please join September 6th through 8th for ADCOLOR 2019. Registration is now open and early bird pricing ends July 1st. Visit ADCOLOR.org for more details.
Below you can find the full list of Nominees, Honorees and FUTURES for this year's ADCOLOR Awards.
ADCOLOR 2019 Partners 
Facebook, Google, Microsoft, Omnicom Group, DIAGEO, Procter & Gamble, Verizon Media, Wieden+Kennedy, Apple, Spotify, TBWA\ Worldwide, American Express, NBCUniversal, Ogilvy, Twitter, 72andSunny, DDB Worldwide, Deutsch Inc., Disney Advertising Sales, Edelman, Pandora, 72andSunny, Anomaly, Apple Music, Beats By Dre, BMW, Buzzfeed, DAS Global Group of Companies, Digitas, FCB, HBO, LOL Network, McCann New York, Omnicom Media Group, Pinterest, Publicis Groupe, Publicis Health Group, RGA, Trip Advisor, Zambezi
ADCOLOR Corporate Members 
72andSunny, Ad Club of New York, American Advertising Federation, BBDO NY, Deutsch Inc., Dieste, Droga5, Facebook, Hearst Magazines, MSL Group, Stephen Kim, TBWA\ Worldwide, Wieden+Kennedy
The 2019 ADCOLOR Nominees are as follows:
The Ad of the Year 
Campaign: Love Has No Labels – "Rising" 
Client: Ad Council 
Agency: R/GA
Campaign: "Changing The Game" 
Client: Microsoft 
Agency: McCann NY
Campaign: "Dream Crazy" 
Client: Nike 
Agency: Wieden+Kennedy
Campaign: "An Open Mind Is The Best Look" 
Client: Nordstrom 
Agency: Droga5
Campaign: "Truth Is Worth It – Perseverance" 
Client: NY Times 
Agency: Droga5
Change Agent
Vincent Pierson, Director, Diversity & Inclusion, Minor League Baseball
Alexandra Siegel, Senior Manager, Equality Content, Narrative, and Marketing, Salesforce
Sherice Torres, Marketing Director, Google
Rockstar
Dhane Scotti, Integrated Consumer Marketing Lead for Pixel, Google
Michael Warner, Chief Relationship Officer | Partner, EGAMI Group
Krystle Watler, Head of Business Development, Virtue
Innovator
Shala Akintunde, Creative Director/ Founder, The Movement Worldwide
Antionette Carroll, President and CEO (Founder), Creative Reaction Lab
LaToya Drake, Global Outreach Lead, Google
Rising Star
Julian Gillian, Senior Art Director, Leo Burnett Chicago
Tiffany Golden, Associate Producer, Wieden+Kennedy
Mariano Pintor, Account Supervisor / Social Media, McCann NY
ADCOLOR in Tech
Brendan Chan, Program Manager, CS Education, Google
Danielle Lee, VP, Global Head of Partner Solutions, Spotify
Stacey Mahoney, Global Sales Strategist, Microsoft
MVP
TONL & NIKE
R/GA & The AD Council
Google, Inc. & UN Women
The 2019 ADCOLOR Honorees are as follows:
Beacon Award presented by ADWEEK
Eva Longoria

, Actress, Producer, Director, Philanthropist
Legend Awards
Steve Pamon

, Chief Operating Officer, Parkwood Entertainment

Helen Lin

, Chief Digital Officer, Publicis Media

Ted Chung

, Founder & Chairman, Cashmere Agency
Catalyst Awards
Gold House
AdFellows, a program of Verizon
The Curly Girl Collective
Advocate Award
Don Lemon

, Host "CNN Tonight
Lifetime Achievement Awards
Hector Orci

, Founder & Co-Chairman, Orci

Sheldon Levy

, Former SVP, Deputy/Associate Head of Production, Saatchi & Saatchi NY
ADCOLOR/One Club Creative Awards
Robert Wong

, Chief Creative Officer, Google

Brandon Rochon

, Managing Chief Creative Officer, Kastner & Partners and Founder & Chief Creative Officer, SNKRINC.
Mx. ADCOLOR
Joon Park

, Cultural Strategist, Sparks + Honey
Ms. ADCOLOR
Brittany Johnson

, Creative Strategist, Facebook
The 2019 FUTURES are as follows:
Ace Patterson

, Consumer Marketing Operations Manager, Facebook

Alex Harris

, Partner Manager, Facebook

Alex Studer

, Account Executive, Deutsch

Alexandra Givan

, Government Communications Manager, Comcast

Aniqua Hendricks

, Multicultural Media Strategist, Hearts & Science

Barbara Gonzales

, Assistant Manager of PR and Social Media, Ad Council

Bryan Stromer

, Communications Manager, Microsoft

Gloria Lin

, Community Manager, Edelman

Helena Berhane

, Strategic Planner, Fluent360

James Ramseur

, Assistant Comms and Media Planner, Wieden+Kennedy
Jorge Tajj Badil-Abish, Junior Copywriter, FCB West

Julian Soto

, Copy Supervisor, Patients & Purpose

Kelly Garcia

, Copywriter, Ogilvy

Kevin Lam

, Senior Product Designer, Elephant

Keyon Branch

, Digital Media Planner, OMD

Maimouna Siby

, Marketing Strategist, Squarespace

Makeda Loney

, Copywriter, FCB Chicago
Nagini Reddy, Junior Graphic Designer, Wieden+Kennedy

Nicole Dei

, Account Coordinator, HBO

Omar Wilson

, Account Manager, Facebook

Pilar McQuirter

, Talent Program Manager, Havas WorldWide Chicago

Samrawit Seifu

, Associate Creative, Buzzfeed

Sayid Abdullaev

, Product Marketing Manager, YouTube

Selly Sallah

, Sponsorship Marketing Associate, NPR

Shantae Howell

, Creative Strategist, Vox Media

Tatiana Britt

, Assistant Account Executive
Veronica Peñaloza-Wolfermann, Account Manager, Facebook
Victoria Onuzuruike, Assistant Producer, Ogilvy
For more information, please visit: www.adcolor.org and follow @adcolor across all social media.
SOURCE: ADCOLOR
Elekta Wins 2019 'Medical Device Engineering Breakthrough' Award From MedTech Breakthrough
Reading Time:
2
minutes
Annual awards program recognizes outstanding health and medical technology products and companies
Elekta (EKTA-B.ST), today announced that MedTech Breakthrough, an independent organization that recognizes the top companies and solutions in the global health and medical technology market, has presented the "Medical Device Engineering Breakthrough" award in the 2019 MedTech Breakthrough Awards program to Elekta for its Elekta Unity MR-linac.
Elekta Unity combines two technologies: a state-of-the-art 1.5T MRI scanner and a best-in-class 7 MV linear accelerator, driven by breakthrough real-time adaptive radiotherapy software. It provides the ability to reshape the dose based on daily changes in shape, size and position of the tumor and surrounding healthy anatomy, as visualized with MRI, and then enables accurate dose delivery with real-time visualization of the tumor.
"We reserve our Medical Device Engineering Breakthrough award for recognizing transformative technology and Elekta Unity is a shining example of groundbreaking medical technology deserving of this designation," said James Johnson, managing director, MedTech Breakthrough. "In addition to Elekta Unity displaying breakthrough engineering that combines precision radiation therapy and high-field MR imaging, Elekta Unity addresses one of the most critical healthcare issues in the world with a focus on providing the next generation of cancer care."
The mission of the MedTech Breakthrough Awards is to honor excellence and recognize the innovation, hard work and success in a range of health and medical technology categories, including Robotics, Clinical Administration, Telehealth, Patient Engagement, Electronic Health Records, mHealth, Medical Devices, Medical Data and many more. This year's program attracted more than 3,500 nominations from over 15 different countries throughout the world.
"It's an honor for Elekta to win this prestigious award," said Richard Hausmann, Elekta's President and CEO. "The Unity system's breakthrough technology demonstrates our leadership in precision radiation medicine and commitment to the needs of the patient and cancer care team delivering treatment."
Robert Woolston, Managing Director at DCA Design International, Elekta's design partner for the MR-linac system, commented, "Congratulations to all involved in the development of Elekta Unity. We are delighted to see this system winning award after award and most importantly to see it improving cancer patients' radiotherapy experience and outcomes, as it ushers in a transformation in precision and personalized cancer treatment."
Through Elekta Unity's integrated and responsive software, tumors and surrounding tissue can be precisely located, their movement tracked, and treatment adapted in real time based on live information. This allows treatment plans to be adapted while the patient is on the table in response to changes in tumor position, shape, biology and the relationship to sensitive organs over time.
SOURCE: Elekta
Canadian Entrepreneurs Recognized for Breakthrough Innovations in Food, Health, Aviation and Environment
Reading Time:
1
minute
Five up-and-coming Canadian researchers-turned-entrepreneurs will be recognized at the following event for their ground-breaking innovations that are strengthening Canada's economy and improving the lives of Canadians.
What:
Mitacs Entrepreneur Awards
Recognizing leading Canadian innovators
When:
Tuesday, May 28, 2019
Time:
5:30–7:30 p.m.
Networking at 5:30 p.m.; Panel discussion on Canadian
entrepreneurship at 6:15 p.m.; Awards ceremony at 6:45 p.m
Where:
Canadian Museum of Immigration at Pier 21
1055 Marginal Rd, Halifax
R.S.V.P.:
Elizabeth Glassen – GBPR
elizabeth@gailbergmanpr.com or 905-886-4091
The awards, presented by Mitacs — a not-for-profit organization that fosters growth and innovation in Canada for business and academia — celebrate start-up companies founded by outstanding former Mitacs interns, postdoctoral fellows and training participants, who have gone on to lead their respective fields as independent business owners.
SOURCE: Mitacs Inc.