Celebrity Cruises Takes Delivery Of The Groundbreaking Celebrity Edge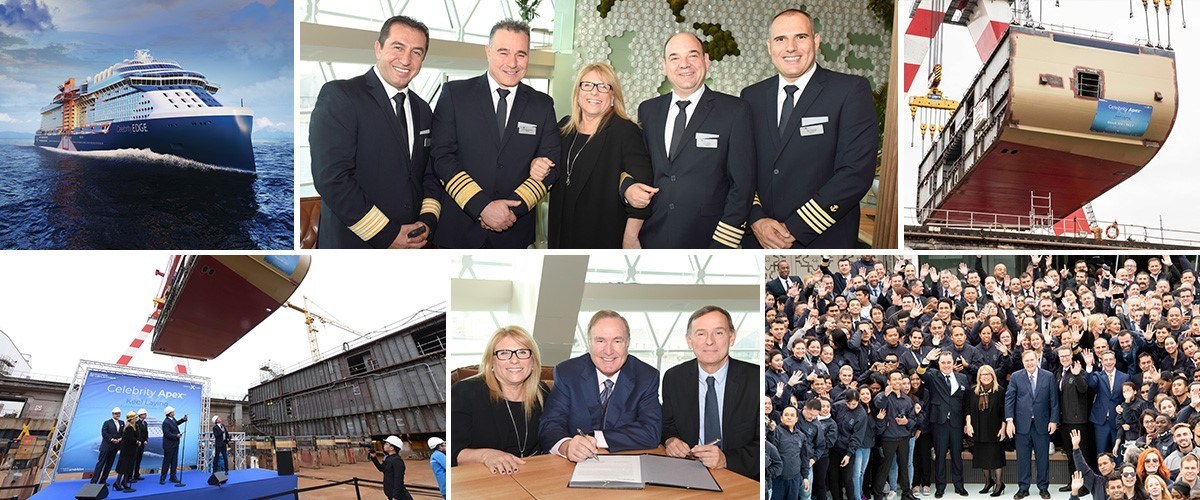 Reading Time:
2
minutes
The historic delivery ceremony was underscored by another major milestone as the keel was laid for the second-in-series Celebrity Apex
Following more than four years of planning and 23 months of construction at the skilled hands of thousands of engineers, architects, artisans, designers, contractors, shipyard employees, and the newbuild and Celebrity Cruises teams, today the brand officially took delivery of Celebrity Edge, representing a truly historic occasion for Celebrity and the industry.
As part of the monumental moment, Royal Caribbean Cruises Ltd.'s Chairman and CEO Richard D. Fain and Celebrity's President and CEO Lisa Lutoff-Perlo hosted a ceremony aboard Celebrity Edge, while docked in the Chantiers de l'Atlantique shipyard in Saint-Nazaire, France. The Celebrity Executive Team were also in attendance along with shipyard officials, including General Manager Laurent Castaing, and 1,377 crew members from 72 different countries.
"The Celebrity team has done an outstanding job and I cannot thank the Chantiers de l'Atlantique team enough for delivering this game-changing ship and for their ongoing partnership," said Fain. "Their work continues to transform the way our guests experience the world."
"Today is a very special day for all of us as we have been eagerly anticipating this moment for more than four years," said Lutoff-Perlo. "There are so many aspects of Celebrity Edge that are more groundbreaking than we could have ever imagined, and it is all a testament to the hard work, creativity and talent of everyone who helped bring this magnificent ship to life."
"Thanks to the confidence Celebrity Cruises granted us and to the exceptional level of cooperation between our respective teams, we are proud to have designed and built one of the most innovative cruise ships ever," added Castaing. "This achievement demonstrates once again our capacity to deliver right on time ships of the highest quality to our most demanding customers."
Following the Celebrity Edge check-signing and delivery ceremony, attendees made their way across the Chantiers de l'Atlantique shipyard for the ceremonial keel laying of Celebrity Apex, where a 762-ton block was lifted in the air and a lucky coin was placed on the dock before the block was lowered into position.
On November 6, 2018, Celebrity Edge will begin her transatlantic voyage to her home port at T25 at Port Everglades in Fort Lauderdale, Fla. Her inaugural season will be spent sailing alternating seven-night eastern and western Caribbean cruise itineraries, with her Maiden Western Caribbean voyage departing on December 9, 2018, and her Maiden Eastern Caribbean voyage departing on December 16, 2018. Then, in spring of 2019, Celebrity Edge crosses the Atlantic again to offer guests stunning vistas of the Mediterranean with a range of seven- to 11-night sailings visiting iconic cities, including Barcelonaand Rome.
Bookings for Celebrity Edge are now open at www.celebritycruises.com/edge or through a travel agent. Celebrity Edge will be joined by her sister ship, Celebrity Apex, in 2020, and two additional ships in the Edge Series will follow in 2021 and 2022.
GreenTree Closed Investment in HKSE IPO of Gingko Education
Reading Time:
1
minute
GreenTree Hospitality Group Ltd. (NYSE: GHG) ("GreenTree" or the "Company"), a leading franchised hotel operator in China, today announced that it has closed a HK$40 millioninvestment to acquire 27,776,000 ordinary shares in the Hong Kong Stock Exchange ("HKSE") initial public offering of China Gingko Education Group Company Limited ("Gingko"). Gingkois a pioneer in developing and providing higher education services for the hospitality industry in China. Gingko was founded in 2002 by Mr. Gongyu Fang, a visionary entrepreneur in this field. With nearly 10,000 students on campus, Gingko is currently ranked as China's number one hospitality university by the "Gaosan Web Association", an authoritative website with introductions to and rankings of universities in China.
Mr. Fang, Chairman and CEO of Gingko, welcomed GreenTree's investment. "We are pleased to have GreenTree as our investor. This transaction is part of both companies' larger plan to cultivate professional talents for the hospitality industry in China. It is a truly win-win cooperation that combines Gingko's deep expertise in education with industry experience from GreenTree, a leading player." Mr. Alex Xu, Chairman and CEO of GreenTree, echoed, "Mr. Fang has done a tremendous job of building Gingko's superior educational platform. We feel privileged to work together with him and his team as part of our strategy to further enhance and develop talents for our companies and for China's hospitality industry generally."
Hilton Malaysia Launches Its First Ever Weddings At Hilton Sale
Reading Time:
2
minutes
From 1 till 28 February 2019, Hilton Malaysia is giving engaged couples an opportunity to experience its renowned Hilton Hospitality through its inaugural Weddings At Hilton sale.
A first for the hotel chain, the sale extends through the whole month of February, a month reputed for the celebration of love, and is the perfect chance for recently engaged couples who are searching for a wedding venue to tie the knot.
For couples who have thought of having a Hilton wedding but thought it was not within reach, now is the chance. With an incredible venue, carefully crafted menu options, amazing features, a very own wedding planner plus a 20% discount, this rare opportunity bring betrothed couples a step closer to the wedding of their dreams.
The sale encompasses a 20% discount on its New Year Wedding Packages for weddings held from 1 March 2019 to 31 December 2019 in all of the participating properties. A minimum booking of 15 tables is required.
Along with the generous savings are terrific complimentary inclusions such as a two (2)-night stay in the Bridal Suite for the happy couple, a one (1)-night stay for both the couple's parents and parents-in-law, a backdrop, table centrepieces, and 5x Hilton Honors Points, where the sum spent for their Big Day will be converted to 5x Incentive Points that can be exchanged into the honeymoon they have always wanted at any one of its properties worldwide.
The fuss-free wedding with Hilton begins the minute the booking is made. Each Hilton property in Malaysia is equipped with its very own wedding specialist who is present to ensure every detail is taken care of for a hassle-free wedding.
Hilton's wedding specialist also doubles as the couple's personal wedding planner, the one who will turn their concepts into reality, and is ever ready to help them with whatever they may need, whenever they need it. Most of all, the wedding specialist will be present so couples can enjoy the best day of their lives.
Package prices begin from MYR1062.40 nett for a table of 10 persons.
Participating Hilton Malaysia hotels from Hilton Kuala Lumpur, Hilton Petaling Jaya, Hilton Kuching, Hilton Kota Kinabalu, DoubleTree by Hilton Kuala Lumpur, DoubleTree by Hilton Johor Bahru, DoubleTree by Hilton Melaka and DoubleTree Resort by Hilton Penang.
Find out more at http://hiltonweddingdestinations.com/wedding-packages.php#Malaysia.
Hilton Expands Presence in Guangzhou with Third Flagship Opening
Reading Time:
2
minutes
Hilton Hotels and Resorts, Hilton's (NYSE: HLT) flagship brand, announced the opening of Hilton Guangzhou Science City. The eight-story, 430-room full-service hotel is just minutes from the world-class Baoneng International Sports Arena and 15 kilometers away from Pazhou Exhibition Center. With its extensive meeting facilities, the hotel is primed to be the preferred choice for business travel and gatherings. The property is owned by Guangzhou Tianma Group and managed by Hilton.
"This new opening is Hilton's first in Guangzhou Science City, a growing Research and Development and IT center that is key to the development of Pearl River Delta as China'scentral hub for high-tech innovation," said Qian Jin, area president for Greater China and Mongolia, Hilton. "By delivering Hilton's exceptional service, we look forward to playing an integral role in defining the hospitality landscape as we enhance experiences for guests in Guangzhou Science City."
Ideally located in downtown Guangzhou Science City, guests can enjoy ease and convenience when attending the world's best entertainment events, industry exhibitions or business conferences. The property is strategically located within five kilometers of the technology campuses of leading Fortune Global 500 Companies and is only four kilometers away from Baoneng International Sports Arena, the most popular event venue for sports and entertainment events in south China. For a spot of retail therapy, guests can visit UTOPA shopping mall, which is just steps away from the hotel or enjoy nature in the parks surrounding around the hotel.
The modern hotel is thoughtfully designed to maximize energy efficiency, featuring an expansive skylight that fills the open lobby with natural light and exterior road lamps that are solar-powered. Contemporary touches can be found throughout the hotel's interiors, imparting minimalist, comfortable style across the four dining establishments and spacious guest rooms.
"With memorable experiences to be had at the property, this newest addition to the Hilton portfolio celebrates our commitment to offer guests moments that matter around the world," said Sean Wooden, vice president of brand management, Asia Pacific, Hilton.
Guests can indulge in luxurious comfort in each of the 430 well-appointed guest rooms, including 49 suites and apartments. Each room is complete with a private balcony with scenic views, floor-to-ceiling windows and a bathroom with separate bathtub and rain shower. Business travelers have the added convenience of a large workspace, complimentary Wi-Fi and an ergonomic desk chair.