'Cultural Bridge' Between Russia and France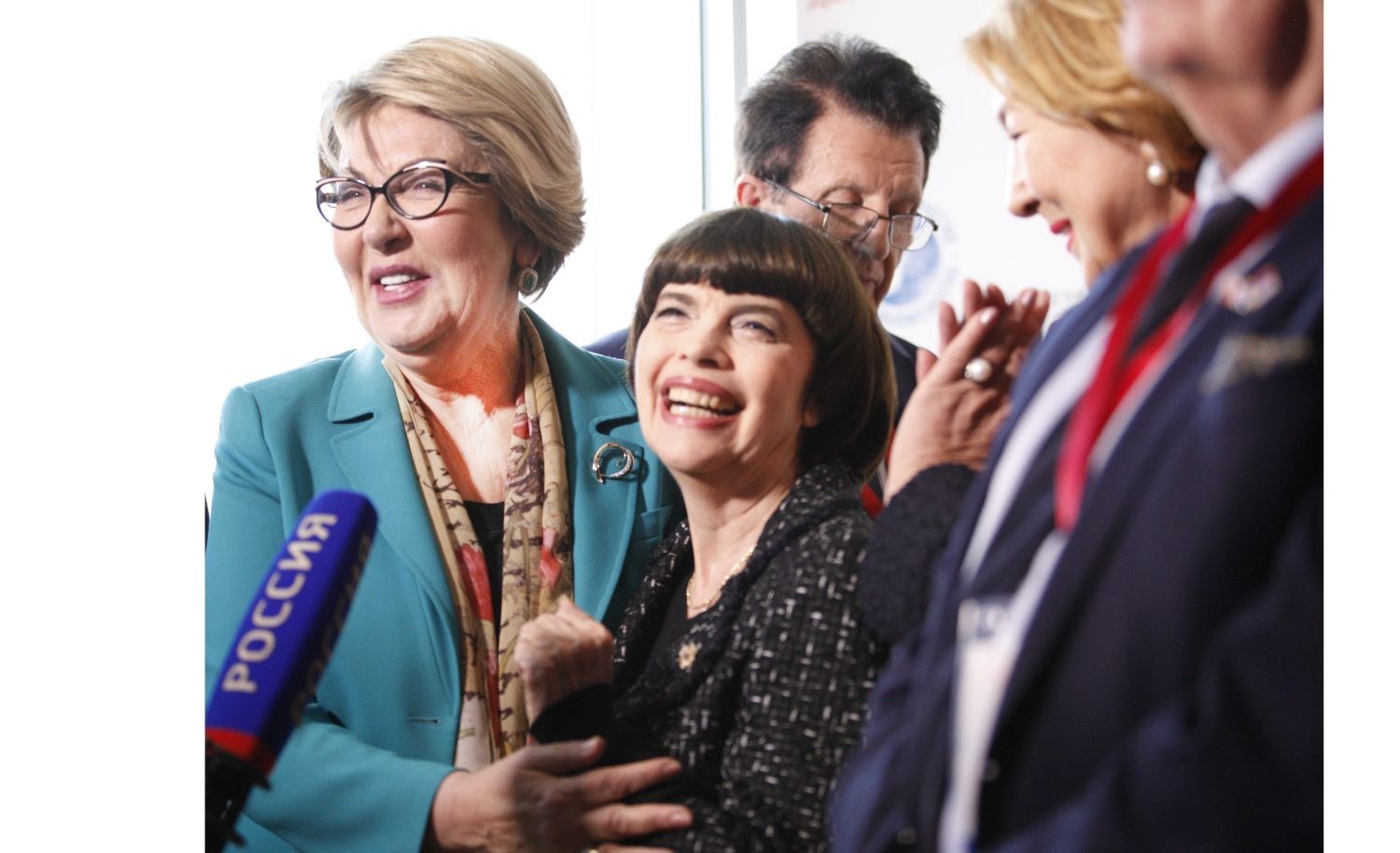 Reading Time:
2
minutes
Key issues of cooperation in the fields of education, literature, theatre, cinema and other areas of culture were discussed by the participants of the Russia-France Bilateral Public Relations Development Forum, which was held on October 24-26, 2018 in Paris.
Prominent cultural and academic luminaries of the two countries, heads of diplomatic missions, including Eleonora Mitrofanova, Head of the Federal Agency for the Commonwealth of Independent States, Compatriots Living Abroad and International Humanitarian Cooperation (Rossotrudnichestvo), Audrey Azoulay, UNESCO Director-General, Alexey Meshkov, Ambassador Extraordinary and Plenipotentiary of Russia in France, Hélène Carrère d'Encausse, Perpetual Secretary of the Académie française, Dmitry Bak, Director of the V. I. Dal State Museum of the History of Russian Literature, Daniel Rondeau, writer, publisher and journalist, former Permanent Representative of France to UNESCO, as well as representatives of the A.S. Pushkin State Institute of Russian Language, National Research University – Higher School of Economics, the Russian University of Theatre Arts and other cultural and educational centres attended the Forum.
The honorary guest of the Forum was world-renowned singer Mireille Mathieu, who expressed her support for projects involving Russian-French cooperation and shared her warm attitude to Russia: "I look at Russia with love. It is important to look with love and be able to convey it," she said. Earlier Ms. Mathieu received the title of 'Honorary Professor in the Field of Culture' in Russia.
As noted by the head of Rossotrudnichestvo Eleonora Mitrofanova, in the course of history, Russia and France have always been connected by rather strong cultural ties, regardless of the political situation. Currently, French youth demonstrate a growing interest in Russia.
"Intercultural and civil dialogue between our countries remains at a high level. In France, we see a real interest among the younger generation in Russia, our history and culture. Moreover, it has been growing in recent years, despite a background characterized by a significant amount of negativity, which is artificially created by certain countries and the media," the Rossotrudnichestvo head, Mrs. Mitrofanova, clarified.
She further explained that Rossotrudnichestvo plans to enhance its social media engagement and launch various Internet projects in a move to spur more interaction with the younger generation. One of these cultural projects between Russia and France, focused on young people and other members of society, is the 'Moscow-Paris' Online Film Festival, which will be held in early 2019. The project was presented to the attendees of the Forum.
The event was organized by Rossotrudnichestvo with the participation of the Russian-French Civil Societies Forum 'Trianon Dialogue', established at the initiative of the heads of both states. The Forum was held within the framework of the Year of Russian Language and Literature in France and the Year of French Language and Literature in Russia.
2018 became the Bilateral Year of Russian and French Languages and Literature. For the first time, the bilateral year covers not only literature that exists in Russia and France respectively, but also the authors who write in Russian and French in other countries around the world.
The 'Trianon Dialogue' between Russia and France started in December 2017. Its main mission is to deepen the dialogue between the civil societies in Russia and France and strengthen humanitarian ties through interaction between thought-leaders, non-profit organisations and entrepreneurs.
SOURCE Rossotrudichestvo
Electrolux Makes Global 100 Ranking on Sustainability and CDP's Climate List
Reading Time:
2
minutes
Electrolux has today been recognized by two prestigious organizations as a global leader in corporate sustainability. The accolades include being on the Global 100 ranking of the world's most sustainable companies and, for the third year in a row, the CDP Climate Change A List.
Announced at the World Economic Forum in Davos today, the Global 100 companies represent the top 1.3% companies in the world for sustainability performance. Over 7,500 companies were analyzed to develop the ranking made by Corporate Knights.
In addition, Electrolux has today been awarded a place on the 2018 Climate Change A List, by international non-profit CDP, for its efforts to cut emissions, mitigate climate risks and develop the low-carbon economy.
"We take our commitment to shape living for the better seriously, and are focused on our ambitious climate targets for 2025. We're especially honored that in our 100th year the work that Electrolux does to shape living for the better and help consumers live more sustainably is being highlighted by two prestigious organizations", said Henrik Sundström, Vice President for Sustainability Affairs at Electrolux.
Last year, Electrolux stepped up its commitment to climate action by setting two new ambitious targets to reduce greenhouse gas emissions by 2025 in support of the Paris climate agreement. Both are approved by the Science Based Targets initiative, a collaboration between CDP, the United Nations Global Compact, World Resources Institute (WRI) and the World Wildlife Fund for Nature (WWF).
Corporate Knights Global 100 Most Sustainable Corporations in the World
The annual Global 100 is a badge of honor for sustainability excellence. To determine the ranking for 2019, the financial information company and magazine Corporate Knights rated 7,536 companies against global industry peers on a suite of up to 21 key measures covering resource management, employee management, financial management, clean revenue and supplier performance. The full ranking is published in the annual Global 100 issue of Corporate Knights magazine and on its website.
CDP Climate Change A List
CDP is an international non-profit that drives companies and governments to reduce their greenhouse gas emissions, safeguard water resources and protect forests. Thousands of companies submit their annual climate disclosures to CDP for independent assessment against its scoring methodology. Read more about the A List here.
Motivational Speaker, School Trivia to Feature at Houghton Academy Pep Rally for School Choice
Reading Time:
1
minute
A school choice pep rally featuring motivational speeches, class cheers, school trivia, and the National School Choice Week dance will take place at Houghton Academy 9:45 a.m.- 2:15 p.m. Tuesday, Jan. 22.
The high-energy rally will feature a keynote address by Pastor James Giles, president of the Buffalo Peacemakers Violence and Gang Intervention Program, which advocates violence prevention for at-risk youth.
More than 150 students, staff, and community members are expected to attend.
This event is planned to coincide with the history-making celebration of National School Choice Week 2019, which will feature more than 40,000 school choice events across all 50 states.
"We celebrate school choice by recognizing all that Houghton Academy has to offer its students," said Elaine Vardi-Kirkland, principal of Houghton Academy. "We are thrilled to participate in National School Choice Week and to advocate parents having the information they need to make the best decisions for their children's education."
Houghton Academy is a Buffalo public school serving students in grades Pre-K-8.
As a nonpartisan, nonpolitical public awareness effort, National School Choice Week shines a positive spotlight on effective education options for students, families, and communities around the country. From January 20 through 26, 2019, more than 40,000 independently-planned events will be held in celebration of the Week. For more information, visit:
Spa and Salon Combine for Southern Mega Show
Reading Time:
1
minute
Bronner Bros. and Skin Inc.'s Face & Body join forces to form a one-stop-shop beauty show.
For beauty professionals in the southeast who typically attend one tradeshow for salon and a different one for spa, your life just got a whole lot easier. Bronner Bros., Inc. and Skin Inc.'s Face & Body are excited to announce that they have partnered to co-host their Atlanta-based events – the Bronner Bros. International Beauty Show and Face & Body Southeast – together under one roof in 2020.
At the 2020 event, attendees will be able to find the latest trends, technologies and products in hair styling, hair color, hair tools, makeup, skin care, hair removal, device technologies and wellness in one place by having access to both shows. Bring your entire spa and salon team and check off everyone's beauty to-dos.
As both Skin Inc.'s Face & Body and Bronner Bros. are known for their robust education platforms, both shows will continue these classes at the 2020 event, with attendees being able to sit in their choice of classes from spa menu development to the latest trends in hair design. Many of these classes will be free for all registered guests with professional level arm bands, and attendees will kick-start their day with a keynote designed to fuel their beauty success.
Whether you specialize in hair color and waxing, or cuts and makeup, Face & Body and Bronner Bros. will have the latest in beauty for you in 2020. Get ready for an event sure to bring attendees the latest in education, networking, trends, demonstrations, shopping and of course, fun.