Hublot Big Bang Meca-10 P2P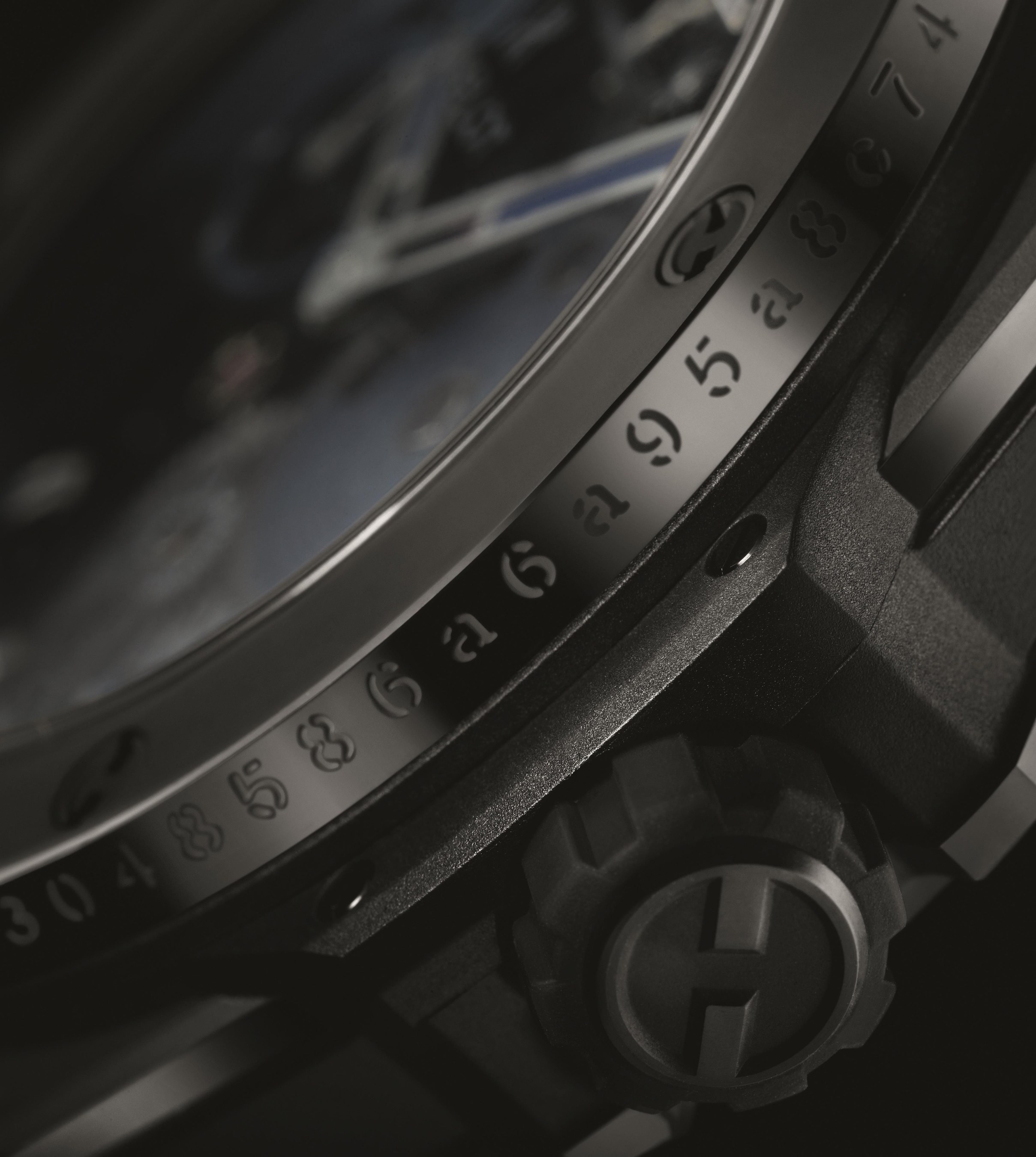 Reading Time:
2
minutes
Hublot is celebrating ten years since the creation of Bitcoin by launching the BigBang Meca-10 P2P limited edition watch, available for purchase exclusively online with Bitcoins and also featuring the transaction number engraved on the edge of the bezel, rendering each piece unique.
"This is the kind of dynamism and innovation that our partners in Asia delight in. It is a visionary approach that fully corresponds to Hublot's vision. Through its partnership with OSL, this first P2P watch allows us to continue to explore future avenues."
Ricardo Guadalupe, CEO of Hublot.
Bitcoin was created only just ten years ago in November 2008. This famous cryptocurrency, a virtual asset stored in digital form, was invented by Satoshi Nakamoto, a name used by the mysterious person – or persons – whose identity remains a mystery to this day. In any case, the peer to peer – P2P – payment system has attracted a large following of users and investors accepting payment for their transactions.
A trailblazer in new technological and societal trends, Hublot has decided to mark the ten year anniversary of Bitcoin by launching the first watch that can only be purchased using Bitcoin. It will be sold exclusively via e-commerce and can only be ordered and paid for online. Such innovation was made possible through a collaboration with OS Limited (OSL), Asia's leading digital asset brokerage. This makes Hublot the first big watchmaking brand to enter this sector.
"OSL is excited to collaborate with Hublot and LVMH, an industry leader in the luxury world, to enable a digital asset industry first. As investors are increasingly looking to diversify their investment portfolio by adding digital assets with generally low correlations to traditional asset classes, we are committed to providing our clients with industry leading trading solutions to support their investment journey."
Dave Chapman, Chairman and Co-founder of OSL
The Big Bang Meca-10 P2P is a limited edition of 210 timepieces, a reference to the global limit of Bitcoins, which is fixed at 21 million.
True to the innovative design expected from the Big Bang collection, the "P2P" watch has a 45 mm case made from microblasted black ceramic. When we talk about ceramics in a Hublot watch, this does not mean clay-based pottery, but rather a high-tech material of zirconium dioxide pressed at a very high temperature. The Art of Fusion that is so dear to watchmakers and engineers at the Nyon manufacture.
It houses a HUB1201 manufacture calibre, a skeleton movement offering an exceptional 10-day power reserve. A number that was not chosen at random: Ten to mark the number of years the Bitcoin has existed. Each of the 210 pieces is unique: Manufactured for its wearer bearing the identification number of the transaction made via Bitcoin. Another reference to cryptocurrency can be found in the Blockchain inspired design – the interconnection network of computers on which virtual money works – on the blue calfskin leather strap which is lined with black rubber.
The Big Bang Meca-10 P2P was presented on 6 November in Hong Kong, where OSL headquarters is located. Ricardo Guadalupe, CEO of Hublot, greeted special guests at an event of technological splendour. Visitors entered through a captivating tunnel with an interactive display showing the world of cryptocurrency, and the unique payment system that enables Hublot to accept payment in Bitcoin.
With this very exciting first, Hublot yet again marks a revolutionary milestone in the watchmaking world and a renewed demonstration of the brand's three watchwords: being the first, different and unique.
OKEx Launches Thai Baht (THB) and British Pound (GBP) OTC Trading
Reading Time:
2
minutes
OKEx, the Malta-based world-leading digital asset exchange, announced to launch two new currencies – Thai Baht (THB) and British Pound (GBP) on its over-the-counter (OTC) trading platform (also referred to as fiat-to-cryptocurrency platform). Users in Thailand and the United Kingdom can now complete KYC verification to be eligible to trade on the OTC trading platform.
OKEx OTC trading allows users to place orders with self-selected exchange rate and payment methods to buy or sell Virtual Financial Assets with fiat currencies, which benefits them by offering a low-volatility market and zero transaction fee. Instead of the listing of the new currencies, Thai Baht (THB) and British Pound (GBP), OKEx OTC trading platform has already been facilitating global digital assets trading with the Vietnamese Dong (VND) and Chinese Renminbi (CNY) fiat-to-cryptocurrency markets, and more currencies are expected to come in at a later time this year. The Thai Baht (THB) and British Pound (GBP) OTC trading markets currently support BTC, USDT, ETH, and LTC.
"Our mission is simple at OKEx. We aim to offer flexibility and convenience to our traders. Thailand and the UK own the fastest growing crypto communities in the world. We see great potential in these two markets and want to support the needs there. Because of the increasing trading volume and number of traders in these two countries, we decided to launch the new THB and GBP trading services on our OTC trading platform. Wherever the market potential locates, we will expand to there. In 2019, you can expect more currencies will be supported on OKEx," said Andy Cheung, OKEx's Head of Operations.
OKEx OTC Network Launch Events and Promotions
To celebrate the launch, OKEx has come up with new incentives to encourage new sign-up for merchants and customers in Thailand and the UK. From January 23 to 27, newly registered customers can earn up to 50 USDT for making a minimum deposit of 100 USDT (or equivalent) and complete their first OTC transaction on OKEx, while the top 70 merchants with the most transaction volume will be rewarded 30 USDT (1 time per day).
In addition, the OKEx OTC Network Launch events will be hosted in Bangkok, Thailand on February 13, 2019 and London, UK in March respectively.
For more details, please refer to OKEx Twitter.
Risk Warning: Trading digital assets involves significant risk and can result in the loss of invested capital. Users should ensure that they fully understand the risk involved and take into consideration their level of experience, investment objectives and seek independent financial advice if necessary.
Forrester: Customer Experience in the UK Stagnates With More Brands Becoming Mediocre
Reading Time:
2
minutes
Not a single brand in the UK has managed to rise to the top of Forrester's Customer Experience Index (CX Index™) rankings or continued to move upward. Customer experience (CX) quality languished in 2018 as more brands become mediocre.
Forrester's CX Index methodology measures how well a brand's customer experience strengthens the loyalty of its customers. Based on a survey of 9,033 UK adult customers in 2018, Forrester benchmarked CX quality at 36 brands doing business in the UK.
Liverpool Victoria (LV=) confirmed its position as number one in the auto/home insurers category. Nationwide Building Society still topped the banks rankings in 2018 despite seeing its score stagnate, while new entrant Very.co.uk takes over Amazon's position in the digital retailers category. John Lewis continues to be the number one multichannel retailer and while Tesco came out on top among wireless providers.
The percentage of UK brands making it into the good category fell from 31% in 2017 to just 14% in 2018. A staggering 86% now deliver OK experiences, which suggests customers are struggling to tell the difference between the experiences offered by competing brands.
The auto/home insurance and multichannel retailer industries saw their average score rise by a small but statistically significant amount this year. In contrast, the industry average score for banks fell by almost 4 points, with all but one of the seven banks seeing a statistically significant decline to their score. This year, the banks provided an average of seven emotionally positive experiences for each negative experience, down from 11 in 2017.
In fact, Forrester believes that emotion is key to the positive development of a brand. "Brands that want to break away from the pack should focus on emotion: How an experience makes customers feel has a bigger influence on their loyalty to a brand than effectiveness or ease in almost every industry," says Joana van den Brink-Quintanilha.
Even a minor improvement to a brand's customer experience quality can add tens of millions of dollars of revenue by reducing customer churn and increasing share of wallet. What's more, customers with positive emotions are more willing to pay a premium price for the same products and services.
To learn more about how Forrester's CX Index can help your business and register for a demo, please visit https://forr.com/2CvyfZh.
Licensed Crypto Exchange Covesting Introduces Fiat Gateway
Reading Time:
1
minute
Covesting, a licensed European-based digital currency exchange and professional trading platform offering secure and technologically advanced infrastructure for investors and traders worldwide, has introduced the first stage of their fiat gateway and cryptocurrency converter. EUR deposits via wire transfer are now available.
Additional options for fiat deposits/withdrawals as well as the buying and selling of cryptocurrencies will be released in stages over the coming weeks.
Covesting's Founder and CEO, Dmitrij Pruglo, spoke about the company's latest update, saying:
"The launch of a fiat gatewayis yet another step towards our ultimate goal of being the most complete, secure and transparent cryptocurrency platform in the industry. Allowing retail and institutional clients to legally exchange fiat into crypto automatically gives Covesting an edge and puts us among very few exchanges who offer such a solution. There are hundreds or maybe even thousands of crypto-crypto exchanges out there, but few who offer a legally compliant bridge between crypto and the traditional world of finance. We will continue to monitor the market and adapt to the new reality while offering the most demanded tools for our users."