OKEx named "Crypto Exchange of the Year" at Malta Blockchain Awards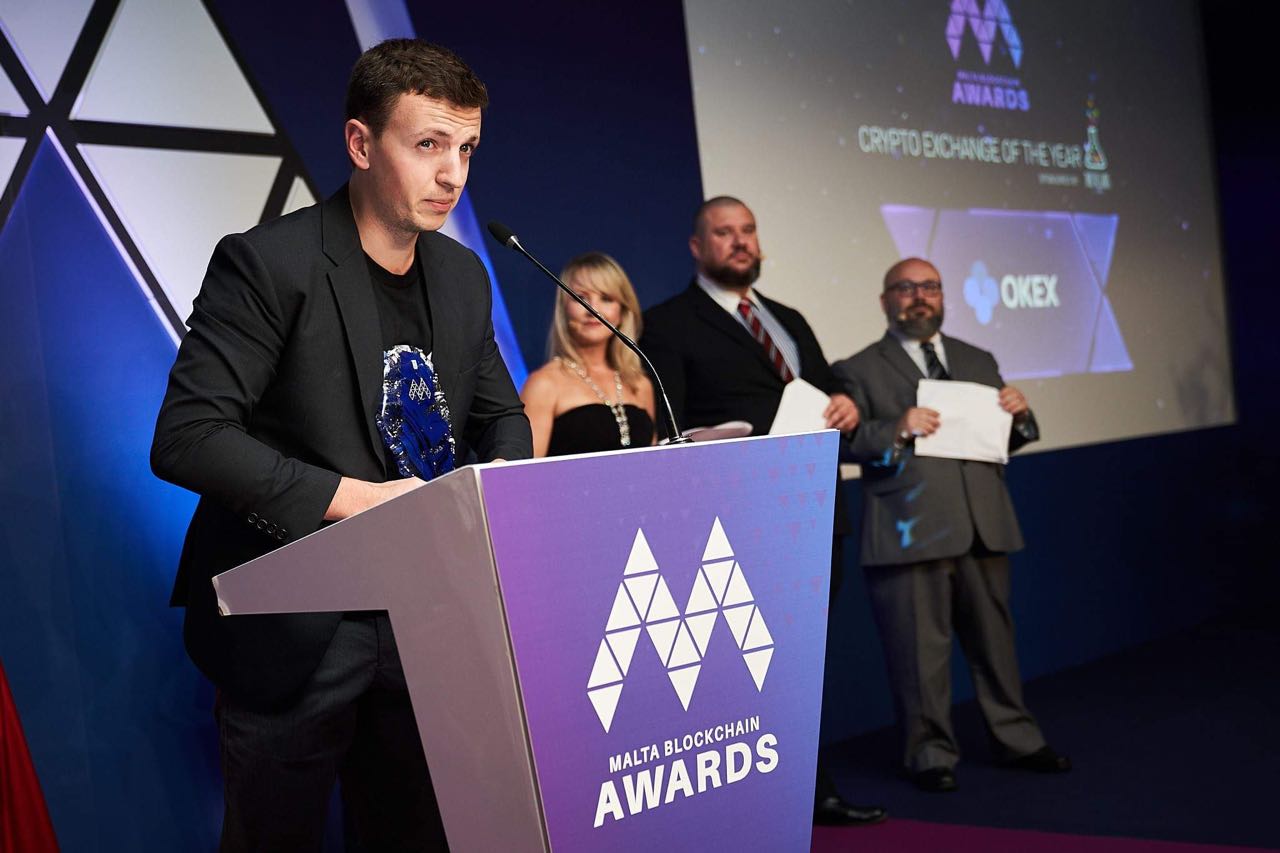 Reading Time:
2
minutes
OKEx, the Malta-based world-leading digital asset exchange, has been recognized as Crypto Exchange of the Year at the first edition of Malta Blockchain Awards. The award was presented in the ceremony held during Malta Blockchain Summit 2018 to recognize the companies, experts, and leaders who made outstanding contribution to the blockchain technology development in Malta.
The Crypto Exchange of the Year award is judged by 32 industry leaders and executives with combined experience in the blockchain Industry. Three exchanges were nominated in the category. OKEx stood out from fellow finalists Binance and BitBay.
"These awards are particularly gratifying as they reflect a vote of confidence from industry leaders, who recognize our ongoing efforts. Like we said, we dare to innovate and will keep pushing the limits of what is possible," said Andy Cheung, OKEx's Head of Operations.
"Receiving this honour is truly a testament to our unrelenting effort in making changes in the crypto and blockchain industry. We never stop innovating to create the best user experience, to build a robust ecosystem, to improve the crypto industry, and above all, to revolutionize our world with blockchain technology. As a leader, continuing to improve the ecosystem is not only our promise, it is also our responsibility."
OKEx is a world-leading digital asset exchange founded in 2017, offering digital assets trading services including token trading, futures trading, and index tracker to global traders with blockchain technology. Currently, the exchange offers over 400 token and futures trading pairs enabling users to optimize their strategies. The platform provides a safe, reliable, and stable environment for digital asset trading, serving millions of customers from over 100 countries.

International Paper Again Selected to FORTUNE's List of World's Most Admired Companies
Reading Time:
1
minute
International Paper (NYSE: IP) announced that it has been named again by FORTUNE magazine as one of the "Worlds Most Admired Companies." International Paper has earned this recognition sixteen times in the last seventeen years based on scores achieved in the following categories:
Ability to attract and retain talented people
Quality of management
Social responsibility to the community and the environment
Innovativeness
Quality of products or services
Wise use of corporate assets
Financial soundness
Long-term investment value
Effectiveness in doing business globally
"This recognition reflects the exceptional talent and commitment of International Paper's 52,000 employees around the globe," said Mark Sutton, chairman and chief executive officer. "We work with the world's leading brands to make products that improve peoples' lives and we mobilize our people, products and resources to address critical needs in the communities where our employees live and work. I want to thank our global team members for this well-deserved achievement."
Motivational Speaker, School Trivia to Feature at Houghton Academy Pep Rally for School Choice
Reading Time:
1
minute
A school choice pep rally featuring motivational speeches, class cheers, school trivia, and the National School Choice Week dance will take place at Houghton Academy 9:45 a.m.- 2:15 p.m. Tuesday, Jan. 22.
The high-energy rally will feature a keynote address by Pastor James Giles, president of the Buffalo Peacemakers Violence and Gang Intervention Program, which advocates violence prevention for at-risk youth.
More than 150 students, staff, and community members are expected to attend.
This event is planned to coincide with the history-making celebration of National School Choice Week 2019, which will feature more than 40,000 school choice events across all 50 states.
"We celebrate school choice by recognizing all that Houghton Academy has to offer its students," said Elaine Vardi-Kirkland, principal of Houghton Academy. "We are thrilled to participate in National School Choice Week and to advocate parents having the information they need to make the best decisions for their children's education."
Houghton Academy is a Buffalo public school serving students in grades Pre-K-8.
As a nonpartisan, nonpolitical public awareness effort, National School Choice Week shines a positive spotlight on effective education options for students, families, and communities around the country. From January 20 through 26, 2019, more than 40,000 independently-planned events will be held in celebration of the Week. For more information, visit:
The 61st Annual GRAMMY Awards® Continue To Rock The World With New International Sales Secured By Alfred Haber, Inc .
Reading Time:
1
minute
With the recent news that 15-time GRAMMY® Award winner Alicia Keys will host the 61st Annual GRAMMY Awards®, and having previously announced key sales to Rogers (Canada), Tencent (China), WOWOW (Japan) and M-Net (Africa), among others, Alfred Haber, President of Alfred Haber, Inc., announced today that the company has secured additional international sales for the 61st Annual GRAMMY Awards. Slated to air February 10 on the CBS Television Network for the 47th consecutive year, broadcasters who have recently signed on for the 61st edition include: 4 Music (UK), Turner (Latin America), Foxtel (Australia), Danmark Radio (Denmark), FOX (Southeast Asia), Solar Entertainment Corporation (Philippines), Norwegian Broadcasting (Norway) and TVNZ (New Zealand).
The first group of artists confirmed to perform during the 61st Annual GRAMMY Awards are current nominees Camila Cabello, Cardi B, Dan + Shay, Post Malone, Shawn Mendes, Janelle Monáe, and Kacey Musgraves.
"The GRAMMY Awards continue to be the most anticipated musical event the world over," commented Haber. "Today's greatest music performed by today's greatest musicians, coupled with phenomenal production value, creates a viewing and listening opportunity for broadcast territories around the globe. We at AHI are honored to again be entrusted with bringing the GRAMMY Awards to the international marketplace."