AirEL Illuminated Vehicle Identification Added at John Wayne Airport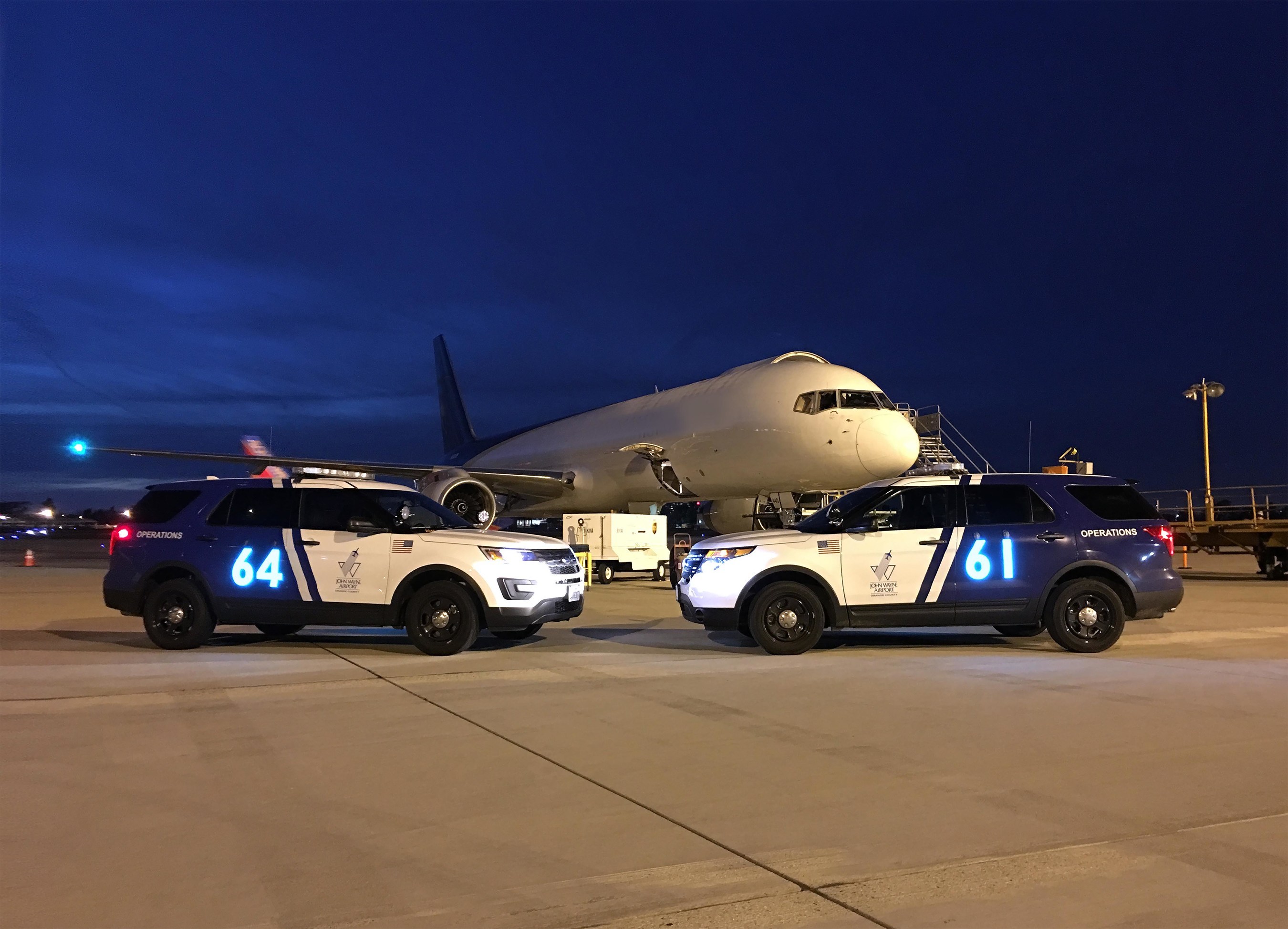 Reading Time:
2
minutes
John Wayne Airport (SNA) has taken an additional step to improve safety for crews working on its dark runway by increasing the visibility of on-field operations vehicles with illuminated identification numbers. The new vehicle markings use electroluminescent technology to light up, and are designed to be seen from 700 to 1,000 feet away.
"We did not do this in response to a close call," specifies Jeff Rountree, airside operations manager. "We did this as an enhancement."
The illuminated signage, manufactured by AirEL, was originally developed for police operations, so squad cars could easily be identified at night.
Air-EL developed and patented the use of electroluminescent technology to illuminate markings for vehicle usage.
"It is one more layer of safety. We are all responsible to know where vehicles are on the airfield," says R.J. Garwood, the company's senior vice president of sales noting that there are no similar products on the market.
Officials at Long Beach (LGB) opted to place the illuminated numbers on the rooftops of airport security vehicles. The airport security division is part of the Long Beach city police force, which also uses the illuminated numbers on cars used by supervisors and gang units.
Dallas-Fort Worth International Airport (DFW) is utilizing the illuminated signage on top of airport police vehicles and the sides of airport operation trucks. Reno-Tahoe International Airport (RNO) and Minneapolis-St Paul International Airport (MSP) are utilizing the illuminated signs on snow removal equipment.
AirEL is a division of IllumiNations Tech, a premier developer of illuminated keyboard systems and solutions with licenses with Apple, Hewlett Packard and Dell.

H&M and Lyft Offer Free Rides for New Yorkers to Recycle Clothing
Reading Time:
2
minutes
New Yorkers to also receive 15% off their H&M purchase in return for donating unwanted garments
H&M and Lyft are teaming up to provide free rides to New Yorkers interested in donating clothing to H&M's Garment Collecting program. Starting Jan. 22 through Jan. 27, the first 5,000 H&M customers interested in donating clothing can use the promo code HMRECYCLES to claim a free ride up to $10 to any H&M location in New York City. Customers will also receive 15% off their H&M purchase in return for a donation of unwanted garments, from any brand and in any condition.
The partnership is part of a broader mission by the two companies to take on the challenges of climate change and circularity in fashion more directly. H&M started its Garment Collecting program in 2013, becoming the first fashion company to launch a clothing collecting initiative worldwide. The program has collected 163 million pounds of textiles globally, providing customers an easy way to give clothes a second life to ensure fewer garments end up in landfills.
In 2018, Lyft committed to full carbon neutrality and 100% renewable energy by offsetting the carbon emissions from all Lyft rides, meaning every Lyft ride in NYC is carbon-neutral. Lyft also has partnered with cities and public transit agencies across the U.S. to launch bikes and scooters programs, including NYC's Citi Bike, as well as set the goal to achieve 50% shared rides by the end of 2020.
"Lyft is proud to partner with H&M to support the Garment Collecting initiative and provide the local community with accessible opportunities to donate and recycle clothing," said Ann Ferracane, General Manager of Lyft New York. "Helping New Yorkers make donations is an important, but exciting, step in creating a positive impact on our natural resources for years to come."
"H&M is thrilled to partner with Lyft in a joint effort to give garments a second life through H&M's Garment Collecting program. Sustainability is a part of everything we do, and we are excited this initiative will allow more New Yorkers to both learn about and get involved in the program," said Martino Pessina, President of H&M North America.
Sandvik Acquires Supplier of Battery Electric Vehicle Solutions
Reading Time:
1
minute
Sandvik acquires privately owned Artisan Vehicle Systems, manufacturer of battery powered underground mining equipment, based in Camarillo, California, USA. The core technology is battery packs, electric motors, power electronics, software and control systems. Artisan's underground mining loaders and trucks are designed with these high-powered, highly reliable and field proven battery electric powertrains. Artisan is the market leader with most battery electric vehicles currently operating in underground mining.
"I am pleased to see the strategic acquisition of Artisan so soon after the opening of Sandvik's state-of-the-art Battery Electrification Innovation and Development Center in Turku, Finland, in 2018. It is in line with our ambition to be leading in the market for Battery Electric Vehicle solutions", says Lars Engström, President, Sandvik Mining and Rock Technology.
Artisan will be a Business Unit in the Load and Haul Division within Sandvik Mining and Rock Technology.
"The area in which Artisan is located is a frontrunner in electric vehicle development. Our new R&D foothold there will complement the skillset we have in Finland. The combination of know-how and skills creates a very strong platform", says Mats Eriksson, President Load and Haul Division, Sandvik Mining and Rock Technology.
Artisan is a start-up company which in 2017 had revenues of 12.3 million USD and approximately 60 employees.
The parties have agreed not to disclose the purchase price. The transaction is expected to close during the first quarter 2019. The deal is initially neutral to earnings per share.
Hemmels 280 SL Featured at Mercedes-Benz World
Reading Time:
1
minute
Mercedes-Benz World has welcomed its first Hemmels motorcar for display at its facility in Weybridge, UK.
The motorcar, a 1968 280 SL "Pagoda" is prominently featured in the main reception area.
The restoration was commissioned by British racing car driver Paul Rees who chose to finish the car in its original Horizon Blue paint colour with a new Navy Blue leather interior. Estimated at a value of £285,000, the restoration was completed at Hemmels' bespoke facility in Cardiff, commencing in late 2016 and taking over 4,000 labour hours.
"Mercedes-Benz World has a fantastic display of classic and rare along with interactive exhibits and driving experiences. Establishing a centre of this calibre is complementary to the vision and commitment to excellence of this marque," said Joseph Sullivan, MD Hemmels. "We're proud to have the first of hopefully many motorcars displayed this prestigious facility."
Hi-res photos of the car both during restoration period and as on display are available from Hemmels by request.
https://www.hemmels.com/gallery-of-classic-mercedes-benz-images-including-w113-w198-and-w121-cars
Offering a new car buying experience, Hemmels' clients can order a Mercedes-Benz classic car in the colours of their choice along with bespoke options and preferences. Hemmels then restores the cars according to the exacting standards of its trademarked Neugeboren ("newborn") Process where every car is fully dismantled and rebuilt from its bare metal beginnings over a 52 week period. Like a new car purchase, a full 12 month parts and labour warranty is included along with servicing options.
Hemmels is pleased to welcome interested parties for a personal tour of the showroom and facilities through prior appointment. The company will be displaying a selection of its classic cars at the London Classic Car show, ExCel Exhibition Centre, London, UK from February 14th-17th, 2019.