AirEL Illuminated Vehicle Identification Added at John Wayne Airport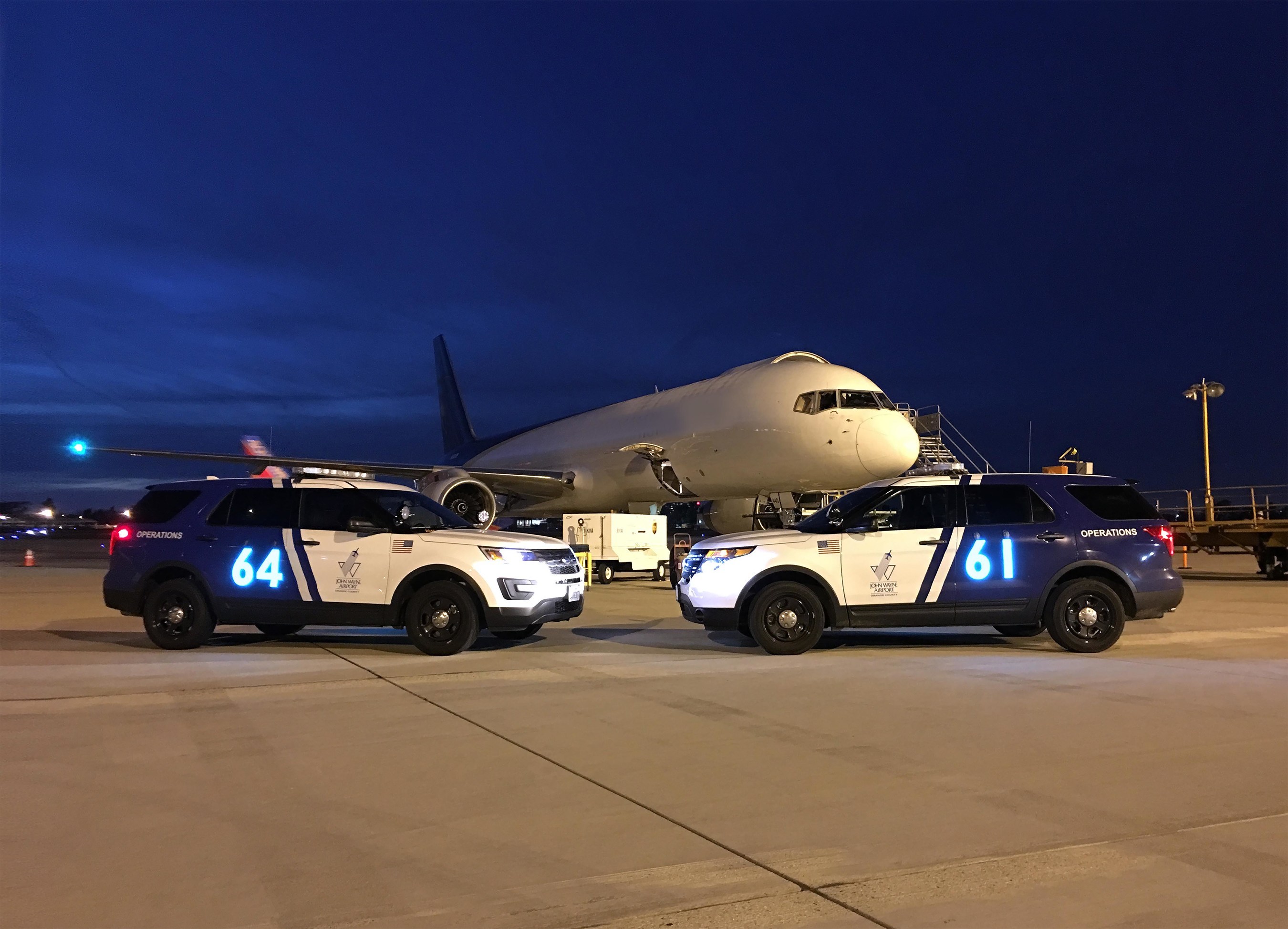 Reading Time:
2
minutes
John Wayne Airport (SNA) has taken an additional step to improve safety for crews working on its dark runway by increasing the visibility of on-field operations vehicles with illuminated identification numbers. The new vehicle markings use electroluminescent technology to light up, and are designed to be seen from 700 to 1,000 feet away.
"We did not do this in response to a close call," specifies Jeff Rountree, airside operations manager. "We did this as an enhancement."
The illuminated signage, manufactured by AirEL, was originally developed for police operations, so squad cars could easily be identified at night.
Air-EL developed and patented the use of electroluminescent technology to illuminate markings for vehicle usage.
"It is one more layer of safety. We are all responsible to know where vehicles are on the airfield," says R.J. Garwood, the company's senior vice president of sales noting that there are no similar products on the market.
Officials at Long Beach (LGB) opted to place the illuminated numbers on the rooftops of airport security vehicles. The airport security division is part of the Long Beach city police force, which also uses the illuminated numbers on cars used by supervisors and gang units.
Dallas-Fort Worth International Airport (DFW) is utilizing the illuminated signage on top of airport police vehicles and the sides of airport operation trucks. Reno-Tahoe International Airport (RNO) and Minneapolis-St Paul International Airport (MSP) are utilizing the illuminated signs on snow removal equipment.
AirEL is a division of IllumiNations Tech, a premier developer of illuminated keyboard systems and solutions with licenses with Apple, Hewlett Packard and Dell.

All-New 2019 Toyota RAV4 Breaks the Mold for the Segment It Created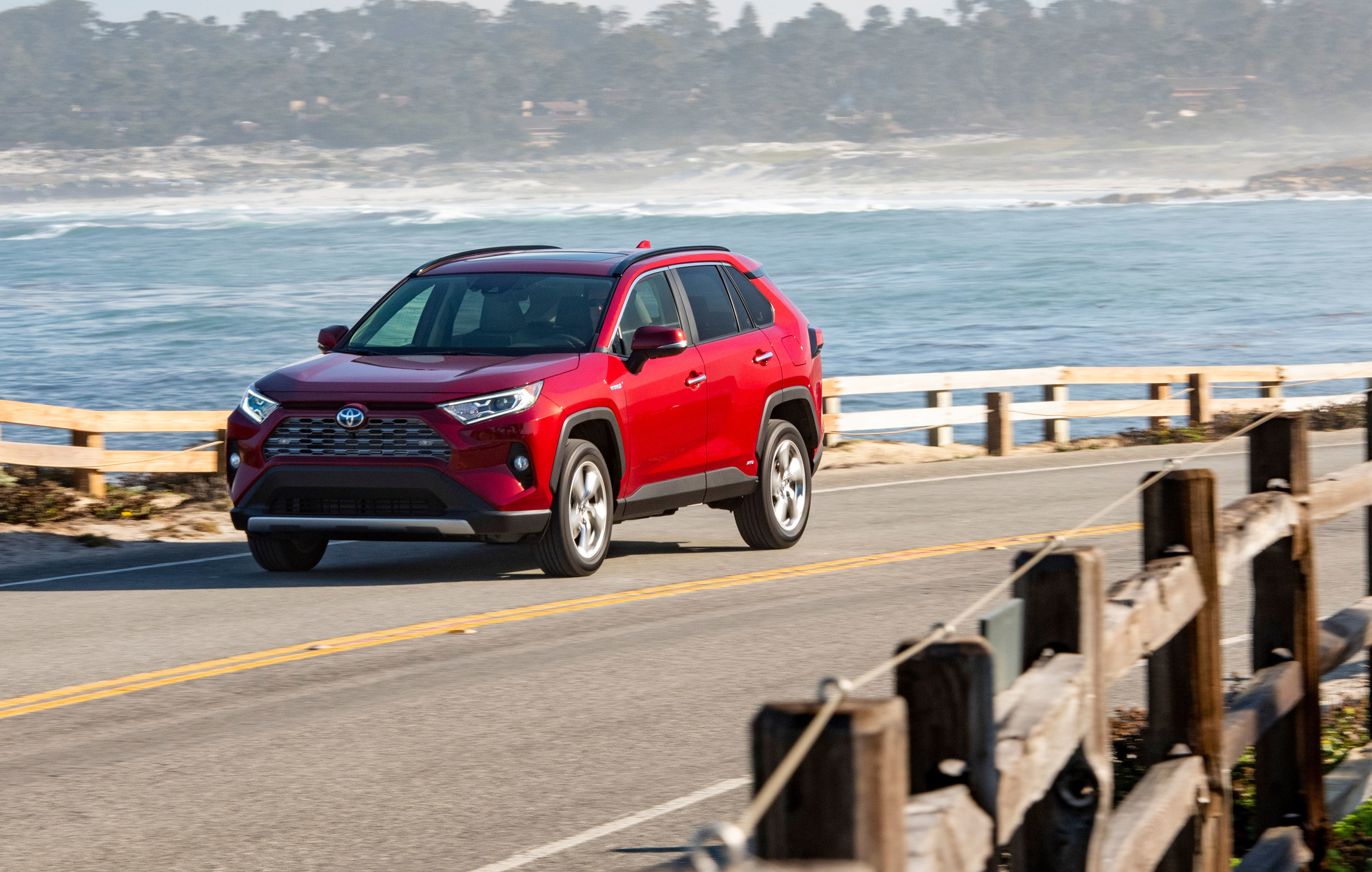 Reading Time:
2
minutes
Best-seller Arrives in December and Starts with $25,500 MSRP
The original Toyota RAV4 arrived in the United States 22 years ago, casting the mold for a whole new industry segment, which evolved into the compact crossover SUV.
With the all-new, fifth-generation 2019 Toyota RAV4, the vehicle premieres, yet again, at the forefront – both for the Toyota brand and for the segment. Dealership arrivals can't come soon enough, with 2019 RAV4 gas models set to arrive in December, and RAV4 Hybrid models following in late March 2019.
The first RAV4 was a true game-changer, but no one knew at the time just how big of a market shift it would create. RAV4 is the currently the best-selling vehicle in its class, doubling volume over the last five years to sales of nearly 408,000 in the U.S. in 2017. That makes RAV4 Toyota's best-selling vehicle in the U.S., and the best-selling non-pickup truck in the country.
New RAV4 powertrains increase performance while reducing fuel consumption. Second-generation Toyota Safety Sense (TSS 2.0) comes standard.
Beneath the 2019 RAV4's bolder sheet metal, the Toyota New Global Architecture (TNGA-K) platform provides the robust foundation for capability, comfort and safety. The longer wheelbase and wider front and rear tracks provide a stable, confident driving platform. Shorter front and rear overhangs aid the RAV4's trail driving capability.
Power and efficiency both make a leap in the 2019 RAV4 thanks to the new 203-horsepower Dynamic Force 2.5-liter inline-four-cylinder engine paired with an 8-speed Direct-Shift Automatic Transmission in the gas models. In the RAV4 Hybrid, the engine is teamed with Toyota Hybrid System II (THS II) with Electronically-Controlled Continuously-Variable Transmission (ECVT) that generates 219 combined net total system horsepower. The RAV4 Hybrid also is the efficiency leader of the lineup with preliminary manufacturer estimated mpg of 41/37/39 (City/Hwy/Comb).
In addition to standard front-wheel drive, RAV4 gas models offer two types of available all-wheel drive. The new, segment- and Toyota-first, Dynamic Torque Vectoring All-Wheel Drive with Rear Driveline Disconnect comes standard on AWD-equipped Limited gas and Adventure grade models.
Every 2019 RAV4 model is equipped with Entune 3.0 multimedia, including Wi-Fi Connect powered by Verizon, Amazon Alexa and Google Assistant capability, and Apple CarPlay compatibility.
The 2019 Toyota RAV4 gas models will be offered in five grades: LE, XLE, XLE Premium, Adventure and Limited. RAV4 HV will be offered in four grades: LE HV, XLE HV, XSE HV and Limited HV.
No matter the grade, every RAV4 is a winning choice, whether it's for a city exploration, a weekend trip to the countryside, or a jaunt on the trails. With five gas models and four hybrid models, the 2019 RAV4 arrives at dealerships with an option for everyone.
Volvo Trucks Provides Autonomous Transport Solution to Brønnøy Kalk AS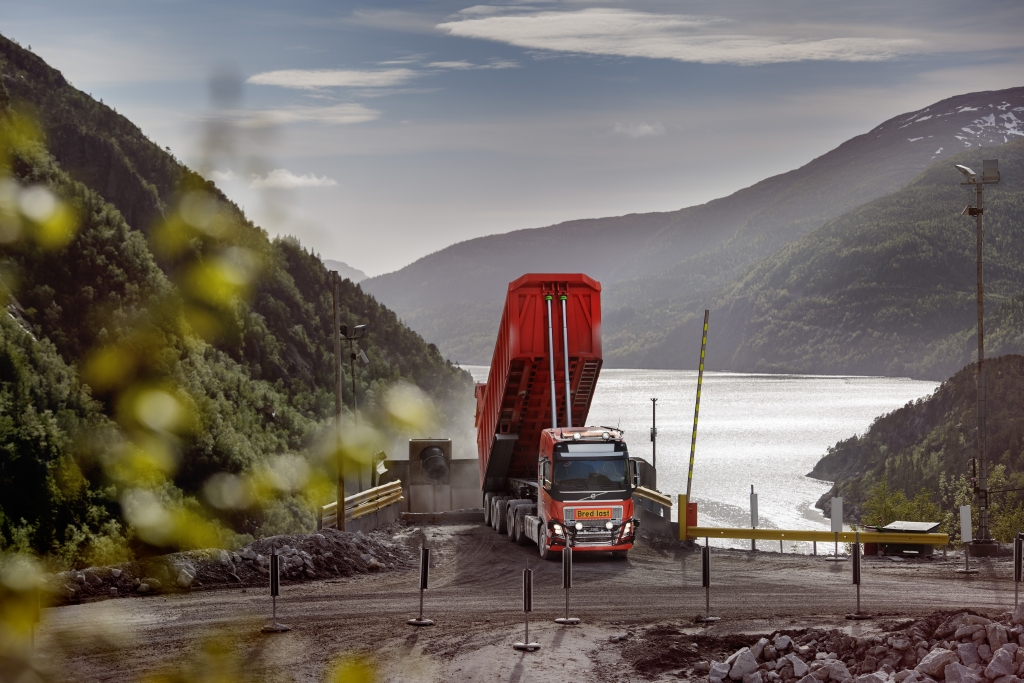 Reading Time:
2
minutes
Volvo Trucks has just signed a landmark agreementwith Brønnøy Kalk AS in Norway to provide its first commercial autonomous solution transporting limestone from an open pit mine to a nearby port.
To view the Multimedia News Release, please click:
The solution for Brønnøy Kalk AS consists of limestone being transported by six autonomous Volvo FH trucks on a five kilometer stretch through tunnels between the mine itself and the crusher. Tests of this solution have been carried out successfully and will continue throughout 2018 to become fully operational by the end of 2019.
The agreement follows recent successful automation projects involving mining, sugar cane harvesting and refuse collection. Yet this commercial solution represents an exciting first for Volvo Trucks. Rather than purchasing autonomous trucks, Brønnøy Kalk is buying a transport solution – specifically the transport of the limestone between the two hubs.
"This is an important step for us," says Raymond Langfjord, Managing Director of the mine. "The competition in the industry is tough. We are continuously looking to increase our efficiency and productivity long-term, and we have a clear vision of taking advantage of new opportunities in technology and digital solutions. We were searching for a reliable and innovative partner that shares our focus on sustainability and safety. Going autonomous will greatly increase our competitiveness in a tough global market."
"We are proud to be able to present an autonomous solution which will meet the challenges of our customers both in terms of safety, reliability and profitability," says Claes Nilsson, President of Volvo Trucks. The global transport needs are continuously changing at a very high pace and the industry is demanding new and advanced solutions to stay ahead. Our aim is to be the leader of the development of products and services to respond to these demands," continues Claes Nilsson.
"It is exciting to reach this point where we introduce autonomous solutions, says Sasko Cuklev, Director Autonomous Solutions at Volvo Trucks. By working in a confined area on a predetermined route, we can find out how to get the best out of the solution and tailor it according to specific customer needs. This is all about collaborating to develop new solutions, providing greater flexibility and efficiency as well as increased productivity."
The agreement involves a deal whereby the customer buys a total transport service and pays per tonne delivered.
Facts: Volvo Trucks first autonomous commercial solution
The deal covers an autonomous hub-to-hub solution transporting limestone at Brønnøy Kalk in Velfjord, Norway.
Partners are Brønnøy Kalk AS and Volvo Trucks.
The autonomous Volvo FH trucks are managed by the operator of a wheel loader.
The route includes driving in both tunnels and outdoor environment.
!!!photo caption:
Automotive Rear View Mirror Market to Expand at Healthy 4.4% CAGR Owing to Advancing Automobile Industry, Says Transparency Market Research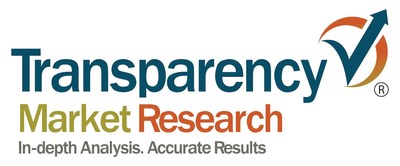 Reading Time:
4
minutes
The global automotive rear view mirror market depicts the presence of a highly fragmented vendor landscape, says Transparency Market Research on the basis of a recently published report. This is mainly due to the presence of innumerable players in this sector who are pouring extensive money to bring forth widespread advancements in the market. In spite of this, only a few players hold a dominant position in the market, mainly due their aggressive marketing strategies and associated brand name. Gentex Corporation, Magna International, Murakami, Samvardhana Motherson, and Ficosa, are some of the key players holding prime positions in the global automotive rear view mirror market. With increasing number of players in the near future, the competition is likely to further intensify, thereby making many other companies take a leading position in the global automotive rear view mirror market.
Get PDF Brochure for Research Insights at:https://www.transparencymarketresearch.com/sample/sample.php?flag=B&rep_id=30575
As per expert analysis, automotive rear view mirror market had accumulated revenue worth US$8.96 bn in 2017, which is further expected to grow up to US$11.13 bn by 2022. This is decent increase considering the fact that the global automotive rear view mirror market will expand at a steady CAGR of 4.4% during the forecast period from 2017 to 2022. From the perspective of product type, the flat mirror segment dominated the market with a 27.9% share of the total revenue generated in 2017. From a geographical perspective, North America and Europe have accounted for maximum revenue generated in the global automotive rear view mirror market, mainly due to a high demand of automobiles in these regions.
Rapidly Burgeoning Automobile Industry Stokes Expansion in Market
With widespread advancements occurring in the automobile sector, the demand for advanced rear view mirrors is expanding at a rapid pace, thereby substantially driving the global automotive rear view mirror market. Moreover, with increasing penetration of technologically superior vehicles such as SUVs, XUVs, and sports racing cars, the use of state-of-the-art devices such as automotive rear view mirrors is witnessing an extensive demand too. In addition, with humongous investments poured by prime players to develop rear view automation too is providing a healthy impetus to the global automotive rear view mirror market. A key trend propelling progress in this sector is the production of electromechanical auto dimming mirrors. This is mainly seen in case of the Gentex Company, which had recently acquired Johnson Controls. Along with these devices, the company also offers other highly advanced features such as displays, rear view cameras, and microphones.
Browse Research Release at https://www.transparencymarketresearch.com/pressrelease/automotive-rear-view-mirror-market.htm
High Costs of the Rear View Mirror Devices Financially Stunts Growth in Market
However, this market is substantially hindered due to less availability of high tech rear view mirror devices. Moreover, high costs of these devices might contribute to steep expenses associated with high end vehicles. This might discourage those having less disposable income from buying such automobiles, thereby hindering the market's growth from a financial perspective. Moreover, shortage of necessary manpower required to manufacture the devices in underdeveloped regions too poses as a prime obstacle in this sector. Nonetheless, several players are expected to regulate costs of the automotive rear view mirror device manufacturing processes. This could certainly offset most restraints affecting the market.
Request a Sample of Report: https://www.transparencymarketresearch.com/sample/sample.php?flag=S&rep_id=30575
The information presented in this review is based on a TMR report, titled, "Automotive Rear View Mirror Market (Product-type – Flat Mirror, Convex Mirror, Aspheric or Wide Angle Mirror, Two Piece Spotter Mirror, and Two Piece Tow Mirror; Feature-type – Heated, Manual Adjusted, Power Adjusted, Auto Dimming or Electrochromatic, Signal, Cross Path Detection, and Blind Spot Detection; Position – Side, Windshield, Dashboard, and Interior Roof; Vehicle-type – Compact Passenger Cars, Mid-sized Passenger Cars, Premium Passenger Cars, Luxury Passenger Cars, Light Commercial Vehicles, and Heavy Commercial Vehicles) – Global Industry Analysis, Size, Share, Growth, Trends and Forecast 2017 – 2022."
Key Takeaways:
With increasing number of players in the near future, the competition is likely to further intensify, thereby making many other companies take a leading position in the global automotive rear view mirror market.
With widespread advancements occurring in the automobile sector, the demand for advanced rear view mirrors is expanding at a rapid pace, thereby substantially driving the global automotive rear view mirror market.
Request For Discount On This Report:https://www.transparencymarketresearch.com/sample/sample.php?flag=D&rep_id=30575
Key Segments of the Global Automotive Rear View Mirror Market:
By Product Type:
Flat Mirror
Convex Mirror
Aspheric or Wide Angle Mirror
Two Piece Spotter Mirror
Two Piece Tow Mirror
By Feature type:
Heated
Manual Adjusted
Power Adjusted
Auto Dimming or Electrochromatic
Signal
Cross Path Detection
Blind Spot Detection
By Position:
Side
Windshield
Dashboard
Interior Roof
By Vehicle type:
Compact Passenger Cars
Mid-sized Passenger Cars
Premium Passenger Cars
Luxury Passenger Cars
Light Commercial Vehicles
Heavy Commercial Vehicles
Browse More Automotive & Transport Market Research Reports
Popular Research Reports by TMR: